English Cut: Redefining Made-To-Measure, Part I
Founded by Thomas Mahon, English Cut is a sartorial institution that, in addition to bespoke, offers a made-to-measure service that resides on a titular plain. The Rake picks away at its profound seams…
Thankfully, the space between the sartorial and digital world has become increasingly narrower. Although once inexistent, it's become the norm for stalwarts of Savile Row and European institutions to educate and inform their admirers and customers through intelligent and intriguing content via their websites and social media channels, thereby demonstrating their concise know-how and highly skilled craft. However, it was Tom Mahon who profoundly grasped the potential of it in 2005 when he became the first tailor to honestly share amongst the inter-webs the the ins and outs of what it was like to run a bespoke tailoring business. He believes his blog, English Cut, has "kicked off a bit of a revolution." Today, Tom is leading the way with an entirely new path with his tailoring house of the same name. Whilst offering extremely high-quality bespoke tailoring, its premium tier of made-to-measure resides on a titular, practically bespoke plain compared to many of its contemporaries.
Raised in the north west of England with a thick Cumbrian accent, at age 18 Tom's career started accidentally with an apprenticeship at S. Redmayne, a tailor based in Wigton. "It was a summer job to make money before college," he tells
The Rake
. In 1990, he moved to London to work at Anderson & Sheppard — after gaining offers from many esteemed houses on the Row — under the late-Dennis Hollberry, his mentor and friend. He eventually progressed to become Anderson's youngest ever head cutter though he modestly turns down the boss title: "Would I say I was the better than my colleagues? No. I would never say that. But I did have the top job."
In 1995, Tom laid down his shears at Anderson to work under his own name until 2001, when he turned his blog into the tailoring house English Cut. He tells me that back in the day, tailors and cutters did not mix in social circles, however Tom did, partly due to being a friendly northerner. "It was actively discouraged," he points out, yet he managed to persuade Paul 'Griff' Griffiths, whom he worked with at A&S, to come and join him as co-director amongst the heather-clad, rolling hills of the Lake District. The two have since built a tailoring house quite unlike any other
.
Further underlining Tom's knack for doing things differently — in a similar fashion to blogging — the move to Cumbria and away from the epicentre of bespoke tailoring became English Cut's USP, and the fact that it consistently has customers travelling north for fittings only speaks volumes of English Cut's quality.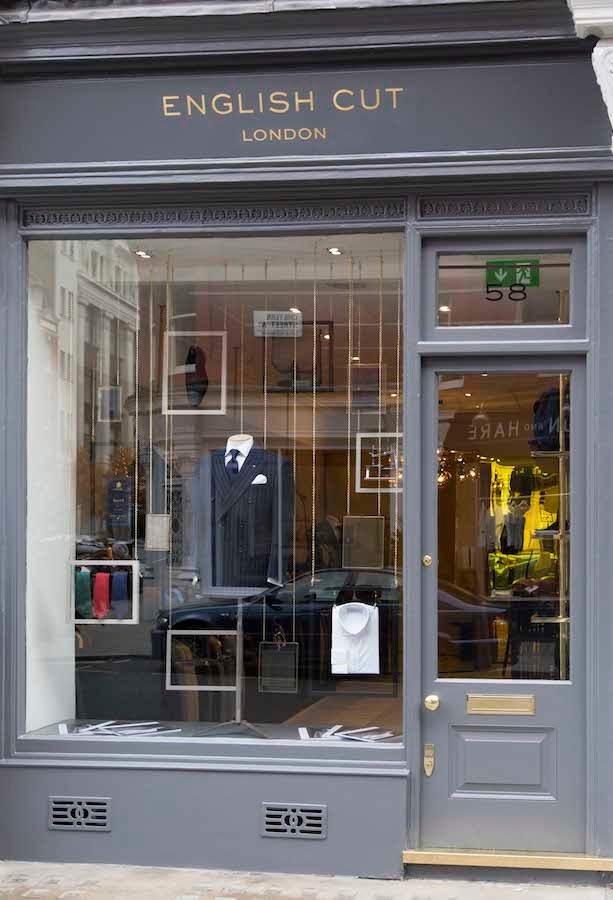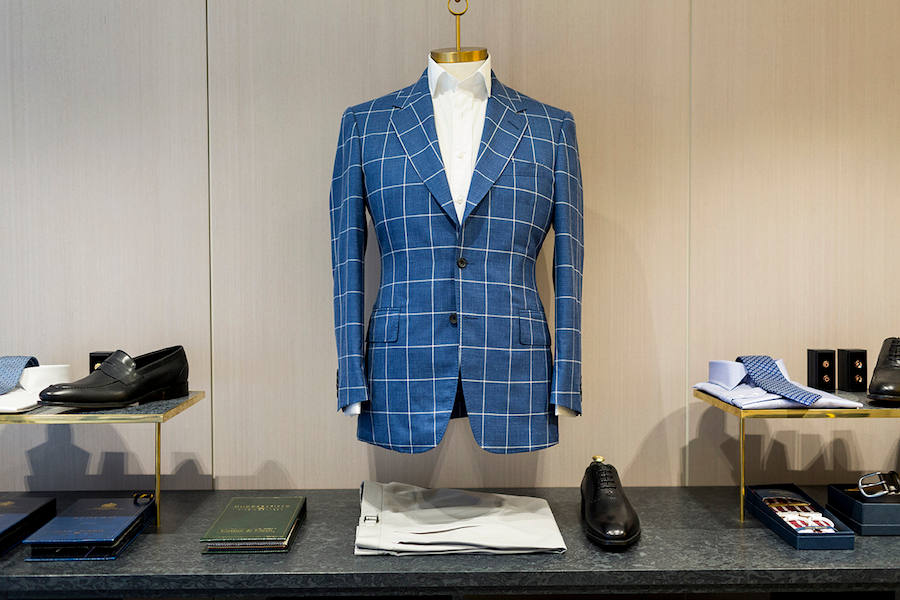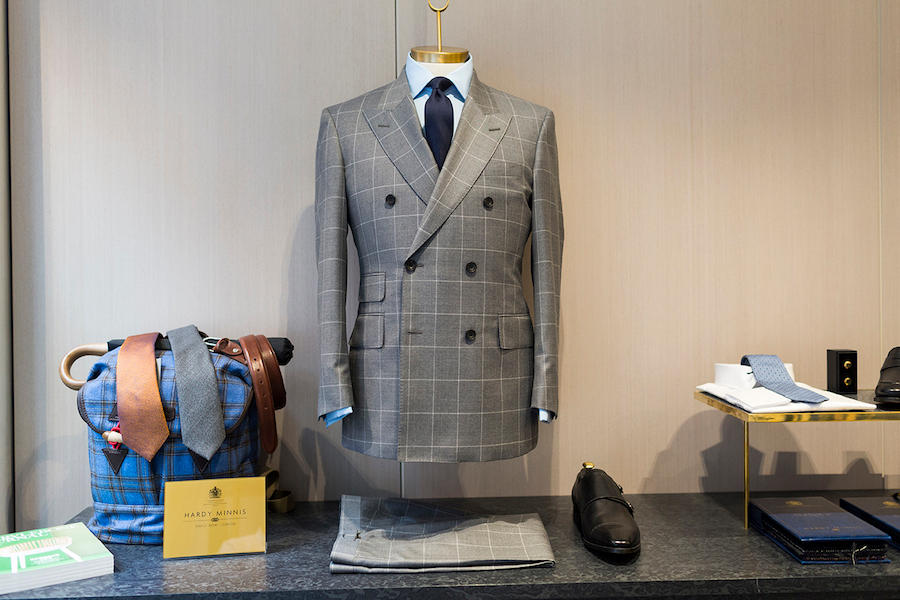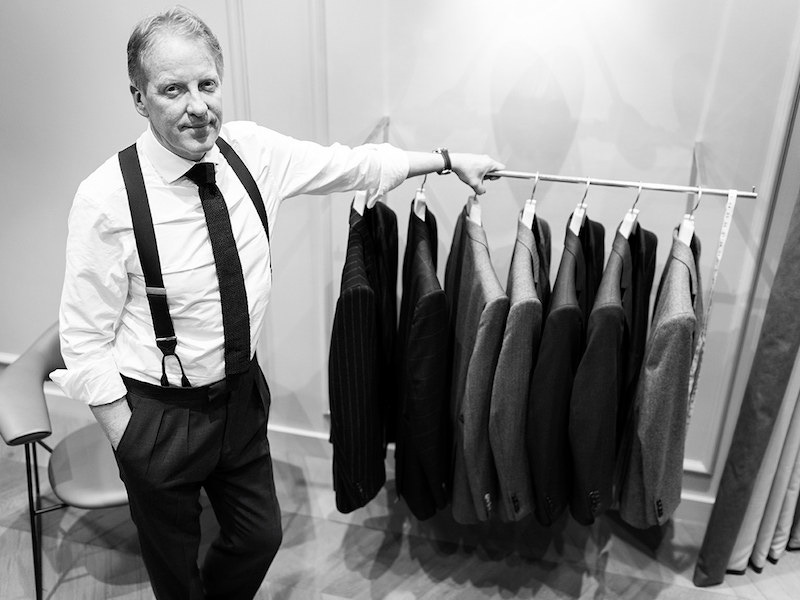 In 2016, English Cut opened the doors to its latest outpost on Chiltern Street, London — it also has a concessionary space in the Mandarin Oriental, Boston — which, compared to the more traditional houses on the Row, is a breath of fresh air. It's a relaxing, un-stuffy and contemporary environment, aptly reflecting the local street of Chiltern Street, which in recent years has cemented itself as a premium destination for menswear. Step inside and the decor is warm and inviting, with a modern atmosphere that balances well with the downstairs fitting room, where there's an ornate triptych mirror paired with velvet curtains, which is more in line with the traditional art of tailoring.  
As to be expected with Tom and Griff mastering their craft at Anderson & Sheppard, proprietors of the
British drape-cut
, their previous employer's house style found its way into English Cut's design ethos. However, compared to the style of the 1930s and 1940s, it's far more contemporary, yet still withholds the intrinsic design characteristics of a strong chest, high arm-holes and soft shoulders. English Cut's jackets are cut shorter, with nipped-in waists and less wrap around the midriff, and the legs are narrower. Overall, it's an incredibly flattering and masculine cut. "I don't want to use cliches and say it's simply the best, but it just is," Tom says of the British drape-cut. He continues, "but what it offers is style in a garment. It's lovely when a garment has a unique look and when you can recognise where it came from."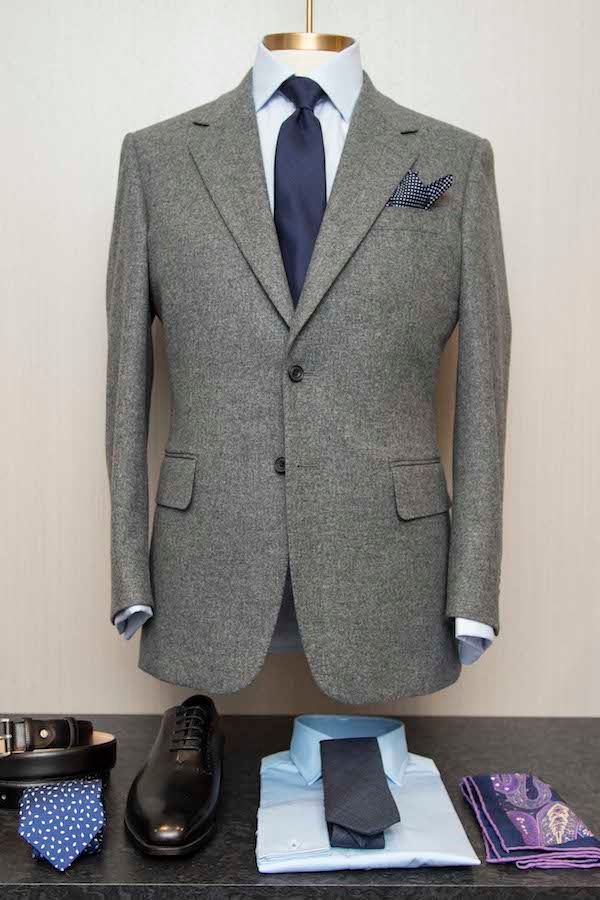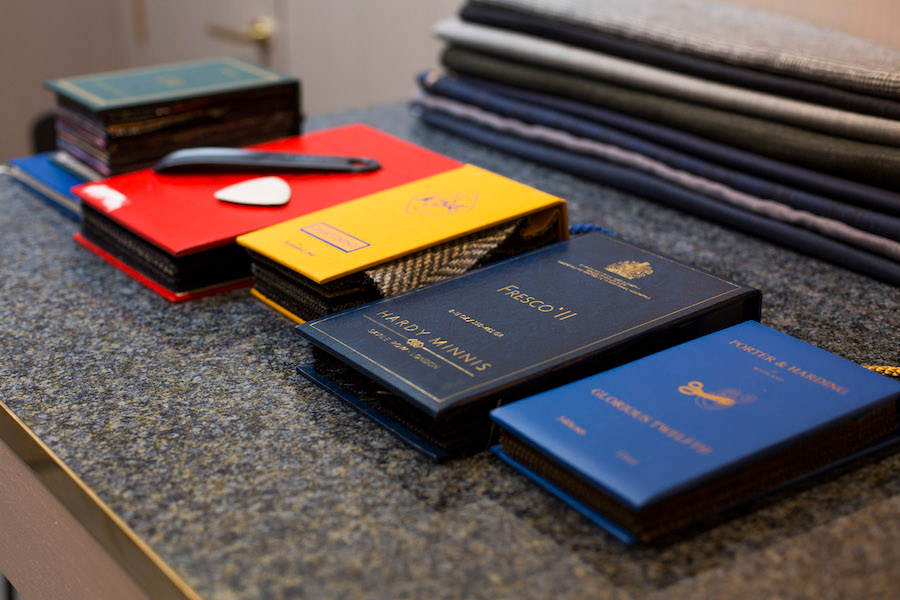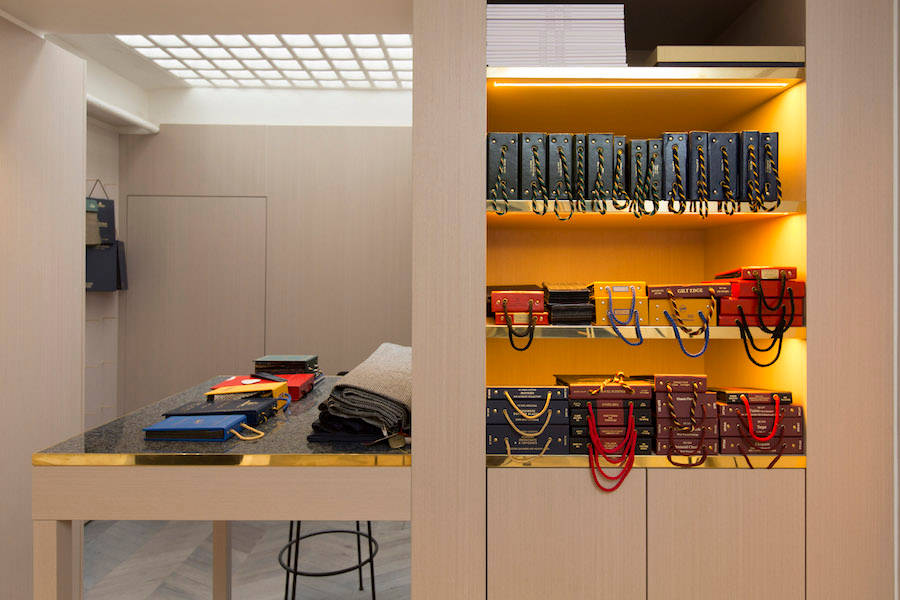 English Cut offers three tiers of made-to-measure and the top tier, which starts at £2,250 gives you the option to choose from as many cloths as you would with bespoke. Yet what makes it a spectacular product is that each cut pattern is totally unique. English Cut doesn't work off traditional sizing blocks unlike a standard MTM service one would come across. "We take roughly 20 measurements and then plug them into a computer which then cuts the patterns using CAD [a software used by architects, engineers, and artists to create highly precise drawings and technical illustrations]." This is workshopped in Japan. "I wanted to go there because no one had gone there and the Japanese do things incredibly well, they're very diligent," Tom explains. And it's true, as the Japanese level of craftsmanship is right up there with the best. Furthermore, Tom and Griff spent three years finding the right workshop and then had to introduced an algorithm for the patterns and indoctrinate a totally new way of working. Or, as Tom explains, "it was almost like a blank canvas." Once cut, the patterns are then constructed in workshops either a stone's throw from the Row or in Cumbria. Expertly hand-finished, exemplified by the beautiful buttonholes, it's as close to bespoke as physically possible. From just speaking to Tom about this, it's clear that he is cut from a different cloth. He's gone from a pioneering tailor-blogger, to the youngest head cutter at Anderson & Sheppard and cutting for
HRH Prince of Wales
, and now he is cementing English Cut as the modern-day leader in the MTM sphere.
www.englishcut.com