Get the Style: Once Upon a Time in Hollywood
Double denim, brown leather, oversized sunglasses... Tarantino's latest film is jam-packed with delicious late-sixties looks that we're desperate to try for ourselves.
Whilst it is only just set to launch in UK cinemas, Quentin Tarantino's hotly anticipated ninth film Once Upon a Time in Hollywood is already a strong contender for the most stylish film of the year, and it's not hard to see why. Set in Los Angeles circa 1969 - an iconic era for fashion - the film is brimming with strong looks, the most notable of which are sported by its two main characters, Leonardo DiCaprio's struggling television star Rick Dalton and his best friend and stunt double Cliff Booth, played by Brad Pitt. 
As the pair wrestle with the prospect of their dwindling careers, they still manage to maintain an air of effortless cool, cycling through a series of punchy late sixties-style outfits, which renowned costume designer Arianne Phillips (who also worked on A Single Man, Walk the Line, and both Kingsman flicks amongst others) was tasked with putting together. She attributes her inspiration to the richness of Tarantino's script, which provided detailed insights into each of the characters and the era in which they were getting loose. "This isn't a movie about fashion," Phillips told Vogue. "Fashion is a reflection of the culture, it's a reflection of what's happening at a specific time. There were real historic references to trends, but mainly these costumes came from the characters and their personalities as Quentin wrote them in the original script."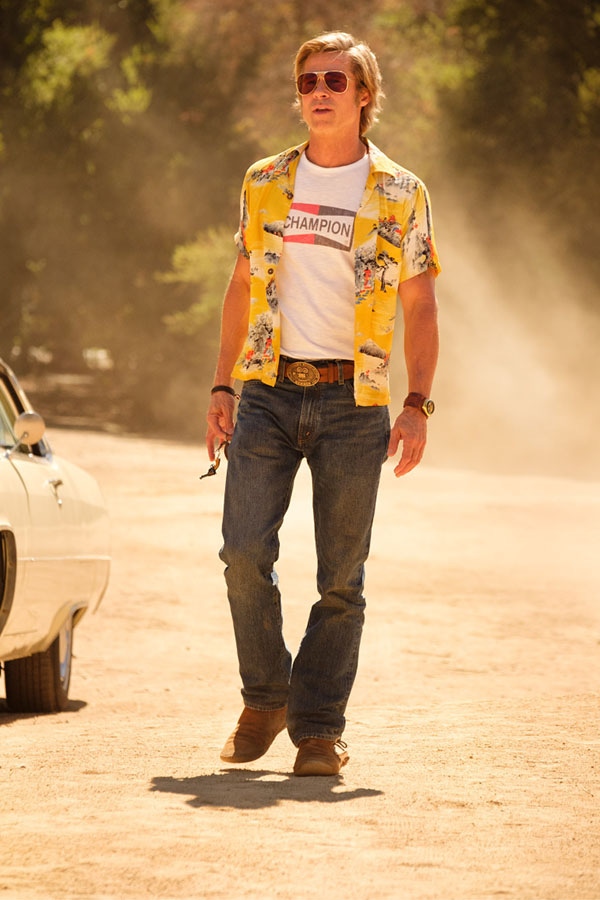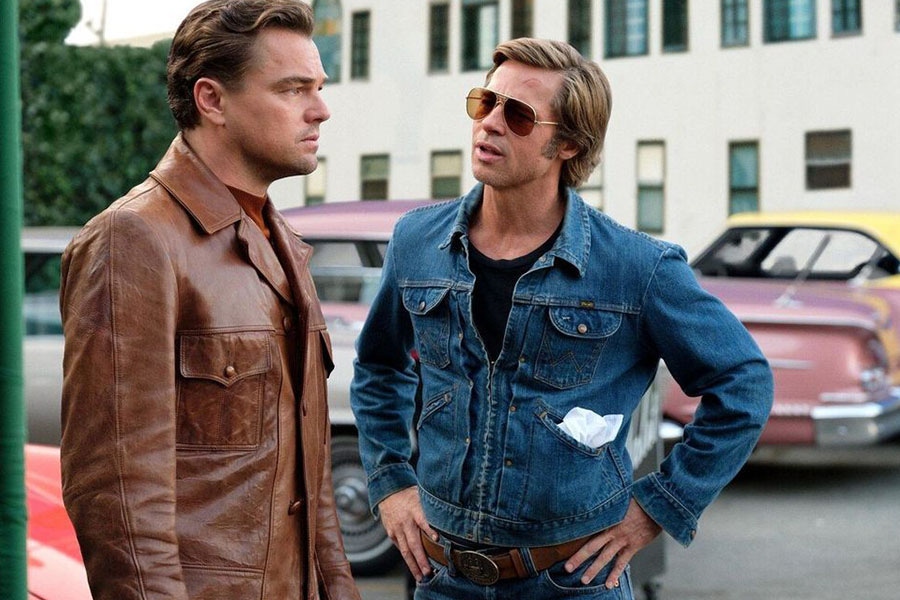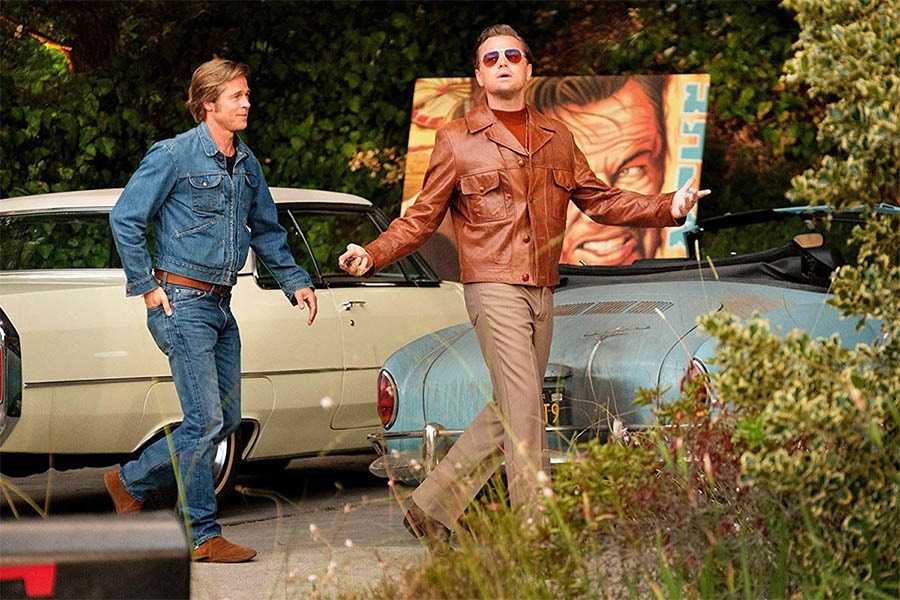 Part of the appeal of Phillips' costuming for Once Upon a Time is that, whilst specific to the period, it still holds relevance today. Late sixties/early seventies style is very much having a moment in menswear, leading us to wholeheartedly embrace the wardrobes of the characters in the film. We're particular fans of Booth's double denim ensemble: his slim-fit cropped jacket paired with bootcut jeans and broken up with a wide brown leather belt (complete with cowboy-style buckle) offers a contemporary twist on classic Western style, with aviator sunglasses and a plaited leather bracelet to complete the look. Such a classic outfit endures in our style consciousness today: look to the likes of The Workers Club, C.O.F Studio and Barbanera to get inspired. Booth's propensity for statement-making attire extends to the bold Hawaiian shirt he wears - because it wouldn't be a Tarantino film without one. If you dare to venture into similar territory, follow Booth's lead and wear yours unbuttoned over a vintage or plain white tee, keeping the rest of your outfit pared-back to exude just the right amount of California-cool. 
While Booth keeps it casual in denim, Dalton is an image of slick sophistication in leather. He rotates a smart, brown leather jacket with a wide-collared embroidered tan iteration, wearing them with a series of brown and mustard turtlenecks and a medallion reminiscent of the type sported by Steve McQueen. In recent years, brown leather has been overlooked in favour of black, but with a sleek, luxurious texture and richness of hue, a brown leather jacket can make for a fail-safe autumnal staple, bringing a softness that black doesn't - consider the various tan, honey and chocolate-hued styles from Alfredo Rifugio, Aero Leather Company and Cromford Leather Company. To really drive home the sixties Hollywood aesthetic, style your jacket with muted shades of brown, mustard and burnt orange. Stonewashed denim jeans are great for day-to-day and pleated trousers will work for formal affairs. 
When it comes to footwear, boots are Dalton and Booth's kickers of choice - and they should be yours too. Opt for a perennially stylish pair of Chelsea boots - in beige suede or sleek brown or black leather - that sit just below the hem of your trousers. Look to Cheaney, Scarosso or Edward Green for a pair that you will cherish for decades to come.