Invest
Investments can be unpredictable, but not so with these four winners, which we have handpicked to provide you with sound and secure appreciation — aesthetically, spiritually and financially.
Audemars Piguet-Matthew Williams Royal Oak
In horology circles, the phrase 'grail watch' refers to a highly coveted piece that an individual, for all their contacts and means, has not managed to acquire — thus far. Not so for Matthew Williams. For the Chicago-born designer and founder of 1017 ALYX 9SM (and the Creative Director of Givenchy women's and men's collections), a grail watch always simply meant his next watch. Then the next one. And so on, and so on, until he'd completed a journey that began with his father gifting him a $1,000 piece on his completion of high school, right up to his acquisition of the holiest of grails: an Audemars Piguet Royal Oak.
So it's difficult to express how big an honour – and a deserved one — it was for Williams to have been asked to co-create four new Royal Oak and Royal Oak Offshore references and a Royal Oak unique piece (a 41mm self-winding chronograph with two-tone case and bracelet in 18-carat yellow-gold and stainless steel, with a black PVD-coated gold dial, which clinched $1m for children's charities at an auction in Tokyo last month).
The four other pieces — which have the words 'Limited Edition' engraved on the caseback, but are somewhat more accessible — range between 37mm and 42mm in diameter, come in 18ct yellow- or white- gold, and include two Royal Oak and two Royal Oak Offshore models. All boast a radical USP: ramped-up minimalism, achieved through the removal of chronograph counters, to devastatingly beautiful effect.
The one we've cherry-picked here, though, is the 41mm self- winding chronograph in yellow-gold, whose dial is even more elegantly spartan thanks to the lack of date indication. It's a technical, as well as an aesthetic, marvel: its column wheel and flyback function ensure the chronograph can be restarted without having to stop or reset first, and a vertical clutch keeps the hands motionless when the chronograph is started or stopped.
"This is the first time we have dressed the Royal Oak and Royal Oak Offshore simultaneously, and it was a natural fit thanks to Matthew's clean, contemporary design," François-Henry Bennahmias, the Audemars Piguet C.E.O., says. "That is the beauty of this collaboration: the synergies are such that we have taken each other to the next level."
Williams agrees. "A collaboration like this allows for me to explore and extend my knowledge to another area of excellence," he says. His ultimate Holy Grail, perhaps — both as a horolophile's acquisition and a creative accomplishment. Scott Harper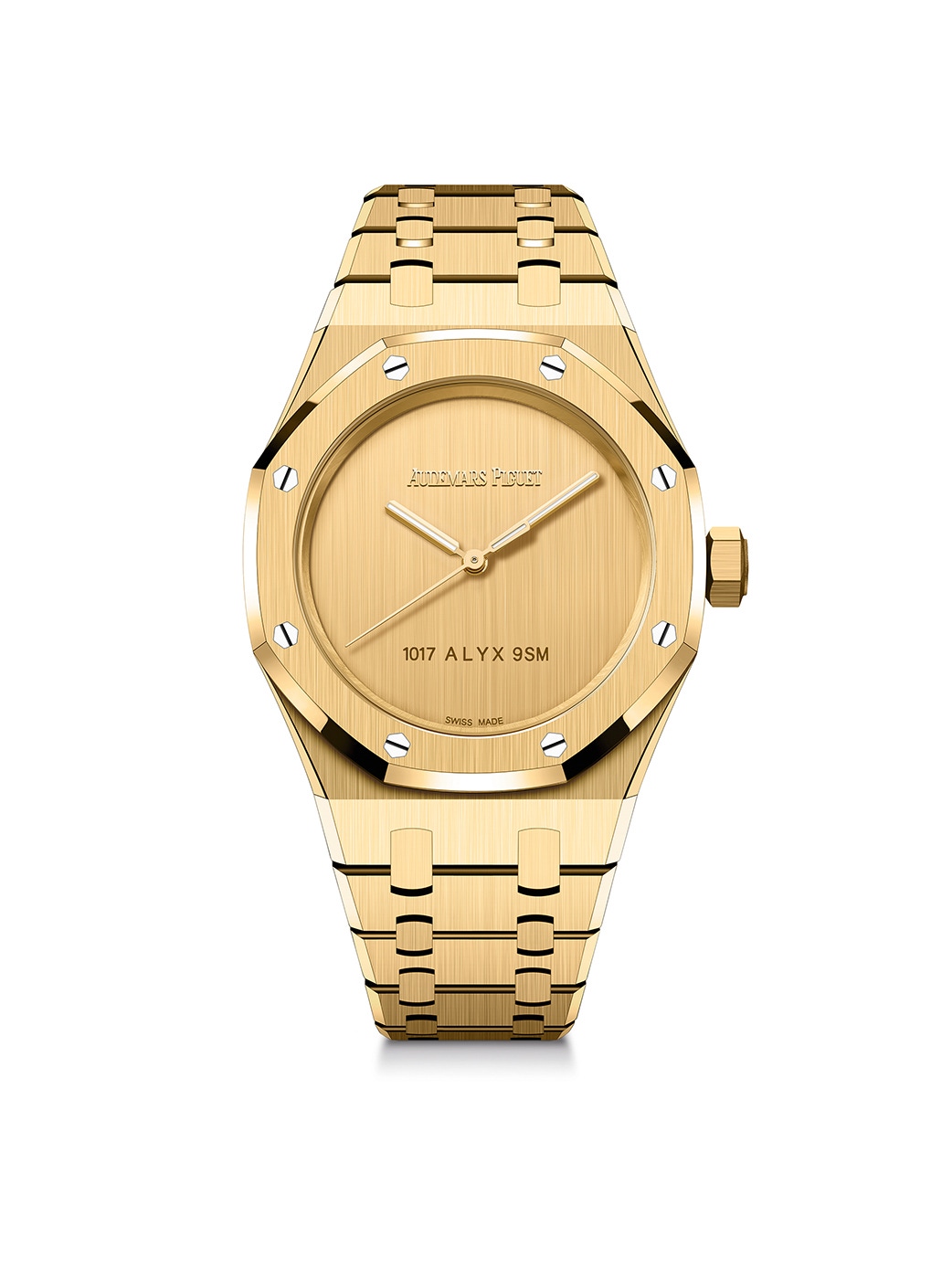 Brunello Cucinelli Nordic cardigan in cashmere
Becoming an accomplished dresser, like advanced mathematics, requires unlearning much of what you learned at school. This doesn't just mean rejecting the most farcical fashion foibles of your youth (wearing bowling shoes; displaying only the narrow half of the tie; and Tipp-Exing 'The Jam' on to the back of the school blazer, in this writer's case) — it also means welcoming into the fold garment genres that in your more sartorially naive days you spurned.
The cardigan is a prime case in point. For those among us who are of a certain vintage, the cardigan — which is named after James Brudenell, the 7th Earl of Cardigan, a British army major-general who led the Charge of the Light Brigade at the Battle of Balaclava (the dual knitwear reference in the earl's biography is merely a happy coincidence) — had childhood connotations that were as fusty as they were musty (with the garment's unfortunate reputation only enhanced by elderly people's propensity to call them 'cardies').
By their early twenties, though, any self-respecting urban (and urbane) flâneur should have a healthy selection in his wardrobe. And however comprehensive his current repertoire of cardigans (we'd expect many readers of this periodical to already own an assortment of buttoned, zippered, V-necked and scoop-necked options), the
piece you see here will bolster his arsenal. Wearing knitwear for the first time since March should always feel like a start-of-winter ritual, and tugging this piece over one's form, in keeping with the cosy connotations of the word 'Nordic' in the garment's name, feels like a tactile embrace — a cashmere cuddle — from a dear friend who will be accompanying you through the harsher months.
Which is exactly what it is. Uncannily warm thanks to the refined, lightweight feather yarns whose tubular structure increases volume and helps keep out the cold, the cardigan packs refined artisanal craftsmanship evident in every fibre, while its geometric, moderately retro-coloured pattern brings out the best in the yarn's airy texture. The shawl collar, horn buttons and cosy fit all bolster its layering potential, especially in an era in which the line between formal and informal has not so much been blurred as washed out of the picture completely.
A true investment, then, for anyone who sees utility, beauty and versatility as the sacred triumvirate when it comes to ramping up one's winter sartorial range. As long as one's callow school-day prejudices are gathering dust in the attic, alongside the Tricolore textbook and Clarks plimsolls, that is. Scott Harper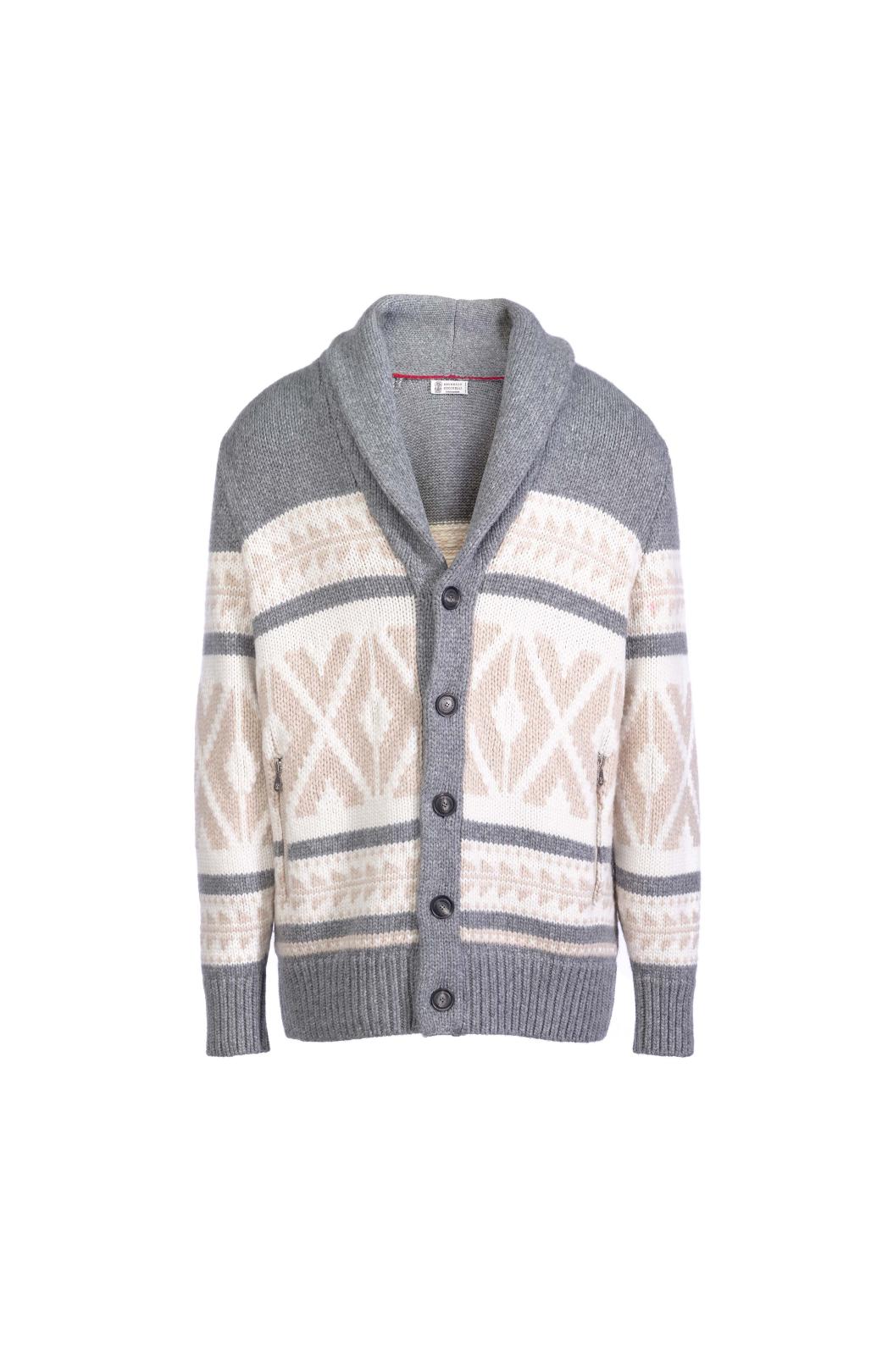 Bolívar Gold Medal cigars
You may have read in the June issue of The Rake about my trip to Cuba for the Habanos Festival. It was a week of unreliable Wi-Fi, glorious sunshine and, unsurprisingly, cigars. The festival was a triumph, and it was extraordinary to be back on that magical island and bearing witness to hundreds of years of cigar tradition and agriculture.
During each festival, there is a series of events at which a different flagship cigar is launched. This year was the year of the Montecristo Open Slam, the Partagás Linea Maestra, and the cigar you see on this page, the Bolívar Gold Medal. The name Gold Medal has pre-revolution origins and was discontinued in 1992, which was a boon for those who owned them, for their value now is rather high. The rumour is that the foil you can see covering just over half the cigar was too difficult for Cuba (and its legendary logistical difficulties) to source.
Its return, therefore, justifies the fanfare it received at the festival. Each guest was gifted two: people advised to keep them, as they are collectable, but I wanted to know whether they were delicious. I
lit one there and then, and the other when I got back to London. The first thing to know is that the size is wonderful: a 42-ring gauge feels comfortable in the hand and between the teeth. It was not, as I expected it to be, a cigar I had to wrestle with. The flavour profile is full flavoured, but I experienced something creamier and more relaxed than Bolívar tend to be. This is, after all, the brand that has the Royal Corona, a smoke for only the strongest constitutions.
It is sold exclusively through La Casa del Habano retailers. They will be worth locating, for several reasons. Firstly, the Montecristo is unlikely to be the festival favourite, and shouldn't appreciate much or go down as a classic. Secondly, the Maestra range from Partagás is a selection of three cigars, and a lot of time will be spent figuring out which is the best one (the Rito, for those who care what I think). And in the meantime, the Gold Medal is a cigar that has a lot of emotional baggage for cigar smokers, so it will be snapped up quickly. Owing to the accessibility of its flavour, it will also be coveted by pretty much everyone. Tom Chamberlin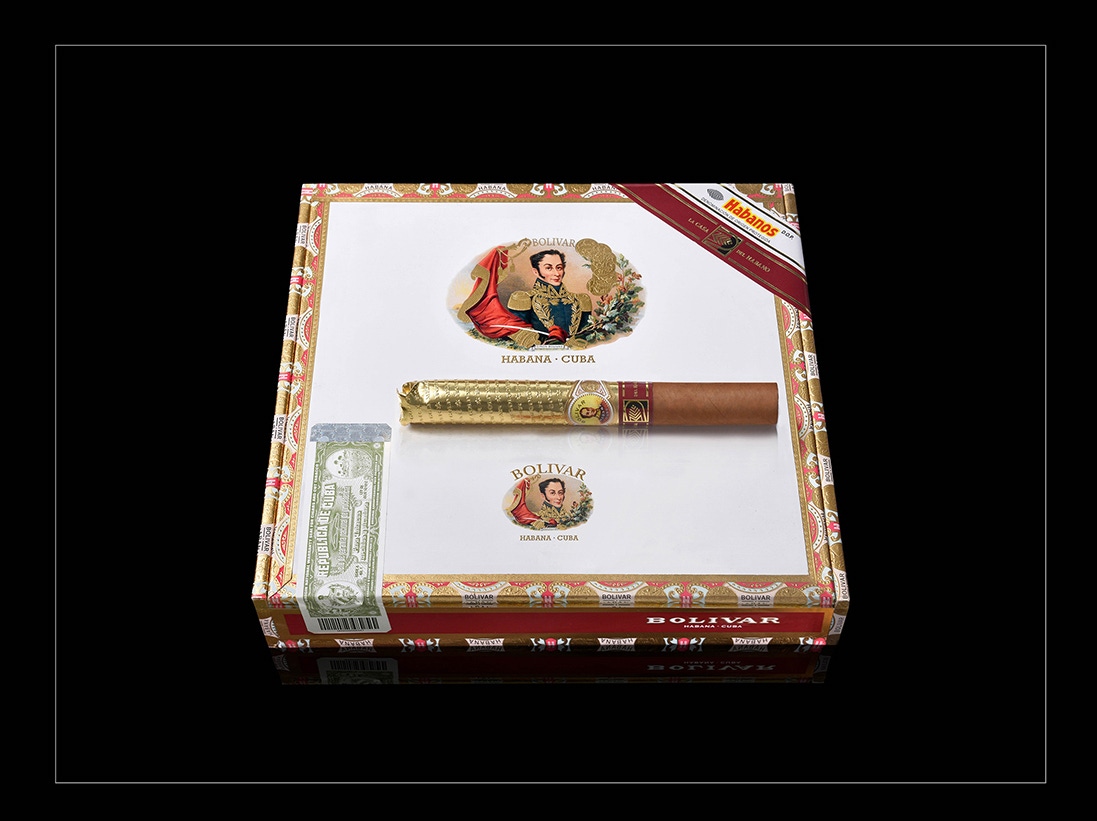 Connolly 48-hour cabin bag
There's something wonderfully decadent — and in our milieu, this is a word whose use is entirely positive — about an artisanal maker whose origins are utilitarian applying its skills to making things that discerning people want but don't need. And, perusing the brand's three-floor space within an 18th-century house on Clifford Street in Mayfair, one will find Connolly — which was founded in London as a saddler and shoe repairer in 1878 before evolving first into a leather supplier to the car industry and then a lifestyle brand — to be masters of the art.
Miniature Portuguese sea chests in gold-studded natural vegetable-tanned leather; beautiful hand-painted bookends in the same material; driving goggles seemingly plucked straight from the amphibian forehead of Mr. Toad... Hell, they even made, as part of a collaboration with Sebastian Conran, jump leads and tool kits in soft calfskin a couple of years ago.
We applaud Connolly heartily for all this. But crucially, all the indulgent paraphernalia the brand manufactures is made more enjoyable by the fact that it still, in keeping with its beginnings,
makes a wealth of practical items — genuine essentials for day-to- day living — as well. A perfect example of the brand in pragmatic mode is this recently launched bag, made from soft but hardwearing tumbled grain leather and designed, as the name implies, for brief business or leisure sojourns. As well as beautiful — the purest expression, indeed, of that confounding reality whereby an accessory or garment can be conspicuously understated — the piece is light, thanks to a softness and lack of inner structure that readers of this title will forever associate with the master tailors of Naples.
It's also markedly practical for the man on the move thanks to its removable shoulder strap, easy-access external zip pocket, elasticated straps with fastener to secure clothes while travelling, padded laptop sleeve pocket, separate washbag/wire case, and a trolley strap on the back so it can be suspended from the handle of a wheelie case.
Obviously, its dimensions are conducive to overhead compartments, but it also slots nicely into the boot of the average modern supercar, should you be looking for an excuse to snap up the finest driving goggles and tool kit money can buy. Scott Harper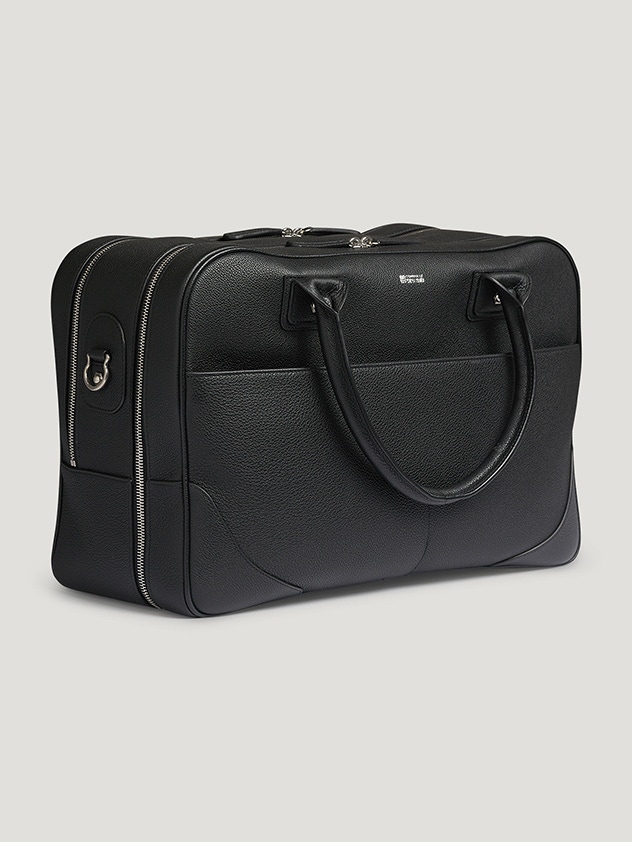 Read the full story in Issue 90, available now.