Juxtaposing Styles: Messrs Biedul & Le Fèvre
Two of London's most venerated style aficionados go head to head with this spring/summer editorial...
Not too long ago, Richard Biedul and Mathias le Fèvre approached us with an idea for an editorial shoot with their friend and photographer Nick Tydeman. Both of them are of course no strangers to The Rake, nor strangers to the menswear scene in London. After all, Richard has modelled and been the face for many a reputable house on Savile Row, Jermyn Street and beyond, and is a designer and creative in his own right, while Mathias has garnered an incredibly strong following on social media and could soon be giving Richard a run for his money despite being at least 10 years his junior. Both have long been advocates of classic menswear, but what makes this interesting and why we were all for it, is in the very different way that each wears tailoring. Despite being the older man, Richard's approach to tailoring is very modern, juxtaposing a strong silhouette with more contemporary pieces, whereas Mathias subverts our preconceptions of youth by wearing tailoring in a more formal and traditional way. Importantly, they both know what looks good on them and what they feel comfortable in, which is why they both look very natural. I'll let them do the talking and explain why they've put their looks together...
Mathias: "Brown is a colour that is here to stay and it has always been an essential part of a great sartorial wardrobe. Tobacco brown is a current favourite of mine as i
t's a less formal
tone due to its lightness and saturation – yet it's still quite sophisticated. It's 
presented here as the anchor of this separates look with a pair of linen Manny trousers, which a style that has become a signature of Italian clothier, Rubinacci. The three-button jacket is by the Neapolitan tailoring house Dalcuore and it is cut from fine beige wool with a gun check pattern. The soft construction, lightweight fabric and butterfly lining makes it a perfect casual summer piece. Layered with a soft cream tab collar shirt by Edward Sexton, a brown wool tie and finished with a pair of box-calf tassel loafer by Carmina."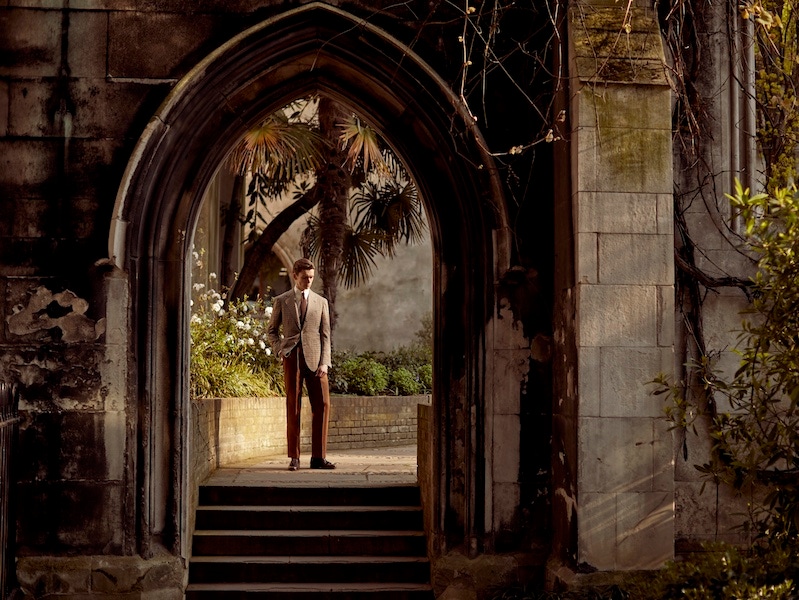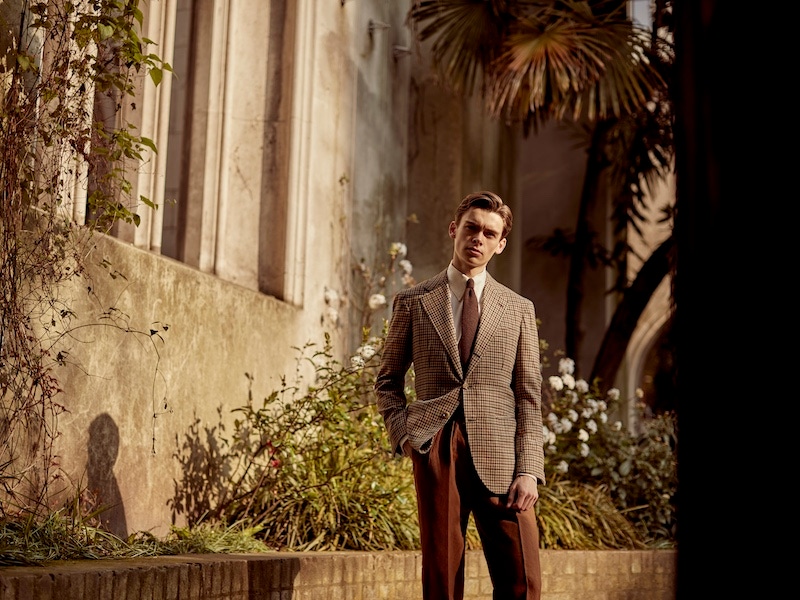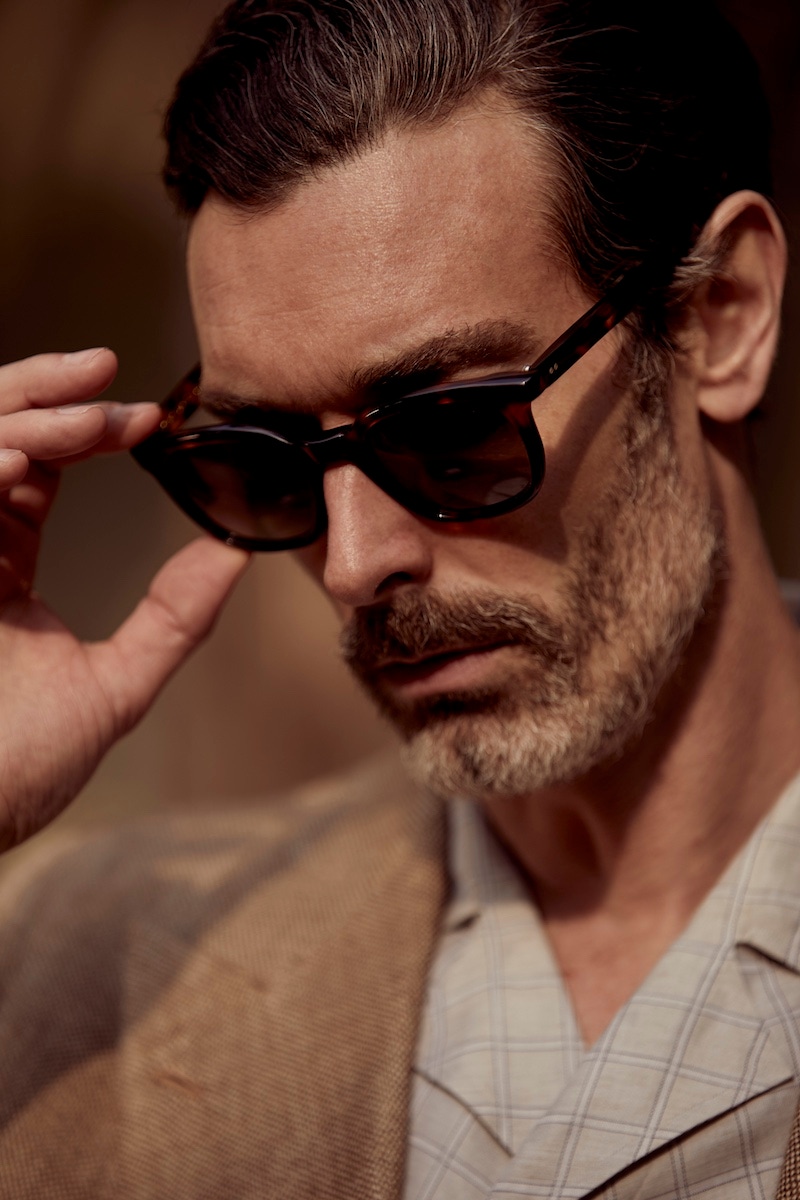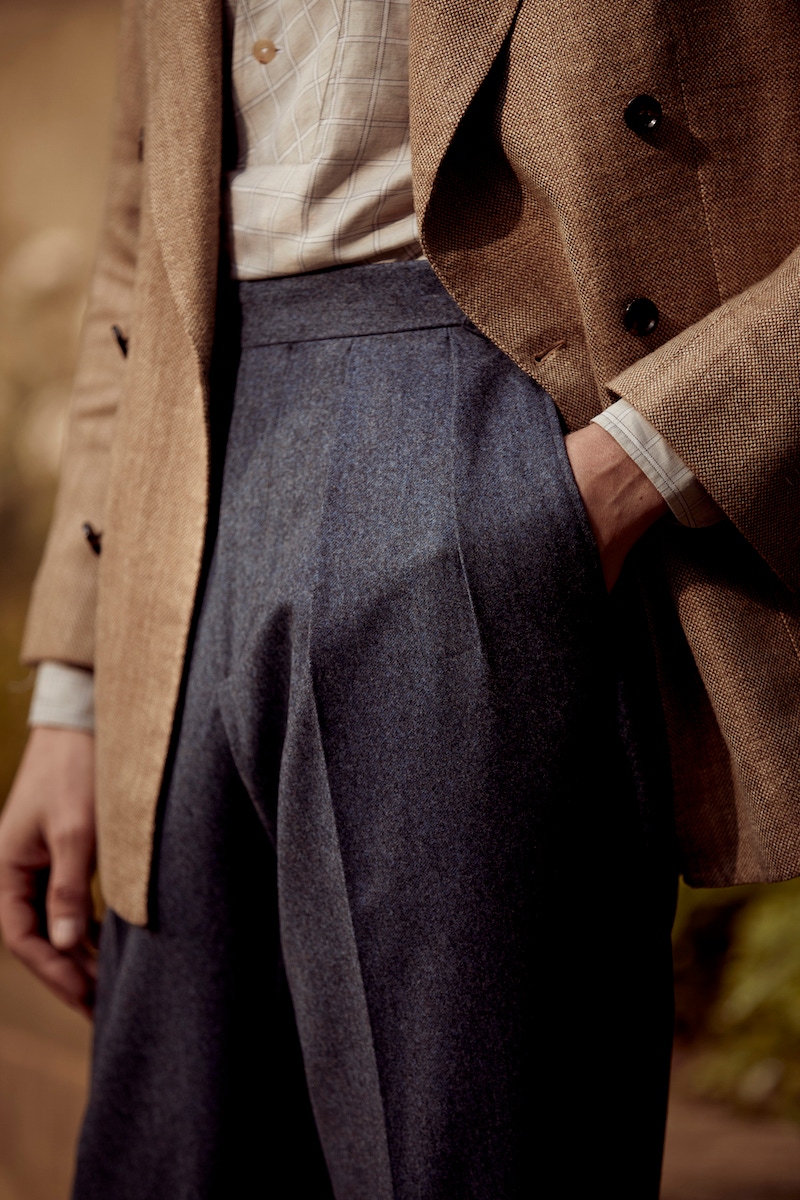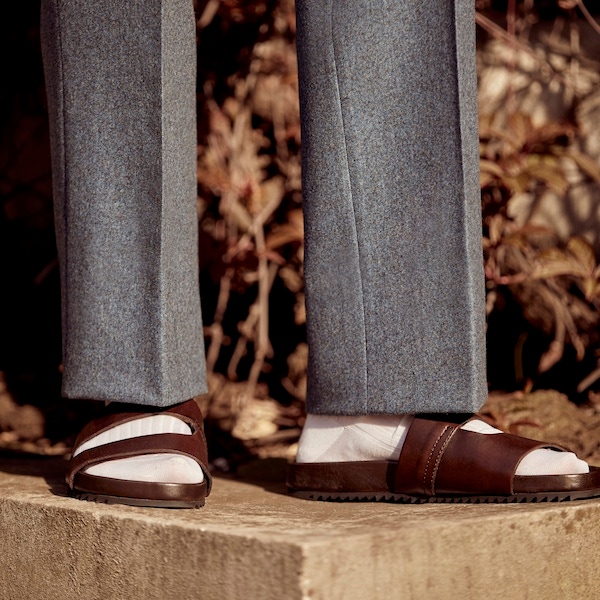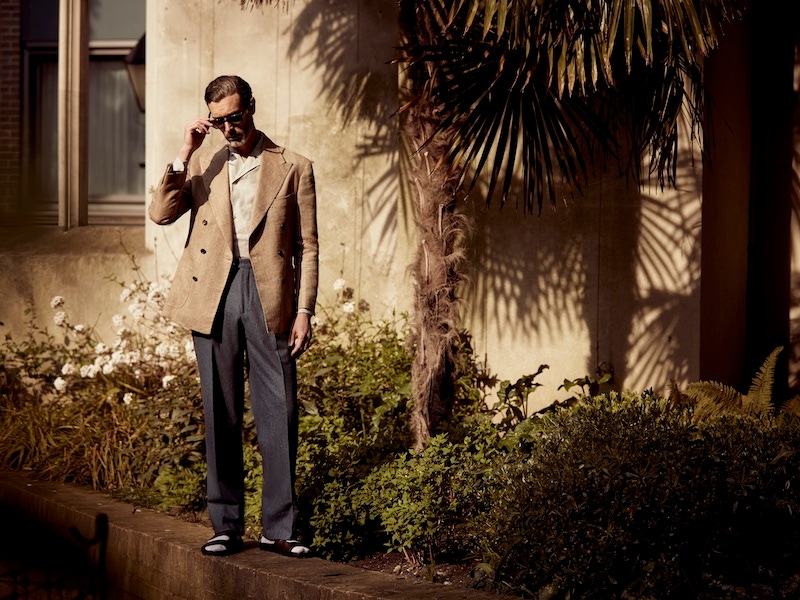 Richard
: "Paying homage to the 1980s, this laid-back yet refined combination of sharply tailored
Kit Blake
trousers and lightweight, deconstructed beige silk linen double-breasted jacket from
Dalcoure
with a generous silhouette is perfect for summer in the city. The contrasting sharp and soft lines of the top and bottom half respectively are bought together by the wonderfully informal cotton/linen
Santillo 1970
windowpane revere collar shirt and the minimalist clean lines of the
Grenson
Chadwick leather sliders. Socks are optional but again, very much on trend for this season."
Mathias
: "
In a pleasing shade of olive green, this plain weave cotton suit by Drake's makes the perfect versatile spring/summer suit. Elegantly appropriate in a formal context when dressed up with a shirt and tie, it also creates a satisfyingly relaxed look when worn with an open-collared shirt. Here it's styled with a Bengal stripe tab collar shirt designed by the legendary Edward Sexton, a subtle checked tie and a polka-dot handkerchief."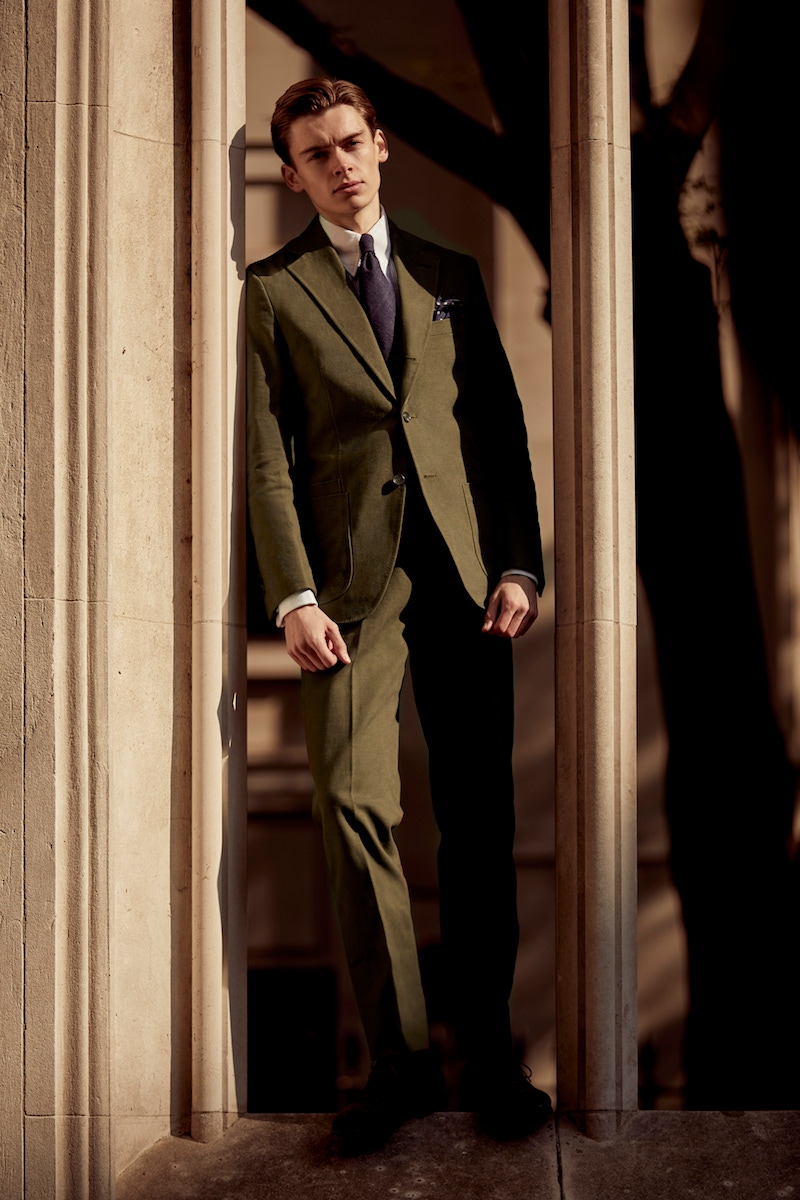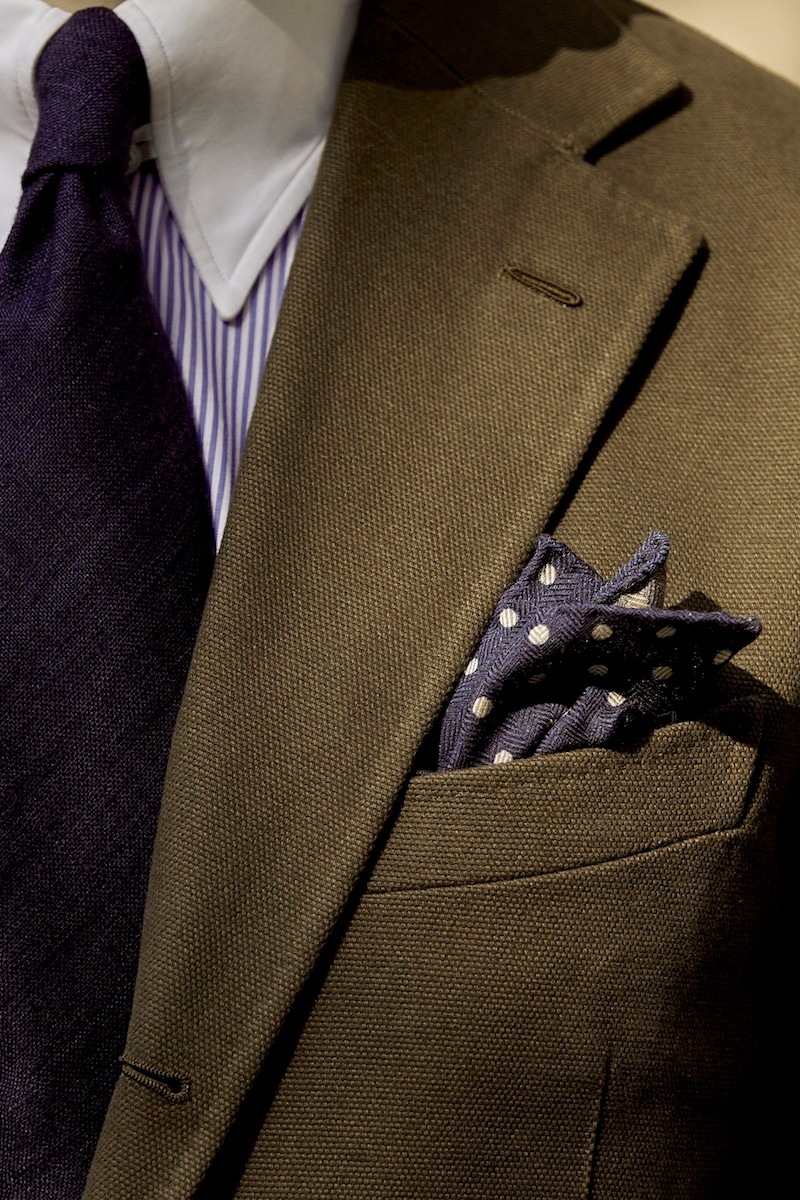 Richard
: "Traditionally a fabric associated with the colder months,
Drake's
lightweight needlecord
is the perfect summer alternative to the more traditional linen suit. Unlined, breathable and extremely versatile as it can be broken down into separates, it's paired with contrast Bengal stripe shirt and tie from
Edward Sexton
in earthy green tones - its fluorescent counterpart was no doubt the colour of the season and seen on pretty much every catwalk from London to Paris and Milan. The "busy" upper half is juxtaposed with a simple white
Yatay
 vegan leather low-top trainer.
Mathias: "Continuing the green story from a more formal expression, this is the relaxed counterpart. A pair of green linen Manny trousers, a striped shirt from the Neapolitan shirtmaker Fralbo and topped with a beige single-breasted cotton jacket by Salvatore Piccolo makes this look appear effortlessly cultivated. I've added a recent personal re-discovery of mine: the sandal. It will instantly add a drop of relaxation to your look when desiring to dress down your tailored wardrobe on your next cityscape or holiday. Worn with "sartorial socks" by London Sock Co."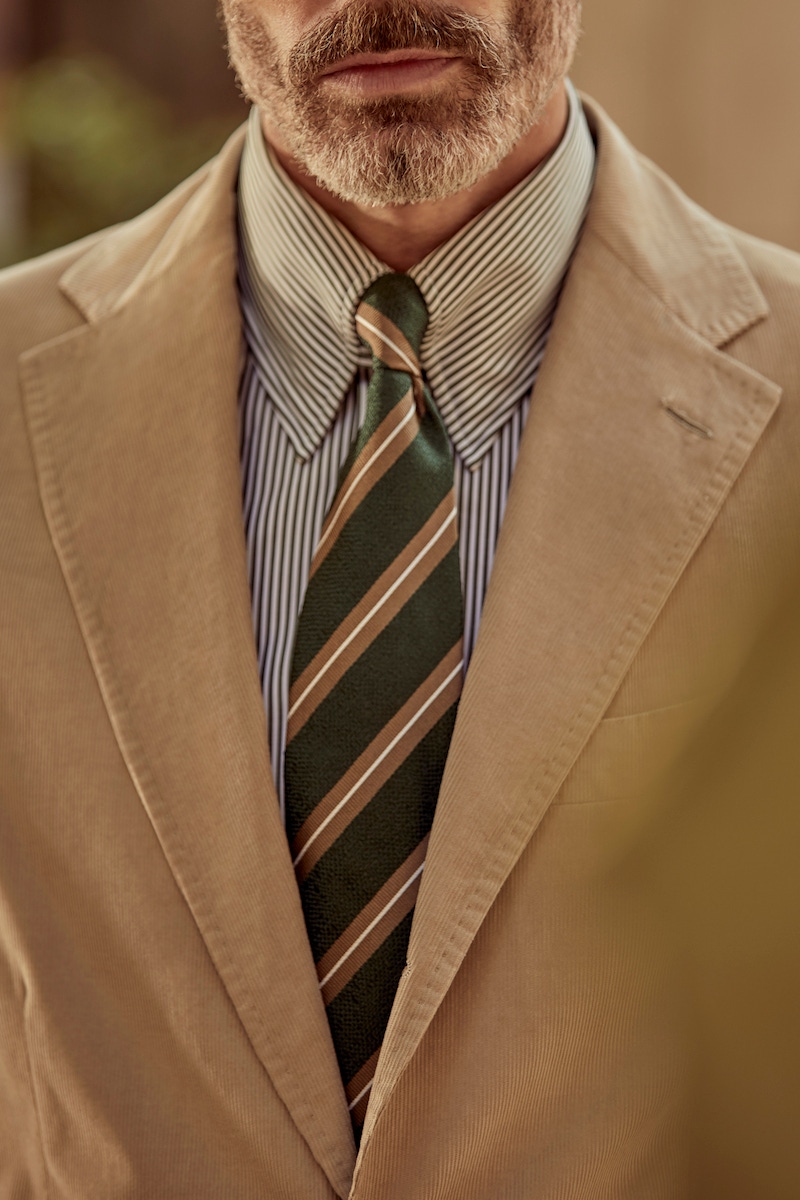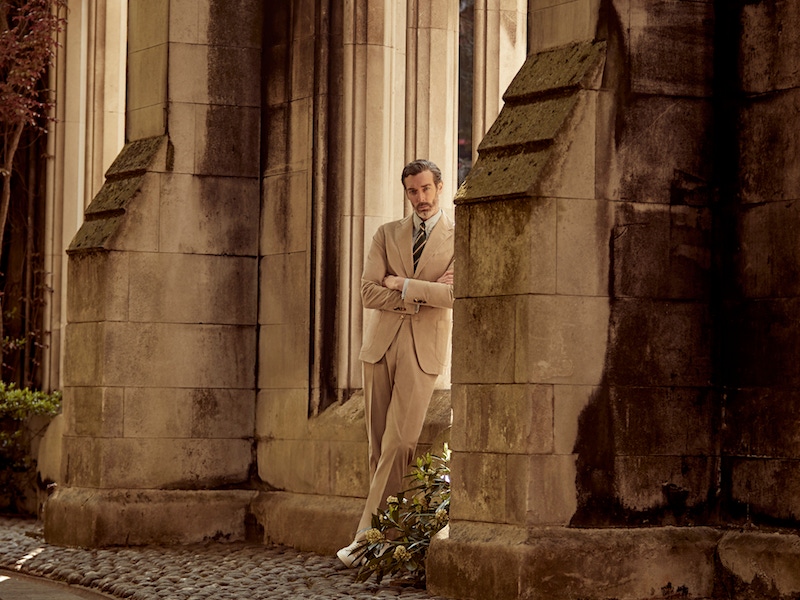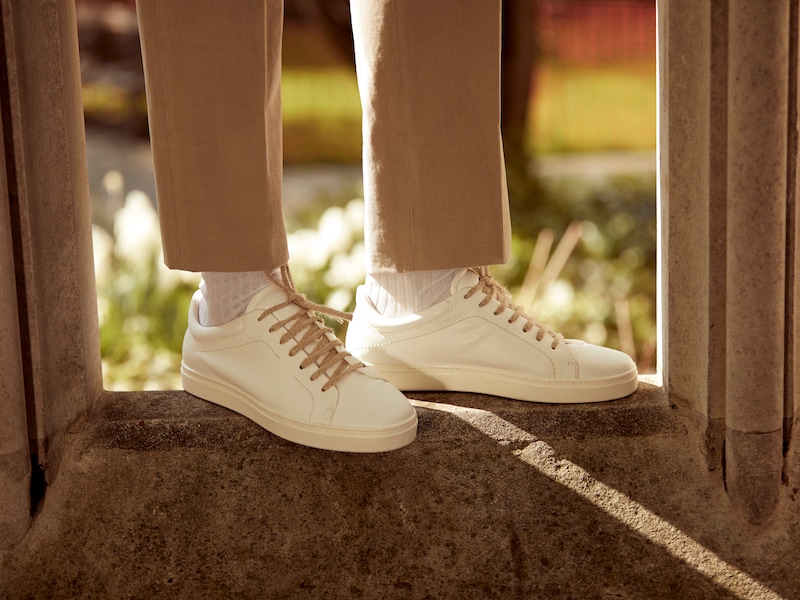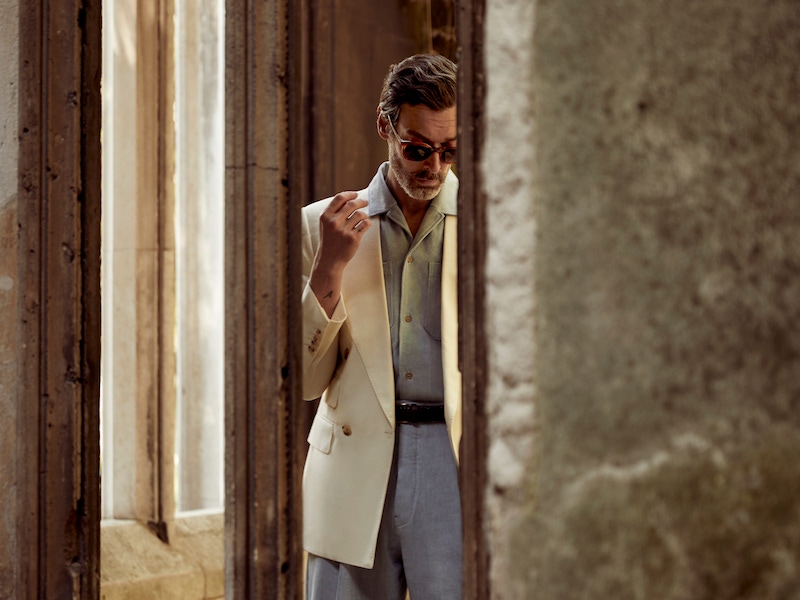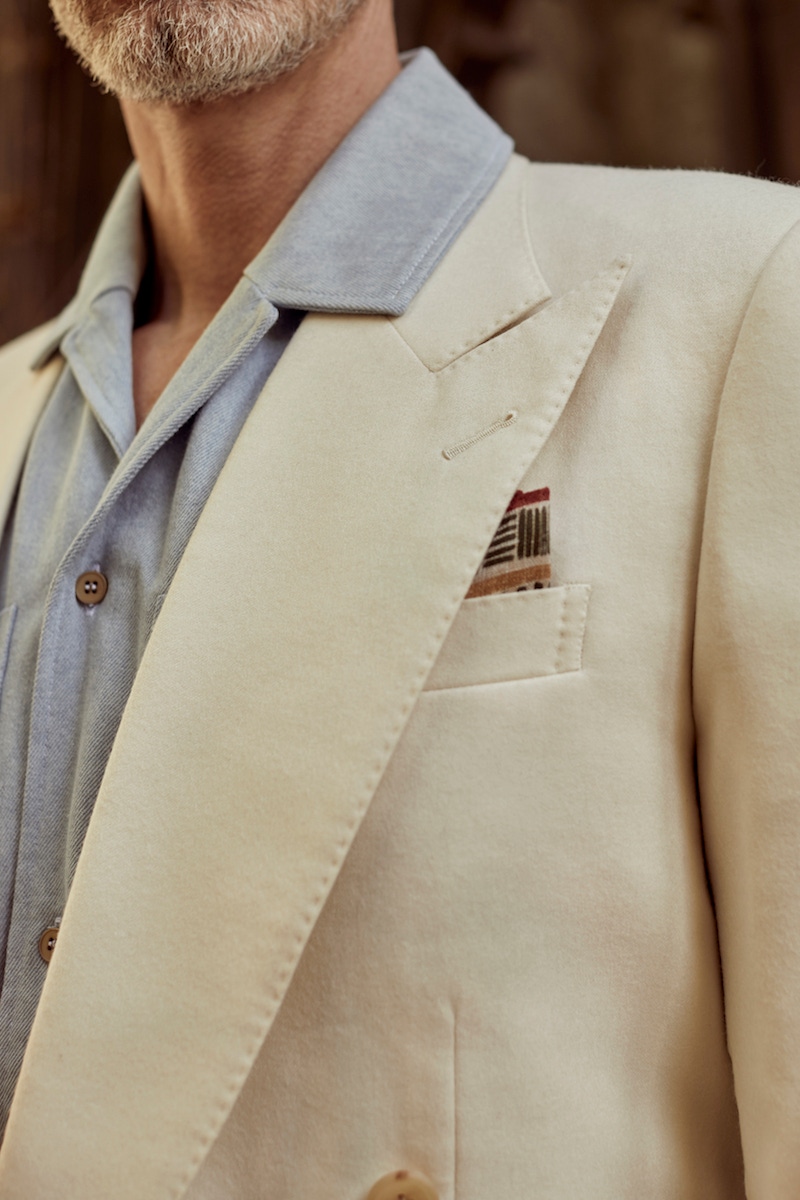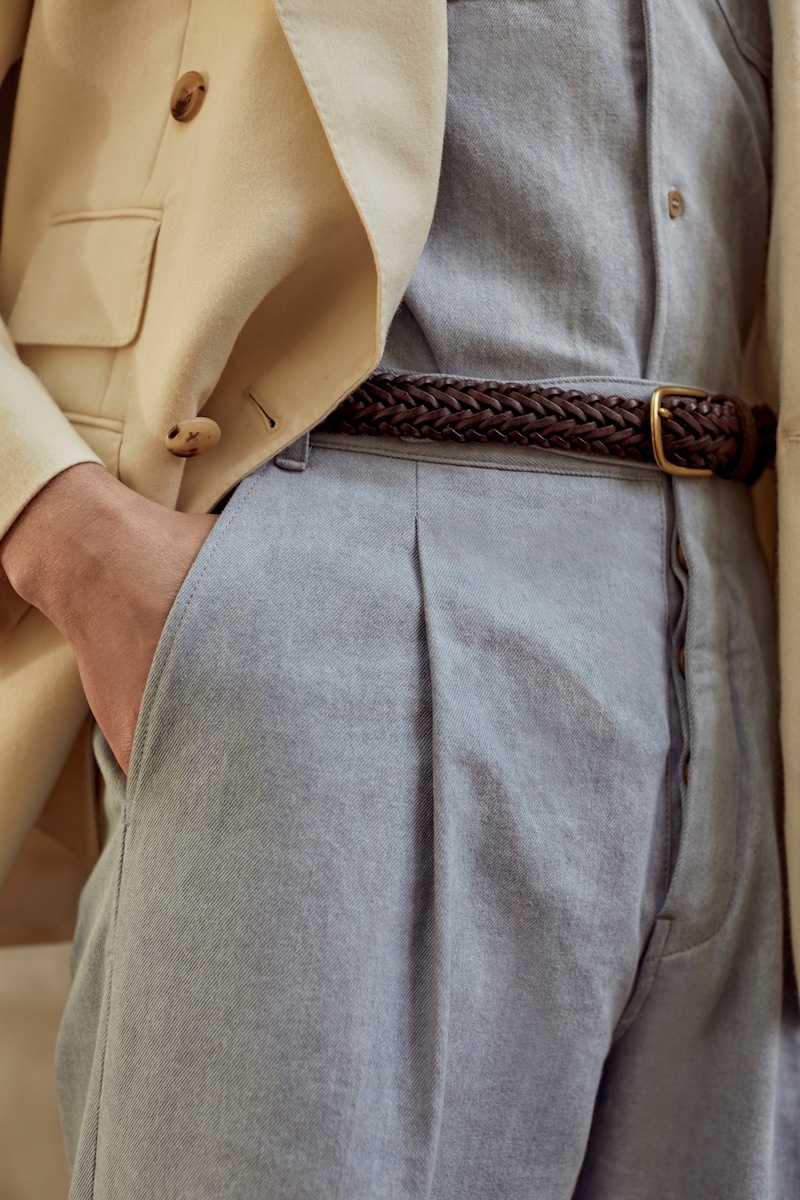 Richard: "Merging the 1930s Californian cool of the Edward Sexton cream fox flannel blazer and the very best of King & Tuckfield's mid-century British design creates a louche, swaggering summer silhouette. The razor-sharp lines of the structured jacket are complemented by the soft yet elegantly relaxed fit of the King & Tuckfield wide-leg pleated denim trouser and the brand's signature camp collar bowling shirt." 
Photography Assistant: John Neate