A highland fling in the Maserati Levante Gran Lusso
Digital Editor Ryan Thompson took the Maserati Levante S Gran Lusso to the Cairngorms National Park in Scotland for a more than a wee bit of fun.
It's a 12% incline on the mountain road that takes you past Glen Shee ski station in Scotland's Cairngorms National Park. I need to get over it because somewhere over the other side is my destination,
The Fife Arms
in Braemar, but the photographer has just slo-mo glided out of my rear view mirror and into the opposite lane. Now, I'm not the type to belittle the underdog - even if I am sat in the posterior-heated comfort of Maserati's Levante S Gran Lusso - because many a fable proves that words can indeed be eaten - but the photographer has attempted the journey in a Smart Car, the likes of which corners like a nitro-infused go-kart in the dry. Unfortunately for him, it is not dry. In fact the road looks like the wall of a padded room and the mental patient has just slid across the road as if he were being controlled on a babyfoot table. Back to my windscreen, where the snow is falling so heavily that the high-speed wiper setting sounds like it's getting angry. Just up ahead, three men are stood about a Skoda saloon, while one (there must be a joke in this) struggles to attach tyre chains. In the distant, which isn't actually that far away, but visibility is shocking, more experienced road users have parked their lorries on the side of the road and are eating sandwiches from white paper bags, watching, chewing, watching. Quite what they must have thought a well-preened Italian 4x4 was doing on its way to a Scottish ski station is anybody's guess, but I didn't hang around to take a vox pop. When I picked the car up in Slough, the press office and I guffawed all too sincerely that I would not be requiring the off-road setting, but here I am, engaging muscle mode on a freezing Scottish hillside while all around me (including the now industrially enhanced Skoda) fail to make any headway. I must admit, I felt a pang of guilt as the photographer slowly disappeared from (rear)view (don't worry, a Land Rover would soon shunt him up the mountain) and the lads in the Skoda, shoulders scrunched up to their freezing lobes, waited for a grit lorry to clear the road. Turning up the underseat heating made me feel better about myself.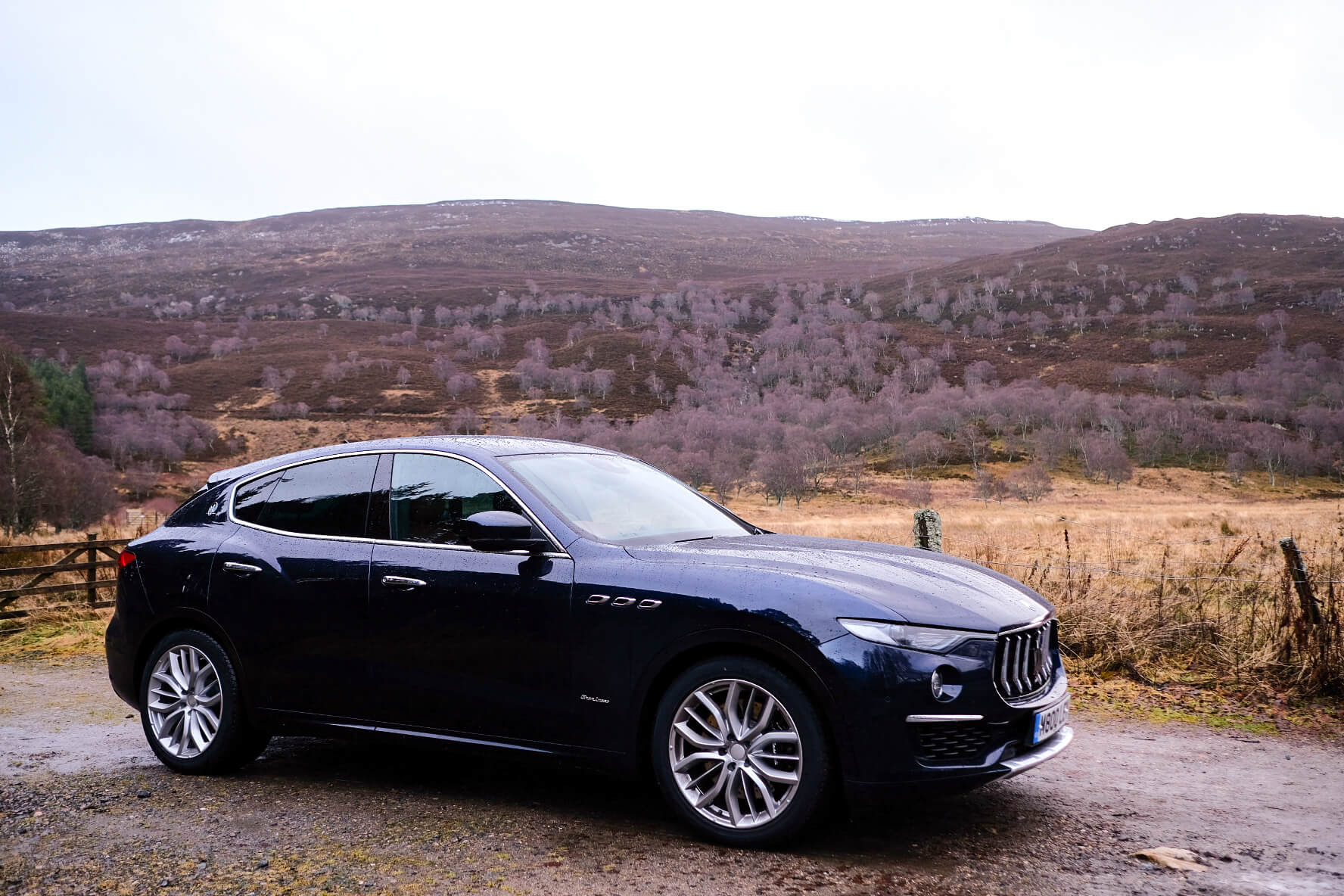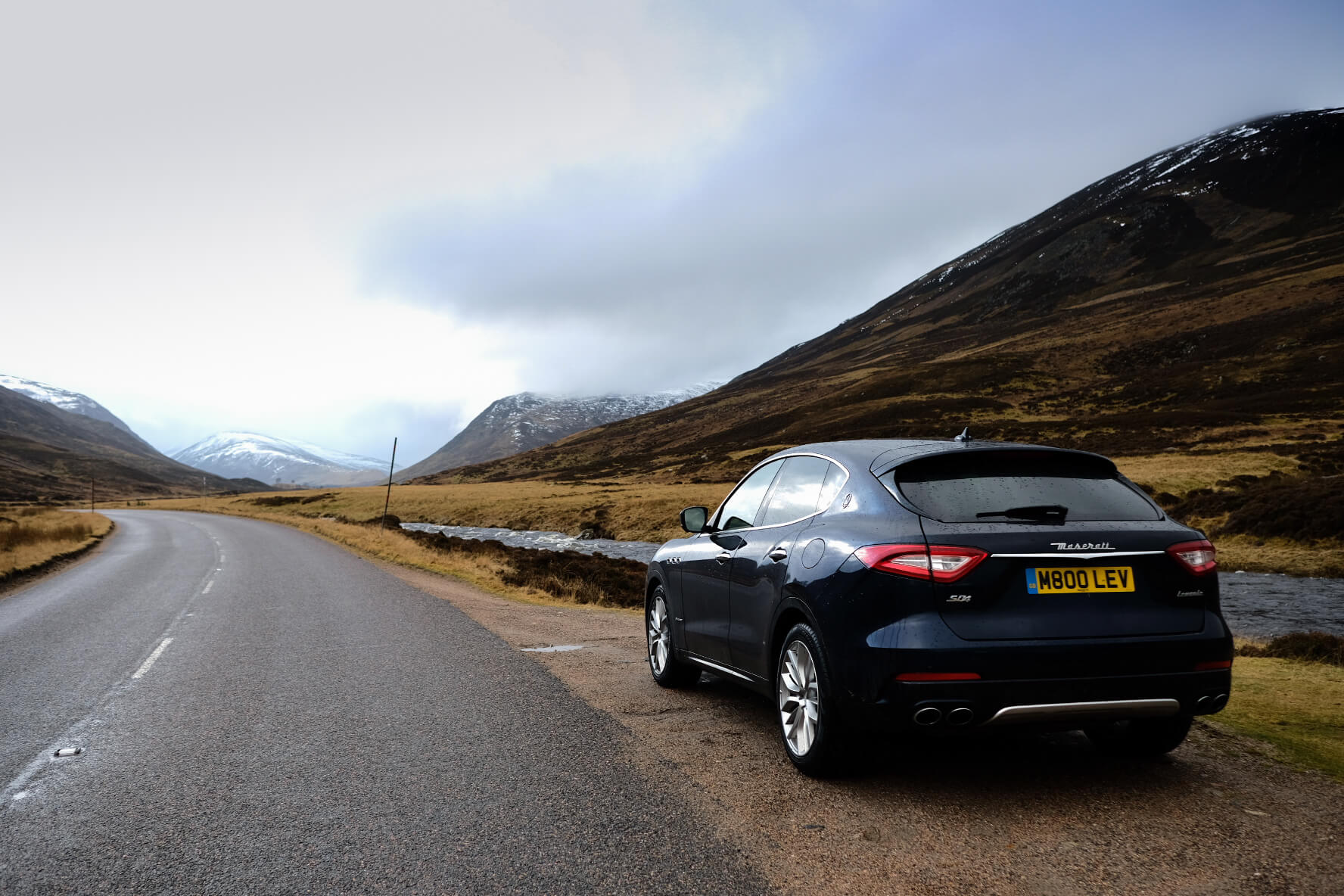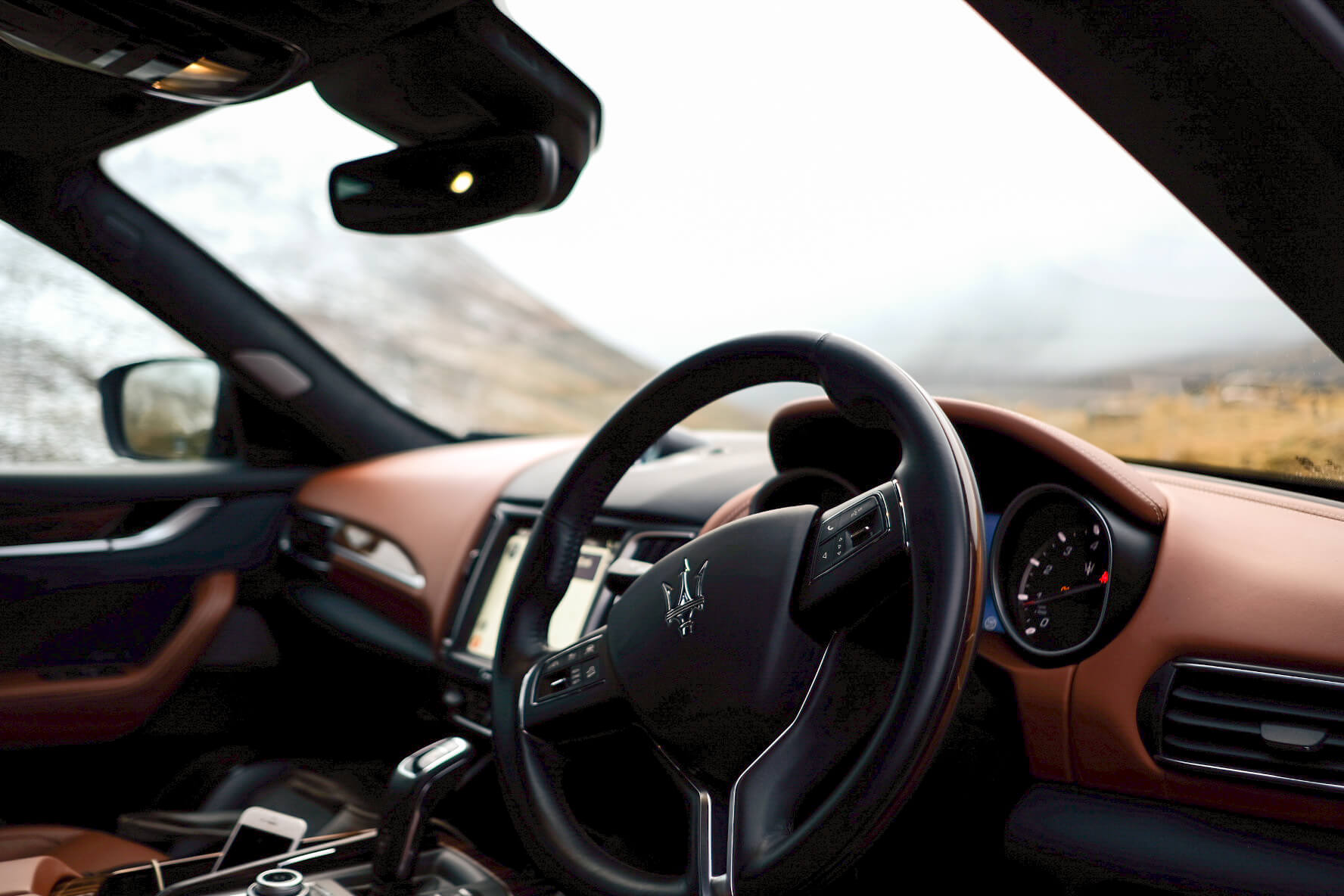 For the next 10 minutes, the Levante climbed and climbed without so much as a single wheel spin, I kid you not. It very carefully growled its way up the treacherous pass like Sisyphus, only without the struggle. Those of you with compassion may be asking why I left the photographer on the side of the road, but I can assure you the car was packed full of suitcases equally packed full of the finest sartorial threads known to man and beast. What would you have done!? Despite what we all might proclaim about climate change and protecting the planet, the numbers don't lie: SUV sales are up, up, up and outstripping all other genres of vehicle. This shouldn't come as a surprise, given that almost all of the luxury marques have invested heavily in the development and release of SUVs. I can't say I've driven them all, so any comparisons will be worthless beyond the superficial, but what I will say is that I fell in love with the Levante Gran Lusso. And this was no first date fetish - we had a little over 18 hours of driving time together, combining the rough with the smooth. From first glance, she's a beauty. Moving about her, the light teases out the nuances of blue hues from the triple layers of paint and had I seen even a slither of sunlight in Scotland, I dare say her visual CV would have been even more impressive. Under the hood lies an impressive 424bhp V6 S engine that churns out 478lb ft of torque and hits the 60mph mark in a not too slouchy 5.1 seconds, not that I ever managed to put my foot entirely down given the conditions. Even when the snow did relent, the rain was quick to replace it and with an outside temperature of below zero, I wasn't going to be that hero to test the evidence of the speed traps. Nevertheless, 18 hours in any car is a trial, but the Levante was by all measures comfortable. I'm 6'3in, and purveyor of a spine that does not take kindly to prolonged inactivity, but the Levante's driving position kept me grimace free for much of the journey. The handling was perky enough to keep my honest on highland roads upon which carelessness would be rewarded with a boggy ditch, left or right, whichever takes your fancy.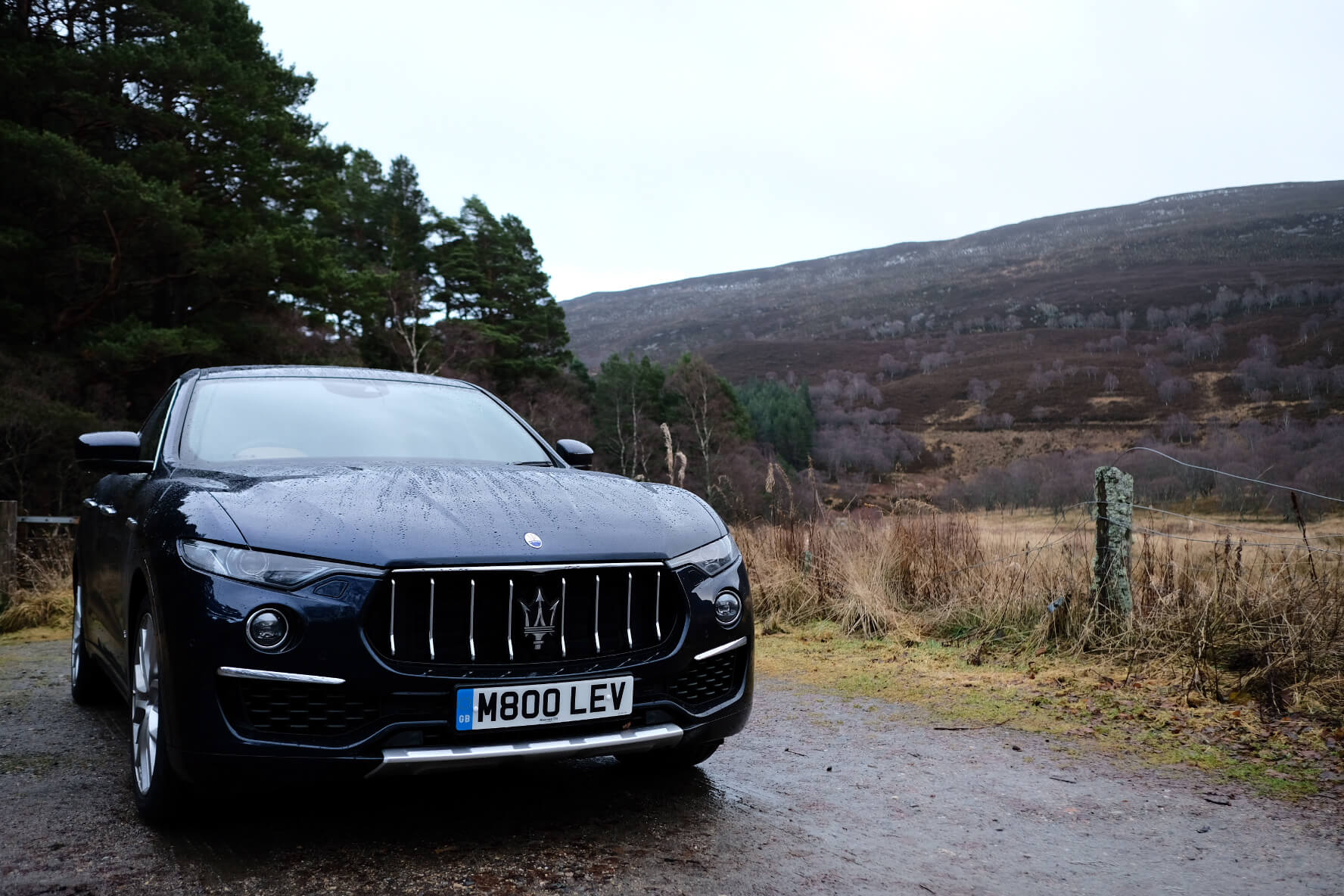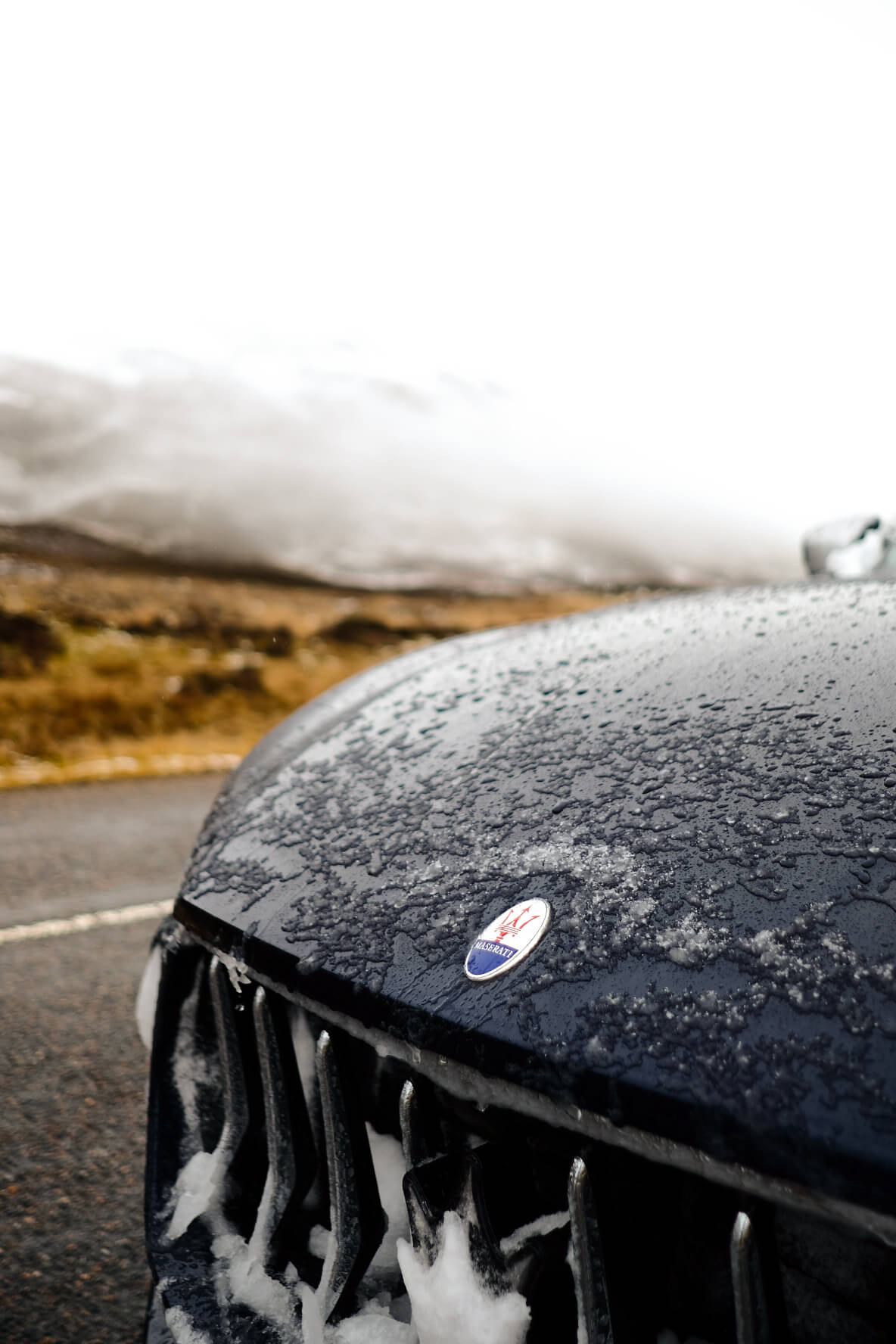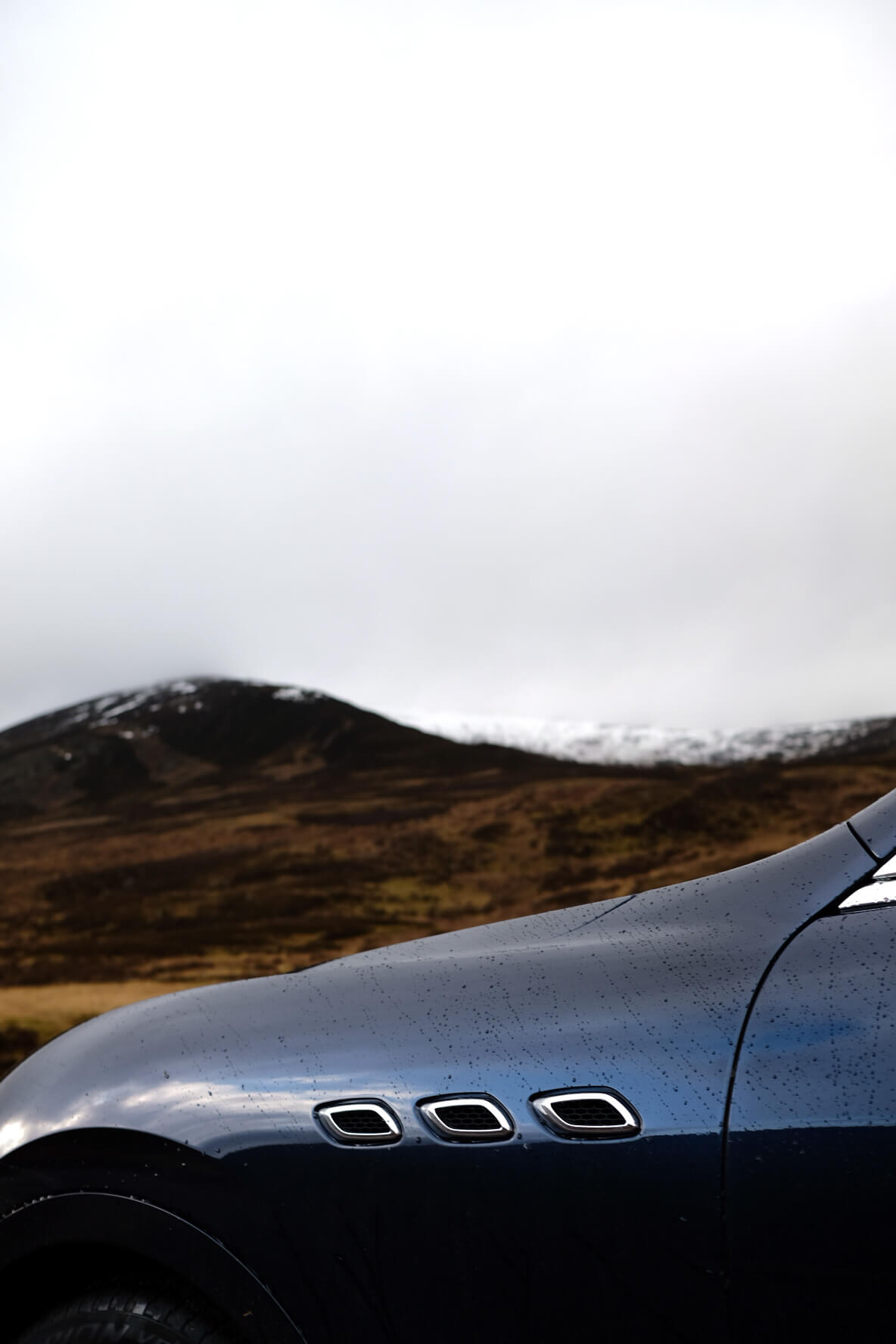 The interior of the Gran Lusso is a refreshingly classic, in that Maserati have corralled the craftsmen at fellow Italian behemoth Ermenegildo Zegna to create a subtle silk-lined driving cocoon, featuring Ebano wood trim reminiscent of the classic Riva speedboats (one of which would have come in handy on some stretches of road).  All of which makes the physical act of driving feel sophisticated and incredibly easy. That's not to say it's all pipe and slippers. The V6 has a discernible growl to it that preludes a throaty mid-range chorus. Was the weather more clement, I'd had given it a thrashing, but I was more than content to luxuriate in the plush Zegna interior. This particular version of the Gran Lusso that I was driving included Blu Nobile triple-coat paint, 20in alloys, rear privacy glass and a Bowers & Wilkins surround sound system. It also came with a Driver Assistance Pack which adds active safety systems, including blindspot alert, advanced brake assist, traffic sign recognition and adaptive cruise control with stop and go. Having never used any of these systems before, I can verify that I thoroughly enjoyed them all, especially going into hours 15 and beyond in sheet rain on the M4 with nothing but Haribo Fangtastics and Billie Eilish playlists to keep me company (both kindly arranged by my 11-year-old daughter). All up, this Levante S Gran Lusso came in at £92,105. Of all the luxury SUVs out there, I personally feel like it's one of the more pleasing on the eye but evidence collected on the way to Glen Shee ski station would confirm it's not just a pretty face. With many thanks to the team at
@maseratigb.
For more information on all of Maserati's latest vehicles, head to
maserati.com