New & Lingwood for The Rake Silk Jacquard Dressing Gowns
New & Lingwood is a British sartorial institution like no other, famed for its quirky aesthetic and noble stance. It is no wonder then that we should choose to partner with the house to bring readers the most aristocratic of all sartorial garments, the exquisite silk jacquard dressing gown.
To adequately describe the sense of style and verve that characterizes an outfitter like New & Lingwood is to try to articulate Plato's theory of Recollection to a child. The house's name is steeped in some of the most colourful, eccentric and urbane English sartorial tradition it is possible to conceive – it is arguably the most aristocratic retreat of British gentlemen's outfitting and one of the most stunningly individualistic haberdashers on the planet. The house is well over 150 years old, founded in 1865 by one miss Elizabeth New and Mr Samuel Lingwood, a couple with aspirations to open a haberdashery of the highest order – charmingly, they married once the store was opened. The firm was founded in Eton to principally serve the scholars of Eton College and soon gained a reputation for dressing gentlemen of taste and perspicacity. Indeed, the house's role as the exclusive outfitter to the gentlemen of Eton has remained a key part of its role right into the present day and New & Lingwood can claim to have dressed four or five generations of the same Etonian families in some cases, a testimony to its very particular strand of sartorialism and elevated standards of service. Indeed, the Etonian link is an important part of just what makes the house such a colourful emporium today. As Simon Maloney, the House's Product & Marketing Director explains "as a supplier of uniform to Eton College since its founding, New & Lingwood's identity has been inspired by the college's inventive use of colour, using it as inspiration for its eclectic collections, helping us to stand apart from the crowd." And stand apart the house does, particularly on Jermyn Street, where New & Lingwood have had a shop since 1922. The early 20s was a good time for the house to open-shop in the big smoke, and before too long New & Lingwood was being asked for by name by the bright young things of Jazz Age London. A sense of confidence, dandyism and the Art Deco are still present in the house's designs today, whether in their imposing 'British Warm' overcoats, tartan trews, loud socks or Fox Brothers' flannel suiting. The New & Lingwood shop is of course in fact two shops, one is the two-story outfitters on the left hand side of Piccadilly Arcade and the other is directly across the arcade on the right. It is here when one can find the most aristocratic element of New & Lingwood's offering, the handmade English silk jacquard dressing gown. They have long been a signature of the house, utterly rakish visions of intricately designed colour and swirling pattern, destined to transform the eveningwear of tasteful men far and wide, all cut in some of the finest English silks on the planet. It is only natural then, that
The Rake
should partner with the house to bring readers three of our own takes on the iconic New & Lingwood dressing gown.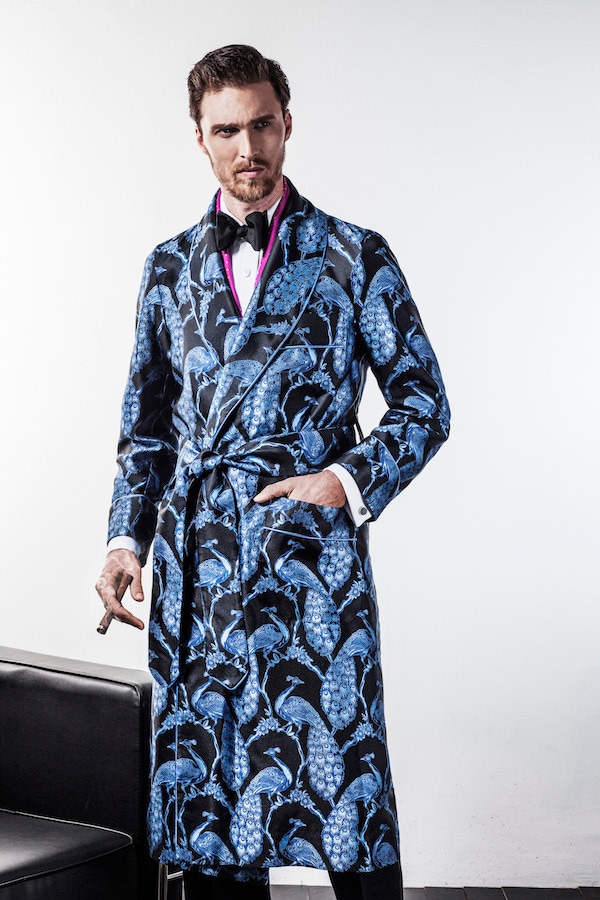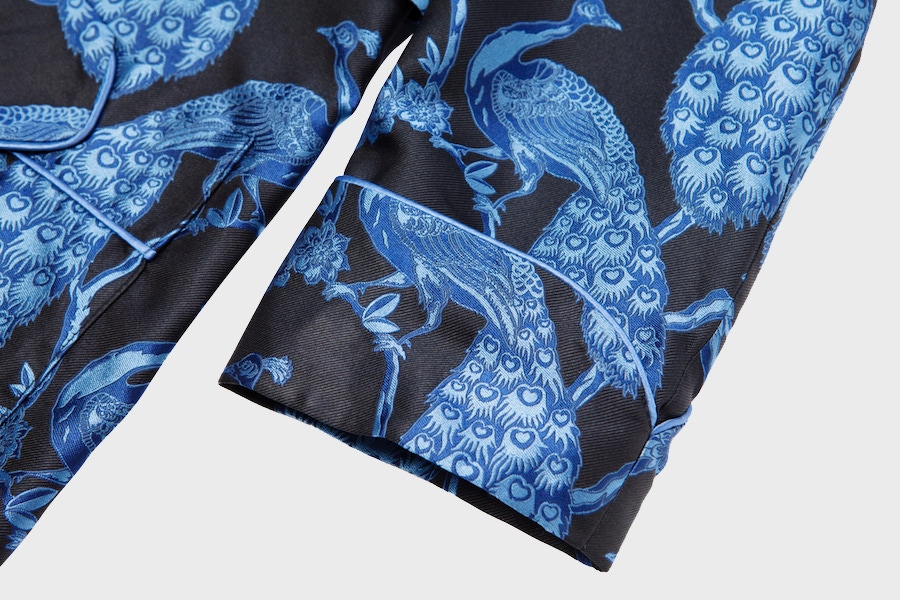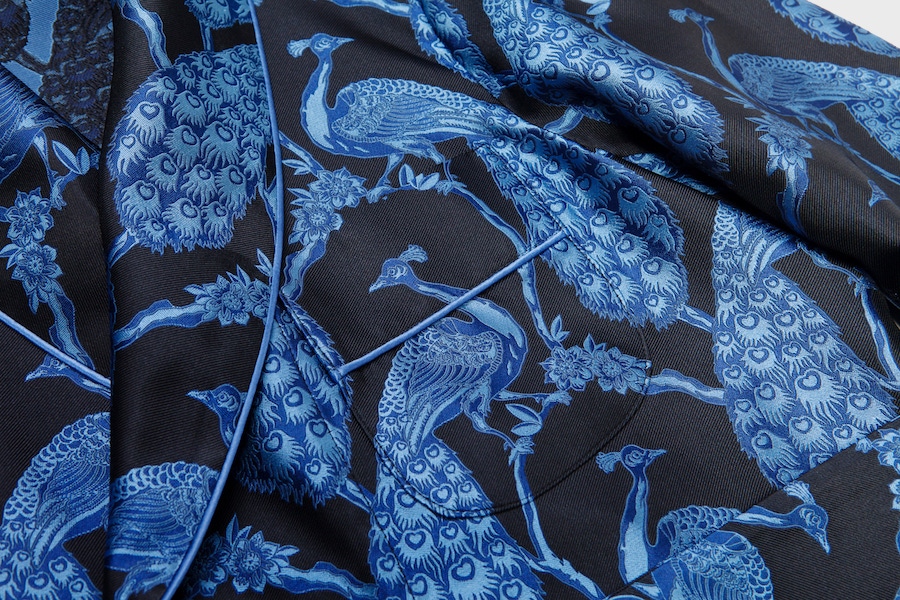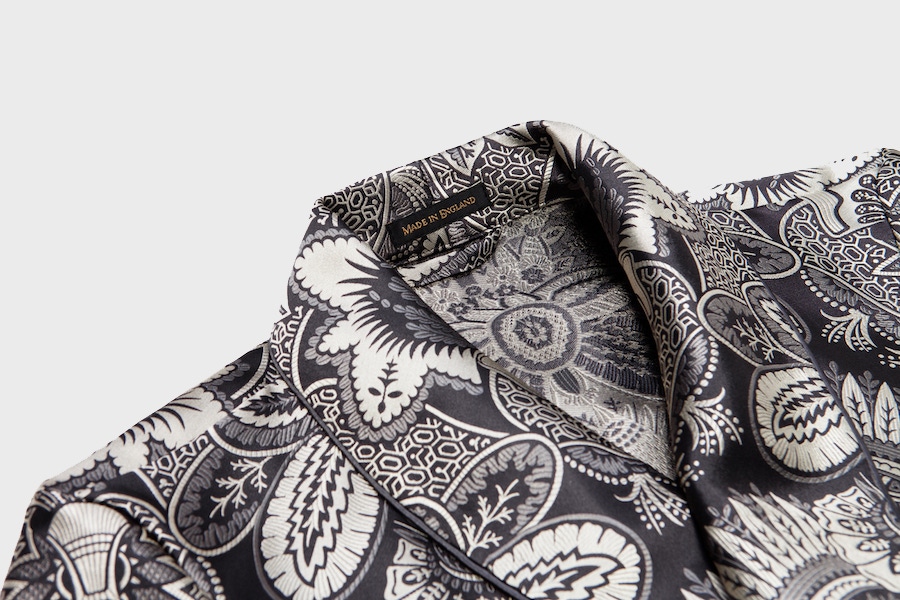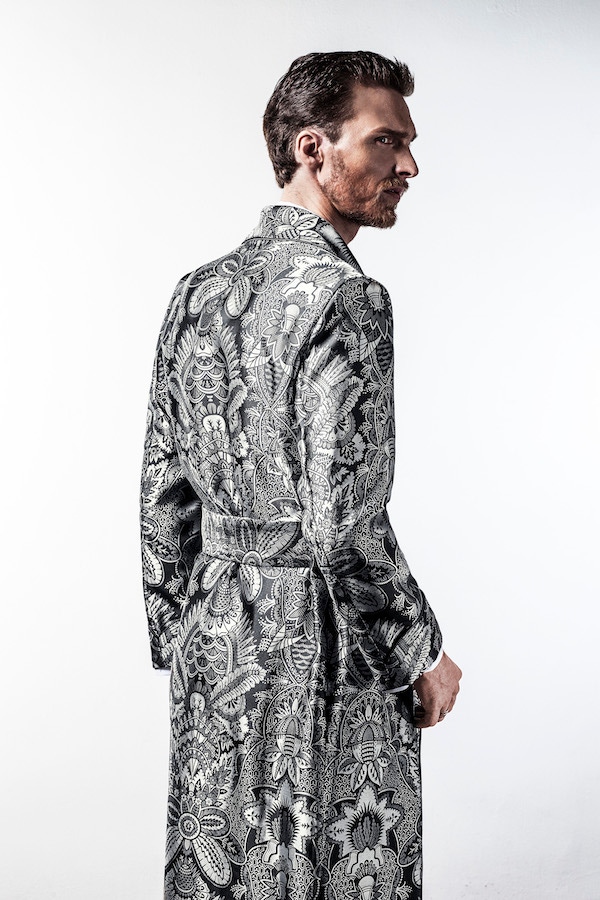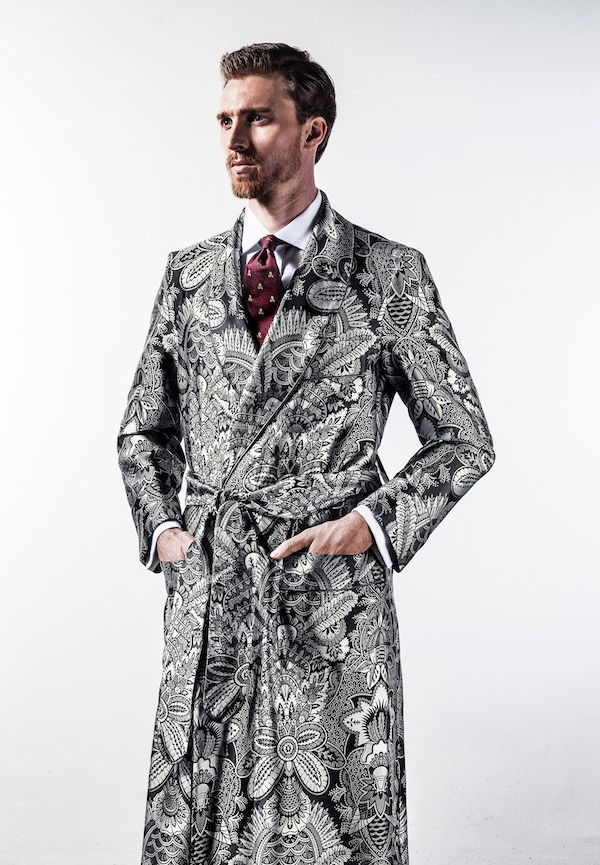 The gowns themselves are little short of works of art. Hand cut and sewn in a boutique English gown-making workshop, these gowns are made-up in three exquisite silk jacquards, which are entirely exclusive to
The Rake
and which channel both the dandified identity of New & Lingwood, and a modern sense of pattern and colour palette. The first is a signature New & Lingwood peacock jacquard realised in a new
royal blue and black
colourway which feels distinctly evening-appropriate, and which of course channels something of the rakish man's spirit-animal. The next is a contemporary arabesque jacquard, featuring glorious paisley patterns in a dashing two-tone
silver and black
monochromatic colour scheme. It simply cries out to be worn over black tie in place of a smoking jacket after dinner, or when lounging around at home in front of the fire with a Cohiba Lanceros and your
velvet slippers
. Finally, for something intriguingly graphic and modern in feel, our third gown is cut in a bold oversized
black and silver houndstooth
, for an evening look that feels particularly dynamic – pair with velvet smoking trousers and a cravat for a cosy evening in the library. Maloney designs the patterns for each gown, drawing upon signature pieces from the New & Lingwood archives, whilst the jacquards themselves are woven in one of the finest age-old silk mills in the country, which has been weaving English silks of the highest quality on the same spot for near-enough three hundred years. As such, a New & Lingwood gown represents the height of sartorial luxury and exclusivity. The house only ever makes up its gowns in strictly limited runs, but these are particularly rare; there is only one ready-to-wear Medium, Large and Extra Large gown in each design. A limited quantity of the silk is available for clients to request bespoke gowns made to their own measurements if preferable. Not only do these gowns represent the aesthetic of a house that has been a colourful part of the British sartorial landscape for almost one hundred years, they also connect the wearer with an outfitter that creates pieces of exceptional quality, intended to pass down through one's family. As Maloney puts it "each gown should be considered an heirloom, destined to capture the attention of generations to come." On a personal level, New & Lingwood is a house that has moulded my own sartorial understanding from adolescent-hood onwards. Voyages of discovery up and down Jermyn Street with my father were a regular occurrence when I was just getting into clothes and the fearless, dandified displays in the mullioned windows of New & Lingwood were always a highlight. The first decent overcoat I ever bought was a near floor-length British Warm in black and white heavy herringbone, which I still wear today. To own a silk dressing gown from New & Lingwood has been near enough a life-long ambition. It is the house's power to grab one's attention in this way, which testifies above all to its import as a luxury British outfitter
par excellence
, and to this collaboration's deserved place on
our Shop

.
Though the gowns are now available for purchase online, London based readers will also have the opportunity to see them in person on December 1st, when
The Rake
will be hosting
Christmas drinks with New & Lingwood
on Jermyn Street. Our gowns will be available to view, try on and purchase during the evening, and New & Lingwood is generously offering 20% off on all purchases from the mainline collection made on the night. To inquire about our gowns, please email
shop@therakemagazine.com
, and to RSVP to Christmas drinks, please email
socialmedia@therakemagazine.com
.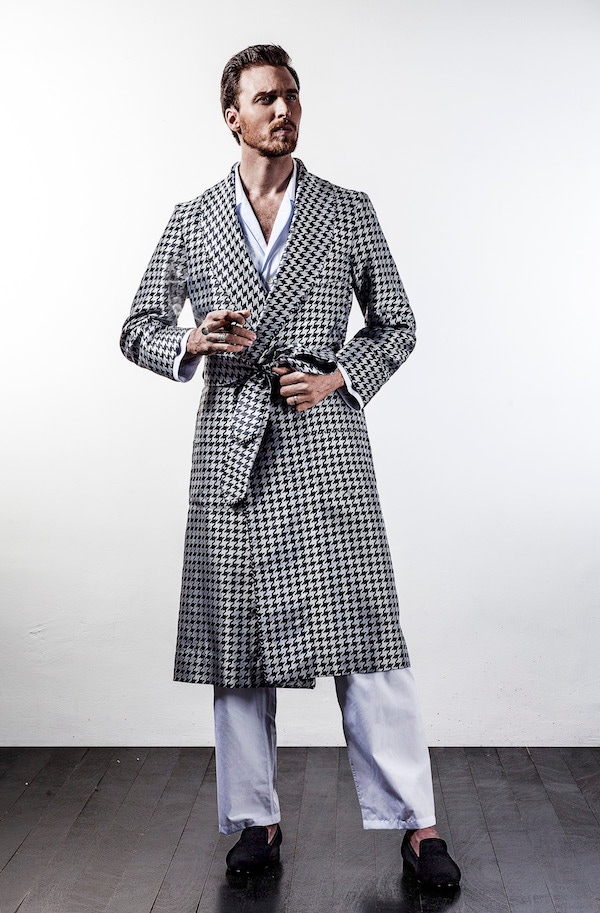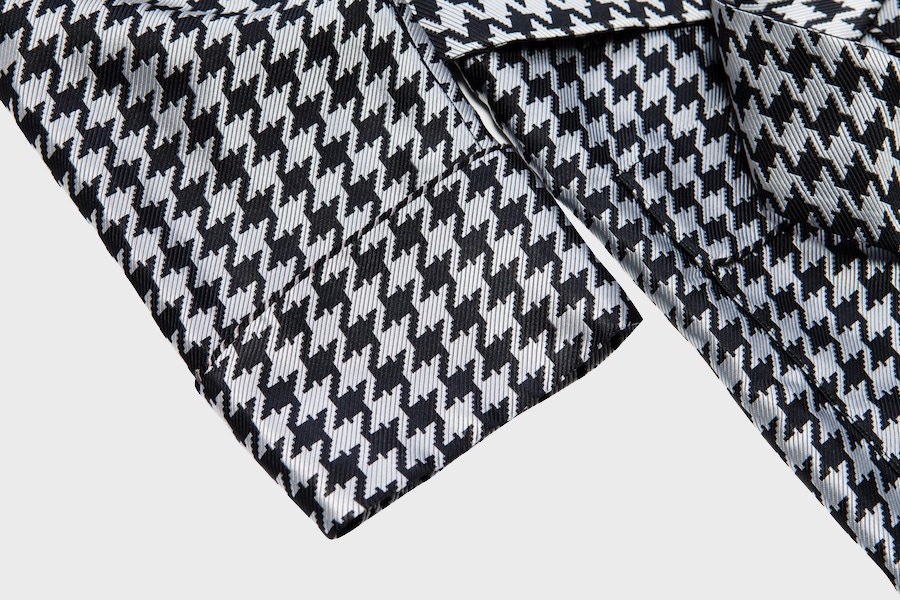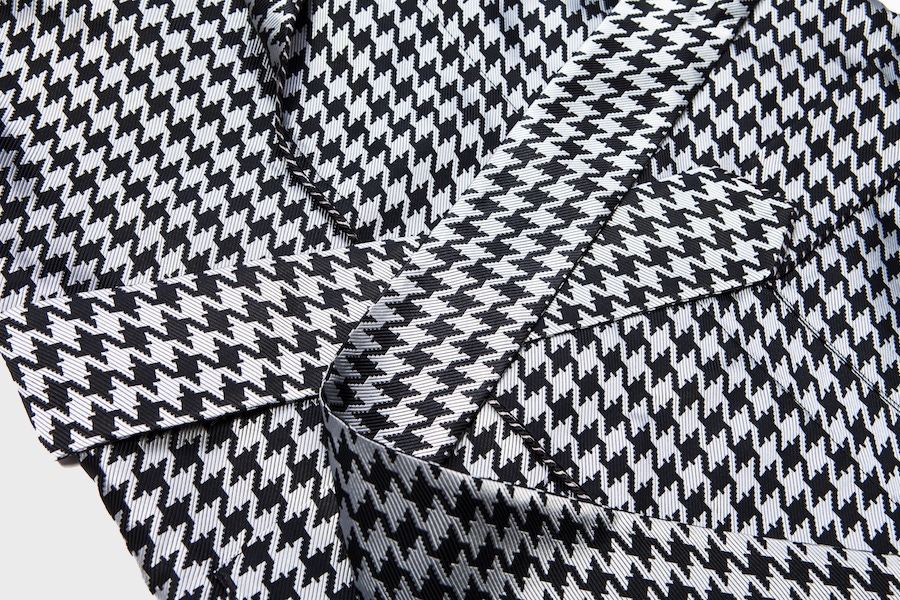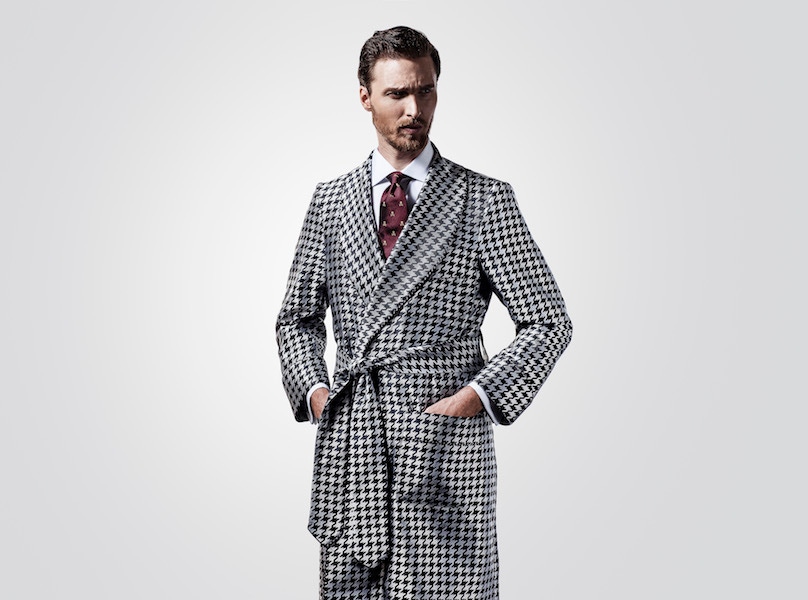 Model: Pier L / Ave
Groomer: Rina Sim using NARS and Living Proof