OMEGA: MY CHOICE - Ethan Newton
For Ethan Newton of Tokyo-based menswear boutique Bryceland's, an affinity for Omega goes way back. He reveals why the luxury watchmaker will always be his first choice.
Ethan Newton is one of the most respected voices in menswear today, having carved a reputation for himself as a veritable style icon and trailblazer. Whilst he got his start working for a string of prestigious fashion labels and retailers - including Ralph Lauren and The Armoury - he is now renowned for his role in founding and heading up the niche menswear boutique Bryceland's in Tokyo. His predilection for timeless style, vintage aesthetics and quality craftsmanship is something he shares with luxury Swiss watchmakers Omega, so this collaboration seemed only natural...
What's your earliest memory of Omega?
My earliest memory of Omega was the watch that my grandmother gave me, which was my grandfather's. It is still in pieces and seemingly unsalvageable. It set me off on a journey that started with a Speedmaster Mark II and inspired me to dive deep into the different aesthetic eras of Omega's watches. I found myself an "Elvis Presley" Constellation in gold, which was an idealised version of the Seamaster that my grandfather had worn. I became fascinated with the Speedmaster series, and the variants within that, and had a Moonwatch, a Mark III, a Flightmaster and a handful of other watches from the late '60s and early '70s. Every piece was a beautiful example of the aesthetics of the day, and as watches, the movements were robust and reliable.
What's special to you about your watch and where were you in the world when you received it?
My current version of a Speedmaster is from the late '60s or early '70s that I convinced my business partner to buy. I had given my Speedy to my older brother and figured if I could convince Kenji to buy one I could steal it. And that I did. Sorry, Kenji!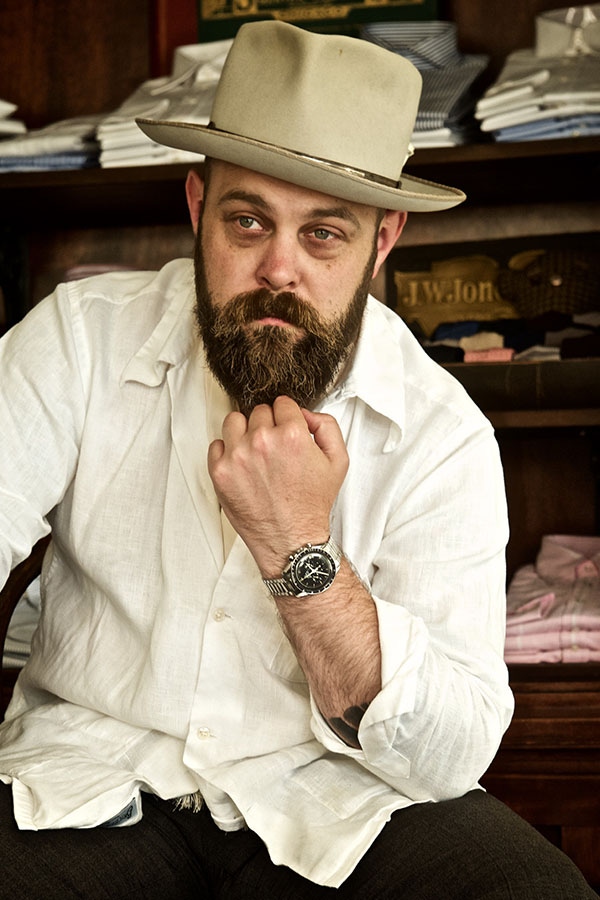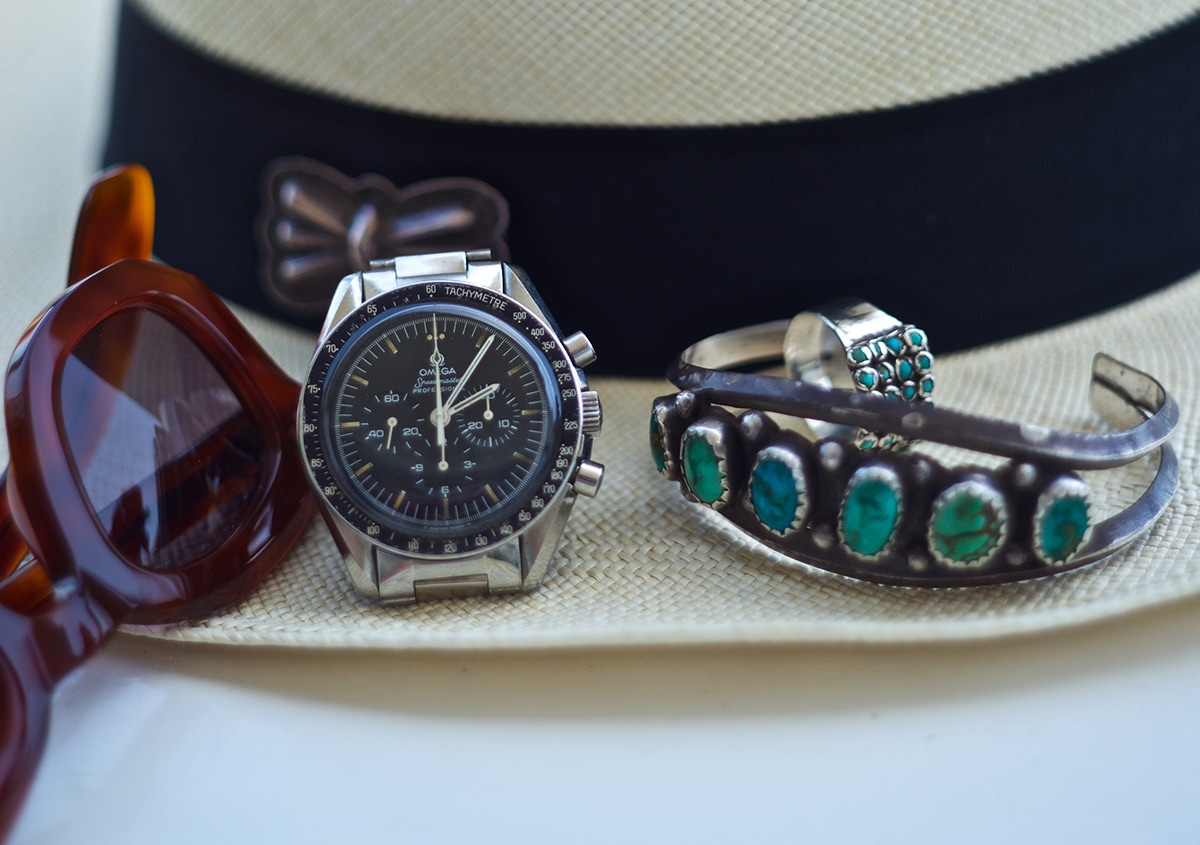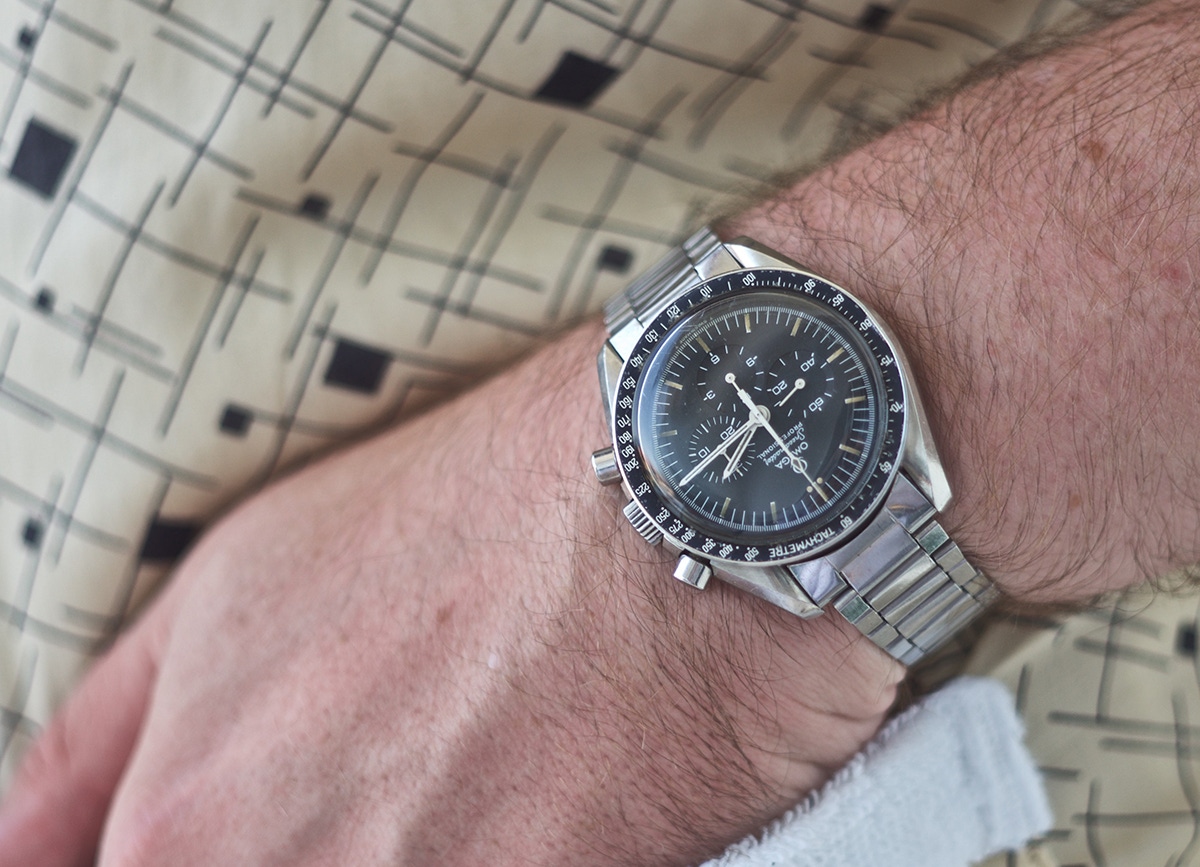 If you could ask Buzz Aldrin one thing, what would it be?
When seeing the earth from the perspective of someone not occupying it, even for a moment, did your sense of time change? Did you feel any more urgency to make your time back on earth mean something more or achieve something greater?
Based upon the styles of dress of the time, what decade would you travel back to?
The late '40s and early '50s on the west coast of America. Clothing was becoming a utility product, but still with the sense of occasion that seems to have been lost. Casualwear and workwear were complemented by the surplus militaria from the war, and to my eye, modern dress reached its apex at this point.
If you could take one outfit to the moon, what would you take?
For floating around in a rocket in the sky, I would want to channel the era of America's lead up to the space race - a pair of classic blue jeans, Converse Hi-Tops, a printed rayon shirt and an original Omega Flightmaster, with that rocket shaped hour hand.
If you could take the credit for any great piece of art, song, film, book etc which one would you claim?
The Beatles'
The
White Album (1968)
. If you have heard it and don't know why I'd like to claim it, I won't be able to explain it to you.
You're on a voyage to the moon and can take one person, who is it?
The character of Ripley from the original
Alien (1979)
movie. She'd get me out of a jam and look stunning doing so.
What should a rakish man never be without?
Respect for both occasion and company.
What does The Rake mean to you?
The Rake
was the first magazine in English that felt like it appealed to my industry - the classic menswear world - that kept a healthy distance from 'fashion'. It presents content that industry insiders, as well as clients, respect and enjoy reading. It has continued to showcase the artisans and brands that are generally overlooked by all but the true bespoke aficionados, giving a voice to the real stars of the craft of menswear. To start your own Omega Moonwatch story, peruse the collection
here
.