Orazio Luciano: Re-Cutting The Pattern
The clothing might be soft, lightweight and unstructured, but Orazio Luciano became a hugely successful purveyor of Neapolitan tailoring by being anything but.
Strictly speaking, the first chapter in the story of Neapolitan tailoring is set in 1351, and tells of the formation of the Confraternita dell'Arte dei Giubbonai e dei Cositori (Brotherhood of the Jacket Makers and of the Tailors). This band of stoop-framed artisans would regularly meet up in a gothic chapel and – over chalices of Marchesi Antinori, one would like to think – fill the dusty air with esoteric mutterings, as they hammered out the basic principles that should define the city's artisanal garment making tradition.
The evolution of Neapolitan tailoring since then has a lot to do with the city's isolation from other influences until mass transportation, but even more to do with specific interventions – such as that of Vincenzo Attolini, a pre-war head cutter at Rubinacci's, then called the London house, who one day decided to dispense with coat pads and inner linings, and with it the stiffer tenets of British tailoring. The resulting jackets – which could be folded as many times as a sheet of paper - ushered in sartoria di Napoli as we know it today, the basic tenets of which (for those who've just walked in) are soft shoulders, minimum (or no) canvas interlining, scooped pockets (sometimes called
'Barchetta', in reference to the fishing boats that grace the Bay of Naples
) and, often, a sizable scoop of derring-do when it comes to colour and cloth.
Rubinacci remains the master of the bespoke version of the form, while brands such as Kiton, Isaia and Cesare Attolini regularly deliver stunning interpretations of it onto the racks. Savvy dressers, though, should be aware of a relative newcomer who is also making big waves in the realm of tailoring whose appeal always creeps upwards a few notches along with the mercury: Orazio Luciano, a small establishment whose workshop is found in San Giovanni a Teduccio - a coastal block of land nestling between the dozing Vesuvius and Naples' Medieval, Baroque and Renaissance-era core.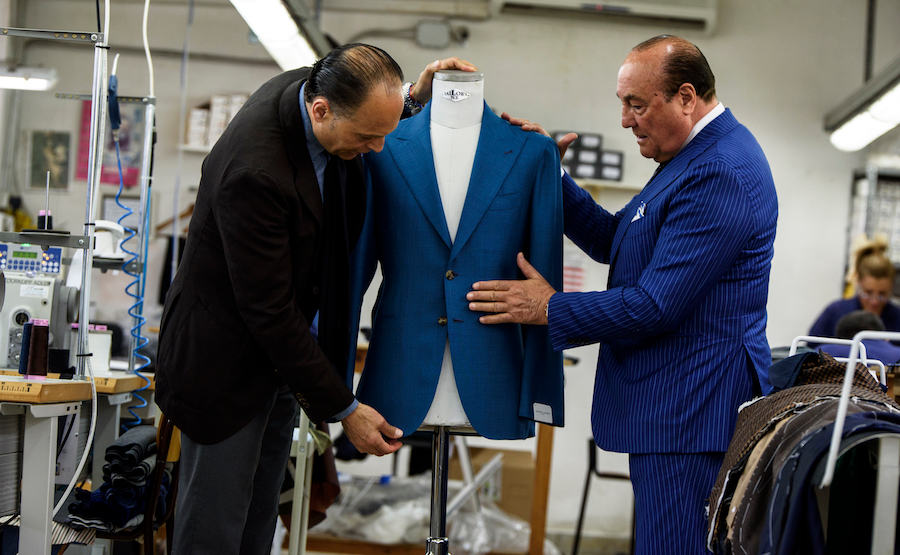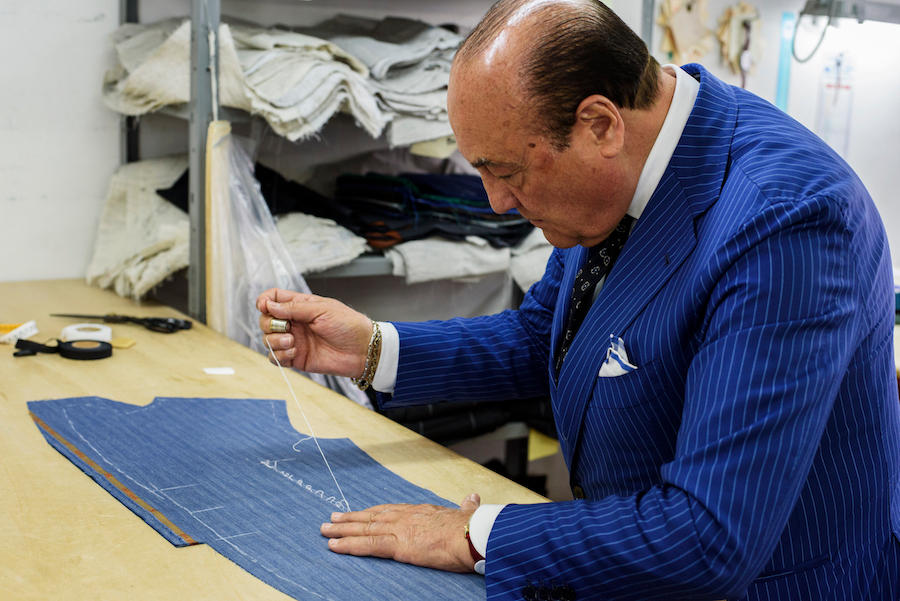 Their story begins in 1992, when the eponymous Orazio, after many years of service in tailoring houses including Kiton and Isaia, decides to break away and set up his own establishment. The enterprise really took off when Orazio's son Pino joined the sartoria, bringing with him the realisation that success depended on catering for the Asian market's new-found hunger for what the company today describes as "refined classicism and a touch of technical virtuosity", especially that emanating from Lo Stivale's tailoring Mecca. "
My father always had a dream to establish his tailoring house at an international level - before that he was mainly working with Italian clients - and meanwhile I was in my mid-twenties and, seeing our craftsmanship potential, I realised that we were sharing almost the same ambition," Pino tells The Rake. "I guess the timing was just perfect."
The pair knew, though, that commercial savvy alone would not suffice: they wanted to offer the world of menswear a fresh take on the timeless elegance of their home city's enshrined tailoring tenets. "We felt there was something missing - a sophisticated yet contemporary look," says Pino. "So we spent more than two years working a unique paper pattern, and kept remodelling it until we felt satisfied with it. Our main priority is an effortless fit - we aim to deliver a product that feels like a second skin – and today it's still our main prototype. Easy fit is the core of people's awareness of our brand."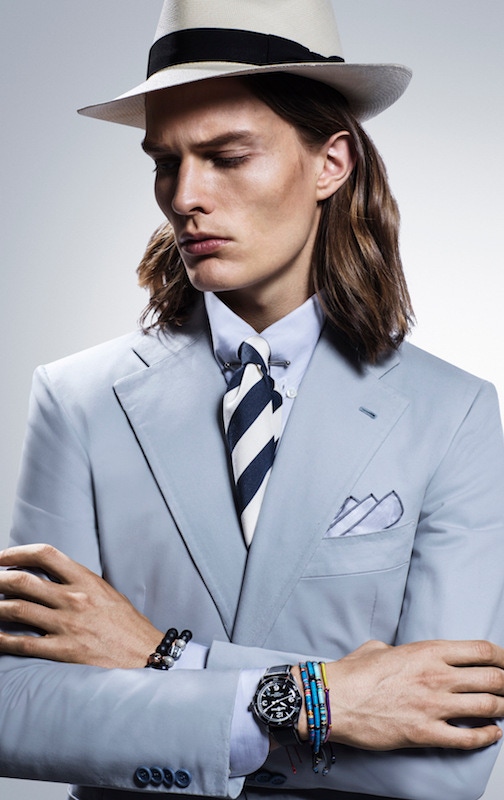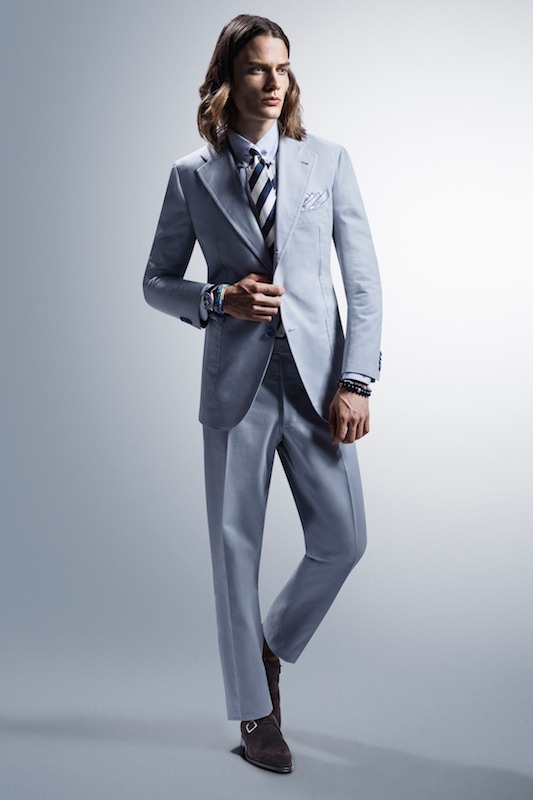 As well as having an idiosyncratic silhouette, Orazio Luciano garments are cut, quite literally, from a different cloth. "We tend to work mainly with vintage fabrics," says Pino. "We find them crispier and the patterns are more unique. In the last few years, many fabric mills have invested a lot in research - especially Vitale Barberis Canonico – resulting in some amazing collections, especially with their vintage line. We also like working with English Mills, and love their tweeds and Irish linens." Other trademarks include what Pino describes as "an aggressive mappina" – a technique more commonly used in shirt-making, whereby the seam allowance is tucked against the shoulder rather than against the sleeve, making the fabric fall more naturally from the shoulder-down – and hand stitched buttonholes (all staff in the Orazio Luciano workshop have one specific role, from pocket sewing to lapel cutting via buttonhole stitching, shoulder forming and lining stitching and so on). Orazio Luciano is clearly getting things right, their recent ascent being given neat symbolic expression in their move from the Affinità Elettive Pavillion to the Central Pavillion at Pitti Uomo.  An odd superstitious meme in Naples, imposed by the ever-present threat of Vesuvius almost two millennia after it wiped out Pompeii, has it that one should talk about the future with hushed caution. Here at
The Rake
, we'll confidently assert that this Neapolitan brand has a bright – nay, positively vibrant – future.