Peak practice: Montblanc wisdom
The Montblanc Chief Executive, Nicolas Baretzki, talks to THE RAKE about desirability, his family history, and the challenge of leading one of the most multifaceted brands in the luxury world.
Any physicist will tell you that speed equals distance over time. But what of a lesser-known, equally immutable law that states that desirability equals quality over scarcity? It's a principle that provides an unlikely link between gold, white truffles, vintage cars and the work of Franz Kafka and Jimi Hendrix* — both geniuses in their fields whose pool of work is all the more cherished, and studied, for how regrettably shallow it is.
It's a tenet that has underpinned Nicolas Baretzki's tenure at the helm of Montblanc, which began when the Richemont Group appointed the brand's then Executive Vice President of Sales — a former stalwart member of Jaeger-LeCoultre's senior management team — in April 2017.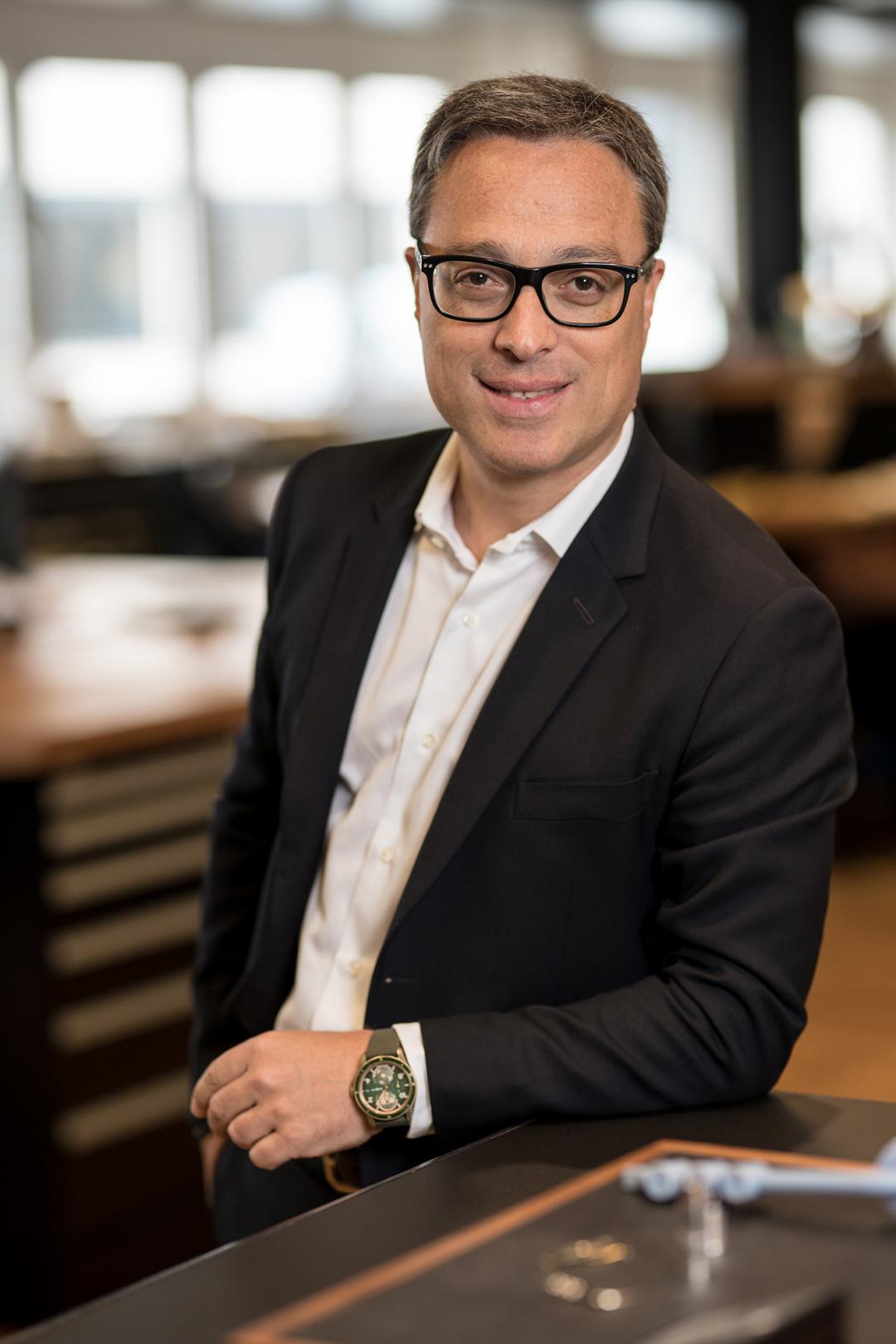 It's also just one of the manifold ways in which Baretzki — whose fondness for the luxury realm was nurtured by his father and grandfather, both watch
and jewellery retailers in Paris — has, during his six-plus years as C.E.O., asserted his vision for the Hamburg-based maison.
It's difficult to think of someone who has more effectively, more profoundly, cemented and projected the crucial aspects of a brand's DNA. A fine-watchmaking example is last year's iteration of the 1858 Iced Sea Automatic Date, whose unique dial pattern is inspired by the ice of the Mer de Glace (one of the Mont Blanc mountain's largest glaciers). Another significant moment saw the Nepal-born mountaineer Nimsdai Purja conquer Everest (setting two world records as he did so) wearing an 1858 Geosphere Chronograph 0 Oxygen.
On the writing side of Montblanc's activities, Baretzki's achievements include the establishment of Montblanc Haus, a museum and exhibition space, close to the brand's headquarters in Hamburg, whose award-winning architecture pays homage to the historical shape of Montblanc's writing instrument packaging, inside which visitors will find handwritten texts by five Nobel laureates, plus the signature of the master pensman of 18th century French enlightenment, Voltaire.
And what of the giant pendulum fountain pen, positioned at the centre of Montblanc's booth at this year's Watches & Wonders fair, which by the end of the day had transformed into a stunning artwork by the French visual artist Marie de La Ville Baugé?
The last of these is an apposite signifier, a statement of intent, from the man who, during our encounter, seems intent on rewriting the history of haute living.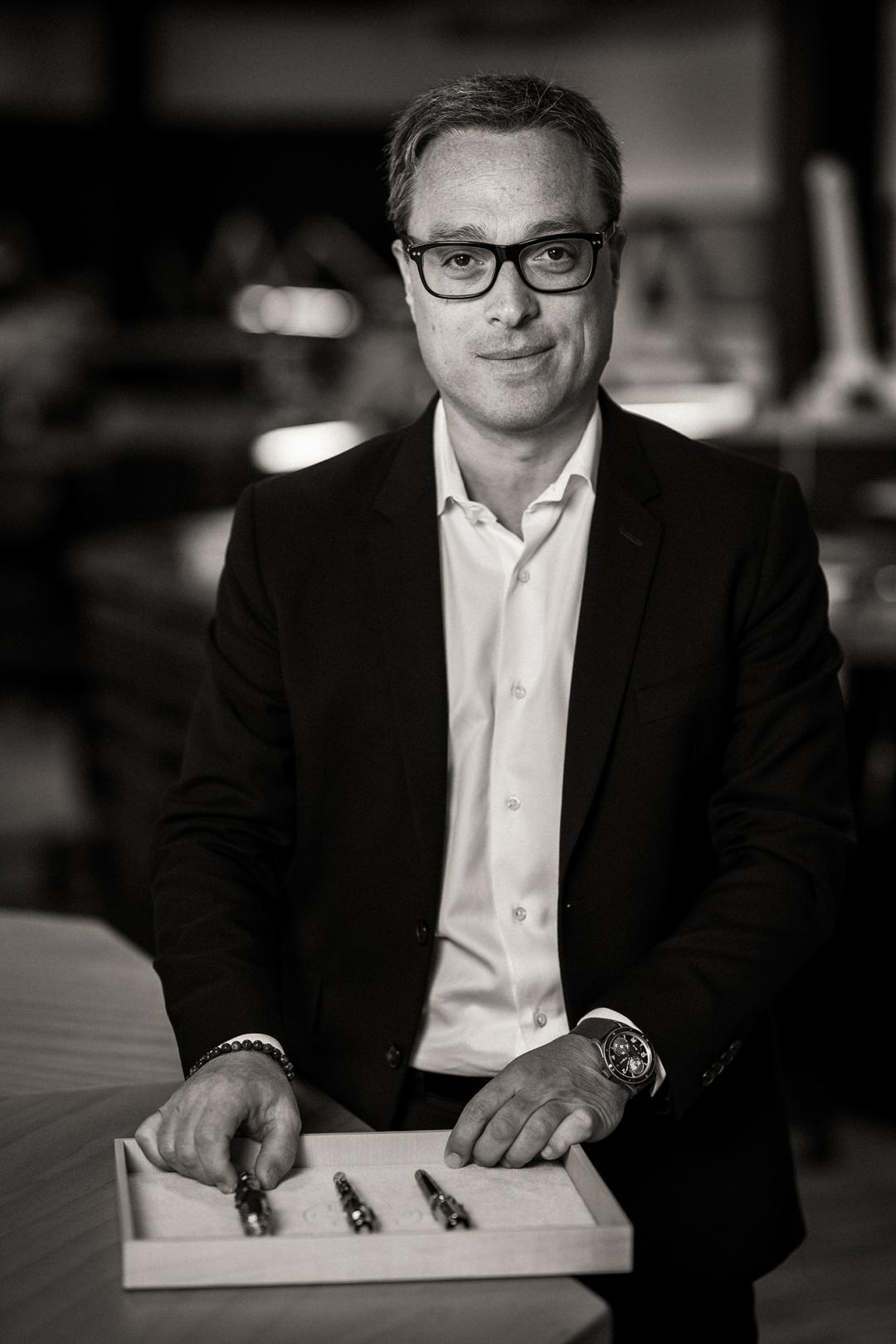 Frustration versus scarcity? It's more about reacting rather than anticipating. Our job is to ensure desirability. We need to keep some scarcity, because as a customer, you want something that not everyone else can have access to easily. That applies across the maison. Last week we were in New York launching the Library Spirit campaign with a global event. And we had a beautiful wraparound of The New York Times with our ad showing the new Extreme 3.0 backpack we just launched — the boutique was overwhelmed by people calling, saying, 'I want it'. By the end of the day we had to get people to order it, as it was out of stock. You can create desirability in a short time, in a very impactful way — but what we cannot do is just say, 'Sorry, you cannot have this' every time. The balance between scarcity and frustration is a very subtle frontier that we have to deal with in the luxury industry. But it's a nice problem to have.
Writing drives the world. That's why Montblanc Haus is a pillar of our long-term strategy. We started as a writing instrument company, and that's something we're very proud of. Writing culture is not only at the roots of the company, it drives the whole message when it comes to our maison. This is why inspiring writing is a very important mission for the museum. Montblanc Haus is a way to dedicate somewhere in theworldtoinspirewriting,andtalkaboutitsimportance.Wefeltwe had the authority to create such a place. That's why we don't start out at the Haus talking about Montblanc: we greet visitors by talking about what is transferred, transmitted, via writing in a beautiful, immersive video. It's about how much every individual, via the written word, contributes to the world. Our heritage — when it comes to writing, to culture, to sophistication — is what brings customers to us.
Montblanc was born of innovation. It was through innovation that the maison targeted the travellers of the early 20th century, and it remains, really, the DNA of the maison. I think about what we've been doing with watches in the last three years with Laurent [Lecamp, Global Managing Director, Watch Division] — for example, the way the bezel-operation system starts, stops and resets the chronograph on the Unveiled Timekeeper Minerva, or when I see the 0 Oxygen that we've created this year. Also, I think about what we're doing in terms of craftsmanship every time we bring in a new high artistry collection** of writing instruments... We always have in mind both innovation and functionality.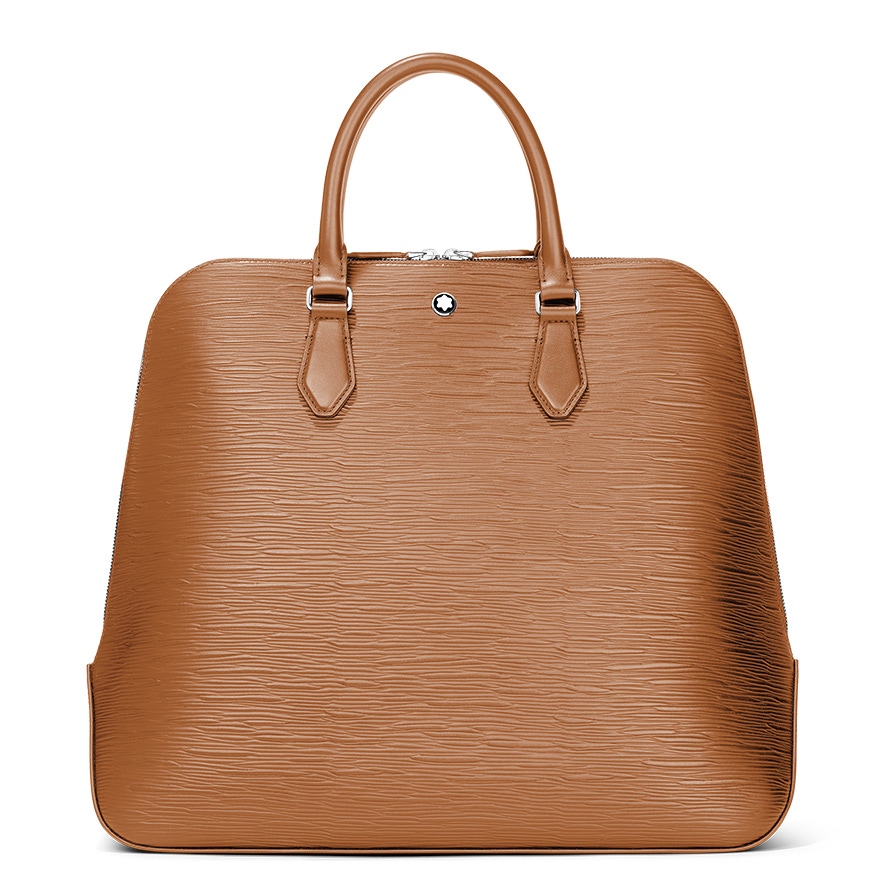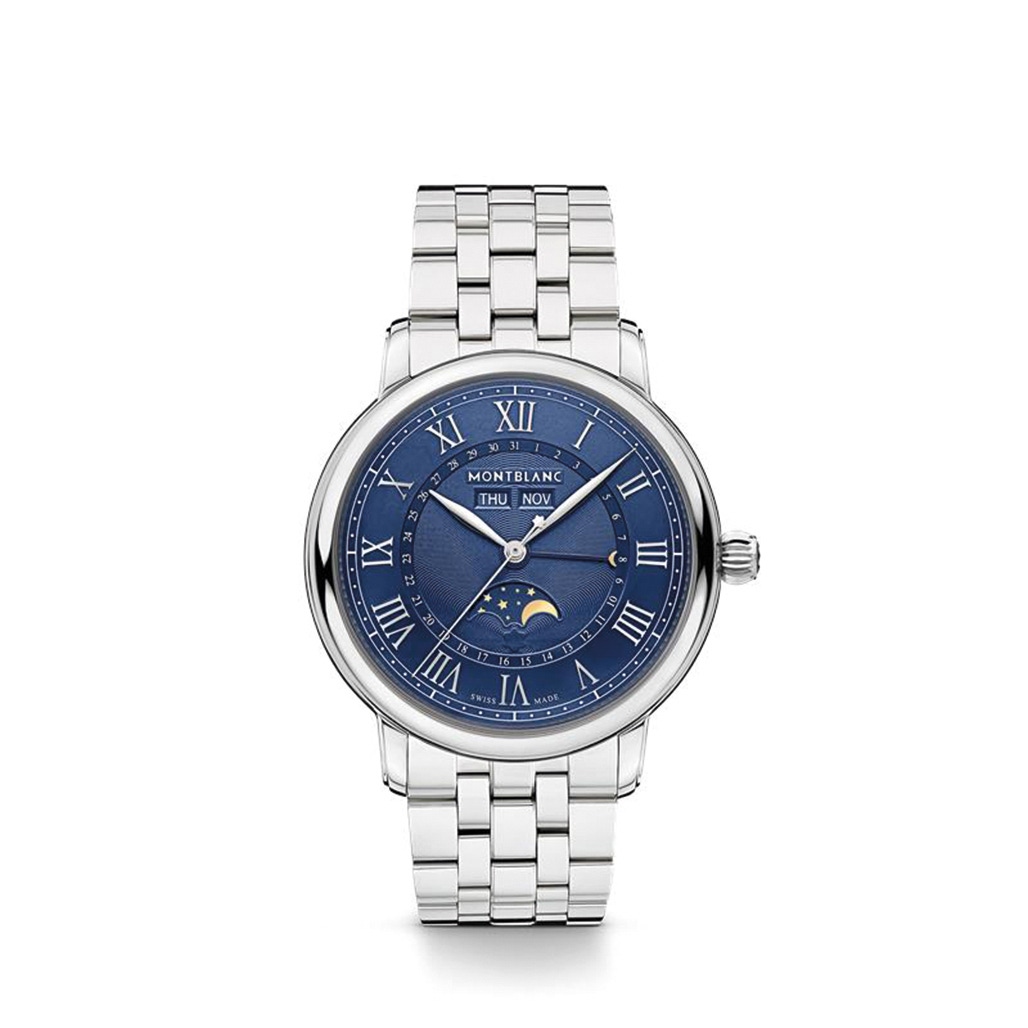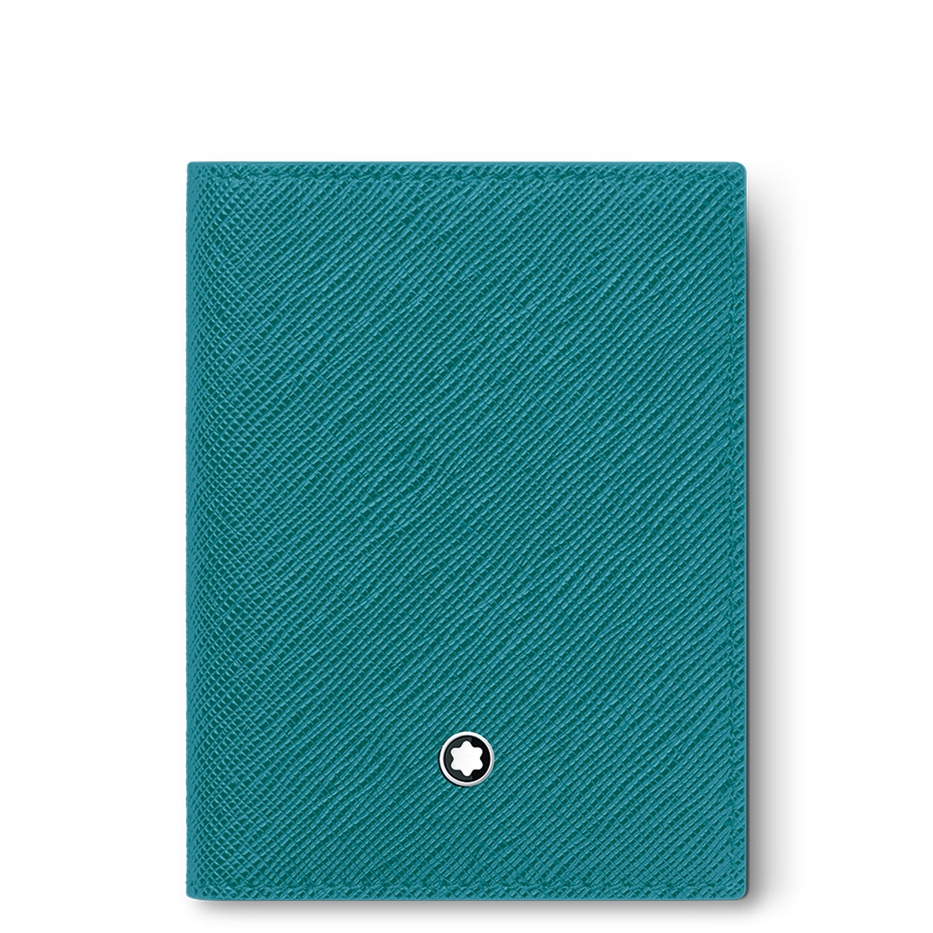 Innovation is not an end in itself, though. It must fulfil the needs of today's customer. A constant challenge is to think about how we can stick to our roots but still support today's travellers or writers, as opposed to people travelling or writing 100 years ago.
A sustainable approach should be compulsory. [In a changing world] we have to become more and more adaptable. For example, with packaging, working to remove plastic, and making sure we are replacing it with something that is much more sustainable, while still ensuring that we have suppliers all over the world to decrease what we're sending by plane.
Any luxury maison must have very, very strong DNA. Working at various maisons — at Cartier, Jaeger-LeCoultre, Montblanc — I've always witnessed the pride people feel working for them, and it's because they all represent something unique. The differentiation with Montblanc is two-fold. Firstly, there's its origins, its roots, in writing culture, which is a very powerful differentiating factor; I follow a lot of people on Instagram, and as part of the Library Spirit project I hear so much about the inspiration behind books, behind writing, scripture. Secondly, the other important differentiating factor is our global understanding of the need to have a unifying
position, but with a very local execution. An example is calligraphy: it means essentially the same thing globally but the understanding of it is very different depending on whether you're in China, Japan, the Middle East or here in the west.
I'm a product of the luxury world, a world of watch and jewellery retailers. This world, and crystalware and writing instruments and more, have all been among my passions from day one. I worked in that world, in my father's and grandfather's shops, and I always enjoyed the interaction with clients. Then I discovered all the background stories and the craftsmanship; the luxury realm all came to me step by step until I entered a brand and I realised the power of a maison, and the impact you can have in terms of development, storytelling and craftsmanship. For me, the overall appeal of that became so much stronger than just entertaining clients and selling the pieces.
I never forget that I will write only a paragraph — or hopefully a chapter — of a very, very big book. We have 117 years of history. The success of Montblanc belongs to a lot of people over that time.
Never sacrifice the long term for the sake of the short term. That should be a golden rule for any luxury maison. My ultimate aim is to maintain and develop the brand equity before anything else — and that means no compromise.
* It is surely no coincidence that the guitar legend's shaman-esque features graced the nibs of a series of tastefully themed fountain, ballpoint and rollerball writing instruments in a special series released last year.
** Tributes to the Great Wall of China, the Orient Express and the Taj Mahal are good recent examples.
Read the full story in Issue 90, available now.