PISTE DE RÉSISTANCE
There might have been fondue and furs rather than pools and pisco sours, but Slim Aarons was equally happy capturing the good life at 1,500 metres as he was in a tropical paradise. Stuart Husband takes a walk through the photographer's winter wonderland...
"A girl can look sexier in ski clothes than in a bathing suit," opined Fred Picard, the self-styled "international authority on glamour in the snow", in those hoary, unreconstructed days of yore — 1957, to be precise. Picard was keen to cash in on the fact that skiing had outgrown its rarefied, even austere, beginnings, and had gone beguilingly mainstream. He was a Swiss skiwear designer who'd opened his own emporium in Sun Valley, Idaho — the premier American resort pioneered in the 1930s by businessman and diplomat W. Averell Harriman that attracted marquee names from Hollywood (Errol Flynn, Lucille Ball, even Marilyn Monroe) as well as the world's best racers. Ski fashion — perhaps the ultimate blend of function and fashion, practicality and glamour — made a suitably stylish counterpoint to the pristine backdrops of Verbier, Zermatt or Sun Valley itself, of which Harriman said: "We didn't run it to make money, we ran it to be a perfect place." Picard certainly had an eye for perfection. Among his other aperçus: "The best way to hunt a husband is on skis" and, "A beautiful girl is never more radiant than when her cheeks are glowing and her eyes sparkling from healthful outdoor exercise at 10 below".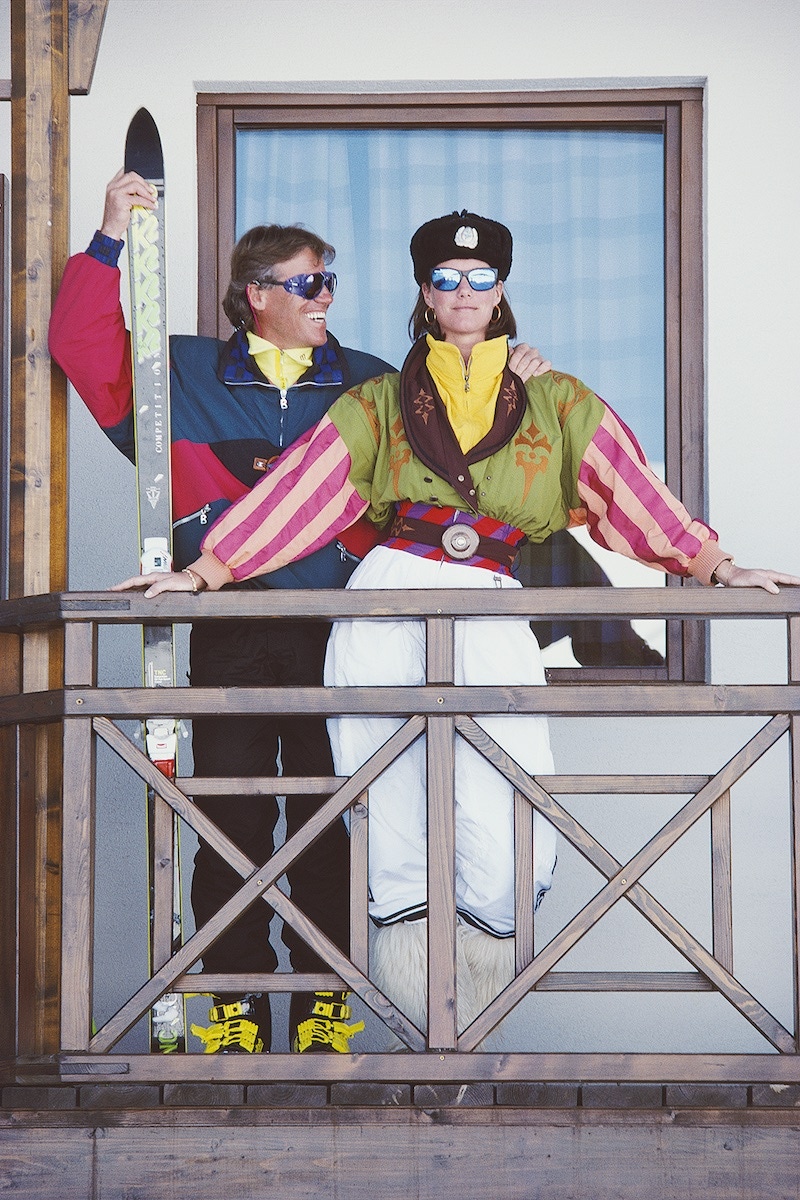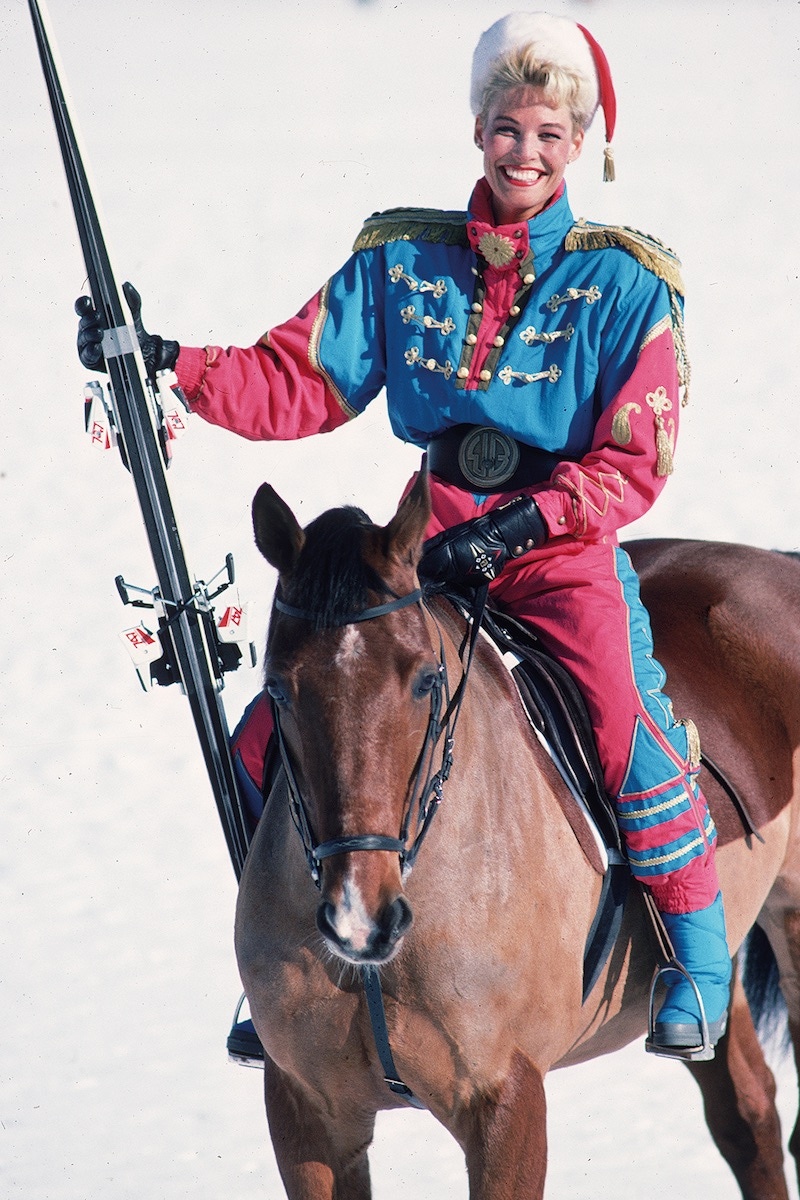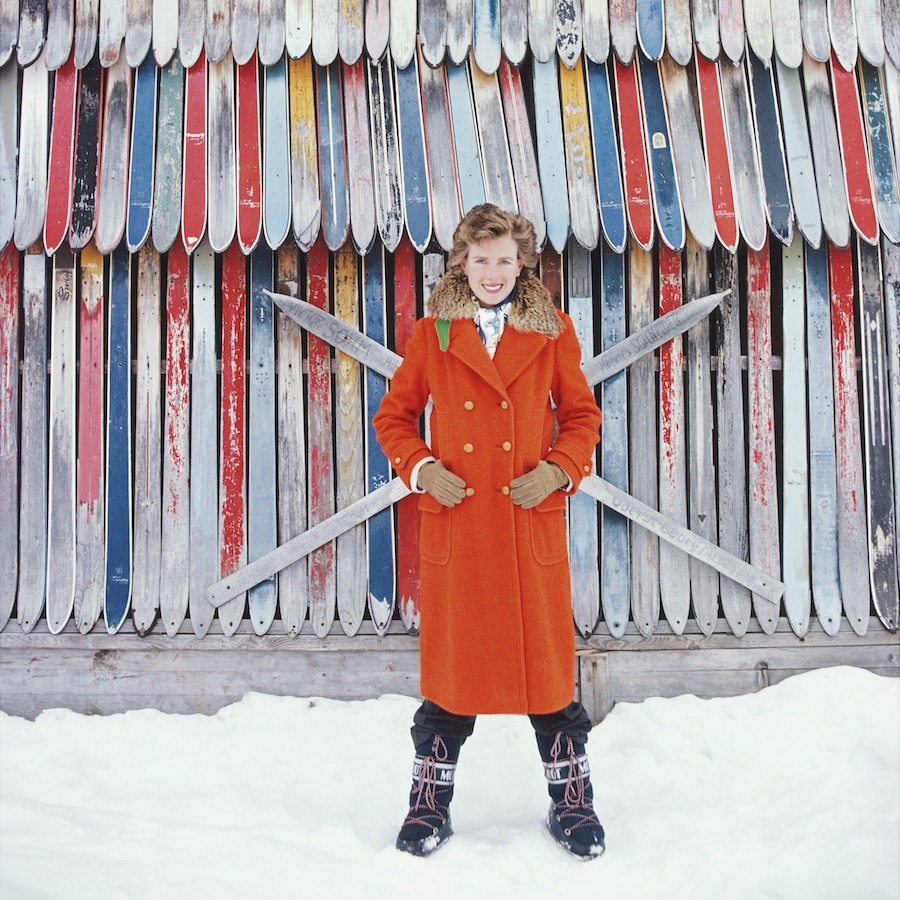 Picard had a soulmate in Slim Aarons, the American photographer who carved out a gilded post-war niche by, as he famously had it, "photographing attractive people doing attractive things in attractive places". These included, most familiarly, socialites sipping poolside cocktails in the streamlined shadows of their mid-century-modern villas; duchesses and marchionesses seated in their broughams before their imposing European piles; and actresses frolicking amid pristine Caribbean inlets (a veteran of the invasion of the Italian coastal resort of Anzio during world war II, where he received a head wound and was later awarded a Purple Heart for his bravery, Aarons said he would be tempted back onto a beach only "if it was decorated with beautiful girls tanning in a tranquil sun"). But the Aarons archive, housed with Getty Images, also includes hundreds of shots taken amid the pines, lifts and runs of the most exclusive ski resorts, from St. Moritz and Gstaad to Snowmass Village in Colorado. It may be fondue and furs rather than pools and pisco sours, but the princesses and partygoers peopling these shots conform to the patented Aarons aesthetic. "Whether it was the Italian Riviera, the Swiss Alps or the Arizona desert, Slim captured the essence of a place through his photographs of the people who enjoyed its unique flavour," said Kathryn Livingston, an editor who worked with Aarons on a number of assignments. "From the minute he arrived on location, he began to search for a handful of good- looking women or the latest pretty young trendsetter who could give his story a touch of fairytale romance."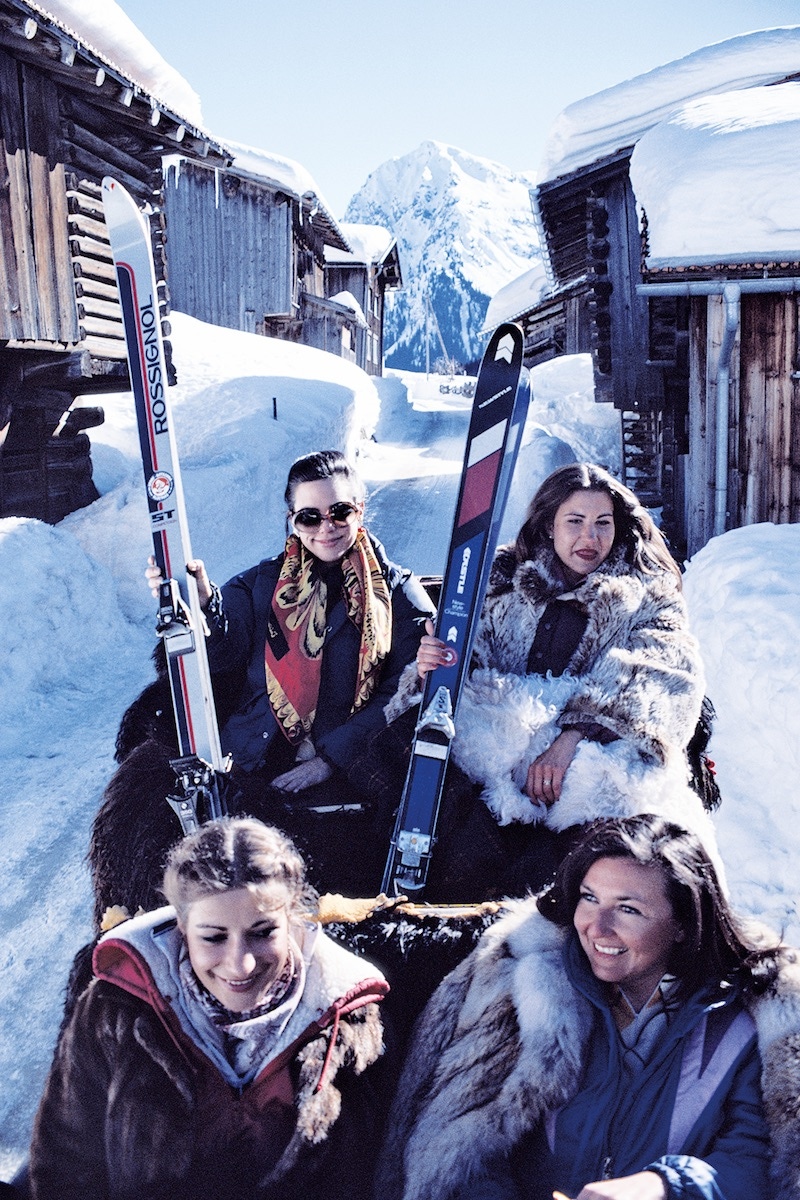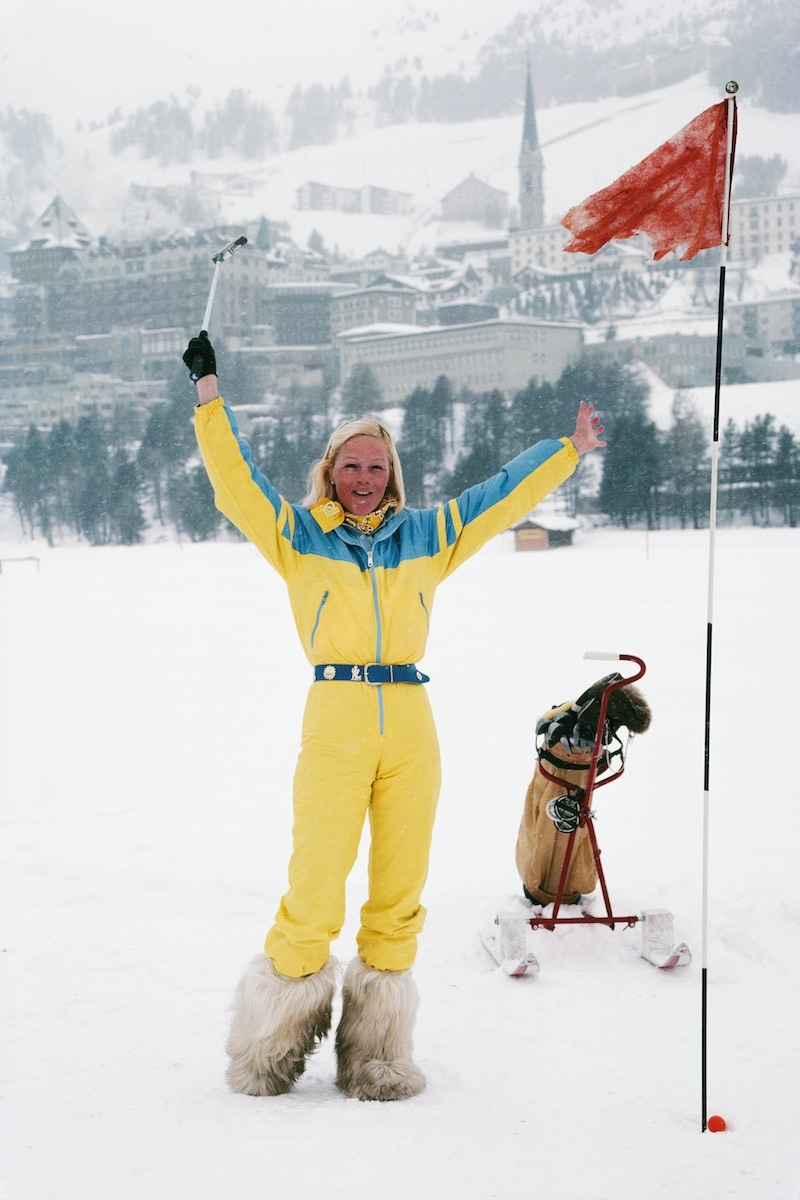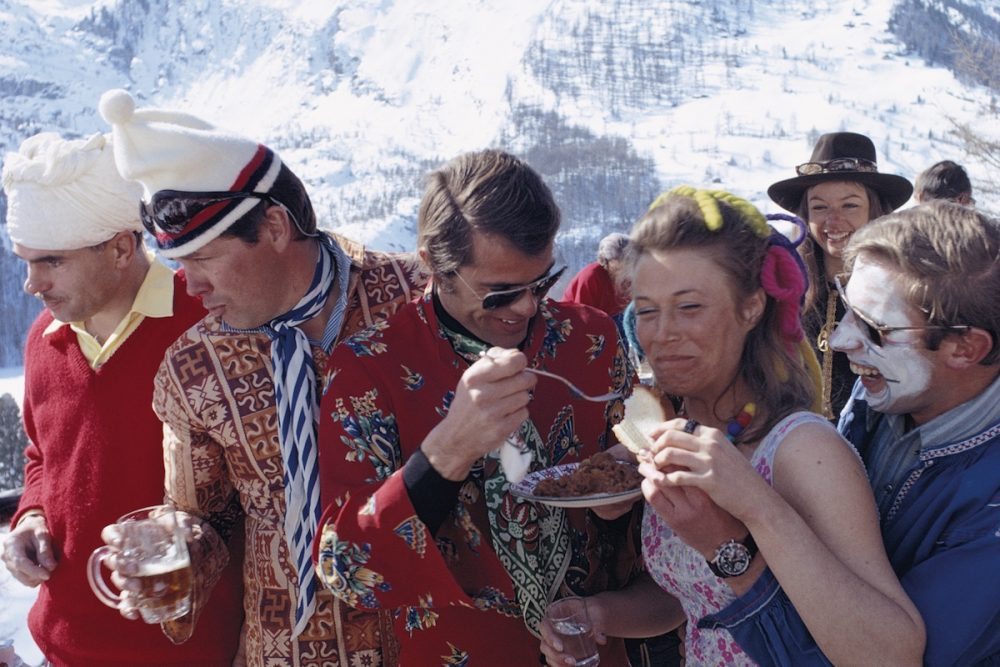 Aarons didn't have to look far amid the rarefied schussing spots for the requisite 'glamour in the snow'. Recreational skiing had been the exclusive domain of the rich, royal and famous throughout the first half of the 20th century, and Paris couturiers such as Coco Chanel, Jean Patou, Emilio Pucci and Elsa Schiaparelli had all produced 'la couture sportif' ranges — sharp silhouettes, bold prints, perky berets, fitted knitwear — for the active, independent women taking to the slopes. (Schiaparelli's daughter, the aptly named Gogo, was a champion skier, and helped make Schiaparelli's tortoiseshell goggles the de rigueur slalom accessory of the late 1930s.) In the immediate post-war era, when the sport became a byword for winter leisure-luxe, the German ski racer Willy Bogner and his mother, Maria, came up with the concept of nylon-wool blend stretch ski pants with stirrups — the Little Black Dress of the slopes — which were quickly adopted by the likes of Marilyn Monroe, Elizabeth Taylor and Jackie Kennedy, and which would go on to dominate ski fashion for decades to come. Such was their impact, Warren Miller, the ski and snowboarding filmmaker, attributed the sport's enduring popularity in the 1950s and sixties — the years when Aarons began prowling the resorts with his trusty Leica — almost entirely to the impact of the Bogners' 'glam- tilitarian' pants. "Let's face it, sex sells," he averred. "Anyone who was in reasonable shape could put on a pair of these stretch pants and look as sleek and attractive as someone in a James Bond movie." Neither did it hurt that Hollywood itself was providing a steady stream of role models to emulate: think of Audrey Hepburn, in a chocolate-brown Givenchy catsuit and oversized sunglasses, sipping a macchiato on a terrace in the French resort of Megève in the opening scene of the 1963 movie
Charade
, or a snap of Grace Kelly, taken a year earlier, sledding in Gstaad in a chunky white cable-knit sweater and beanie while hugging her similarly be- woollened children, Albert and Caroline. Read the full feature in Issue 80 of
The Rake
- on newsstands now. Available to buy immediately now on TheRake.com as
single issue
or
12 month subscription
. Subscribers, please allow up to 3 weeks to receive your magazine.