Grin and bear it: Ralph Lauren x The Rake Polo Bear Snow Beach
In our third Polo Bear collaboration with Ralph Lauren, we have taken inspiration from one of Ralph Lauren's most iconic collections, Snow Beach.
They say that Joy cometh in the morning. I imagine this sentiment is often true, but by gosh is it limiting. Joy cometh from all angles if you seek it out. No matter what the news might suggest, joy is fundamental to the human condition and plays a profound part in the story of our species. Never lose faith in this.
The most important thing is that you hold fast to what you know works for you: embrace it and clasp it to your heart as if a precious gem; know always where it is when you need to return to it; and pass the joy to others in a selfless way.
In Gustav Holst's The Planets, Jupiter is the bringer of jollity, a force for good, abundance and vitality. The tune itself is notable for the middle musical clause, which is now better known as I Vow to Thee My Country, with words by Sir Cecil Spring Rice set to the tune. For almost a century, Jupiter really was the bringer of jollity, and we basked in the warmth of its potent melody, in all its pastoral goodness, to feel energised and fortified. For the sartorially minded, this place in our hearts was usurped in the nineties with the arrival of Ralph Lauren's Polo Bear.
Yes, His Majesty Polo Bear returns to The Rake to honour us with another watch collaboration. Our founder, Wei Koh, has always been clear that the Polo Bear is more than a mascot — he is a beacon of aspiration and inspiration. "While he may be small in stature, he exudes a heroism and strength of character that is singular and inspirational," Koh has said. "For many of us, he has become a symbol of hope and optimism." The original Bear was a gift to Mr. Lauren, and he is now the gift that keeps on giving: in this iteration, we switched up our tuxedoed Bear to present him in another way that is steeped in the heritage of Ralph Lauren — the Snow Beach Bear.
Snow Beach was originally released in 1993, as a take on the snowboarding culture that was prevalent in the early nineties. The collection brought a brand-new palette to the Ralph Lauren canon and straddled that fine line — between practicality and taste — that is evident in all of Ralph Lauren's output, from military wear to western connections.
The Snow Beach snowboard was added to the visual richness of the collection in 2022, and is now a significant part of the collection and a museum piece in the Ralph Lauren archives, so it was a great honour to feature it in this shoot. Typically, as is the Lauren wont, it inspired ideas of the jet-setting mountain-goer whose private Cessna to Telluride was always on call. The collection came to mainstream prominence when the windbreaker was featured on Raewkon in Wu Tang Clan's Can It Be All So Simple music video
This brings us to the new Polo Bear watch, which will be unlike previous watches on which we have collaborated, for it comes with accessories. The Bear himself sports the famous splash top with Snow Beach on the front, while getting what I believe the more slope-savvy refer to as 'air'. You may notice, too, that he is sporting special eyewear, with 'Snow Beach' printed across the lenses, and this, dear reader, is also what you will receive for purchasing this watch — a pair of sunglasses with a strap across the back, perfect for wearing on the slopes both on the board or during après-ski shenanigans.
The watch has a polished case in stainless steel that houses a reliable Swiss automatic movement made by Sellita. It features, as well as the bear, hours, minutes and central seconds, with a crown at 2 o'clock and a Snow Beach nylon strap. The presentation box will have the bumper stickers (to add to your snowboard), and I can only apologise that the Porsche '93 Carrera 4 is not included (or the Cessna, for that matter). It is the most diverse watch from a style point of view. Though the colours are bright and plentiful, this does not disqualify it from more formal settings, nor does it discriminate between the sexes. It would look as good with a dressed-down, preppy ensemble as it would juxtaposed with black-tie, a formal gown, or skiwear.
So you see, jollity is key to this timepiece. Humour and irreverence locked in a line dance with heritage and craftsmanship. We love teaming up with Ralph Lauren on projects such as this, because the sense of mission between us produces uplifting results and promotes a mutual appreciation for modern expressions of heritage. This watch is for the bon vivant, the intrepid traveller, the conversation starter, the eccentric, the artist, and the stylish. It will say something about you, though nothing bad, so may you lay claim to yours with jollity, peace and happiness that will be echoed every time you put it on your wrist and give thanks to the Polo Bear, bringer of jollity.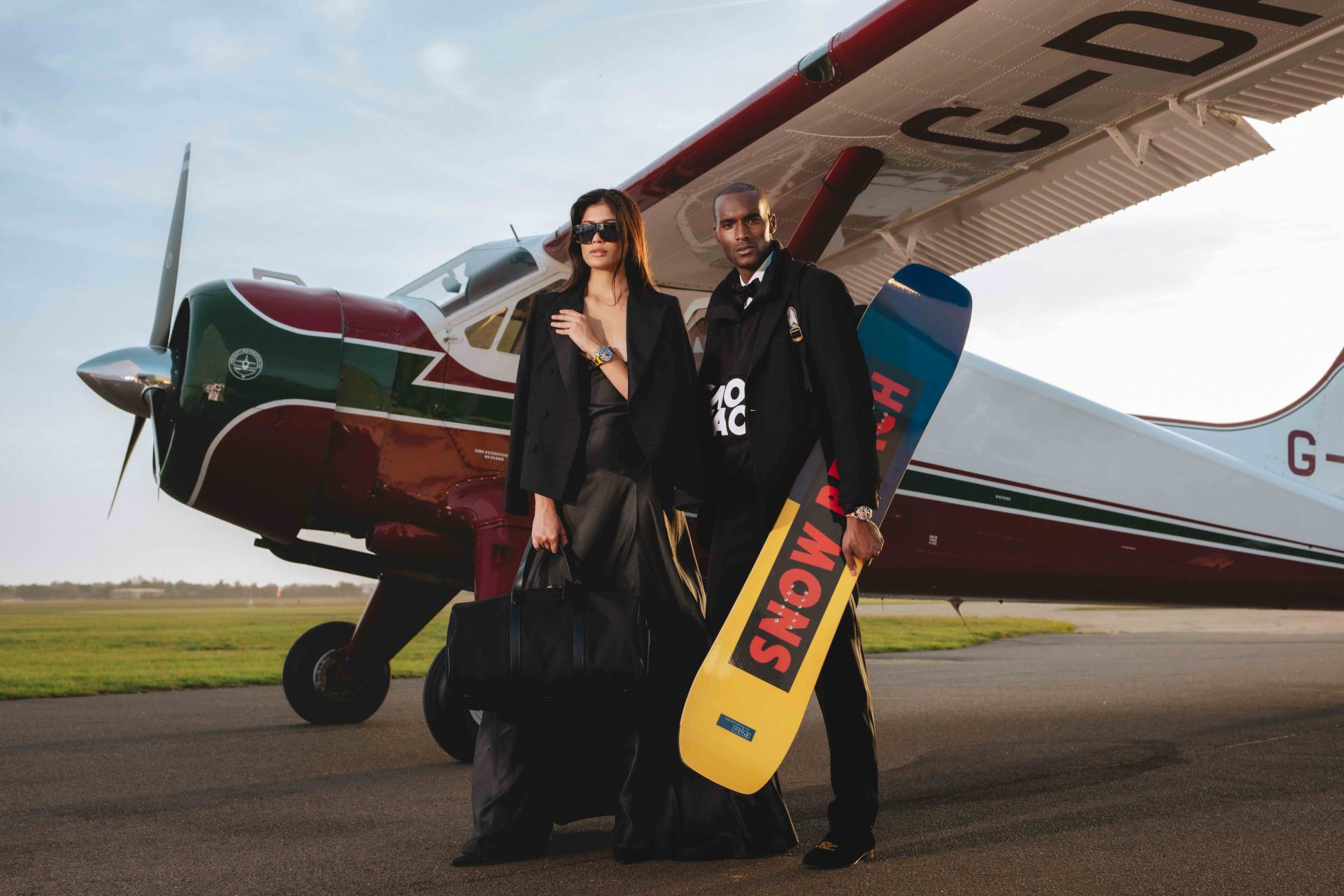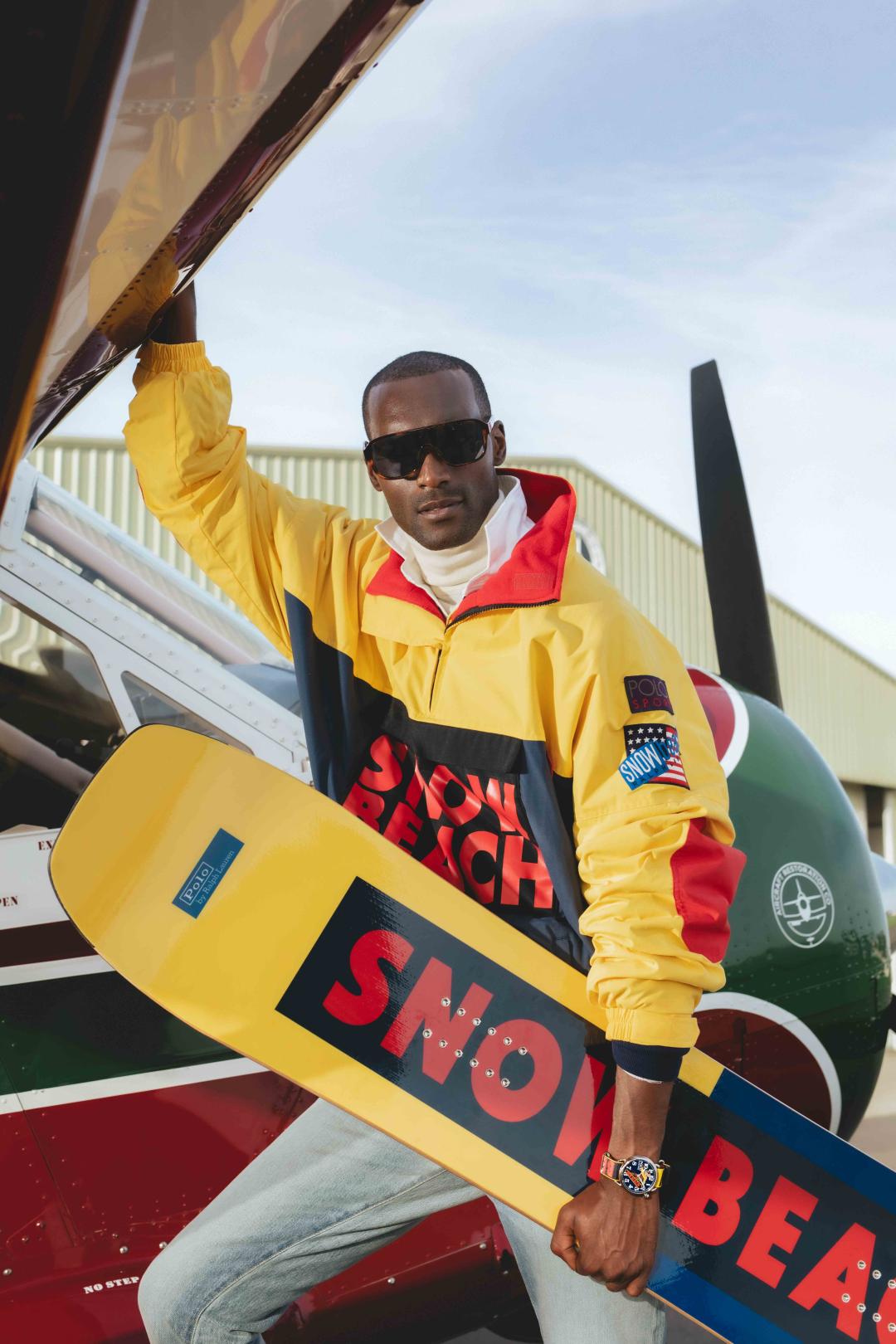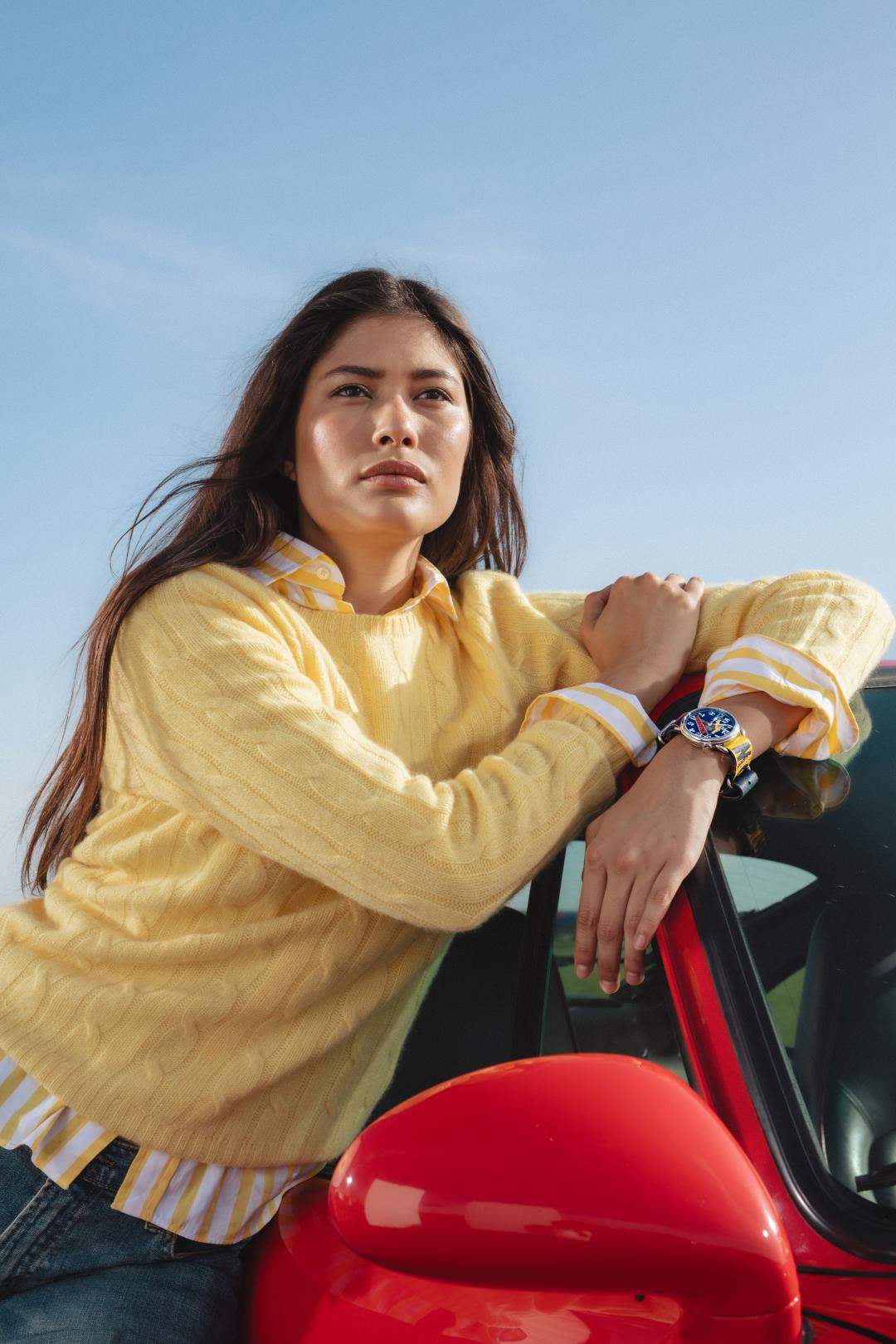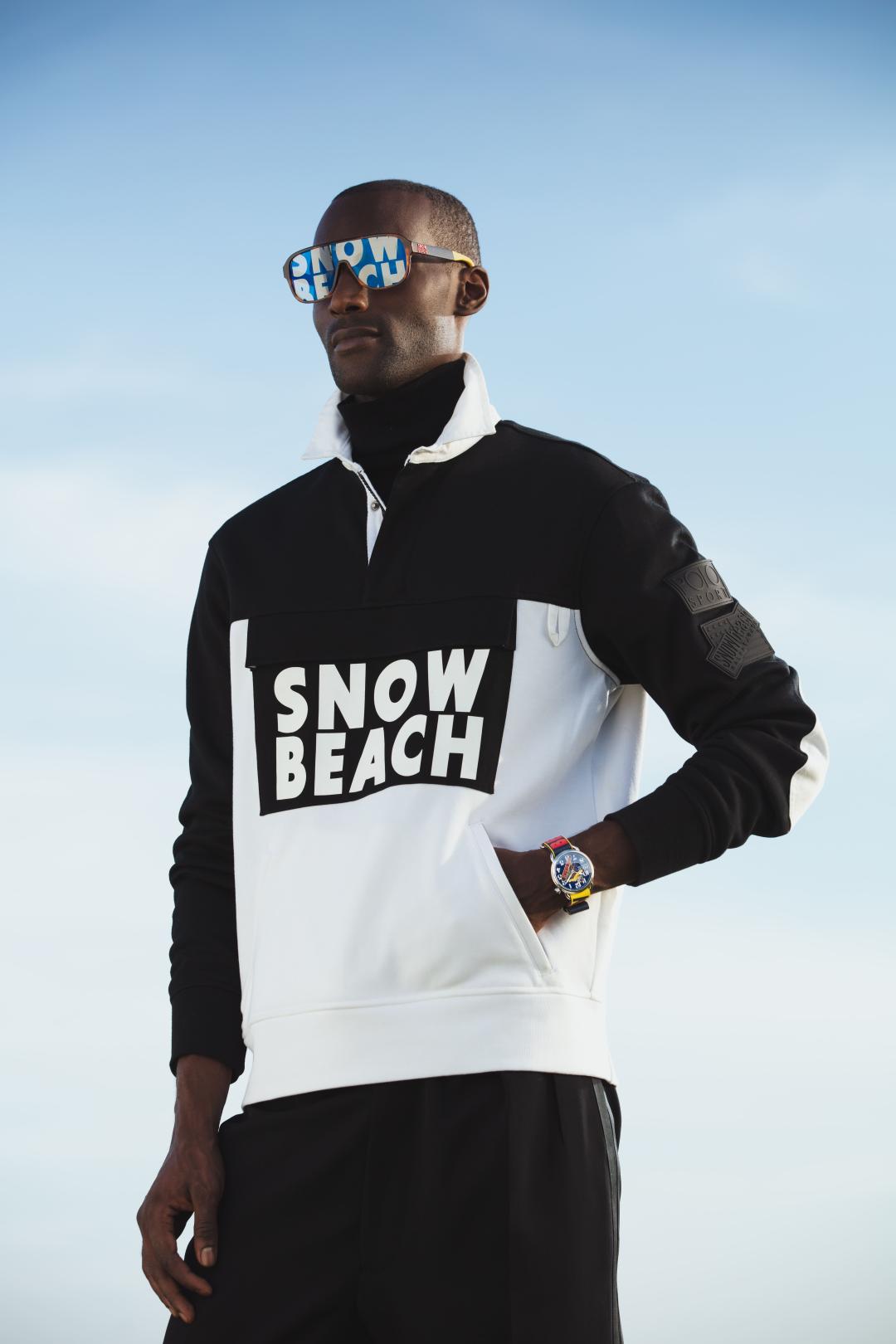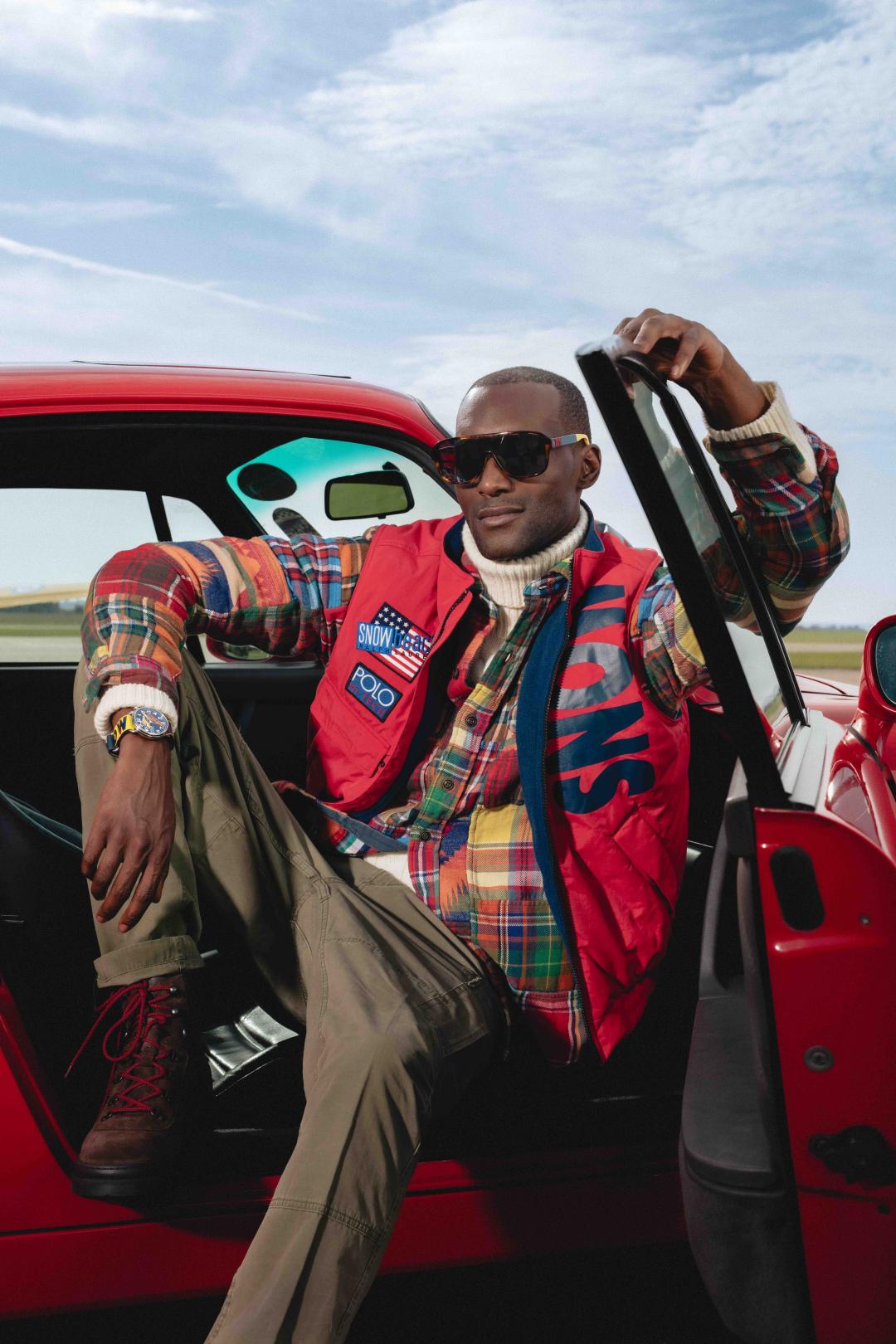 Models: Corey Baptiste at Storm Models, Yasmin Morais at Select Model London