Pocket Guide: Sartorial details by Aleks Cvetkovic
Sartorial menswear writer and founder and host of Handcut Radio, Aleks Cvetkovic lets us in on the vital details that make up his look.
Former Rake digital editor and menswear journalist, Aleks Cvetkovic is a very familiar face on the sartorial scene. A font of tailoring knowledge and a paragon of classic style, Aleks is always good value, whether you're quizzing him on the benefits of forward-facing pleats or regarding his latest well put-together ensemble. Now founder and host of the
Handcut Radio podcast
, (available on Spotify and iTunes) Aleks is a must-listen for any of you interested in the intricacies of tailoring or want to get backstage access to the industry's key characters. We caught up with him at Pitti Uomo in January to ask him about how he put his look together and to glean any styling tips for you.
Jamie Ferguson
is the man behind the camera...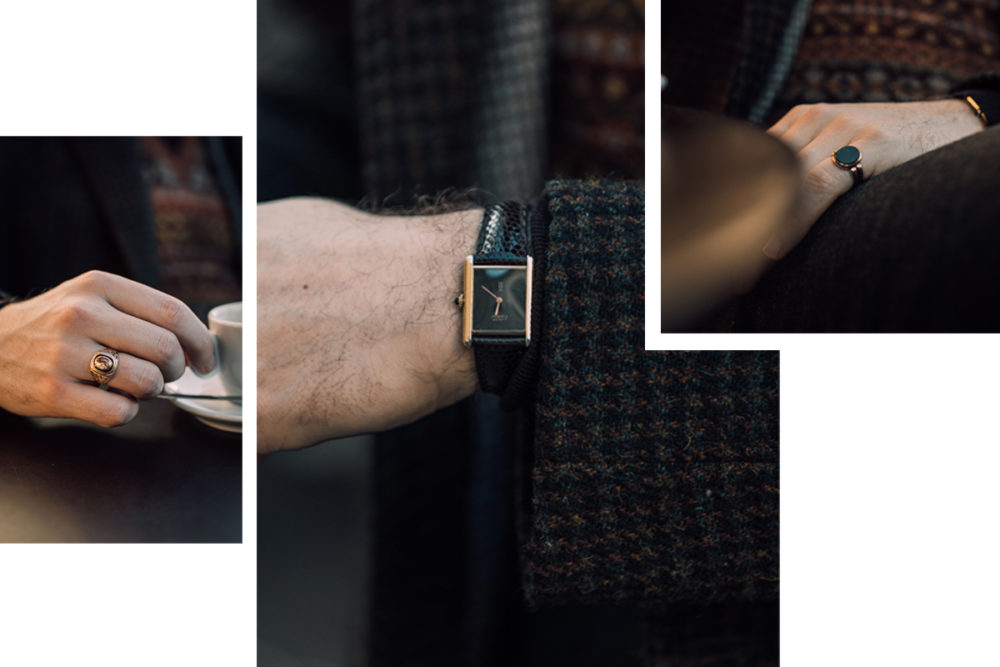 On the handiwork...
The watch I'm wearing is a mechanical Le Must de Cartier Tank from the late '70s. Cartier made most of these in quartz so to nab a mechanical was a right result. I bought it on eBay on a whim four years ago and thankfully it's never skipped a beat. The strap is bespoke lizard's skin from Jean Rosseau. I don't think you can beat their straps.
The rings aren't familial I'm afraid, but are entirely driven by my love of old school bling. The signet ring is late Victorian, set with a bloodstone which I love - it was a birthday present from my parents. The graduation ring dates to 1944 and was made in America - I bought it in an antique shop in Oxford on the day of my graduation a few years ago. It reminds me of how bloody hard I worked!
Scottish style via Parisian redux...
I've been feeling 'trad' British style recently, thanks in part to shows like
The Crown
, and few things are more reassuringly fusty than a Fair Isle knit. This knitted wool tank top is from
Jamieson's
of Shetland, purchased at
Beige Habilleur
in Paris (one of my favourite shops).  I dig the way Jamieson's knit theirs using very traditional patterns but with bold colours that feel relatively fresh.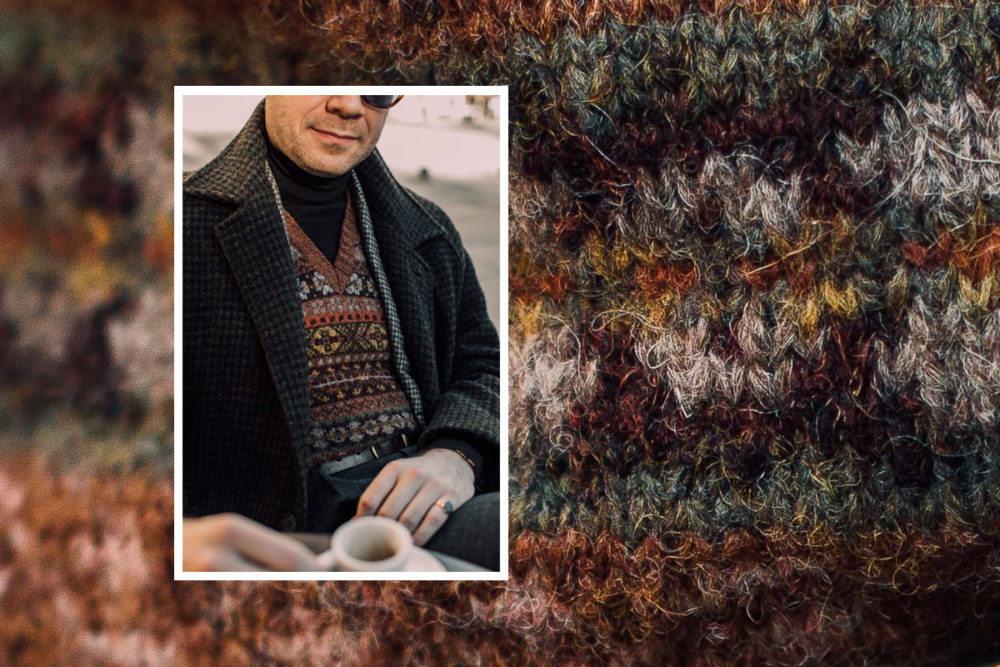 Mechanic chic...
The beanie's one of those great winter pieces that helps to dress down a tailored look - throwing a utilitarian element into the mix. This is a knitted wool 'Mechanic's Hat' from
Heimat
, whose watch caps are a firm favourite; they're a good shape and the knit structure is quite unusual [the style is commonly referred as "watch cap" as it was used by soldiers to protect them from wind and weather when they were on deck for their watch].
Don't get bogged down by layers...
I try not to overthink what I'm wearing. In my mind there are elements in all four layers that work together, but I like the fact this outfit isn't perfect. The chocolate rollneck, for example, picks out the brown in both the Fair Isle and the tweed coat. Both the raglan overcoat and sports coat from
Timothy Everest
are cut in tonal houndstooth cloths, so there's an element of harmony there too, and the orange in the tank top adds a bit of pop. Plus, there's something markedly 'English' about a bit of clashing pattern; people who obsess over matching everything in their outfit just so spend too much on Style Forum.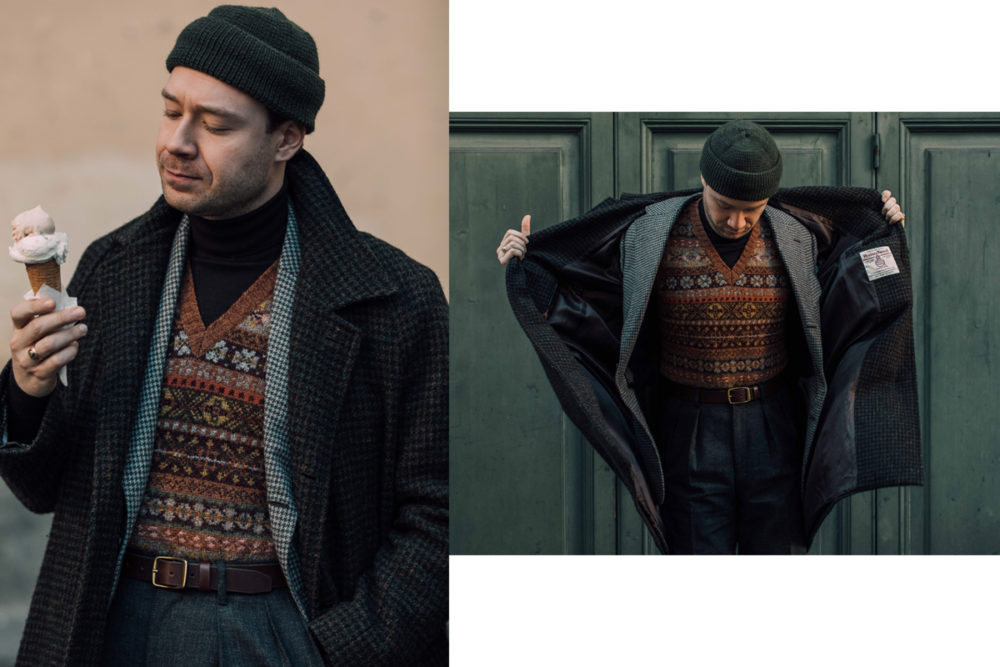 On the sartorial airwaves...
This year's an exciting one for HandCut. We have three more seasons of the podcast confirmed, which is continuing to grow a-pace. To complement the podcast, in the summer we're going to launch a new editorial platform I'm calling a 'digital menswear monthly'. This will be structured like a newspaper with columns, op-eds and photoessays, the idea being to drop a tight edit of print-worthy content into subscribers' inboxes on the first Saturday of every month. We're really excited about it, but I've no idea if it'll take off - we'll have to wait and see. As always I'm working closely with my partner in crime, James Allen at Birch London on this, so hopefully between us we'll produce something reasonably interesting.
Season Three of Handcut Radio drops on 5th Feb.