The 6 Paris Streetstyle motifs that will inform your winter wardrobe
Discover what the finest of the fashion press wore in Paris and the key elements that will boost your winter wardrobe for seasons to come.
Of all the fashion weeks for menswear, Paris always provides the most interesting and forward-looking streetstyle looks for the single reason that all the world's editors turn up to see the luxury fashion industry's biggest players. Hence you'll find a cornucopia of aesthetics strutting to and fro the shows, from avant-garde edginess to sublime interpretations of classic menswear codes. Here at
The Rake
, we're always loathe to talk about trends, preferring instead to focus on the more timeless tenets of sartorial menswear. That said, one would be mindful to keep one eye on the fashion pack in Paris for clues on how to put certain looks together that you might otherwise never think of constructing yourself. Clashing colours, patterns and codes is what this group do best so pay attention at the back!
Military green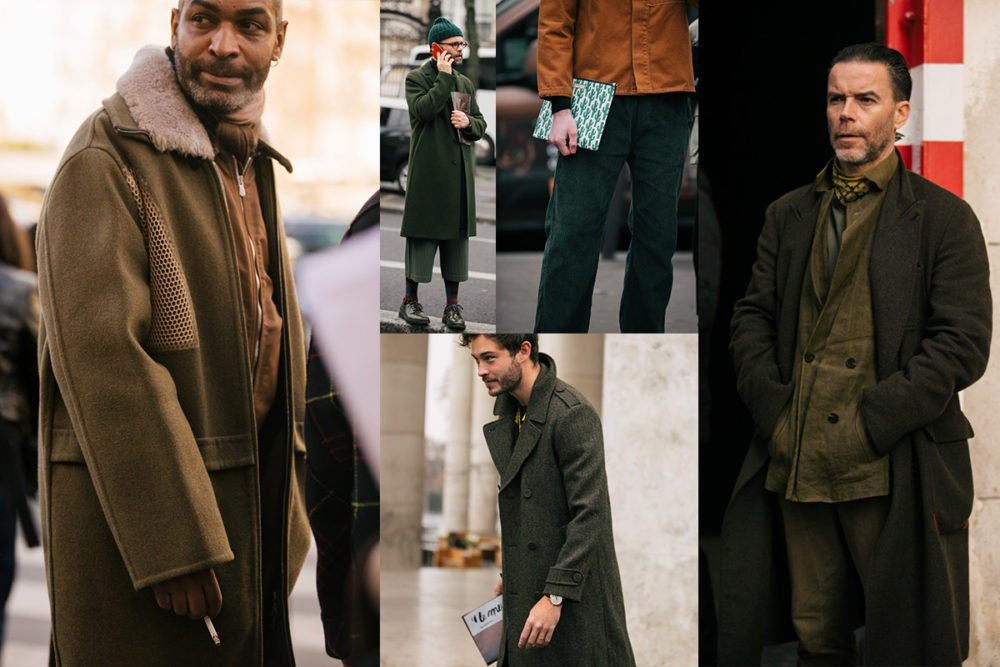 Green was certainly the colour of the season and has usurped black as the go-to hue for tonal dressing. The favoured palette was narrow: think sage, olive and the military hues (in fact, Alessandro Sartori's Zegna show in Milan was almost completely comprised of such greens). It's earthy but also very chic and is an incredibly versatile colour. For maximum impact, we recommend using it in a completely tonal look ie. head-to-toe green hues seen at Zegna. Just make sure you mix up the fabrics to give your monochromatic outfit some textural interest.
Shearling
When it comes to warm, timeless outerwear with an irrefutably masculine aesthetic, shearling ticks all the boxes. We saw it in many different guises in Paris, but none more popular than the waist-cut jacket. Whether it was just a hint of shearling in the collar, or a full-blown shearling blouson, the warmest of natural fibres definitely made a case for trend of the season (it was all over the runways last year too.) It's strength lies in its masculine tactility - form blessed with equal parts function, and timeless to boot.
Long overcoats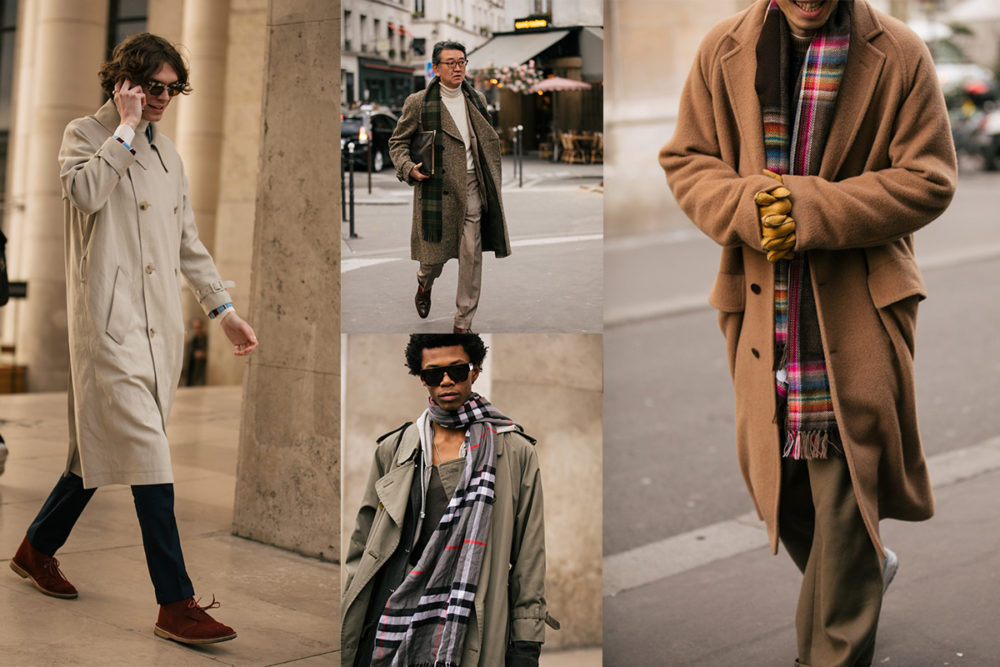 Playing with proportion has been gradually gathering steam in recent seasons, from oversize suiting to Staypuff marshmallow puffer jackets via variable cropped trousers. However, the mood on the Paris streets was notable for its penchant for long overcoats and macs. Classic styles finishing at or below the knee contributed to a significantly layered look, which makes sense, given the lightweight nature of cotton outerwear. The classic trench coat is your best place to start. Go for one in a neutral colour such as beige so you can easily go for light tonal approach or bring in elements of colour, such as a sweatshirt or, as some of the gentlemen above, a bold patterned scarf, to contrast the neutral palette.
Gilets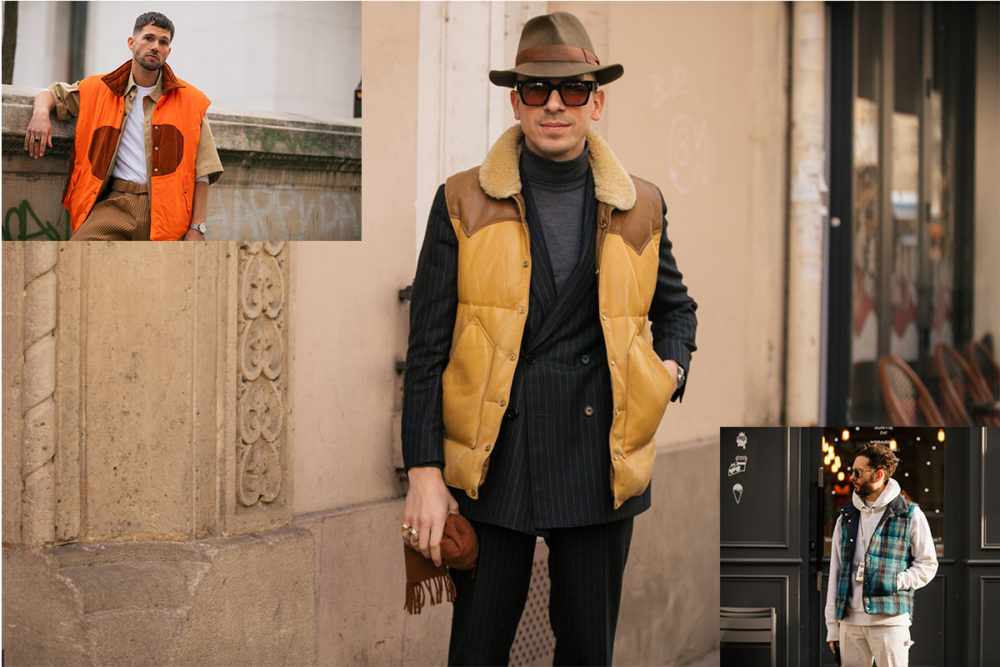 There's nothing a fashion junkie loves more than subverting the codes of clothing, so you shouldn't have been surprised to see the gilet, that icon of country functionality, pop up time and time again in edgy looks. The simple fact is, it's just another great layering tool in the winter and the lack of sleeves is significantly more comfortable when wearing a heavy overcoat. Then there's the utility of all those pockets. Whether you go for high-tech quilted styles under a suit jacket or a more traditional style beneath a coat, or even worn as a piece of statement outerwear as above, it's definitely a look that has legs.
Bold checks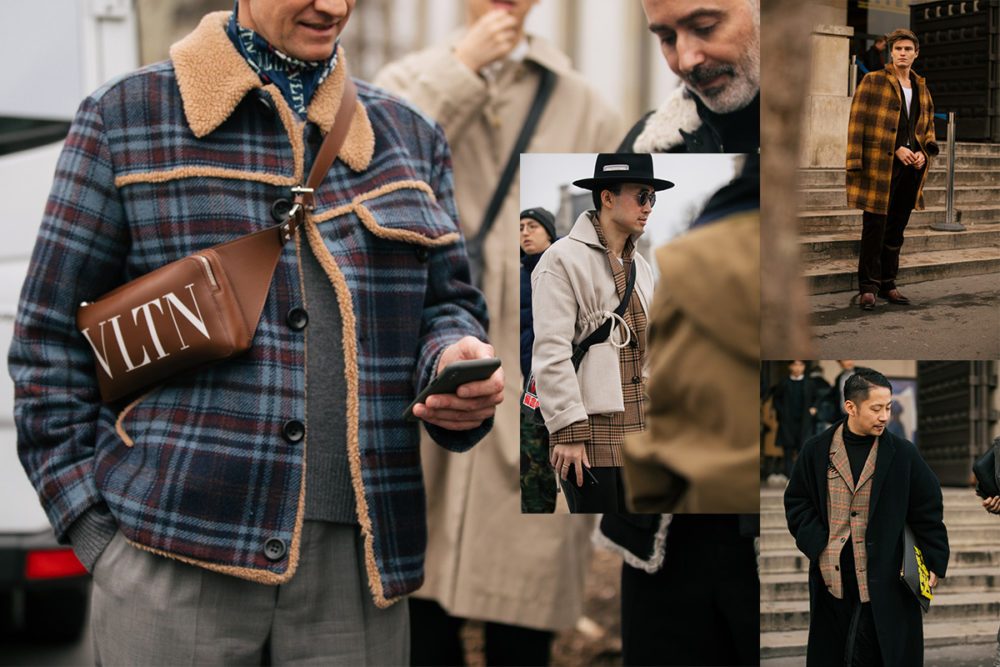 No room for wallflowers here... checks did not pull any punches this season. Colourful windowpane checks and punchy Prince of Wales styles were to the fore, providing a sartorially inclined method to add vibrant hues to a look. Checked outerwear was the favoured modus operandi, with big alpaca blend coats announcing themselves on the radar, but there were also plenty of colourful check blazers worn beneath less extravagant outerwear, proving that if you're going to wear strong patterns or colours, apply a certain temperance to everything else you're wearing. You want the check piece to be the hero, not the villain.
Hoodies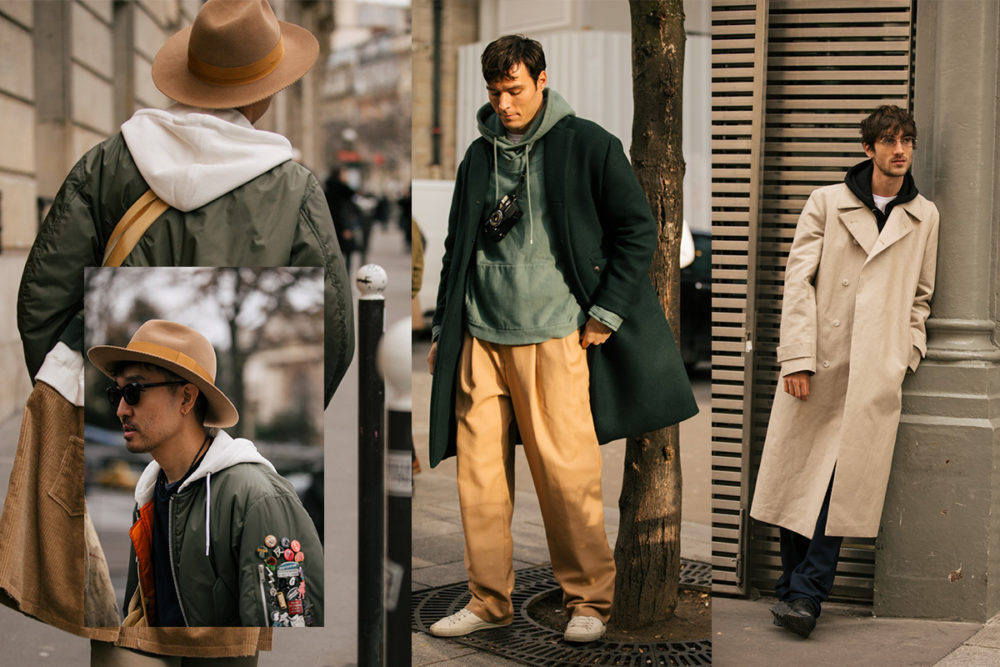 Ahh, the hoodie. Love them or loathe them, I can guarantee that you own one. But perhaps you wear it around the house, or to go for a jog? It's a casual bit of sportswear after all. Well, yes and no. Walk around the fashionable Le Marais area in Paris and you won't be able to keep count of the number of stylish guys wearing a hoodie beneath a smart tailored coat. Again, another great way to subvert codes and break rules. Try wearing one in a tonal look (eg white on beige and browns, or black on black), or for a more contemporary look, wear a hoodie in a strong block colour such as red, orange or yellow and clash it with a check overcoat with a hint of the same hue.