The greatest story ever told: Blancpain's Fifty Fathoms turns 70
Like all the best classic tales, Blancpain are celebrating the 70th anniversary of their legendary dive watch — the Fifty Fathoms — in three acts.
I can remember it like it was yesterday. I was in the changing room of the Surf Snowdonia centre in Wales, nervously gearing up for my session. I was wearing nothing but a wetsuit and a watch. The fact the watch was a Fifty Fathoms by Blancpain made me smile: it was beautiful.
The Fifty Fathoms has all the history of the Rolex Submariner, which came out alongside it in the early 1950s. It has a distinctive look, with oversized bezel and elegant, considered typography. To me, it was the more interesting choice of dive watch from the era. And while my surfing that day left a lot to be desired (you can, I believe, still see the film on YouTube, which was shot for Revolution magazine), the joy the watch brought me in and out of the water stayed with me. So when the opportunity arose to share its history — as well as its three-stage 70th birthday celebrations — with you in these pages, I jumped.
The Fifty Fathoms laid down a set of features that would become the definitive blueprint for modern dive watches. Spearheaded by Jean-Jacques Fiechter, an amateur diver and the C.E.O. of Blancpain in 1950, the Fifty Fathoms was born. As a member of the Club Alpin Sous-Marin in the south of France, his personal- experience requirements for this new watch included water resistance, a robust double-sealed crown, a self-winding movement, a contrasting dark dial with luminescent indications, a secured unidirectional rotating bezel, and anti-magnetic protection. By 1954, Fiechter had filed patents for the innovative locking rotating bezel, which had to be pushed down before it could be turned; for the double caseback; and for the double 'O' ring crown.
Capable of diving to depths of 100 metres, the watch caught the eye of the French combat swimmers' unit (Naguers de Combat), headed by Captain Robert Maloubier and Lt. Claude Riffaud. In 1953, Blancpain delivered watches to the Naguers de Combat, and the Fifty Fathoms soon became an essential part of their equipment. It was adopted by the U.S. Navy Seals (MIL-SPEC 1) and other elite diving corps, and the watch was even worn by Jacques-Yves Cousteau in the award-winning film The Silent World in 1956.
Between the 1980s and the 2000s, the Fifty Fathoms was taken out of mainstream production. That was until Marc A. Hayek took the helm at Blancpain. Hayek is a diver, and he relaunched the Fifty Fathoms in 2003 for its 50th anniversary. Since then, the Fifty Fathoms has been something of an insider's choice, always understated and often the reserve of actual divers.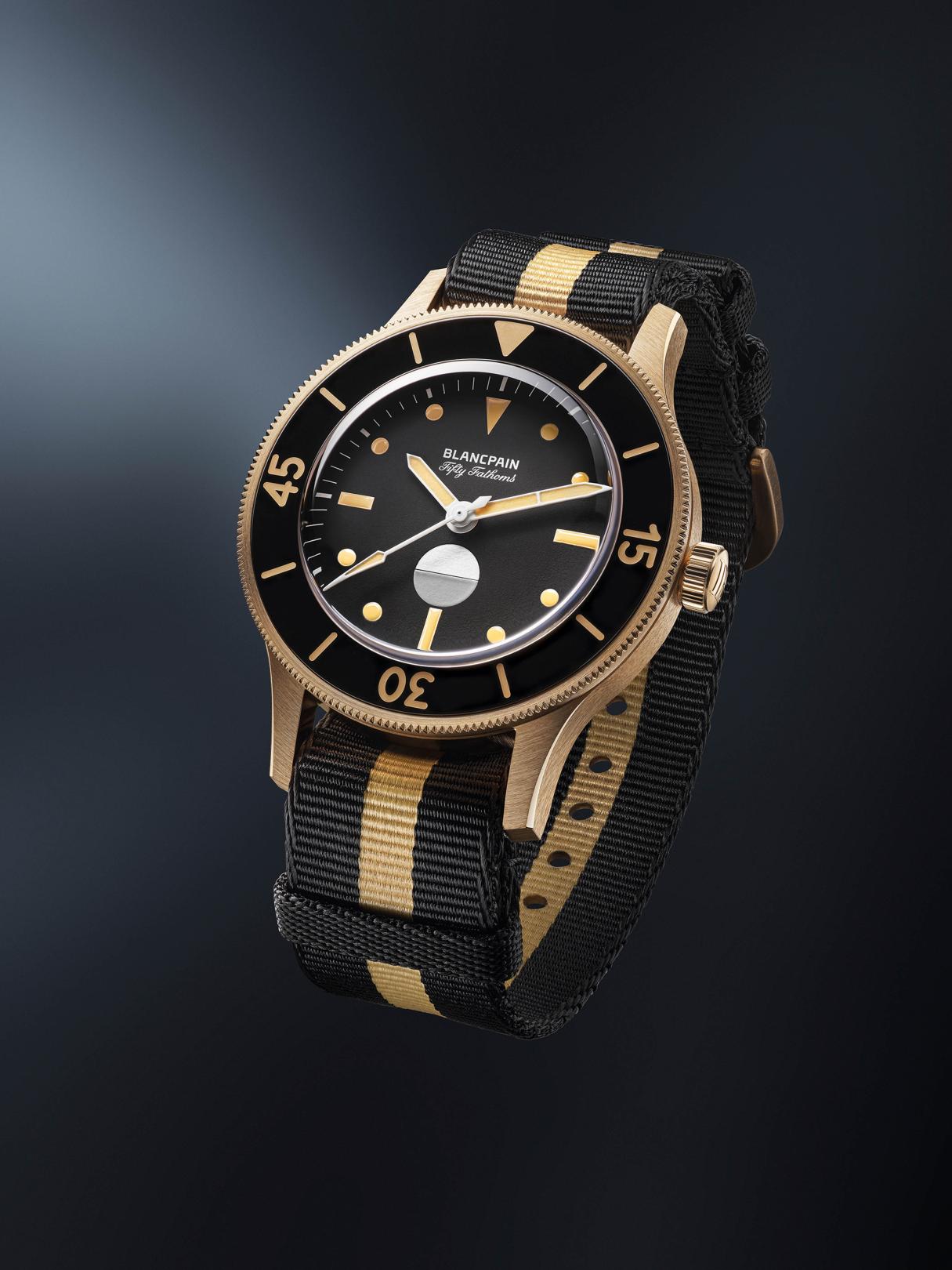 Act 1
As the '70th Anniversary' name suggests, this is the first in a series of limited edition pieces that kicks off Blancpain's celebrations of the Fifty Fathom's 70th birthday. It'll be released in three series of 70 watches across three markets: the Americas, EMEA (Europe, Middle East and Africa), and Asia-Pacific. Each series will carry its designation on the dial at six o'clock. And that's not all. It comes in an all new 42.30mm diameter case. While models have traditionally had 45mm cases and limited editions 40mm, there has no doubt been a call for smaller case sizes in the collector community. The nice thing is that this 42mm frame is also a nod to the early 1950s models, which I am in favour of. Inside, you have an in-house automatic calibre 1315, an automatic movement that has a 4Hz frequency and is renowned for its robustness. A solid five days' power reserve and anti-magnetism is key for a dive watch. Marking it as an anniversary piece, the platinum rotor is engraved with 'Fifty Fathoms 70th'.
The new case is polished and features an engraved Blancpain logo on the left side of the case. The stainless-steel bezel has a domed sapphire crystal inlay with luminous markings and the lozenge at noon. The black dial has sunray-brushed finishing, vintage-style hands, and block-type (raised and three- dimensional) hour markers treated with cream-coloured Super- LumiNova. Marked by an arrow-shaped tip, the small seconds hand has a touch of lume and a red point. It is clean and simple, and it will no doubt be a hit. Sure, the purists would have loved a no-date, but you can't have it all.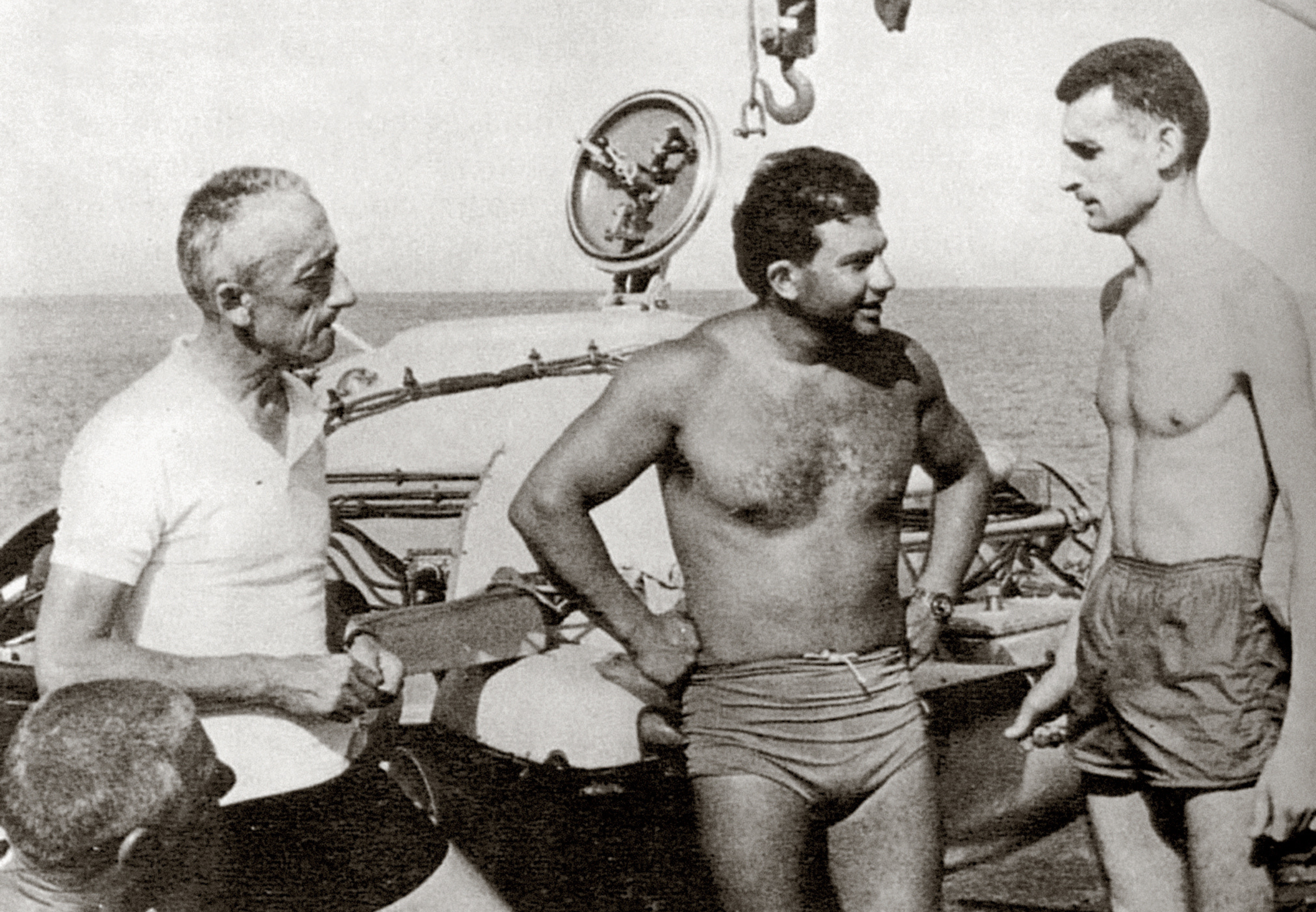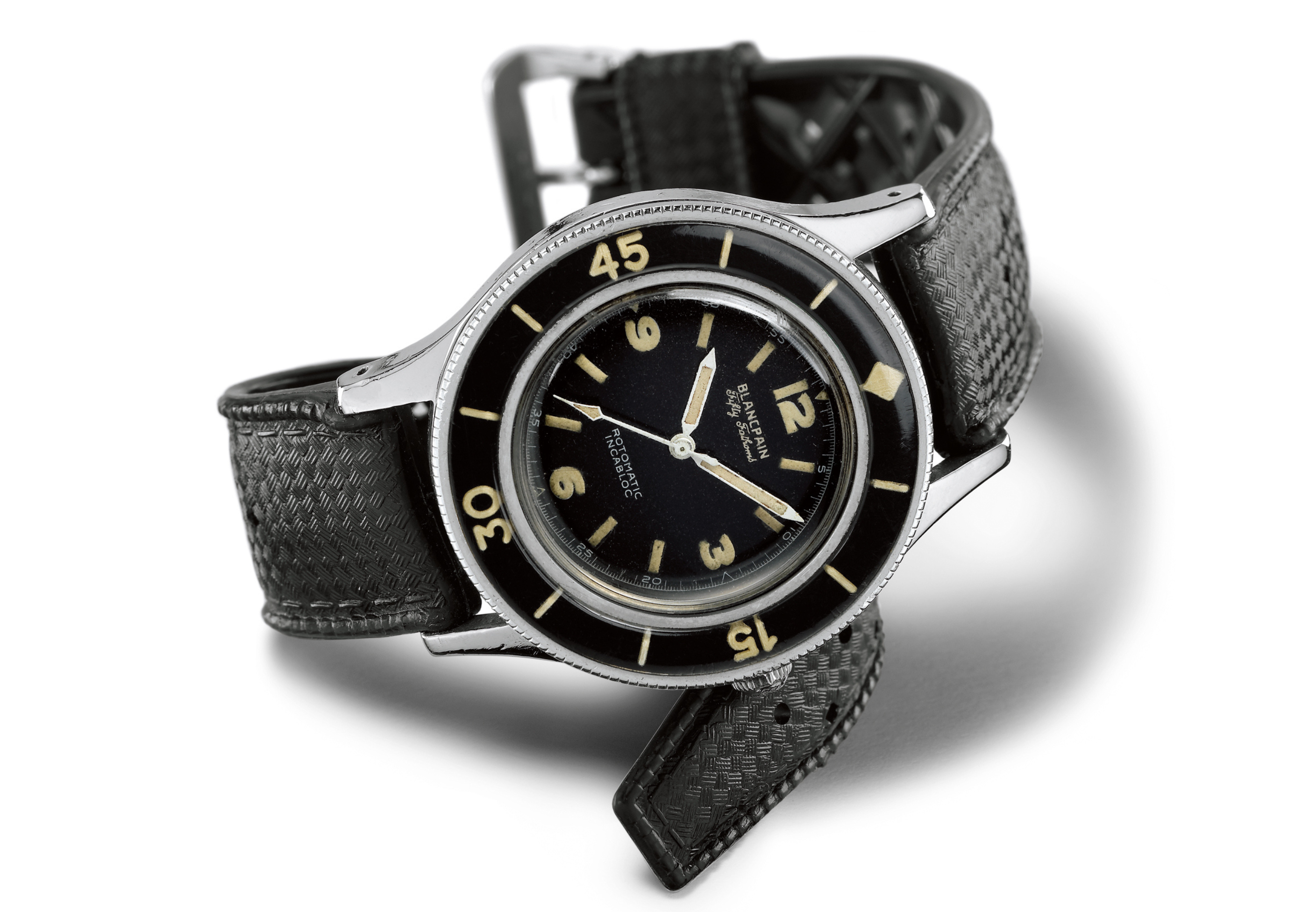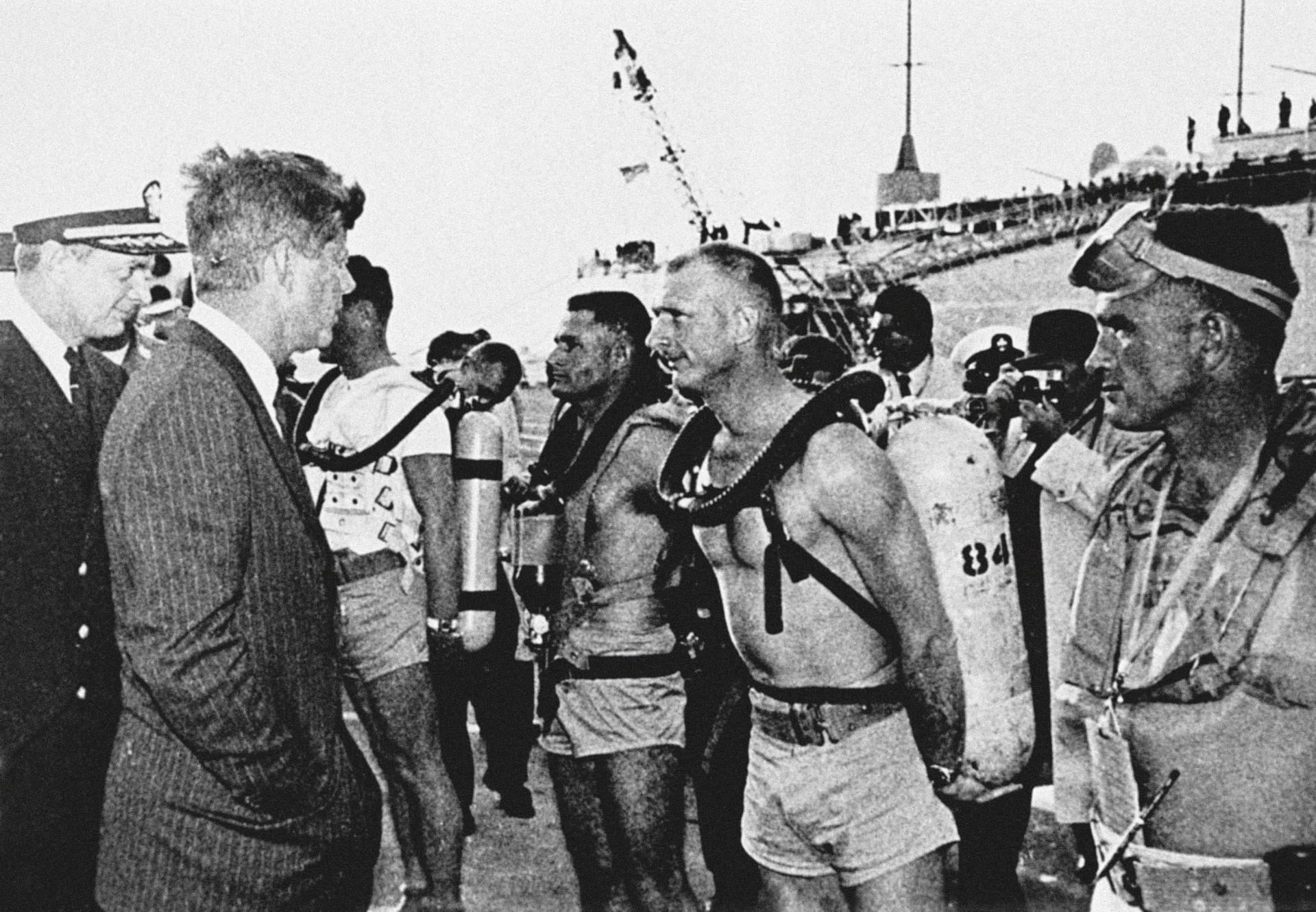 Act 2
The launch of the Fifty Fathoms Tech Gombessa: a wild dive watch that I fell for immediately (I have a soft spot for orange). The Tech Gombessa was created by Hayek and Laurent Ballesta, a wildlife photographer and marine biologist. Cased in grade 23 titanium (surgical titanium), it measures an imposing 47mm wide and 14.81mm thick, features a helium escape valve, an unusual central lug design and an integrated strap, and houses a new calibre, a triple-barrel-powered movement that has five days of power reserve.
The Tech Gombessa underwent five years of intensive testing. Ballesta wore four prototypes of the watch on an almost 50-day trial period at a depth of 120 metres as part of the Gombessa V and Gombessa VI missions (which Blancpain supported) in 2019 and 2021. All of this testing led to refinements like the integrated rubber strap with central lug system, big block luminous orange indices (which stand out against a black dial that absorbs 97% of light), and a touch of the original Fifty Fathoms design in the Bakelite-esque bezel, which features luminous numerals that help track the three-hour hand as it counts the elapsed dive time.
Now let's go from one of the most extreme dive watches ever launched to a collaboration that a year or two ago would have been unfathomable (forgive the pun). I am talking about the Blancpain and Swatch collaboration, a righteous celebration of colour, bio-ceramics, the Fifty Fathoms DNA and that of Swatch's SISTEM51. Following on from the global sensation that was the MoonSwatch, very few thought this would ever happen. Technically it is an upgrade on the MoonSwatch, and is set to be another hit, adding some glitz and glamour to the otherwise performance-oriented Fifty Fathoms.
Act 3
On to the third and final part of the anniversary puzzle: a limited-edition Fifty Fathoms the like of which we have never seen — in 9k bronze-gold. It is inspired by the MIL-SPEC- issued military references of the past, and there will be a total of 555 pieces made. It is faithful to its original 41.30mm diameter case, so the purists will breathe a sigh of relief. The matt-black dial is incredibly sexy. A nod to the past is the Super-LumiNova
moisture indicator at six o'clock. The unidirectional rotating bezel is rock-solid, with a black ceramic insert featuring a vintage diving scale. Finally, the two-tone NATO strap is made from fishing nets recovered from the oceans.
The case of the watch is German silver, and Blancpain have covered it in 9k bronze-gold, a patented alloy enriched with 37.5% gold (hallmarked '9k'), copper (50%, allowing it to be called 'bronze'), silver, palladium and gallium. Designed to offer a pink hue and pleasing aesthetic, this type of bronze stands out because it can be worn in direct contact with the skin, unlike traditional bronze. As well, it has a longer lifespan, since oxidation to a verdigris colour is prevented by the addition of gold. Inside, you will find the 1154P2 movement with a water resistance of up to 30 bar.
When all is said and done, this is an insanely good-looking dive watch that will no doubt age and patina in an incredible way over time. The classics are classic for a reason, but in the watch world, old watches aren't that user friendly, especially divers. So a full-tech upgrade on a traditional design — with a twist in the case material — will be well received.
As a long-time fan of the Fifty Fathoms, I didn't need any convincing. In fact, as I write this I am thinking of ways to raise funds to buy that Tech Gombessa. The irony is that I wouldn't have any cash left to go diving with it. But that is a side note, for the Fifty Fathoms is the sort of watch that, once you strap it on in the morning, lets you dream.
Read the full story in Issue 90, available now.