THE TRAILBLAZER: Lorenzo Cifonelli
For Lorenzo Cifonelli, the world is a crucible of change, in which travel and the urban environment have redefined the technical underpinnings of modern tailoring. Originally published in Issue 50 of The Rake, our Founder, Wei Koh writes that Cifonelli's response has been visionary, forging a way to make bespoke jersey jackets with the same sharp shape as those made from traditional cloths. Like the early jazz greats, he is bending and redefining the rules of his medium…
To slip on your first jacket cut by Lorenzo Cifonelli and reflect upon the man starring back at you from the mirror is to be filled with the same emotion that Senator Giovanni Falier must have felt when he stepped onto his gardens in 1777 and witnessed the statues of Orpheus and Eurydice sculpted for him by Antonio Canova. As with Canova's expressive ability with stone, Cifonelli is a man so unique in his ability to bring forth life from inanimate cloth that he seems to breathe the Ancient Greek concept of
anima
, or spirit, into his creations. And, like Canova, who was considered the greatest sculptor of the neoclassical period, Cifonelli's influence in shaping the prevailing aesthetic of the global sartorial revival over the past decade has been so major you could even say he has defined it. Look at the majority of stylish denizens plugged into the social media nerve centre and you'll see innumerable examples of Lorenzo Cifonelli signature leitmotifs. He single-handedly reintroduced us to the wide full-bellied, high-gorged lapel. He is the man behind the greatest resurgence of the 6x1 double-breasted coat since Armani in the 1980s. The signature Cifonelli shoulder, which was invented by his grandfather to reconcile immaculate shape with mobility, has become so imitated that priapic facsimiles are found in pages of magazines and on websites and Instagram feeds the world over, as well as on the shop rails of multiple ready-to-wear brands. But at the same time it is Cifonelli who, like the first generation of jazz greats, is bending and redefining the rules of his medium. He is introducing streetwear materials and sportswear details and adaptability into the previously dusty realm of bespoke tailoring, and in doing so is connecting its values with an all new generation while also showing existing customers previously unimaginable possibilities.
"My tailoring has evolved as a direct response to my customers and how they live their lives," Cifonelli says. "For example, one thing they share in common is that they all constantly travel. So comfort and adaptability of their jackets has become extremely important. They want to wear something with a beautiful shape. They don't want to compromise in style. But at the same time they don't want to feel the jacket on their bodies, they want something almost weightless and unrestricted. They want to forget they have their jacket on. So we had to innovate in terms of the construction of the jacket, using lighter and more supple canvases and find new fabrics that could allow a greater range of mobility, all the while maintaining their appearance. It's a very interesting time at Cifonelli in terms of this innovation. We are doing a lot of garments in jersey or a lot of things in blends of cotton linen and polyamide and moving away from things that are too heavy. And at Cifonelli we are very excited to develop this part of this business." Perhaps Lorenzo Cifonelli's most defining characteristic, and the way in which he has most influenced modern men's style, comes from his inability to be constrained by the past. For him the world is a crucible of change, where travel, and rapid movement through the urban landscape, is redefining the stylistic vocabulary and technical underpinning of modern tailoring. And it is at the epicentre of this change where he is most alive. Discovering new fabrics, like lightweight Japanese jersey or even denim, and creating ways to incorporate them into bespoke tailoring to provide garments with increased comfort, adaptability and utility are his passions. And though he calls himself a tailor, he is as influential as a designer as any in the pantheon of contemporary menswear greats — so much so that he is creating the suits for fashion's most revered designer and the man who introduced American luxury to the world and classic menswear to soft tailoring, Ralph Lauren.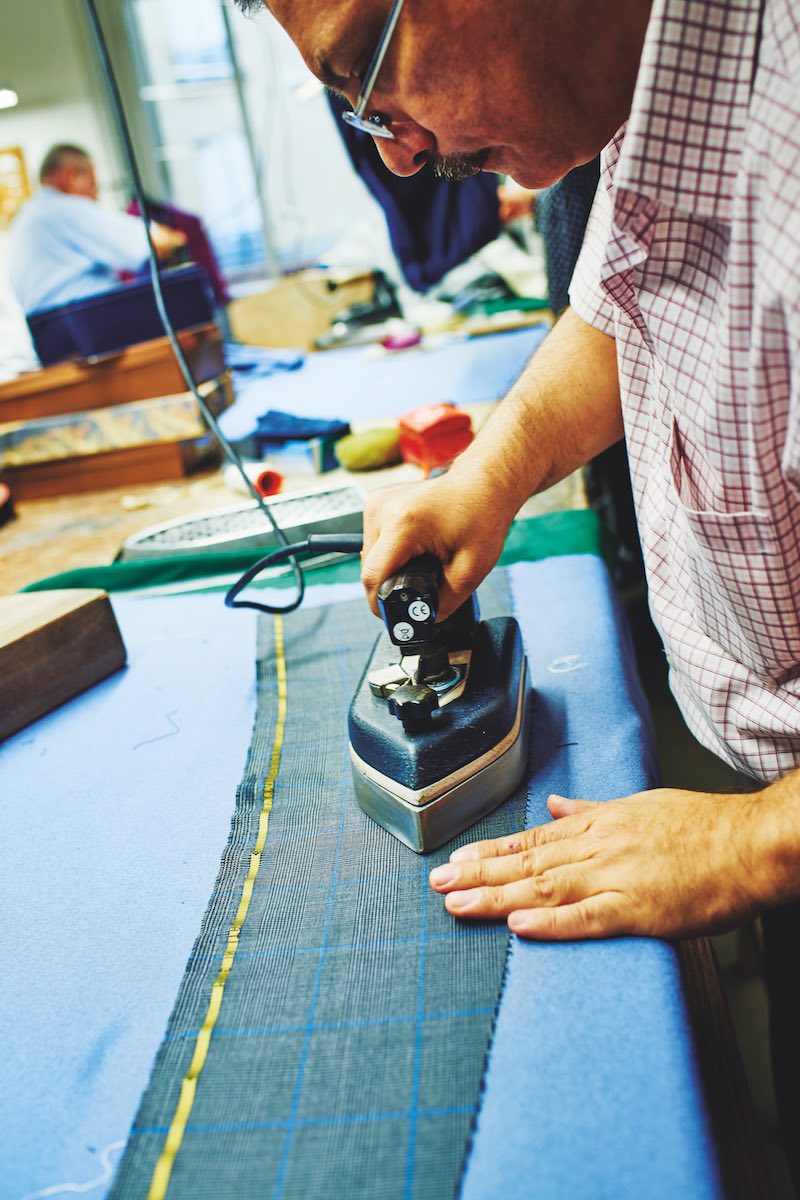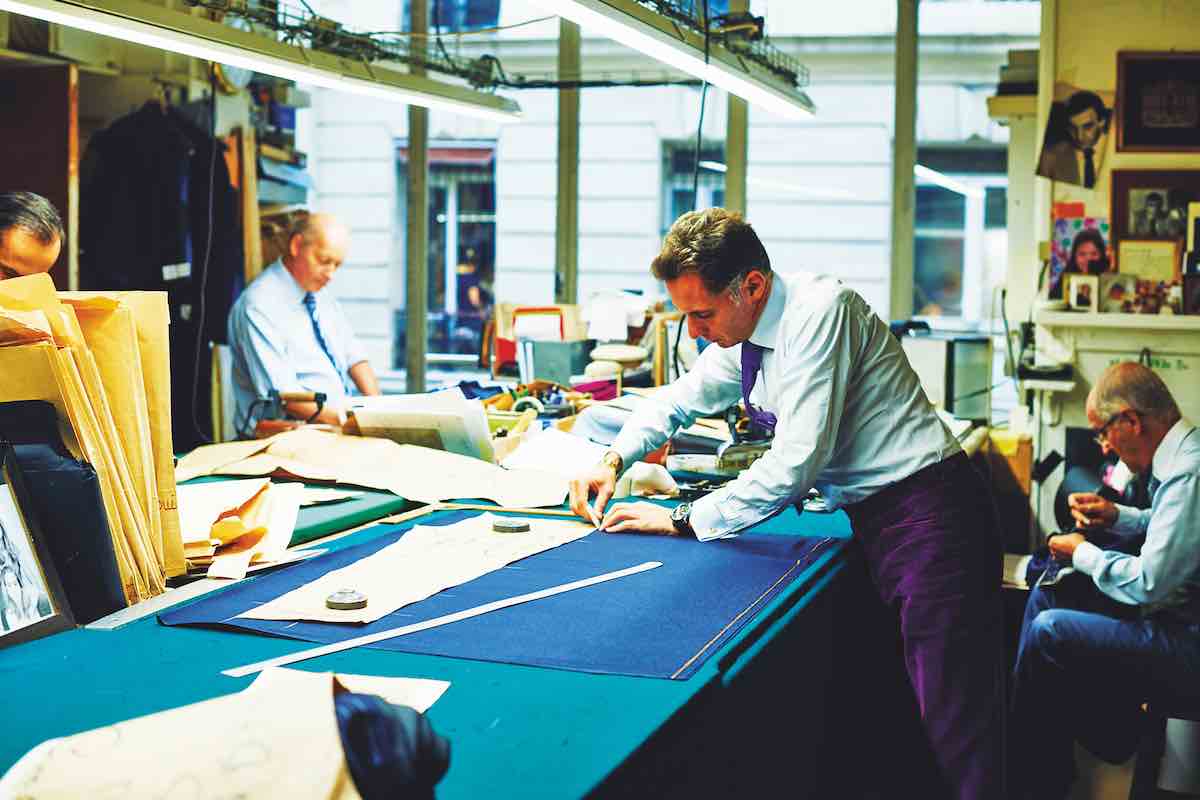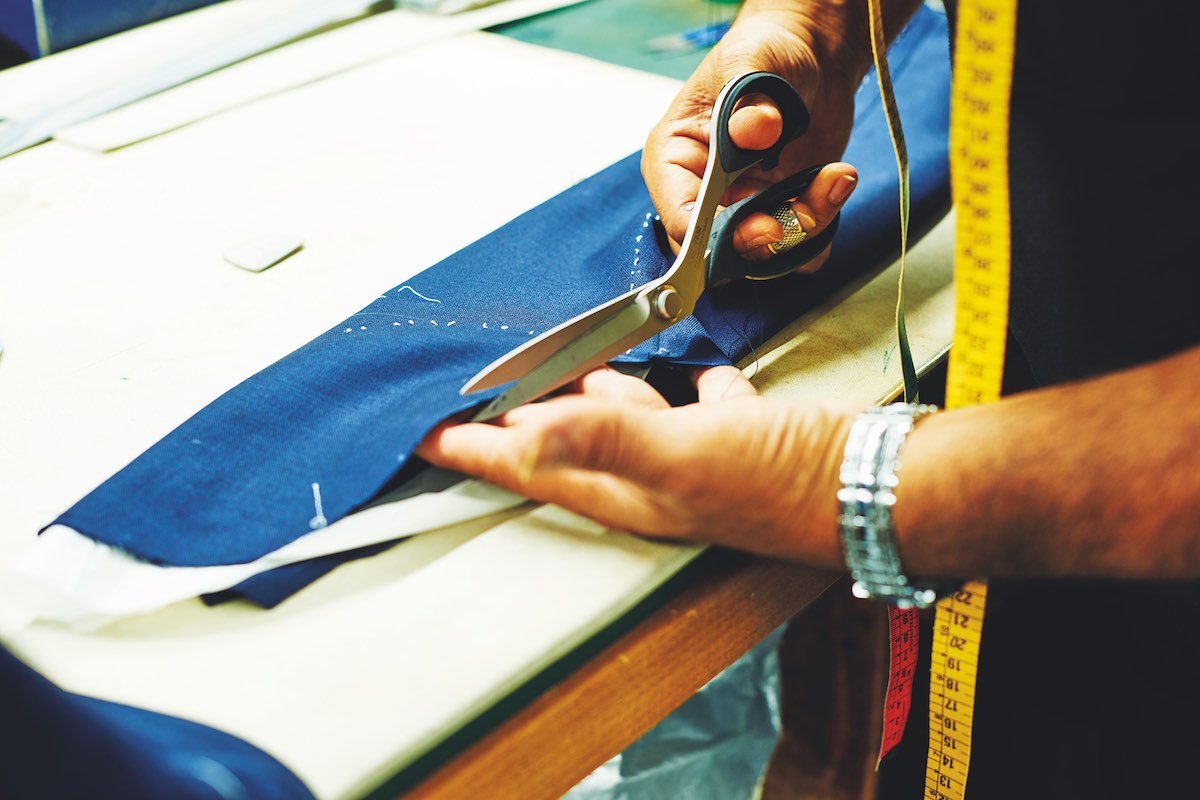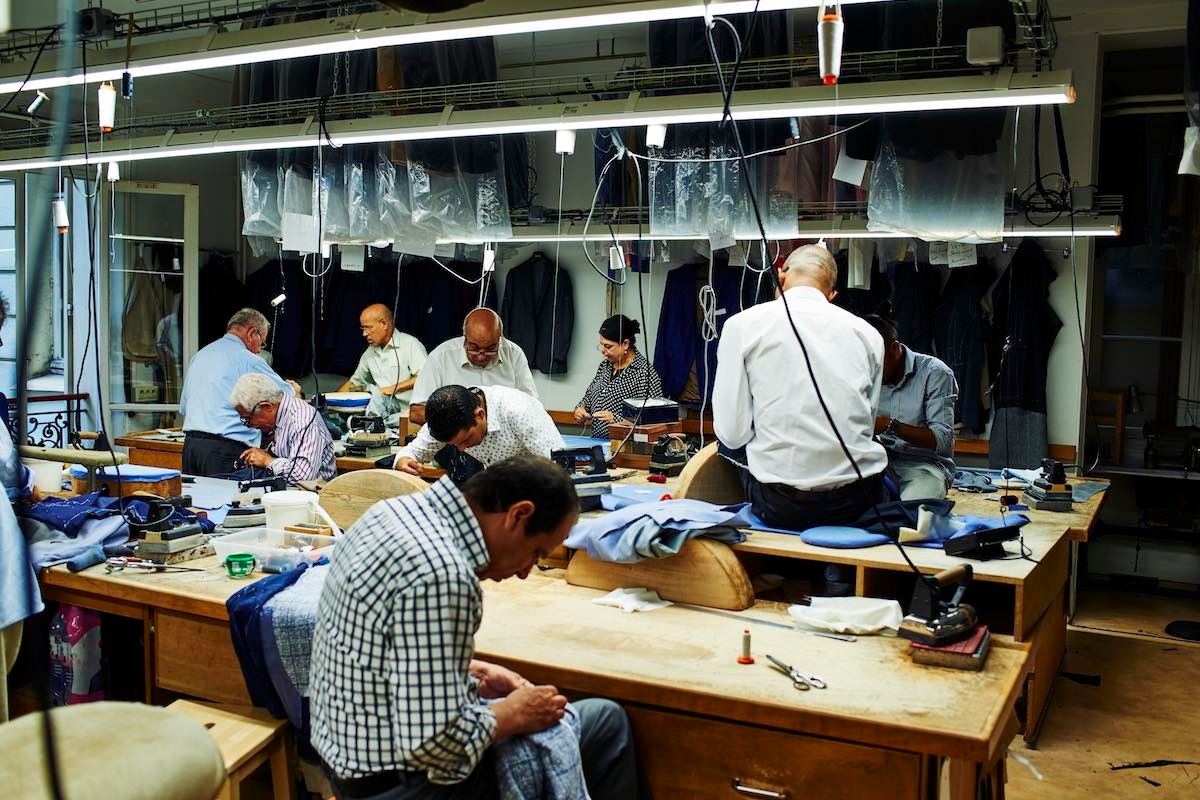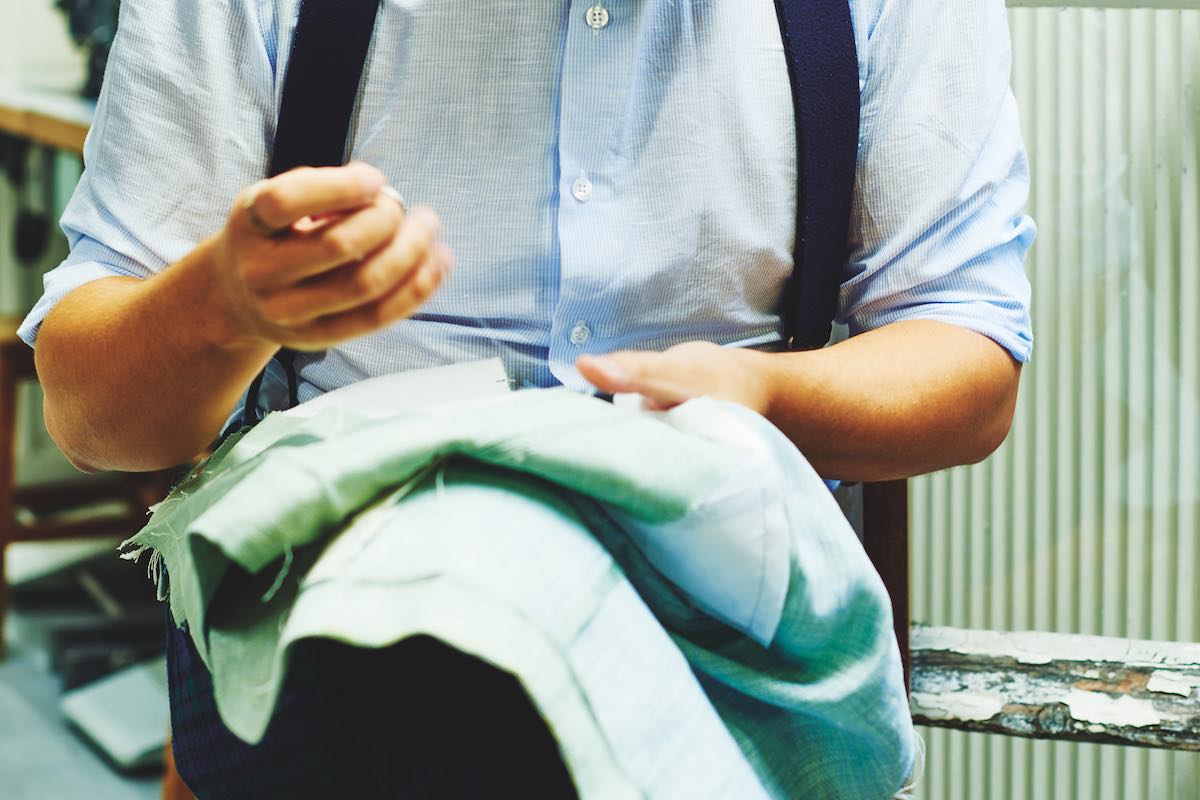 In some ways this makes perfect sense, because the DNA of Cifonelli is about combining beautiful shape with comfort and mobility. He says: "This was the idea when my grandfather invented the Cifonelli shoulder. It was so the suit jacket could be fitted, with a clean chest and a tapered waist but so that you could move your arms in any way without feeling your jacket restrict you." In this way the Cifonelli family has always had the same preoccupation with freedom of movement as the creators of both Neapolitan tailoring and the British drape. But their path to achieving this is markedly different, focusing on a very unique shoulder construction rather than on draping excessive cloth throughout the sleevehead and chest. The result is something much cleaner and shaped. "For me, personally, I want people to look at a jacket I've made and the first word that should come to mind is 'sexy'," Cifonelli says. Classic tailoring is in the midst of its strongest period of revival in half a century. Firms that were struggling a decade ago are now fighting to meet the deluge of orders flooding in. And among these, Cifonelli bespoke, which features tailoring's largest in-house workforce, situated at their historic premises on Rue Marbeuf in Paris, is one of the most successful. But for Cifonelli it is not enough to revel in this. His eyes are always firmly fixed on the horizon, and his mission is to connect the appeal of flawless bespoke tailoring with the next generation of customers. He explains: "At the moment the next generation doesn't go to the tailor, they are buying primarily ready-to-wear. So I want to make clothes that are very much Cifonelli but that this client will want to wear. Of course, I want to make suits for the successful business leaders of the world. But at the same time I want to make clothes for the guy that is in his early thirties and says, 'I don't want to go to the tailor because I don't want the same clothes as my father'. I want to create clothes that appeal to him, that are very beautiful, very sexy, but might have a stronger, more aggressive look. This is what I enjoy doing." As a tailor who is also a keen observer of the prevailing themes in contemporary fashion, Cifonelli is unique. He says: "I travel a lot, and all around the world. I love to go to all the varying menswear shops so as to sense the emotions of contemporary fashion. I like to know all the varying brands, from streetwear to high fashion, because I am genuinely interested in what they are doing. I am living not only in my world. A lot of tailors only live in their own world and are not receptive to other tailors or ready-to-wear brands." Often times, Cifonelli admits, he can be inspired by something that other tailors do. He states: "I think one of the most important things is to be receptive to everything and everyone. For example, I love learning about other tailors. When I am in Naples I love visiting Attolini or Panico; when I am in London I love to visit Edward Sexton or Joe Morgan. I even love the style that Anderson & Sheppard is doing with the long shoulders in the big chest drape, even though it is the opposite of what I am doing. In Paris I am friends with Marc and Charles de Luca. I never want to say I'm the best. Every interaction with other craftsmen you can learn something, and that learning is important."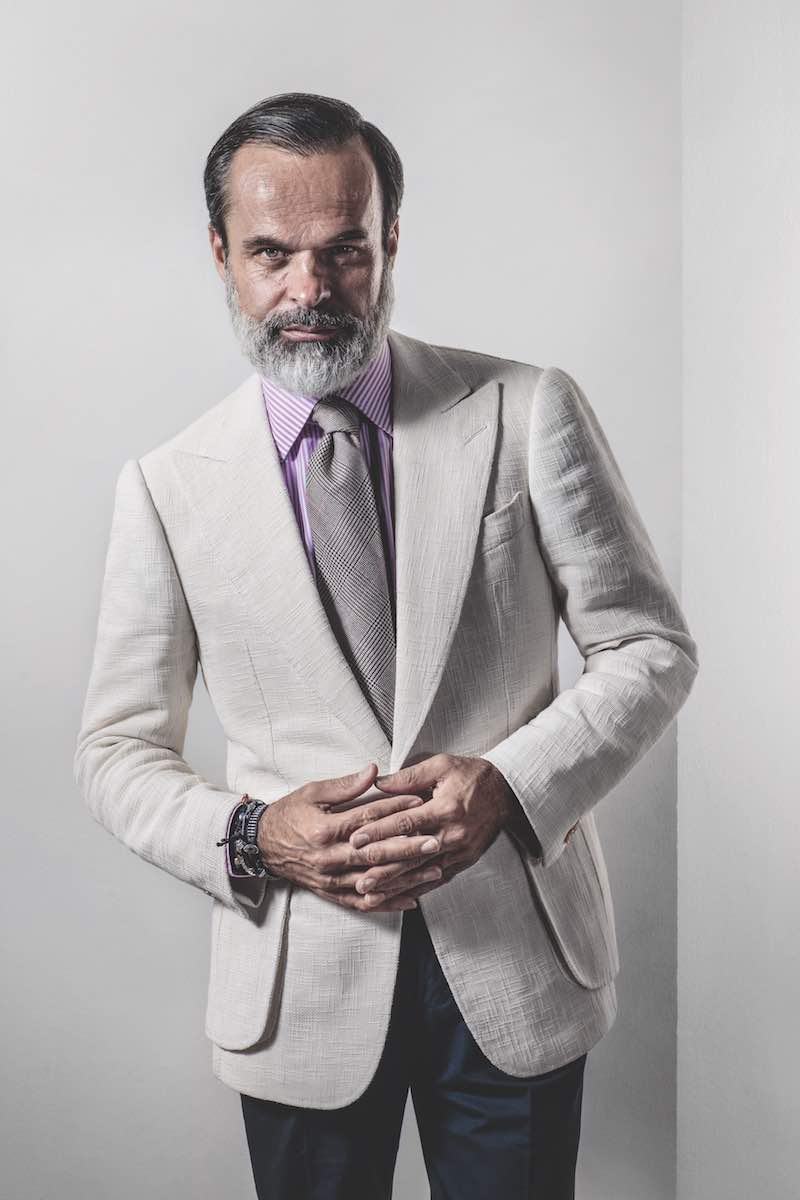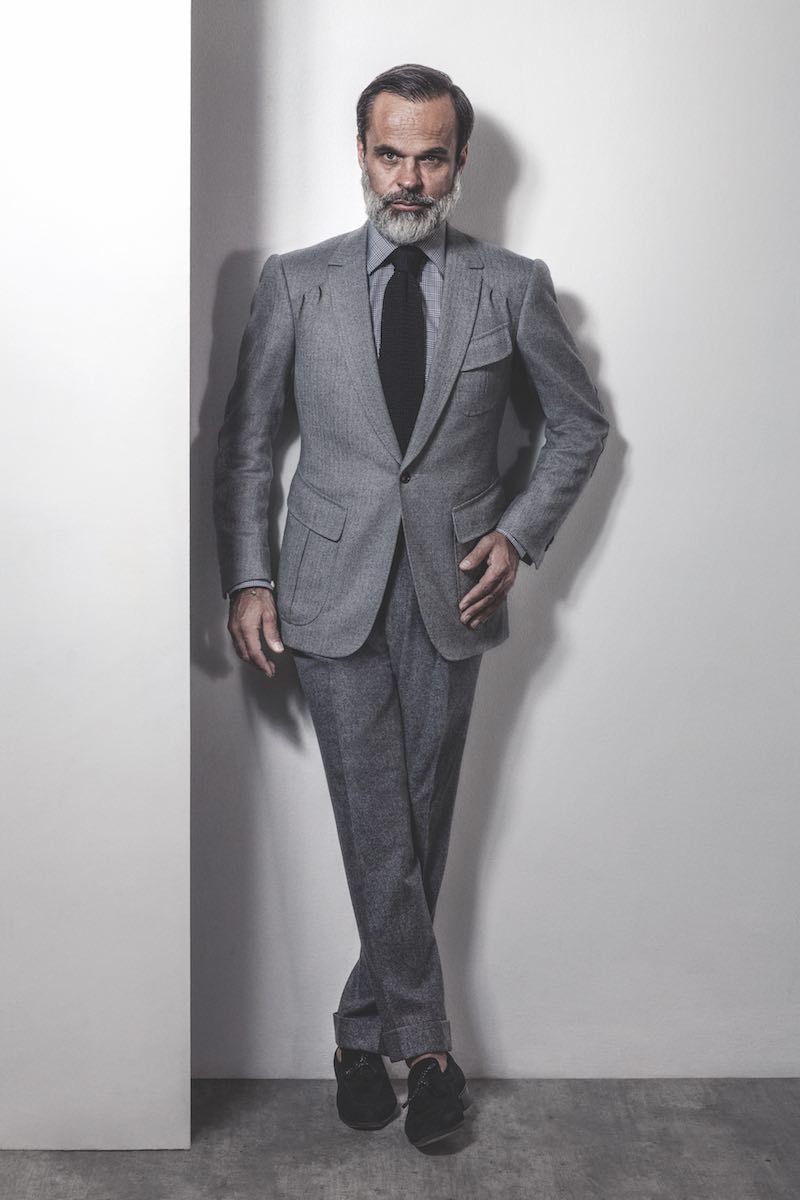 One of the greatest discoveries made by Lorenzo Cifonelli is how to make bespoke jersey fabric jackets with the same sharp shape as those made from traditional cloths. Jersey is essentially wool or cotton yarn that is knitted into cloth. It was first introduced into the luxury vocabulary by Coco Chanel in 1917 but has always been eschewed in tailoring as being too unstable, too prone to irrevocable stretching. That was until Cifonelli decided to start making bespoke jersey blazers. He explains: "I was in Tokyo and I was looking for soft fabrics, specifically jersey, to create this new style of clothing. I found this supplier. But that's just the beginning, because then you have to research and discover the way to create a tailored jersey jacket because you need to find a way to stabilise the jacket. Together with my cousin Massimo we worked really hard on this and figured out how to do it." When asked from a technical perspective what needs to be done to create a jersey blazer, he says: "The inside of the jacket is different. We have to put some additional material in, made from a specific type of cotton, so as to protect the jacket against stretching too much, but at the same time we have to ensure the mobility is still optimised. There is nothing as comfortable as wearing a jersey blazer, and we are pleased that we have become known for this. We've sold a lot of jersey jackets in recent years. And we've seen how they age and are very pleased with the results." As of late, Tibetan yak fibre has become somewhat in vogue in men's luxury garments, but again, it was Cifonelli who started using this startlingly beautiful, somewhat rustic fabric, in bespoke tailoring. He says: "We were the first ones to use Tibetan yak for bespoke garments. The way this happened was that this girl came to our atelier and explained she was a fabric supplier and was selling yak wool scarves. I said, 'We don't need a scarf', but I was really interested by the look and feel of the yak wool. I said, 'Can we make a jacket with this?' She replied, 'Nobody has tried yet'. So she went back and spoke to the producers and wove a piece of cloth large enough for us to cut a jacket with one month later." Interestingly, it was the unique character of the fabric that compelled Cifonelli to innovate the style of the jacket. He explains: "I thought, We have to express the rugged and exotic nature of the fabric, so I worked on a jacket design that is a sort of hybrid blazer and travel jacket with a touch of exploration or military styling. I call this the Qilian, and it features two large pockets and a lapel that can be buttoned all the way up to under the chin."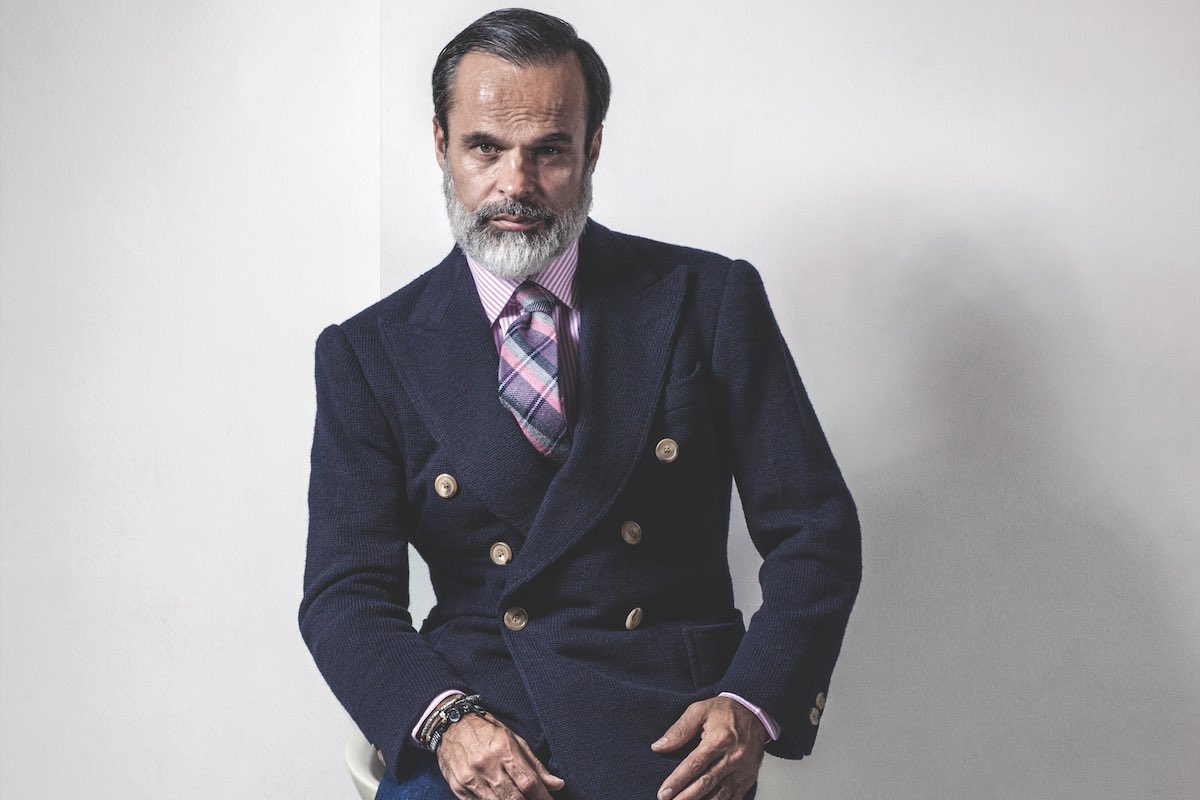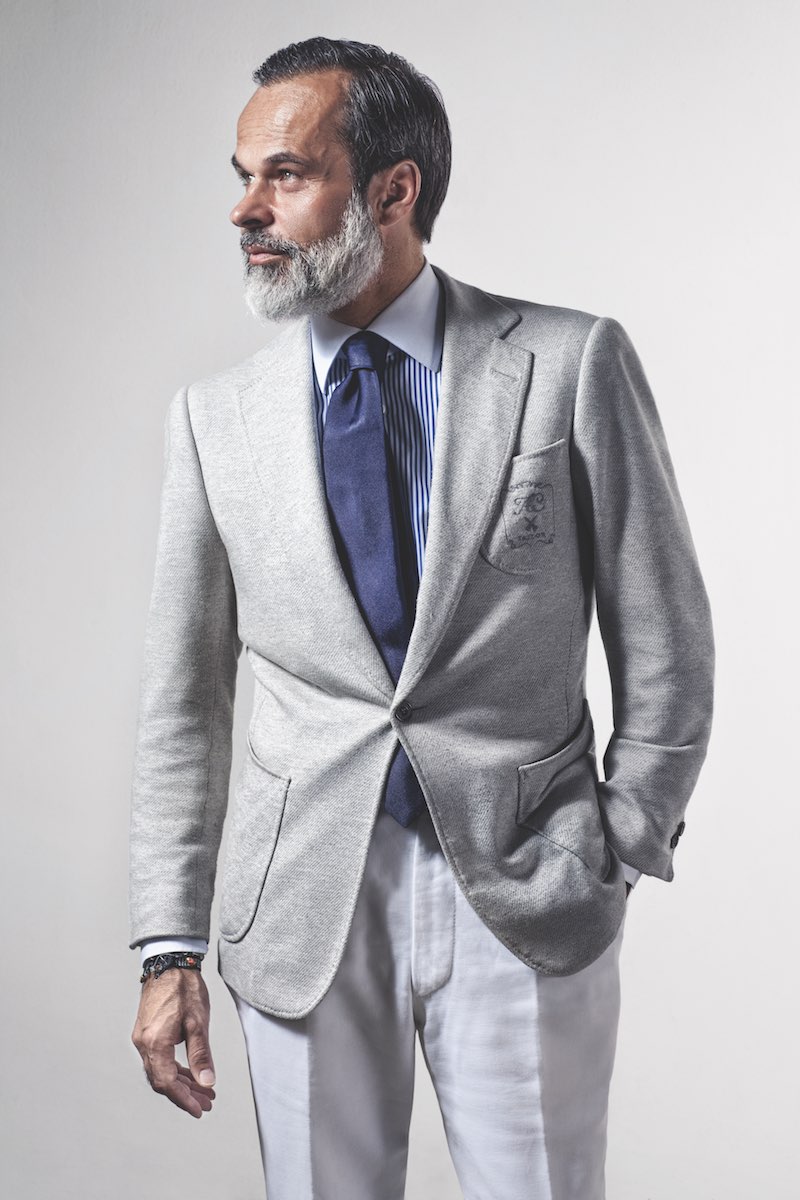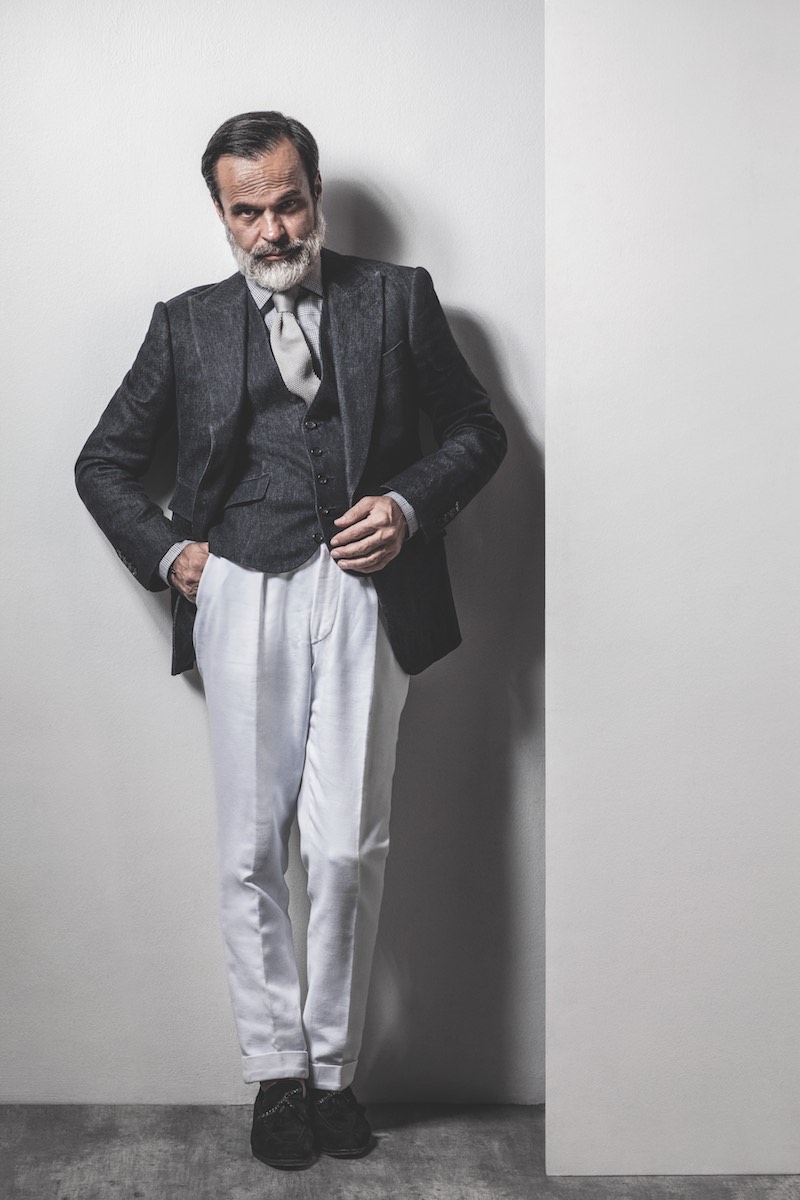 One of the things I admire about Cifonelli, and to me what distinguishes him from other tailors, is that while he is one of the world's most revered tailors he is also an extremely brilliant menswear designer. His clothes have a perspective, a stance and signature look. And Lorenzo Cifonelli is always coming up with new styles, new concepts, and new ways to wear things. "When I create a new model I try to make something beautiful but I have to also think from the perspective that the client has to spend €5000-6000 on this jacket," he says. "And if it is too eccentric they won't spend money on it. So it's important that when I create something I can imagine who the person is that is wearing this and also in what context he is wearing it. I ask myself, 'Who is the person, what does he do, and how does he live?' If the jacket responds to those needs, and I can see him living with it and being happy in it, then I'll add it to our collection of designs." The first time I saw a bespoke denim suit was in Cifonelli's Parisian atelier, and I was blown away by the juxtaposition between immaculate tailoring and the counterculture roots of denim. After all, denim for many years was the hallmark of work- or streetwear, and you still see this reflected in the rules of private clubs in London, where denim is not permitted. But Cifonelli was instrumental in elevating it into the lexicon of bespoke culture. He says: "This was definitely a response to what customers were asking for, and also what I enjoy wearing. Denim has become so versatile today. In Japan I found some special denims with a bit of cashmere inside and a bit of stretch. Because denim for jeans or even a pair of pants is one thing. But denim for a jacket has different requirements. If I were to use the heavy rigid denim that people like for jeans for a jacket, my customers would wear it once and then say, 'This is too heavy'. That's why my supplier and I looked for a denim that had softness and that was comfortable and would be good for tailoring but still had a strong visual character." There are no limits in terms of how Cifonelli is willing to finish and manipulate denim to achieve a unique look. He says: "We had one client who wanted something very aggressive and rock 'n roll, so we washed his denim 10 times and hand-aged specific parts of the denim with a stone." When asked if what we are experiencing is a permanent evolution in the culture of bespoke tailoring, Cifonelli says, with absolute certainty: "I think the vocabulary of men's style has advanced. I love cargo or military-style pants, but I couldn't find any I wanted to wear with all the details I liked but also the right cut. So I had to invent them. To me, tailoring is for people who are really passionate about style, not just the client with a lot of money. If they have a lot of money they can always go to Tom Ford or Brioni. People who come to me are different. They love originality, they love handmade details, and they love modernity. The people who come to me don't come for a new suit, they come for a new experience." An experience that is clearly as unforgettable as it is addictive. This article originally appeared in Issue 50 of The Rake.