Wil Whiting: The Bespoke Shirt Evolution
Shirts, even bespoke shirts, are made in roughly the same way as they were half a century ago. But that won't stop Wil Whiting pushing the boundaries...
Wil Whiting's background is not what you might expect of a man producing some of the world's finest bespoke shirts. While it is inevitable that craftsmen, no matter their discipline, are often compared with artists, Whiting invites more parallels with scientists. With degrees in computer science and a C.V. that lists various roles crunching numbers, it's fair to say he is — perhaps atypically for his craft — a little more left-brained than his fellow artisans. But that's not to say it's to his detriment; quite the opposite, in fact. Poring over patterns in his studio in Clapham, south London, Whiting starts from the beginning. "My father strongly influenced my interest in tailoring, as he always was strict on presentation, thus requiring me to be smart and dressed appropriately for the occasion, but he was also very supportive of personal freedom of expression," he says. As with everything he does (including spelling his name with one 'l'), Wil's decision to study computer science was a careful and calculated one. "I have to know how things work from the ground up, and my work ethic has always been, 'If I'm going to do something, I'm going to do it properly'," he says. This attitude has manifested itself in the extraordinary attention to detail and determination that characterises his approach to his craft today. "I'm not interested in giving myself any limits. If you want something made, anything, I'll do it. That's what I'm trained to do — I'm a pattern maker." After leaving his job as a management consultant in 2015, Whiting embarked on a personal pilgrimage of sorts, visiting London's finest shirtmakers and even talking to the shirtmaking legend Frank Foster to find out who could make a shirt the way he wanted. His journey took him to David Gale, of Jermyn Street's
Turnbull & Asser
, and he didn't leave until Gale agreed to train him. Having learned the ropes under Gale when Gale moved to Hilditch & Key, Whiting always planned to work for himself, and he has spent the last nine months honing what he describes as his "formula". "David never trained anyone to make patterns, I was the first, so I know I'm the only one who knows this formula, which I've adapted and made my own," Whiting says. "There's a level of engineering to it." He takes the technical side of pattern making as seriously as you would expect; to him, "bespoke is all about fit", and fit begins with the pattern. Simultaneously drawing on his studies of the anatomy and extensive fittings with customers, Wil constructs clean-fitting shirts that flatter and suit even the most challenging of body types, sourcing the highest-quality fabrics and components in order to help him do so. From pattern to finished product, the movement away from a one-style-fits-all attitude echoes the growing demand for more informal shirting; a heavy cotton drill olive coat shirt with hand-finished buttonholes, mitred bellows pockets and the collar and sleeves set in (pictured) makes it evident that Wil is one step ahead, offering an unprecedented level of variety to customers. By challenging people's assumptions about bespoke and getting people to rethink the misconceptions they didn't even know they had, whether it's regarding the superiority of a fused collar, the necessity of darts or the benefits of a split yoke, he's re-educating his customers, and they're walking away better dressed as a result.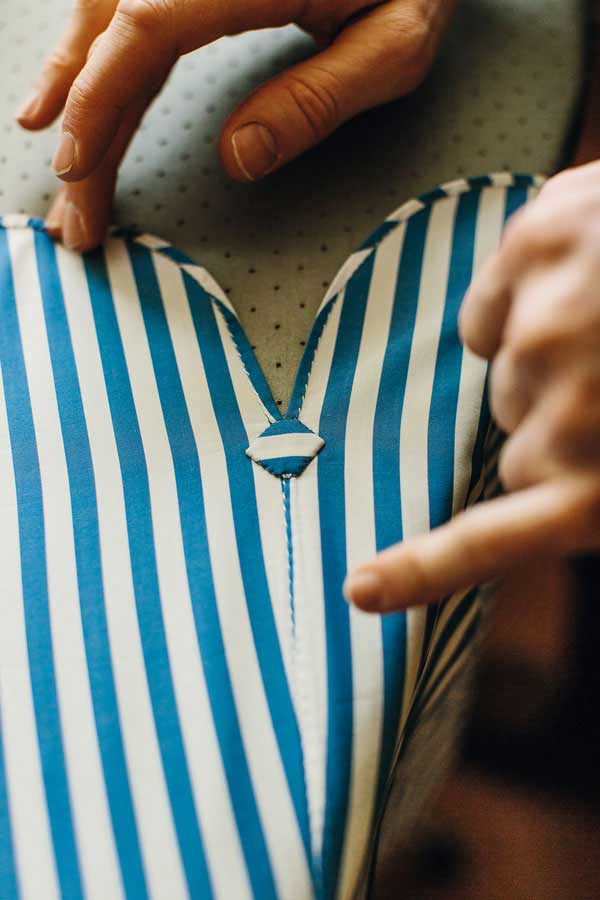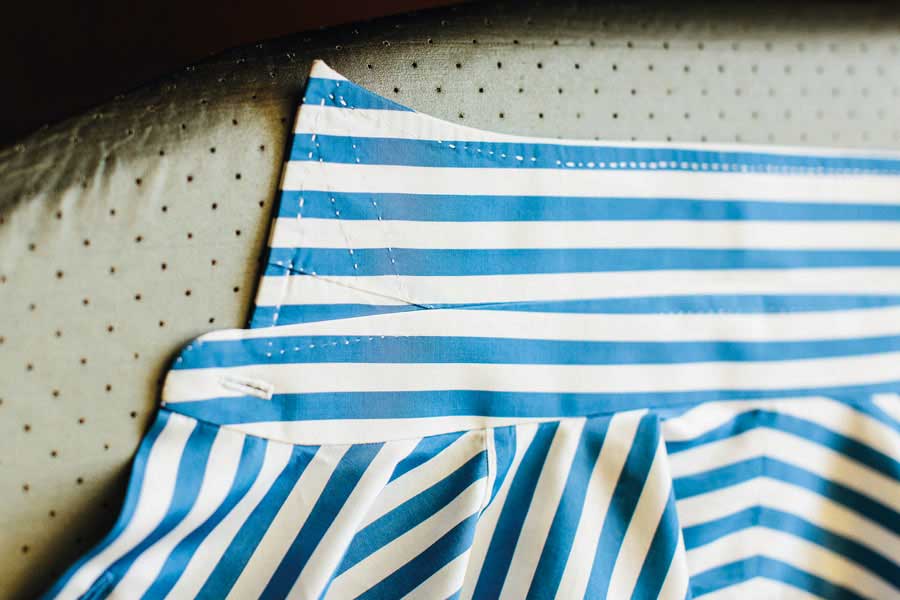 "I like to take my time with a customer, so they understand what it is I'm doing," he says. "For me, it's about finding out whether they run hot or cold; if they live on a certain continent, how they will wear the shirt, and with what. They need to feel relaxed in what they're wearing." On account of this, Wil is careful to take steps all too often forgotten in shirtmaking. "I'm very particular about shrinkage — I pre-treat the fabric twice before it's cut, and once the shirt is made I want the customer to 'wash and wear', because I know I'm not going to change how people wash their clothes." He also refuses to cut corners with the trial shirt: while many shirtmakers include the trial in the final number of shirts ordered, Wil strongly opposes the idea — even with a minimum order of four shirts, the trial is not one of them, so the customer never goes home feeling short-changed. "I don't want them to leave until they are really happy, until they feel they have got something truly unique to them," he says. Even his "bread and butter shirts", the blue and white business shirts, are unique. Matching every stripe, from rotating checks to Bengal stripes, means that every yoke, shoulder seam and collar aligns perfectly, a feat of monumental skill and patience that manages to maintain impeccable fit. Not only do the fully matched lines create a flawless result, but the optical illusion of the continuous stripe adds a certain strength to the silhouette of the wearer. Wil's hand-finished topstitches are immaculate up close, and increase the quality of every garment tenfold; it's not a stretch to say they are on a par with haute couture. There's a deliciously satisfying symmetry to the hand-finishing that you cannot find elsewhere. "I've brought all these elements together, I've pushed as hard as I can to make sure everything is as I want it to be," he says. On this business shirt (pictured), the buttons are attached using what is called a crow's foot, and it is an indication that the whole shirt is hand-finished. "I always cut a high armhole, the gusset is always fully functional and constructed so that it actually stitches into the side seam, and every collar is bespoke," he says. "It's not that easy, it's taken me months of trial and error, but I can offer something special as a result." Fearless experimentation, "keeping it interesting", is a priority. One of the main differences in such a garment is, naturally, the time it takes: "We can spend up to 32 hours on one shirt, from the pre-treating to the hand-finishing." He employs four people to keep the workflow at a manageable level, and he insists on transparency — it ties in to the idea of his customers understanding exactly where their product is coming from, the hours and skills that go into it. He describes the business he runs as a partnership with his team, yet it's clear he puts himself under pressure to break new ground. "I look at Jermyn Street and think, How can I take that to the next level?" he says. "I think when you've been making shirts for 50, a hundred years, evolution can come to a halt — generally speaking, shirts are made the same way they were 50 years ago. I may not have that heritage, that history, but it means I'm not held to anything — this is entirely my way, and when people come to me and say, 'I'm not sure, you're still in the early stages', I simply say to them, 'Come and look at what I do'." Whiting is confident that he offers something unique, and his own evolution is set to mark a new era in bespoke shirtmaking. Visit
www.wilwhiting.com
 for more.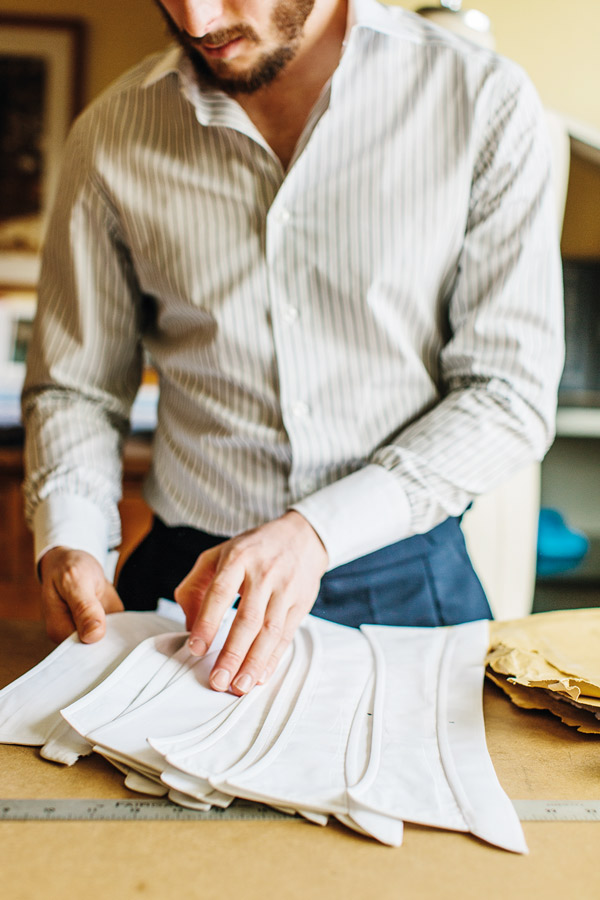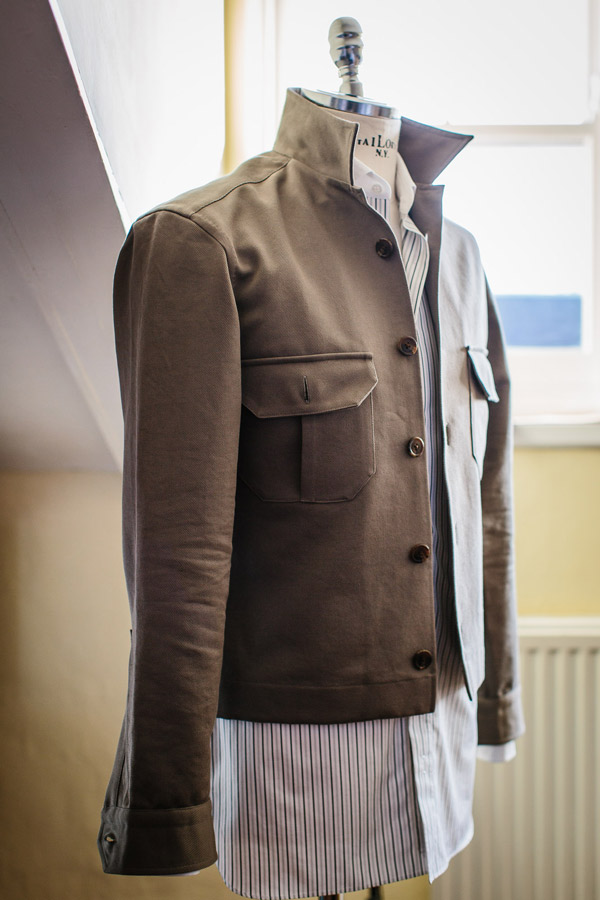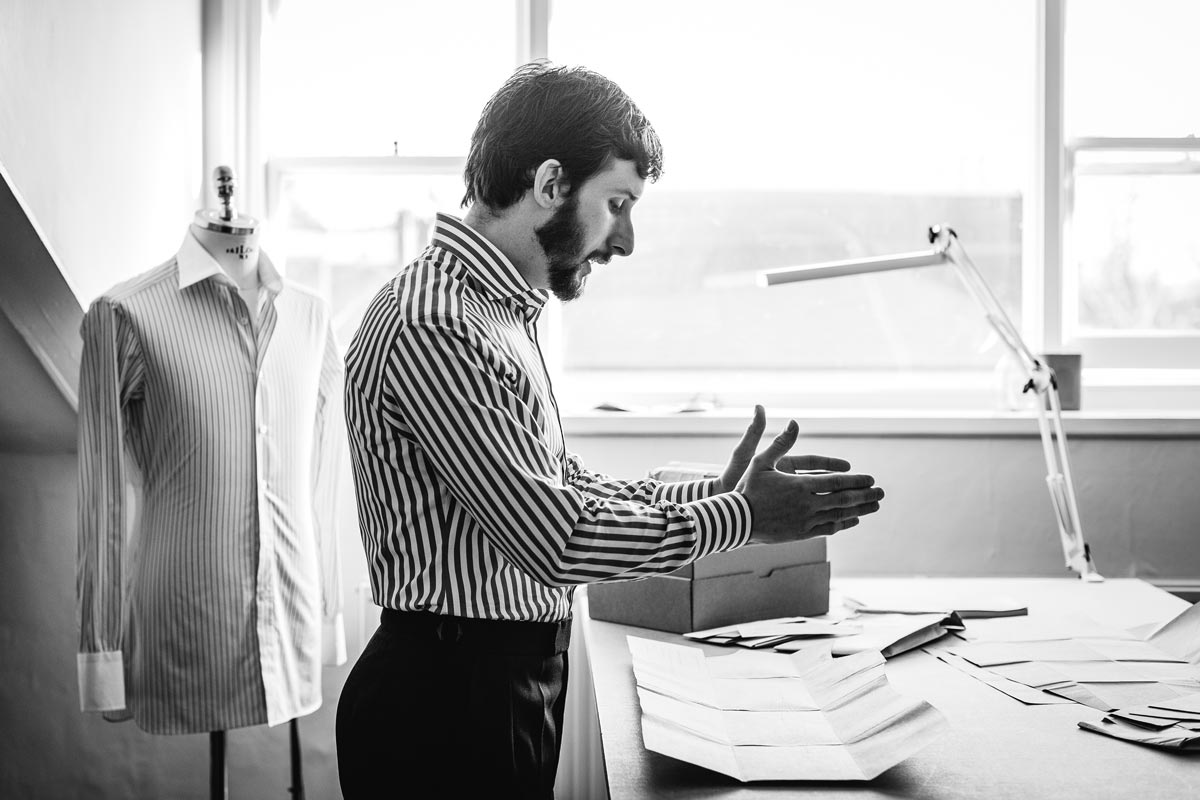 Originally published in Issue 51 of The Rake, April 2017. Subscribe here for more.