Getting Shirty: Turnbull & Asser Bespoke
The mystical art of bespoke shirtmaking is much maligned and wrongly is often considered the poorer relation of bespoke tailoring. Fortunately, thanks to British sartorial institution Turnbull & Asser, The Rake can confirm that this is not the case.
So often in the world of traditional men's luxury, the suit or the shoes garner all the attention. All too frequently, it seems that even the most stylish men to walk this earth invest all their energy in the latest suit, the latest cashmere sports coat, or the latest pair of flannels. This, by all accounts, is a shame. It has long been The Rake's belief that to achieve a truly elegant look, each individual component of an outfit should be treated with the appropriate degree of respect it deserves. Much maligned but of paramount importance to creating a harmonious look then, is the perilously precise relationship between shirt collar, necktie and the lapels of one's coat. Few understand this relationship better than the great bastion of timeless British shirtmaking that is Turnbull & Asser. Now 131 years old, readers will doubtless be well acquainted with the firm's long and illustrious history. Many readers will surely also be aware that over the past couple of years, the house's reputation as a stalwart of luxury British ready-to-wear clothing has been firmly re-established, with the work of Head of Design, Dean Gomilsek-Cole firmly repositioning the house as a contemporary British outfitter with no small amount of personality and panache about it. Expansions in the house's English shirting offering, London-made ready-to-wear tailoring and in their intriguingly conceptual, invigorating sartorial experiments have all caused rather a stir in recent seasons. We at The Rake have followed this transformation with enthusiasm, but equally heartwarming is the continued importance that the house places on bespoke shirtmaking, which has been retained as an integral part of Turnbull & Asser's identity, inextricably interlinked with its history and with its superior ready-to-wear shirts today. When earlier in summer then, I found myself thinking about a few new shirts for the autumn, there was simply nowhere else to turn to. T&A will take bespoke orders in most of their London or New York stores, but visiting the new store on Davies Street in Mayfair makes for an especially pleasant experience, tucked away as it is in an elegant spot at the bottom of Mount Street. Moreover, should you choose to frequent this particular store, you will find yourself in the reassuringly capable hands of a T&A stalwart, Mr James Cook. James, (who like all the best artisans escaped being photographed for the purposes of this article), manages the Davies Street store and bar the venerable Steven Quinn, is one of the company's longest serving employees in the bespoke department. He has, in other words, been styling and fitting bespoke shirts for the best part of twenty years. His manner is gentle and gentlemanly, and one feels as though he's come to the right place as soon as he's walked through the door. James is there, not only to measure-up and fit, but also to carefully guide T&A's bespoke clients towards those shirts that will serve them most richly over time. It's a mysterious art form, and there's more to a bespoke shirt than you might imagine. Quite apart from the aforementioned weight of a particular cloth, or the way it travels or breathes, the shirt is the garment that sits next to the skin, making the colour tone and handle of a shirting fabric arguably even more significant than that of a suit or jacket. The collar likewise frames the face more closely than anything else, and makes for the natural focal point of one's outfit, but it also has to sit seamlessly beneath the lapels of a coat – meaning that the perfect balance must be found between the shape of collar and depth of collar-stand to yield a shirt which flatters the face, but which sits in harmony with one's tailoring. The shirt should furthermore sit as close to the body as possible, whilst offering a free range of movement and flattering one's silhouette, without pulling or catching on any particular bony lump or fatty expanse. Pleats, yokes, plackets and buttons must all be discreetly weighed up and thought through, and if a pattern or stripe is at work, that must likewise flatter the wearer and his figure.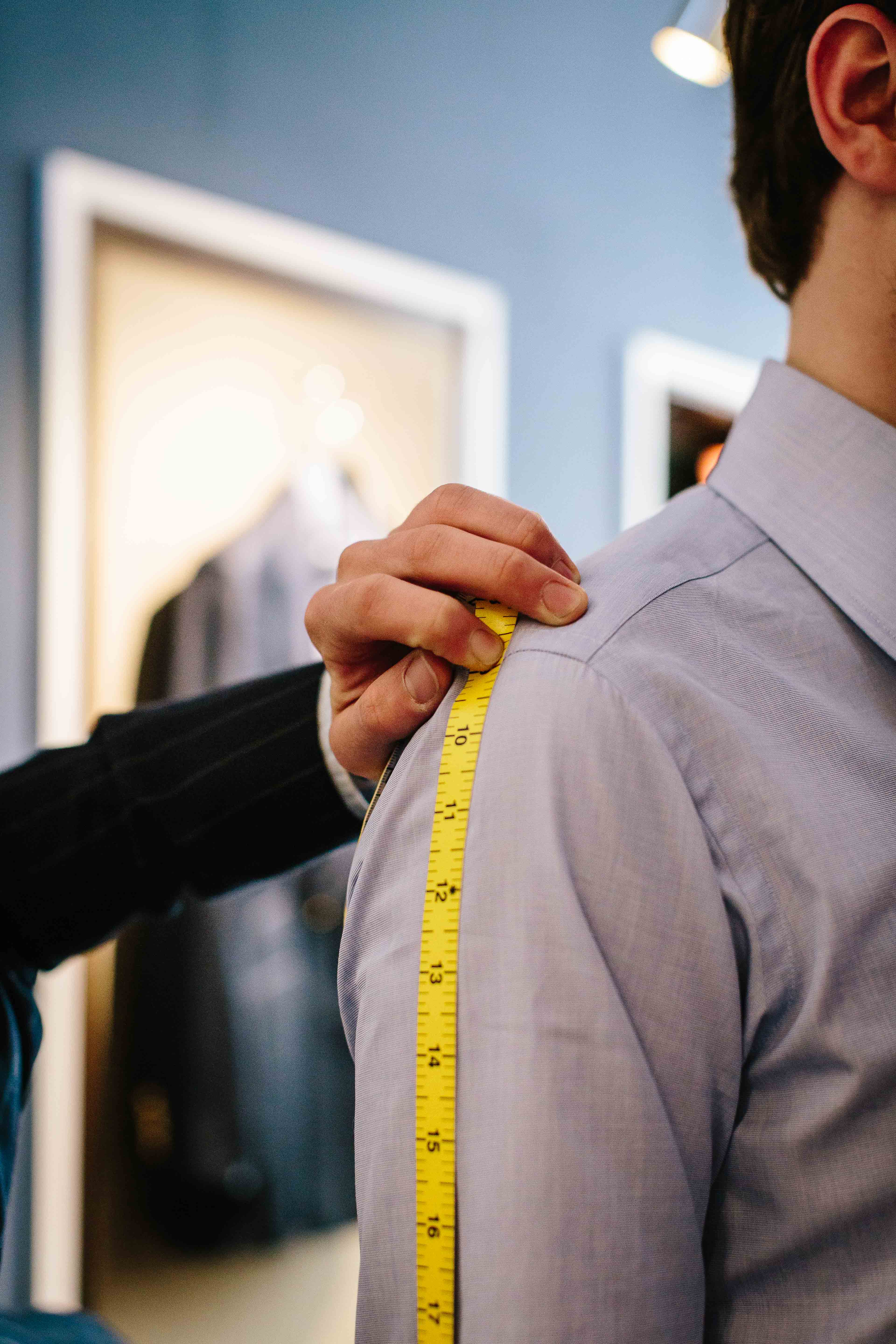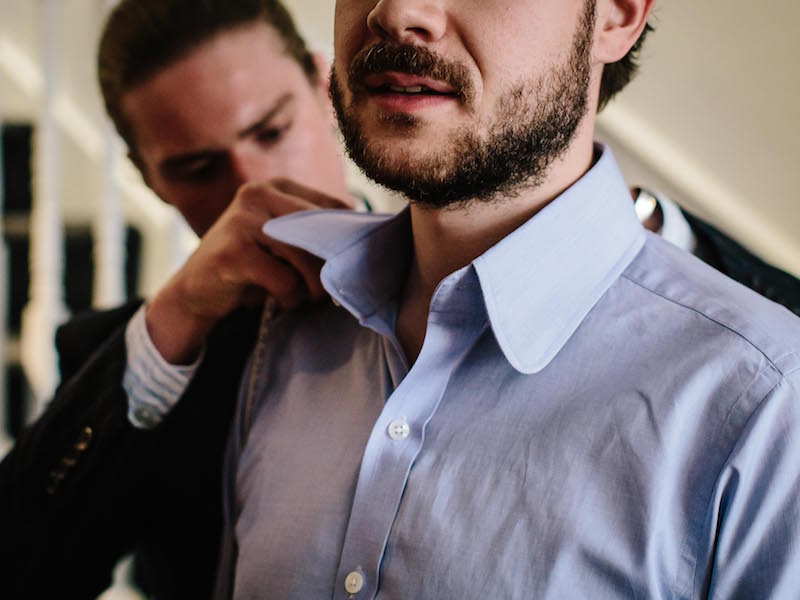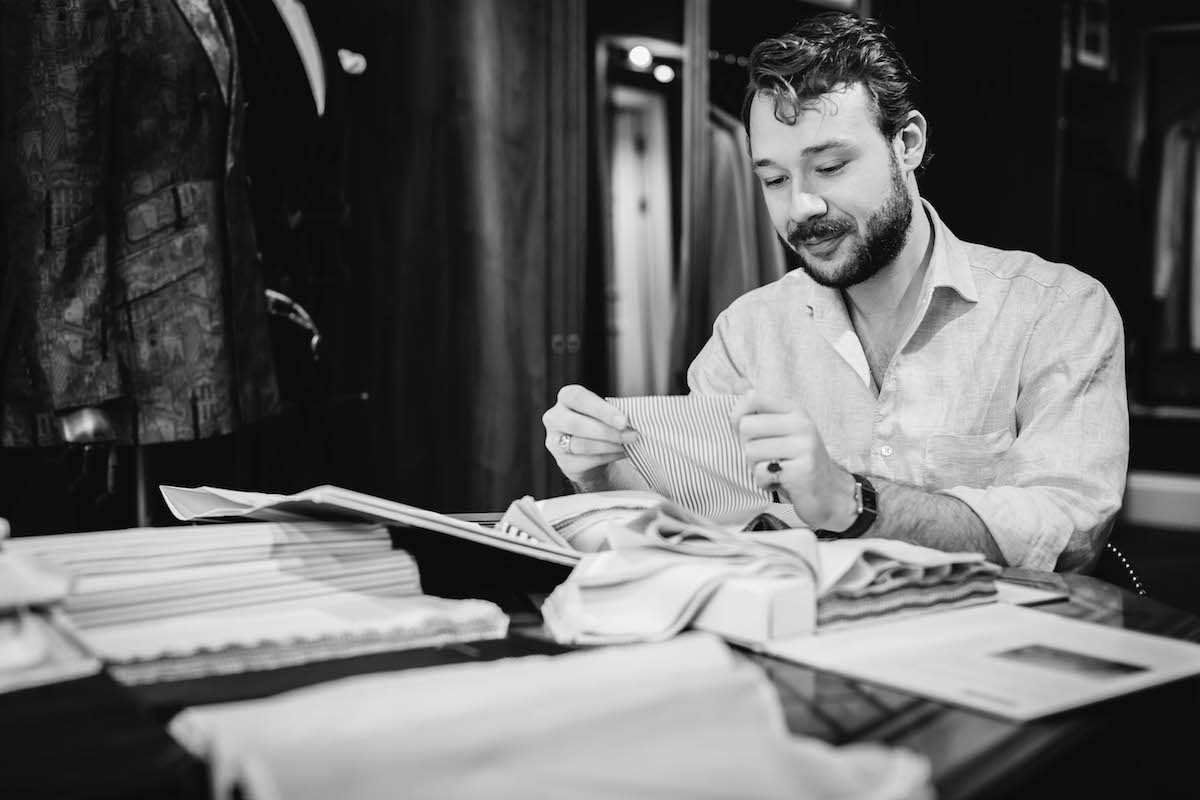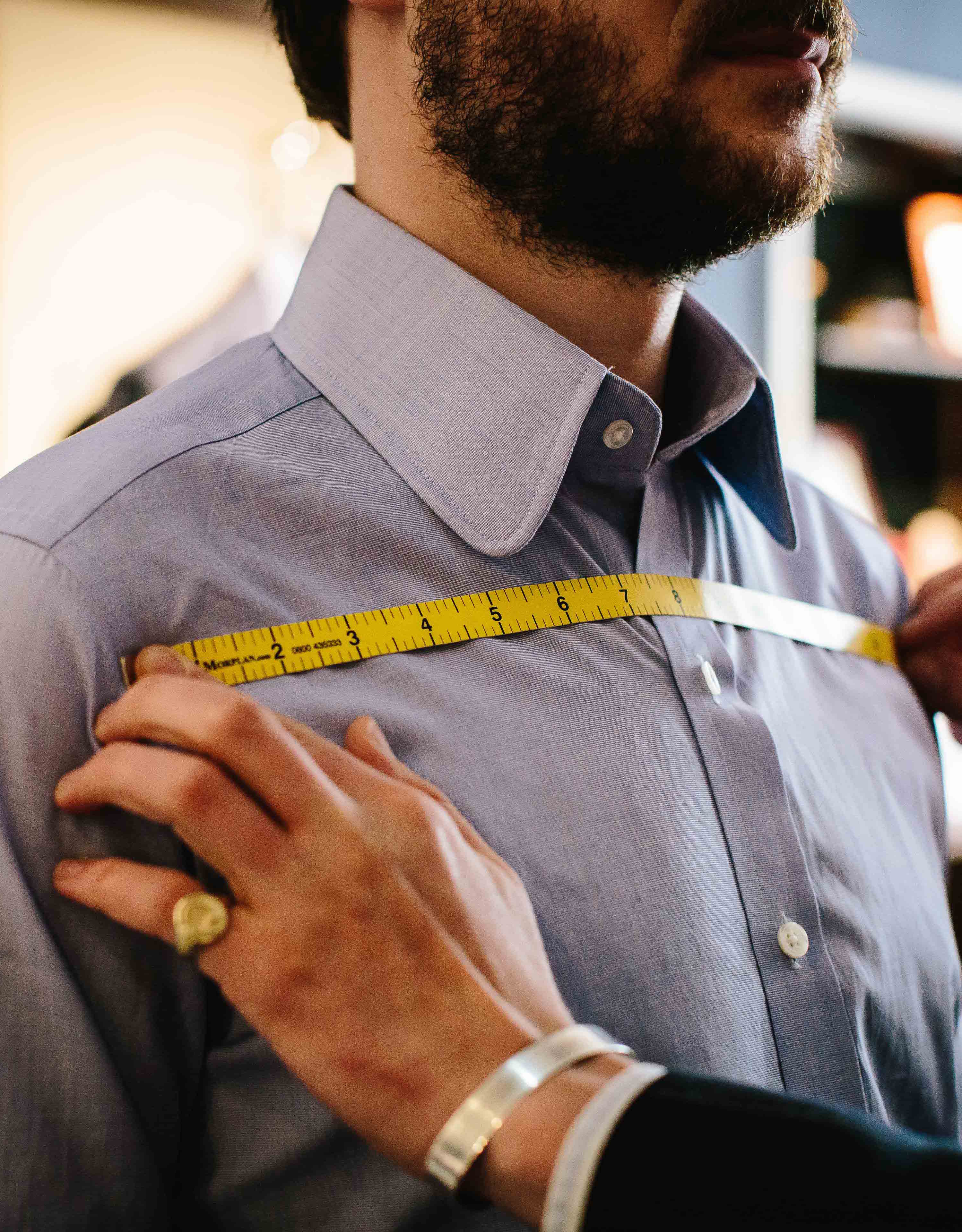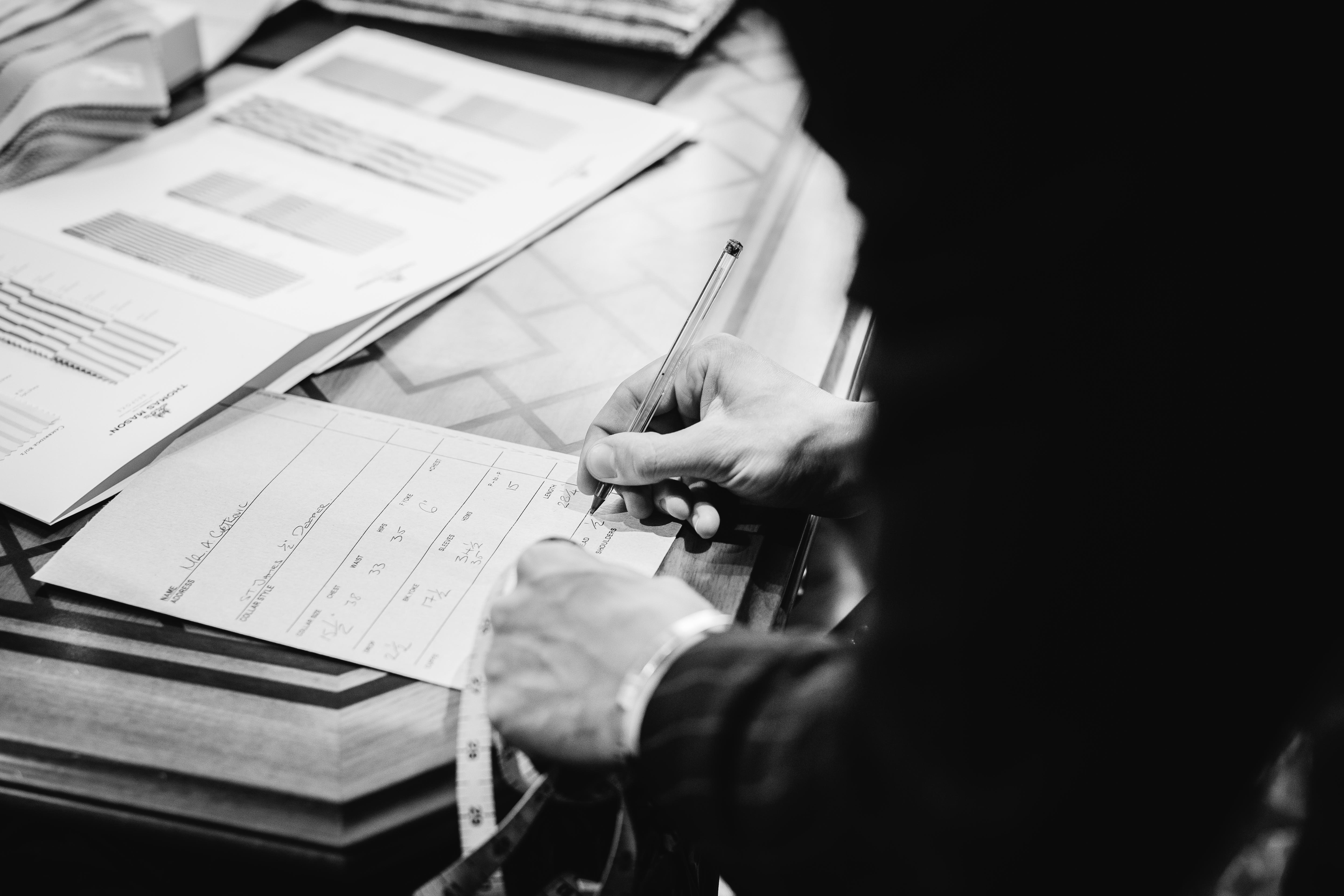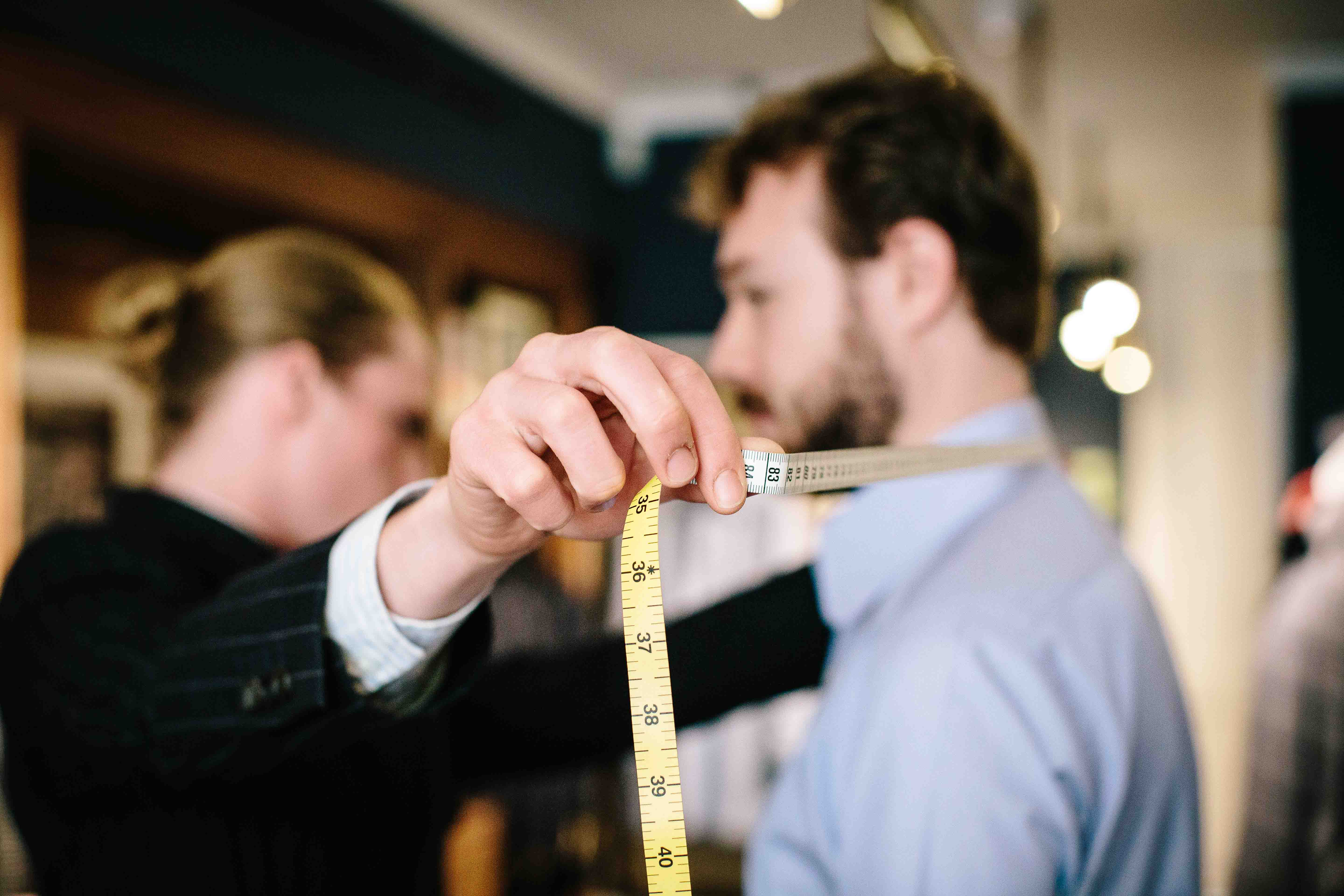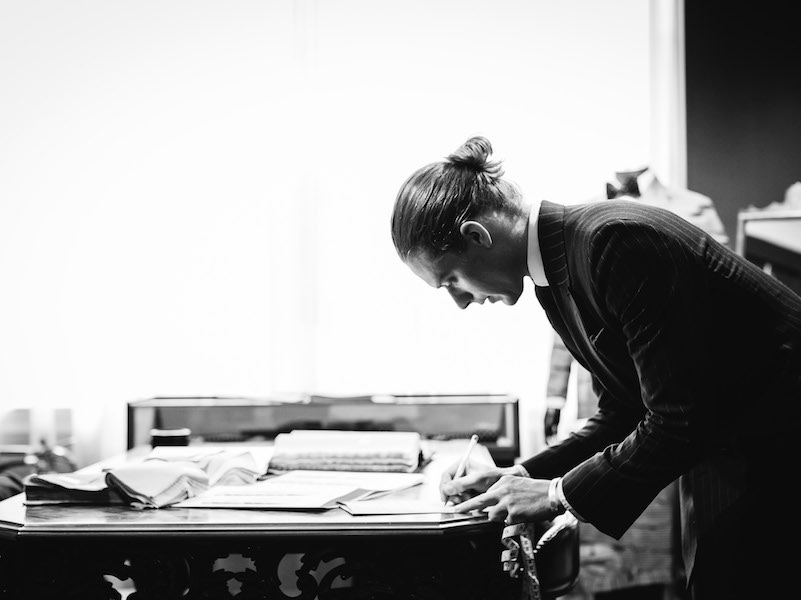 All of which is no mean feat, and makes the experience of a house like Turnbull & Asser invaluable. For these shirts, James and I worked on something that would reflect T&A's reputation as Jermyn Street's traditional port of call for sartorial peacocks and confident dressers. A formal denim shirt or even an eggshell blue baby corduroy shirt were suggested, ideas which feel appealingly modern and yet subversive, but it was decided ultimately that these were best kept back for the future. The winning cloths took the form of a staple mid-blue end-on-end for everyday wear from Thomas Mason, and two exquisite bold striped Swiss cottons from Alumo, arguably the Rolls Royce of shirting fabrics, each with a handle like satin. The first was a forest green Bengal stripe and the second an imperial purple butcher's stripe, chosen simply because they're the kind of cloths that one can't find off-the-peg, and feel suitably 'T&A' somehow. Both were to be finished with a contrasting white collar and cuffs. The one thing I did know when I walked in was that I was after a long club collar for these shirts. This particular design is a long-standing signature of the house, and succeeds in representing something that is both reassuringly contemporary and yet vintage in feel at the same time. Moreover, the combination of its deep points and narrow spread feels particularly dynamic, whether worn open-necked, or with a tie. It also takes a collar-bar rather nicely. Cocktail cuffs again feel suitably flamboyant for T&A, and have the strength of shape to stand up to the shirt collar in each case. The fitting process throughout was predictably seamless, but really it was James's gentile charm and old-school service that made these shirts so special. Quite apart from the fact that he'll happily take an hour just to put you at ease with a cup of tea, before any talk of cloths or cuts even begins, James will simply not let a shirt out of the shop unless he's satisfied. Indeed, unlike many other shirtmakers, T&A will produce a mock fitting shirt in a rough cloth before commissioning a new customer's first shirts, which effectively allows James the opportunity to correct any potential mistakes to a customer's order, before it's even been made-up. This part of the process is invaluable, and in my case ensured that the final shirts were absolutely flawless in terms of fit; we reduced the depth of the collar by a quarter inch just at the rear of neck, to keep the shirt sitting cleanly under a suit collar, and the armholes were so precise and high on the fitting shirt that they actually had to be brought down a tad for the subsequent order. Trying on each of the finished shirts for the first time was nothing less than a spiritual experience. There's a beauty of simplicity about a form-fitting shirt and the handle of the Alumo shirtings we chose is extraordinary. The sense of engineering in these shirts is not lost during a fitting either, the craftspeople in Turnbull's Gloucestershire shirtmaking factory know a thing or two about precision making. Many of the workshop's staff have been with the house for going on ten years and the two twins who manage the workshop, Bette Elton and Kathleen Cope, have both been working for T&A since 1964. This length of service shows in the finished shirts, which retain an effortless sense of quality. Finished with immaculate single-needle stitched seams, they feel particularly clean on the body. Also rather special is the depth, structure and poise of the collars on these shirts, which feel suitably firm and reassuringly English with their floating interlinings. The superiority of a bespoke fit is particularly noticeable in the closeness of each shirt's shoulder and yoke, the comfort of the armholes and in the gentle fluted lines achieved through the torso and waist. In summation, Turnbull & Asser bespoke isn't just a 'safe pair of hands', its evidently a workshop full of them.
www.turnbullandasser.co.uk