Winter Blues: The Indigo Shirt Edit
Feeling blue? Reinvigorate your sombre winter wardrobe with these inky indigo shirts from some of menswear's most beloved brands.
It's easy to succumb to winter gloom. There's less colour, less surprise. People hurry from place to place because the days feel over before they've begun. But given some time, your eyes warm to winter's muted palette. Deep chocolate corduroy, heathered grey flannel, sharp navy suits. Above all, I love the winter blues: those intense indigos that make the perfect casual shirt in colder months.
Deep blues suit the distinctive textures of heavy seasonal fabrics: denim, needlecord, cotton flannel and velvet. These dense cloths are inherently casual, deriving from tough workwear and country sportswear. A deep, inky blue is one of the strongest colours in classic menswear, yet it's never loud, perhaps thanks to its long history of humble but hard graft: indigo workwear and overalls in bleu de travail. For the same reason, they are at home with chinos and jeans. But dress them up, and these shirts give tailored clothing a little more charm or swagger.
The French painter Yves Klein is known for inventing the colour which bears his name: International Klein Blue. It's an electrifying ultramarine, with a matte finish like crushed chalk. I still remember seeing a canvas of it for the first time in a Parisian gallery. The density hits you, as if everything else in the room is only shades of grey. Get up close, and you understand its secret: saturation is not only a question of colour but of texture.
The best winter blues have this same power. They fit instantly into a sober winter wardrobe, but they're anything but boring. From the rough elegance of denim to the luxurious, unrestrained fun of velvet, they remind us that even in these short days, life should be filled with moments of intensity. Like Klein's blue, they catch the eye and stick in the mind. Unlike the paintings, they are versatile, practical and there's no ban on touching them. Here are some of my favourites.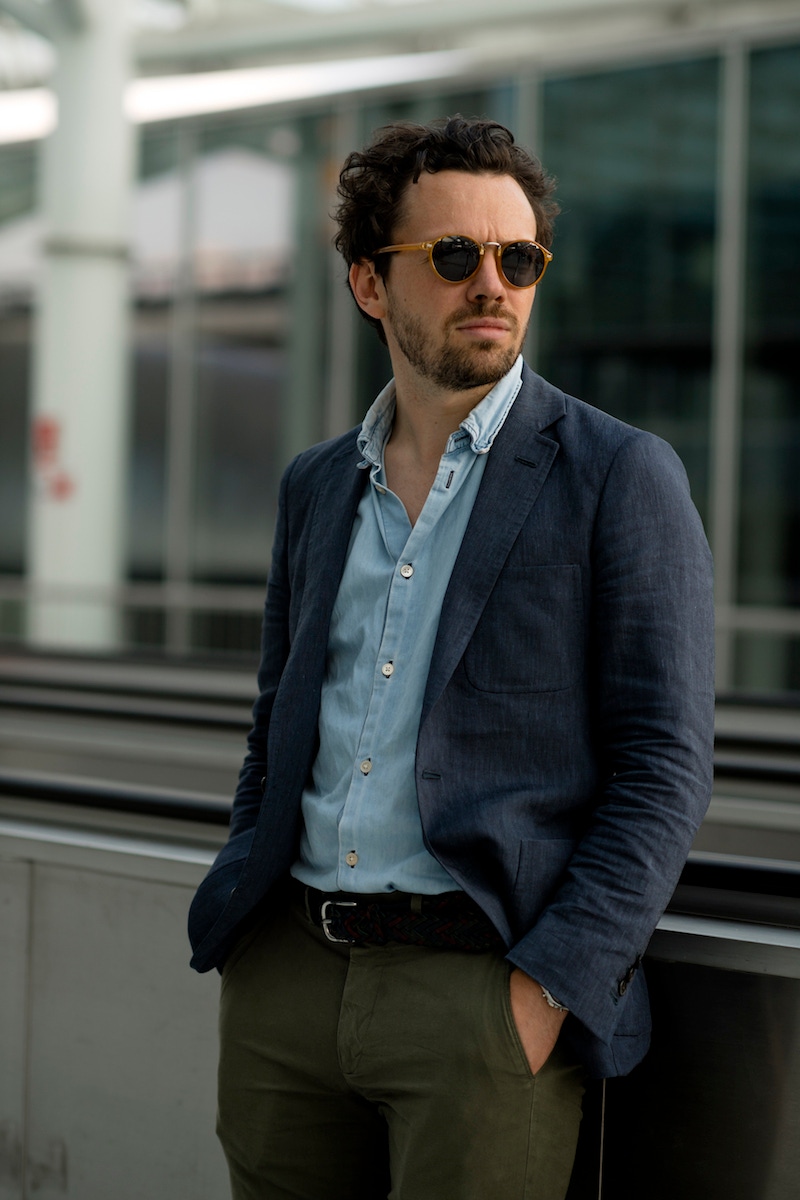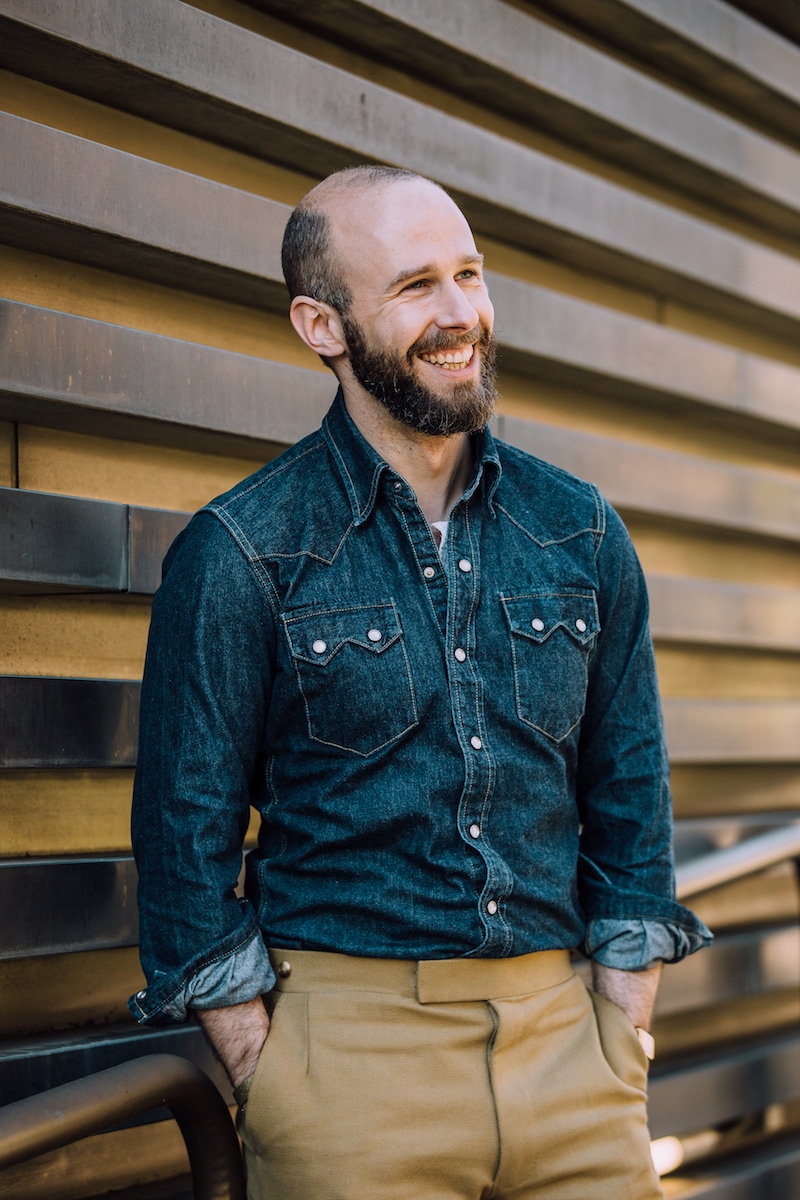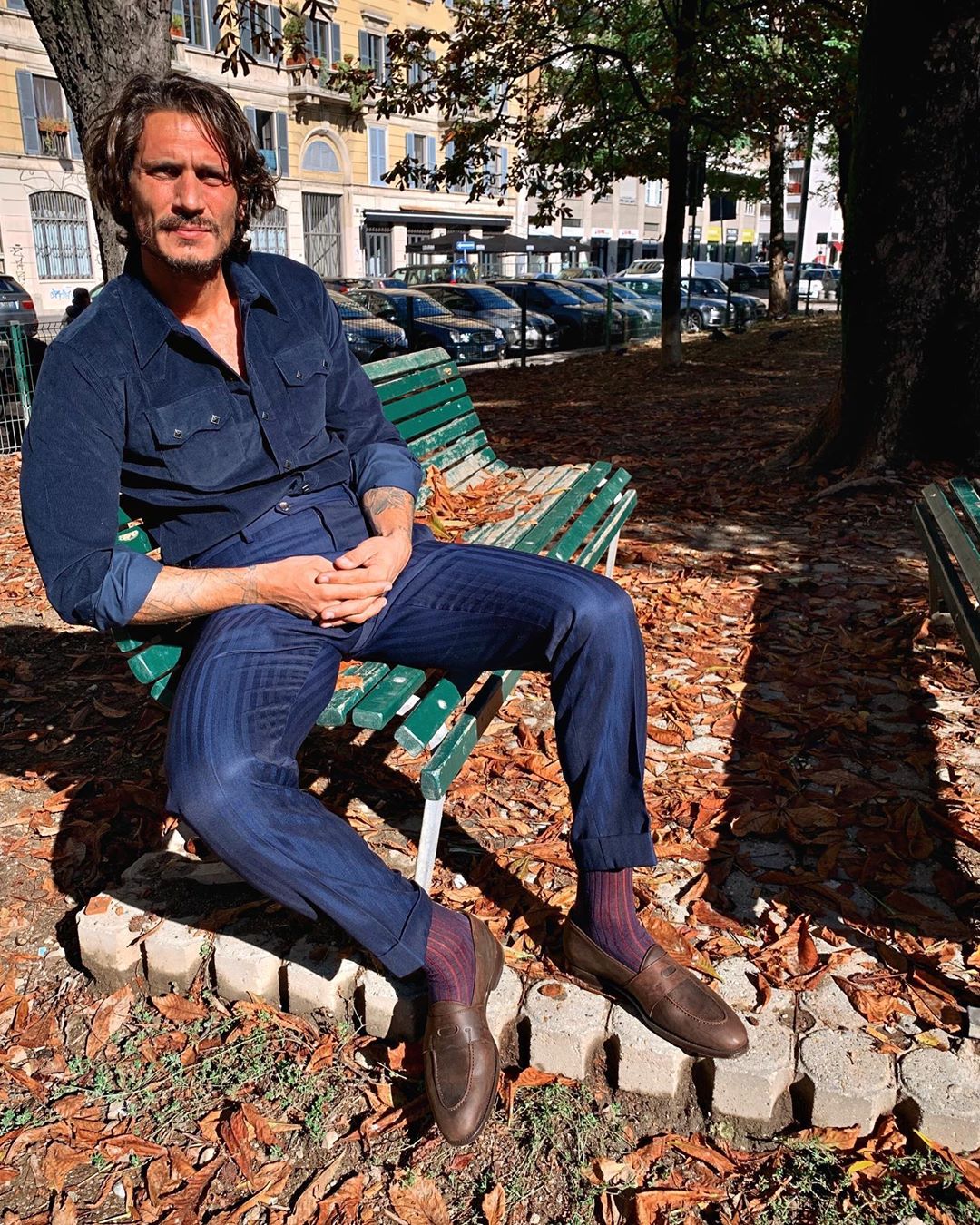 Swedish shirtmaker Eton offers a classic dark indigo cotton shirt with a few nice touches. It's cut like their typical dress shirt, with a generous spread collar, a plain (or 'French') front, and single button cuffs. But rather than the smooth, ice blue and pure white cottons of their formal offerings, this intense indigo has been cut, stitched, and then garment washed to introduce a bit of ageing straight off the rack. The result is a shirt with the sensibility and refinement you'd expect, but a lot more heart. Or for a more luxurious option, consider Rubinacci's take on the denim shirt. It's the quintessential casual shirt made the Neapolitan way. Details that are almost invisible on a white business shirt jump out here: delicate yoke stitching, hand-made buttonholes, and generously thick mother-of-pearl buttons.
The grey flannel suit is a subtle winter variation on a business standard. What's the shirting equivalent? One good answer would be this blue cotton flannel shirt by Cordone 1956, based in Abruzzo, southern Italy. Cotton flannel is most commonly found in classic Americana, and you might expect a rough country shirt, but this mid-blue Italian twill is all business. It's elevated with a good dose of Italian flair: a crisp cutaway collar and mother of pearl buttons attached the traditional way, with a 'crow's foot' stitch. For an English take on the same theme, look to this denim blue brushed cotton by Emma Willis.
Another neat use of a classic country fabric comes in the form of Drake's blue needlecord button-down shirt. It's made in Somerset in typical Drake's matter: traditional materials, made up in a relaxed, sporty style, and executed with the careful finishing of a storied English shirtmaker. Corduroys are measured in wales (that is, ridges) per inch. Low wales make for chunky garments and single digits are best left for home furnishing. This needlecord is a fine 28 wale cloth in an inky grey-blue. Wear it with white denim for a more continental look, or with one of Drake's superb cotton suits for the full English casual-prep effect.
If corduroy is the king of classic countrywear, velvet is his playboy son. The latter's sense of fun is front and centre in Italian brand Barbanera's deep blue decorative shirt. I can't help but smile at the design choices: Italian corduroy made into a classic sawtooth western shirt, with black diamond snaps in place of the more restrained pearl alternatives. American workwear meets English country clothing, on holiday in a Tuscan villa. It's a mashup that's no work and all play. What's not to like?