5 Rakish Tips From Pitti Uomo 93
One of the standout events of the year, Pitti Uomo 93 did not disappoint. The Rake reports on five unmissable styles for AW18.
With a Blitzkrieg-like effect, The Rake descended upon Florence for Pitti Uomo 93 in full force this year. It was an amazingly hectic few days with thousands of buyers, designers, brands, journalists and photographers alike in attendance. From our perspective, Pitti is the most important event in the fashion calendar, whereby brands and artisans, no matter how established or young, are able to showcase their upcoming offerings and showcase their craft.
We were also there to celebrate. In partnership with Vitale Barberis Canonico, we launched the Flâneur Collection at the highly impressive and grand La Loggia which overlooks the historic city and the event itself was attended by the industry's foremost players. Using cloth from the mill's Original Flannel collection, we produced a chalk stripe suit with Orazio Luciano, a windowpane check coat with Grenfell, and two houndstooth creations with bag maker Frank Clegg and millinery specialist Lock & Co. Hatters. All of which are available at The Rake Atelier.
Whilst toing and froing between appointments at Pitti, which takes place inside the walls of a fourteenth-century fort, we also kept a keen eye on who was wearing what and how. It should be noted that even though the 'Pitti peacock' has unfortunately not yet been pushed to extinction, there were some exceptionally well-layered ensembles on the ground, demonstrated by style aficionados flocking in from all over the world and thereby carrying the global flag of sartorialism. Consequently, we feel obliged to shed light on a few things we saw most.
1. Brown
Pitti made it clear that sartorialists have warmly welcomed brown hues into their wardrobes, and if we were to pick one colour that was more prevalent than others during Pitti, it was brown. Gone are the days when variations of navy and grey dominated tailoring's horizon, and brown is no longer being eschewed by more urban-appropriate shades. It's dramatic enough to make an elegant and refined statement, especially when paired with blue chambray and subtle pink Bengal striped shirts. It's rich in depth and there are some lovely hues available, such as terracotta, burnt orange and bronze.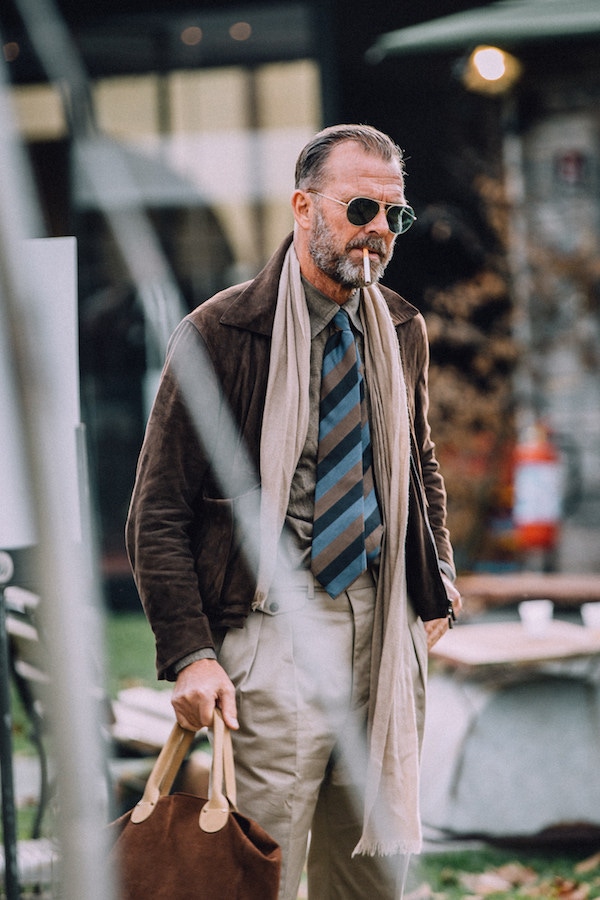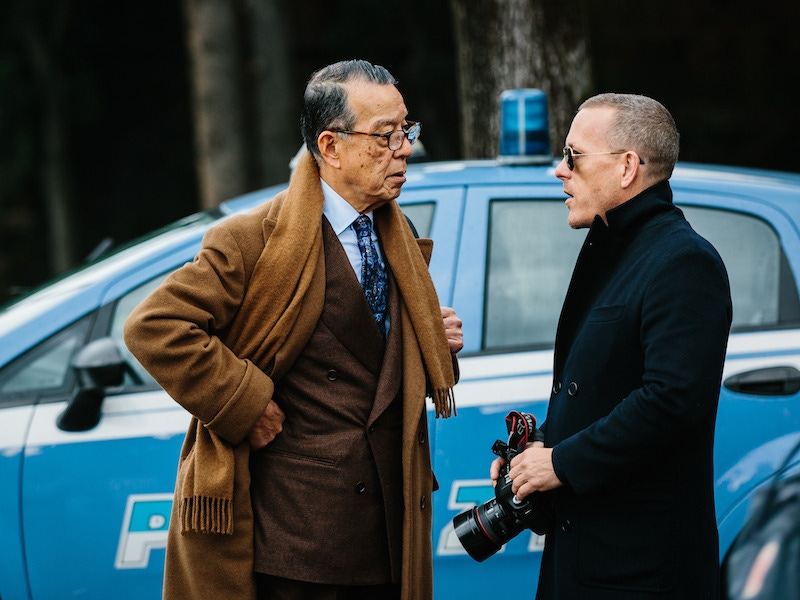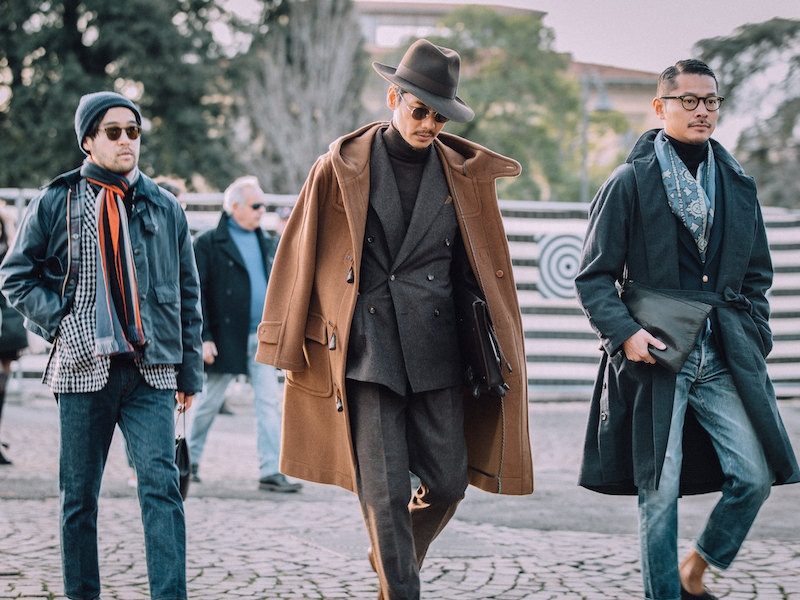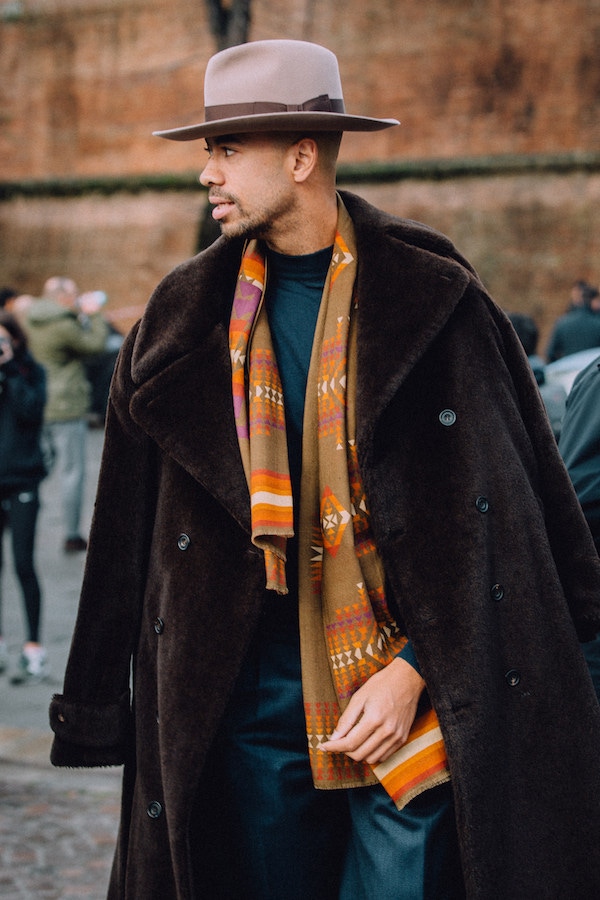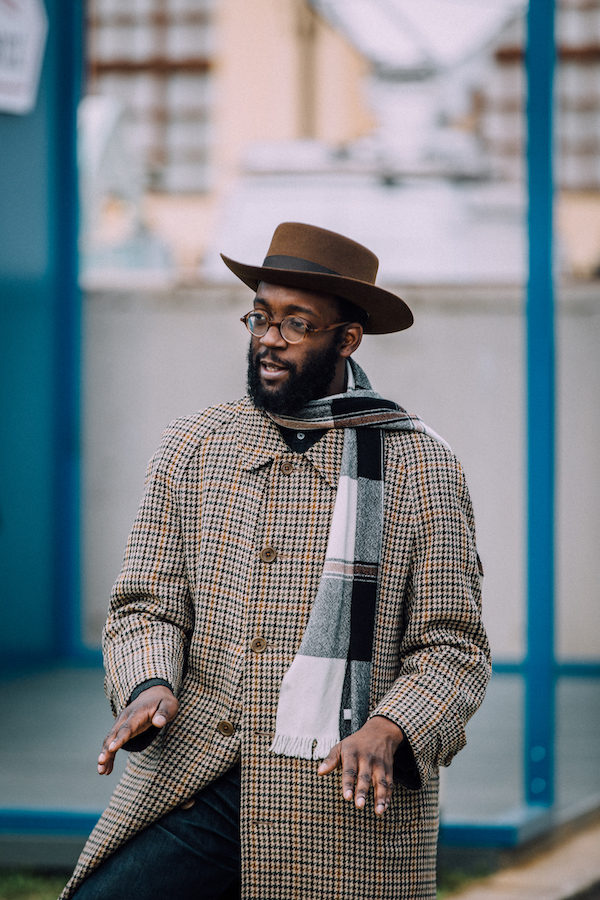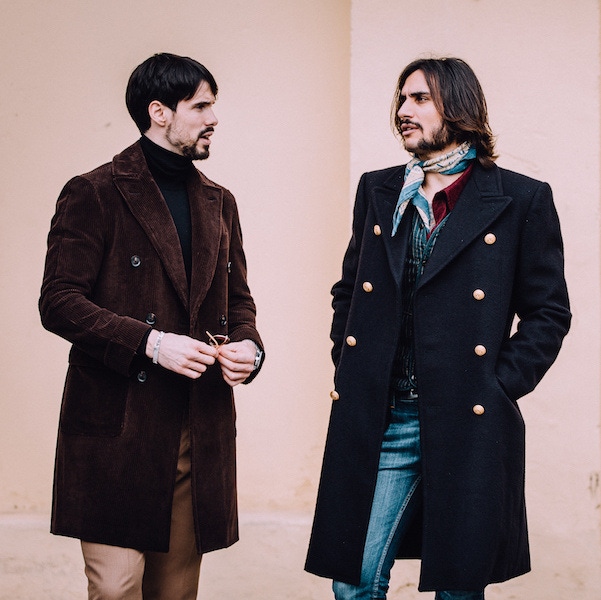 2. Corduroy
A few seasons ago the fashion world witnessed the renaissance of corduroy. As a fabric, it offers a totally different take on traditional tailoring and everywhere we looked we saw the cloth draped upon soft shoulders in great fashion. Corduroy favours relaxed and unstructured tailoring and it drapes well, but the injection of subtle texture goes a long way and develops intrigue. Whether it was used for double-breasted suiting, belted overcoats or chore coats, corduroy was there making a quiet noise. The wider the wail the louder the noise, too.
3. Statement Overcoats 
There's no denying that Pitti in January is the most exciting for stylistic expression, as the cold weather demands layers and dependable outerwear. Many opted for subdued tailoring to let the coat do the talking, which was often a bold Prince of Wales or micro-checked tweed overcoat – vintage olive green military coats were also popular. As long as the coat itself isn't fighting for centre stage with the rest of the ensemble, statement overcoats are excellent in adding a little character and letting your presence be known. We'd suggest that there's room for one other item that makes a noise, otherwise keep it simple.
Save
Save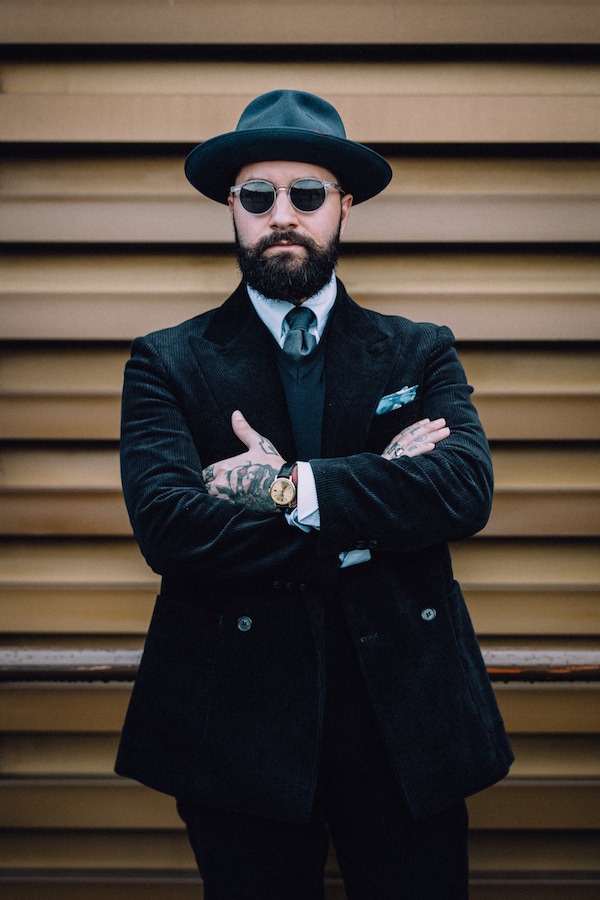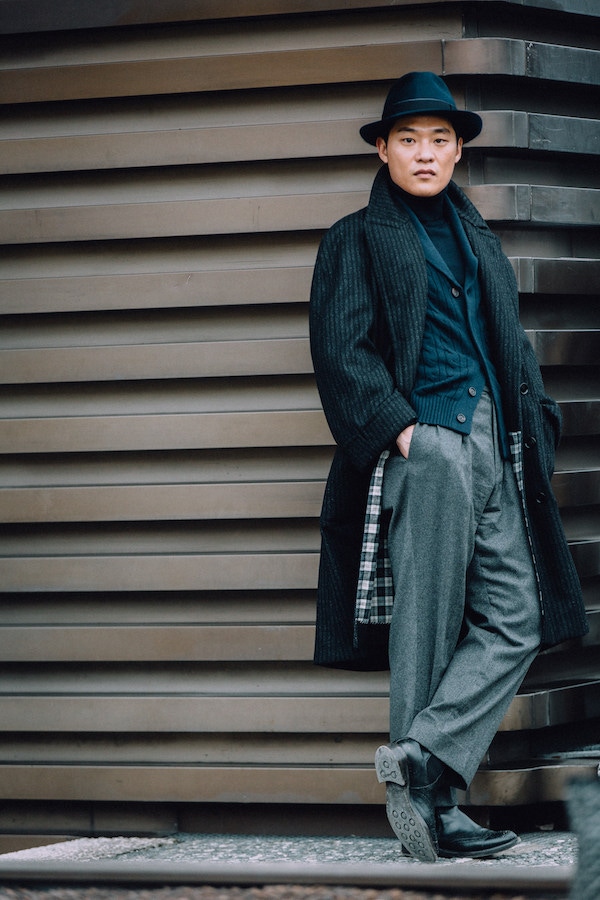 4. Tonal 
If you've had the pleasure of experiencing Pitti, you'll know that it can be a bit of a mine field at times as you have to weave through hoards of photographers and general loiterers to get to your destination. As a result, tonal dressing allows you to somewhat weave your way through the crowds unnoticed and unrecognised. There's something nonchalant about a tonal ensemble, and it's wonderfully simple and easy to pull off. If ever in doubt, keep it simple and go for a tonal ensemble in grey, brown, blue, black or neutrals colours.
5. Shirt/Collar/Tie Combinations
The ability to execute the trifecta of shirt, collar and tie says a lot about a man and his grasp of classic style. One element can easily ruin the entire look and choosing the correct collar style to complement the jacket and the tie can be a daunting prospect. It's unsurprising that at an event like Pitti the majority of goers were more than capable of pulling off daring but acceptable combinations. Neat collar pins (a worthy investment), and button-down and contrast collar shirts could be seen everywhere.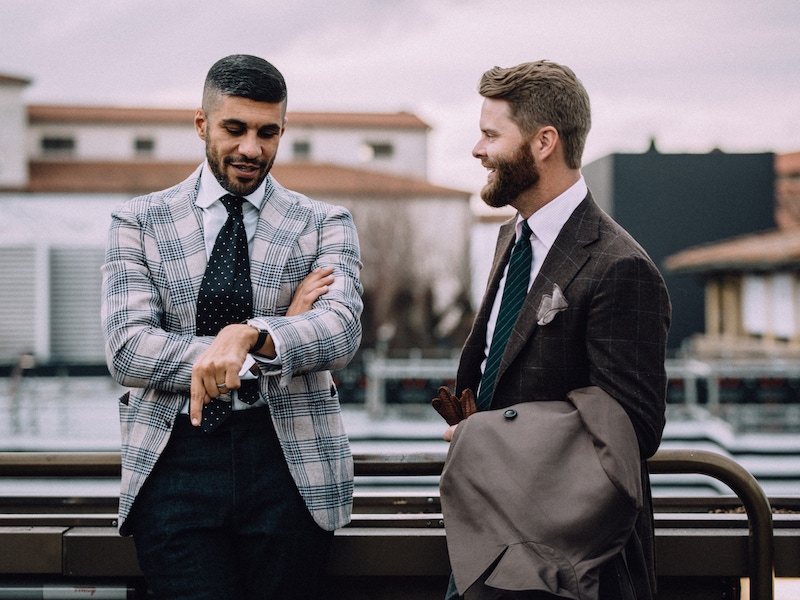 Save
Save