5 Ways to Wear a Rollneck
The rollneck has long been a menswear staple, so here's a little inspiration from five of the most iconic roll-necked rakes.
The last few seasons have reintroduced some of the best 1970s staples back into the menswear lexicon, with corduroy, tartan and roll necks among those that have become wearable again (credit where it's due if you can pull them all off at the same time). As we dust off our autumn/winter wardrobes in anticipation of colder days and longer nights, the rollneck offers a compact, easy and – most importantly – warm way to do so in style. Be it a fine cashmere layer or chunky cable knit, we've drawn on some of the most rakish roll-neckers to guide you. After all, if you break down the outfits of Steve McQueen in Bullitt or Richard Roundtree in Shaft rather than a nostalgic aesthetic that verges on costume, what you get is a timeless formula that is easily updated by playing with proportions, paying close attention to design and introducing classic accessories.
1. Herringbone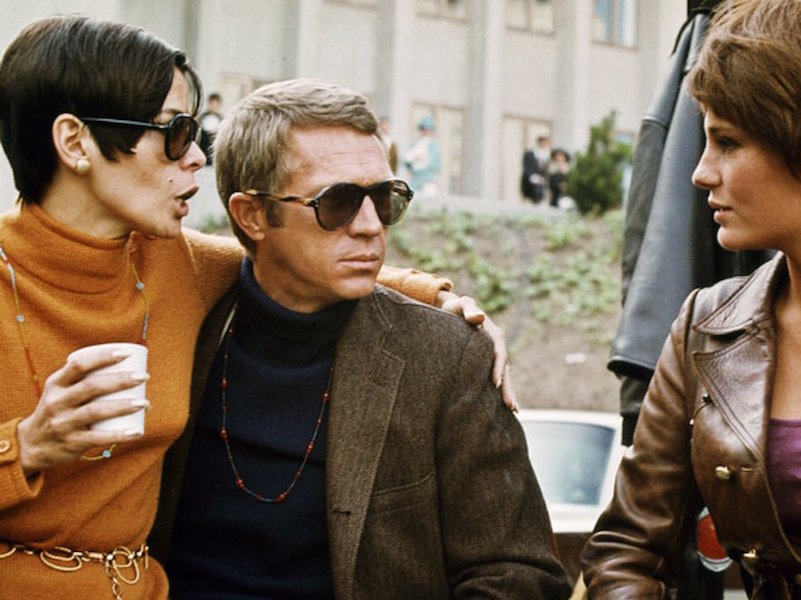 Everything appears considerably cooler when Steve McQueen wears it, but his navy rollneck and herringbone tweed jacket could be worn by virtually anyone, anywhere. The low-key appeal is due in no small part to the medium-weight navy knit, which McQueen wears with understated tweed, a camel coat, Sanders 'Playboy' Chukka boots and Persol shades. The latter two are signature Steve, still available to buy, and easily adopted by men of all ages – despite the fact that the film was made five decades ago. 
2. Neutrals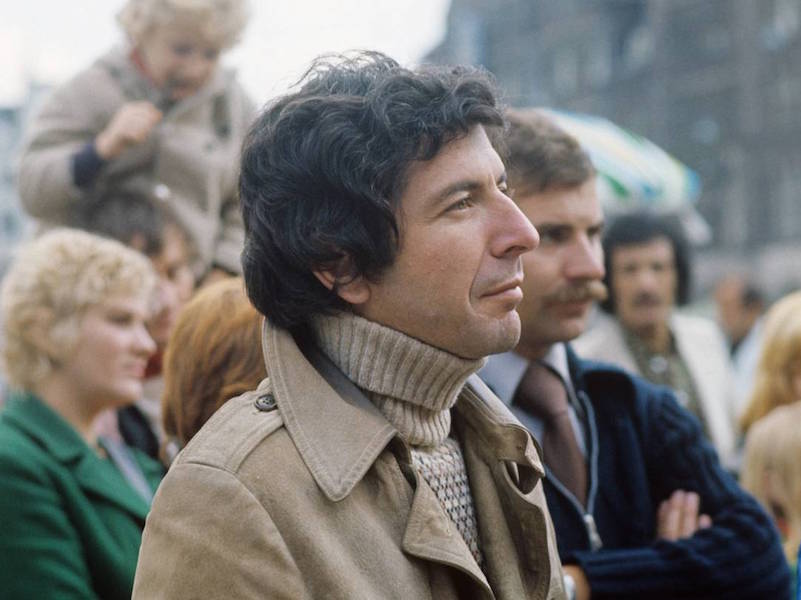 Far from boring, camel, stone and tan offer some light relief from grey and navy and are effortless colours to incorporate into a daily uniform. Leonard Cohen's two-tone combination is elegant and autumnal, with a heavy knit and a well-worn suede trench-style coat. Here, the singer is pictured enjoying a concert in the Netherlands in April – despite being spring, it's still a chilly time of the year to be outside, but Cohen looks cosy and confident in his choice of knitwear.
3. Minimal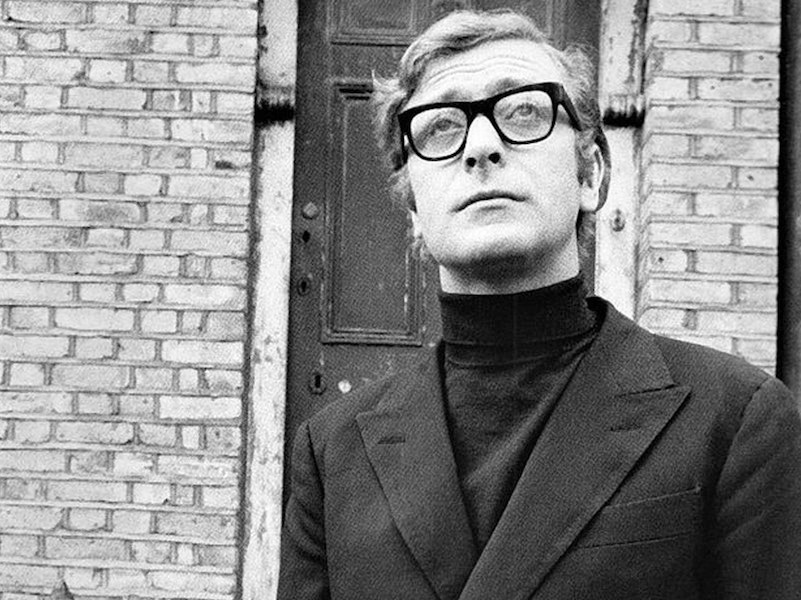 Caine's distinguished high-buttoning double-breasted jacket is typical of the mod era, but can easily be translated into a classic DB blazer updated with strong peaked lapels and a little more structure. His fine knit allows for layering beneath tailoring, and the shorter collar maintains a clean silhouette that can work for both day and evening. The look Caine channels here was adopted by intellectuals and academics in the 1950s, and with a pair of thick framed spectacles you, too, can look like you studied art in Paris one summer.
4. Casual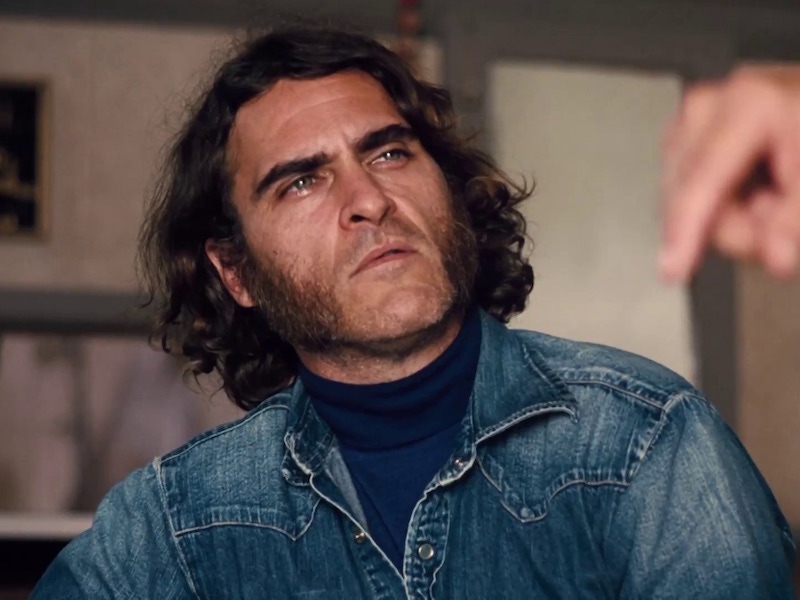 Both denim and roll necks have nautical origins, dressing French sailors and naval officers respectively, but by the middle of the 20
th
century the polo neck had developed its own status as the 'anti-tie' garment. Less restrictive than a shirt and tie, it was – and still is – a comfortable way to give your casualwear a polished edge. Give a well-worn or vintage denim shirt a renewed sense of purpose by wearing it over a soft cashmere knit (and perhaps eschew Phoenix's lamb-chop facial hair in favour of a clean shave or neat stubble).
5. Bold Colour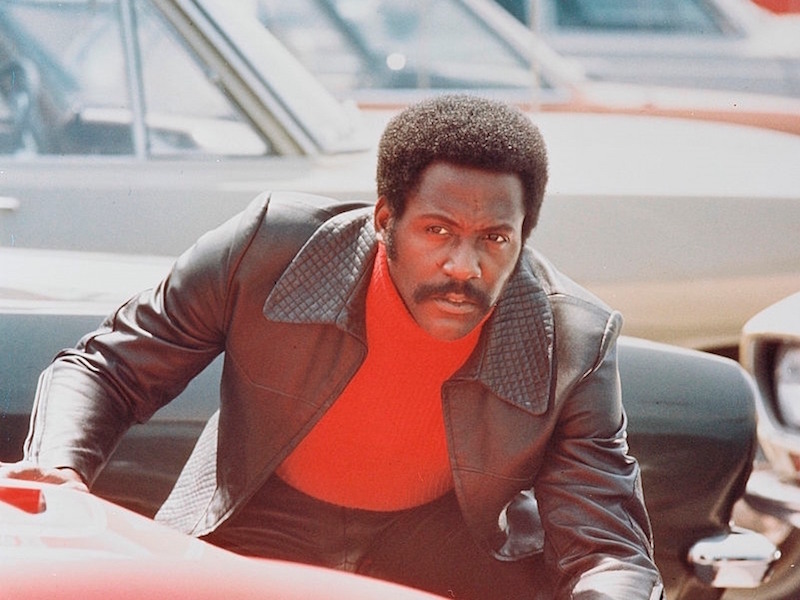 While the supersized lapels and shiny leather of Roundtree's jackets in
Shaft
might not have survived the seventies, the pairing of leather and ribbed knitwear still brings an appealing contrast in texture. Roundtree is also an excellent example of owning a bold colour rather than letting it own you. It helps that he's matched his knitwear to a nearby sports car, but if pillarbox red is a little too festive for you, a vibrant pop of mustard yellow worn with neutral colours like brown, olive or khaki is less intimidating than you might think. Avoid wearing with other block colours and use texture and tonal patterns to soften the overall effect. Please see
here
to view full rollneck assortment.