Late Summer Holiday Essentials
Summer is jerkily coming to life, but for some the holiday season is in full flow — albeit with some restrictions to abide by. If your wardrobe is pining for an array of stylish and beautifully crafted summer fundamentals, we have you covered.
East of the Spanish mainland lies the Balearic archipelago consisting of the four chief islands – Ibiza, Formentera, Mallorca and Menorca. Largely dormant, due to the global lockdown, since March; Jeeps, discoloured from years of sand kickback, now whizz round the windy corners of Ibiza; often with full car loads of people heading to the beach. Last month retro shades of blue and green, ingrained in the many parasols across the islands beaches, were predominately in full use, which is a sign that your summer vacation plans are very much possible depending on your choice of territory. Admittedly, Bournemouth beach was packed to the rafters a month ago, but this is not a usual year for overseas travel. Prevented from travelling overseas for so long, there is now many holiday opportunities and if your holiday intentions have been passed, it requires a late overhaul of summer fundamentals to your potentially threadbare wardrobe.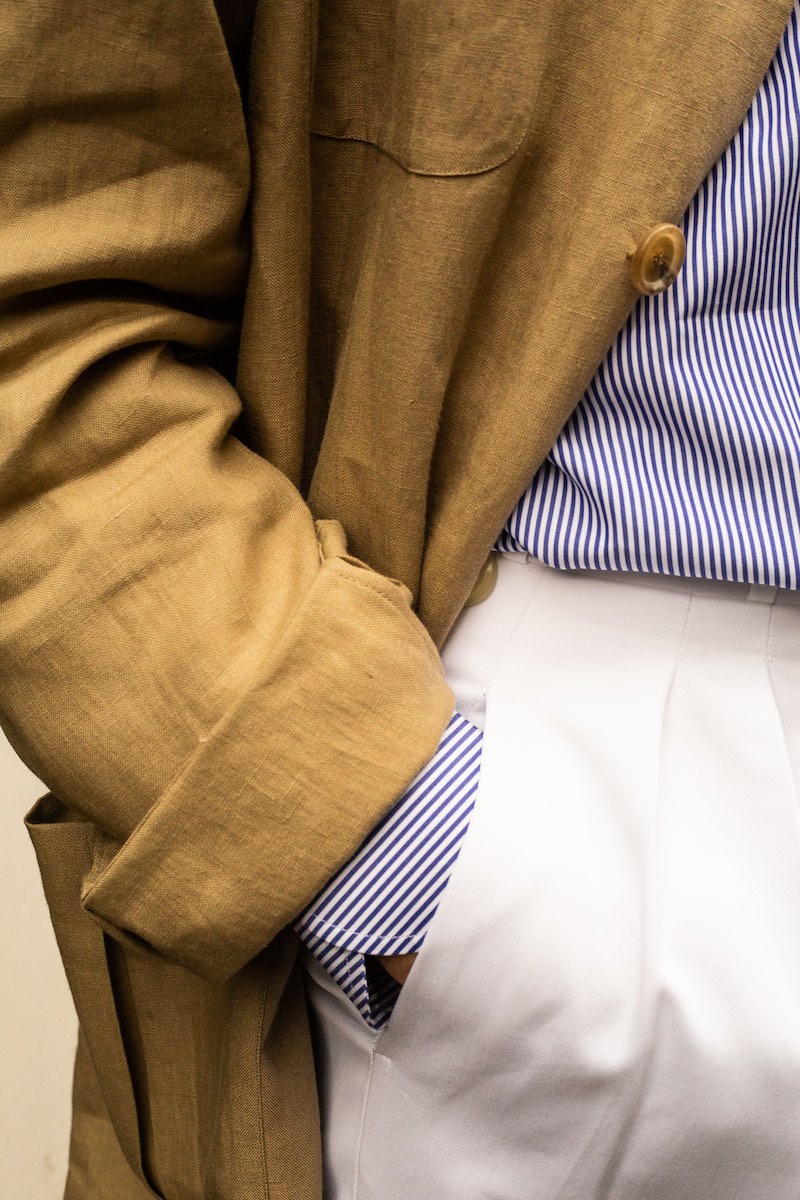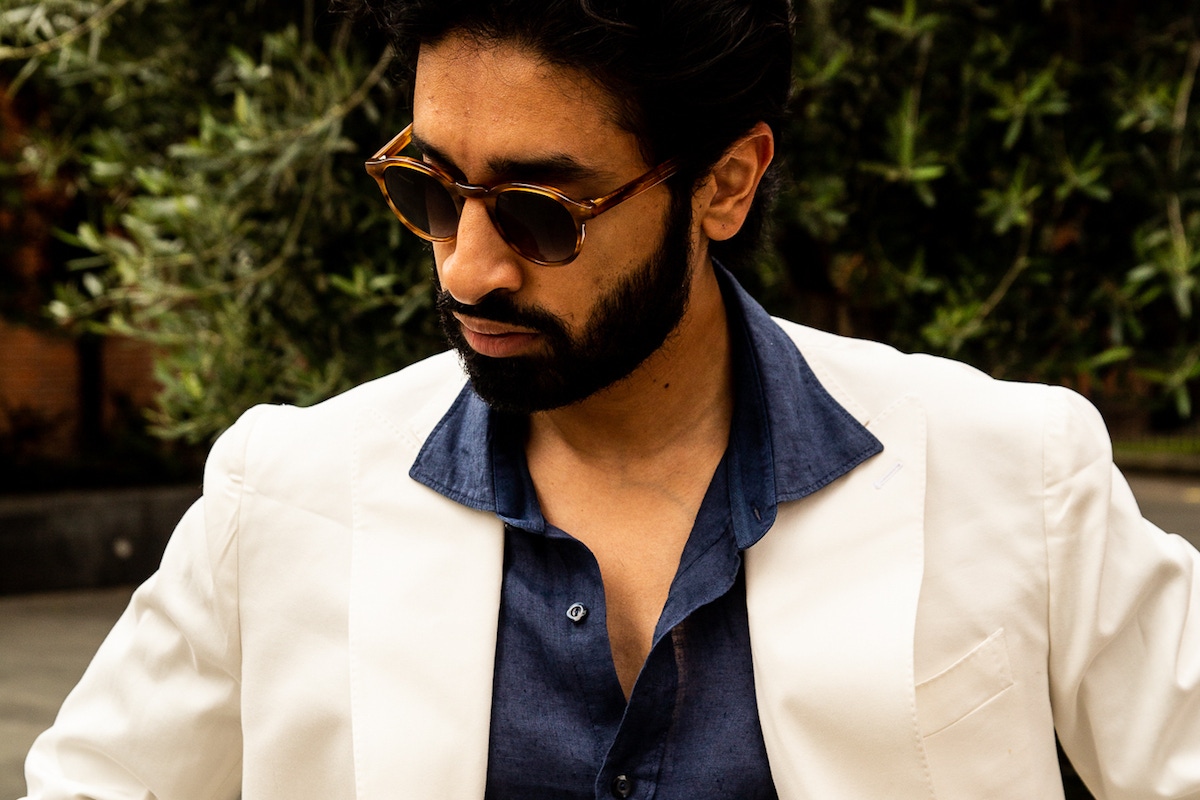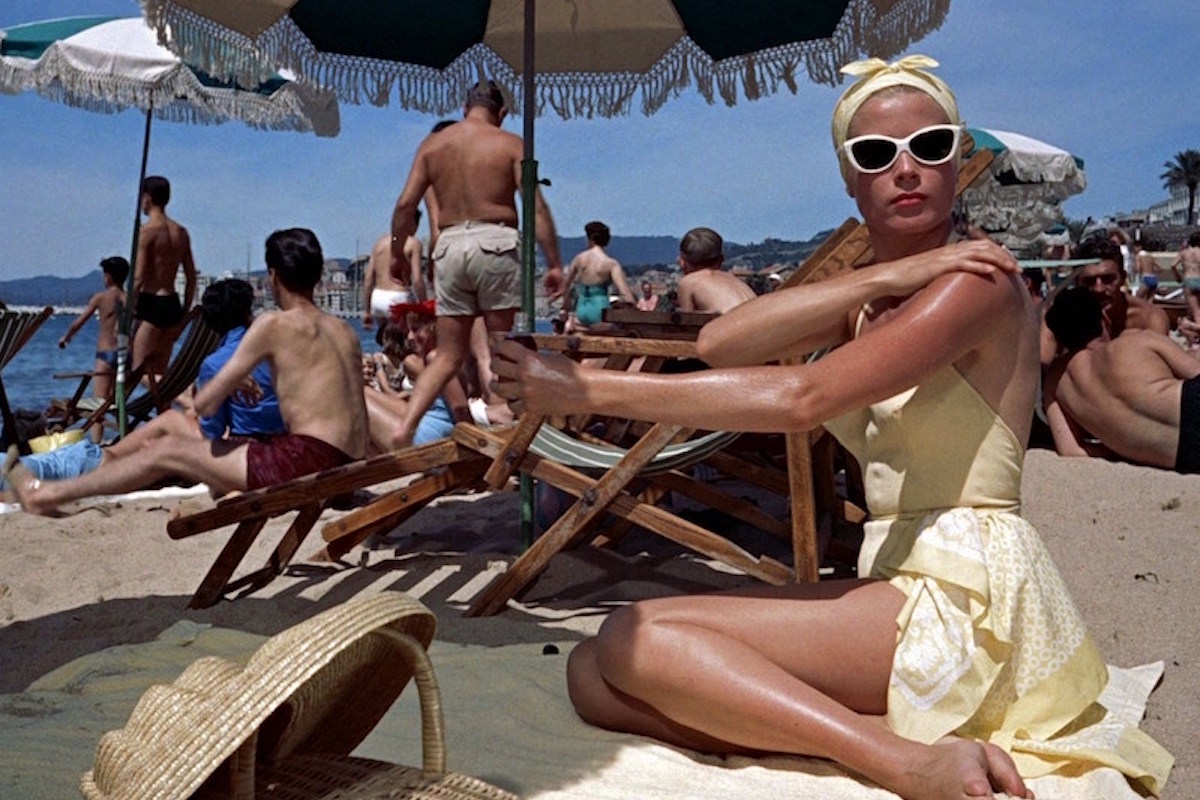 In an overly saturated market, it can be tricky to pick out the polo-shirts that have been made by skilled custodians of ancient traditions. The polo-shirt now comes in a myriad of subtle guises, but what's so fascinating about a supposedly simple garment is that when you get up close and feel the distinct and subtle intricacies imbued in the design, it caps off the entire outfit. Luckily on The Rake.com there is only polo-shirts encompassing the type of handwork, that separates the great from the ordinary. It is the archetypal summer essential, but there is nothing quotidian about the blue cotton and linen-jersey long sleeve polo from Amsterdam-based shirtmaker 100Hands. What sets 100Hands apart from many other shirtmakers is their painstaking devotion to the techniques of artisanal craft, where this particular shirt is beautifully finished with 25 stitches per inch. This fresh blue shade has a relaxed open neck collar and a smart half-placket closure and long sleeves for versatile styling on your summer vacation. Adorned with such tremendous detail for a polo shirt it does look particularly delightful tucked into a trouser that comprises a higher than usual waist such as Anderson & Sheppard's white double pleated cotton trousers. A special mention must also go to the aforementioned brand's brick-red linen trouser. It is single pleated and its bold hue certainly adds some joviality to the holiday.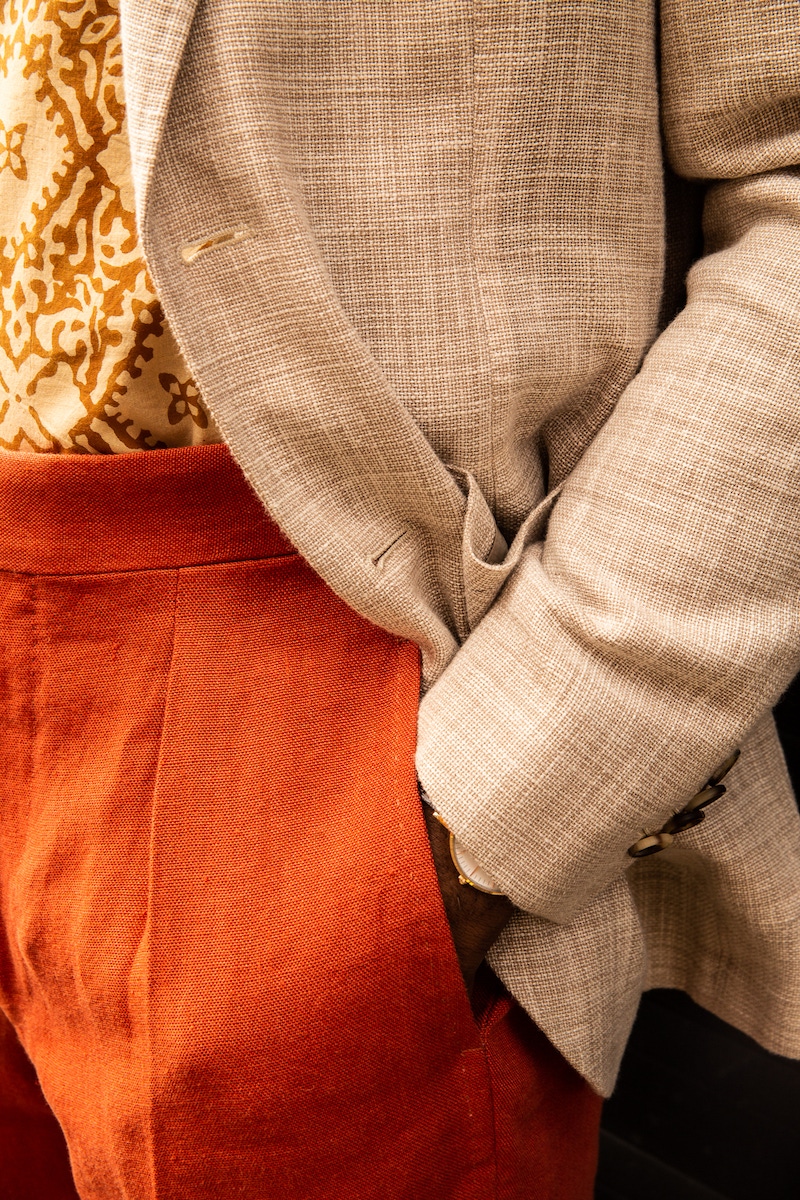 A well-cut linen trouser is one of those items that should never suffer its fate for a passing trend or dumped in favour of shorts. This particular trouser from Prince Charles's and Fred Astaire's tailor Anderson & Sheppard is lightweight, comfortable and extremely elegant for holidays and long weekends. It's exactly the type of trouser you would see the old-Hollywood kind sporting. Great friends and former housemates David Niven and Errol Flynn were fervent proprietors of the classic linen trouser, often with double-pleats, which Anderson & Sheppard also offer in a variety of colours. Their double-pleated styles do have belt loops in case you feel more secure with a belt. This classic style of trouser, works best without a belt, but if you do require one, Hardy & Parsons burgundy leather belt dark that is handmade in England is stylish option. A pale linen jacket can sometimes be overlooked in favour of a light jumper as it can be prone to succumbing to the pitfalls of travel, which can induce stains and crinkles. But it does enamour a relaxed, dégagé elegance, which is exactly what L.M.B. 1911's intention is. During the Euro-Mediterranean heatwave, there are holidays, social events and even some business to attend to, which is why the off-white unlined linen jacket is one of the most versatile and stylish options to have in your armoury. Think back to the relaxed and carefree existence of Leonard Cohen and his lover Marianne, on the Greek island of Hydra. They would all be wearing pale unstructured jackets because of the heat and it wouldn't be a bad option for today dining at a smart taverna on the Greek islands enjoying a glass of Rakomelo.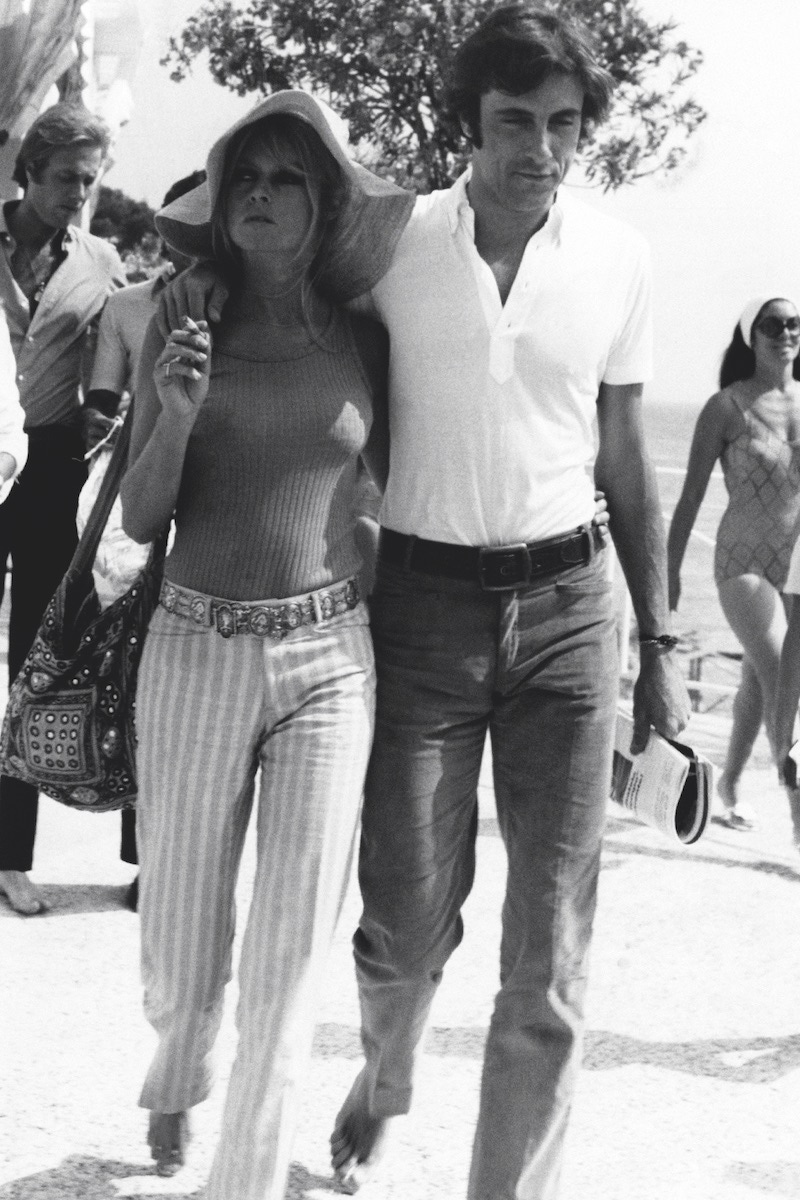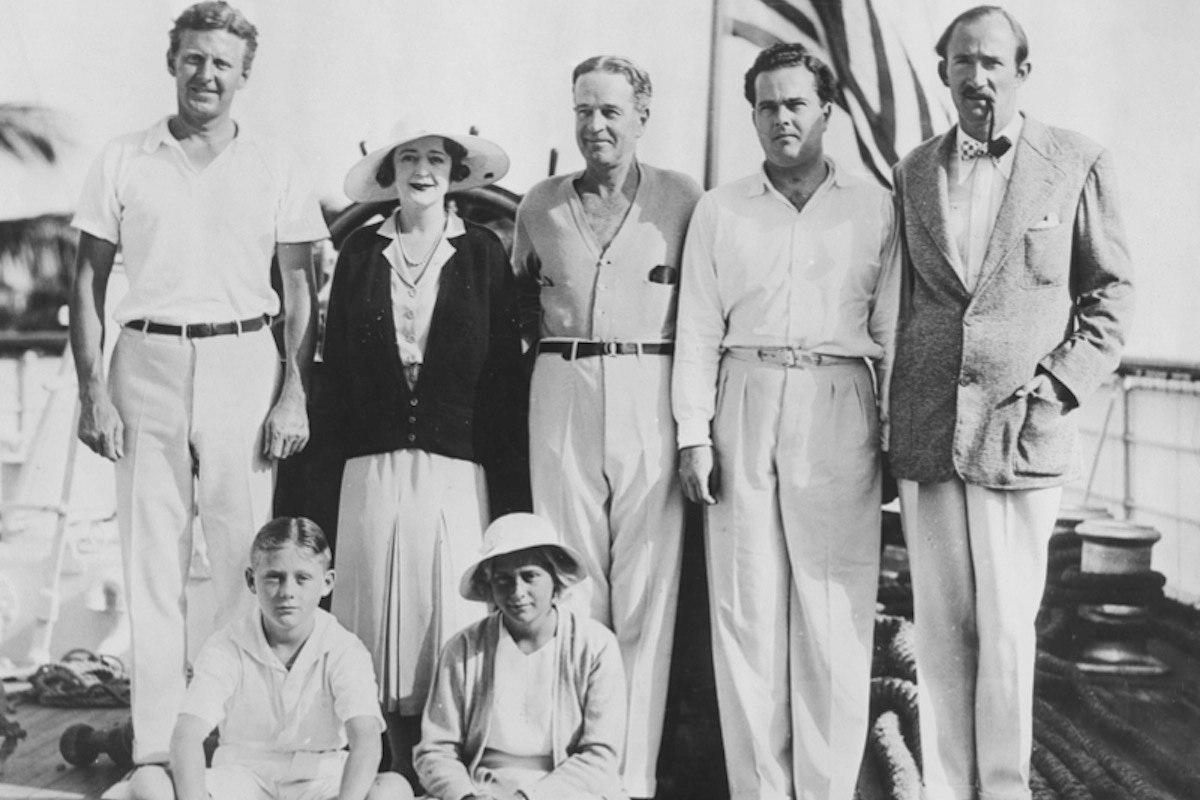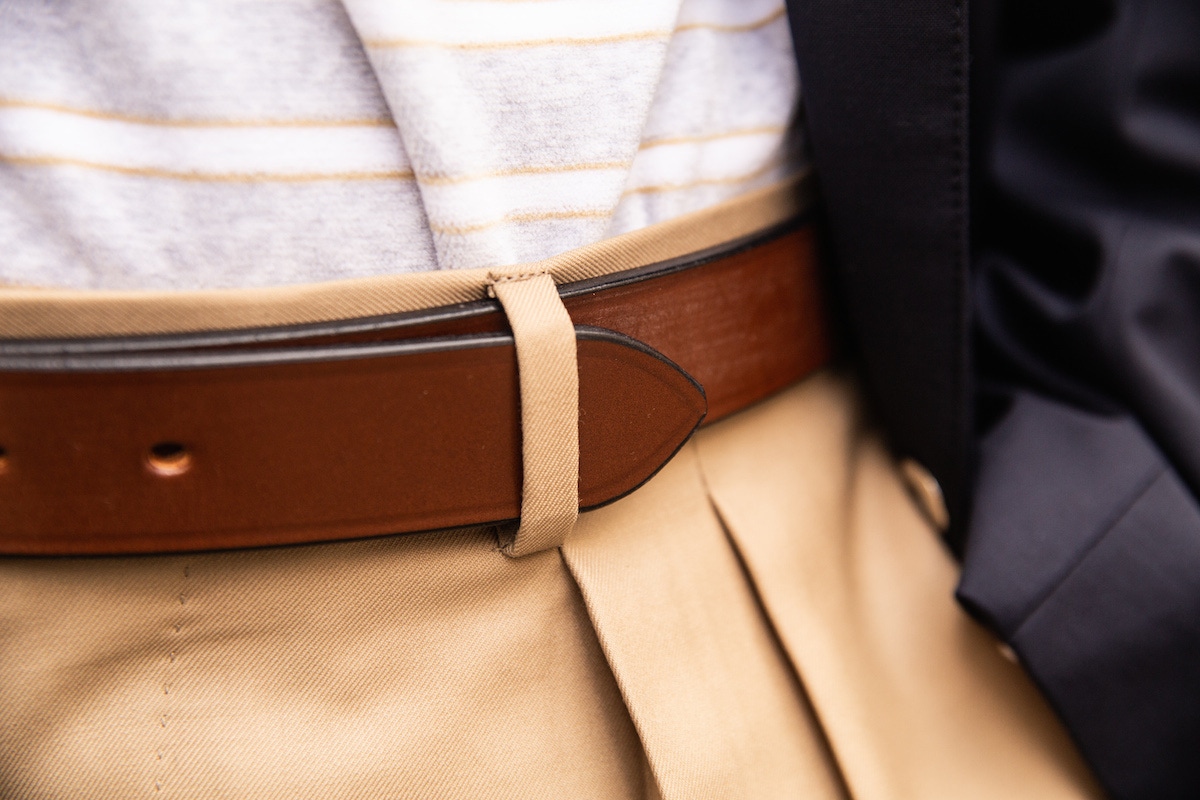 Expressing the right balance between informality, contempt and elegance is the Solaro fabric. It was originally designed to prevent not only sunburn but the harmful effects of ultraviolent rays for British soldiers in tropical regions. Its greenish beige colour with slightly iridescent shades of red and brick red on the reverse, protrudes this chimerical appearance, which is perfect on hot summer days and also for a casual appearance that is on the smarter side. Rubinacci's Manny trousers have always been incredibly popular all-year-round, but the introduction of the Solaro Manny trouser, might just be the most sought-after trouser of this summer. A very versatile trouser, it pairs well with either a white linen shirt, but also ideal partnered with a jacket, as a separate with a shirt and tie. A fairly recent and welcome addition to The Rake platform is Milanese shirtmaker, Tintoria Mattei. Known for relaxed tailoring and retro inspired prints, they offer the epitome of the linen casual shirt. Linen actually looks more natural, when its slightly rumpled and their plain royal blue linen shirt, which also comes in brown could be the stalwart of your summer wardrobe. Cut from pure Italian linen for a classic fit, it gives you scope to pair with almost anything, but looks equally stylish worn on their own tucked into some tailored shorts or trousers.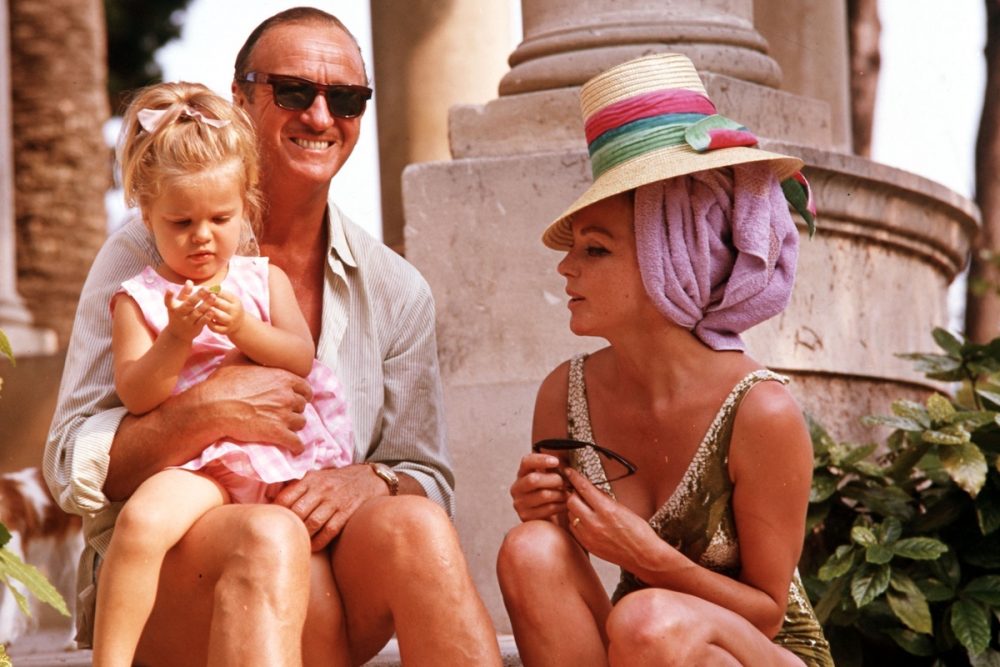 Quite possibly the most crucial summer essential is a pair of sunglasses. Created exclusively for
The Rake
, the Veneto model from Cubitts is inspired by the frames worn by Marcello Mastroianni in seminal style film
La Dolce Vita
. Handmade in the brand's London workshop, the style is a sportier take on the aviator and is crafted from dark brown tortoiseshell acetate. Finally, in the footwear department a neat loafer is a sensible option to have in the locker. Evening soirées in large gardens that go on well into the evening require an elegant and yet comfortable style to see you through and there's none more suited to those nights than Baudoin & Lange's chocolate brown Lizard loafers. They have this rare ability to mould to the bespoke shapes of one's foot due to their unlined shoe structure. They pair beautifully with the aforementioned Anderson & Sheppard pleated linen trousers, and superbly cap off the summer essentials outfit.