Crafting Turnbull & Asser and Mo Coppoletta's Printed Denim Shirts
We go behind the scenes of Turnbull & Asser and Mo Coppoletta's latest creative project, which fuses the best of intricate design and shirtmaking in three distinct styles.
Over the past few years,
The Rake
has had the distinct pleasure of collaborating with two titans of their respective industries: legendary shirtmaker Turnbull & Asser and tattoo artist extraordinaire Mo Coppoletta. The first two projects were the sartorial
Mega-Square
and the
Furious Eagle
pocket square – both of which were hugely successful. Later this month
The Rake
will launch the third piece of this ongoing partnership – a collection of three denim shirts, each printed with intricate artwork by Coppoletta. The whole collaboration came about during a conversation as to how tattoo and motorcycle culture was becoming entwined with the sartorial world, says
Turnbull
's Head of Design
Dean Gomilsek-Cole
. "It made sense for the next collaboration to be in the area of shirts, as we are renowned for our skills in this area and we had plenty of ideas left over from our initial discussions. Mo and I had been looking at many different inspirations from industrial shipyards to art deco and old propaganda posters, and if you look closely at the design you will see many of these ideas hidden within Mo's artwork." The three patterns – the Furious Eagle, the Mega-Square and the design for these shirts – have a theme that connects them, says Coppoletta, which is a background of Victorian-inspired docks and factories. The choice of using denim with the new collaboration gave Coppoletta an additional element to work into the design. "Denim naturally associates itself with work and labour; docklands, miners – all of that world. I wanted to continue with that industrial inspiration, with a bit of a nod to the Futurism of the 1920s and '30s." For Gomilsek-Cole, selecting the perfect denim was key to making the collaboration work. "We used a higher end variation of denim that uses two-fold 120s yarn, which is unusual to find in denim, to give the shirt a robust yet elegant feel." Gomilsek-Cole says an early decision was to deliver the shirts unwashed to allow the wearer to decide how quickly they wanted the cloth to wash down and reveal the design of the artwork. "Once worn in, the shirts will have a superior softness but will remain strong due to the longer-staple yarn cotton we used to weave the cloth."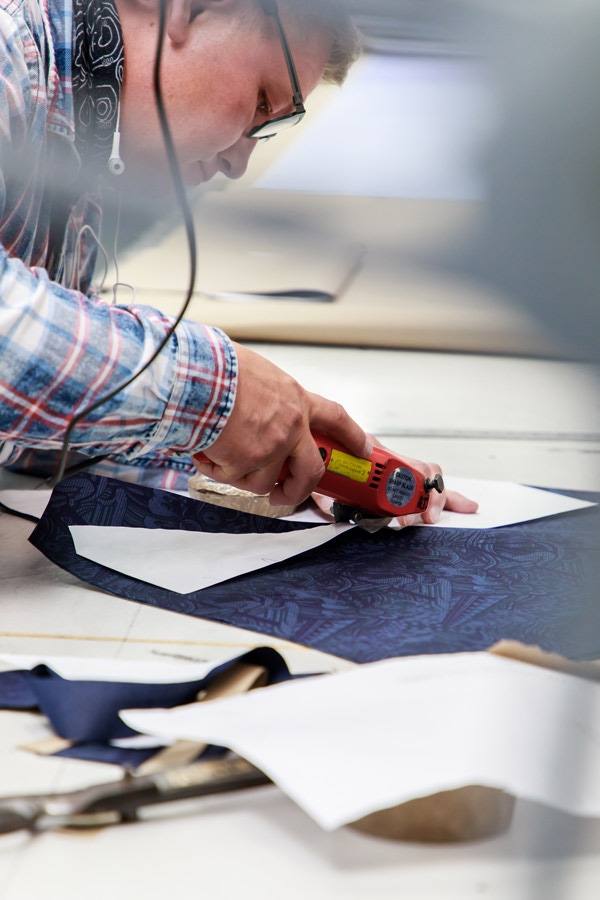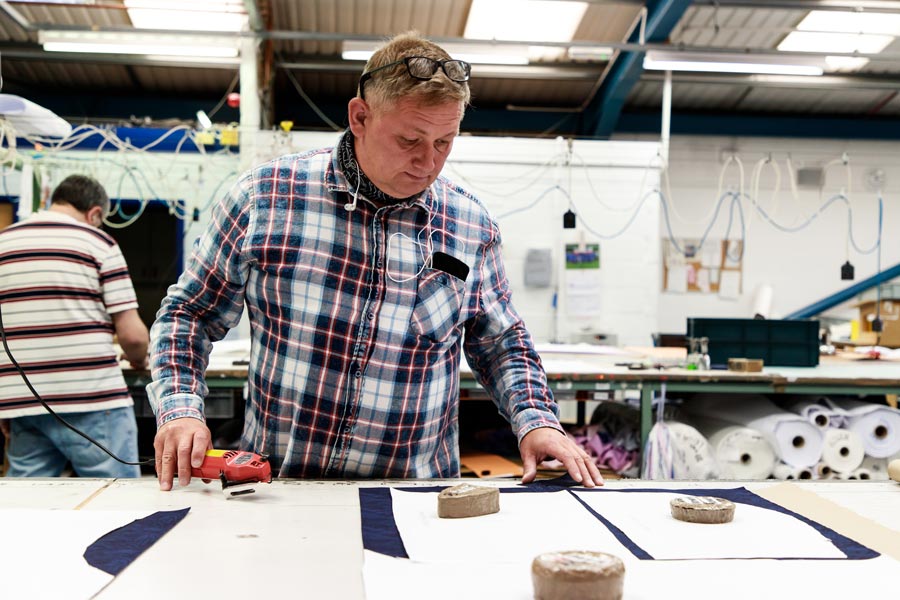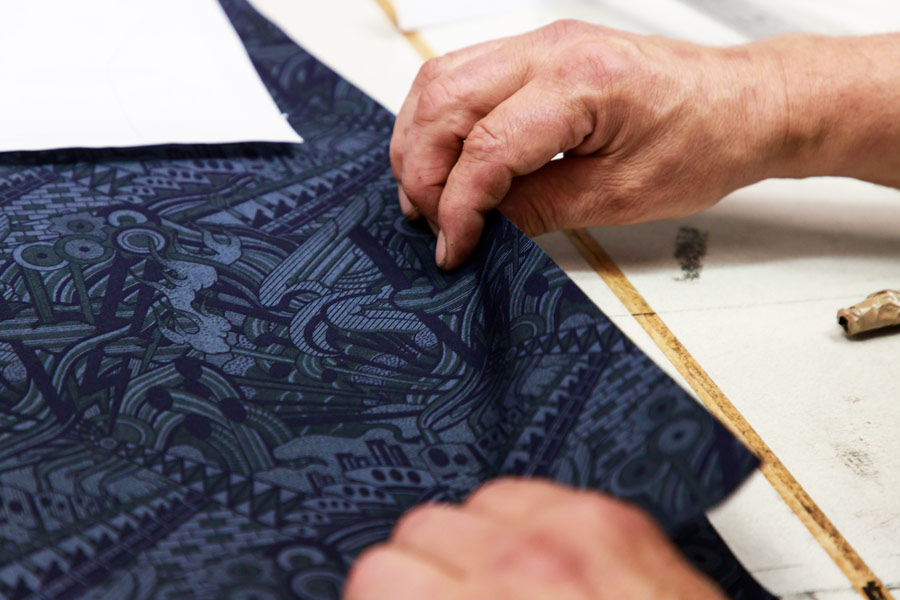 For Coppoletta, known for his bold, stylised design aesthetic, designing a print that would work as a shirt fabric presented an exciting new set of challenges. "Well, of course I couldn't be as figurative as we were with the previous items," he says. "We needed to have a more graphic approach, because printing on fabric requires a more abstract take, especially on denim. The point of the pattern is that it doesn't take away attention from the garment; it needs to be part of it. At first view, you don't even understand the pattern – you have to really go into it. Then you can start recognising some of the elements of the pattern like the factories, the big radio, the waves or the pattern in the sky, the shipyards. It's a pattern that complements the fabric in a really beautiful way." Translating the artwork into a fabric was no easy task for the team at Turnbull & Asser, arguably one of the few shirtmakers who would even dare approach such a feat. "Like all of Mo's work, his design started out as a hand drawn masterpiece. This one was particularly intricate, so we had to figure out how to turn it into a repeat to create a cloth rather than just a great art piece." There are three subtle colour variations within the print, so each one had to be laser etched onto a separate drum to create the final artwork. Laughs Gomilsek-Cole, "The cost for these drums alone was nearly €1000.00, so it was never going to be an inexpensive endeavour!" Gomilsek-Cole decided on three styles of shirt to showcase this amazing cloth. The first is a 1950s-style short-sleeve shirt with a one-piece collar, based on an archival pattern. "This was aimed squarely at those that indulge in all things two wheeled and the short sleeves enabled them to showcase their own artworks if tattooed," says Gomilsek-Cole. The second was our take on an alternative evening shirt, featuring a hand-pleated front panel – a truly triumphant garment that manages to be both strikingly distinctive and amazingly wearable – a credit both to Turnbull & Asser's craft and Mo's intricate design. The third is what Gomilsek-Cole calls 'the everyman option'. "A great informal, slimmer-fitting shirt featuring our classic T&A collar and our signature three button cuff, showing our shirt craft and Mo's artwork in their purest forms." The collaboration represents, at its core, a celebration of both Turnbull & Asser's historic mastery of shirtmaking as well as the firm's continuing and evolving relevance. "Denim as a fabric has transcended the casual world and now is seen in all aspects of life, and we wanted to create shirts that demonstrated that," says Gomilsek-Cole. The limited edition shirts will be available on October 19th, exclusively on
TheRake.com.
 For pre-order information, please contact us
here.