Turnbull & Asser: The Great British Shirtmaker
As they breeze through their 13th decade, The Rake explores British shirtmaker Turnbull & Asser, and discovers what makes them such an enduring heritage brand.
There is a particular kind of prestige one feels when entering Turnbull & Asser's flagship store on Jermyn Street in London. The kind that can only be achieved by possessing a trading history that stretches back more than a century and a heritage that most luxury clothing brands dream of acquiring. Turnbull & Asser is the shirtmaker, the benchmark against which all others, in Britain and beyond, have been measured for most of the 20th century until today.
It's easy to become charmed by the eccentricity of the brand upon opening the doors of the store. The plush red carpets, mahogany-wood-panelled walls, and burnished Chesterfield sofas are quintessentially British, and herein lies half the appeal. Visiting this place is like stepping into Edwardian London. Some of the beautiful fixtures can be traced to the original opening in 1903, and since that date the fact that Sir Winston Churchill, Sir Michael Caine and Prince Charles have shopped here only furthers the appeal.
All of this would mean nothing, though, if a Turnbull & Asser shirt did not have the same transformative effect on the wearer as a suit does from neighbouring Savile Row. Whether you opt for a ready-to-wear shirt, a 'stock special' made-to-measure version, or a full bespoke offering from Turnbull's separate, albeit next door, Bury Street building, the result will be long lasting. Steven Quin, the brand's retail director and proud holder of the royal warrant since 1999, explains to The Rake why this might be the case: "Turnbull & Asser is a unique business and has been trading in St James's for over 130 years. It still holds true to the values of the past, offering great service, attention to detail and good quality British products with great styling."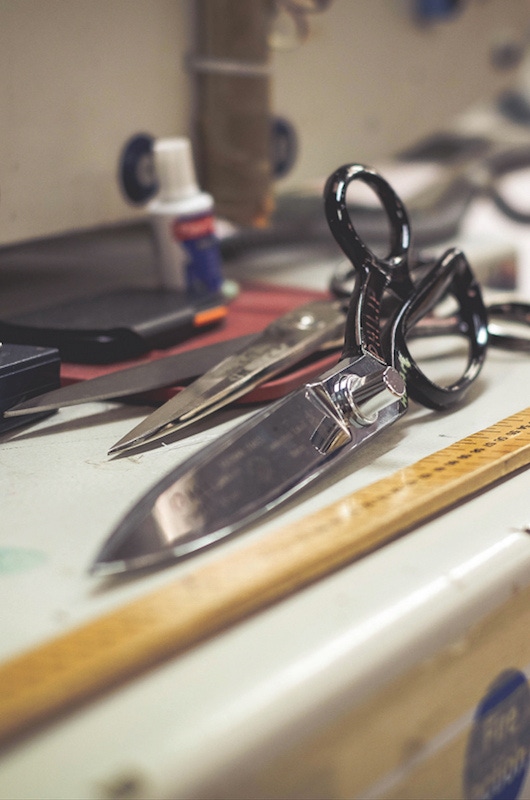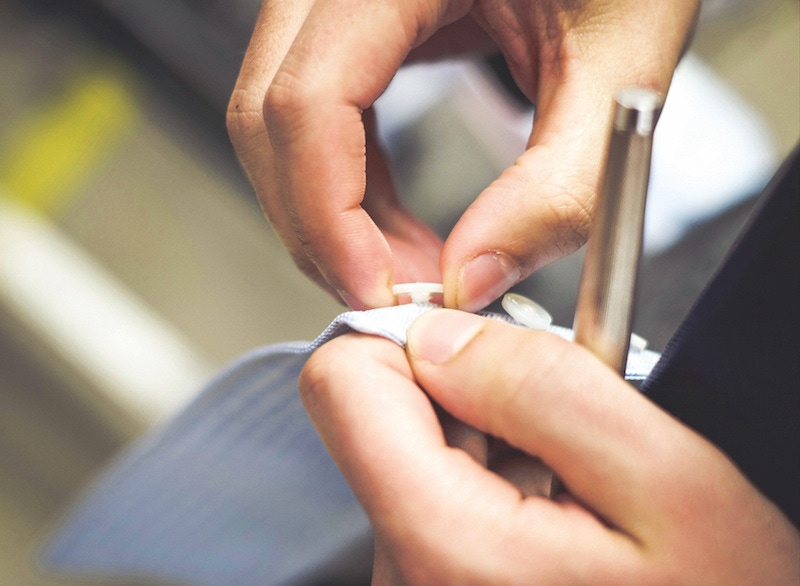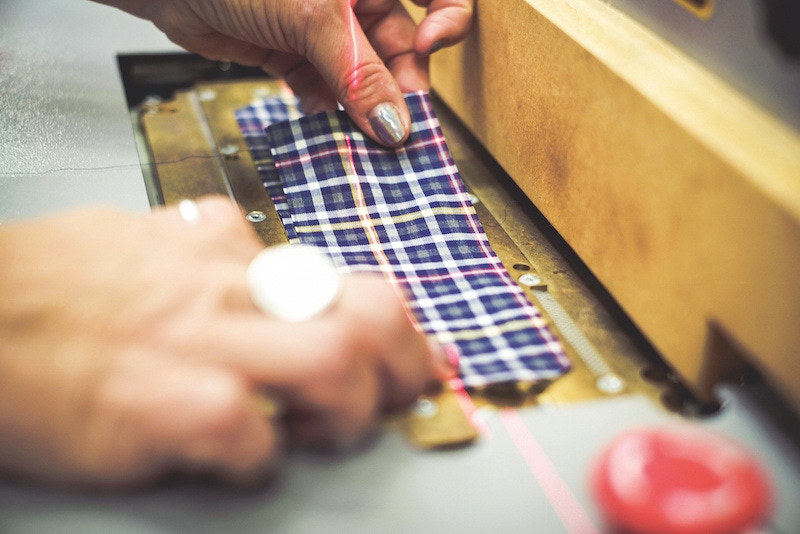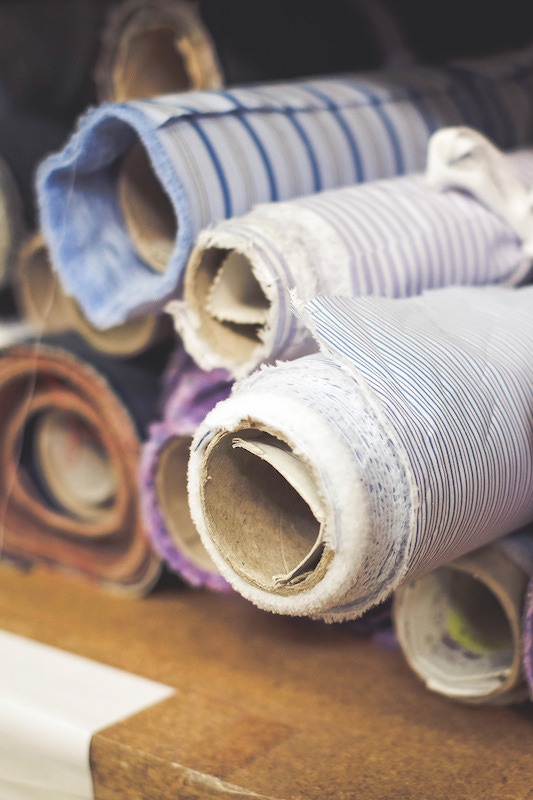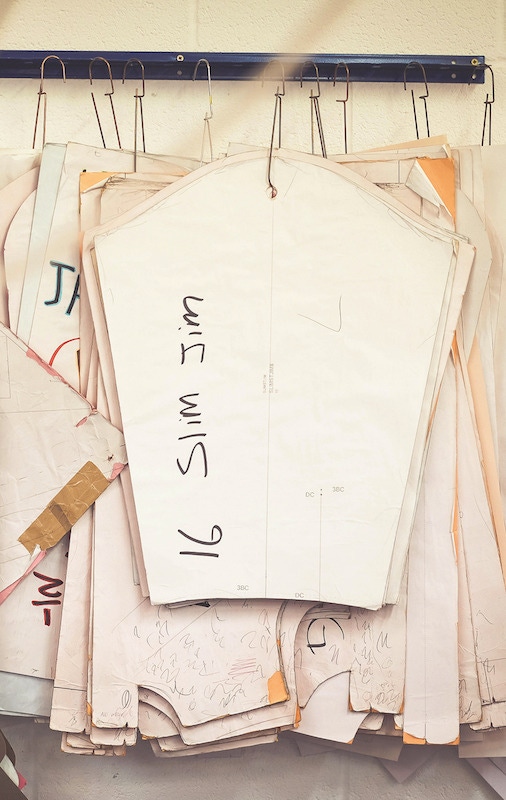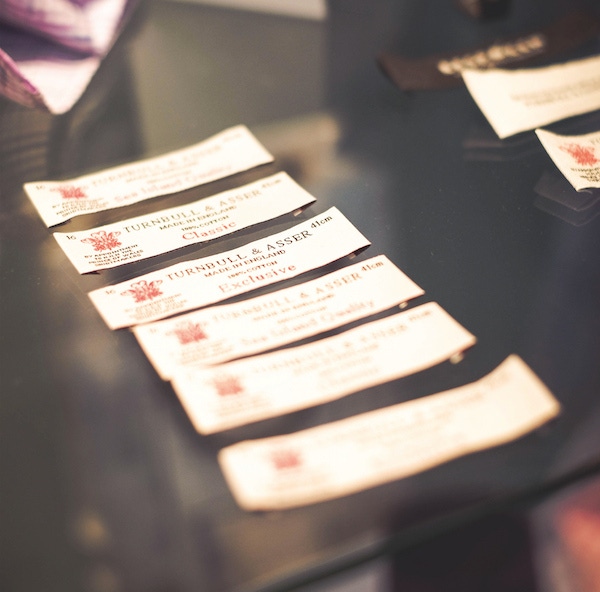 The values they've retained mean that their shirts have remained largely unchanged since their inception, in terms of quality and finishing. "All of our shirts have loose lined collars, rather than the fused linings that you would find on many other shirts," Quin says. "This is not only more difficult to produce but also gives the shirt a more comfortable feel when worn. The stitching is executed with a single needle with 16-18 stitches per inch, and all of our buttons are made from a mother of pearl shell and sewn on with a fused wrap so the buttons will never come off. A Turnbull & Asser shirt has its own personality that can only be appreciated once worn. They are simply the best."
All of Turnbull & Asser's shirts are hand-made in England, an increasingly rare achievement. It is made possible by the brand's Gloucester factory and the skilled workers who inhabit it, many of whom have proudly worked there for decades. The factory operation is impressive: it has the capacity to produce 70,000 shirts per year. Yet it feels far from industrial, which can perhaps be explained by the amount of handiwork that each shirt requires and the absence of noisy, overpowering machinery. Light streams in through the multiple car-length windows, and workers are passionate and revel in their craft, which likely explains why many of them remain so loyal.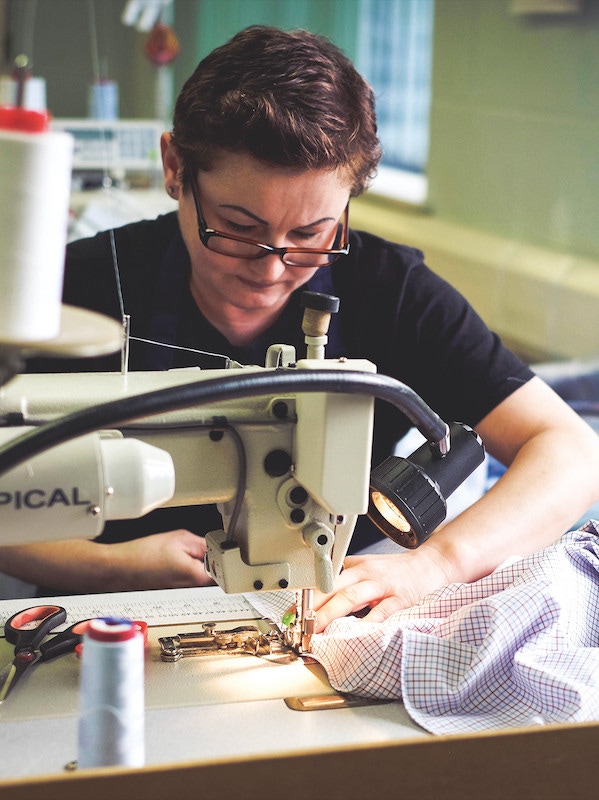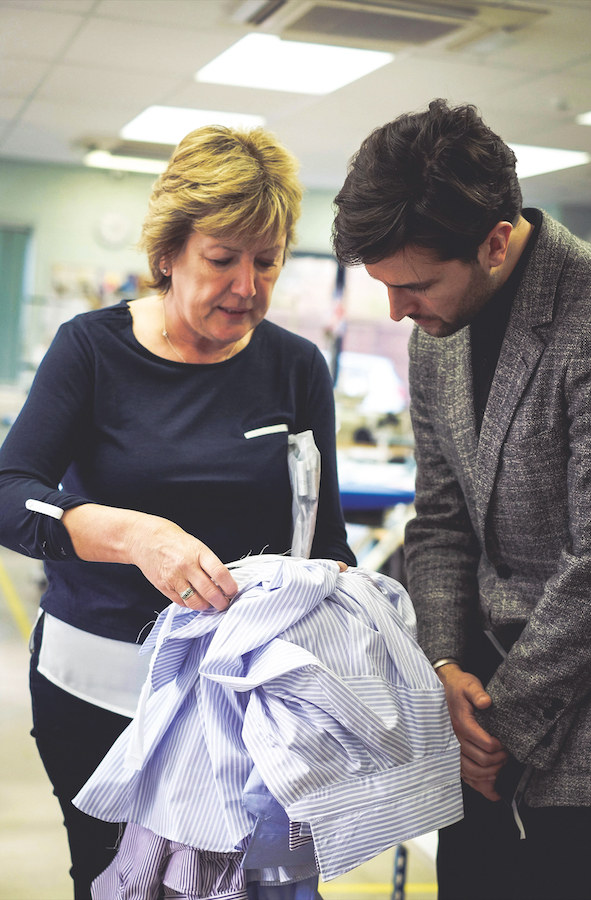 Bette Elton and Kathleen Cope are twins who have worked together at the Gloucester factory for 53 years; today they are factory floor manager and senior supervisor respectively, and it's fair to say they've seen it all. Bette tells The Rake how shirt styles have transformed over the decades: "In the sixties the collars were exceedingly bigger, or even roll-necks were popular. The most recent changes have been to the body shapes. We now do a range of different fits, or different collars, cuff or pocket designs, and the range and quality of fabrics has increased greatly." It's not just the shirts that have altered, either. Bette says: "The sewing machinery has changed over the years, from a very basic Singer, to today, where they have automatic thread trimming [for accurate cutting of thread at the end of a sewing cycle], foot controls, and the needle will automatically stay down to give a good turning point. All products are sewn using single-needle machines. However, we do now pre-press some components for speed and accuracy, such as the side gussets, sleeve gauntlets and front plackets."
Turnbull & Asser do more than make shirts, though, and their expansive ready-to-wear collection is thriving under the helm of their Head of Design, Dean Gomilsek-Cole. Playing on the eccentric roots of the brand, Dean's seasonal collections often take inspiration from a specific era related to T&A's past, yet every detail is updated and made relevant for the man of today in what is perhaps the ideal fusion of past and present. When starting work on a new season's collection, Dean more often than not begins in the brand's shirt archives. "It is an important starting point, as we often look at a specific decade as inspiration, so I can dip into the patterns and colours we were using at that time," he tells The Rake. "The important factor is to make sure we don't just plagiarise the previous designs, but improve them with new techniques and contemporary yarn innovations to make them relevant to the 21st century customer, while still maintaining a bloodline to the traditional one."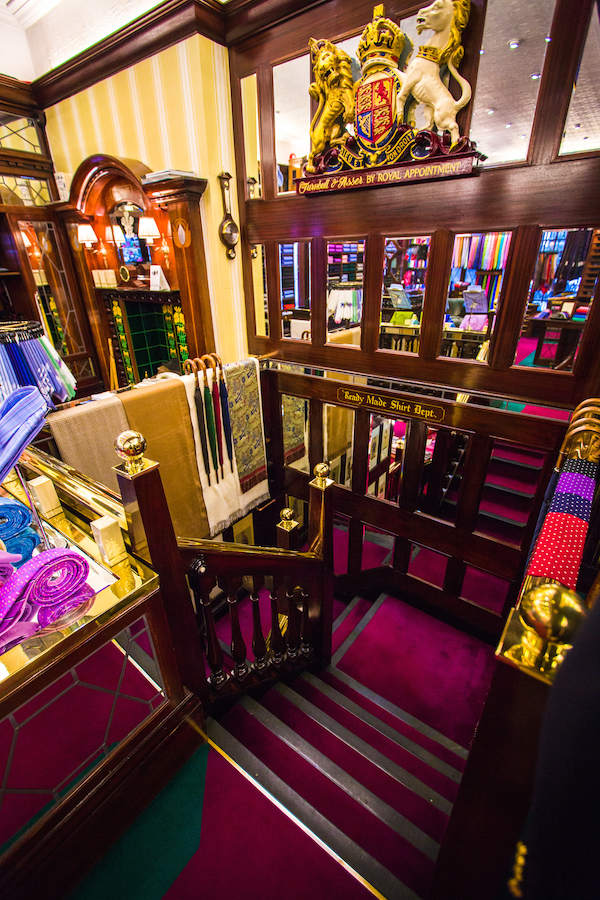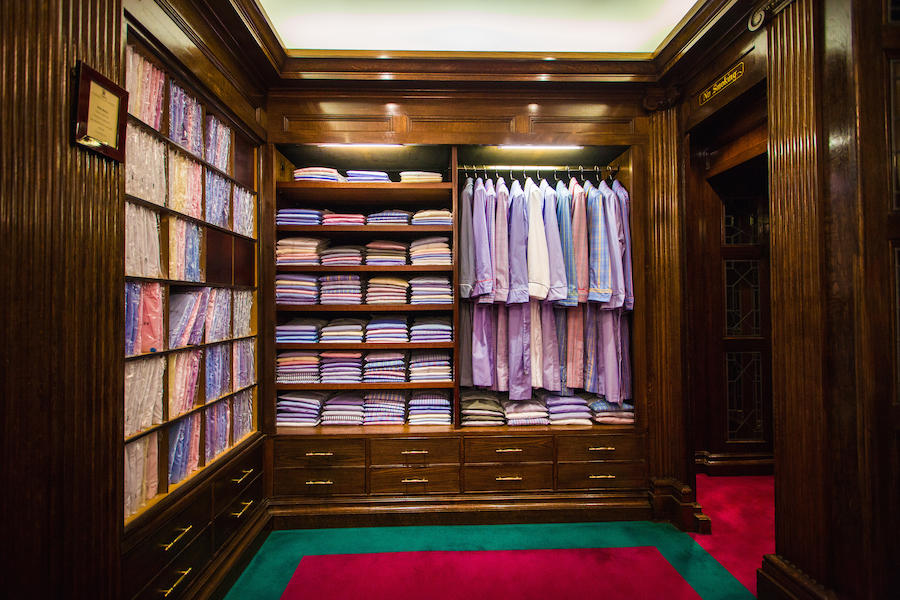 The ready-to-wear collections span items as varied as silk dressing gowns, velvet smoking jackets, silk-patterned braces, umbrellas and more, yet despite this diversity, the shirt will remain at the core of the brand. Dean says: "Our 130-year heritage is a foundation for the future of the brand, and, just like the foundation of a building, it must be maintained or everything that is built upon it could collapse. We create some amazing products within our collections, but every piece is designed around our core of shirts, and outfits are built from this starting point. I remember, during my first weeks with the brand, being reminded that, 'the suit is a frame, it is the shirt that is the artwork'."
The shirt is an often-overlooked aspect of the modern man's wardrobe, yet its importance is equal to if not greater than the suit that so often masks it. Turnbull & Asser has endured through two world wars, six British monarchs, and now Brexit, precisely because it has never lost sight of this fact, which displays a kind of brand integrity that is becoming increasingly rare in the saturated landscape of the luxury menswear market.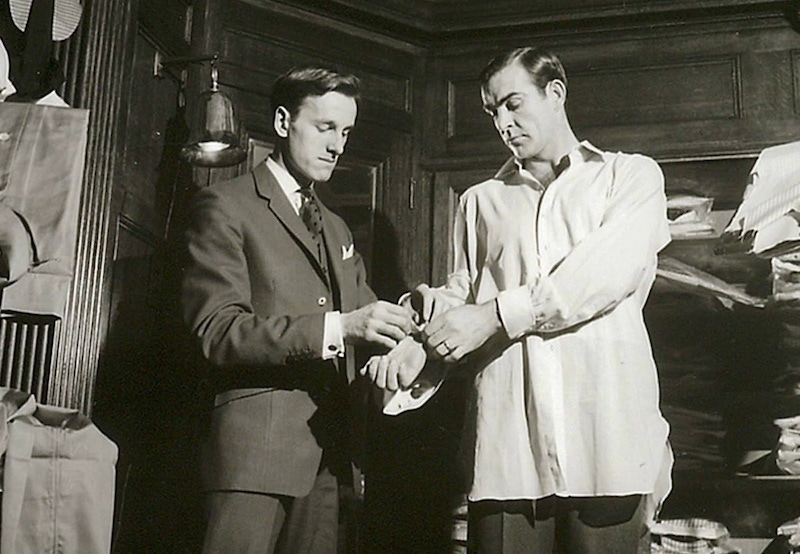 Originally published in Issue 52, June 2017. Click here to subscribe for more.