DAVID BOWIE: A LIFE IN STYLE
The Rake remembers iconoclastic musical genius and style shapeshifter David Bowie.
I recently wrote a rather
mean-spirited op-ed
for this site arguing that various figures from the arts might've been better placed (at least, insofar as the state of their legacies went) to have more hastily shuffled off this mortal coil. Though inarguably his creative output the last couple decades wasn't of nearly the same caliber as his seminal 1970s and '80s work, one name that never came close to consideration for that piece was David Bowie, who sadly departed this earth Sunday, 10th January 2016. The man was an absolute legend, right 'til the all-too-early end. For Bowie, image was as important a part of the 'product' as his genius compositions. Since style is core to The Rake's editorial remit, in remembering Bowie here, we'll leave deep examination of his musical canon to the likes of Rolling Stone and NME, and instead focus upon the artist's fabulous, enormously influential and constantly evolving aesthetic - his creation, through costume, characters and alter-egos almost as memorable as his greatest hits. Though theatrical razzle-dazzle and a strong look mean nothing without an underlying talent to back the artifice up, Bowie provided a sterling embodiment of the adage 'clothes maketh man.' Kicking off his musical career with a debut single in 1964, Bowie sported a neat quiff and skinny-tie-and-lapel look, which had morphed into full-blown Faces-esque Mod style by 1965 (when he ditched his birth name David Jones, thanks to the Monkee of the same name having risen to fame). A period of longhaired, floral-clad androgyny accompanied the release of his self-titled debut LP in 1967, before in 1969 the breakthrough Space Oddity album saw a glitzier, lamé-heavy sci-fi persona revealed. Conceptualising the character while touring in support of his subsequent two albums, The Man Who Sold the World and Hunky Dory, in 1972 Bowie built an album, The Rise and Fall of Ziggy Stardust and the Spiders from Mars, around the persona of a sexually liquid fictional rockstar - part man, part god, part extraterrestrial, all glam. Appropriately enough, Bowie drew the name Ziggy from a tailor's shop he'd happened to pass. 'I thought, well, this whole thing is gonna be about clothes, so it was my own little joke calling him Ziggy,' he explained in a 1990 interview, emphasising the importance of costume to the effort.
'Our new stage act will be outrageous, but theatrical,' Bowie told press before launching Ziggy onto an unsuspecting public. 'It's going to be costumed and choreographed, quite different to anything anyone else has tried to do before.'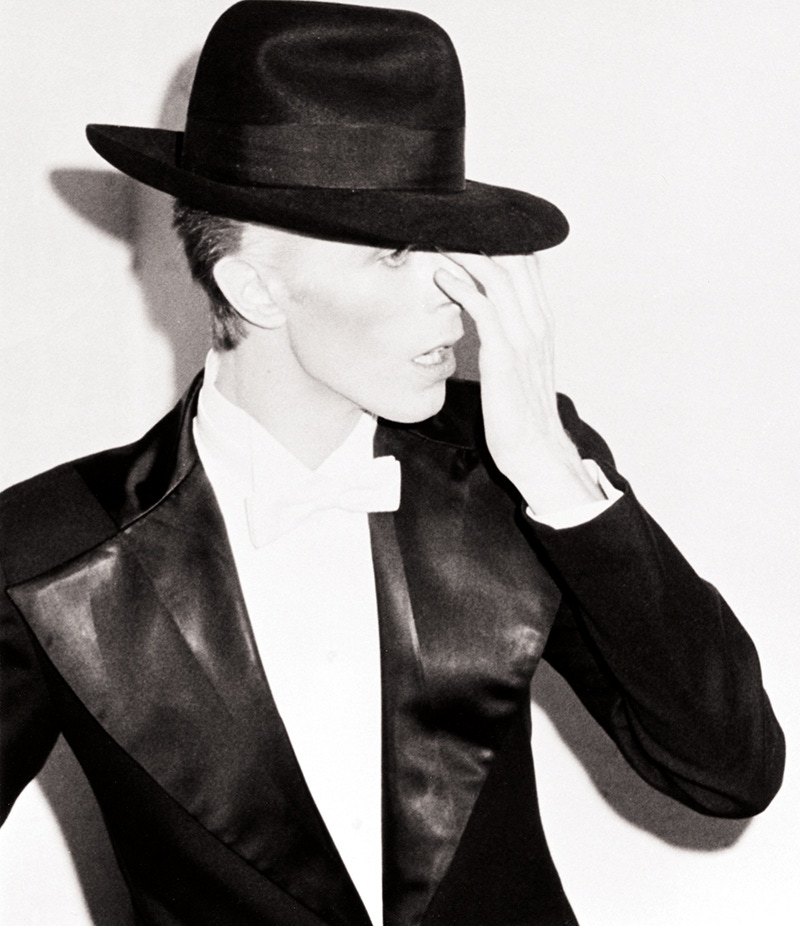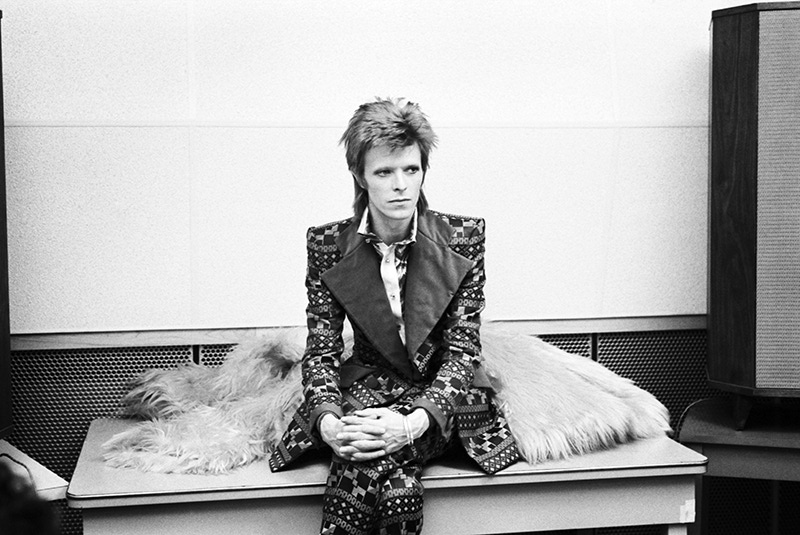 Japanese designer Kansai Yamamoto was responsible for much of the remarkable attire sported by Bowie around this time, not least a plethora of revealing skintight bodysuits - including one especially famous asymmetric knit number - and the spangly striped uber-jodhpur worn to promote his next album, 1973's Aladdin Sane. Freddie Burretti, meanwhile, dreamt up the quilted, patterned proto-Versace two- piece (inspired by Kubrick's Clockwork Orange Droogs' outfits) worn by Bowie in his groundbreaking 1972 performance of Starman on Top of the Pops, and the generously lapelled ice-blue suit worn in the Life on Mars? video. Around the time of the Pin Ups album - its cover, co-starring Twiggy, shot by Justin De Villeneuve - Savile Row iconoclast Tommy Nutter would become another Bowie go-to. Channelling an eye-patched 'cosmic pirate' in 1974-75 for the release of Diamond Dogs and Young Americans, the following year - at the height of his prodigious cocaine addiction - Bowie unleashed a character he termed a 'nasty ogre' and 'ice masquerading as fire', the arch anaesthesia of Colombian marching powder made flesh: The Thin White Duke, a slick, sharply dressed disco-era Mephistopheles. Hot on the cloven heels of 1977's Heroes, Bowie temporarily retired to Berlin, the fact that he was cleaning up in a chemical sense reflected in a newly natural look - a little bit punk, a tad tailored. The sartorial came to the fore shortly thereafter during Bowie's pastel-fancying 'plastic soul' period, around the release of the Let's Dance album. (Aficionados have, and will, diss me for this, but the yellow suit and artfully degagé bow-tie combo from the video for that album's lead single, Modern Love, distinguish I do believe one of Bowie's seminal style - and indeed musical -moments.)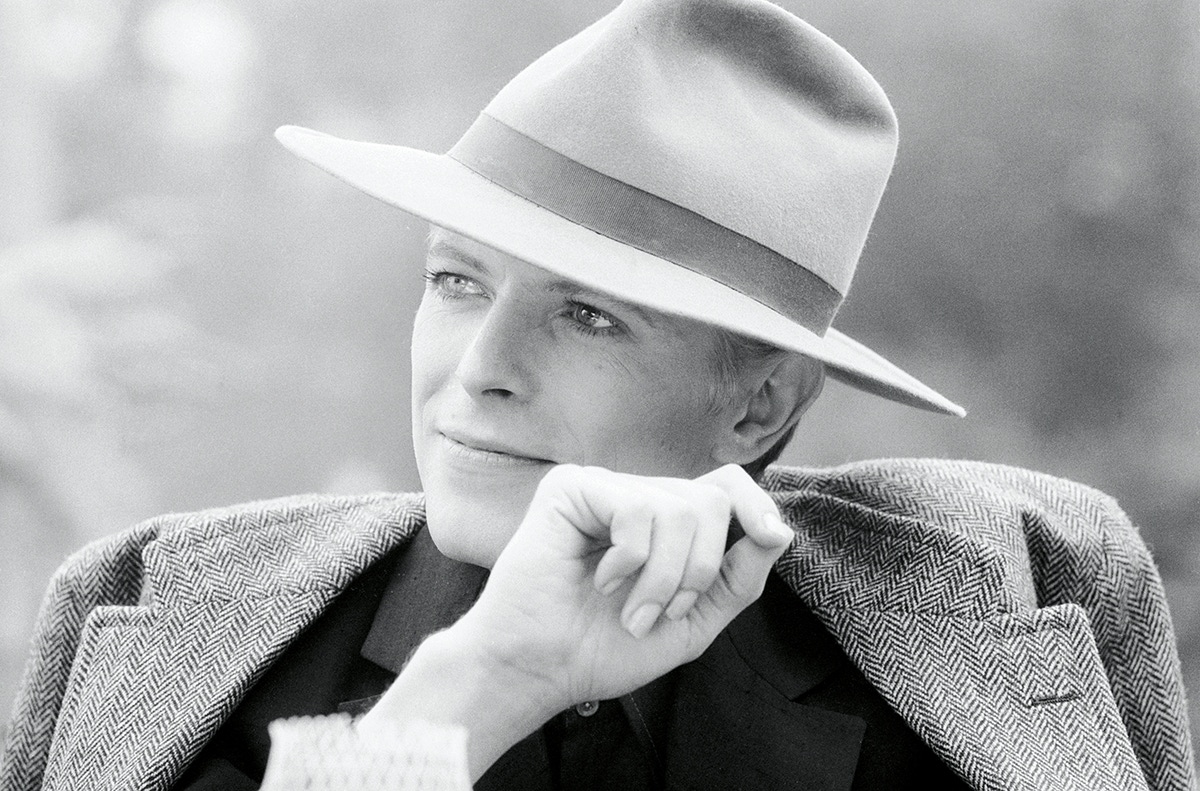 Not merely a troubadour, Bowie had brought his acting talents and significant stylistic aplomb to several feature films, including cult classics The Man Who Fell to Earth (1976) and Just a Gigolo (1978), making two notable appearances in 1983 - in The Hunger and Merry Christmas Mr Lawrence - and in 1986, taking memorable turns in Absolute Beginners and Labyrinth. He'd also modeled a remarkable batik jumpsuit, unstructured trench and Reebok aerobic sneakers combo in the very literally themed video for Mick Jagger duet, Dancing in the Street. While musically, the '90s and beyond saw Bowie in a gradual if graceful decline, he remained stylistically on point, notable fashion moments including the sharp, shiny suiting of the Tin Machine period; the Alexander McQueen union flag coat sported on the cover of '97 album Earthling; the patterned Etro vibe of the Y2K days; the luxe denim casual he rocked promoting 2002's Heathen album; and the effortlessly chic minimalism Bowie settled into for much of the past decade or so, dwelling in New York. He appeared ever more comfortable in his skin, and his clothes. Explaining the constant role-play of his career, Bowie once said, 'As an adolescent, I was painfully shy, withdrawn. I didn't really have the nerve to sing my songs on stage... I decided to do them in disguise so that I didn't have to actually go through the humiliation of going on stage and being myself. I continued designing characters with their own complete personalities and environments.' Later in life, he said, 'as you get older you become the person you always should have been, and I feel that's happening to me. I'm rather surprised at who I am, because I'm actually like my Dad.' From Stardust and Aladdin to Duke and Dad, every role Bowie played, he did so with aplomb - and in superb style. Godspeed, Starman.
https://youtu.be/4B5zmDz4vR4