Joey Ramone: Punk Magus
There is only one man who could sing 'I met her in a Burger King/fell in love by the soda machine' - and make it sound cool. We give you Jeffrey Ross Hymen, otherwise known as Joey Ramone.
A few years ago, a new character made his debut on
Noel Fielding's Luxury Comedy
, a surreal British sketch show from the former star of
The Mighty Boosh
. 'Joey Ramone', a stop-motion plasticine version of the
punk
icon with freakishly long legs, blue hair and no arms, stars in a series of skits parodying the cosily patrician children's television shows of the 1960s and seventies: his legs are sliced off and redeployed as golf clubs, and he mistakenly dons his mother's frilly swimming costume at the beach, yet he maintains a perverse, plasticised dignity throughout. "It wasn't that great a leap of faith to make," Fielding has said of the sketches. "To me, Joey Ramone was always a cartoon character." If so, he occupied the anarchic
Looney Tunes
end of the spectrum, the antithesis of any sanitised Disney vision. The Sex Pistols may have brought anarchy to the U.K., but the Ramones, formed in New York in 1974, were the true harbingers of punk. Their music and image amounted to a scorched-earth insurrection visited on an American musical landscape sunk in soporific A.O.R. and F.M.-radio complacency. Their first album, released in 1976, is the starkest statement of intent: the quartet, in beat-up
biker jackets
and
jeans
, slouch against a graffiti'd brick wall; the songs gallop along with primal 160bpm urgency before hitting a self-same wall of buzzsaw feedback, many well shy of the two-minute mark. At the centre of it all is Joey Ramone's signature tenor bleat, accessorised with hiccups, snarls and croons, articulating a punk manifesto in aural assaults like
Beat on the Brat
("with a baseball bat"),
Now I Wanna Sniff Some Glue
, and the opening
Blitzkrieg Bop
: Hey, ho, let's go/Shoot 'em in the back now/What they want, I don't know/They're all revved up and ready to go… And while the Ramones were a gang — Joey and band mates Johnny, Dee Dee and Tommy had all adopted the surname, inspired by a stage name, Ramon, that Paul McCartney used in the early days of The Beatles — it was Joey's singular presence, nearly six-and-a-half-feet tall, with a mop of unruly dark hair and omnipresent
shades
framing a pale, angular face, that got audiences revved up and ready to go. "In Dublin, in 1977, when I saw Joey singing, I knew nothing else mattered to him," says Bono of U2, whose latest album,
Songs of Innocence
, opens with a track called
The Miracle (of Joey Ramone)
. "Pretty soon, nothing else mattered to me. The Ramones stopped the world long enough for U2 and other garage bands to get on. They invented something — punk
rock
— but they offered even more than that. It was the idea that your limitations were what made you. Your street, your neighbourhood and your record collection were the size of your universe."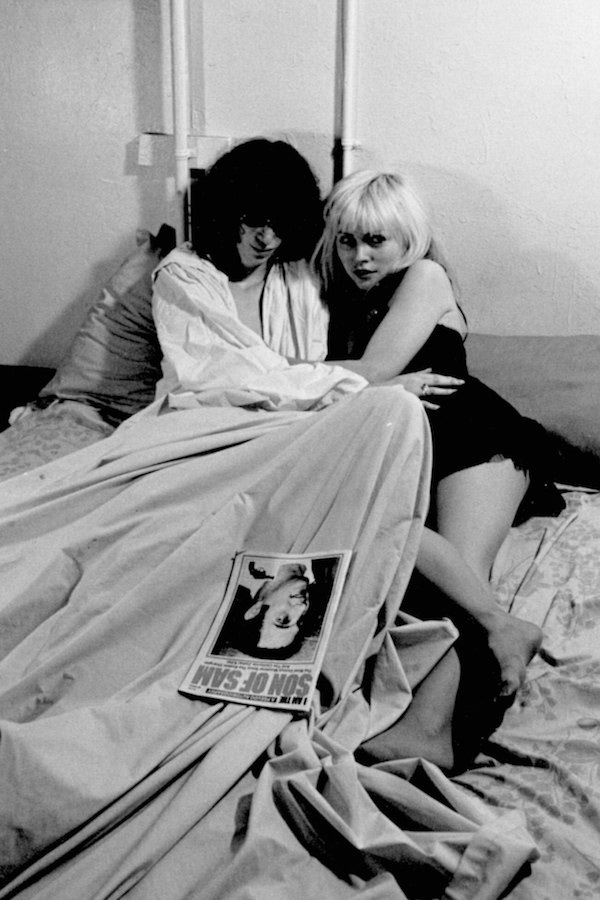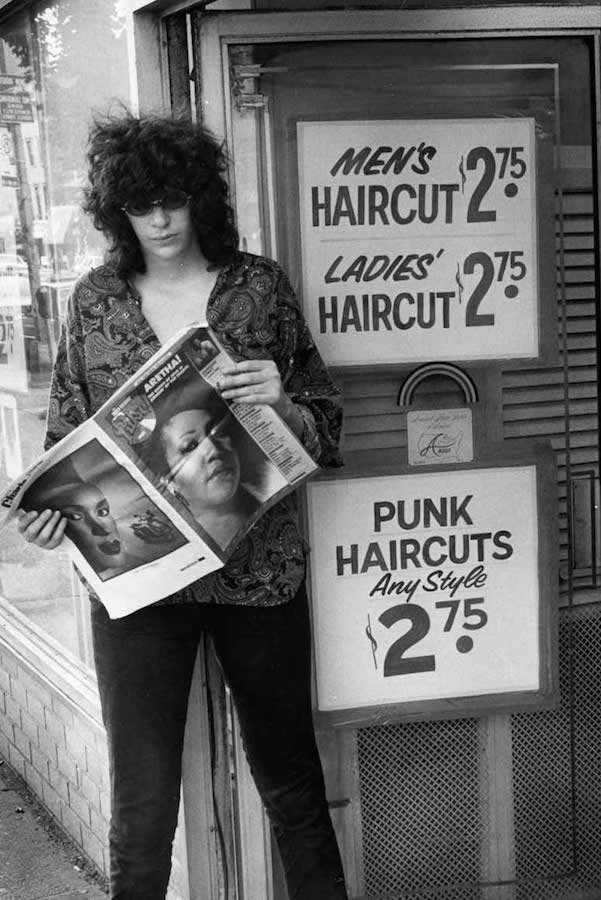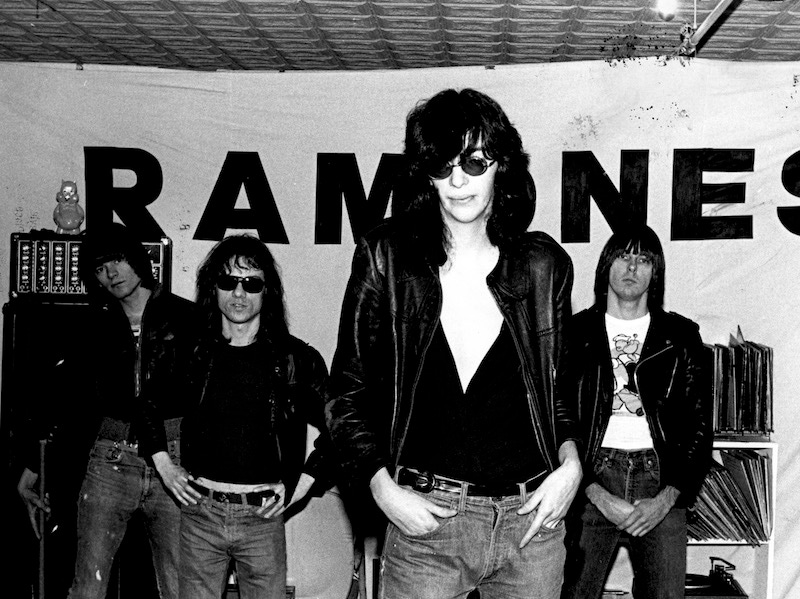 Joey knew more than most about limitations. He was born Jeffrey Ross Hyman in Queens, New York, in 1951. His parents divorced in the early sixties, and death and separation put paid to a couple of subsequent stepfathers, all of which did nothing to alleviate the young Jeffrey's intense shyness. He developed Obsessive Compulsive Disorder, with his mother, Charlotte, dragging him to doctor after doctor, some of whom opined that he would be unable to function in normal society. "It was very difficult growing up, sharing a room with someone turning the lights on and off and running the water in the bathroom for hours and hours," recalled Mickey Leigh, Joey's younger brother. His condition, coupled with his towering height, made him a frequent target for school bullies; some wish-fulfilment may have been in play in the Ramones' 1979 movie,
Rock 'n' Roll High School
, which climaxes with misfit students taking over the institution before it's blown to smithereens. Back in the sixties, the proto Joey found solace in his transistor radio. "Rock 'n' roll was my salvation," he told one interviewer, and his major influences included the Stooges,
David Bowie
, The Beatles, The Who (he called Pete Townshend his idol, and shared a birthday with him), and the Phil Spector-produced girl groups. He started playing drums after his mother bought him a snare with supermarket stamps, and he had a brief dalliance with glitter-rock before joining forces with fellow high-school mavericks John Cummings (Johnny), Douglas Colvin (Dee Dee) and Thomas Erdelyi (Tommy). They shared a disdain for bloated seventies rock trappings and a desire to take things back to what Tommy called "that propulsive, straight-ahead source". Their guileless piledriving marked the Ramones out from their more art-rocky, CBGB-resident peers, such as Television, Talking Heads and
Blondie
, with Joey personifying their commitment. "He was a fragile beanpole who was prone to sickness and injury throughout the Ramones' 22-year career," wrote David Fricke in an appreciation for
Rolling Stone
magazine. "But Joey radiated a gladiator conviction out of all proportion to his physique and the endearing hiccup in his voice. He was like a skyscraper in a leather jacket, the Empire State scarecrow." During their lifetime, the Ramones were largely prophets without honour. Only two of their 14 albums made it into the Billboard top 50, and Joey was to receive only one gold disc in his lifetime, for the 1998 compilation
Ramones Mania
. Like The Velvet Underground, their influence far outstripped their commercial success; also like their storied predecessors, internal tensions, particularly between Johnny and Joey, were never far from boiling over. The two disagreed about everything from the direction of the band (Johnny was a punk purist, Joey more willing to experiment) to politics (Johnny was a die-hard Republican, Joey an outspoken liberal). The situation wasn't helped when Johnny began dating Joey's girlfriend Linda Daniele: the pair eventually married, inspiring both inclusion in a
Time
magazine list of 'top 10 love triangles' and the optimistically titled Ramones track
Merry Christmas (I Don't Want to Fight Tonight)
. But through it all, the band persevered. "We weren't going to let anything knock us down," Joey said. "There was always something thrown at us — the odds, the obstacles, the bullshit. You just gotta press on."
Through all the professional and personal tribulations — after the Linda imbroglio, and, despite heartfelt pleas in songs such as
I Wanna Be Your Boyfriend
, Joey never married or had kids — he maintained a modest off-stage demeanour. "He would sit in a protective hunch," Fricke wrote, "his broad Queens accent regularly punctuated by a shy, cartoonish chuckle." After the band split, in 1996, he repaired to an unassuming lower-Manhattan apartment that, with its tottering towers of vinyl, scattered C.D.s and strewn memorabilia, resembled an exploded record store. He became a kind of East Village punk magus, championing new music he loved and weaving his way down St. Mark's Place while signing autographs for anyone who asked. "I remember meeting certain artists I admired and them being real obnoxious," he once said, in one of his rare public pronouncements. "That wasn't how I wanted to be."
The year after the Ramones split, Joey was diagnosed with lymphatic cancer. He continued to indulge his passions — sushi, Frappuccinos, video games, playing the stock market; he'd become a keen student of the latter — and was halfway through the recording of a solo album when he was hospitalised at the end of 2000. His condition worsened, but, according to Danny Fields, the Ramones' manager, he never stopped believing that rock 'n' roll had granted him a kind of miraculous immortality. "There weren't many avenues for Joey to be a hero," he said. "He wasn't going to be a fighter pilot or a trial lawyer or a senator. He found rock 'n' roll, and it found him, his heroism."
Joey died on Easter Sunday, 2001, aged just 49 — like the Ramones' best songs, his life had a blunt brevity that left the audience wanting more. "By simply being himself, Joey stuck up for all the kids who didn't fit in, who felt shut out, put down and alone," wrote Donna Gaines, a journalist and friend of Joey's, which is why he has continued to be an influence on all those square pegs who don't see why they should have to fit into round holes, from Noel Fielding to Kurt Cobain. Two years before he died, Joey was still speaking of his band in the present tense: "When I put the Ramones on the stereo now, we still sound great," he said. "And that will always be there. When you need a lift. When you need a fix." Aside from the band's belated inclusion into halls of fame and all-time-best lists, and the whimsical cartoons that continue to herald him as a standard-bearer for nonconformists, there could be no greater tribute than the fact that the Joey Ramone Place sign, installed as a mark of respect on the corner of Bowery and East 2nd Street, is New York's most stolen. Now there's an accolade that Joey Ramone would appreciate.
Originally published in Issue 44 of The Rake, February 2016. Subscribe here for more.