Living Artwork: Turnbull & Asser and Mo Coppoletta for The Rake
Turnbull & Asser and Mo Coppoletta have collaborated once again on a new creative project.
"It is the unstable nature of denim — the fact that it fades, shows signs of age and wear, tells the story of your interaction with it, and becomes a physical repository of your memories — that makes it so fascinating as a material," says Dean Gomilsek-Cole, Turnbull & Asser's Head of Design. And what you should know is that, although he heads the single-most fabled British shirtmaker, holder of a Royal Warrant and outfitter to ever iconic British men, from Winston Churchill to the Prince of Wales, Gomilsek-Cole and the other denizens of
Turnbull & Asser
are rooted in the prevailing aesthetics of the modern world and in possession of that one elusive quality: genuine, unadulterated and irrefutable coolness. So when the idea of collaborating with one of Britain's most renowned tattoo artists, Mo Coppoletta, was broached, he seized the opportunity. "Tattooing in England has a remarkable history," says
Gomilsek-Cole
. "It was brought here by sailors from James Cook's expedition to the South Pacific, where they met Polynesians who had decorated their bodies with inked designs." Coppoletta adds: "What most people don't know is that the earliest adopters for tattoo culture was high society, military officers and even royalty." Indeed, Sutherland Macdonald, the first tattoo artist in Victorian England, tattooed several of the Queen's sons, as well as the kings of Denmark and Norway. Tattooing became so popular among the haut monde that King Edward VII, who acquired a large tattoo of a Jerusalem cross after his visit to the Holy Land, became one of the art form's greatest advocates. When his sons the Duke of York (later King George V) and the Duke of Clarence visited Japan, he bade their tutor to deposit them at the premises of master tattoo artist Hori Chiyo, who decorated both of their arms. This gave rise to the increasing popularity of tattoos in the upper ranks of the military, perfectly expressed by Field Marshal Earl Roberts, who urged his men to emulate his enthusiasm for the art form. He stated with absolute certainty and typical sangfroid: "Every officer in the British Army should be tattooed with his regimental crest. Not only does it demonstrate esprit de corps but assists in the identification of casualties." James Fayed, Turnbull & Asser's owner and an occasional visitor to Coppoletta's iconic studio The Family Business, says: "The more we researched tattooing in Victorian England and throughout the 19th century, the more we felt a spiritual kinship for the art form." Says Coppoletta: "I was inspired by vintage military bandages that showed you how to bind and dress injuries with these illustrations. I thought it would be both humorous and practical to illustrate how to utilise the square in different rakish situations, such as swaddling a newborn baby or covering a puddle for an elegant woman to walk over."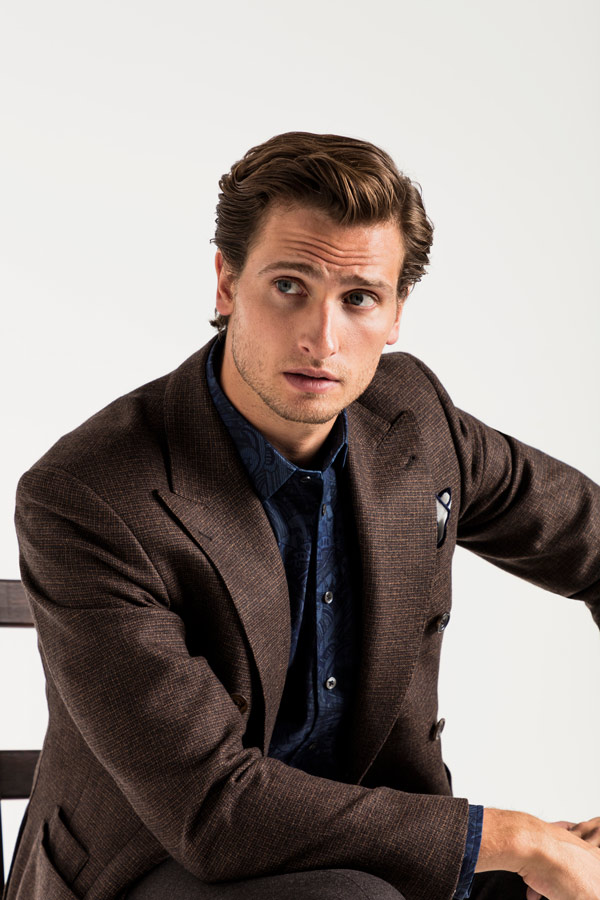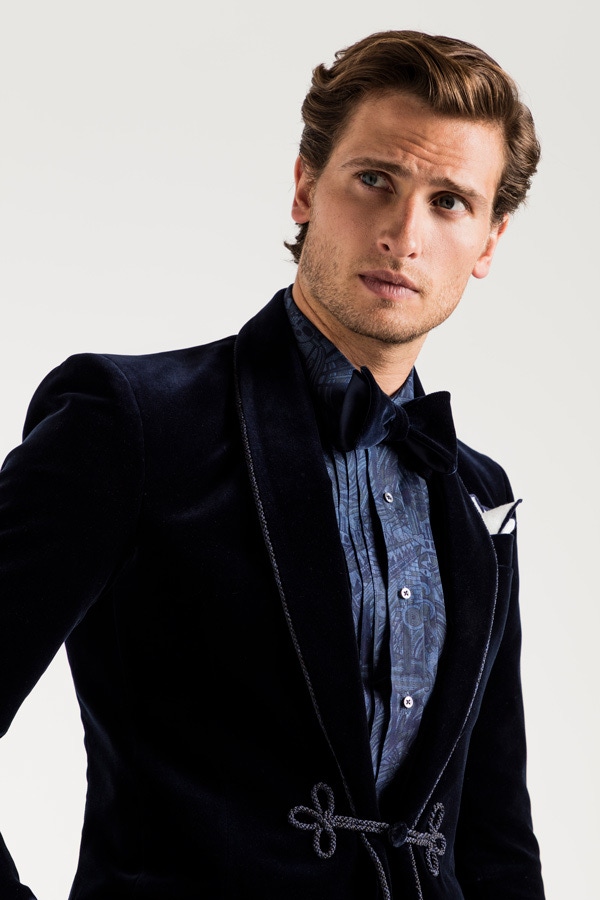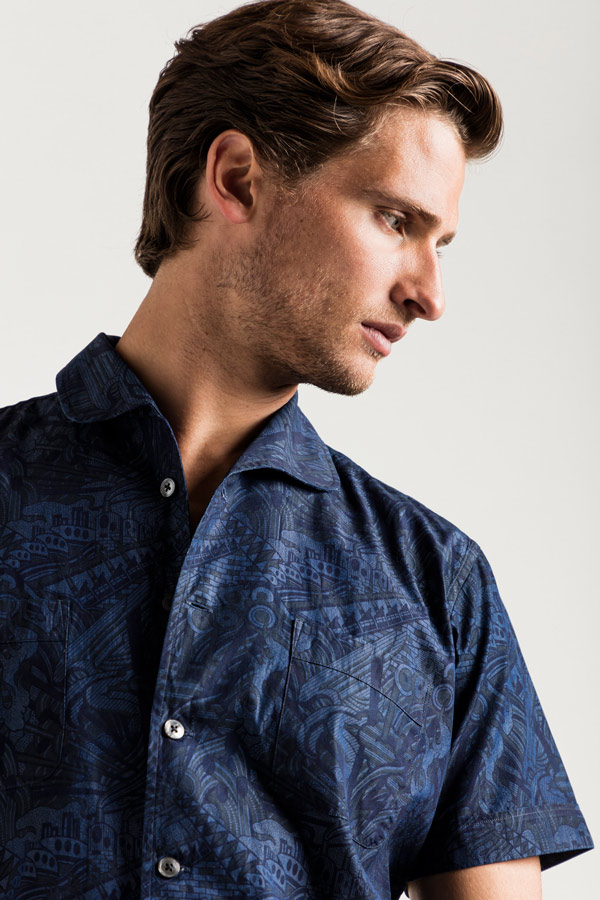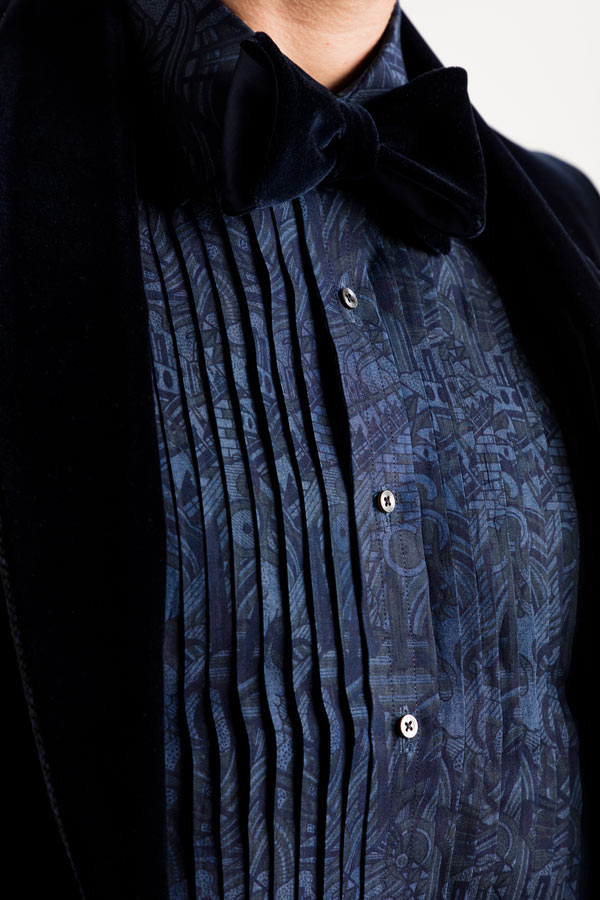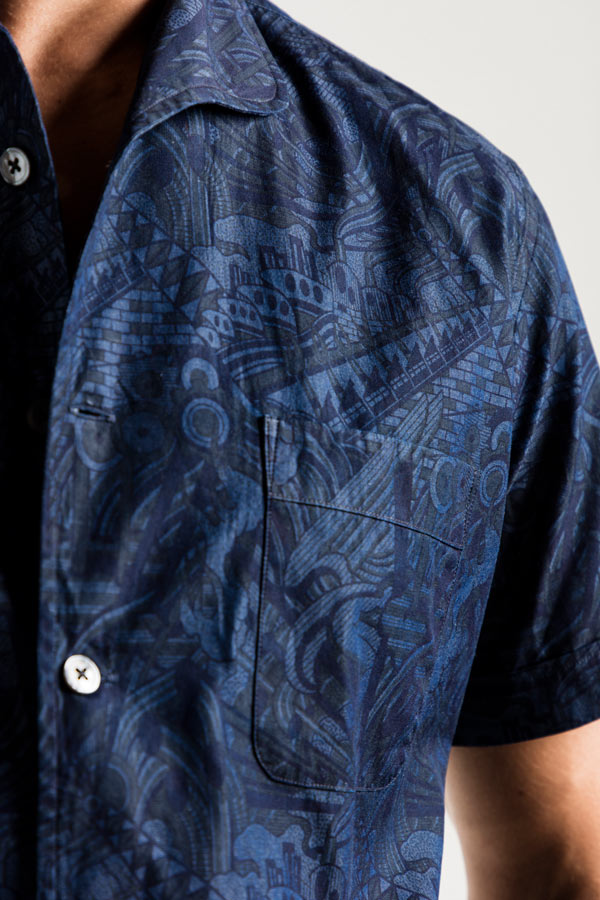 Having collaborated before, on the
Mega-Square
and the
Furious Eagle
pocket square, Coppoletta and Gomilsek-Cole were spurred to ever more ambitious heights, this time in the form of three stunning denim dress shirts. The
first
is a traditional signature dress collar Turnbull & Asser shirt in all its iconographic glory. The
second
is short-sleeved and features a distinct Resort-style one-piece collar designed to be worn open for a more effortlessly casual vibe. The design of this particular shirt is steeped in Turnbull & Asser historic lore. After the death of a particularly rakish customer and a former WWII pilot, his Resort collar shirt was found among his prized possessions and returned to Turnbull & Asser for their archives. Bestowed with the sobriquet Garment 57 by the in-house team, they were so besotted by its casual-cool style that they felt a moral and stylistic imperative to resurrect it. Says Gomilsek-Cole: "It's a style that is totally unique to Turnbull & Asser and the perfect demonstration of the casual elegant sports chic look that has become one of the most dominant categories in modern menswear." The
third
style is Turnbull & Asser's mythical soft collar, pleated front evening shirt. What makes these shirts distinct in the sartorial universe is that they are made from denim and printed with unique artwork created by Coppoletta. "If we wanted to create a homage to England's fascination with tattooing and its permeation into high and royal society in the 19th century, I knew that the design I created had to be rooted in the same era," Coppoletta says. "This was a fascinating time because the United Kingdom was transforming from an ancient to a modern country through the industrial revolution. The industrial revolution began in England, and most of the technical innovations of this period are English in creation. So I wanted to create an artwork that evoked steel beams, construction, steam engines, docks and all the things that forged the future. I looked at the Italian futurist painters like Giacomo Balla and Umberto Boccioni and incorporated the rhythm and surface tension of their style into my design." Says Gomilsek-Cole: "The original artwork, the details, the creativity and expressiveness just blew us away. What I love about it is that it totally usurps your expectations of what a tattoo artist would create. I think this inventiveness is why Mo has collaborated with companies such as Rolls-Royce in the past and why we wanted to work with him again. What is particularly cool about the shirts is that Mo's artwork is a little bit obscured at first because of the deep indigo of the new shirts. But the more you wash them, the more the design is revealed to you. And I find this kind of interaction with these shirts to be incredibly charming, because the customer gets to see more and more revealed to him as the years pass." Says Fayed with a smile: "These are more than shirts. They 
are living artworks."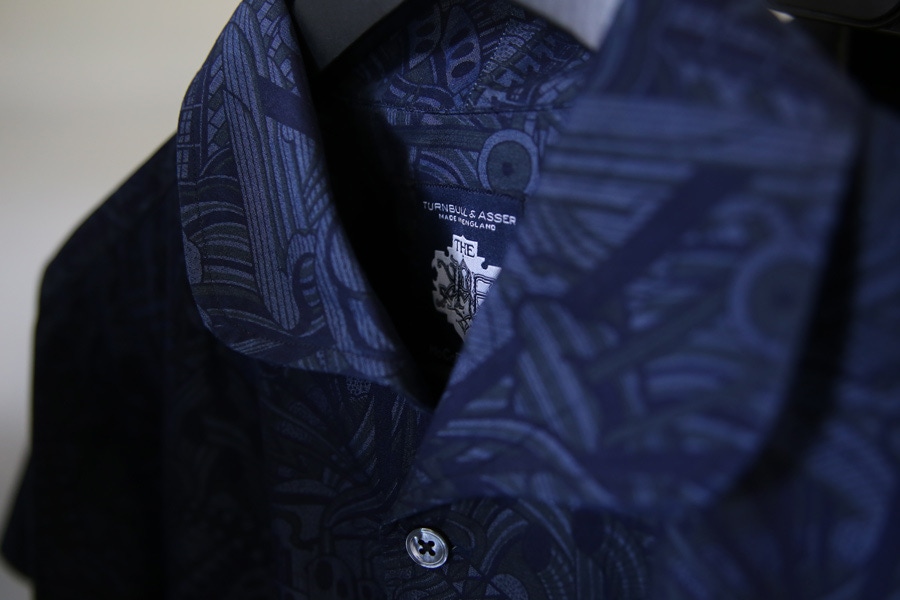 Fashion Assistant: Veronica Perez Photographer's Assistant: Sam Robbins Grooming: Michael O'Gorman Model: Tom Warren.