Lock & Co. Hatters' Storied Heritage
As one of the world's oldest family-owned businesses, famed British hatmaker Lock & Co. has a strong reputation – and its bastions are proudly committed to upholding it.
Founded in 1676, Lock & Co. is the world's oldest hat shop and among the longest-lasting family-owned businesses in existence. "First and foremost, being a family-owned business brings a strong sense of commitment and duty," says Roger Stephenson, Deputy Chairman at Lock & Co. "Being a seventh-generation family member, I feel an obligation to the business to pass the brand on in good health and ensure the DNA and heritage are protected for the next generation." This custodian quality, Stephenson says, is also felt by the other board and family members, who want to maintain the prestige of being the world's 34th-oldest family-owned business. "Especially when coupled with us holding two royal warrants, for which I am personally the grantee." In stewarding the business into the future, Stephenson says, "For me, it's about Lock's long-term outlook and ensuring we stride forward with determined continuity." In recent years, the company has maintained a contemporary footing via collaborations with brands including A Bathing Ape, Nicole Fahri,
Turnbull & Asser
, Mackintosh,
Vivienne Westwood
, and Todd Snyder, and will soon launch mash-ups with Orlebar Brown and The Rake x Vitale Barberis Canonico. While most hat shapes remain in the old-school mould, each season, Lock & Co. will experiment with new fabrications and compositions. Two good examples of this dedication to classically-styled forward-thinking are the
St James's fedora
, made from 90 percent beaver and 10 percent mink fur felt (Lock & Co. is the first British hatter to offer this blend), and the new Dover watch cap, created in conjunction with the
Harris Tweed
Authority. Another is the Watchman beanie, a recent collaboration with Scottish cashmere specialists Johnstons of Elgin that's been sported by the likes of Guy Ritchie and menswear model Richard Biedul. You can't plan for the future without knowing the past, as they say, and while certainly moving with the times, Lock remains justly reverential of its history. Marketing manager Hannah Rigby details a few highlights from Lock's 341 years in operation. "In the 17th century, our shop was founded by the entrepreneurial Robert Davis, who had the foresight to open in the increasingly fashionable West End. The proximity to the Royal Palaces and aristocratic residences made St James's Street an ideal location to start a hat shop, serving politicians, royals, the military and household staff alike," Rigby explains.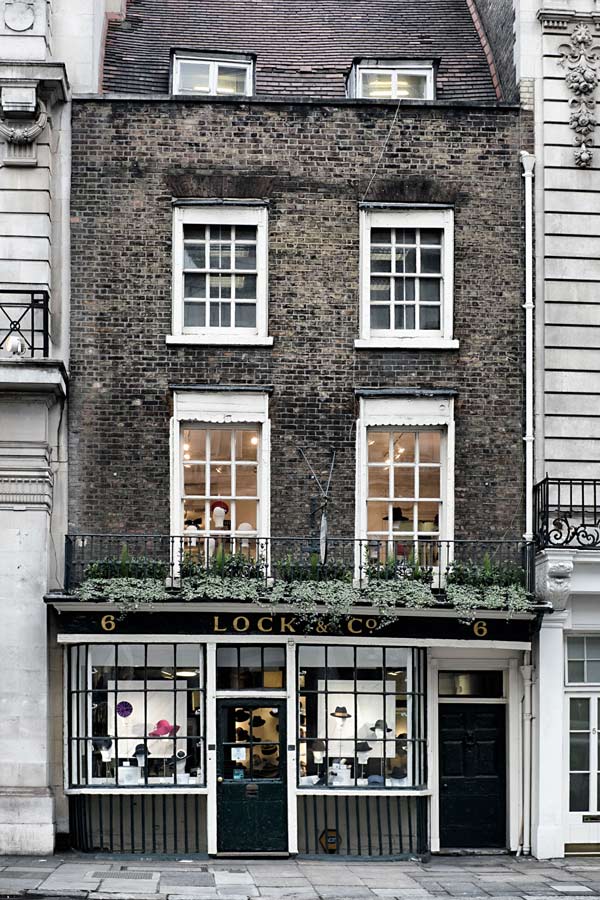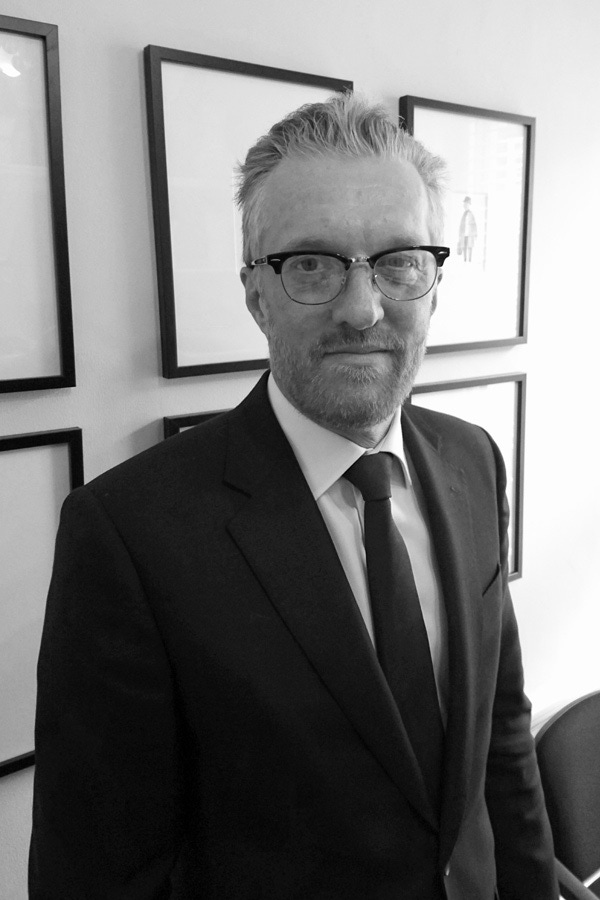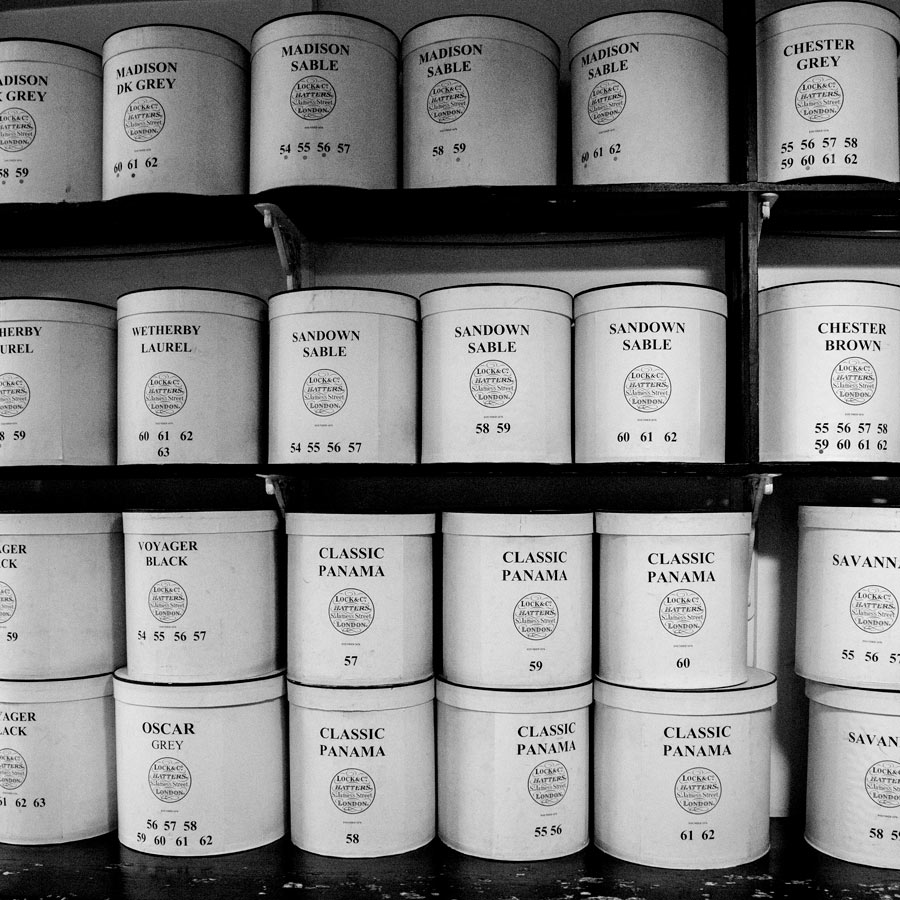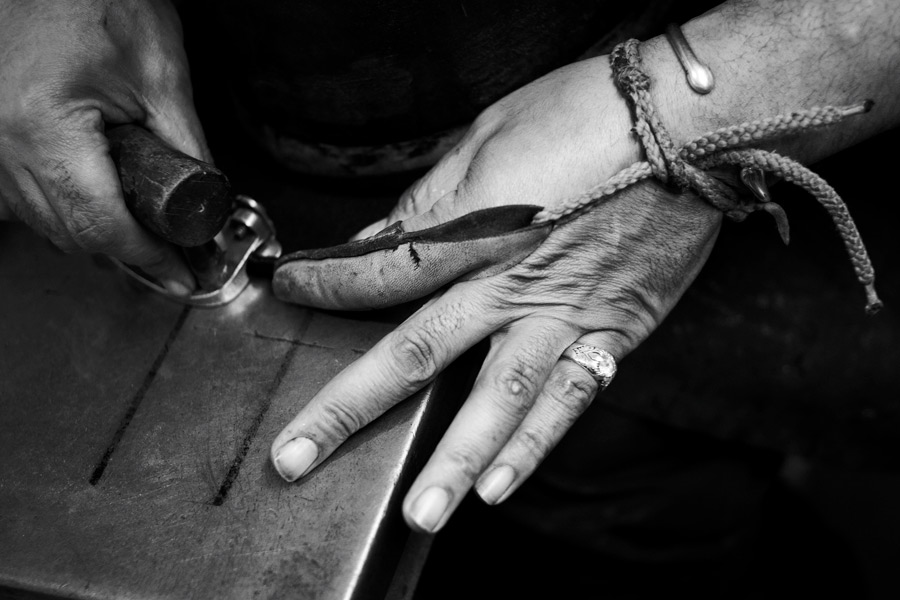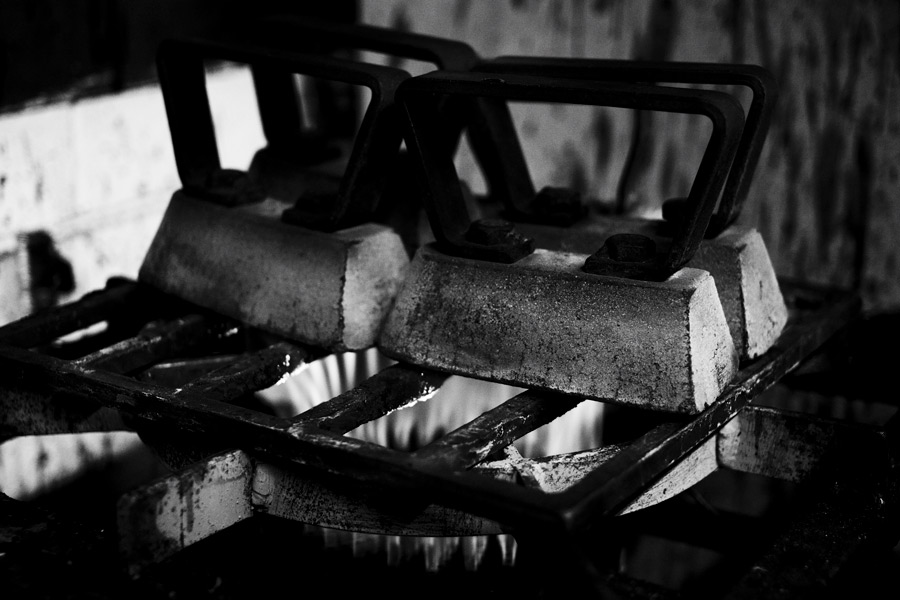 In the 18th century, she says, "We saw a real shift in hat wearing mainly due to the different hair styles worn by men. Elaborate wigs became a thing of the past and men began to wear beaver fur felt top hats. But it was in the latter half of the century that the silk top hat — known as hatters plush — rose to popularity and really put Lock & Co. on the map. We became the destination for top hats, selling thousands a year. It was also in 1759 that James Lock moved the shop across the road to where we are today, due to the eastern side of the street being sunnier and thus more popular with clientele." According to Rigby, "Probably the most documented story of Lock's history happened in 1805. Admiral Nelson had been a loyal customer for years but the bicorne hat he'd ordered from Lock was the one he died wearing on board HMS Victory at the Battle of Trafalgar." Several decades later, Edward Coke ordered a new style of hat for his gamekeepers to wear on the Holkham estate in Norfolk. "This hat, commissioned by Lock & Co. to be made by the Bowler brothers, went on to become one of the most iconic hats of all time. We still provide bowlers to the Holkham estate today and sell a great many to customers both here in the shop and through our website. The bowler's distinctive silhouette has not changed much since its creation in 1849, and it remains one of our most sought-after hats." As far back as the early 1900s, tweed flat caps have been made and sold at Lock & Co. "During the war years, we had our very own cap-maker, Mr. Block, and today we continue to make our caps in the UK using British tweeds," says Rigby. Over the past 100 years, Rigby remarks, "Lock has become renowned for hatting notable politicians, most famously Prime Ministers
Sir Winston Churchill
— a silk top hat for his wedding day, the Cambridge, Homburgs and bowlers — and Sir Anthony Eden. In 1953 Lock & Co. received a request to reline the Coronation crowns for the now HRH Queen Elizabeth. And it was in 1962 that Charlie Chaplin visited Lock for his bowler."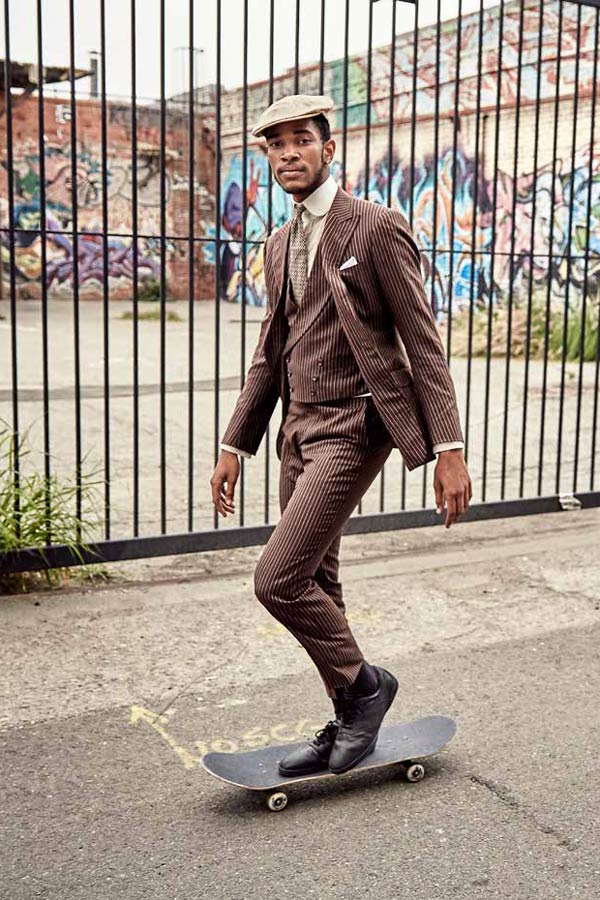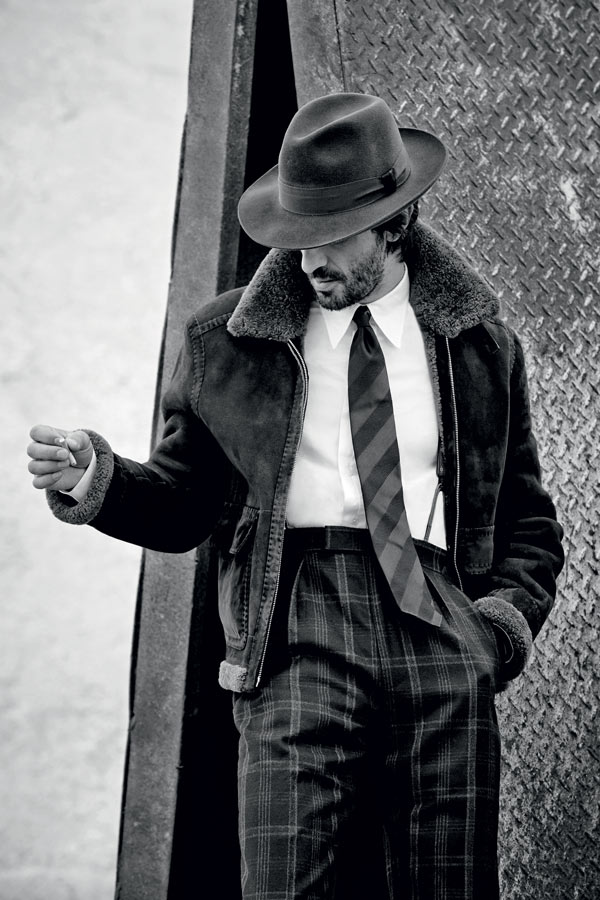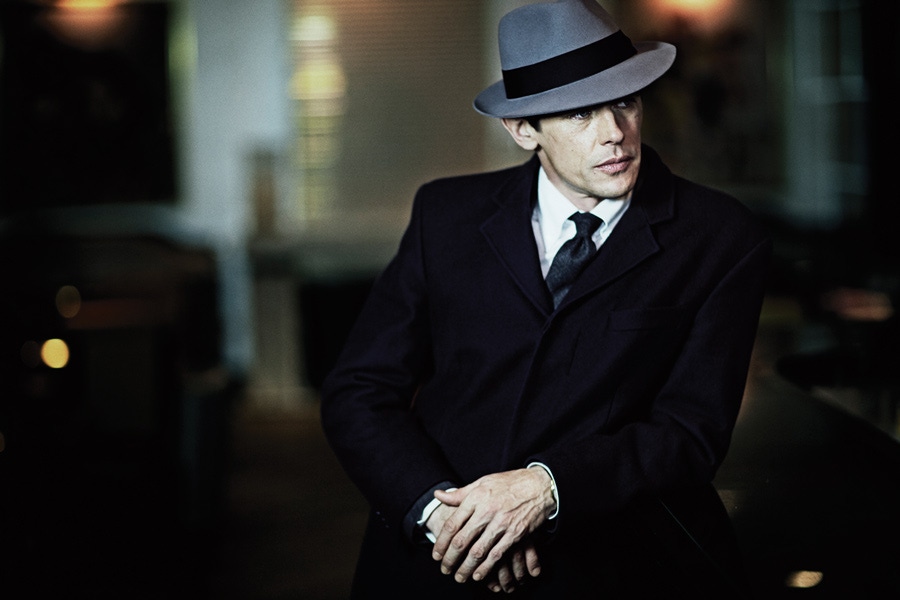 Lock & Co.'s grey felt and fur fedora in issue 38 of The Rake. Photograph by Thomas Lavelle. Though 'awfully English' bowlers and posh top hats are a signature of Lock, men's bestsellers today include fine
Panamas
in the summer and felt trilbies and fedoras in winter. Women's needs have also been seen to via a millinery division, established in 1993. "Our couture designs have graced some of the most famous heads, whilst the women's ready-to- wear offering has gone from strength to strength," Rigby says, with Lock's couture creations now "synonymous with Ladies' Day at Ascot." Male or female, Mayfair local or curious tourist, new customer or prolific consumer, Lock & Co. strives to serve all equally. "One of the best and most endearing things about our customers is that no two are alike," Rigby says. "We are hugely honoured to have people visit from all four corners of the world and across the age spectrum. We have customers whose forefathers shopped here, through to those who enter our green door for the first time having seen a hat or cap in a magazine." Rigby says, no matter who they are, "Every customer is treated in exactly the same way — each relationship is incredibly discreet and we do our utmost to honour their privacy. Of course, we do see some of our famous customers then go on to be photographed in the media and thus word gets out. But we are a hatter here to serve everyone and we're very proud to do so." If you're not able to sample Lock & Co.'s peerless service at their storied shop at 6 St James's Street, London, peruse the hatmaker's wares here at
TheRake.com
(where we also promise a superb buying experience).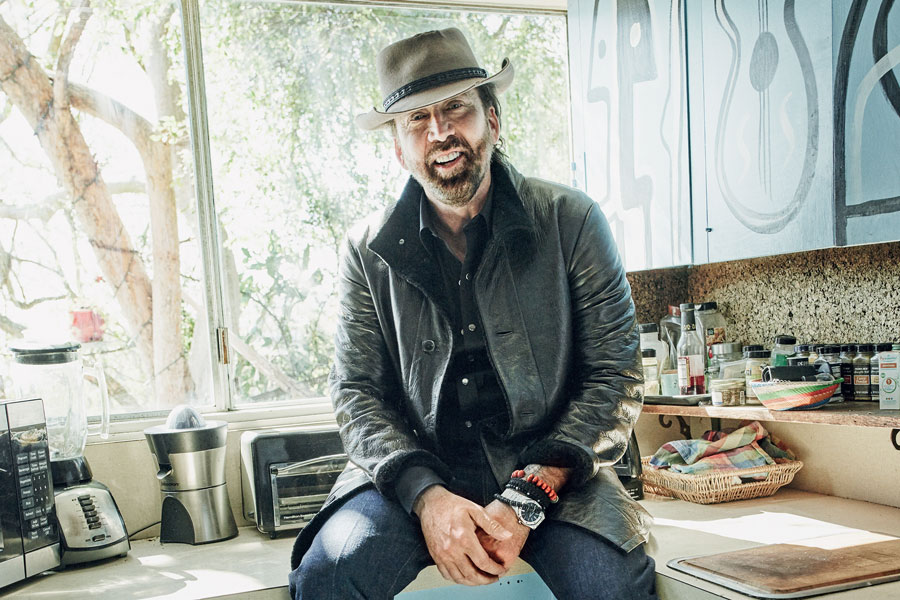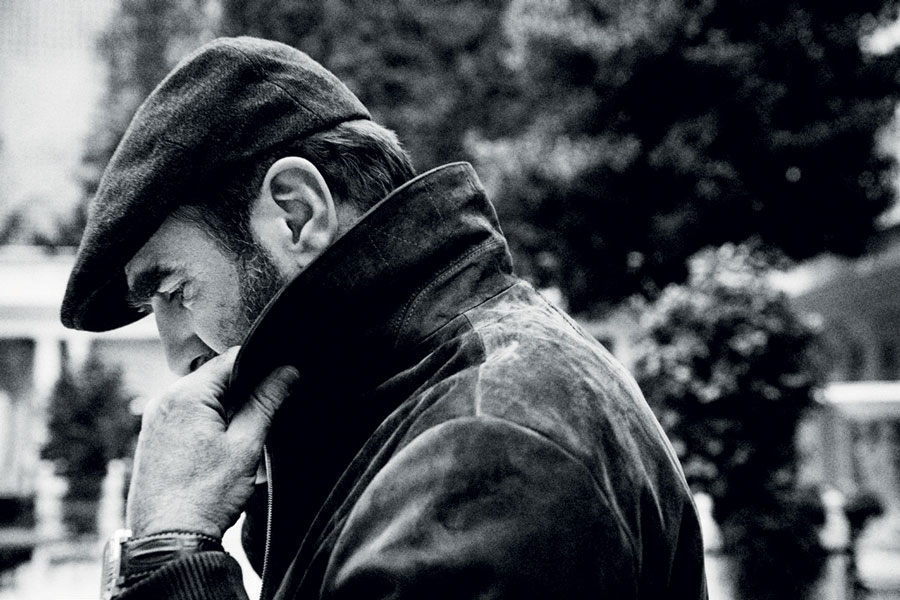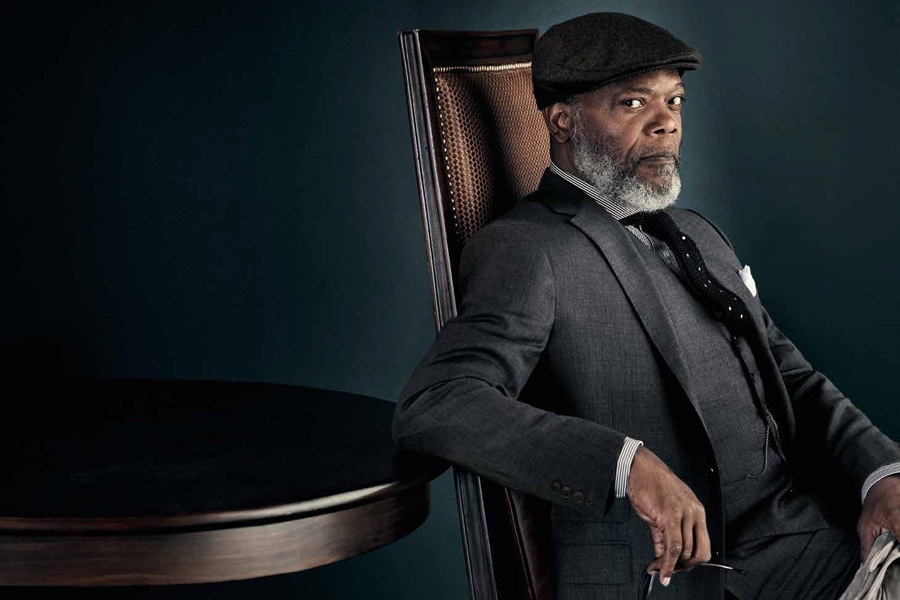 Samuel L. Jackson wears a charcoal-grey wool cap by Lock & Co. in issue 39 of The Rake. Photograph by Tomo Breje.