Nice Body of Work
Karl-Freidrich Scheufele, the co-president of Chopard, gives The Rake an exclusive tour of his collection of vintage cars, and explains why fine watches and classic automobiles have much in common.
Anyone who has attended the annual Baselworld watch fair will have seen the vehicles that carry the V.I.P.s of the horological world to and from the cavernous halls. The Maserati Quattroporte is popular, as is the long, black Benz. The occasional Phantom even makes its presence felt. But you won't find Chopard boss Karl-Friedrich Scheufele in the back seats of any of them, because he's more likely to be behind the wheel of his immaculately preserved, 45-year-old, Brewster green Bentley T2. 'It's my Basel car - I've been driving to the show in it for 20 years and wouldn't think of going in anything else. It brings meluck,'hesays. Indeed, when it comes to the twin passions of classic cars and fine watches, few can match Scheufele's enthusiasm. So who can blame him for entwining the two through Chopard's tireless support of historic motoring events such as the Mille Miglia and the Monaco Historic, through the brand's sponsorship of Porsche Motorsport, and through his long- standing personal friendship with the legendary Belgian racing driver Jacky Ickx?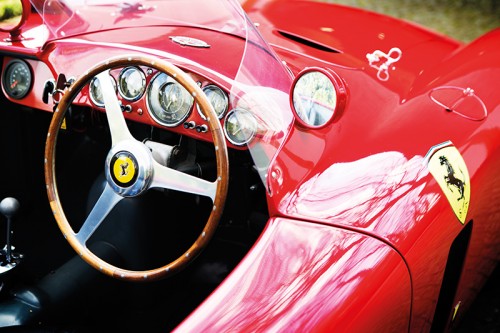 True, tie-ins between watch brands and the old car world are not unusual. But in this case it's sincere, because Scheufele's love of classic automobiles is a genuine passion. And if you need proof, take a look at his motorhouse ... It is not something that many people get to do, so
The Rake
felt privileged to be invited to see the collection (or a part of it, at any rate), which is kept at the Scheufele family home on the shores of Lake Geneva. On the day we arrived, shortly after the close of Baselworld, Scheufele was shaking off a show-induced bug, but he wasn't going to let that get in the way of an opportunity to talk cars. That said, and as I've discovered over the past decade or so, he's not always keen to talk numbers. 'When people ask us how many cars we have in the collection I try not to be too specific,' he says. 'My father (Karl) and I both agree that as long as neither my wife nor my mother know the true figure, we still might have an opportunity to go and buy just one more without being found out.' He's been saying that to me for years - and I know for a fact that 'just one more' has been added on several occasions, resulting in a line-up that any classic car fan would give his (or her) eye for. There are Aston Martins (Ulster and DB5); Porsches (356 Speedster and 911 RS); Ferraris (Monza 750 Barchetta and 275 GTB); Bentleys (R-Type and 1929 three/four-and- a-half litre); even a humble 1965 Mini Cooper. The list goes on, becoming more eclectic by the year. As for Scheufele's latest acquisitions, he says: 'Well, there have been one or two, actually. We bought a vineyard in the Périgueux region of France a little while ago, and along with it came a Renault 4.' He fails to hide the possibility that he might have been as excited about acquiring the car as he was the vineyard. 'It was well used and I wanted it to be put back into good condition, so I took it to a restorer who was recommended to me by Jérôme de Witt, another person in the watch business who is also passionate about old cars. What I hadn't expected, however, was that this restorer would put me on to another car, a Delahaye 135 Chapron cabriolet with electric Cotal gearbox - so now he's also restoring that. It's going to take around two years.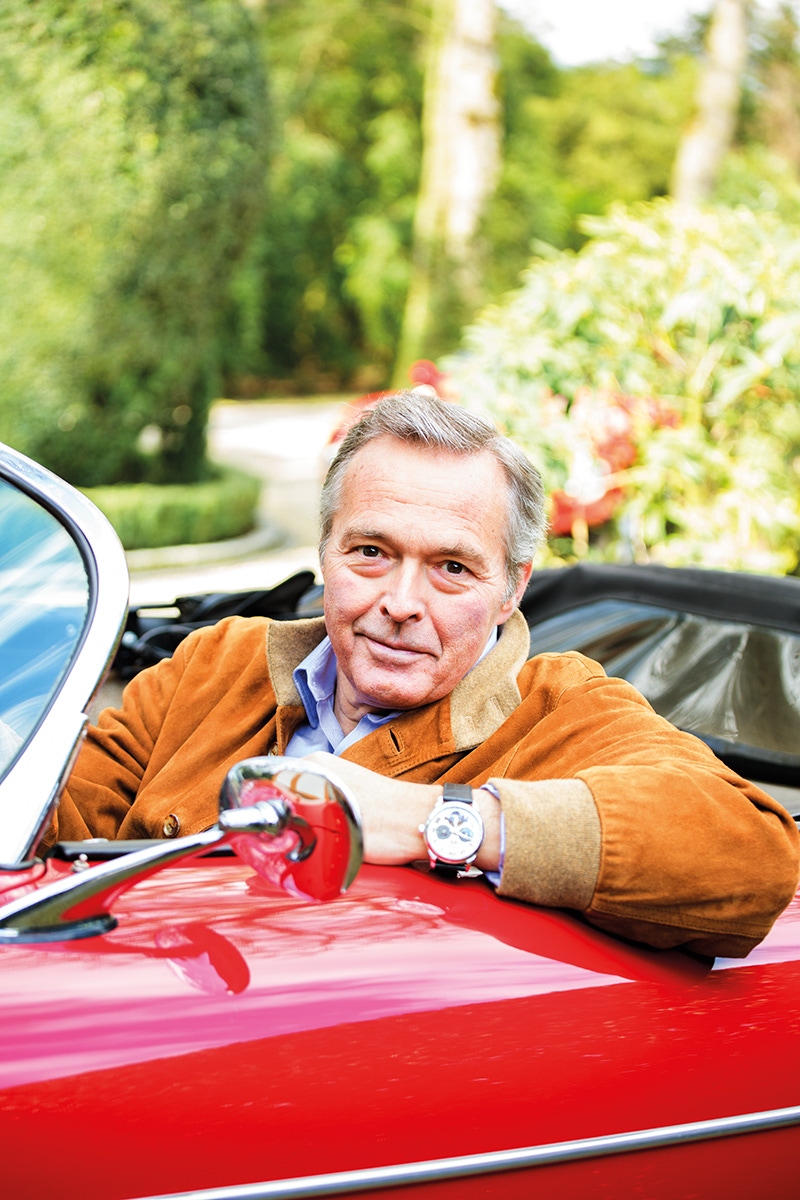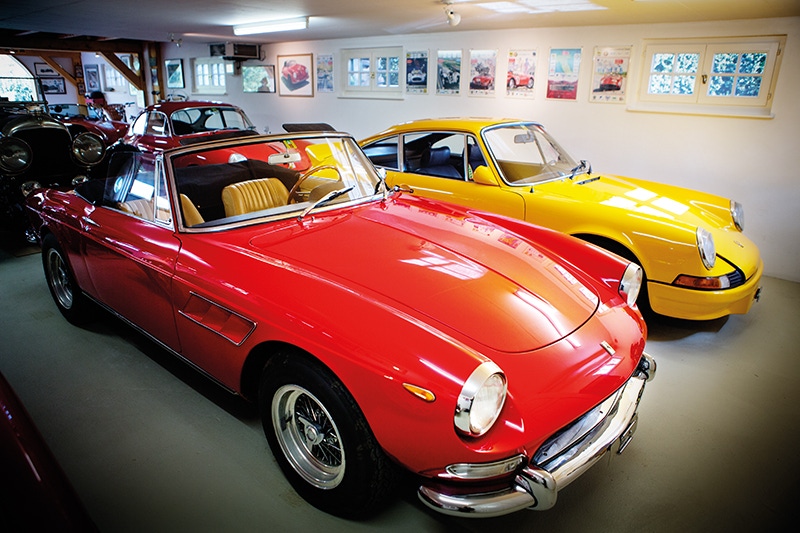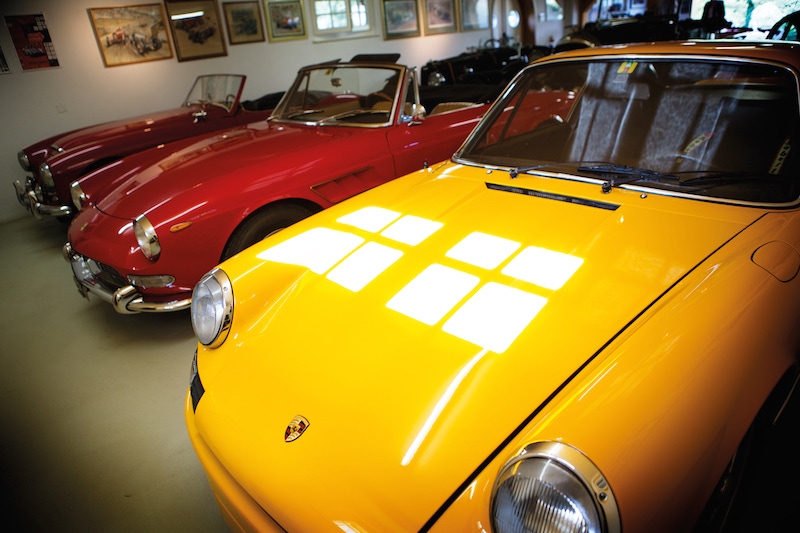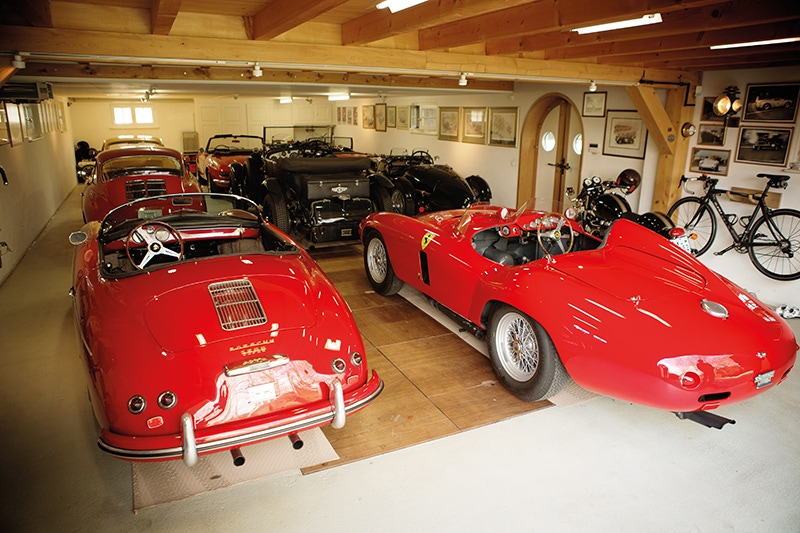 'I'm also very pleased to say that I have finally bought one of my dream cars that I have wanted to own for years. It's a 1970 Morgan Plus Eight, the one with the V8 engine. I had a poster of one in my bedroom when I was a teenager, but, although I managed to get many of the other cars I had always longed for, a Morgan had somehow eluded me. 'I must admit,' he says, 'that if I had not ended up making my life in watches, I could very well have made it in cars. There's clearly a very strong link between classic cars and mechanical watches, and people who like one invariably like the other - I suppose it's a sort of mutual understanding, an interest, an insight, that draws the same people to clockwork who are drawn to engines that don't rely on electronics. 'It's all to do with hand craftsmanship, the way something is conceived and made and how its workings can be understood.' Although his collection of cars is cared for on a full- time basis by resident engineer Carmelo Maiore, Scheufele is not averse to getting his hands dirty. 'I do simple pieces of maintenance and, if necessary, the occasional running repair,' he says. 'I think you need to understand these cars a little bit in order to respect them and really enjoy them. Our philosophy with the cars is not just that they should be in good running order, but that they should be regularly driven - they are not just there to be locked away and looked at now and then, they are there to be used and enjoyed and that's what they really need.'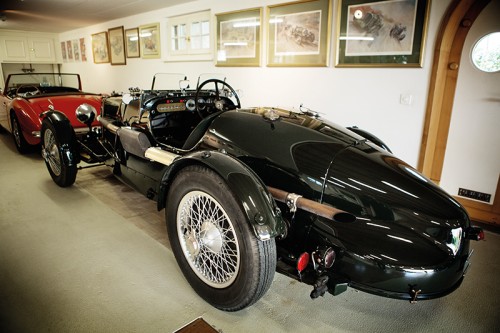 As a result, Scheufele relishes the opportunity to get behind the wheel, even if it is just to drive to work. 'I must admit that I tend to drive a modern car to work in the middle of winter because, here in Switzerland, the roads usually have a great deal of salt on them during the snowy season - and that, as everyone knows, is bad news for old cars. But once the fine weather arrives I drive them whenever possible. 'Home is about 30 kilometres from my office, and being able to get there in, say, my Carrera 2.7 RS or the Aston DB5 just sets me up for the day. I love doing the journey in the Mini Cooper, too. It's such fun to drive on small roads.' Probably the drive Scheufele most looks forward to is the 1,000 miles of the Mille Miglia (a race for classic and vintage cars that is run on a round-trip from Brescia to Rome), which Chopard has sponsored since 1988. Scheufeles junior and senior have been regular competitors ever since, often campaigning their highly distinctive Mercedes-Benz 300 SL Gullwing. 'That car stands out because of its colour,' Scheufele says. 'Most Gullwings are a rather boring silver, but during the restoration process we discovered that ours had originally been painted a metallic strawberry red when it was first exported to California, so we reinstated it.' Scheufele traditionally competes in the event either with his wife or with Ickx, each of whom takes the co-pilot's seat every other year in a variety of Mille Miglia-eligible cars, including the pre-war Bentley and the small, decidedly powerful and extremely rapid Ferrari 750 Monza that, at around $10 million, is probably the most valuable vehicle in the collection. Its worth prompts me to suggest that the classic-car price boom of the past decade must mean the Scheufele collection has proved to be a superb investment. 'There's no doubt that most of the cars we have bought have risen in value considerably,' says Scheufele. 'But I can honestly say I have never bought a car with a view to re- selling it. I've only ever bought them because I want them and I want to drive them.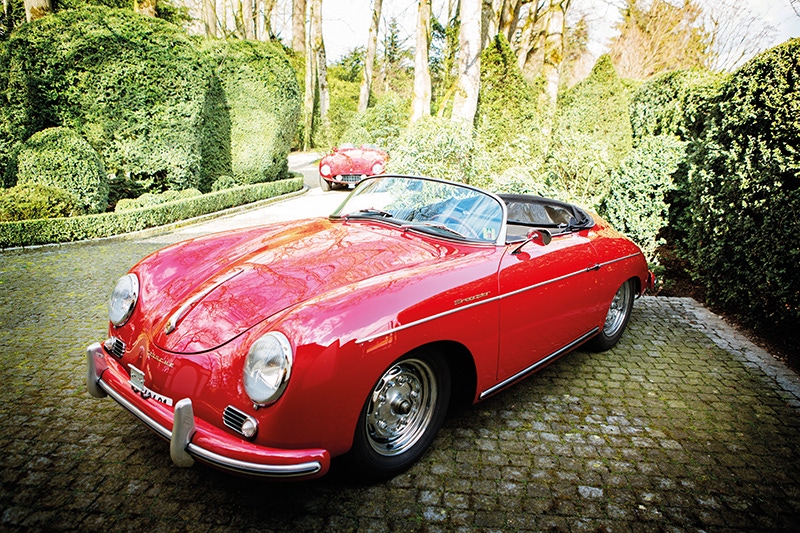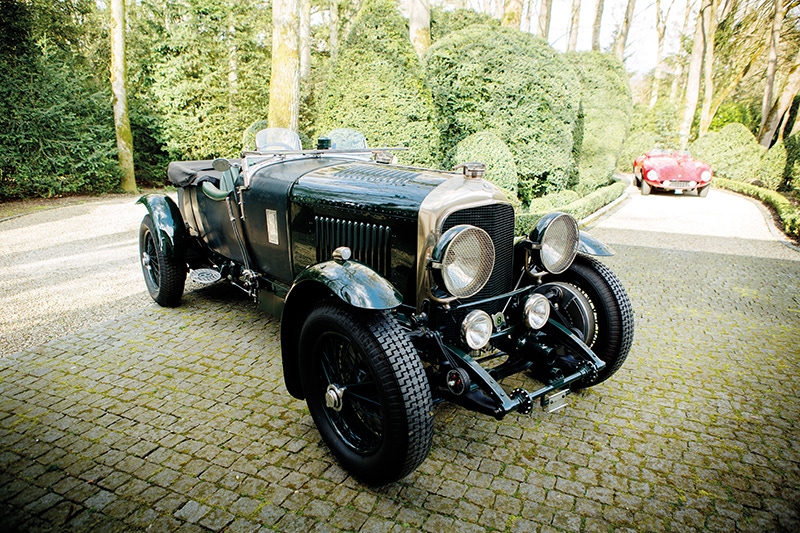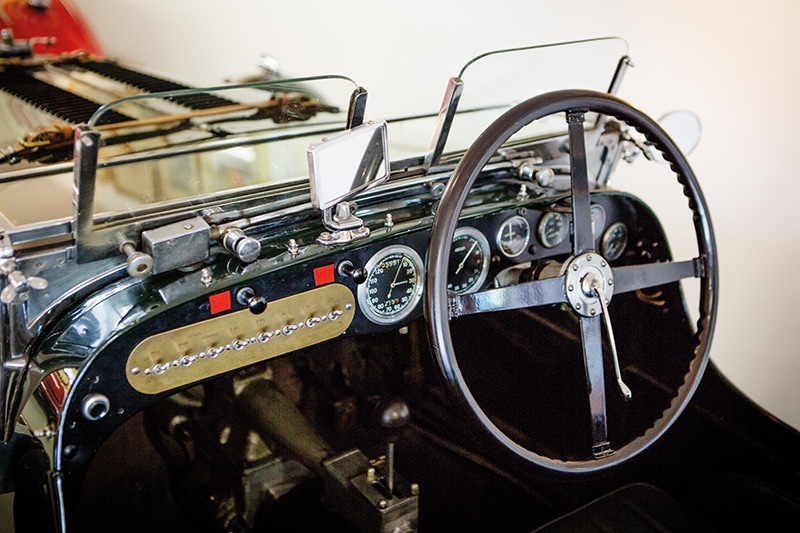 'I think the values have become a little crazy. I paid 35,000 Swiss francs for the Porsche 2.7RS Touring around 15 years ago - now it is probably worth 20 times that amount. But it doesn't make me especially happy. In fact, it scares me because it shows there is a lot of speculation in the market and the people giving it momentum are not really enthusiasts but investors who don't know where else to put their money in order to get a good return. 'But what people often forget with cars like these is that you have to appreciate them, maintain them and keep them running - they are not like paintings that you can just hang on the wall and forget about. 'In my opinion, a number of classic cars are seriously overpriced today, and many of them are pretty normal cars that have risen in value to the point where you have to start asking questions about what is happening in the market. Regular, relatively recent Porsche 911s, for example: not exactly rare cars, but now selling for two or three times more than they were just a couple of years ago. Quite frankly, that is the sort of thing that worries me because it prevents a lot of true enthusiasts from getting involved and, eventually, it means the cars become too valuable to be driven.' But, should the occasion arise when Scheufele had to drastically pare down the collection and keep only eight cars, which ones would he choose? He says: 'That's actually quite an easy question to answer: it would be the Ferrari 750 Monza; the Bentley three/four-and-a-half litre; the Aston Martin Ulster; the Porsche 356 Speedster; the Ferrari 275 GTB4; the 911 RS; the Alfa 1900; and the Mercedes Gullwing.' And if he had to select just one from the eight? 'Undoubtedly I would choose the 356 Speedster. I bought my first car when I was 25, a 356 cabriolet, but I couldn't afford a decent one and it proved to be a disaster. Eventually the rear axle broke and I had to just throw the car away because I didn't have the money to fix it. But, a couple of years later I had saved up enough to be able to buy the Speedster.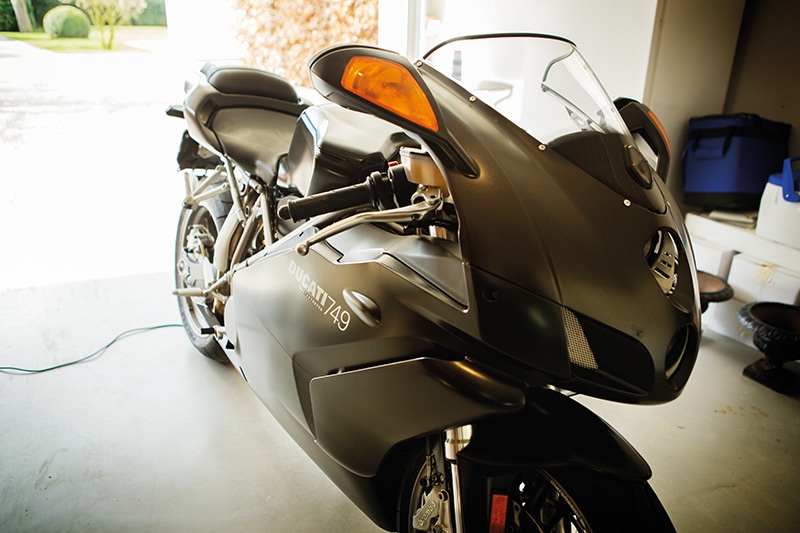 'It looked really promising and I thought it just needed a repaint, but it ended up turning into a full, ground-up restoration. It was a really meticulous job, and it was well worth doing because it looks as good now as it did when it was first completed more than 25 years ago. I use this car a lot, because it is very practical and has a more powerful, 90 horsepower engine.' It's not just cars that float Scheufele's boat - he's a keen motorcyclist, too. The motorhouse is home to a racy Triumph Bonneville Thruxton, but the bike he really wants to show me is a Ducati that lives in a separate building on the other side of the house. It turns out to be a race replica, matt black and mean, and it's parked beside a tractor. 'Isn't it lovely? It was made by Porsche, so I had to have it,' says Scheufele of the immaculately conserved, red and white 'Junior', which dates from the 1950s and is powered by a single cylinder, 822cc diesel engine. 'I think it will end up at the vineyard, where we can put it back to work-it really needs to be doing something.' With the tour of the collection over (part of it, at least), Scheufele signals to his two vast Leonberger dogs to come to heel before he sends us on our way. 'What are their names?' I ask. 'This one's called Enzo, after Enzo Ferrari, of course. And he's Ferry, after Ferdinand Porsche.' I should have guessed.