The Future is Now: Behind The Scenes At Rolex
The world's leading watchmaker has not one but four manufacturing hubs, and on a tour of the hallowed sites, The Rake's Founder and Editor-in-Chief gained an insight into the brand's pioneering mix of human skill and mechanised artistry.
It was the Swiss linguist and semiologist Ferdinand de Saussure who espoused the theory that 'words are not mere vocal labels - they are the collective products of social interaction, essential instruments through which human beings constitute and articulate their world.' Although there are approximately 6,500 languages spoken on Earth, there is one word that is arguably the most universally recognised. Its two syllables summon the image of man at the very apogee of heroism, courage and resilience, for they have accompanied him to the summit of Everest and through the first breaking of the sound barrier. That name is 'Rolex'. It's amusing to think of a young Hans Wilsdorf, the brand's Bavaria-born founder, coining the term in 1908 with the intention of creating a word that was short, easy to pronounce in any language, simple to recall, pleasant sounding, and that would look good on a watch dial. Little did Wilsdorf know that he was creating what would become the most recognisable horological utterance on the planet. Then there is the way the watches look. The word 'iconic' is one of the most overused in editorial parlance, and yet: close your eyes and conjure up an image of a diving watch, and what you'll imagine is a Rolex Submariner. Do the same for a GMT watch and you'll no doubt picture a GMT-Master II. As for a chronograph, you'll likely visualise a Daytona. These watches are more than 'iconic' - they define the aesthetic blueprint of every imaginable category of sports watch. So where are these incredible watches made? While it's amusing to think of a Zeus-like figure sitting atop an horological Mount Olympus, hurling more than half a million watches a year down to mortals he deems worthy, the reality is more intriguing. Why? Because every Rolex watch is created by a combination of competences located at four manufacturing sites in Switzerland. The movements are created in Bienne, the dials at Chêne-Bourg, the cases and bracelets at Plan-les-Ouates, and final assembly is undertaken at Acacias. But what is unique about Rolex is that, at each one of these sites, you will find a hitherto unheard-of merger of human craftsmanship and wildly futurist technology.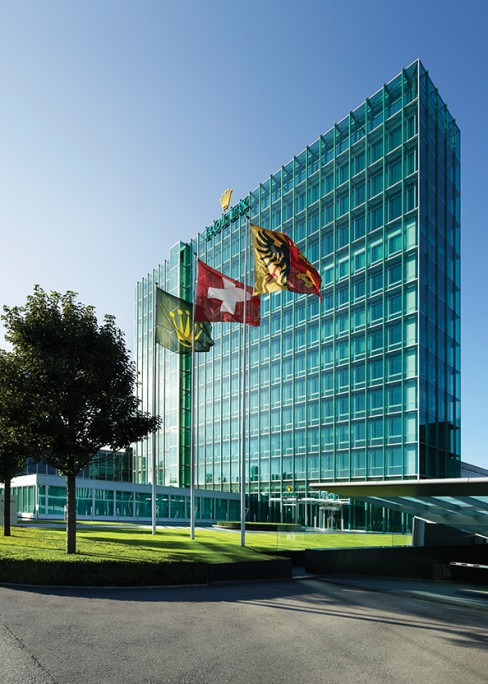 Even the mighty Wilsdorf might raise an eyebrow at the sci-fi esque level of vertical integration that exists in his watch empire today, thanks to the late Patrick Heiniger, the son of Wilsdorf's successor, André Heiniger. Standing before what Rolex refers to with typical understatement as its 'automated stock and delivery system', you can feel your jaw slacken in amazement as you observe two football field-sized underground lairs, featuring an intricate network of whizzing, flying robots, reminiscent of the human battery towers in
The Matrix
, which pick up and deliver from a seemingly endless array of raw materials, components, finalised products and specialised tools. In Plan-les-Ouates, there are two central independent vaults comprising 24,000 cubic meters (12,000 each) of storage space with 60,000 storage compartments. There is 1.5km of rail network allowing the automated delivery and pick up of components anywhere in the building. The system performs 2,800 tray transports per hour, and was a key element in Patrick Heiniger's vision for both vertical integration and efficient workflow. And while people often overlook Heiniger Jr's contribution to Rolex, the integration at the four sites, allowing the in-house creation of every component as well as the focus on the brand's core watchmaking technology (as represented by the brand's in-house Parachrom and Syloxi hairsprings, LIGA technology and specialisation in ceramic parts), can be attributed to Heiniger's prescience.
Bienne
Rolex's Bienne facility is where the movements come to life. It is a remarkable thing to witness the delivery of sheets and bars of brass material that will be turned into tiny intricate components for the watch, or to think that, once brought to life, many of these parts will be in a state of perpetual motion for time immemorial. Throughout the Bienne facility, you hear the steady industrial din of stamping and machining. Perhaps the most dizzying array of technology is located at the Ebauche sector, which is where the brand creates its bridges, mainplates and calendar plates. Blanks arrive and are engineered using incredibly advanced CNC machines - 'Modules', in Rolex speak - that use up to 50 tools and are capable of creating 16 pieces simultaneously.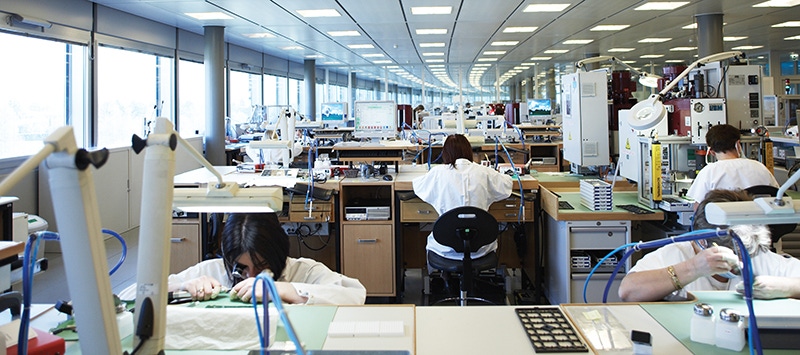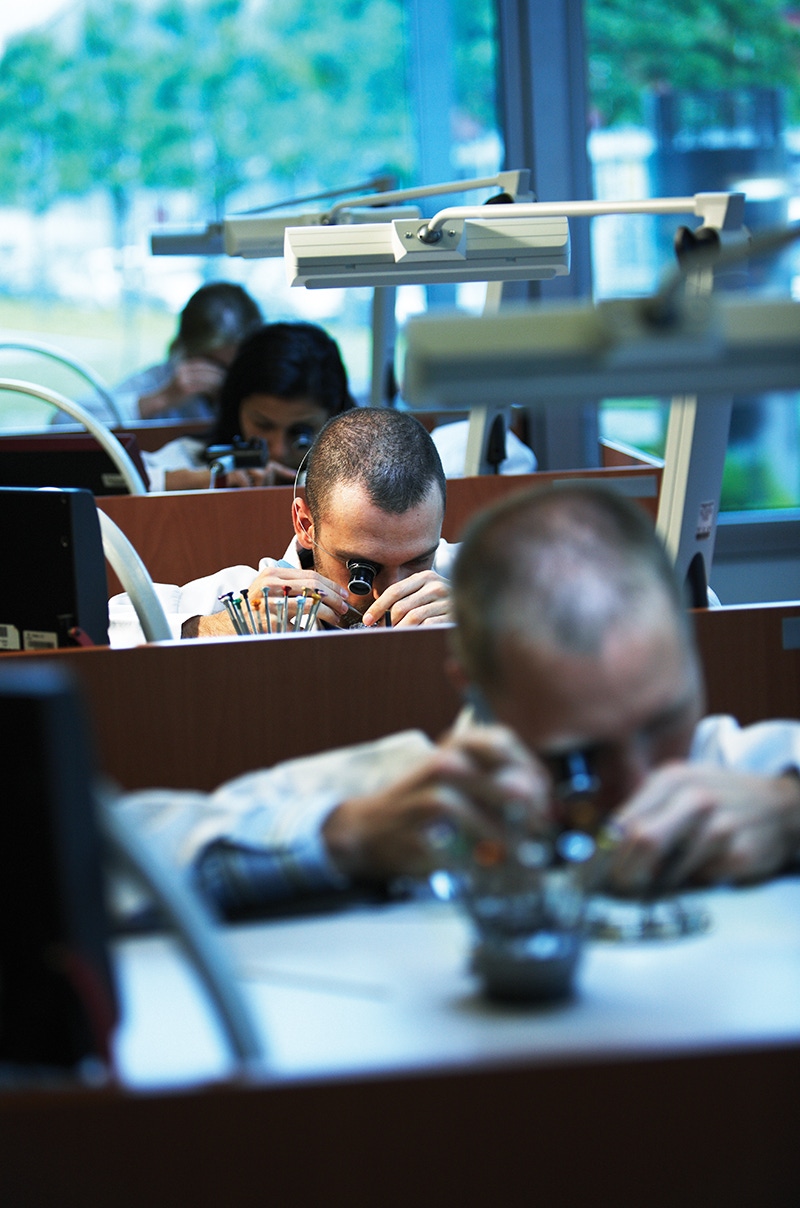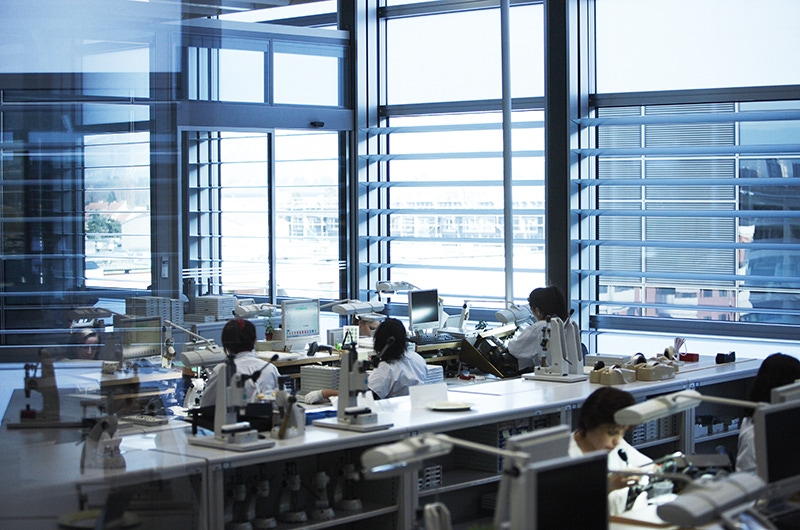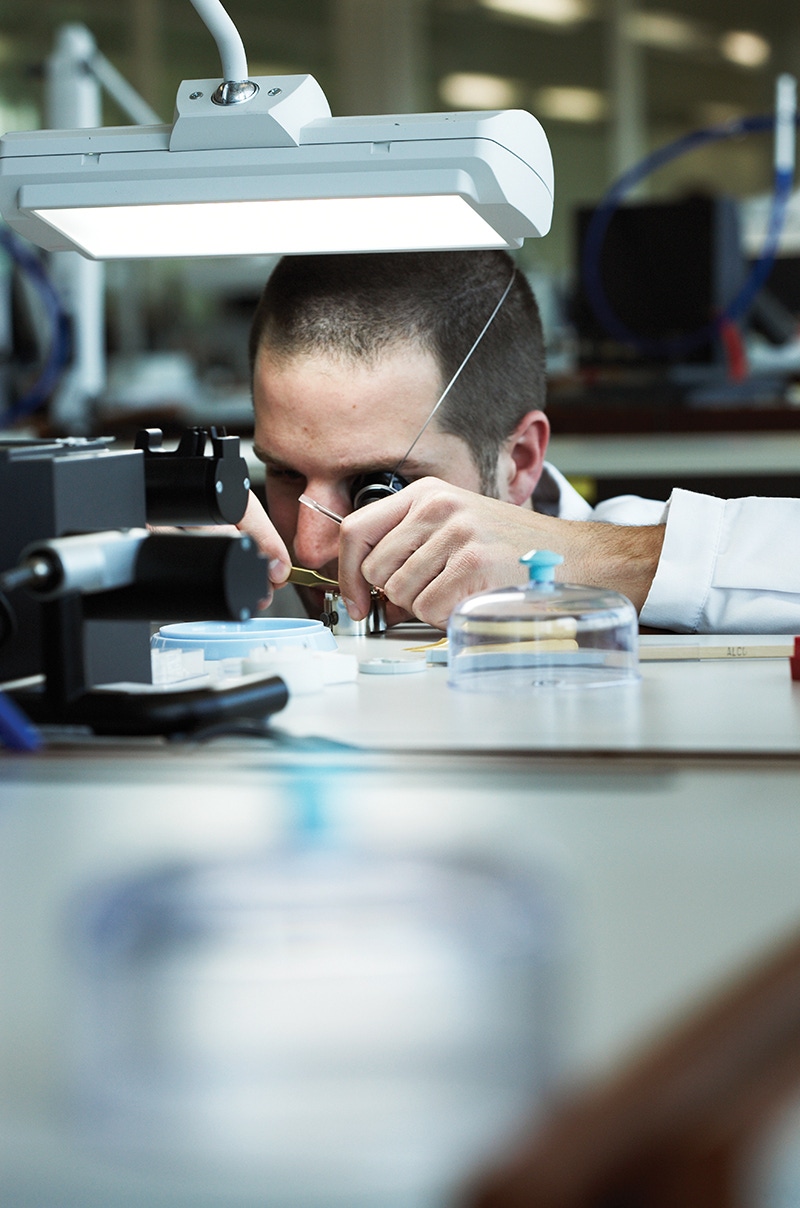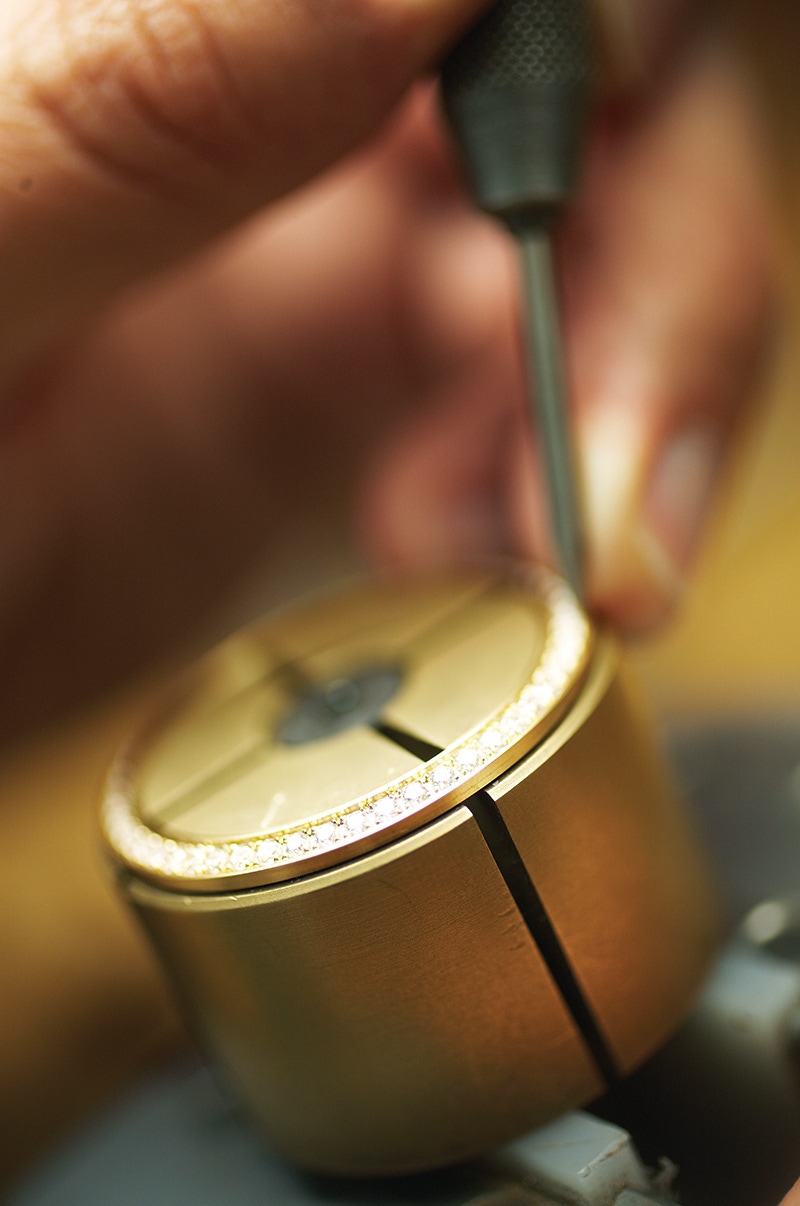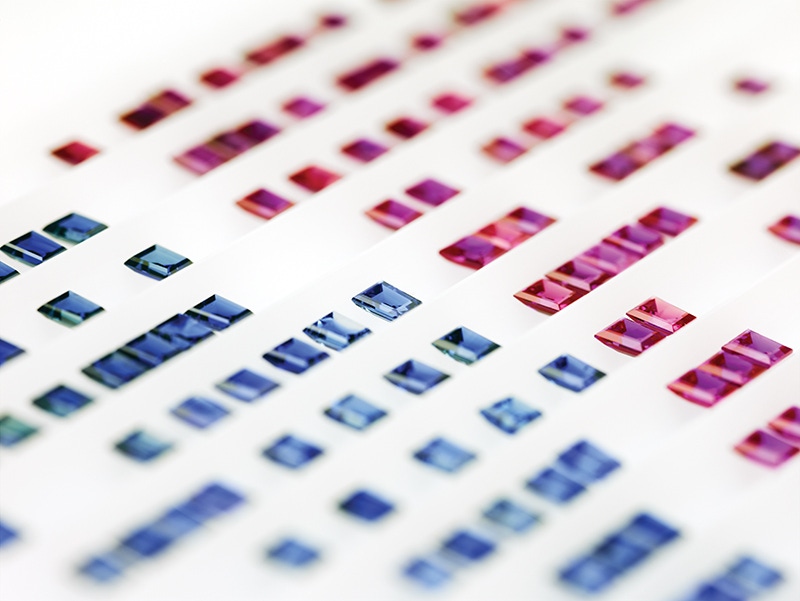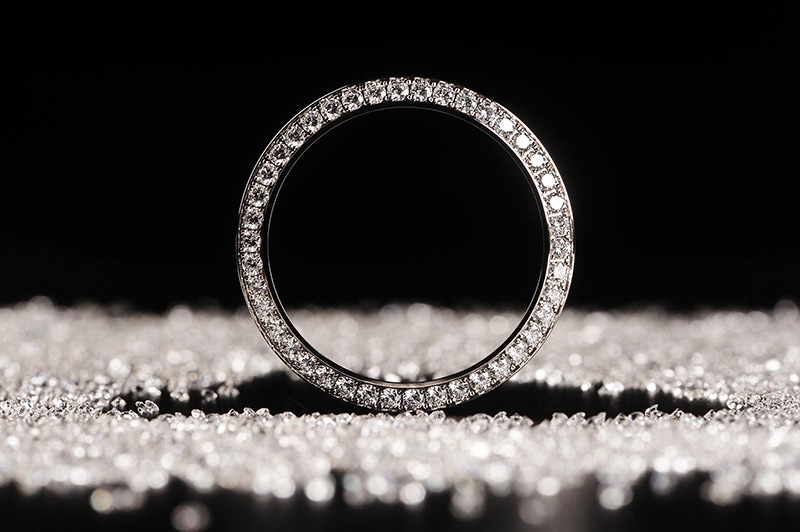 It is here that Rolex makes its own balance wheels - the oscillators that swing first in one direction then the other to keep time in a wristwatch - which are critical to having the best time-keeping movements in the world. Rolex's balance wheel is free-sprung, which means that it doesn't use an external regulator: it is regulated purely by an adjusting of the variable-inertia screws on the balance wheel, itself a system patented by Rolex in 1957. This is considered to be the most accurate and most stable way to adjust a balance wheel. The other secret to the modern Rolex watch's phenomenal accuracy has to do with its hairspring. Thinner than a human hair, the hairspring is attached to the balance wheel, allowing it to oscillate back and forth with extraordinary accuracy. With a good hairspring, each swing of the balance wheel should be identical in amplitude (the angle the balance reaches in its swing) and beat. Last year, Rolex unveiled its very first silicon hairspring in its women's watch, the Datejust Pearlmaster 34. Named Syloxi, this in-house hairspring is formed using DRIE (deep reactive-ion etching) in silicon, with a layer of silicon oxide grown on it for thermal compensation. The spring features variable geometry, whereby the distance between rings becomes greater as you move out from the centre, creating more concentric breathing. The other significant detail relates to how the beat adjustment is integrated into the Paraflex shock protection of the balance wheel. Chêne-Bourg  If the dial is the face of a watch, it can be said that Rolex has contributed many of the most recognisable visages in horological history. After all, is the stunning tri-compax glory of the Daytona not identifiable from across a room? Are the two apertures of the legendary day/date not embedded in the collective consciousness? Today, all of Rolex's dials are crafted in-house at their Chêne-Bourg facility. The majority of dials begin as brass plates. Bars can also be used for the women's 31mm diameter watches, which feature 'bell-shaped' dials. In this case, CNC machining is used to create the entire dial from a solid bar because of its more three-dimensional profile. All professional Rolex watches feature lacquered dials with transfer printing. However, the Chêne-Bourg facility boasts a dizzying array of techniques that can create myriad dial finishes. In PVD (physical vapour deposition), parts go into a chamber in which all air is removed. The material is vaporised and the resulting gas travels upwards to the dial to coat it. In magnetron sputtering, a massive plate of gold is placed inside a chamber. Argon gas is introduced and collects gold molecules that are then bounced onto dials. The result is a layer that is a few microns thick (PVD results in a layer that is only one micron or less). These techniques are used to create electroformed floral motifs on special dials such as those found on the Lady Datejust 31. Chêne-Bourg is also where diamond and gem setting take place. Rolex uses only internally flawless stones, coloured from d to g. All coloured gems have a master stone they use for colour references and must be grouped in similarly coloured stones. Each stone is manually set by a master craftsman. In the case of gem set dials, the underlying material will be gold or platinum. Plan-Les-Ouates Situated in Geneva's sprawling industrial municipality, affectionately known as 'Plan-Les-Watch' due to the nucleus of horological factories and headquarters clustered there, is Rolex's case- and bracelet-making facility. Unlike its neighbours, Rolex starts by alloying its own gold. Rolex's trademarked Everose, for example, is a rose gold that will not fade in intensity. It's extraordinary to witness staff undertaking the smelting process, whereby beads of gold are rough-cast, creating usually an ingot or a tube shape. At this stage, it is 75 percent pure gold. The ingot will go through various processes, from rolling to stamping to CNC machining to yield cases and bracelets of unsurpassed quality. All cases are analysed and double stamped with the official Swiss, as well as Rolex, hallmarks. Rolex was the first in the Swiss watch industry to use 904L steel, a highly corrosion-resistant alloy necessary to meet the demands of watches intended to be submerged to the greatest depths, or subjected to the most brutal weather conditions. In the past ten years, Plan-les-Ouates has also become synonymous with the use of ceramic in Rolex's bezel inserts. Bezels, one of Rolex's most distinguishing elements, which often bear elapsed dive-time scales or second-timezone readings, were initially made in Bakelite plastic. Because of the fragility of this material, they were soon changed to aluminium, but, from 2005, Rolex began to focus on ceramic. Extremely hard (second in the Vickers scale, behind only diamond), its colour never fades. It is also UV resistant and highly anti-corrosive. Bezels are machined with diamond tools to create sharper, cleaner profiles, and injected with indexes before being subjected to a PVD coating in precious metal. Rolex launched its first model in ceramics ten years ago and can now be considered a leader in the field. One of the most recent innovation by Rolex was the two-colour single-piece Cerachrom bezel insert found in the GMT-Master II.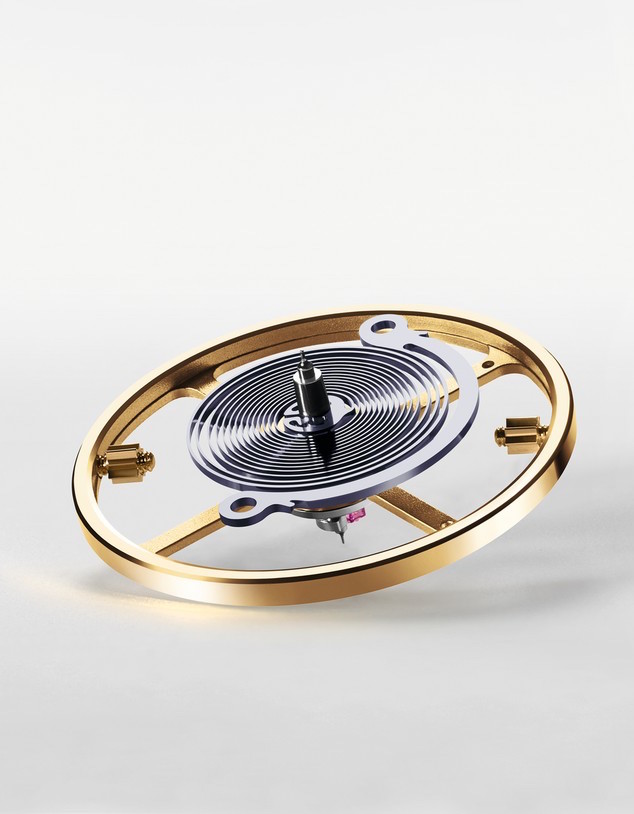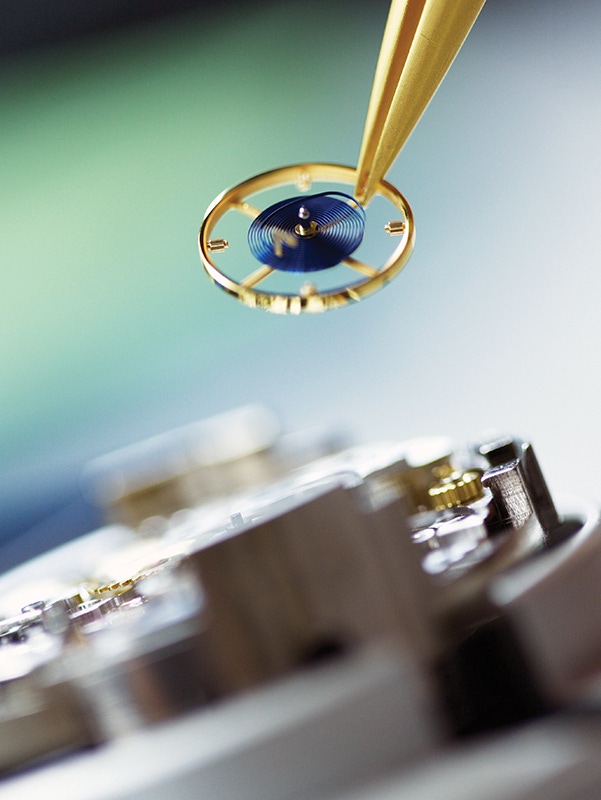 Acacias 'People sometimes get the impression that our manufacturing is totally automated, and they're surprised to realise how much human work goes into creating every one of our watches,' says Virginie Chevailler, Rolex's dynamic head of international press and PR. We step into a room in which 150 white-coated watchmakers fix dials to movements, hands to dials, fineness movements into cases. They attach automatic rotors, screw on casebacks, register the serial number of movements and cases, and submit the watches for water resistance, power reserve and accuracy tests - all part of the final assembly carried out at the Acacias facility. 'Movements arrive to assembly already certified as chronometers by the [Contrôle Officiel Suisse des Chronomètres],' Chevailler says. In any instance where Rolex feels it can improve on traditional watchmaking, it will. For example, it has developed its own tool for setting the hour, minute and second hands onto the centre pinion. The movement and dial are placed in a machine that detects the date change with a sound sensor, which allows the watchmaker to align all the hands at midnight. Using a vacuum pen, the watchmaker picks up each of the hands and places them in a machine that fixes all three of them in rapid succession at the midnight position within a tolerance of between -2 and +1 seconds. In keeping with Rolex's reputation for reliability, there is a 100 percent final check on all its watches. During the testing of power reserve, a robot takes watches in batches of 10 and turns them slowly for 27 minutes, which must create a full six hours of power reserve. This means that, when the watches are fully charged, they will have a power reserve of 48 hours. Next, the watches are fully charged for their precision test. A computer takes a picture of the hand position on every watch. They are then placed in a machine that simulates wrist wear for a period of 24 hours. Then, a second picture is taken to compare the position of the hands with the first picture. In a correctly performing watch, the hands should be in precisely the same position. To uphold the legendary waterproof status of the Rolex Oyster case, each and every watch is subjected to two water resistance tests (one for the case alone, the second for the completed watch) using steel tanks that artificially replicate pressure at specific depths. Every Oyster watch is tested to 10 percent in excess of its depth rating, while diving-specific watches are tested to an additional 25 percent. All of which goes to show, it is essentially pointless to compare Rolex with any other watch manufacturer - or, for that matter, any manufacturer of any luxury product anywhere in the world. I remember being brought to Dresden's famous Volkswagen Transparent Factory, which was meant to be a shimmering beacon of modern industrial creation. Relative to any one of Rolex's four manufacturing facilities, that plant felt stuck in the Stone Age. Rolex has taken watchmaking to the most ambitious frontier of human skill and mechanised artistry. And while it is easy to get lost in the latter, it is important not to overlook the former. [content_block id=1184 slug=rolex]