Pocket Guide: Kapil Sehgal
Director of North America and Europe for leading Japanese tailoring brand, Ring Jacket, Kapil Sehgal dissects the bounds with which refine his own personal style, following a few questions from The Rake.
Love the herringbone coat. We saw loads of great herringbone at Pitti. What's your take on it? Why do you like it and how do you wear it more often than not?
Thank you very much. Herringbones and other traditional English patterns / cloths have been having a moment for a few seasons now, which is something I certainly am not complaining about. My natural inclination always goes to the old-school, authentic cloths and this particular one is a beautiful black & cream herringbone tweed from Ireland. I like the dry hand, soft colors, weight, and how nicely it drapes, especially in this new raglan coat model from our most recent Fall collection. This fabric and style is quite versatile which I appreciate, so I'm able to wear it with everything from flannel suits to denim and a hoodie.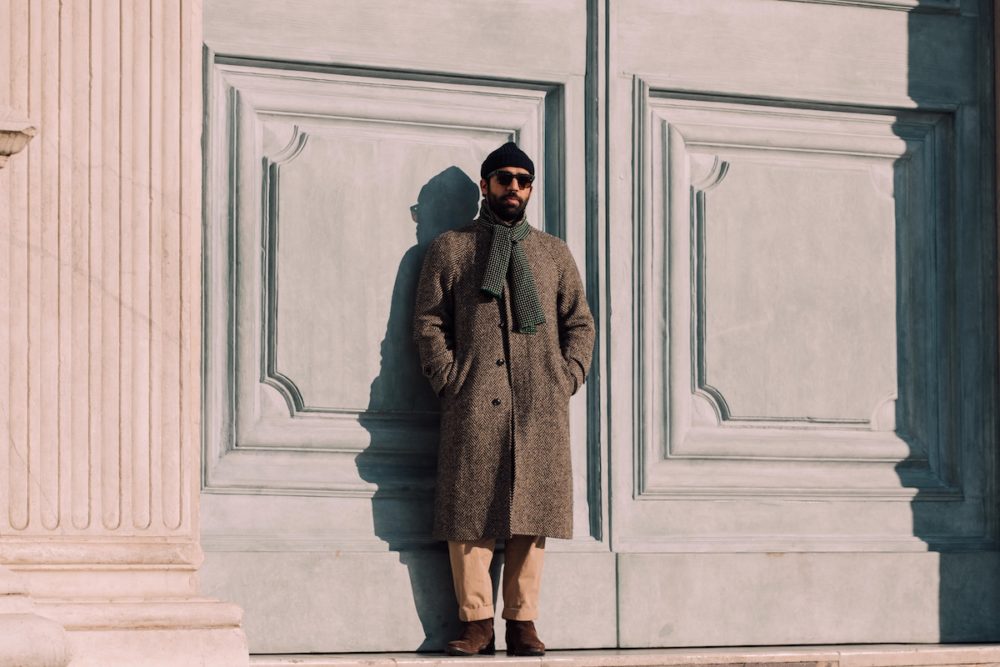 You're also sporting a gun club check blazer. Are you a fan of clashing checks or patterns and do you have any tips?
I love this particular jacket. It's a wool & cashmere blend from Italy, their homage to a proper English gun club check. I do like it when you can mix patterns & colors, particularly in winter because it just feels natural with the heavier cloths. When I do mix, I always try to do so in subtle ways, like a tonal color palette or varying scales of similar patterns. I am quite simple and classic when it comes to my style, I don't try to do too much or be the loudest person in the room.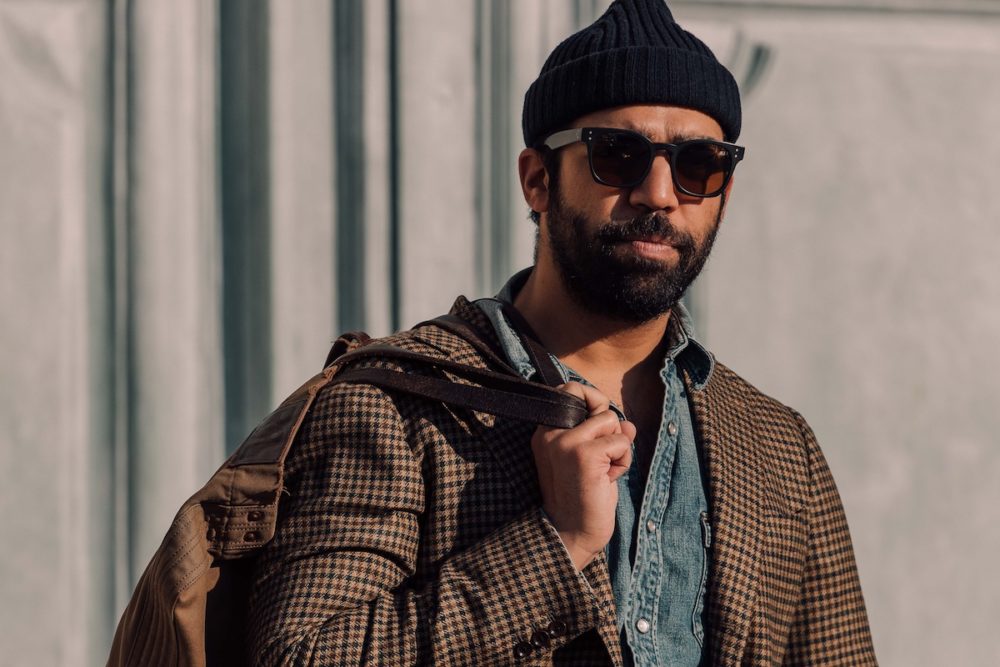 I really like how you've incorporated workwear touches like the denim shirt, chinos and beanie. Would you say your go-to style is a blend of workwear and formal classic pieces? 
It's a good representation of my style. I like to dress very high / low and combine a few different styles. I prefer when my clothing doesn't feel too precious, so if I'm wearing something luxe, I'll try to combine it with something more rugged to balance it out. Mixing styles has always felt natural to me since I was young because of the different things I was into when I was a kid from basketball to prep to hip hop. Also, I think my years working at Ralph Lauren taught me a lot about how to incorporate different elements when creating looks. He's the best to ever do it. When it comes to tailoring in particular, I think it's important to show that it doesn't have to be so serious. You can certainly dress up tailoring, which I love of course, but it's easy to dress it down in a way that still looks fresh and most importantly, comfortable. That's the thing I love the most about Ring Jacket. Our garments are super comfortable, the fit is amazing. It's all about the blend of old-school elegance that's executed in a modern, comfortable way. And lastly, I just have to say that the jacket (or suit) is the best article of clothing that was ever designed for a man, and it always will be. Nothing looks better.
Do you have any rules when it comes to thinking about pulling a look together?
I'm sure I have plenty of rules in my own internal monologue, but I'll keep them to myself ha. I just try to keep it simple and focus on fit, color, and comfort. You've got to feel natural in what you're wearing. That's the best tip I can offer.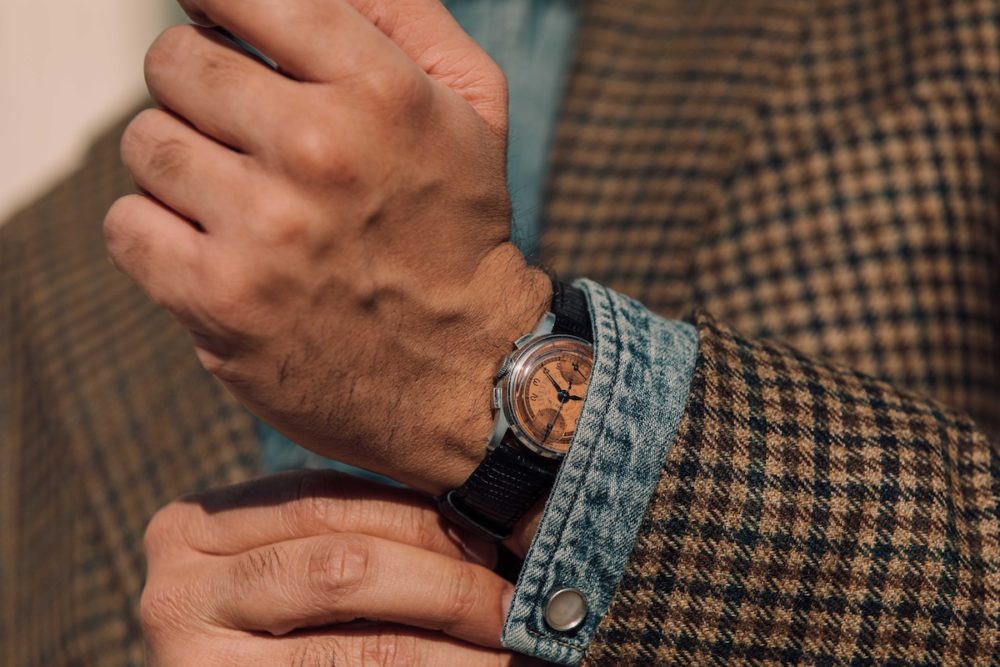 Can you talk us through your accessories? (watch, bag, sunglasses and belt)?
Accessories are where I like to be a bit more adventurous. It's all about the details. You can show off your personality a bit more. The watch is a vintage 1940's French chronograph. It was actually the first watch I bought myself when I was 22 and had recently moved to NYC. I didn't have a huge budget and I got it for a steal on eBay before the vintage watch market really took off. I thought I lost it years ago, but found it recently in a box in my parent's house over Christmas, so I've been wearing it again. It's a nostalgic piece for me. I love watches and you will always find one on my wrist, I feel naked otherwise. The bag is a canvas and leather tote bag from RRL from when I first worked at RL. I've had it for about 10 years now. It's traveled all over the world with me and is very durable. It just gets better with age. Sunglasses are another thing I definitely have too many of, but I just can't stop myself from buying them, particularly vintage because of the quality of the construction and materials. This pair is from a small collaboration that Byredo did with Oliver Peoples about 4-5 years ago. I think it was the first non-fragrance product he ever did. I loved the pale yellow photochromic lenses and the matte black frame. The shape is really good too, a bit classic and a bit modern, and they just happen to look decent on my mug. The belt is probably my favorite in my entire collection. I love how thin it is, the design of the buckle, and the honey-ish color of the crocodile. It's vintage Purple Label I've had for years. As you can probably tell by now, I tend to hold onto pieces that I love and wear them to death...that's how it should be in my opinion.