Power Punch: Super Strength Cocktails
The Rake invites you to prop up your favourite speakeasy with a classic cocktail - these pack a powerful punch and, once mastered, make for the ultimate in party tricks.
Sidecar
Ingredients:
1 teaspoon white sugar
20ml Hennessy Cognac
20ml Grand Marnier Cordon Rouge Liqueur
Half lemon
1 cup ice cubes
Method:
Sprinkle sugar on a small plate. Lightly wet half the rim of a coupe glass with a damp paper towel. Dip the moistened rim in sugar to coat. Set the glass in the refrigerator to chill.
Combine Cognac, orange-flavoured liqueur and lemon juice in a cocktail shaker.
Add ice, cover, and shake until chilled. Double-strain into the chilled coupe. Serve with a squeeze of lemon rind.
The Ritz Paris' Bar Hemingway, named after the raffish writer and loyal patron Ernest Hemingway, claims to have created the Sidecar in the early 20th century and the hotel still serves the original recipe. Using 1830 cognac Ritz Reserve, it is one of the most exclusive and expensive cocktails available at approximately £350.00 – but won't be for long as stocks are running out. There are but few bottles left in the world of this particular grape, as it was collected before the devastating Great French Wine Blight. Although sweet, citrusy and balanced with brandy - implicit in its name is the suggestion that one should surrender to being passenger after a couple of super strong Sidecars.
Blue Blazer
Ingredients:
20ml Dewars Scotch
20ml hot water
5oz agave nectar
One lemon
Method:
Fill two mugs with hot water to warm.
Pour Scotch into a jigger.
Pour 20ml hot water and the agave nectar into another jigger.
Discard water from mugs.
Pour each jigger's contents into a separate mug.
Ignite the Scotch mug and pour the flame back and forth four to five times.
Finally pour into a balloon glass, extinguishing the mugs by placing them atop each other.
Garnish with a twist of lemon.
A homonym at its best, the 'blazer' in this sense is far from the smart and scholastic jacket worn by many a rakish gent. The Blue Blazer is a sensation to behold, its flaming production as much a performance as a magic trick – only the most skilful mixologist can master the flammable free-pouring technique, and very few attempt it in the first place thanks to this dangerous edge. Consisting almost entirely of Scotch, the Blue Blazer is truly a knockout cocktail, not for the faint of liver. The creator, Jerry Thomas, is the man we have to thank for bartenders in waistcoats and his love of the handlebar moustache only further cements his incomparable cool – at his peak career as a bartender, he made the same wages as the U.S. Vice President of the time, serving hellfire to the hell-bent, and legend has it he would only serve the Blue Blazer in conditions of ten degrees or lower.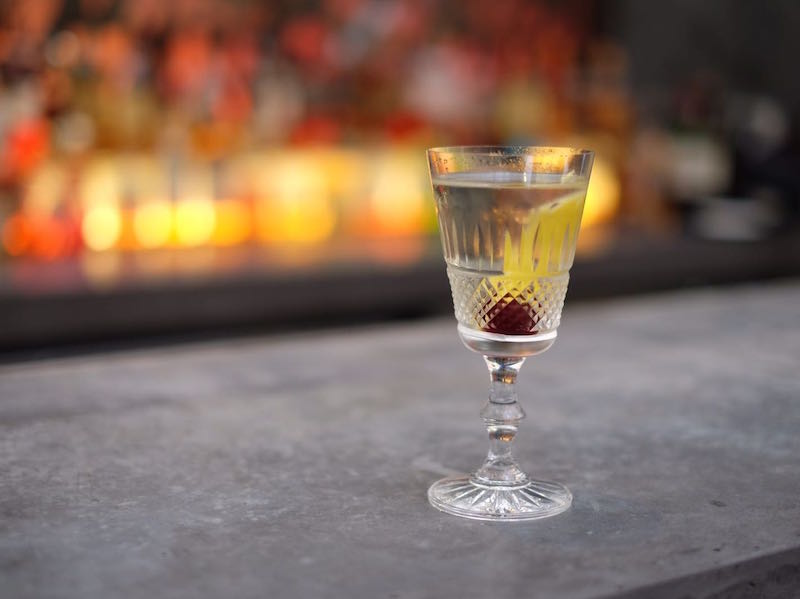 Tuxedo
Ingredients:
20ml Old Tom Gin
20ml Noilly Pratt Dry Vermouth
One 'bottle top' Luxardo Maraschino
2 dashes Orange Bitters
Butterfly Absynth to rinse
One bourbon-soaked maraschino cherry
Method:
Combine ingredients (except absinthe) in a chilled mixing glass and stir with ice for 15 seconds.
Rinse the inside of a chilled cocktail glass with Absinthe and then discard the excess.
Strain stirred ingredients into chilled sours glass and serve. Garnish with a lemon twist and the infused cherry.
Much like its sartorial counterpart, the Tuxedo is not for the character of shy disposition. Historically, the tux itself was created entirely as an act of rebellion; young men wanting to ruffle the feather of their stuffy older counterparts, and in doing so introducing a revolution in men's dress. The cocktail does more than ruffle a few feathers; the word 'tuxedo' derives from a Lenape Indian word 'tucseto' which – ironically – can be translated as 'clear flowing water', a substance you may be in dire need of come morning, should you choose the Tuxedo as your tipple.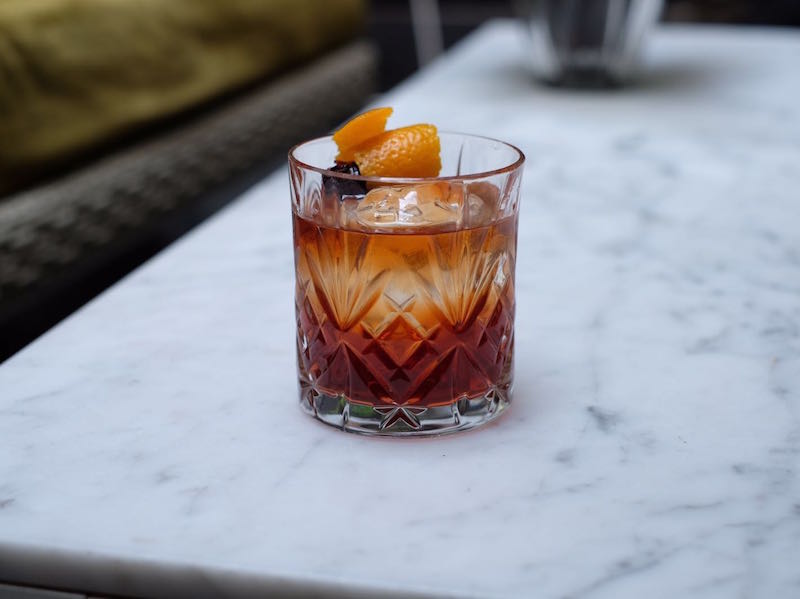 Old Fashioned
Ingredients:
2 tsp simple syrup
1 tsp water
1 dash Angostura bitters
1 dash Amargo Chuncho bitters
1 cup ice cubes
40ml Woodford Reserve Bourbon
1 slice orange
1 maraschino cherry
Method:
Pour the simple syrup, water, and bitters into a tumbler.
Stir to combine, then place the ice cubes in the glass.
Pour bourbon over the ice and garnish with the orange slice and maraschino cherry
Old Fashioned but never underrated, this classic was a 'morning drink' (read: 'hair of the dog') in the early 1800s for many a stateside gentleman. It packs a seriously powerful punch and is a firm favourite of superlative fictional rake and liquor lover, Don Draper - in Mad Men's third season, in an episode aptly named 'My Old Kentucky Home' (a nod to the home of bourbon), Draper hops over an empty bar and deftly whips up two Old Fashioneds. As well as being a visual masterpiece in mixology, this is a mature, sophisticated cocktail with little interference between the liquor and the lips.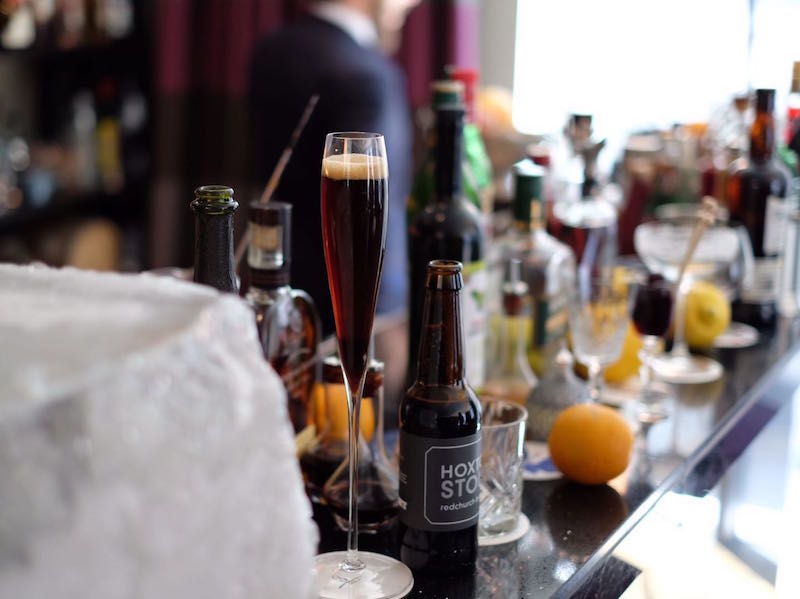 Black Velvet
Ingredients:
Equal parts Guinness and champagne
Method:
Pour the Guinness (or your chosen stout) down a cocktail stirrer first, followed by the champagne using the same technique to reduce loss of carbon dioxide, i.e. bubbles.
Humphrey Bogart – Casablanca star and professional heavy drinker – favoured the Black Velvet, a choice which was perhaps symbolic of his ability to blend in among the working class and celebrity elite alike, as well as his penchant for all things outrageously alcoholic. Ironically, his first role was that of a Japanese butler carrying a tray of cocktails, which again seemingly set a precedent for the rest of his life. After being shot at by his equally alcoholic wife, Bogart's publicist found him relaxing in the bath, cocktail in hand, and he was famously quoted saying "I don't trust a bastard who doesn't drink"… Quite in agreement, our master mixologist Mattia Picello uses Hoxton stout to give the cocktail a British edge.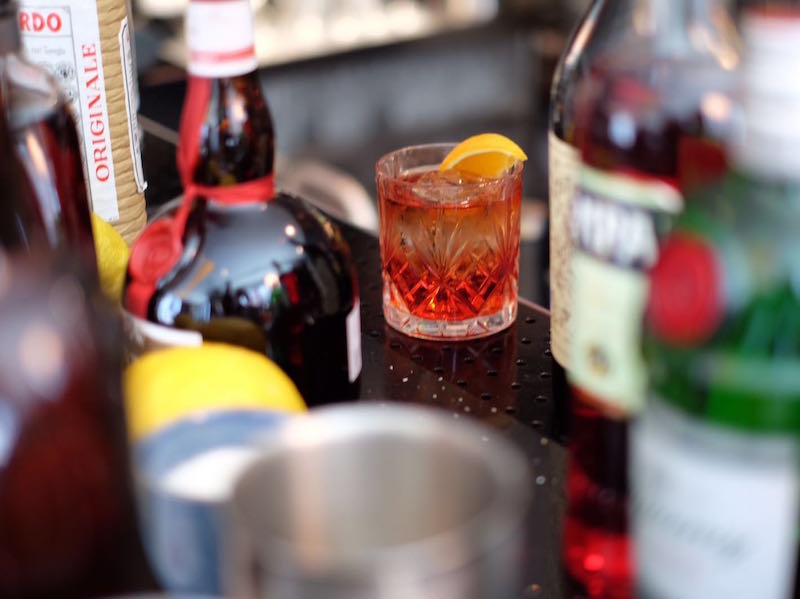 Negroni
Ingredients:
20ml Monkey 47 Gin 20ml Carpano Antica Formula Vermouth 20ml Campari 1 fresh orange peel
Method:
Pour gin, Vermouth and Campari into a mixing glass. Add ice and stir until chilled (if you feel like going the extra mile, Mattia recommends a Japanese throwing technique and an ice ball instead). Strain into a rocks glass, wipe the rim and serve with an orange segment.
Reportedly originating in Florence's Caffe Casoni, legend describes how Count Camillo Negroni requested an extra-strong interpretation of his favourite cocktail, the Americano – replacing soda with gin, bartender Forsco Scarselli replaced the usual lemon garnish with orange, and the Negroni was born. The orange tricks the senses into expecting a sweet flavour, serving to contrast the pleasant bitterness of the Negroni. The family capitalised on young Camillo's affinity for alcohol by founding the Negroni Distillery, producing a ready-made concoction in the unmistakable jewel-red hue. Free of syrup or in fact anything non-alcholic (bar the orange peel), the astringent Negroni is a controversial conversation starter, and a Rake favourite.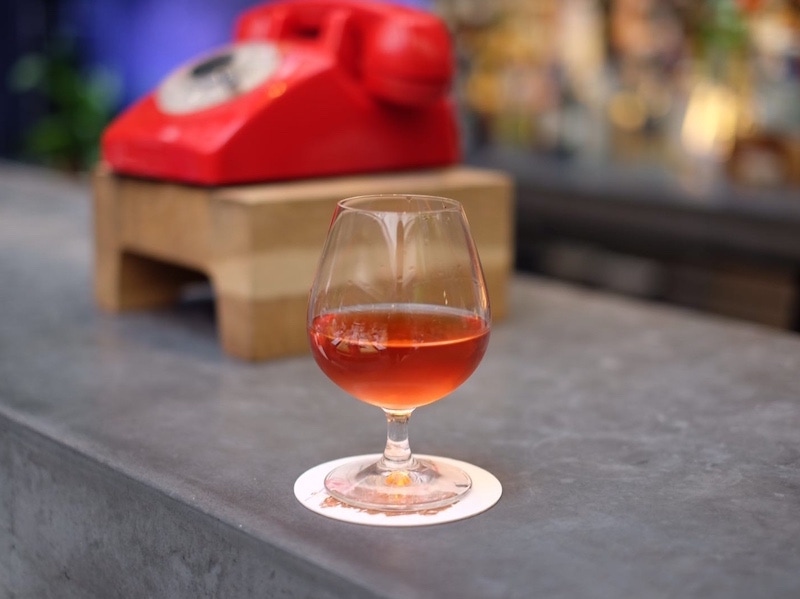 Sazerac
Ingredients:
1 sugar cube
25ml Sazerac Rye
25ml Hennessy Cognac
2 dashes Peychaud's bitters
Butterfly Absinthe
Lemon peel
Method:
Muddle a sugar cube with a few drops of water in an old-fashioned glass.
Add several small ice cubes, the rye and the bitters.
Roll a few drops of absinthe in a balloon glass to thoroughly coat and dispose of the excess.
Pour the liquid from the first glass into the balloon glass. Serve alone or garnished with lemon peel twist.
The Sazerac is a brazen cocktail, using rare, strongly flavoured ingredients (such as Peychaud's bitters) and an unusual technique involving an absinthe rinse, slyly upping the potency. While the sugar cube and lemon peel provide a pleasant sweet-and-sour piquancy, the alcohol content is high and the taste mighty. With origins in New Orleans, Antoine Amedie Peychaud supposedly produced toddies for his friends in 1838, using double ended jiggers – then known as 'coquetiers' – from which the word 'cocktail' was derived. Not only is the Sazerac the OG in cocktail terms, but to this day remains a top shelf power-player.

Sours.
Mattia Picello's Sour for South Place Hotel
Ingredients:
1 egg white
20ml Stolichnaya Elit Vodka
20ml Kwai Feh Lychee Liqueur
20ml sugar syrup
Half a lime
Method:
Mix the egg white, sugar syrup, juice of half a lime and lychee liqueur.
Shake dry to reduce dilution.
Mattia then uses a Japanese bartending technique called 'throwing', which twists the liquid around the ice, maximising cooling while minimising dilution.
Spray with rose water to reduce the froth.
Add a few drops of Peychaud bitters, spritz with Angostura bitters and top with edible flora.
Picello has just celebrated his twentieth year of mixology, and cites artists such as Jerry Thomas and Kazuo Ueda for perfecting and inspiring decades worth of alcohol-related inspiration. He produces this sour, containing ultra-deluxe vodka and refreshing lychee; it is the perfect palette cleanser due to its balanced floral notes and smooth heady character. The Rake was sold on first sip.
With sincere thanks to the South Place Hotel and to Mixologist Mattia Picello.