Rake Commends: The Penny Loafer
The penny loafer, made widely popular in the '50s, celebrates its 80th birthday this year. The Rake explores this classic shoe style, once enjoyed by rock stars, presidents and Hollywood icons...
During 1950s college life in East Coast America, there was only one shoe you wanted to be seen wearing. Whilst Clarks Desert Boots or Alden long-wing brogues might gain you the odd nod of approval, a pair of sleek, slim penny loafers would be the sartorial equivalent of pulling on a night out. Not only would your comrades praise you for your exemplary taste and know-how, you'd also feel like a million bucks, swanning around your campus confident in the knowledge that your shoes were the very embodiment of an entire movement. Penny loafers were sleek, sophisticated and perfectly bordered the notoriously difficult line between formal and casual, allowing college students of the Ivy League to dress in their characteristically nonchalant manner.
The penny loafer was not born into '50s college life however, it came along nearly two decades prior to that. According to Graham Marsh, author of The Ivy Look: Classic American Clothing, "The original loafer was introduced to America in 1936 by a bookmaker named George Bass, who had made boots for Admiral Byrd's Antarctic expedition and flying boots that Charles Lindburgh wore on his transatlantic solo flight. Bass, no novice when it came to footwear, adapted his new shoe from the traditional Norwegian fisherman's slipper, calling it the Weejun in acknowledgement of its Norse origins…The Weejun soon became a symbol of American casual style, worn by men and women alike. Women slipped pennies into the front and made loafers a fashionable craze. Indeed, Bass Weejuns are known as 'penny loafers' to this day".
More specifically though, it was actually US Esquire who brought widespread attention to the penny loafer in 1936. The Rake managed to track down the very article published some 80 years ago and it turns out that the shoe "came from two shops in London, retailers of the product of Norwegian craftsmen", destroying notions that the style was actually an American invention. Esquire described how the Weejun "provides slipper-like comfort for end-of-the-day wear, yet it may be worn about the house without any fear of guests raising their eyebrows for it is not a slipper. It cannot slip off at the heel because of a trick of construction that holds the back of the shoe tightly against the tendon achilles while you are walking yet permits it to relax while at rest".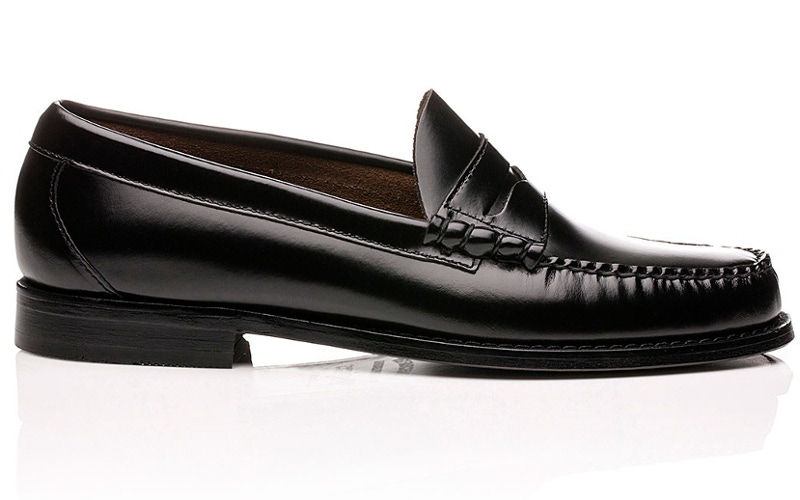 And indeed, G.H Bass' famous Weejuns remain incredibly popular today. Like all penny loafers, their beauty lies in their versatility, and over the years they've been adopted by silver screen icons, punk rockers and presidents. Weejuns today are a particular favourite among those who fetishize the Ivy League era, with many associating the shoe with the 1950s, jazz and Hollywood romance. There has been a noticeable drop in the quality of Weejuns of recent years however, which can possibly be attributed to the fact that many of them are made overseas to cut costs, rather than in Maine, New England, where the company originated. The silhouette of the Weejun is still strong though, and the Larson model even boasts the famed 'beef-roll' stitching either side of the bridge of the shoe; a nice touch.
Unlike in 1936, those in the market for a penny loafer have a huge amount of choice available to them, so much so that the style has been heavily saturated, yet there are a number of contemporary interpretations that paint the humble penny loafer in a refreshing new light. Herring, who started life in 1966 (and are this year celebrating their 50th anniversary), thirty years after the penny loafers were conceived, produce a number of examples, the best of which is the Broadway II. Whilst loafers are generally considered to be summer shoes, the Broadway II is arguably a four-season shoe with its robust Dainite rubber sole, offering the unbeatable grip and comfort synonymous with the 121 year old British rubber company.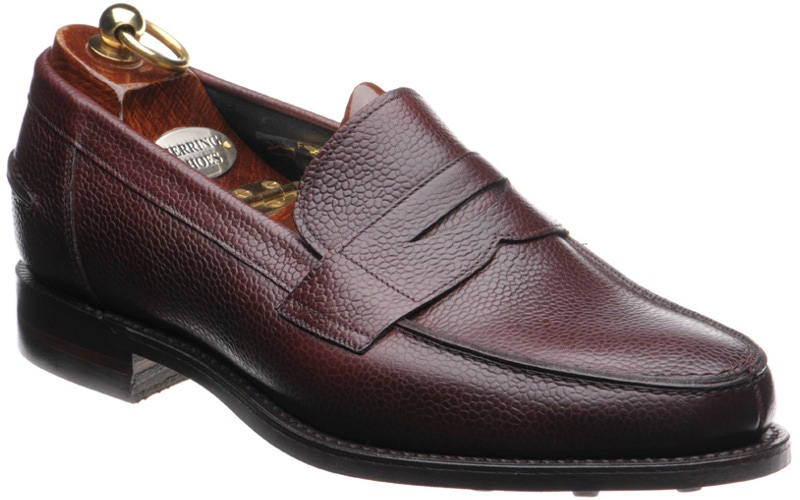 The hard-wearing yet soft full grain leather upper is normally reserved for Herring's country brogues and boots, yet here it provides an enticing visual depth and texture especially when in rich burgundy, whilst offering a slightly rugged edge that contrasts with the penny's usually sleek aesthetic. This is backed up by the slightly chunkier silhouette, which lends a casual air to the shoe and ensures they'd pair well with a sharp pair of denim jeans, ideally with a one-inch selvedge turn up. The Broadway II does of course feature the saddle across the vamp of the shoe complete with a cut-out, should you want to make like the Ivy Leaguers and insert your own penny.
For their signature loafer, French shoemakers J.M. Weston would accept nothing but perfection. Designed by the company's founder, Édouard Blanchard, who reportedly tested over 200 different shapes until the final design was settled on in the 1960s, the no. 180 loafer is the brand's most recognised and celebrated style. It was famously adopted in the '60s by the Bande du Drugstore - Paris' equivalent to British mods - on their stylish outings to such venues as the Publicis Drugstore on the Champs-Élysées with scooters by their side and no socks on their feet, all in an attempt to rebel against the dreariness of contemporary life. The 180 is available in a range of finishes today including alligator and calf suede, yet our choice would be plain box calf or anilou leather in either black or dark brown for their elegant simplicity.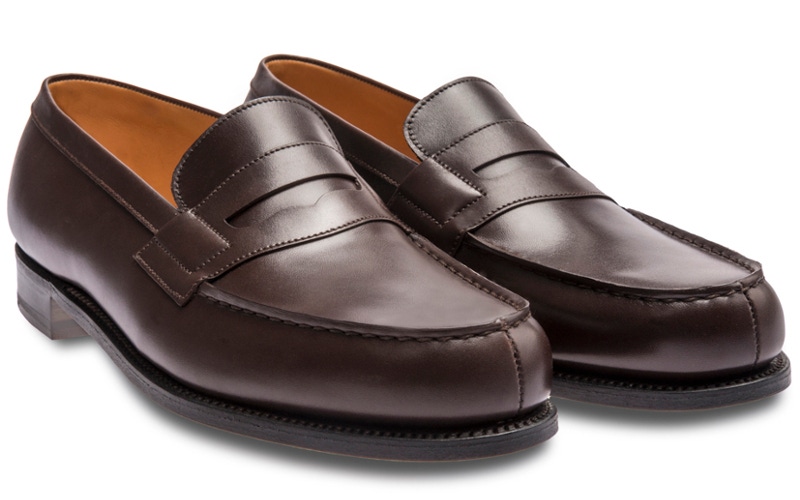 Another shoe brand that's mastered the penny loafer over the years is Crockett & Jones. For their latest spring/summer 2016 collection, the Northampton firm has updated their aptly named 'Harvard' model in a whisky cordovan leather, making it perhaps the ultimate Ivy League-inspired shoe. Cordovan leather is noted for its sumptuous waxy finish and deep shine as well as its ability to last multiple lifetimes. The inimitable G. Bruce Boyer described it best on the website of Charelston's Ben Silver, "genuine shell cordovan is rare. Most leathers come from cows, but cordovan comes from horses…Each horse provides two shells, which is just enough for a pair of shoes…The shells are put through a natural, vegetable tanning process, then hand-stained, glazed, and finished over a six-month period that demands the measured pace of craftsmanship and patience". The deep whisky colour of C&J's Harvard 2 model is versatile yet will look its best when worn with off-white tailored chinos - the hem skimming the shoe just so - and a check sports coat up top with an oxford button-down underneath, with suitable collar roll of course.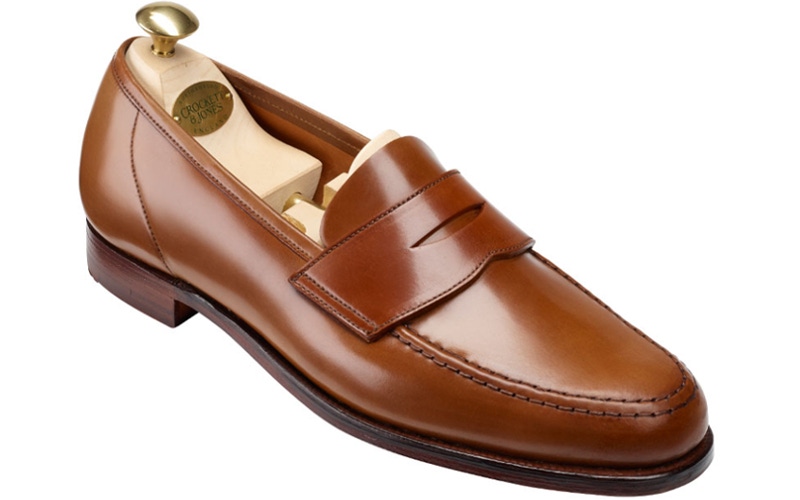 The penny loafer was originally conceived as an off-duty shoe, best reserved for weekends or lounging around at home. Over the decades though and with the continued dwindling of dress codes today, it has become the closest thing to a shoe suitable for any occasion. With its exciting and somewhat romantic history, the penny loafer continues to inspire younger generations as well as rekindle the sartorial applause of old ones, many of whom undoubtedly enjoyed the style the first time around.