THE ROLLS-ROYCE DAWN: TOPLESS BEAUTY
Sybaritic sundrenched motoring in the lavish new 'Riviera Roller' cabriolet.
One of the laziest things a writer can do is kick off a story with a dictionary definition — you know, "Just what is laziness? The Oxford English Dictionary defines 'lazy' as: Characterised by lack of effort or activity; showing a lack of care…" Doubtless you've seen this sort of thing before.
That said, at The Rake, this month's theme is Sex & Sybaritism — and while you're doubtless familiar with the former (if not, Google it), the latter is an uncommon word that really could do with a bit of fleshing out. It means "fond of sensuous luxury or pleasure; self-indulgent," with synonyms including: "luxurious, extravagant, pampered, lavish, self-indulgent, pleasure-seeking, sensual, voluptuous, hedonistic, decadent, unrestrained." Which all seems a rather perfect description for the new Rolls-Royce Dawn — sybaritism on wheels.
The successor to the beautiful Phantom Drophead Coupe, the Dawn, says Rolls-Royce CEO Torsten Muller-Olvos, has been designed "to be the most social of super-luxury motor cars for those who wish to bathe in the sunlight of the world's most exclusive social hotspots." Taking aesthetic cues from old-school wooden motorboats of the Riva ilk, Dawn is a dry-land gin palace, "a Rolls-Royce that feels completely at home on the Route Napoleon," says design director Giles Taylor, "a contemporary homage to a life on the Cote d'Azur… cavalier in character, it is intended to attract people who relish both freedom and sophistication." So far, so sybaritic.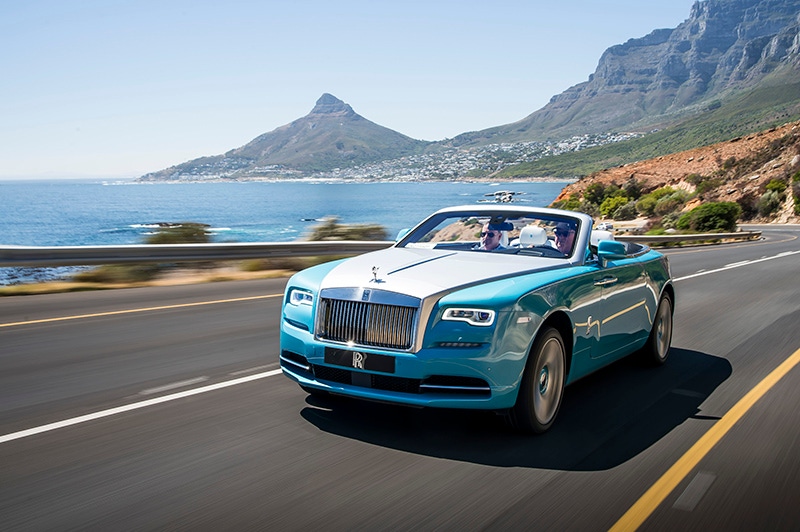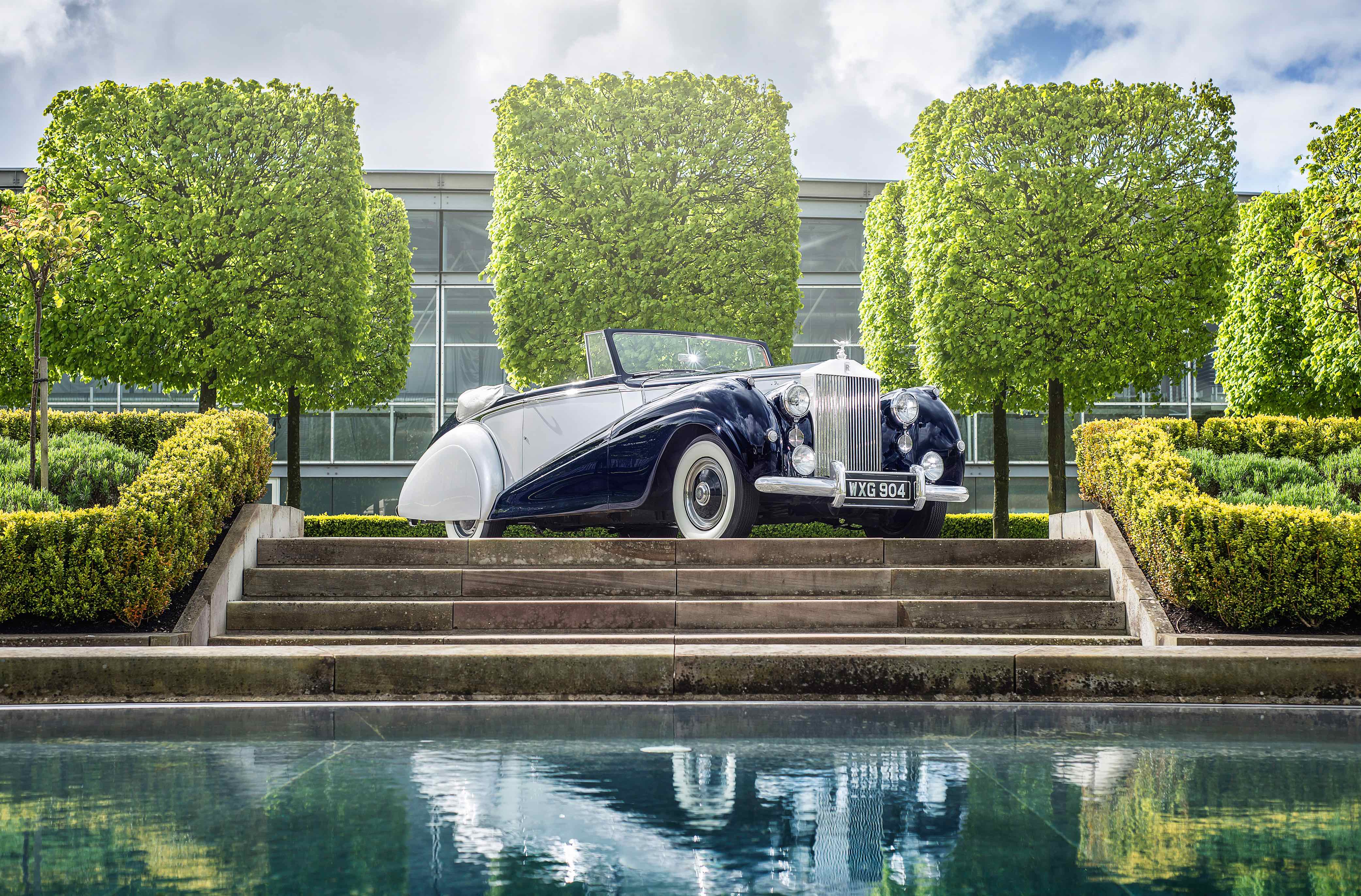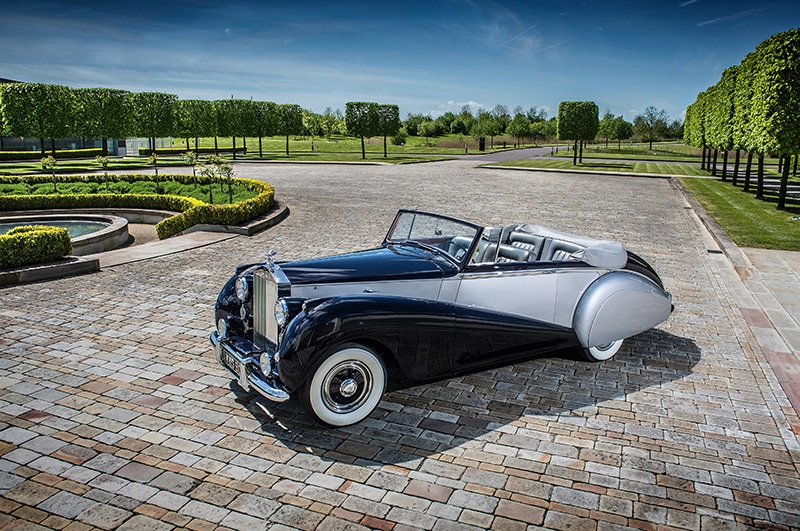 The social-friendliness of this 'Riviera Roller' — tailor-made for 'look-at-me' trips to the superyacht marina — comes as a result of the rear accommodations not taking a 'back seat' in the design process. As is the case with Rolls-Royce's sedans, passenger comfort is paramount. Eschewing the '2+2' format common to most convertibles (where the front seating is capacious, while the back is fit only for children, double amputees or the exceedingly petite), here, Rolls-Royce has built a true four-seater cabriolet. "In creating Dawn we have accepted no compromise to the comfort and luxury of four adults who want to travel together in the pinnacle of style," says Taylor, noting that a Rolls-Royce should serve not only as an exquisite automobile, but a fabulous social space. Backwards-opening coach doors (hush now, the folk at Rolls frown on the 'suicide doors' appelation) facilitate graceful entry and exit for front-and back-seat inhabitants alike.
Of course, passenger comfort aside, the driver experience is equally without compare, Dawn's twin-turbo 6.6 litre V12 engine delivering brilliant performance, with cutting-edge satellite-aided transmission tapping GPS intel to predict the optimum settings for impending conditions, setting the eight-speed gearbox accordingly. Should you encounter drizzle, fo' shizzle, the car's roof (its fabric construction all the better to enjoy rain's gentle pitter-patter) gracefully dances into place in 22 seconds — even whilst in motion — providing passengers not only with shelter but outstanding cabin quiet equal to that of Rolls-Royce's hardtop Wraith.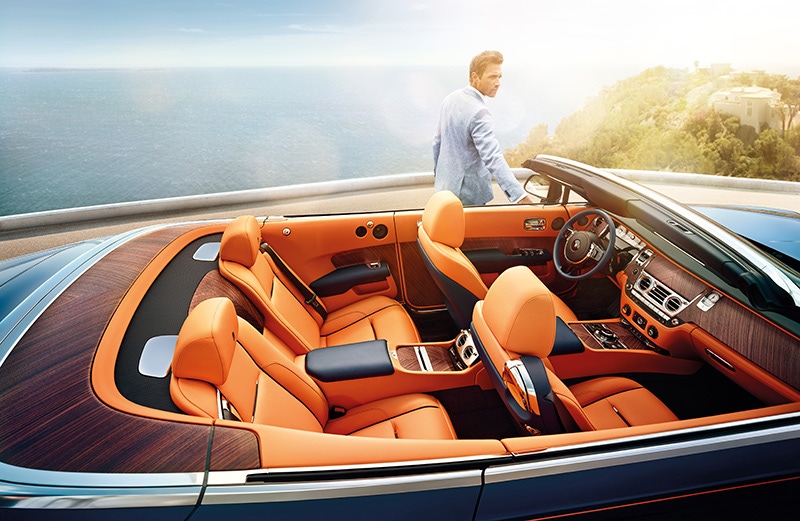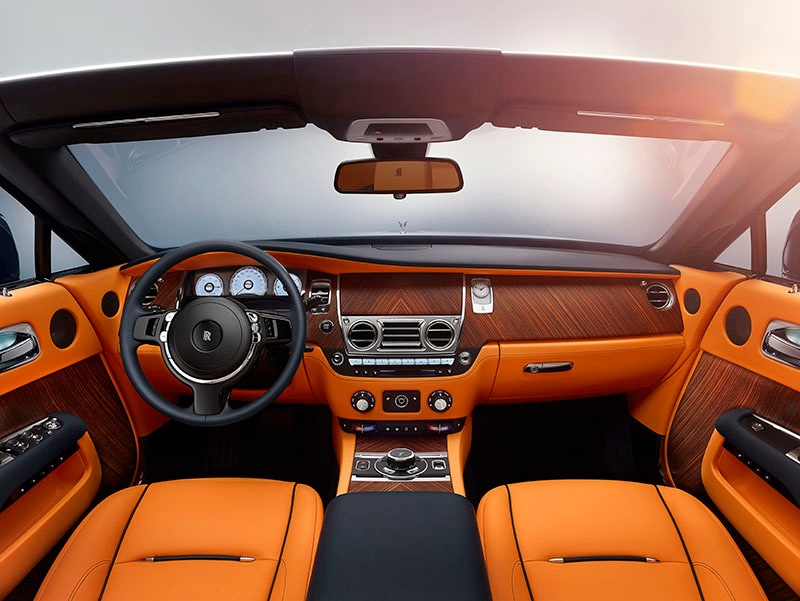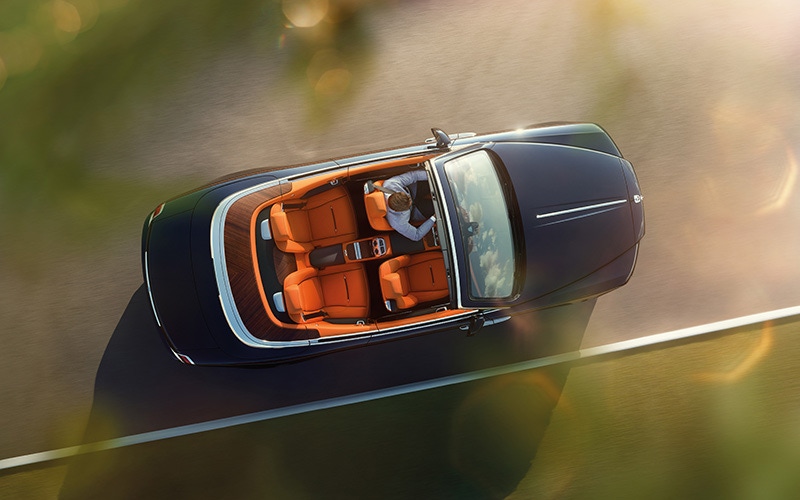 Being a sybarite doesn't preclude attention to safety concerns — in fact, the more devil-may-care an individual, the greater importance these take on. Dawn boasts a system that detects human or animal heat signatures on the road ahead and alerts the driver to dangers (avoiding those troublesome Daisy Buchanan-type misadventures), advanced radar and camera to pre-condition braking in emergency situations, run-flat tyres that allow the car to continue driving for 160 km with a puncture, and — deployed in a split-second in the case of flippin' catastrophe — a concealed roll-over protection system.
Its customisation and personalisation options as limitless as those of a bespoke suit, the Rolls-Royce Dawn is a deliciously decadent ride for those blue-sky thinkers who'd bring the outside into their sybaritic world. A lovingly crafted conveyance in which to see and be seen, this latest from the geniuses at Goodwood is quite simply drophead gorgeous.