The Class Journal: Victor Offers His Advice
The ever-stylish Victor from The Class Journal identifies some key pieces from The Rake that will see him through the Autumn/Winter season.
Victor, the young man behind
The Class Journal
, wants you to dress well. That is to say, he is not only conscious about men looking the part, but acting like proper gentlemen too. The young Zurich banker, who has built up an enormous following for his style and lifestyle tips on
The Class Journal
Instagram account, is speaking with The Rake about his journey so far, and has selected five Autumn/Winter pieces that he is particularly taken by this season.
First, a bit about Victor. Originally from Hamburg, Germany, he is now arguably Switzerland's leading voice in men's style, having worked closely with numerous brands and chronicled menswear throughout Europe, functioning as a litmus test for trends and designers. It doesn't hurt that he is rather a handsome fellow, too.  
Victor is most popular for the weekend Q&A he holds on Instagram, where he asks his 50,000 followers to send him a myriad of questions on topics he loves and happens to know plenty about, such as style, cars and watches. He responds to a lot of them, sharing his opinion on what it means to be a man in the 21st century, particularly for people of his – and my – age group; our sartorial-shortcomings, frustrations, ambitions, academic troubles, relationship problems, and everything in between. Like an agony aunt for the uninitiated class-curious, Victor is doing God's work – and his answers are particularly insightful and oftentimes funny. "I have always enjoyed helping others," he reflects. "I am glad I can be a part of their progress and improvement, and follow their journey". As the man himself attests, regarding his picks, "With the world turning faster and faster, we get accustomed to products only having a certain lifespan… I think it's time we valued quality again, and cared for those things we like. The same logic applies to people," he suggests, hinting at the reason behind those popular Q&As. That's why we have asked Victor to pick a few of his favourite pieces available on The Rake, and to offer some ideas on how best to integrate them into one's wardrobe.
The Coat
Undoubtedly the most important piece in every gentleman's Autumn/Winter wardrobe, the coat's main purpose is to keep you warm and protected from the vagaries of the cold seasons' weather. This should, nonetheless, never happen at the cost of sartorial disgrace. This double-breasted navy coat by Chester Barrie ticks all the boxes, bringing two undeniable factors for success to the table: its very own master tailors and Fox Brothers & Co. Ltd., producer of some of the UK's finest fabrics. Inspired by the coats worn by naval officers defying the rough winters of the North Atlantic, the tailors at Chester Barrie have created a sartorial masterpiece that, combined with Fox Brothers' warming wool twill, ensures you're looking good off the Scottish shores as well as in The City.
The Jacket
One material that is definitely back this season is flannel. This light and soft wool fabric, manufactured by Vitale Barberis Canonico in Italy, is guaranteed to keep you warm. The jacket's sublime navy colour makes it an incredibly versatile piece: it can be worn as easily in a business setting as in any other less formal occasion. The mustard-coloured bouclé chalk-stripes add an interesting twist and pay homage to the season. I really enjoy that facet, as it brings along a very fashionable aura, while being timeless at the same time. Not many garments manage this balancing act.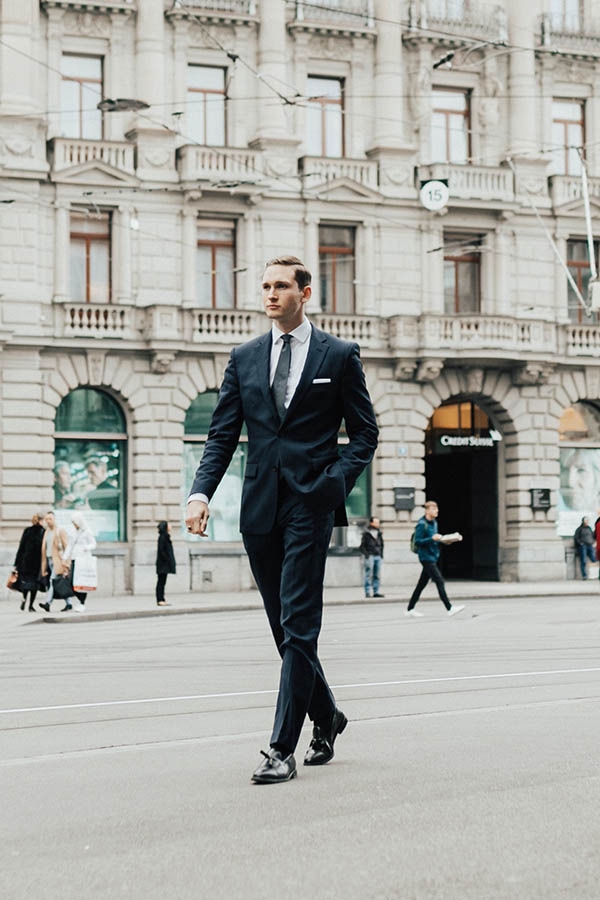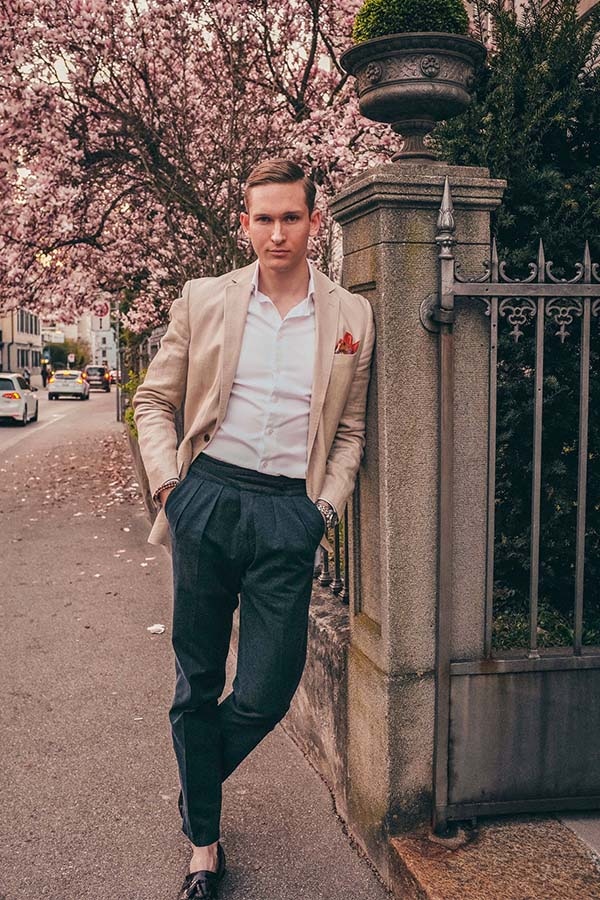 THE TROUSERS
Staying with flannel here, these dark grey trousers not only combine perfectly with the jacket on the fabric side, but on the colour side as well. I am a big fan of the dark grey and navy combo, which works in literally every setting. Manufactured by globally renown shirtmaker Cordone, the brand once more shows us its tailoring versatility. Having double-pleats, side adjusters and a wide extended waistband, these trousers tick all the boxes of a sartorial masterpiece.
THE TIE
Winter is ahead and that means it is time to not only pack away the Panama hat, the linen shirt and your pair of espadrilles, but also to say goodbye (at least until next summer) to the bright colour palettes of Positano, Capri and Saint-Tropez. One colour that for me perfectly captures the mood of colder days of the year is burgundy. Burgundy reminds me of cigars and cognac, of red wine in front of the fire place and of family Sunday roasts. Paired with a grey floral pattern, this tie goes perfectly with a navy or grey suit. Made by Bigi Cravatte Milano, one of the last hidden gems of Italy's business capital, this tie stands for exceptional craftsmanship that becomes apparent in its velvety weave that gives the tie a subtle transcendence.
THE SCENT
One factor that can easily be overlooked, but is in fact of paramount significance, is our smell. We recognise people by their smell before we even see them. In today's world of designer fragrances, where every other gent is wearing the same old cologne, it is highly desirable to invest a bit of time to find a truly distinctive scent that reflects one's unique personality. Being a long-time fan of the classic Floris Santal, I find it suited to my own tastes. It is characterised by crisp bergamot and lemon zest cut through with fresh notes of green grass and a spicy blend merging with lavender. This scent will perfectly round up every outfit and will leave everyone around you pondering over where you got it from.