The Wardrobe of Winston Churchill
With the recent release of Darkest Hour, we examine Winston Churchill's style and how it was recreated through the film's authentic touches.
There should be one thing abundantly clear to you when you look at the recent celluloid incarnations of Winston Churchill on screen – most recently by Gary Oldman in
Darkest Hour
– which is that for all his greatness, Churchill was not really built for suits. In fact, he was a tailor's nightmare. Slumped shoulders, arched back, engorged gut; these are all challenges that, in isolation, would test the cutter's skill in mitigating physical factors. His unflattering physique was the one thing he couldn't talk himself out of. "Stylistically, he was very much in his own realm, but figuration-wise it was a challenge," says Simon Cundey, Managing Director of Savile Row heavyweight Henry Poole, Churchill's tailor of choice. Currently, you can find a selection of resurrected looks of Churchill that were made for Gary Oldman in
Darkest Hour
, in the window of Henry Poole.
This was not always the way. Churchill, a military man – cavalry to boot, whose uniform was famously flattering – can be seen on tour or in civvy street cutting quite the dash. If we accept the premise that his sartorial legacy is adjunct to how we have immortalised him on statues and signs on pubs, then his later years are what we should focus on.
Furthermore, what is impressive is that Churchill managed to carve his way into style folklore when spending his senior political career more or less attached to the hip of Anthony Eden, the best dressed politician of all time. He was Prime Minister during the war and that made all the difference. No matter what everyone else did, so long as Churchill emerged from Number 10, Downing Street with a stiff collar, his Lock & Co. bowler or Homburg on his head, pressed suit, cigar and highly polished shoes, then the 'keep calm and carry on' spirit prevailed.
Churchill no doubt gets mileage from his legend, the bulldog-faced portraits that were a symbol of defiance and Britain's courage. His three-piece suit with the bow tie and pocket watch was unquestionably a becoming look. A regular necktie could have acted as an arrow to his tummy and the waistcoat corseted his shape and allowed for the jacket to focus on draping round the pronounced curve of his nape.
He was very much a man of occasion and had outfits to suit each one, so what follows is a breakdown of his most notable styles, during and after the war, and how he mastered each of them.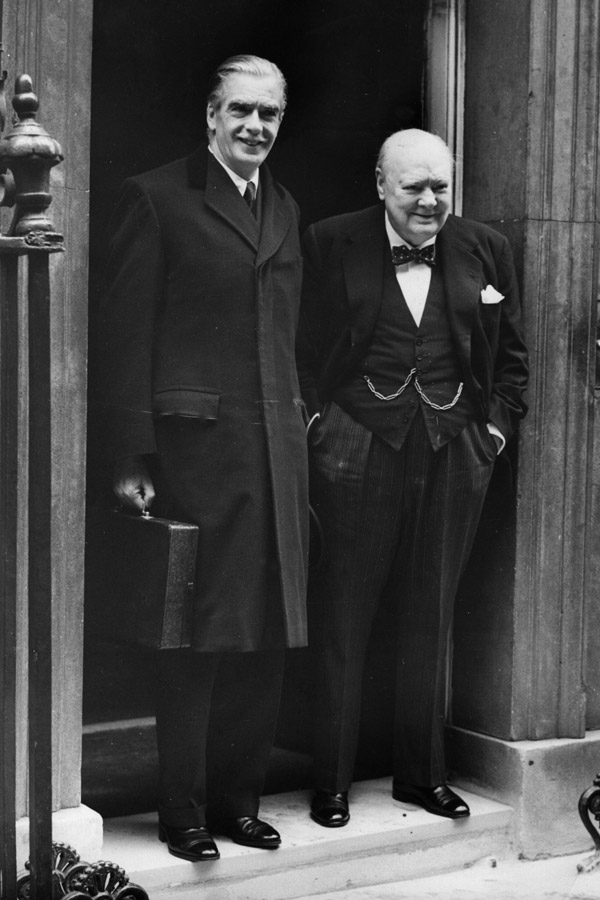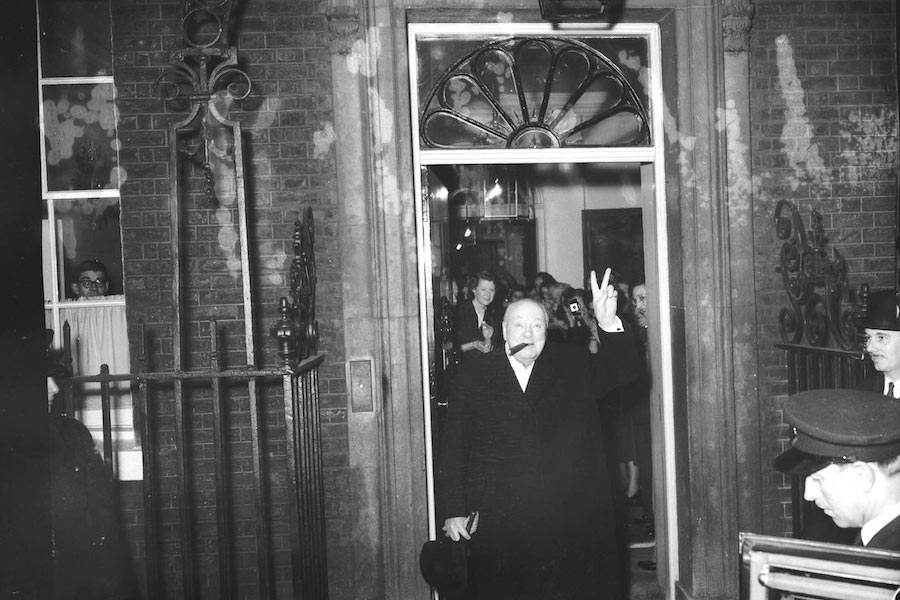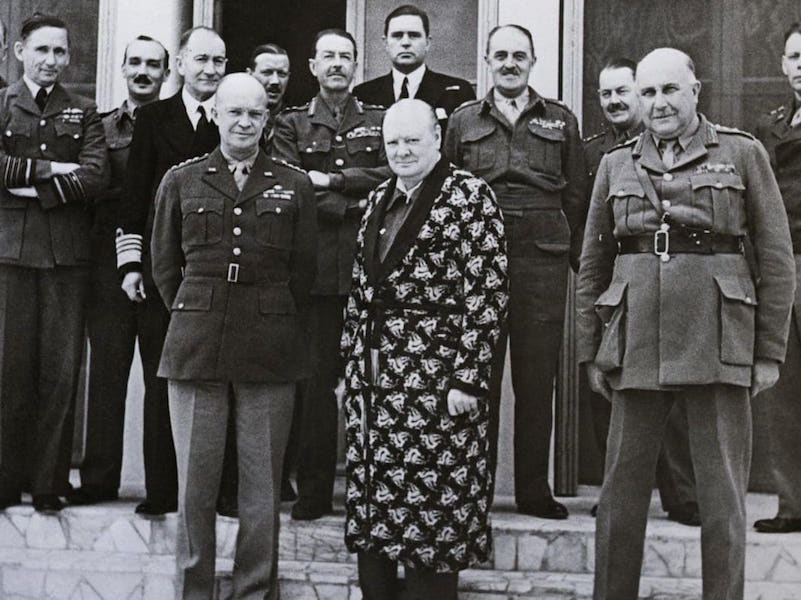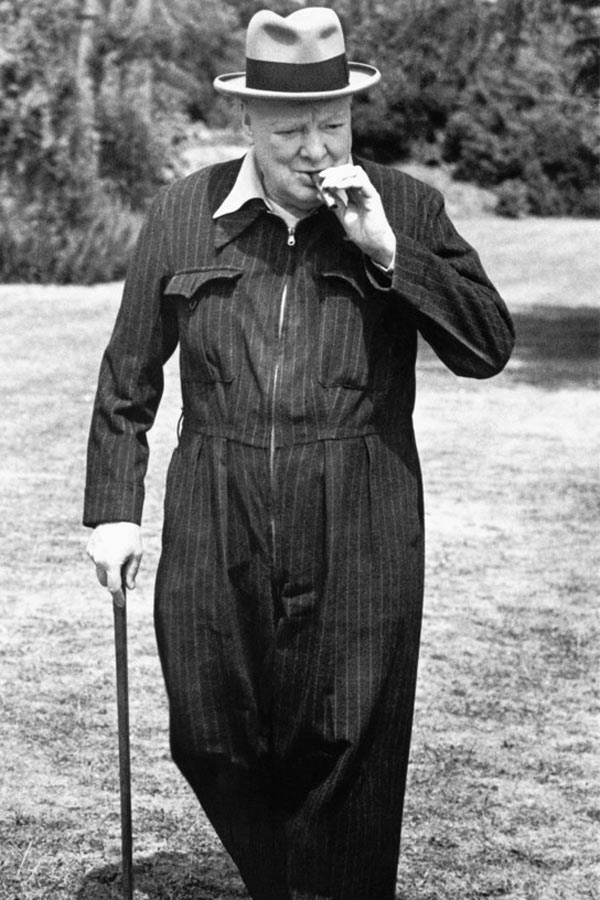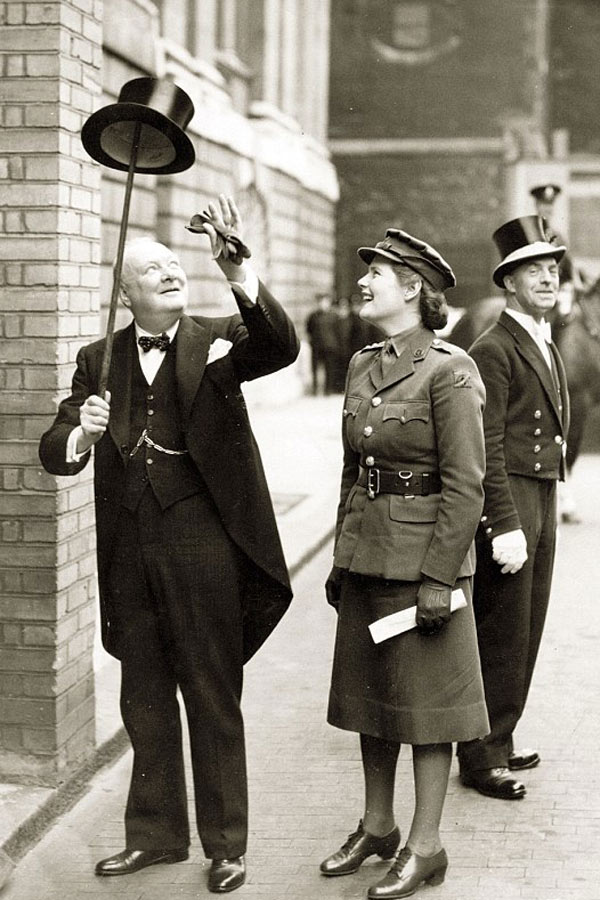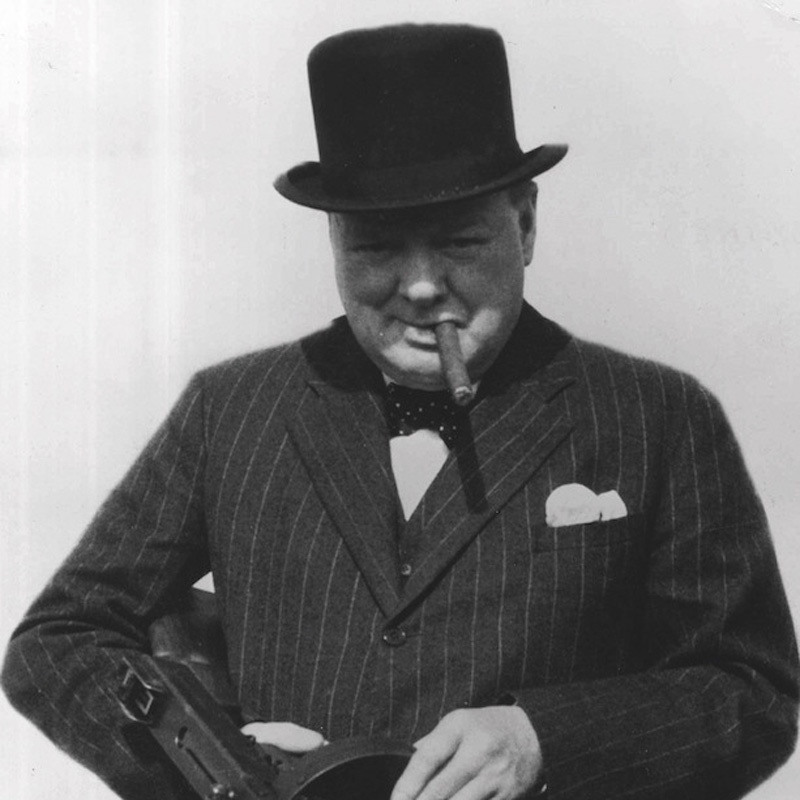 Morning Dress
A staple sartorial diet for him, the cashmere striped morning trousers, with a jacket (regular not tails) and single-breasted waistcoat linked by a pocket watch, hanging in what looks suspiciously like a 'W'.
The watch, out of interest, was a Breguet, who in the spirit of accuracy and detail, recreated a version for Darkest Hour.
This was a derivative of court dress, lounge morning dress if you will, that Winston was always particularly fond of. Cundey, whose house is responsible for this look, says: "It made him stand out – he used to work his suits quite hard and so it is amazing that he still managed to look his best, but in this, it is hard not to."
The Siren Suit
Turnbull & Asser created this rather unusual garment for Churchill. Supposedly inspired by builders doing work at his home in Chertwell, he commissioned the Jermyn Street tailor to make several in various suiting fabrics, from chalkstripes, to grey and green velvet. He called it a romper suit, but it was redubbed as it was what he wore before heading to the shelter once the air-raid sirens went off. Unexpectedly, these made a comeback in the 2010-2016 classic-style revival. Turnbull & Asser naturally made versions of their own but others (like the Kingsman line of Mr Porter) made their own too. Inevitably this trickled down and on the catwalk in the past few years we have seen brands such as Dries Van Noten, Alexander McQueen, Lanvin and Prada come up with their take on the style, but with his beige Homburg, python slippers and cigar, we all know who made it cool.
Chalk-Striped Tailoring
The image of Churchill holding a 'Tommy' gun in his three-piece, chalk-striped suit, open crown Homburg and cigar, is perhaps the ne plus ultra image of Churchill. It ticked plenty of the boxes it needed to when it was taken in 1940, appealing to our so-far-so-neutral cousins from across the pond (the Thompson is an American design). The suit juxtaposes it as it is the archetype of a British suit. The fabric is a flannel by Fox Brothers, who made it exclusively for Henry Poole, who made the suit in 1936. "Churchill wasn't too flamboyant with his tailoring details" says Simon Cundey, "but one thing he did insist on is the back of his sleeve being pressed. The tailors also had to check his side pockets for any cigars he packed in there and never took out, which was always an interesting clean-up job."
Both politically and sartorially, Winston Churchill was never someone to hide his light under a bushel, as he himself once said, "We are all worms, but I do believe that I am a glowworm."
Save
Save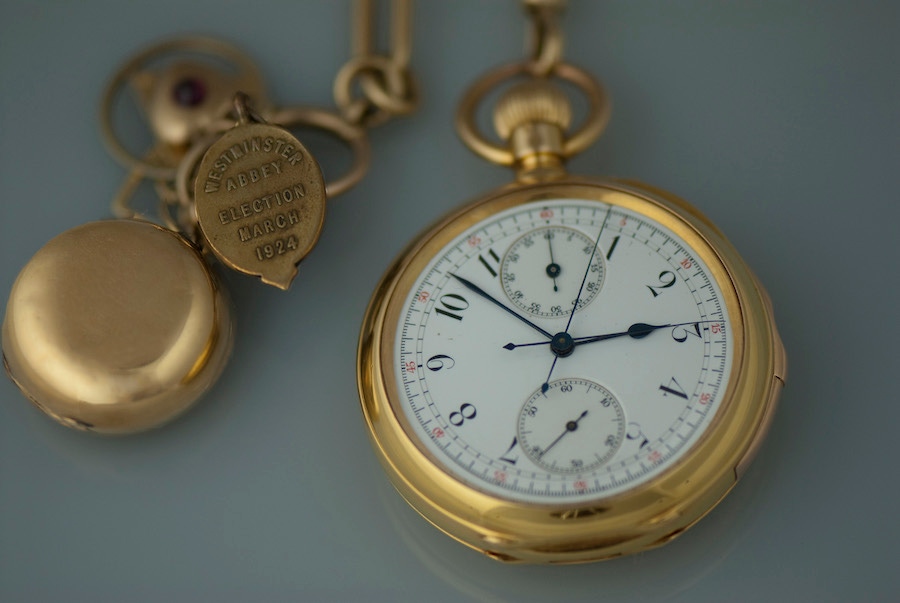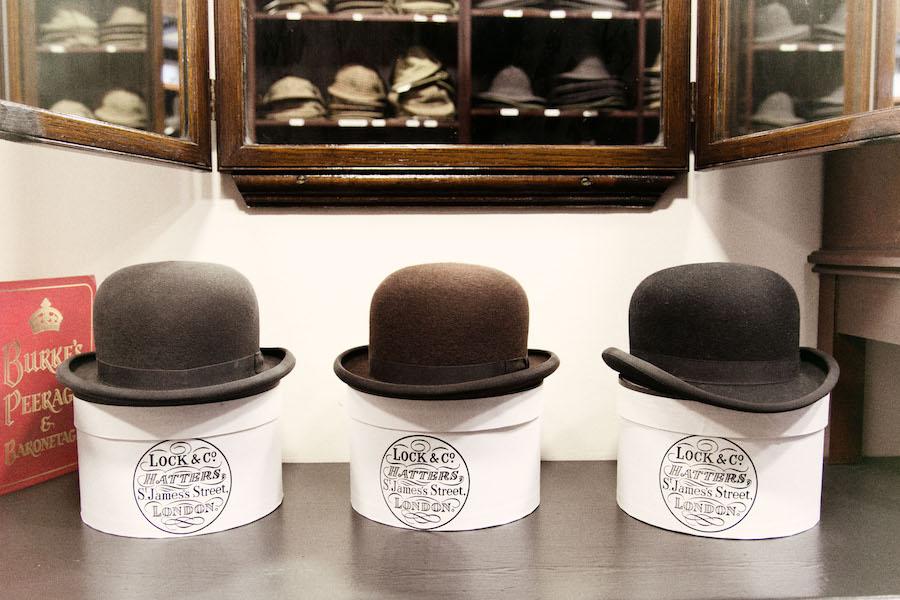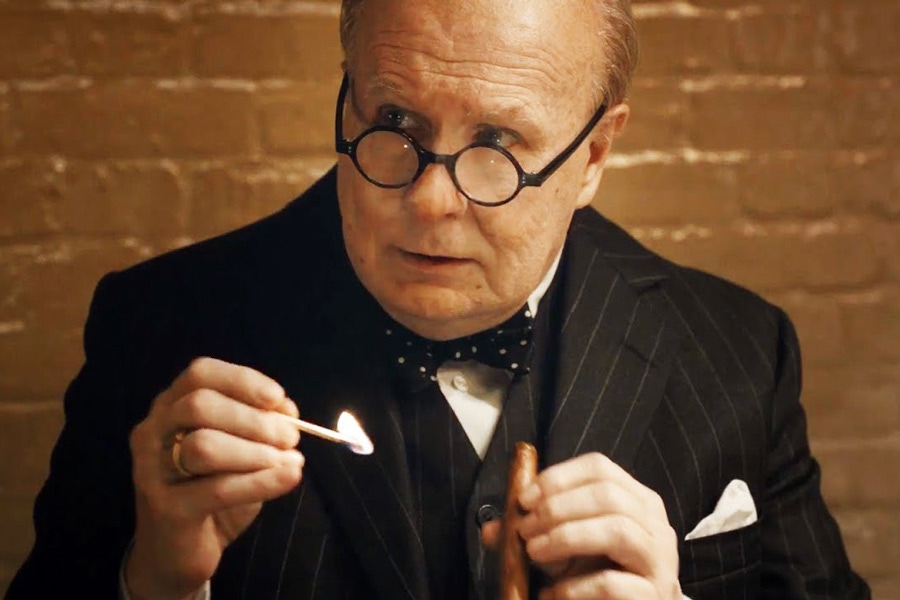 Gary Oldman plays the British Prime Minister in Darkest Hour.
Save
Save