Holy Smokes: Cigars to Take on Your Travels
Accessories and accoutrements to allow you to smoke in style wherever you are in the world.
"If smoking isn't allowed in Heaven, I shall not go", I think Mark Twain really liked his cigars! Surely that's only half the story? I'm thinking "which cigars, which cutter, which lighter and what travel humidor to take?" Travel is a regular part of many of our lives, whether it is for business or pleasure. It is easy to pick a destination but if you're a cigar smoker there are always the questions of which cigars and accessories to take with you. When I look at my shelves filled with cigar cases, humibags, zip locks, travel humidors and all the other accoutrements one seems to acquire whilst smoking, one must first start by looking at the duration of the trip. Three days or more is a proper vacation and you will probably have a suitcase in which to place your smoking paraphernalia. Packing for a one- to three-day trip needs much more thought. For short trips I usually choose a holdall or travel suitcase. I find a holdall is much less problematic to wander around with than a suitcase. Slinging it over my shoulder is easier than pushing or pulling a suitcase as you visit tourist attractions, bars, restaurants and of course, cigar lounges.
"If smoking isn't allowed in Heaven, I shall not go" - Mark Twain.
This article is definitely for the more seasoned smoker who enjoys one or two cigars a day at least. As a regular cigar smoker, when I'm packing cigars for a trip, I'm not just thinking about myself. I've never known a world as generous as cigars. I am constantly receiving as well as giving cigars. Fellow Brothers and Sisters of the Leaf (BOTL and SOTL) know this the world over. It's a pleasure to share your cigars with others - I guess it's an unwritten code of conduct. Of course, if it's unwritten, how does a new smoker know about this? Just through experience, something will eventually click in your head (hopefully) and you will realise that you've received cigars from people whom you've just met without reciprocating. That's when you need to start choosing extra cigars to hand out or exchange. It's very much like being bought a drink, the intention is that you would buy a drink back for that person. For a three day trip, I would typically pack about 10-12 cigars. So where to find accessories? I generally like to buy my accessories in person as I find it difficult to imagine the item even with online pictures. Online shopping is great to compare prices but, I don't think you can beat actually handling the piece and knowing it's made to your expectations and it fits the task. I arranged to meet Edward Sahakian, the owner of
Davidoff of London
who helped choose some choice pieces for this article from their selection.
The travel cigar case
A pocket sized cigar case, normally made of leather but also in other exotic materials as well as carbon fibre. Made to fit into your jacket's inside breast pocket, you can choose from one, two, three or five finger cases. If you smoke larger ring gauge cigars, 54+, chances are you won't get a five finger case that fits into your inside pocket but may fit into your outer side pocket. Edward's two recommendations were a Falloncuir three finger Cuban Flag cigar case and a Davidoff XL three finger cigar case.
Falloncuir
 is a French leather making company set up by Patrick Fallon. They make some of the most beautiful cigar cases I've ever seen. None other than luxury authority Nick Foulkes has written about them in a past article. They really are the Louis Vuitton of cigar cases. The white Cuban flag cigar case I'm drooling over is made of buffalo hide but you can get them in other materials like ostrich, python and stingray. They are totally made of leather and have a near perfect seal to maintain your cigars in good condition. After production, each cigar case has a Cuban cigar placed inside to prepare the cigar case for one week. This is another big plus for Falloncuir as when you normally smell the inside of a new leather cigar case, the leather smell is quite strong and this will naturally affect your cigars, whereas the Falloncuir's have a very slight leather smell. The Falloncuir 3 finger Cuban cigar case (£1400.00) can easily accommodate a 56 ring cigar and slides to extend to over seven inches in length (that's a double corona to you and me). I've had a two finger Fallon case in bright orange (doesn't it remind you of a certain company's colour?) for a couple of years and it serves me well. They say your cigar will stay in condition for a week, they are being quite reserved in saying this as I have heard up to three weeks from one guest.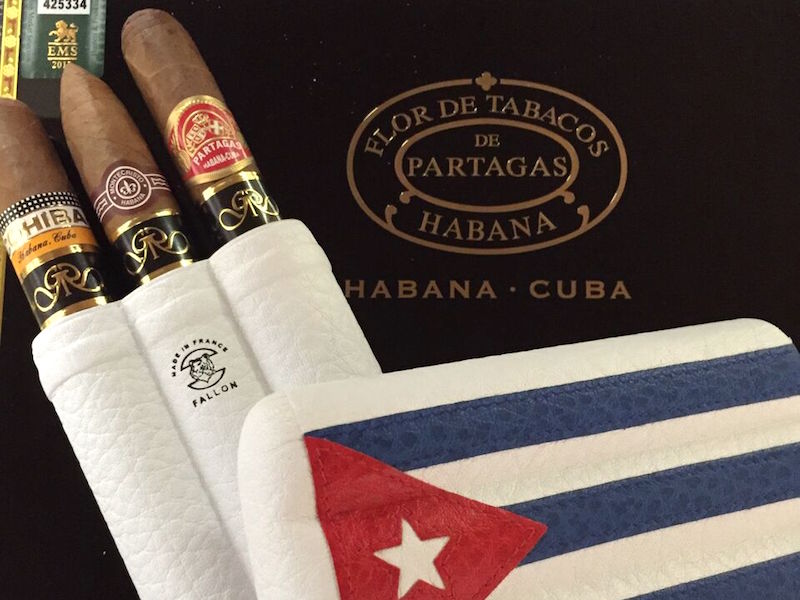 The Davidoff XL black pressed leather, crocodile style cigar case is rather sexy (pictured above right). At first glance, you do think its crocodile skin but the price tag gives it away (£165.00). A genuine 100% crocodile skin cigar case of this size would probably be £1000.00+. The case is made of cowhide and feels good to the touch. It easily fits into my inside jacket pocket. The Davidoff logo is discreetly embossed onto the case. This can handle three heavy ring gauge cigars, the 56 is an easy fit. Again as it's a slide case, it can accommodate a double corona length cigar. The XL has a fairly tight seal, which is important for cigar cases. A loose fit means more air exposure and that means your cigars will dry out quicker.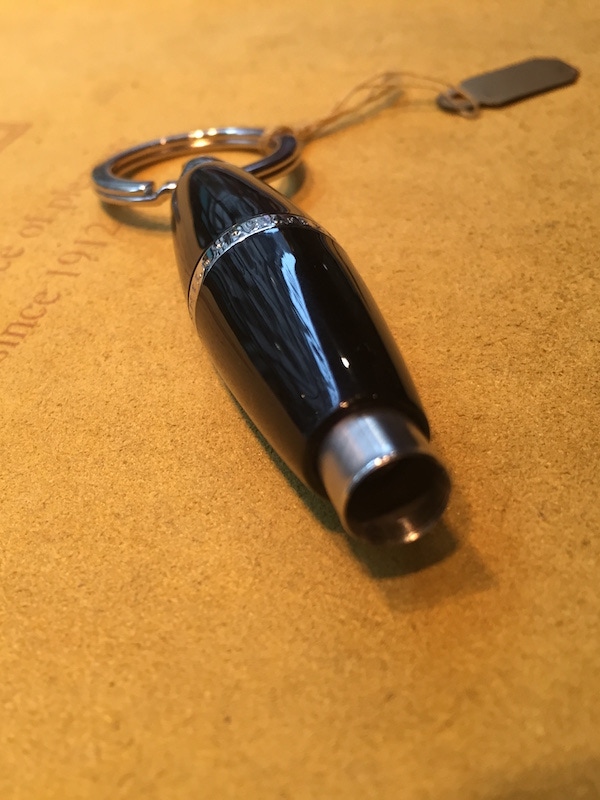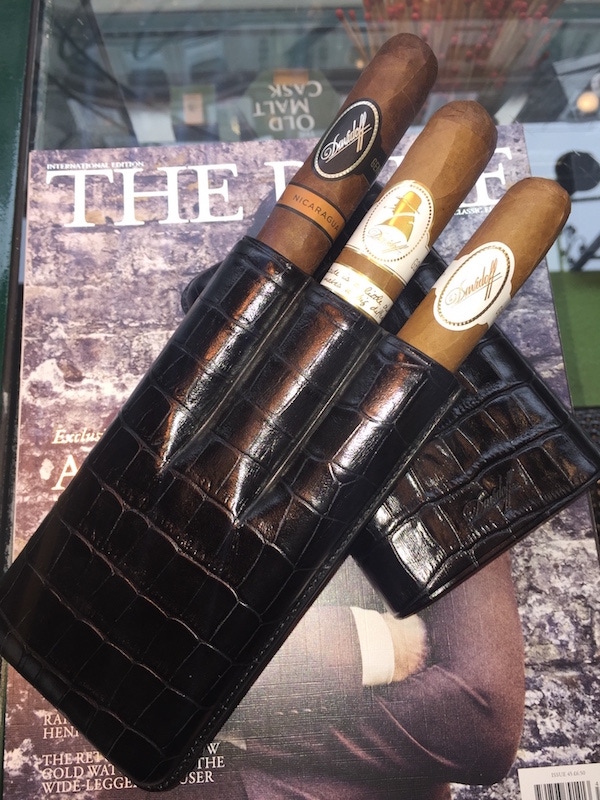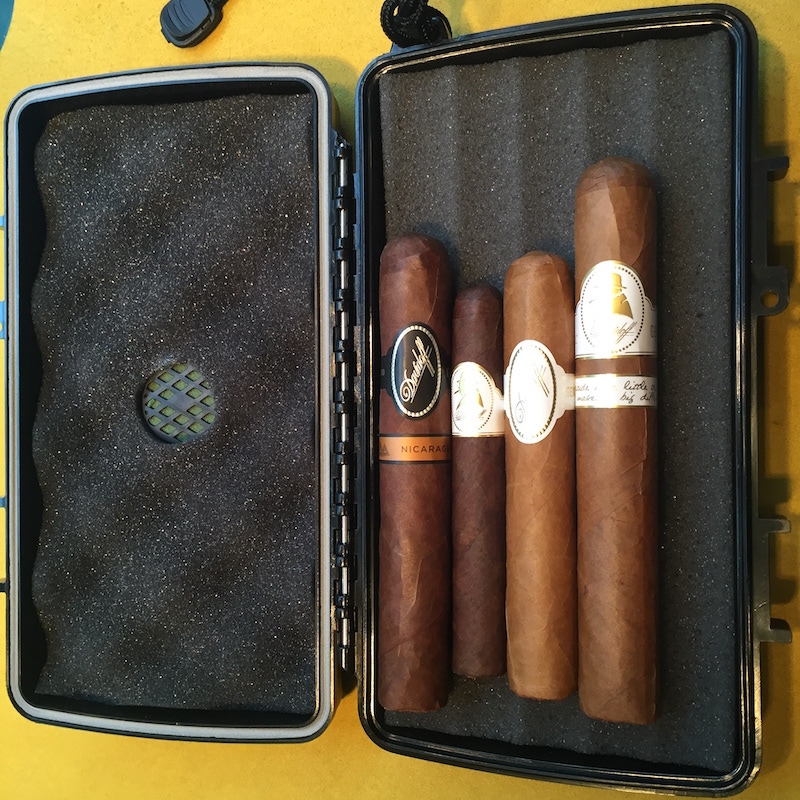 Travel Humidors
Xikar is an American company founded by Kurt Van Keppel back in 1994. They are now highly regarded in the world of cigar accessories as one of the best. They make lighters, cutters and travel humidors. The Xikar Cigar Caddy comes in five, 10, 15, 24 and 50 cigar size – that's enough for anyone, unless you're holidaying on an island for over a month which doesn't have a cigar shop! They may not be as pretty as a Dunhill travel humidor but, they are very practical. They are made from ABS moulded plastic, they are airtight, watertight, crushproof and even have a lifetime guarantee (Xikar stand behind all their products and offer the same guarantee for all their items). They have foam inserts to protect your valuable cargo. The five is perfect for a weekend (£30.00+), with room to enjoy two a day and give one away. It's flat and compact compared to the larger sizes. I have a 15 cigar Xikar which I use frequently. This normally has enough room for a few more cigars, if you remove one of the foam inserts. Dunhill White Spot terracotta 10 cigar (£245.00) oozes class and sophistication. The soft terracotta coloured leather surrounds a cedar wood travel humidor. A hidden magnetic clasp keeps the lid closed whilst you are on the move. On opening, the smell of cedar wood greets you. Dunhill provide a small rectangular humidification unit which you can use. Dunhill have a great and long history with cigars and accessories. Quality and design are their trademarks and this Dunhill White Spot travel humidor certainly has all that. A great piece for a weekend getaway. Note – I prefer to use Boveda packs in any cigar travel humidor. You can buy them at your preferred humidity percentage, they control the humidity and works two ways to regulate the humidity, they come in two sizes and last for at least three months.
Cigar Cutter
Your traditional single or double blade cigar cutter will not make it through airport security (usually). It's not worth risking your favourite cutter on the off chance you'll sneak it through airport security. You can of course find a tobacconist wherever you land and buy another cheap cutter, which of course you will need to leave behind before you return through airport security. A method of cutting I rarely use, apart from on my travels, is the punch cut. The good thing about these is that they can be fairly inexpensive yet come with key ring attachments. The punch cutter is discrete and never raises an eyebrow at airport security when attached to your set of keys. Xikar cigar scissors (MTX-multi-tool) are not quite a Swiss army knife but, they do have five uses (cigar cutter, screwdriver, cigar poker, small screwdriver and bottle opener). Made from lightweight stainless steel (they weigh a mere 1oz!), when folded in your toiletry bag have a small compact size which seems to go unnoticed at airport security. I've not used them personally but, several clients have and they come highly recommended. I've just ordered a set to test them out.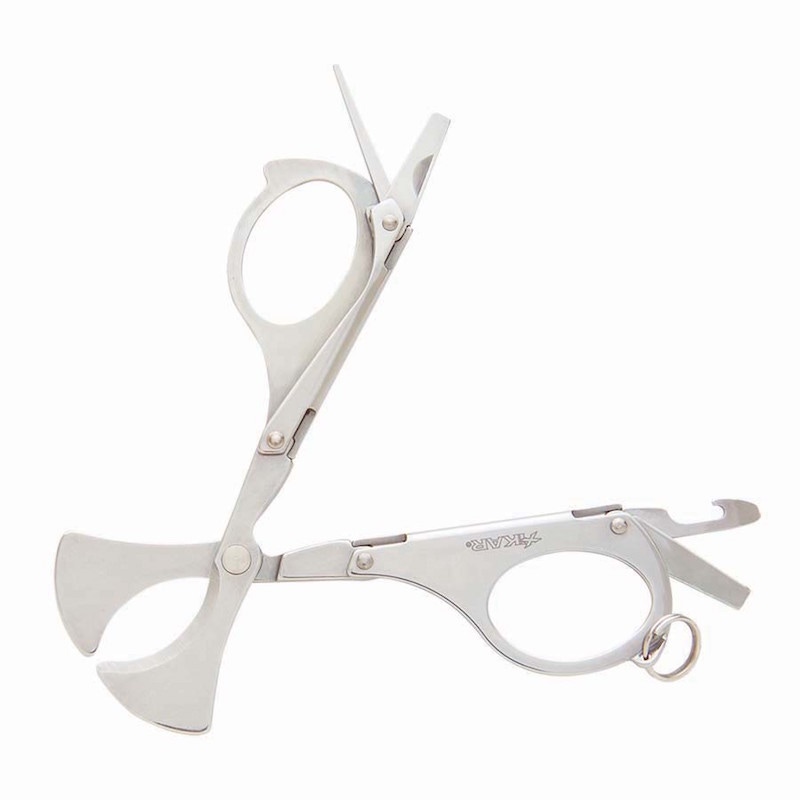 Lighter
The Cigar Traveller
lighter
 was launched late last year by cigar lover and entrepreneur Justin Seldis. He found a mini-soldering iron jet and converted it into a cigar jet lighter, which would be legal to have in your carryon bag. With some engineering shenanigans I wish I understood, this device converts a refillable Bic like lighter without a flint, into a powerful jet lighter. Safe to carry on-board as long as you separate the refill and the body. Soft yellow flame lighter, e.g. Bic. Most airports will let you travel with one of these on your person. Great if you're smoking indoors but, not much use in the outdoors. They are cheap and throwaway which is their biggest advantage for me. If you do want to take your favourite DuPont jet lighter, then I recommend you de-gas it and buy a 100ml butane gas can and put that in to your liquid bag. Sadly, your favourite cigar matches are banned on most flights in your carry on.
I normally choose cigars for certain times and perhaps a couple of special ones just in case. Of course all of this is moot if you are travelling to Europe or Switzerland as the prices there make it much cheaper to indulge in your favourite past time. During a typical day off, I probably smoke between one and four cigars so I look at a minimum of two depending on my proximity to a decent cigar shop on my travels.
Before lunch
I would look at cigars which are light to medium for my daytime smokes as I don't want anything too challenging on my palate when all I've had is a light breakfast or lunch.
Por Larranaga Petit Corona
– mild, 42 x 5.1" (129mm), 25 minutes
Trinidad Reyes
– medium, 40 x 4.3" (110mm), 20 minutes
Hoyo de Monterrey Epicure no.2
– mild, 50 x 4.9" (124mm), 45 minutes
Romeo y Julieta Short Churchill
– medium, 50 x 4.9" (124mm), 5 minutes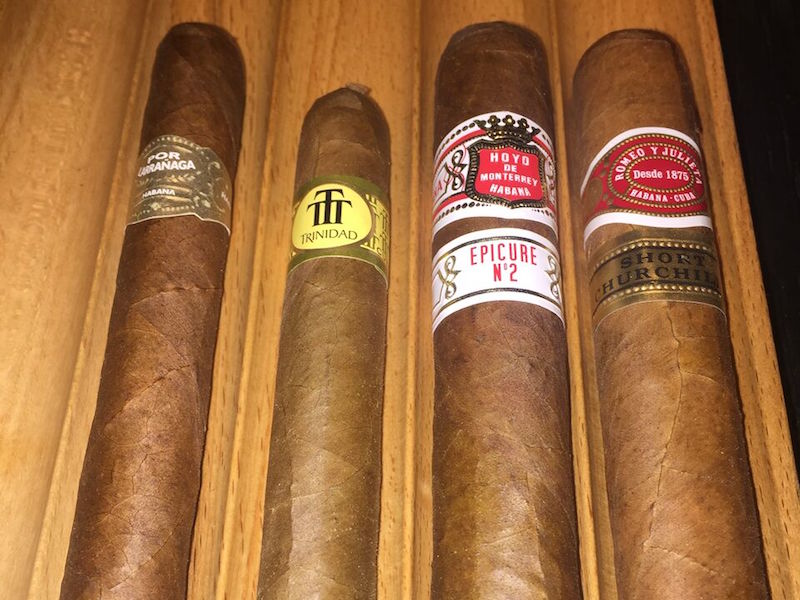 Now all the above make good daytime smokes, not just breakfast ones.
Post lunch
I prefer to eat lighter for lunch too. This keeps my choice of cigar in the medium to medium-full category. Again time is a factor to consider when selecting such a cigar.
Juan Lopez Seleccion no.2
– medium, 50 x 4.9" (124mm), 45 minutes
Le Hoyo San Juan
– medium, 54 x 5.9" (150mm), 60-75 minutes
Romeo wide Churchill
– medium, 55 x 5.1" (130mm), 60 minutes
Cohiba Robusto
– medium-medium full, 50 x 4.9" (124mm), 45 minutes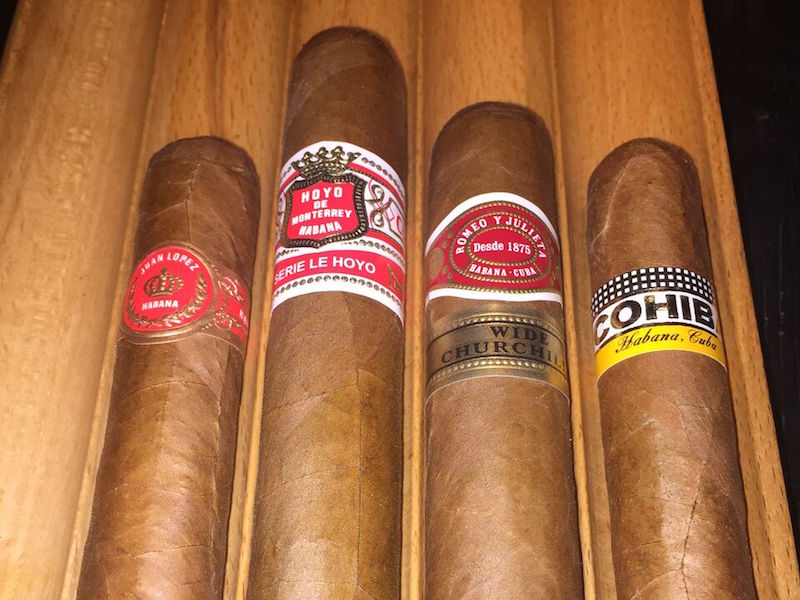 After dinner
Dinner is usually the largest meal of the day for me. Once my appetite is sedated, I look to my medium-full to full strength selection. Add a fine cognac, rum or whisky and the evening improves.
Partagás Serie E no.2
– full, 54 x 5.5" (140mm), 60-75 minutes
Behike 54
– full, 54 x 5.7" (144mm), 60-75 minutes
Ramon Allones Specially Selected
– medium full to full, 50 x 4.9" (124mm), 45 minutes
Bolivar Belicosos Finos
– full, 52 x 5.5" (140mm), 45 minutes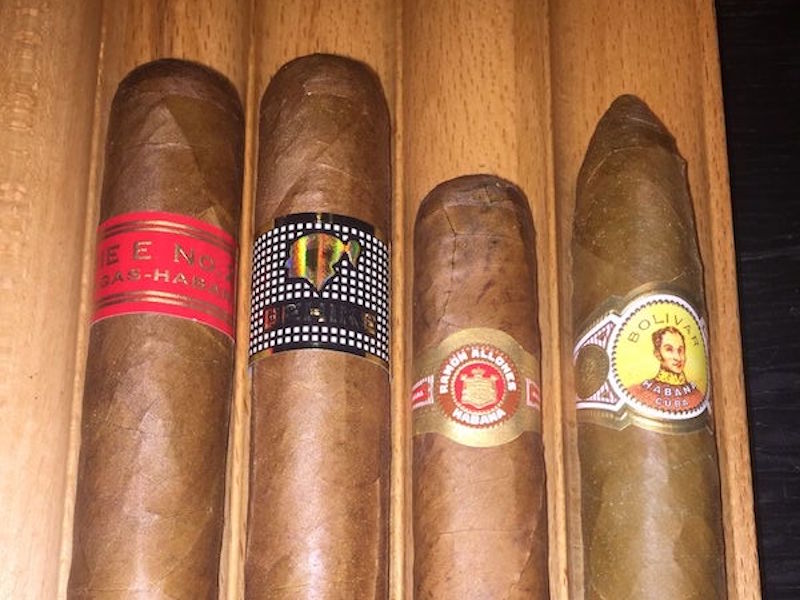 Now you're all packed, ready for a smokey weekend with some lovely smokes and suitable accessories. Enjoy and long ashes.