TURNBULL & ASSER: MIDNIGHT SPECIAL
Eveningwear — and shirting, in particular — remains a bastion of classic men's style, even as our sartorial codes have been loosened in the 21st century. Here, Savile Row stalwarts Turnbull & Asser helped The Rake's editorial team select their perfect formal shirts. 
It would not be an exaggeration to say that when it comes to shirtmaking, Turnbull & Asser is king, and if that is the case then a Turnbull & Asser evening shirt is their crown
.
Winston Churchill, Robert Redford
'
s Jay Gatsby
,
and multiple James Bonds have all turned to Turnbull when the occasion has called for them to look their very best; the results are some of the most iconic examples of evening attire in history.
"
Pulling on a freshly pressed T&A cotton shirt is one of life
'
s pleasures,
"
says Steven Quin, Turnbull
'
s
r
oyal
w
arrant
holder and arguably England
'
s finest shirt cutter.
"
The coolness of the cotton and crispness of the cloth is the perfect way to begin an evening, and gives the wearer an added confidence.
"
Turnbull & Asser
'
s history with formalwear stretches back to the foundation of the brand, although formal shirting as we know it today made its debut in the 1930s. By then, Turnbull was nearly 50 years old, and already firmly established as Britain
'
s premier shirtmaker. Those early dinner shirts featured stiffly starched bib fronts and detachable stiff collars, although
,
in the decades since, the firm has explored everything from the patterned fancies of the
s
ixties, under the guidance of Michael Fish, to the fine voiles and silks of the
s
eventies and
e
ighties. Whil
e
they will perhaps always be known as masters of the classic codes, the house
'
s boundary-pushing zest remains evident today. Owner James Fayed has always had a natural talent for balancing the elevation of Turnbull & Asser
'
s incomparable heritage with a streak of sartorial daring, and their evening offer remains no different
in that respect
. Indeed, their recent evening collection has offered a bold and exciting selection of shirts running the gamut from subtle twists on the classics to a stunningly successful resuscitation of the ruffle-front
—
no small task.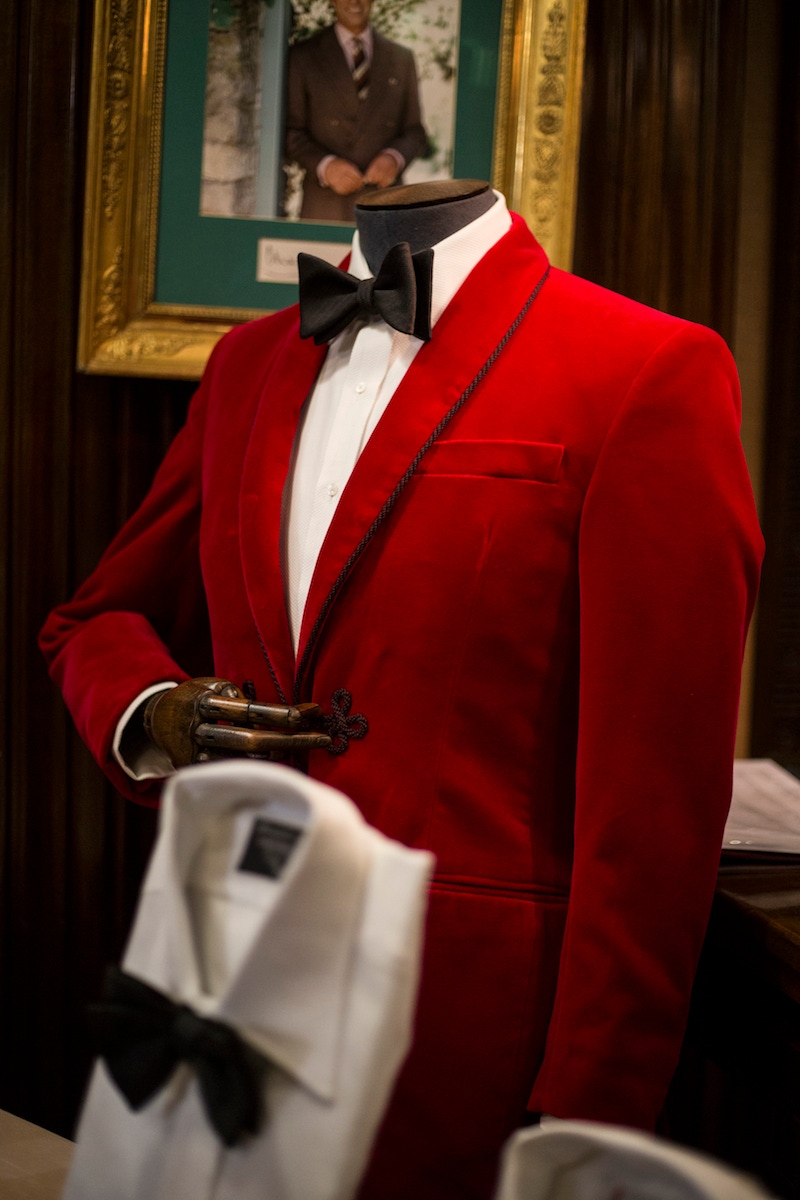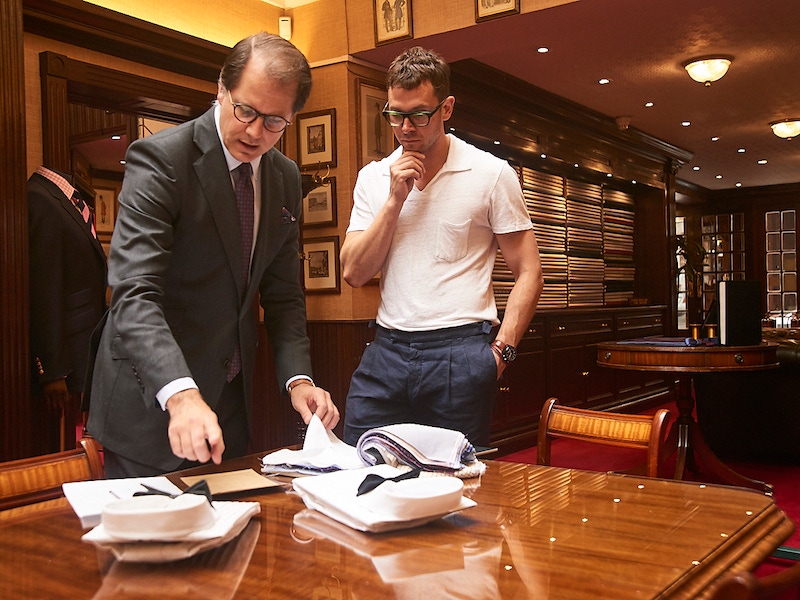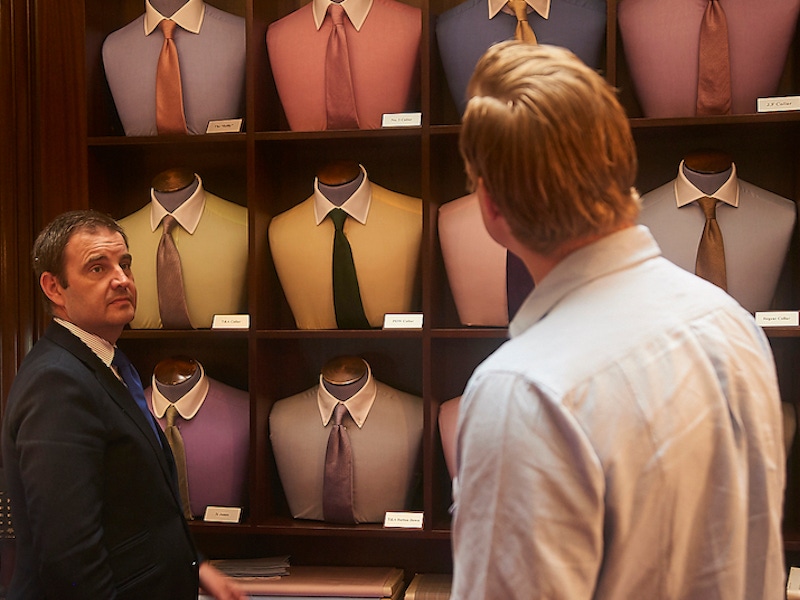 H
ere at
The Rake
we take things like shirts rather seriously, and our recent celebration of eveningwear at Turnbull & Asser
'
s New York and London ateliers proved the perfect opportunity for some hands-on research
—
a dirty job
,
to be sure, but that
'
s what we
'
re here for. The Turnbull & Asser Bury Street bespoke shop is one of London
'
s great wonders
,
a place that feels plucked out of time for all the right reasons. To walk in there is to understand the true magnitude of Turnbull & Asser
'
s history and heritage
—
images of the great and good attired in their work adorn the walls alongside the bespoke patterns of Churchill and members of the
r
oyal
f
amily. If anywhere was to inspire one to embark on an exploration of elegant eveningwear, this would be the place. But where to begin? Turnbull
'
s bespoke offering encompasses some 2
,
000-plus fabrics and a multitude of collar and cuff styles
—
one can easily fall down a rabbit hole of choice, even within the sphere of evening-appropriate attire, so having the unrivalled guidance and experience of Turnbull
'
s team is not only a boon but a necessity.
For my part, I already had a firm idea of what I wanted. Being neither great nor particularly good, I decided the best course of action was to opt for something subtle and timeless, and sprung for a natty Marcella bib-fronted number with covered buttons, the body cut in a luxurious white Alumo Swiss cotton and finished with French cuffs and the iconic St. James spread collar. Traditionally, a bib
-
front style is to be worn when dinner and dancing is on the agenda (I like to be prepared), and the subtle texture contrasts beautifully with all manner of eveningwear
—
my cream linen smoking jacket even proving a stalwart companion. Boundary-pushing it is not, but it is unquestionably subtle
,
and the precision of the cutting makes it a thrill to wear. I
'
m something of a six-foot-two mess of limbs and joints, and I can say without hyperbole that the exactingly personalised fit puts almost all of my other shirts to shame.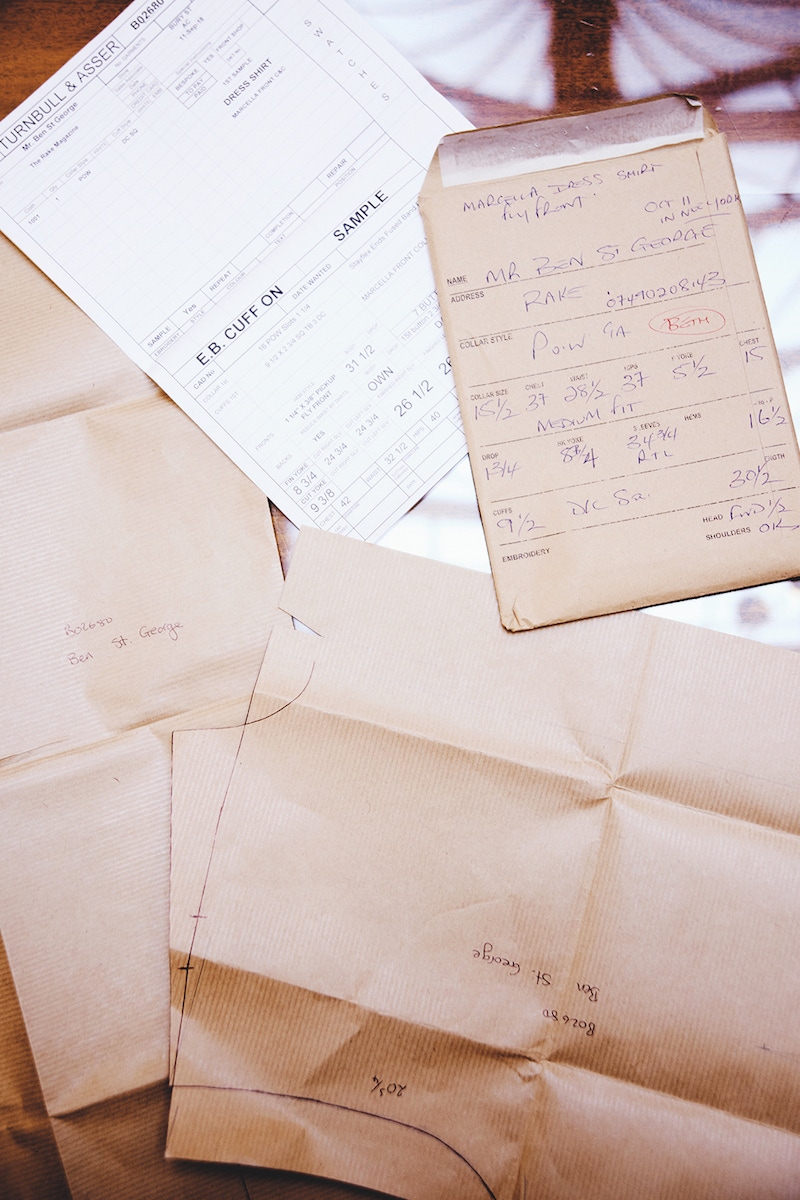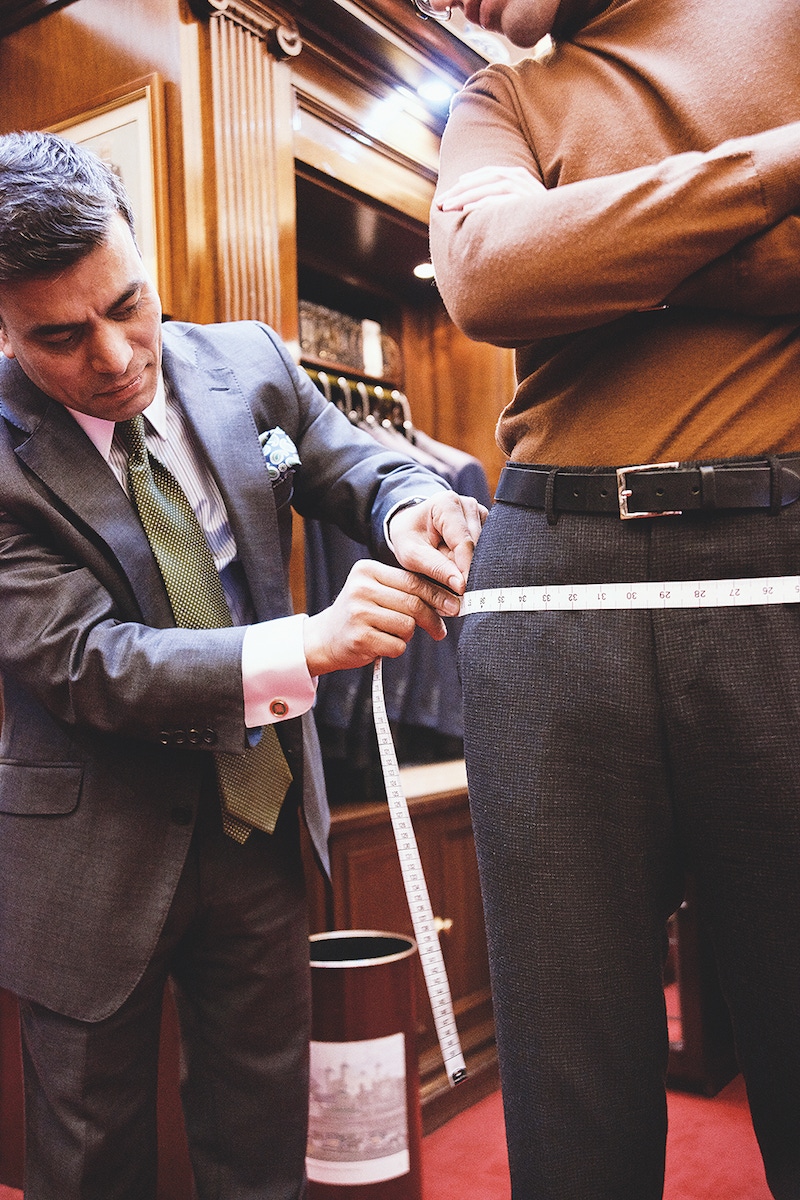 The Rake
'
s
E
ditor
,
Tom Chamberlin
,
h
ad
something more louche in mind from the get-go.
"
I was at a black
-
tie event where nobody showed up wearing a dinner suit except me and Nick Foulkes, who were both wearing burgundy smoking jackets. He was wearing this cream silk shirt, and the richness of the material up against the velvet
—
not to mention the sartorial rebelliousness of not having a bib
—
left me feeling somewhat inadequate,
"
Tom
says
.
"
When the opportunity arose to work with Turnbull
&
Asser on this, I knew there was only one option to go with.
"
Ryan Thompson, our
D
igital
E
ditor and master of sartorial streetwear bricolage, was more cautious at first.
"
I
'
ll be the first to admit that I
'
m not a natural formalwear guy,
"
he
says with a
laugh.
"
I
'
m far more at home mixing smart with casual, so it was with some trepidation that I s
et
foot in Turnbull & Asser in search of a dress shirt. I was carefully guided towards a stunning herringbone bib shirt with quarter-inch pleats. Now if only I could approach tying a bow
-
tie with the same attention to detail!
"
Today, as traditional sartorial codes are being challenged, broken down and reforged in new and dynamic ways, eveningwear remains a resolute bastion of timeless style. Something about putting on a tuxedo or dinner jacket manages to exert the same entropic pull over men decade after decade. It is a form of dress that remains eternally adept at bringing out the very best in the wearer. For Quin, the enduring appeal of getting tricked
-
out for the evening is easy to explain.
"
Most people enjoy dressing up
,
and a black-tie event is the perfect time to pull out all the stops and wear something special. The ladies generally look so glamorous on these occasions, so it
'
s good that men can reciprocate the compliment.
"