Rake Commends: Turnbull & Asser's Personal Pocket Handkerchiefs
The creative possibilities of the pocket handkerchief offer a truly personal means of self-expression, and none more so than Turnbull & Asser's new bespoke pet-pooch printing service.
We all know that man's best friend is a dog. What is less well known, is that on occasion, man's best friend is also a pocket handkerchief. I learned this to my cost when during my first year at university I managed to cover the face of my would-be beloved in the precipitation of an unexpected sneeze over a romantic bowl of noodles. Had the requisite hanky not been present in my breast pocket at the time, I might have been in real trouble - fortunately equipped as I was I managed to sufficiently rectify matters and dust her down. During such moments of intense embarrassment, something as simple as a delicately printed square of silk has the power to restore one's dignity in an almost miraculous fashion. Not that this is the pocket hanky's primary purpose of course; the best hankies are precious not for their ability to somehow magic away social embarrassment, but because they are intrinsically pleasing objects, offering a precious and personal means of self-expression. When it comes to pocket hankies of this latter variety, Turnbull & Asser are quite frankly excelling themselves. Taking inspiration from a service which the house originally offered from its Jermyn Street store in 1931, T&A are once more offering the opportunity to print personal pictures of a canine companion on a pocket square. Customers can choose from one of many suitably charming ready-to-wear designs (the victorious British bulldog beneath an array of spitfires for example), or alternatively can indulge in having their very own pet printed to precise specifications on a beautiful hand-rolled silk pocket square. All that's required is a digital photograph. [content_block id=4063 slug=turnbull-asser-canine-pocket-hanks] Turnbull & Asser, perhaps more so than any other Jermyn Street brand has mastered the witty reinvention and reinterpretation of the house's history, as pioneered by Head of Design Dean Gomilsek-Cole. These pocket hankies are no exception, designed in Mayfair from silk woven in England, they represent British craftsmanship at its most authentic and creative. Furthermore, purchase one and you'll be helping a worthy cause, for ten percent of the proceeds will be donated to Dogs Trust, the UK's largest canine welfare charity, to aid their rescue and re-homing programme. The bespoke service takes between four and six weeks and is available from T&A's Jermyn Street, Bury Street and Davies Street stores in London, or alternatively from its 57th East Street Store in New York. Ready-to-wear options will be available both online or in store.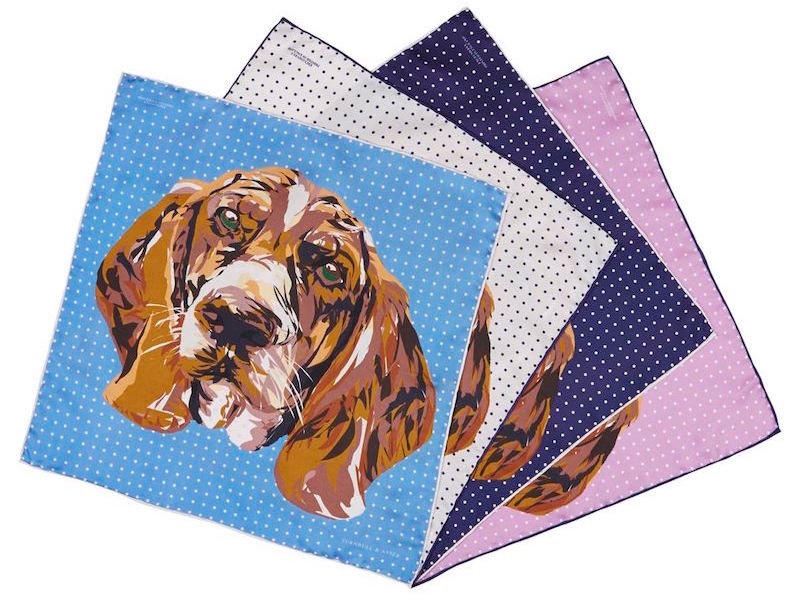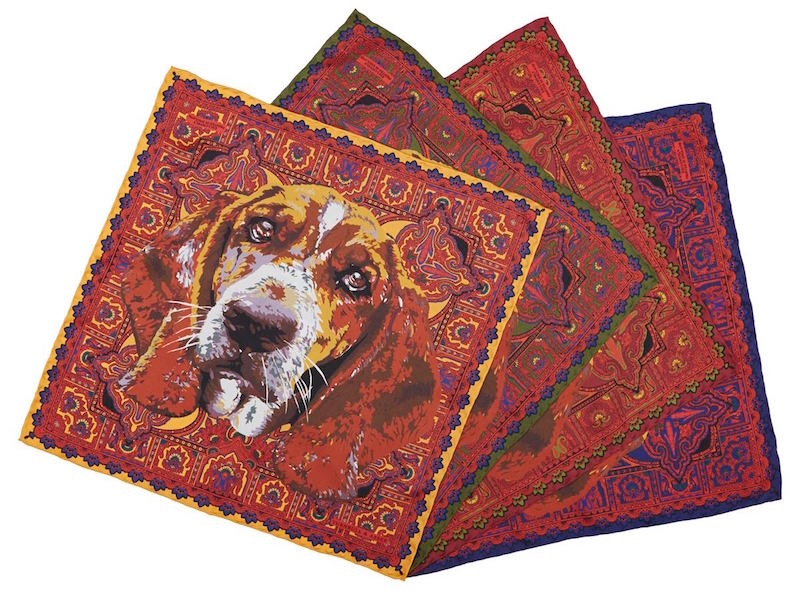 It takes a truly noble individual to choose a canine for his loyal retainer; it takes an even more exceptional character to love his sidekick to the extent that he deems it appropriate to display him on a pocket-handkerchief. Readers of a rakish disposition would do well to fall into the second category, and consider indulging in this most exacting of services. Turnbull & Asser's personal pocket hankies are just what's required to add a splash of contemporary colour and character to your top pocket this autumn. Readers can discover more about Turnbull & Asser's pocket handkerchiefs
here
.