A Gathering of Immortals, Part I: The Six Tailors
The Rake revisits Pitti Uomo, when earlier this year, six of the world's greatest living tailors gathered together for a roundtable discussion on the transformative power of their art form.
The ancient Greek chronicler Herodotus first bestowed the name 'Immortals' upon the infamous crack troops of the Achaemenid Persian Empire; men so famed for their talent as warriors that they were thought impossible to overcome. Their legend has influenced martial culture for centuries - Herodotus's chronicle passes these men firmly into the realm of mythological notoriety - with the Sassanids, Byzantines and even the bodyguard of Napoleon Bonaparte all identifying themselves as 'Immortals', hoping to follow in the footsteps of their legendary progenitors. If there was to a be sartorial equivalent of such a fabled band of men, it would doubtless be the six master tailors that came together at the lavish Four Seasons Hotel in Florence during Pitti Uomo earlier in the summer. The Rake, along with Permanent Style's Simon Crompton and Tomasso Melani of shoemaker Stefano Bemer led a collaborative round-table discussion with Lorenzo Cifonelli, Edward Sexton, John Hitchcock of Anderson & Sheppard, Antonio Panico, Richard Anderson and Antonio Liverano on the transformative power of the tailor's art, exploring precisely what these men capture in their work that so ennobles their clients.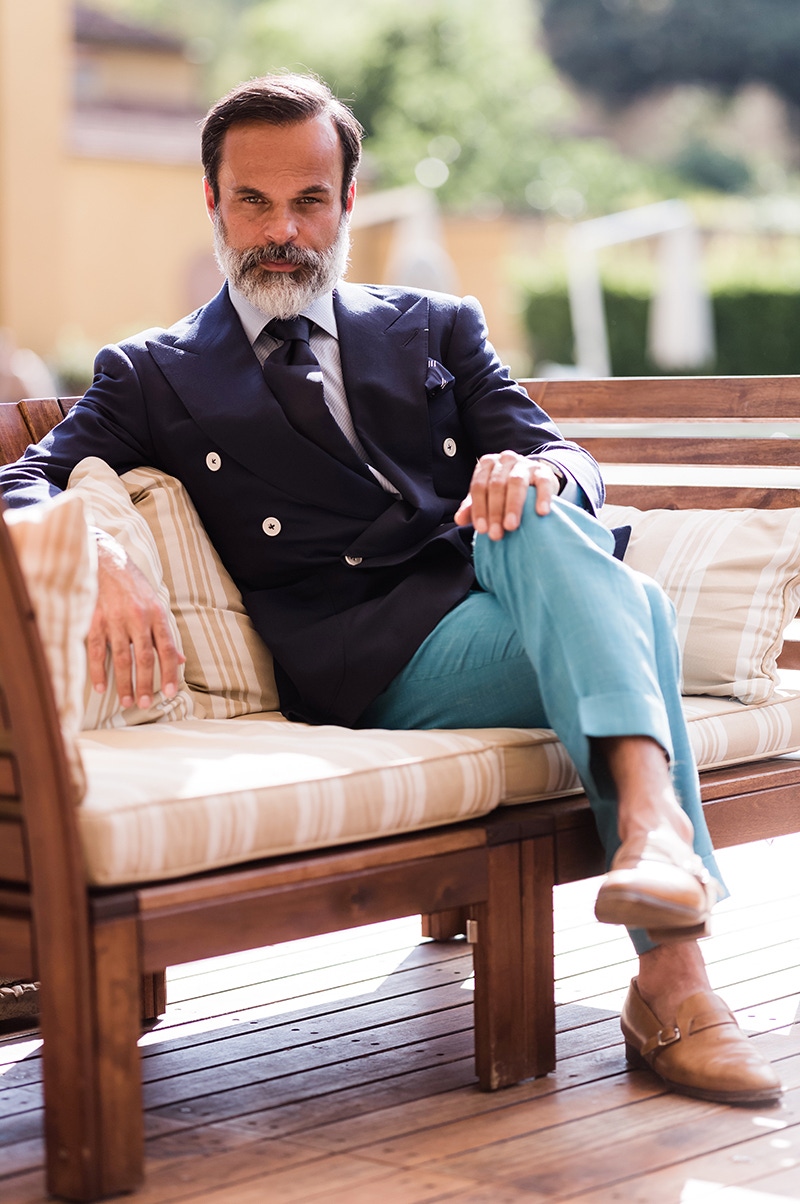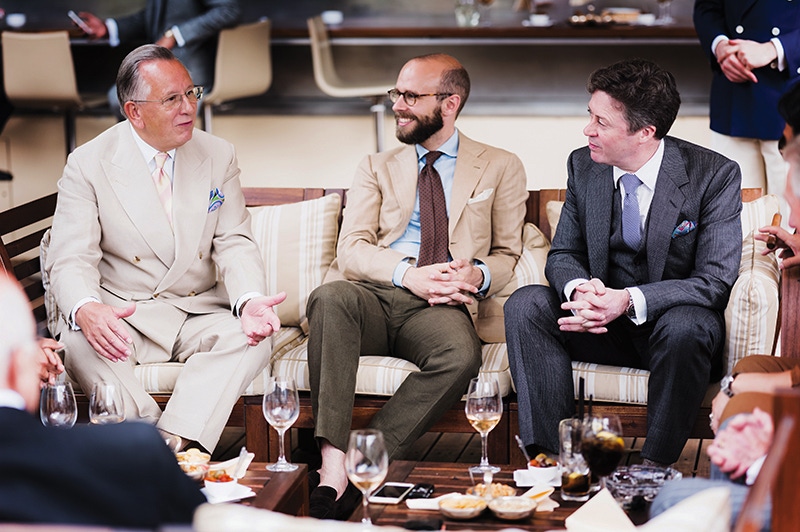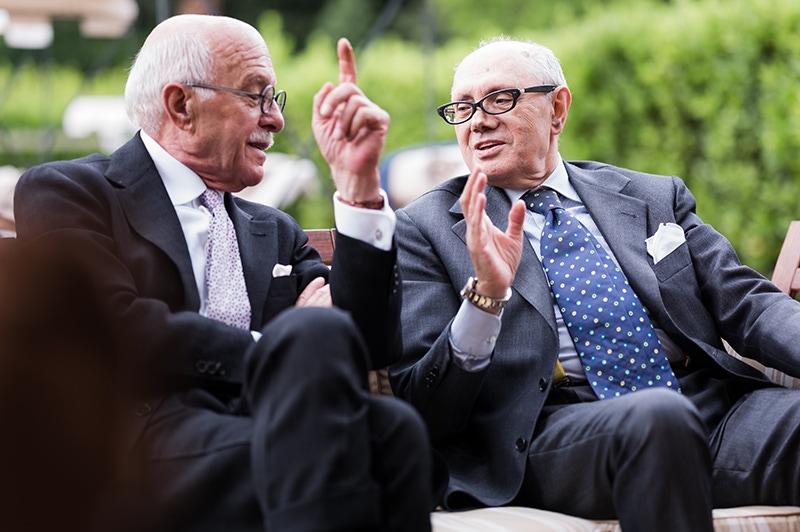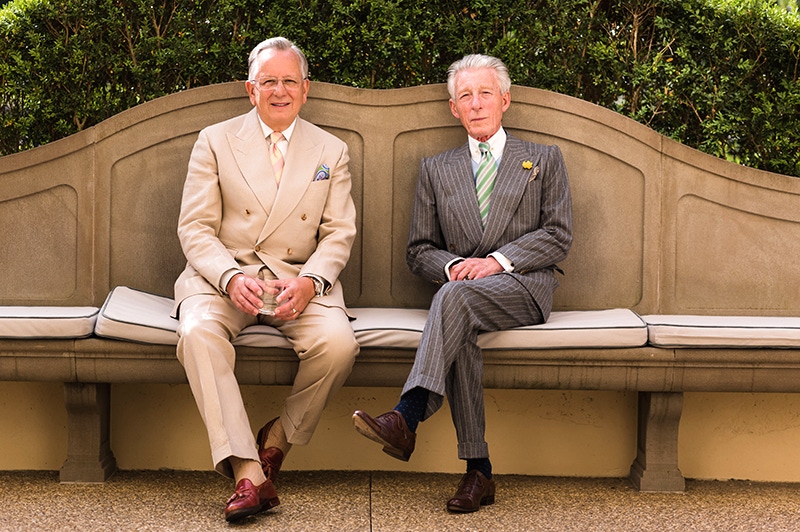 As proceedings opened, it transpired that the one thing that all these tailors agree upon is that they cannot work mechanically in isolation; the relationship that they develop with their clients is everything. Sexton explained: 'Working with clients is like working with wool; you can stretch it, shrink it and create shape. When you work with a client you do the same; mould him, shape him and build a relationship with him.' Of course, this has to be done in a very personal way, and a talented tailor will express something of himself in his creations - as Cifonelli confirmed: 'you have to find the right balance between your opinion and the client's. You must understand him, but you also have to stay close to your own house style.' This is why a dynamic, clearly identifiable house style is such an important foundation for tailor and client to build upon; in order to express something unique and meaningful, every suit has to possess its own identity, rooted in the style of its craftsman as much as in the customer's personal taste. As Liverano put it, 'the task of the tailor is to educate the customer - so working with us is not only about tailoring, its about styling - its an education in how to dress'. Hitchcock concurred, 'you've got your own house style, but if somebody comes in wanting something slightly different, you accommodate them - you're there to work with your client, you have to make compromises.'
'Working with a client is like working with wool; you mould him, shape him and build a relationship with him.'
By emphasising the importance of compromise, Hitchcock confirms that the best tailors view their work as an evolving creative process, 'a journey to gain the customer's trust'. The problem being that when a tailor is so emotionally invested in his work, a satisfactory outcome can remain elusive. Ever the perfectionist, Cifonelli is a case in point: 'I'm never totally happy with my suits. I'm always trying to make them better and better, but you have to be realistic about the standard of your work.' Panico's attitude is similar, and paints a portrait of the tailor as tortured artist, striving for satisfaction: 'I've been unhappy about my work many times, but sometimes you just have to take a breath and move on'. Occasionally, this regret is borne of the reality that the required chemistry between tailor and client just isn't quite there: 'it is crucial that the customer understands that his ideas alone are not necessarily the best expression of himself. Tailor and customer have to come together to construct an individual's sense of style.' Indeed, Liverano even went so far as to suggest that he requires a certain kind of customer to produce his best work: 'elegance is not the suit that you wear, it's the way you hold your drink, the way you introduce yourself to a lady, it becomes a more fundamental attribute than your dress alone - I can only transform a gentleman.'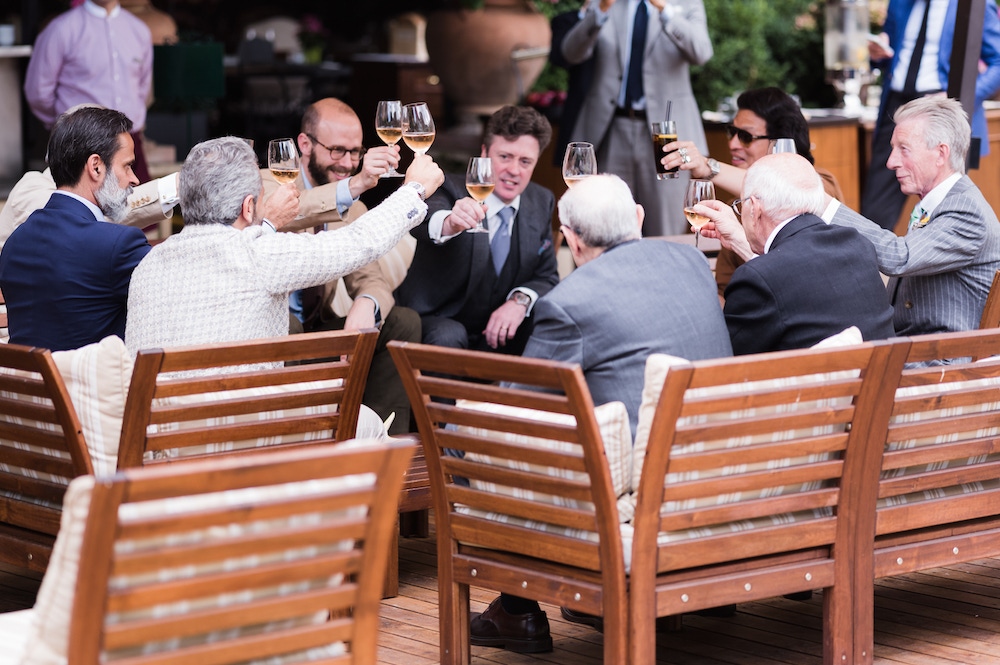 This might be the case, but the gentleman of today is all too often younger, more international and living a more fast-paced lifestyle than ever before, which naturally presents something of a challenge to classically elegant menswear. All the tailors have noticed their client base become younger and more exacting in recent years; requiring immaculately designed clothing capable of meeting the demands of modern living. For Richard Anderson, this presents a new opportunity for talented craftsmen, making the tailor's role as an educator more pertinent than ever: 'younger customers in particular come in seeking style advice and guidance on their clothing. Clients invest a lot of time and money in their projects with us, so I think that the suit's power to create an unsurpassed sense of elegance and yet be practical is an integral part of what we offer'. The same rang true with Cifonelli, 'the new generation is more educated and is passionate about style; ten years ago, the rich would come to me and order five suits. Now, we get younger people that don't have a lot of money, that may have perhaps one or two suits a year or even pay in instalments, but they love tailoring - they might not have a large wardrobe of tailoring at home, but they love what they have and are passionate.
'The suit's power to create an unsurpassed sense of elegance and yet be practical is an integral part of what we offer.'
The sense that these masters are nonetheless prepared to work with, adapt to and thrive upon the changing face of bespoke tailoring is both encouraging and extraordinary, and one senses that the synergy between a younger, more dynamic customer and these six tailors is stronger than ever. Richard Anderson put it plainly: 'having younger customers ensures that our work stays relevant. To know that there is another generation out there interested in building a relationship with us is hugely exciting'. Sexton even went so far as to shrug off the challenge posed by the changing nature of menswear; 'we're cavaliers' he said, 'we all love a challenge'. Traditionally, a cavalier is defined not only as yet another legendary warrior - the aristocratic elite of King Charles I's court - but also as a gentleman of perspicacity and style, confident and self-assured in his talents. It might sound like an odd comparison to draw between these six tailors, but really it hits the nail on the head. They are long-standing masters, but their work is more current, dynamic and cosmopolitan than ever, standing ready to continue the story of tailoring for future generations.
Readers might be interested to know that the original 'A Gathering of Immortals' feature appears in Issue 41 of the magazine and paints a further picture of how these great tailors approach their craft. 
Part II of 'A Gathering of Immortals' on the legacy of Stefano Bemer will be available to read online soon.
Photography by Luke Carby.
jWIV3-aHz3A