A Sundowner with Harrison Osterfield
As he continues his rise, Harrison Osterfield answers a quick-fire round of questions for The Rake - probing into his ideas of happiness, motivation, and the dazzling superstar qualities of Prince. 
"Glorious, this is glorious" Harrison Osterfield remarks, after sipping his Old Fashioned. Life is full of ups and downs, and the young actor is well aware of the power of a well-prepared cocktail to start the week off right, as he sits with The Rake at Mount Street's 'Scottish Room'. Harrison looks at home amongst the landscape portraits, the large banquet table, and the cabinets full of crystal decanters and vintage whiskies. His liking is close to the floppy-haired British thespians who starred in period dramas—although he tends to pick more complex roles. His sense of manners and his dry humour only reinforce the fact. 
Audiences will recognise Harrison from his roles on Netflix's The Irregulars, or A Woman at Night and Catch-22. Each role is unique; his chance to take risks with his characters and sometimes explore the more complex performance deeper.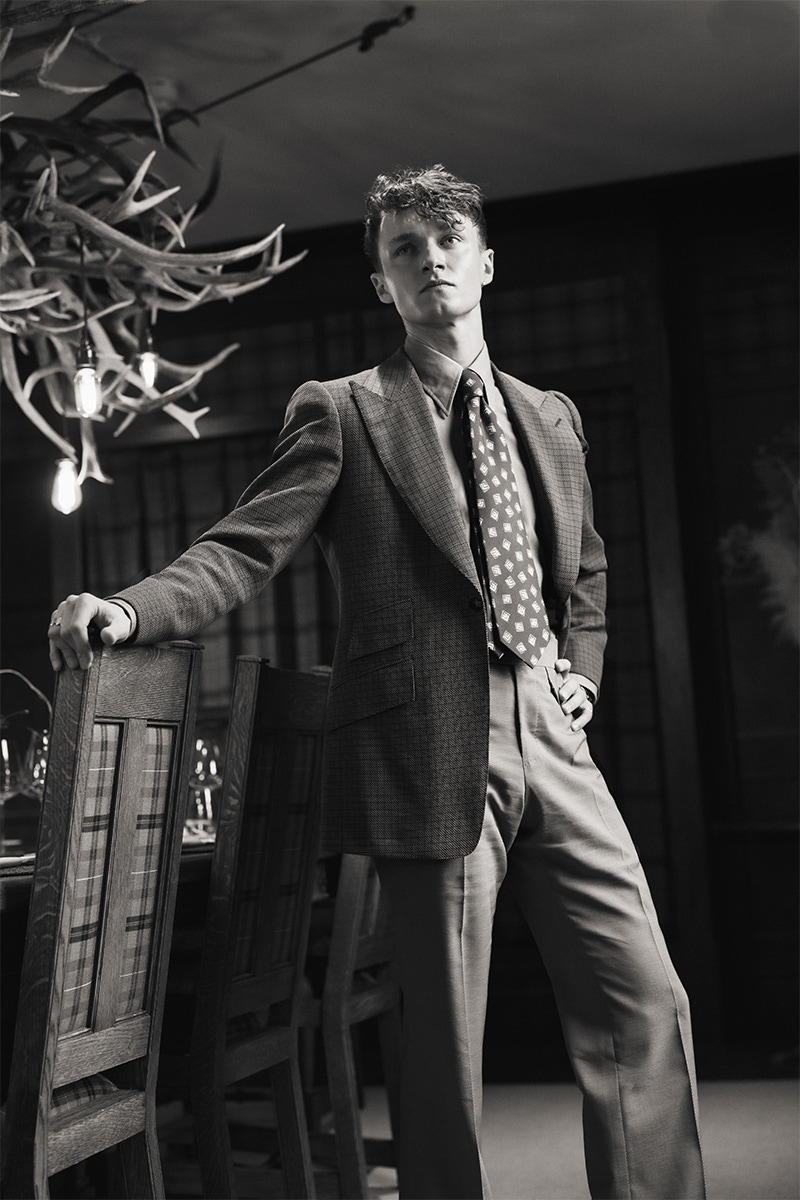 How do you define happiness?
I read that happiness is like a horizon. You can keep chasing it, but you'll never reach it. It's better to be content and look at it from afar, and that will make you happy and peaceful.
What are you frightened of?
That I won't reach my full potential.
What do you dislike about yourself?
I'm very self critical. This can sometimes hinder and cloud my work. But I think it's good to be somewhat critical of yourself to some level.
What is a trait in others that you dislike?
Lack of gratitude. I grew up in a house with all sorts of manners and I know that a please and thank you can go a long way. When someone doesn't have that, I feel like they're only looking out for themselves.
What is a trait you admire most?
Loyalty. I've been friends with certain people for twenty-years, and you go through all sorts of ups and downs. The people that stick by you can always be counted on.
Who do you most look up to?
My granddad. He's created an incredible family, and we all love and care for each other. I know he would do anything for me and when I need advice, he's the person I look to.
What's your biggest luxury?
Small rewards and moments. Like this drink [points to his Old Fashioned].
What is your current state of mind?
Motivated. I'm in the mindset to make this year the best.
What is an overrated virtue?
The belief that material possessions or money will make you happy. It's never going to satisfy you.
Which word or phrase do you use too much?
When it comes to TV shows: 'One more episode'! I also say 'Glorious' quite a lot, which ties into the gratitude I have for small things. But I mean it when I say it.
What talent would you most like to have?
A skill at languages. I'd love to learn Italian—go to Milan and order a coffee. I've learned it at least three times, but I can't remember it. So maybe, I'll have to move to Italy for a year.
What would you change in yourself?
I'd like to have more self-confidence. The industry I've chosen has plenty of setbacks and rejects, and I want to be more confident in my abilities to work hard and get where I want to be.
What is your greatest achievement?
Landing my first role with George Clooney. I was dropped by my agent, and considered giving up acting until my current manager asked me to audition. Three auditions later, I got it. That was a self-affirming moment.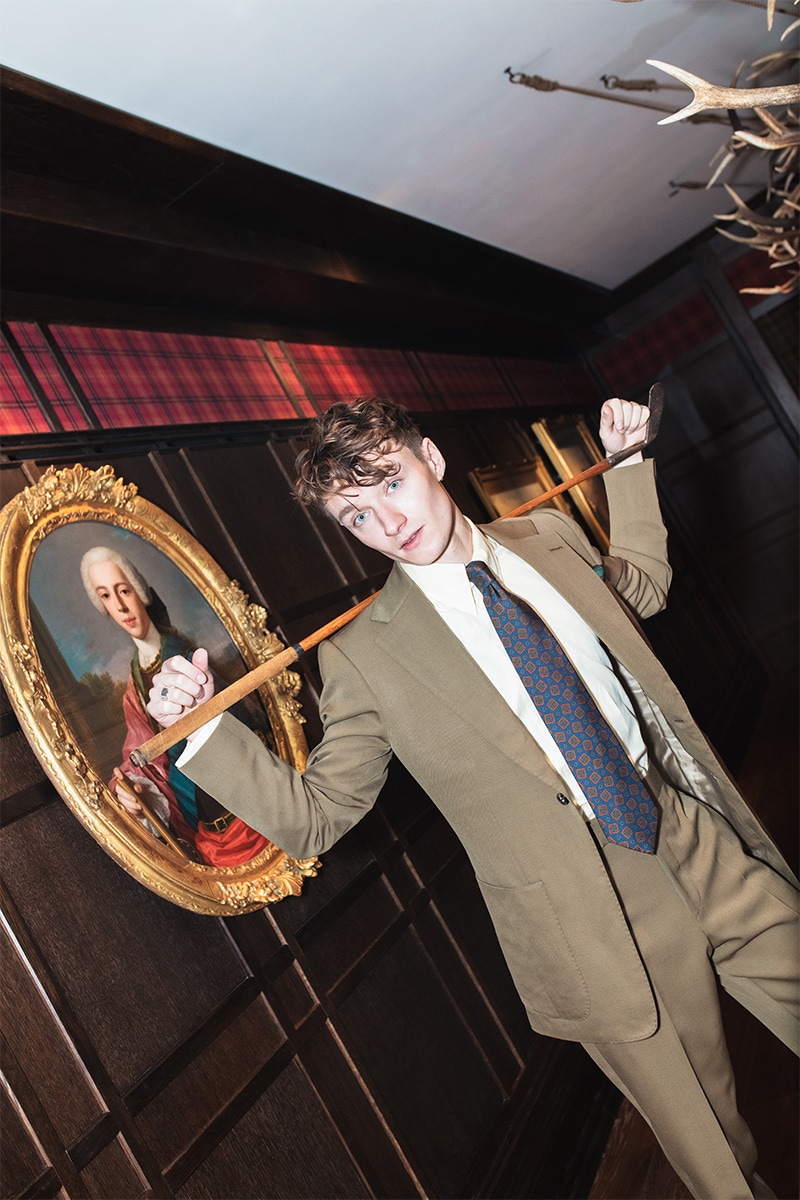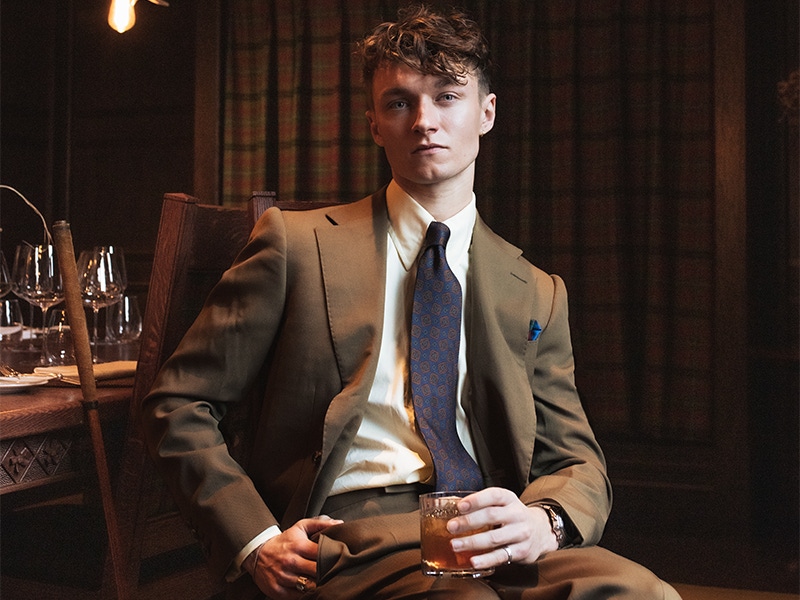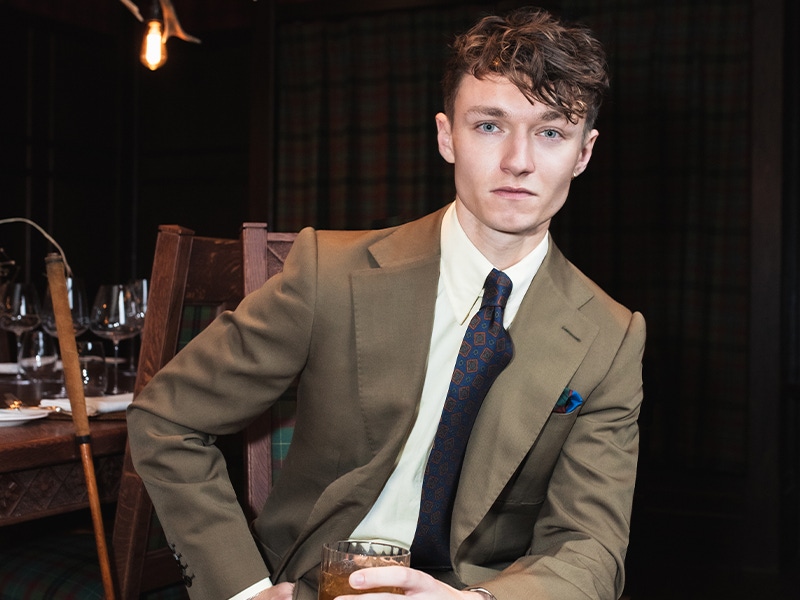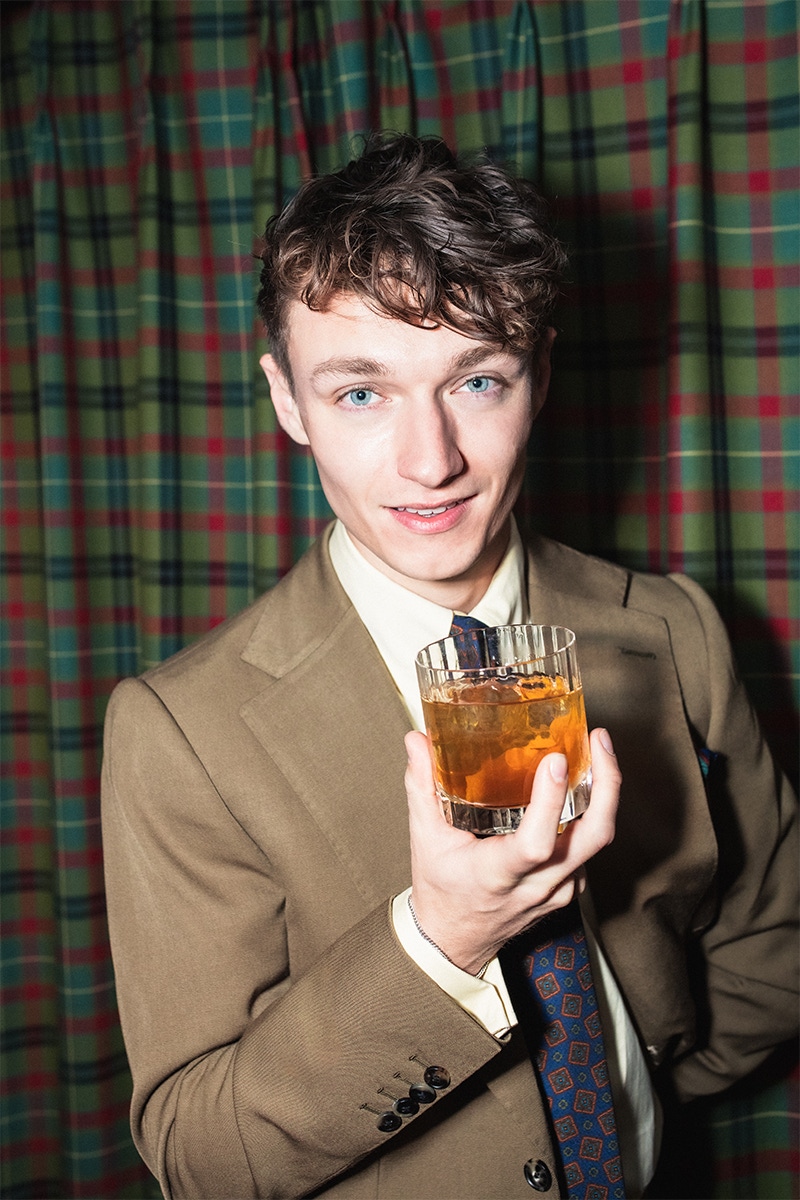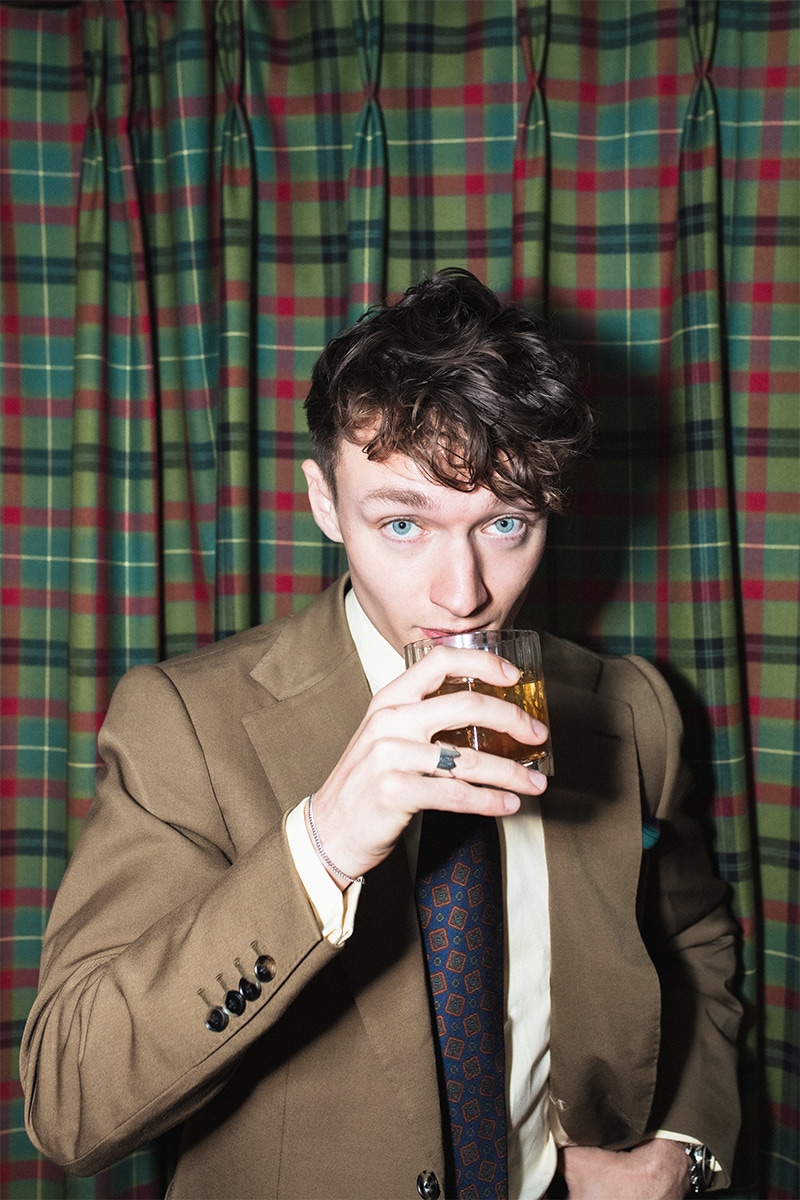 Who would you like to be reincarnated as?
Prince. It was the first concert I went to and he was so talented at everything—from music to fashion. I think he was a complete superstar. Just a maverick. I'm sure he also had a pretty fun life…
Where would you like to live?
Somewhere warmer than here. I think I'll move to Los Angeles at some point but that's probably more out of convenience. Otherwise, Cornwall: being separate from everywhere else, surrounded by nature and surfing. That's a dream.
Favourite possession?
Probably my clothes. I like sharing clothes with friends and introducing them to some of my favourite pieces if I think they will suit them. It's always in the back of my mind: "This will look great on said person." I like giving to people.
Favourite pastime?
Watching sport, and I mean any sport. The other day I was watching a bowls championship on daytime TV and it was awesome. It switches me off totally.
What fictional character do you admire the most?
Atticus Finch in To Kill a Mockingbird—I saw the Alan Sorkin production on the West End recently. He's full of integrity and fights for what he believes in. He has a calm sort of stoicism.
Which historical figure do you most identify with?
Humphrey Bogart in Casablanca. He was the man.
Who are your greatest living idols?
It's hard to pinpoint. I admire a lot of qualities in different people. I'd amalgamate it into someone who is hard working, loyal, and who pushes boundaries.
What is your greatest regret?
I got into a fight at school once. This kid stole my pen too many times. Then, I got a C at maths, and he was getting on my back about it. But I feel bad about that now. I should've revised more. So, sorry if you're reading this!
What's your Golden Rule?
Life is tough for so many people. I try to go through it with a smile. We get so much thrown at us and you can't let it affect you. You need to make light of each situation and laugh. It makes life that little bit easier.
Harrison wears Edward Sexton and Arthur Sleep Shoes