Aston Martin: Racing to the top
When people think of Aston Martin, motorsport may not be the first thing that comes to mind. The marque's road cars are widely regarded as being some of the most elegant machines to grace the tarmac, with models like the DB9 boasting the perfect balance between sporting prowess and long-distance comfort. Since 2004 though, the British firm have been achieving admirable success with their racing division, Aston Martin Racing, even winning the 24 Hours of Le Mans back-to-back in 2007 and 2008 with the now legendary DBR9. Winning races is nothing new for Aston Martin though. Indeed, the company's origins lie in motorsport, with its very name being born out of co-founder Lionel Martin's success at the Aston Hill Climb in 1914. The first overseas race for the blossoming marque was the 1922 French Grand Prix in which two cars competed, giving Aston Martin the confidence to further develop on what would shortly become a hugely successful racing program. The first entry at Le Mans was in 1928, and by '33 they took home first, second and third place in the 1.5-litre class.
It wasn't until the late 1950s though that Aston Martin tasted true success. Designed by Ted Cutting, the DBR1 was one of the finest racing cars of all time, and it cemented Aston Martin's place in the history books in 1959, three years after its initial creation. The DBR1 won a closely contested World Sportscar Championship, beating both Porsche and Ferrari with a total of six victories in the series including a one-two at the fabled Le Mans 24 Hours. This was a seminal year for their racing legacy, yet Aston Martin chose to focus on road car production in the decades that followed, so it was an inspired move when in 2004 the Aston Martin Racing team materialised, bringing that iconic name back to the circuit. The DBR9 was the first car to surface and it was nothing short of a beauty. Based on the aforementioned road car, the DBR9 was a DB9 turned up to 11. It may have featured the same engine block as the road car's V12, yet everything else was highly tuned and honed to perfection, resulting in a machine that put out 640bhp and weighed just 1,100kg, almost one tonne less than the road car. The DBR9 returned the silverware to Aston Martin, gloriously winning the GT1 class at Le Mans in 2007 and 2008, a feat which the team are trying to replicate to this day.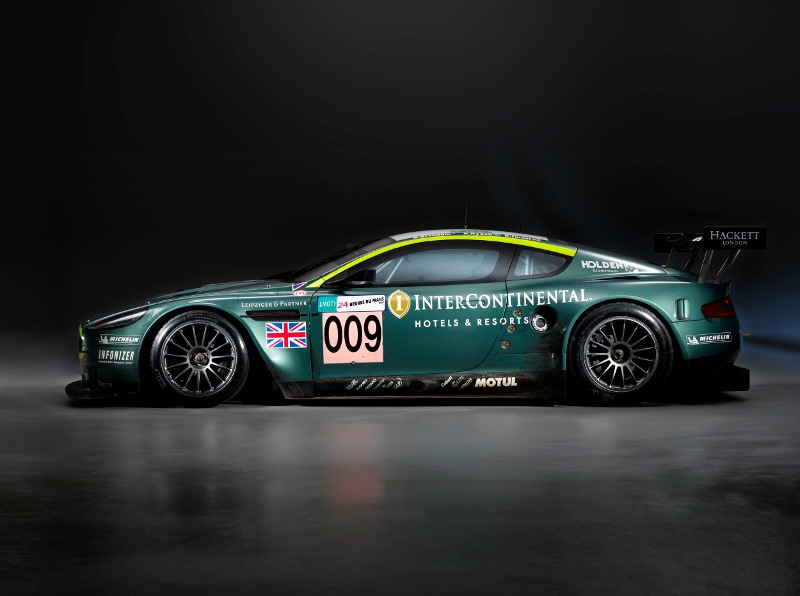 The Rake spoke to professional racing driver Darren Turner, who's been driving for Aston Martin Racing for over a decade, "the DBR9 is always going to be my favourite race car. I bonded really well with this car. It has a sequential gearbox, and physically you had to do more in the car than you have to do now, because they're all paddle shifts. The competition is just as hard if not harder now than it was back then, but the involvement for the driver is probably a fraction less. Obviously, with aston martin coming back to racing, '05 and '06 were learning years at Le Mans, and then to win it in '07 and '08 were the highlights of my race career and it was in that car, so I'm always going to have an affectionate spot for that race car".
Since 2012, AMR have been competing in the GTE class (previously GT2) with the Vantage GTE. It's once again a potent example of what the team can achieve. They've taken the immensely elegant V8 Vantage road car and transformed it into a fire-spitting track machine, and one that has seen plenty of its own success. For this year's World Endurance Championship - in which the GTE is entered - it must be said that the 2016 model is by far the best looking car on the grid. The racing green paintwork is quintessentially British and the unmistakable Aston silhouette makes for a striking look when sat down low on its race-bred, double wishbone suspension. The GTE borrows the aluminium chassis, engine block, cylinder heads and crank shaft of the road car, yet 400kg in weight is saved through carbon fibre bodywork, a stripped-out interior and deleted sound proofing.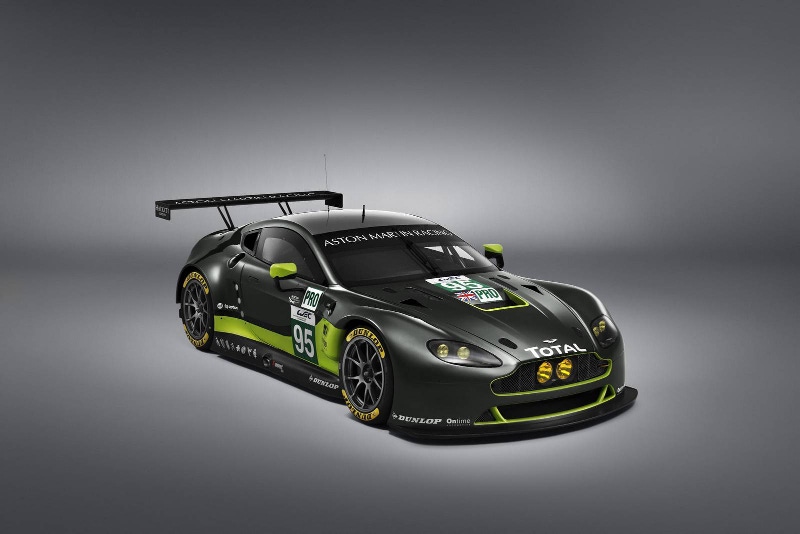 Whilst on-track performance is undoubtedly the most important factor, Aston Martin have excelled themselves when it comes to the little details. In an inspired move, Aston Martin's bespoke division, Q by Aston Martin commissioned a set of six hand-crafted badges, each of which are painted with the flags of the countries of each round of the championship. At each round of the WEC, all three Aston Martin entries will proudly wear the badge of the respective country in which they're racing; it's a nice touch, and displays just some of the personalisation options that Q by Aston Martin can deliver for its regular customers. General Manager for Q by Aston Martin Dr. Matthew Bennett said, "Our service endeavours to provide customers with a range of unique and personalised options for their road cars and I'm proud to be able to bring a bespoke touch of luxury to our Aston Martin Racing entries for the 2016 season. We look forward to seeing these iconic Aston Martin wings badges take to some of the world's leading race circuits".
In its first outing, the GTE achieved a double podium at the Six Hours of Silverstone, with Darren Turner's no. 95 car finishing in third place in the LMGTE Pro class as well as pleasing fans with its distinctive engine noise and impressive aerodynamic bodywork. Time will tell if Aston Martin Racing will repeat their previous success at Le Mans this year, but for now The Rake commends them for continuing to take on the larger manufacturers in Ferrari, Porsche and Ford, and largely winning.
For more information, visit Aston Martin Racing.