The Backpack vs. the Briefcase
Backpacks have evolved to dominate boardrooms, co-exist with formalwear and develop style as well as substance - but will the briefcase ever truly die out?
Many pivotal scenes in cinema have revolved around the opening, throwing, exchanging, stealing and switching of briefcases. From James Bond's attaché (filled with a sniper rifle, ammunition, tear gas and a throwing knife) in
From Russia with Love
to the mysterious contents of Jules Winnfield's glowing briefcase in
Pulp Fiction
, men who carry briefcases mean business in more ways than one. Such is its power,
The Godfather
's Don Corleone rasps that "One lawyer with a briefcase can steal more than a hundred men with guns". Indeed, the briefcase gets its name from the legal documents carried by lawyers.
The backpack, on the other hand, has always been a beacon of practicality, associating itself with the mud-streaked military man with his armoury, the bespectacled college kid with his books or the travelling nomad with his survival kit. Structurally speaking, the average backpack's functioning pockets, ergonomic design and generous capacity makes the stiff, unyielding, narrow briefcase look a little dated. The briefcase requires (literal) hand-holding at all times, whereas the backpack offers the kind of hands-free flexibility that allows you to hail a cab, call your mother, adjust your tie and sign an autograph all at the same time.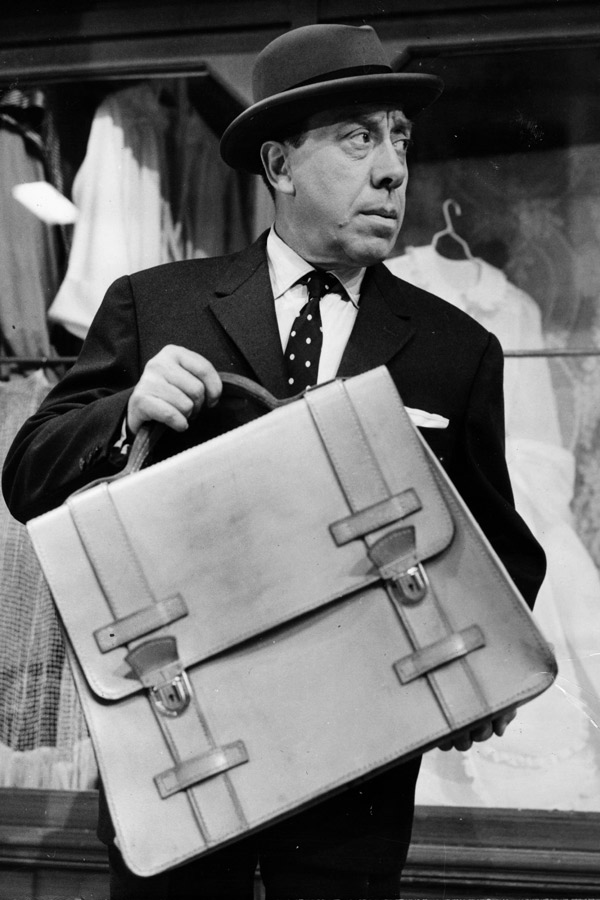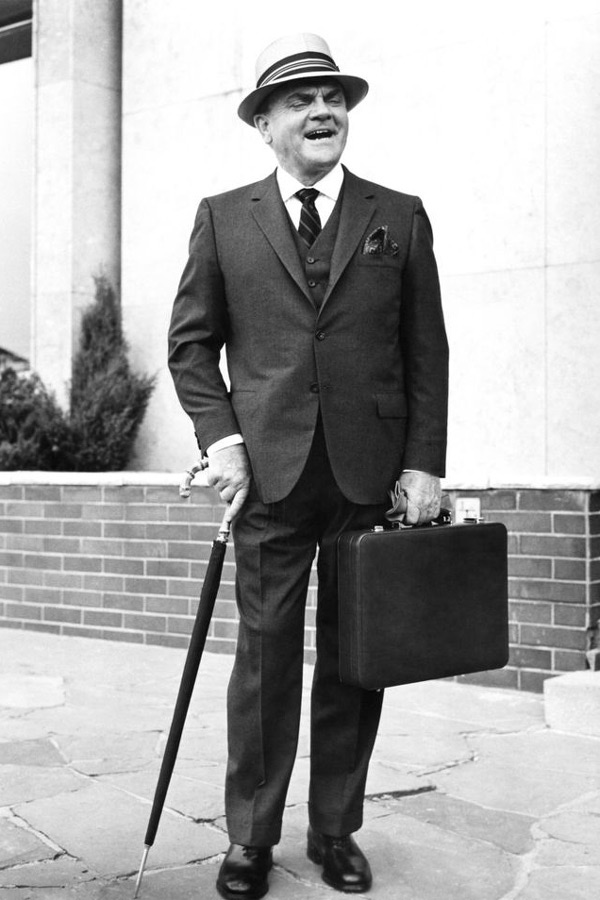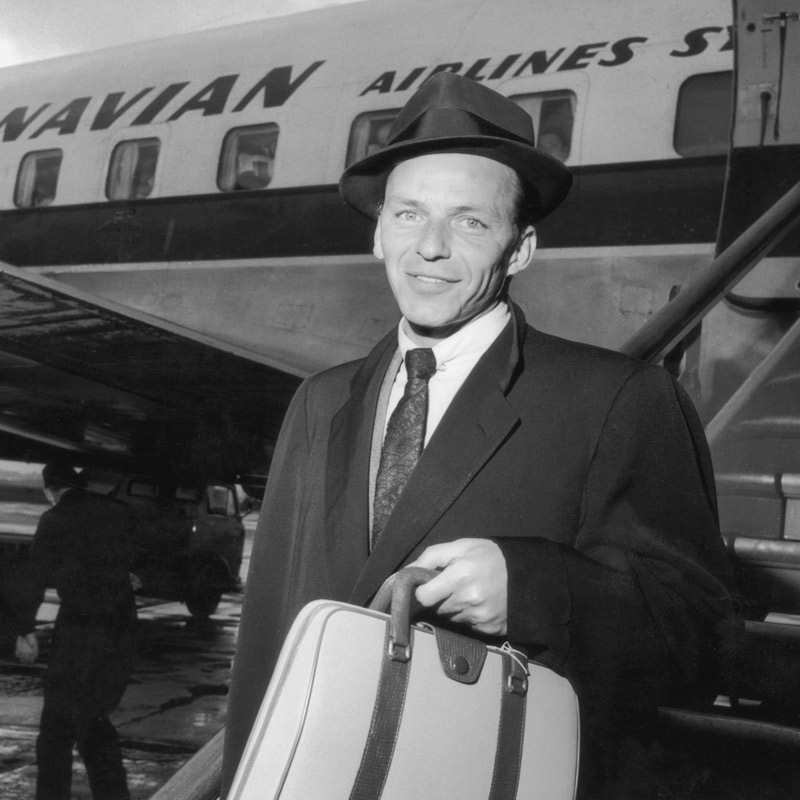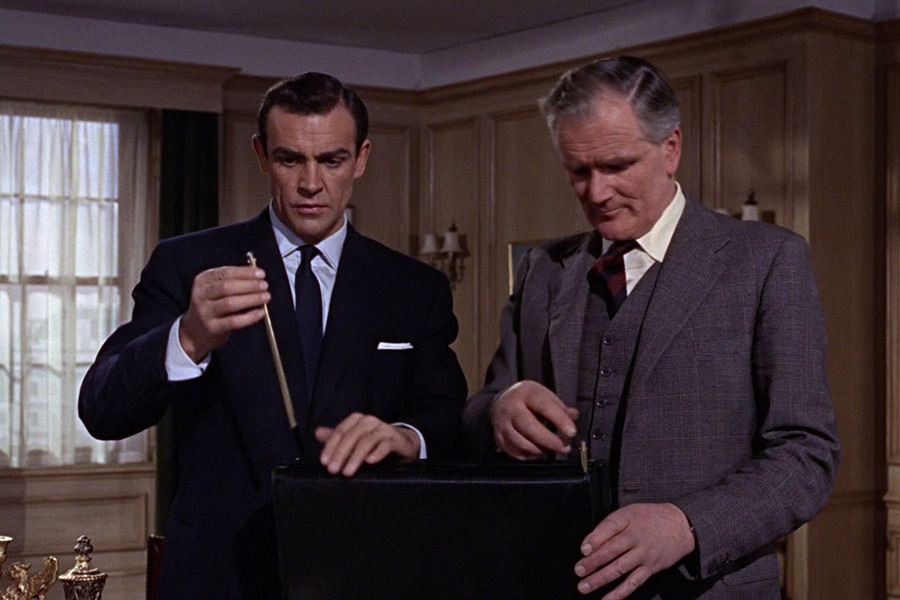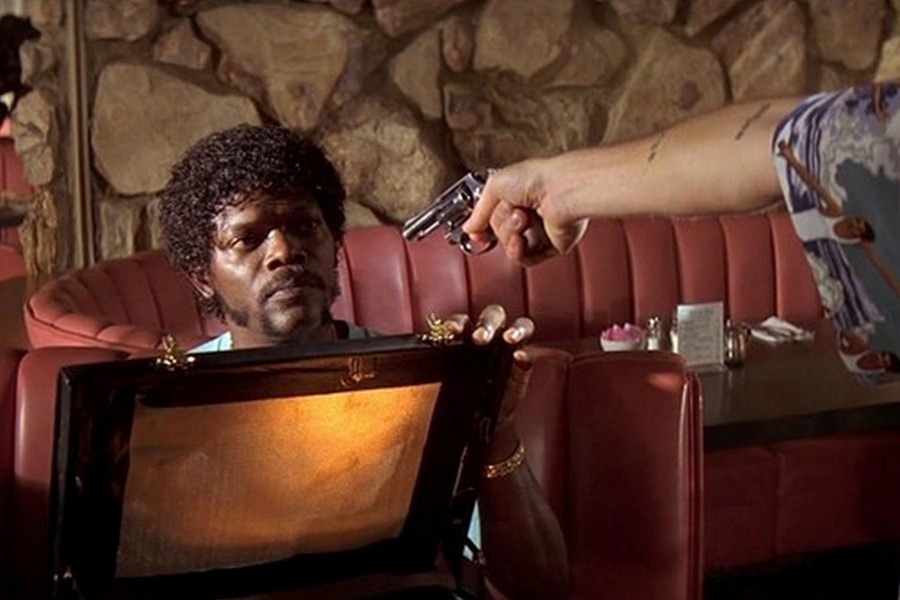 However, what the briefcase lacks in practicality, it makes up for in style and authority. Or, as businessman Robert Ettinger puts it, "If I walked into a client meeting with a backpack, I think they might laugh." The head of leather goods brand Ettinger prefers to carry a flap-over briefcase or attaché – "they're much better at looking after your papers"– which is professional, smart, and takes itself just seriously enough. His eponymous brand has been producing a range of attachés and briefcases that are virtually unrivalled in quality since the 1930s, but he admits that he's been thinking about ways to introduce a backpack to the Ettinger collection. Known for classic and unfussy designs, it would be interesting to see how he'd maintain the brand's traditional identity. "It's important to stay adaptable – we've been making bags for over a hundred years, but we need to think about what's happening today, with people carrying multiple devices and needing access to both hands."
It's true that the briefcase is often thought of as the territory of the more mature gentleman – but this can only be a good thing. It's been tried and tested over decades by people in positions of power, and indeed can be an empowering thing to carry. During his presidency, Barack Obama carried a Frank Clegg briefcase. Ian Clegg, the brand's Sales Manager, explains: "The briefcase is still king among our clientele. We work with a lot of professionals – the type of guy who wears a suit and tie to work. The briefcase gives off a great first impression of professionalism and maturity." That said, the backpack has its place at Frank Clegg: "We tend to see individuals using backpacks outside of work, for more personal interests – when travelling, they want to carry more, like a camera, warm layers, a journal..." Ettinger – an avid sportsman and traveller – agrees, and takes a backpack with him when he hikes or skis.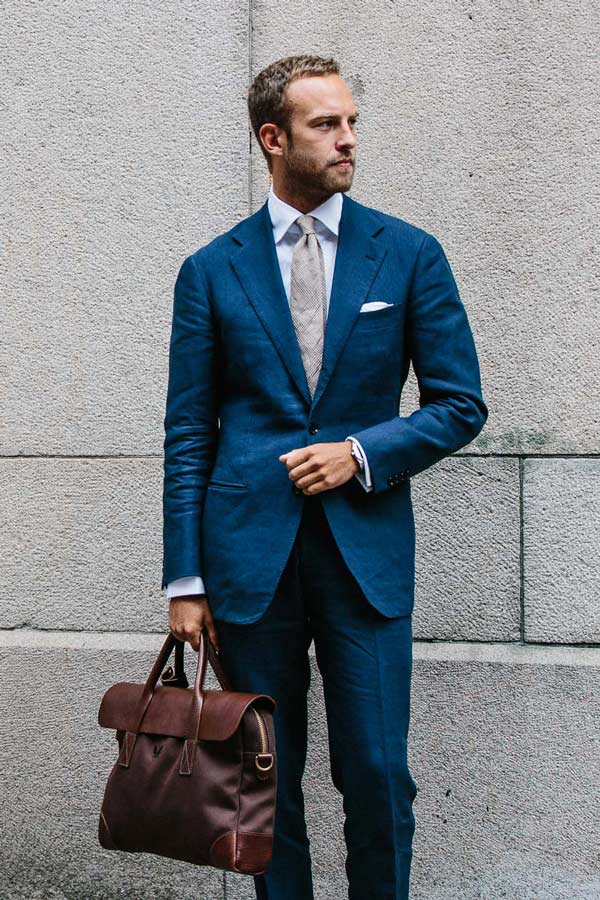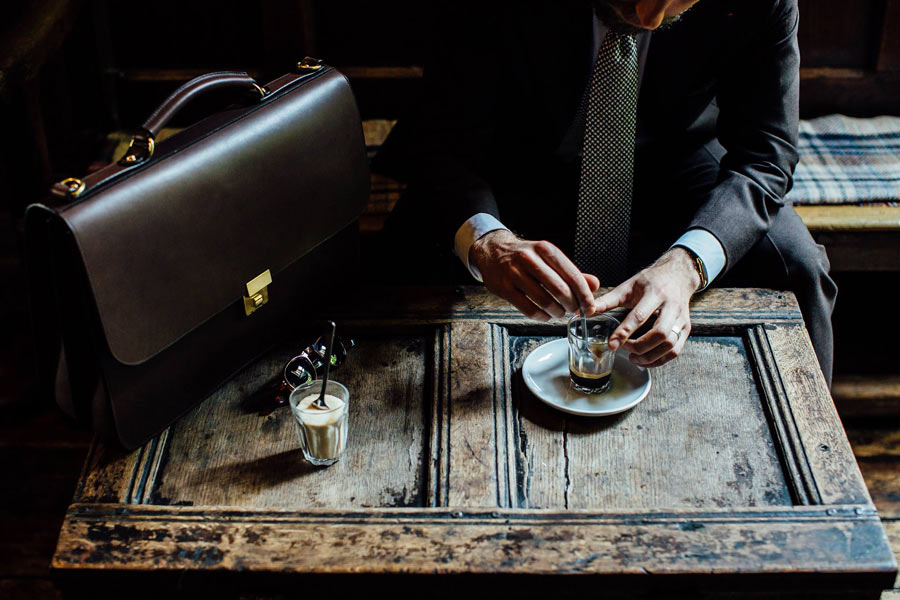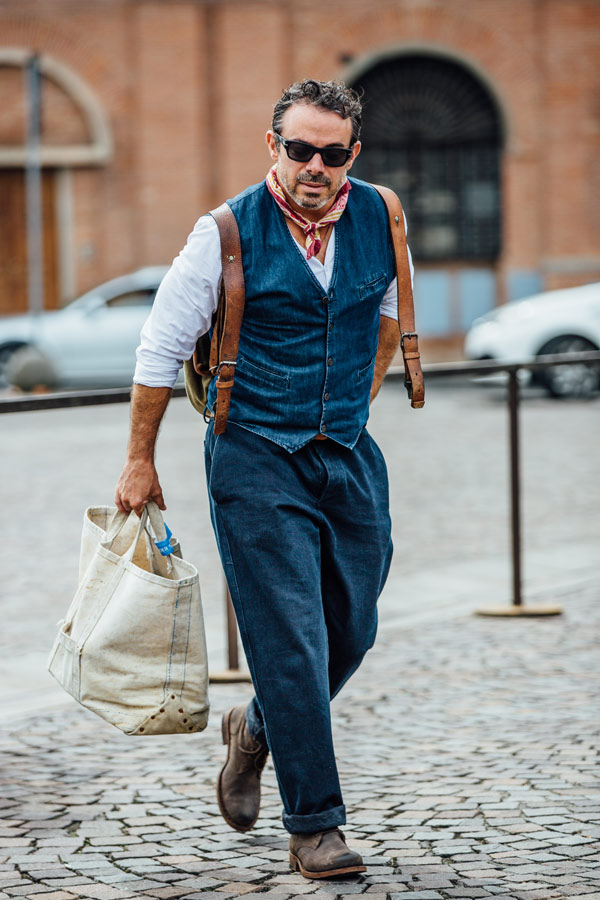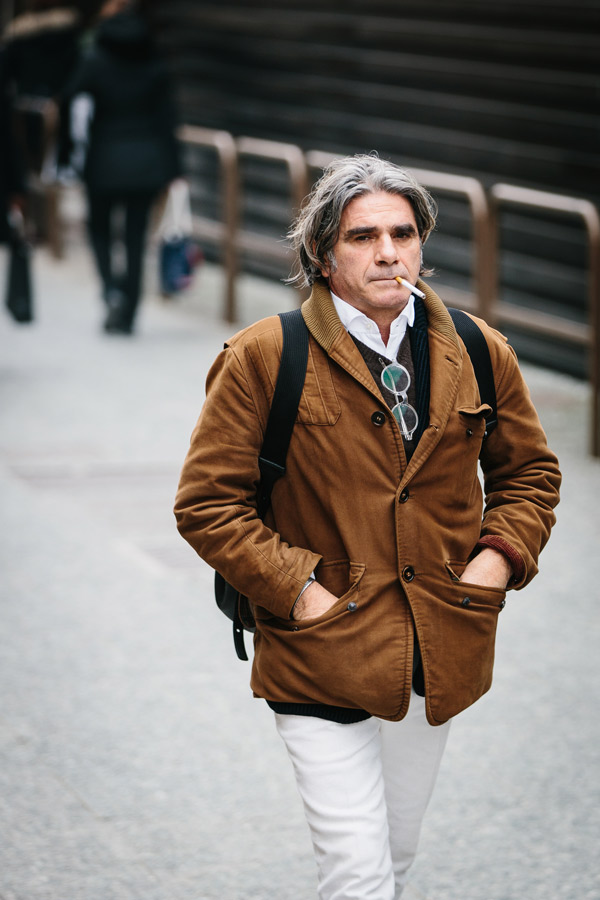 But backpacks are big business. Late last year,
The Wall Street Journal
reported that sales of adult men's backpacks represented 48% of the USA's entire backpack market, and were up 5% on the previous year. The team at British brand Bennett Winch aren't surprised, having experienced a shift in attitude towards the bag. "My father is a man of great style, [although he's] not someone who would normally consider a backpack," Creative Director Rupert Shreeve explains, "but I gave him a Bennett Winch for Christmas and he can't take it off. It looks like an extension of his tailoring rather than an alien hump." Certainly, many men are put off by the concern that a bag worn over their clothes can ruin the line of their tailoring or compromise their silhouette, and while it's true that a heavy bag can do a suit no justice, it can all depend on the aesthetic. Founder of the brand Robin Winch says, "We designed our backpacks to look just as good from the front as they do from the back. The solid brass hardware and military grade webbing we use on the straps, for example, help to instantly elevate the bag from what most have come to expect from this style." Bennett Winch products are performance-focussed yet elegant, inspired by classic designs with simple – but very useful – touches that don't compromise the aesthetic. "Our bonded canvas, for example, looks totally un-treated but is in fact completely waterproof because of a hidden latex core and an invisible Teflon coating," says Shreeve.
While the divide between backpack and briefcase territories continues to blur, and the demand increases for products that will take people from the boardroom to the boarding gate with as little effort as possible, could the briefcase's future be brief indeed? They're worthy investments, heritage pieces and commanding accessories, but while they'll always make an elegant statement and will always remain a staple among purists, the new wave of backpacks are levelling the playing field. "I carry a Bennett Winch backpack when I ride into the studio on the Triumph," Shreeve elaborates (evoking an impossibly cool image of himself rocking up to work on two wheels). As well as being infinitely more secure strapped onto his back, it also features a 'wet' compartment which is handy for storing his bike lock. "We've come a long way since it was acceptable for businessmen to only use heavy, impractical leather briefcases," he says. While rucksacks used to be pigeon-holed as a cheap, practical option, the luxury industry has successfully taken on the challenge of creating styles that are elegant, beautifully made, long-lasting and practical in more ways than one.