Baudoin & Lange for The Rake: The Luxe Sagan Loafer
Baudoin & Lange's signature Sagan loafer has fast become a menswear must-have, and now we have produced two limited edition styles exclusively for The Rake.
Earlier this year, a new take on the Belgian slipper strolled nonchalantly onto the menswear scene, commanded the room, charmed the women and closed more deals than Bernie Madoff circa 2007. Incidentally, the man himself was often spotted in a Belgian slipper, but this maverick shoe was no Ponzi scheme; it was a truly authentic embodiment of quality and craftsmanship, and also beat a path through the thicket of choice that is men's luxury footwear today. The newcomer, of course, is the Sagan loafer by Baudoin & Lange. Celebrated for the incomparable comfort the Sagan provides, Baudoin & Lange has succeeded in designing and creating a product that is both beautiful and comfortable, modern and classic, crafted in England, and instantly recognisable. All this, without compromising on style, integrity or quality. It was this powerful sense of identity in particular that resonated strongly with
The Rake
, and the sense of anticipation the house has cultivated – what will B&L do next? – is something we hope to both answer and build on with our exclusive collaboration. Here, we introduce two timeless colourways;
chocolate brown
suede with lizard skin aprons, and
navy blue
suede with alligator aprons. Created for
The Rake
, they imbue a classic design with a serious dose of luxury by way of flawless skins that simply aren't available anywhere else. This collaboration has also highlighted how much love and attention goes into the construction and craftsmanship of each immaculate loafer; from hand-lasting the uppers with a shock-absorbent insole (rather than the usual insert), to the three dot logo hand-hammered into the heel of the shoe, Baudoin & Lange is as close as one can get to bespoke footwear without the lengthy wait and multiple fittings, not to mention the often-tricky wearing-in process. Which makes perfect sense; one half of the company's namesake Allan Baudoin has a history in bespoke shoemaking; having spent years on his feet in his workshop, he wanted to create something that was not only comfortable but enjoyable to wear all day, as well as being able to take him effortlessly from morning meeting to working bench to evening drinks. In pursuit of this, Allan's bespoke and shock-absorbent insole has achieved a sumptuous softness of step. Together with Bo van Langeveld, a financier and ex-racing driver tired of suffering the pain and formality of office shoes, the pair's dual need and knowledge inspired a loafer like no other, the Sagan.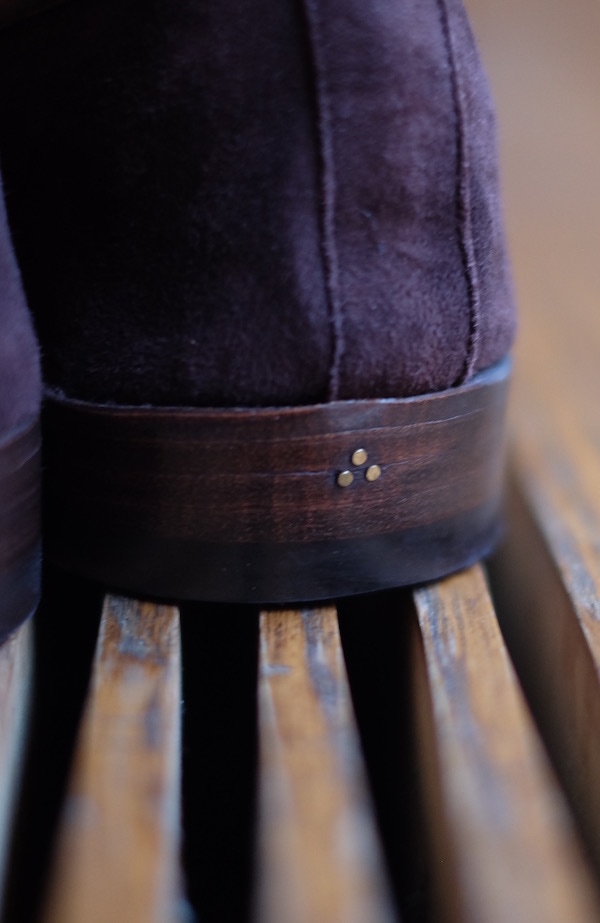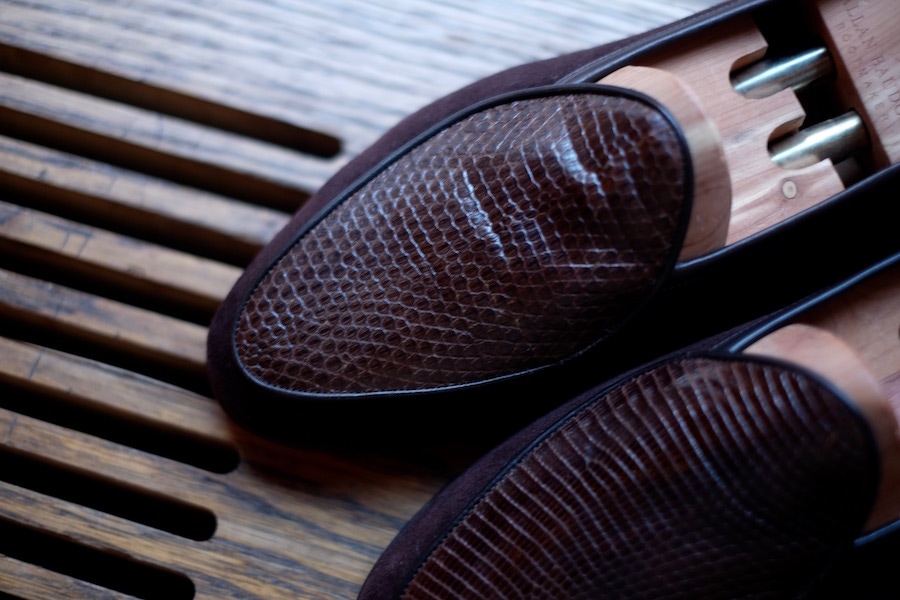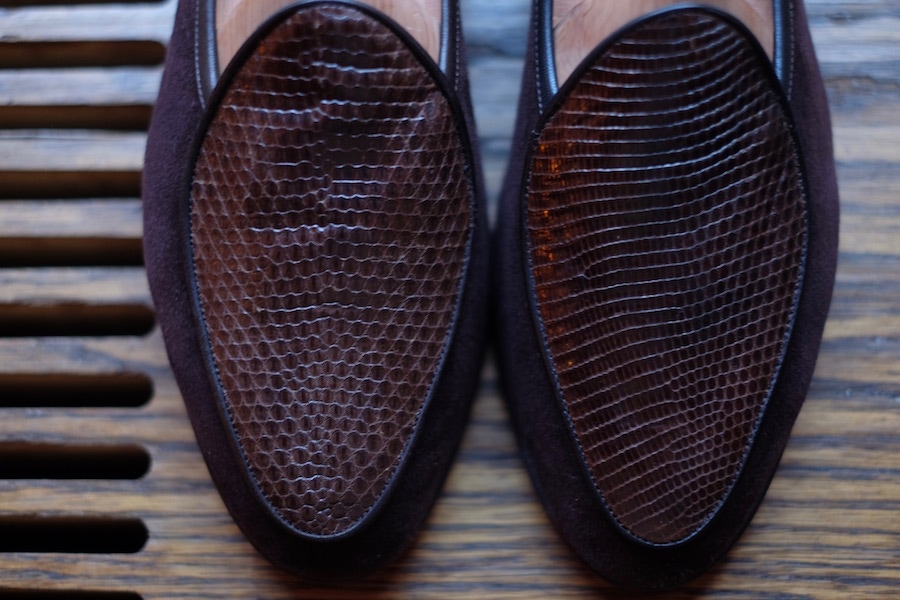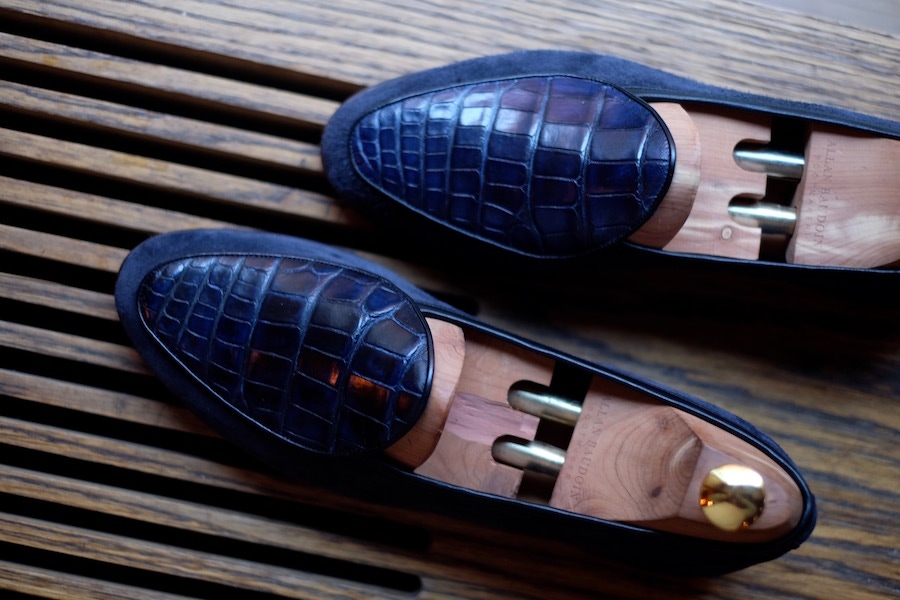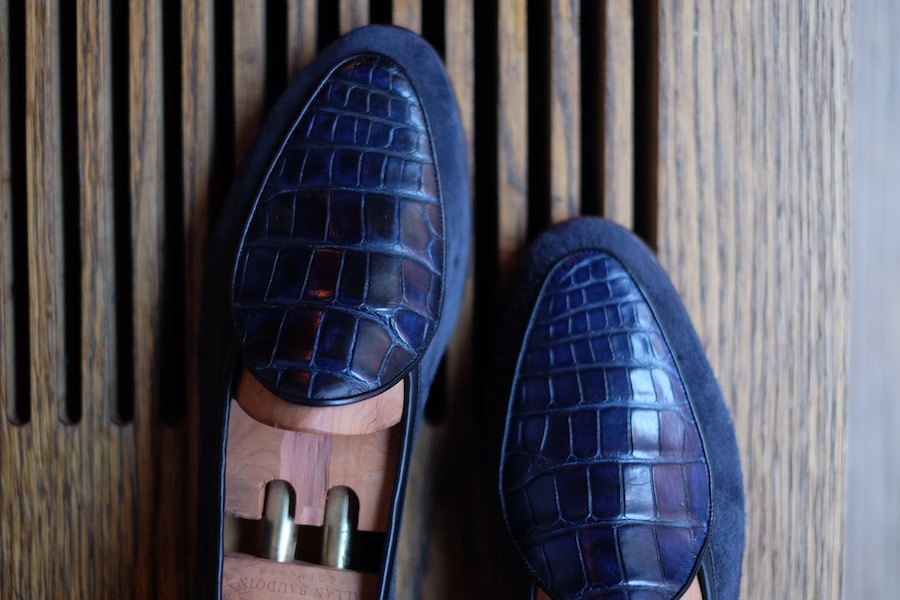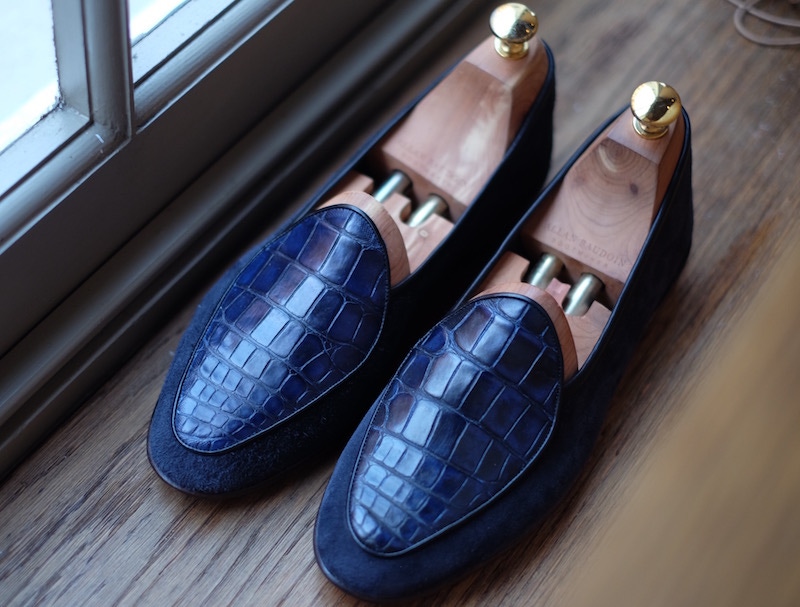 Often compared to the 'cashmere of footwear' by invariably happy customers, it's really no surprise that the loafers draw similarities with something so soft, supple, wearable and versatile, not to mention of such high quality that B&L's clientele are known to snap them up in several colours at once. The unlined loafers have become a staple of well-dressed gentlemen, from menswear bloggers who wear them with everything from jeans to tailoring, to the more traditional chap who wears them to travel from country home to weekends in the city. These shoes not only go beautifully with everything from silk pyjamas to Savile Row tailored eveningwear, but also go the distance in terms of longevity and wear, outwitting seasons at every turn and providing a breathable, flexible slipper impossible to resist. Testimony to this is the nod of approval shared between B&L patrons – those in the know can spot them a mile off, and they've become the equivalent of a masonic handshake among those in the know. Our exclusive slippers are cut in the finest exotic skins, which provide a luxurious edge and rakish attitude. B&L also insists on working with an artisanal tannery in Cyprus for the suede, which makes suede only for them using traditional methods that produce only the softest and most durable leather. According to Allan, "Our tanner has become a friend and we've had endless conversations on how to make the leather better. He is a slightly obsessive character, and will – for example – refuse to dry the leather any other way than laying it on the grass under shade, which doubles the production time. Thankfully, Cyprus is warm almost all year." Commitment to a cause doesn't quite cover it; Allan is a self-confessed "perfectionist" when it comes to his creations. He is personally involved in every step of the process; "I think a beautiful shoe is really an ensemble of very small details, each counts towards perfection – like an orchestra, all elements need to fit together in harmony." As the conductor of said 'orchestra', Allan also composes the "
hybrid almond/round toe last that gives a balanced and elegant shape
", he tells us. This style has become a signature of B&L, with which they seal a love letter to the feet. For these really are a labour of love, and one your feet will thank you for.