Celluloid Style: Goldfinger
Featuring some of the greatest suits ever to appear on screen, could Goldfinger be the most stylish of the James Bond franchises?
Aside from the regrettable terrycloth onesie that Sean Connery sports poolside at one point,
Goldfinger
is arguably the best-dressed of all the Bond films. Not only does it provide ample emulation-worthy inspiration insofar as men's style goes — it also dishes up several cautionary examples of 'what not to wear'.
That powder-blue towelling playsuit is 007's sole sartorial misstep in the film. The story's villain, meanwhile, repeatedly serves as an example of finance and refinement failing to coincide. Auric Goldfinger was named after and, in many ways, his personality is based upon the architect Erno Goldfinger, whose brutalist public housing towerblock projects across London Ian Fleming despised. Taking his revenge for these perceived crimes against civic aesthetics, Fleming painted his fictional Goldfinger as a brusque Marxist (like the real-life figure), who despite his vast wealth, is entirely lacking in taste.
When Bond takes on Goldfinger in a game of golf, he pours scorn on his adversary's 'matchy-matchy' garb. "Many unlikely people play golf," Bond muses in the book, "and people often wear bizarre clothes to the game. Other golfers don't think them odd, for there are no rules of appearance or dress at golf. That is one of its minor pleasures. But Goldfinger had made an attempt to look smart at golf, and that is the only way of dressing that is incongruous on a links."
Essentially, Bond disses Goldfinger for being too carefully put together, without a trace of sprezzatura. "Everything matched in a blaze of rust-coloured tweed from the buttoned 'golfer's cap' centred on the huge red hair, to the brilliantly polished, almost orange shoes. The plus-four suit was too well cut and the plus-fours themselves had been pressed down the sides. The stockings were of a matching heather mixture and had green garter tabs," Bond sneers. "It was as if Goldfinger had gone to his tailor and said, 'Dress me for golf – you know, like they wear in Scotland.' Social errors made no impression on Bond … he rarely noticed them. With Goldfinger it was different. Everything about the man had grated on Bond's teeth from the first moment he had seen him. The assertive blatancy of his clothes was just part of the malevolent animal magnetism that had affected Bond from the beginning."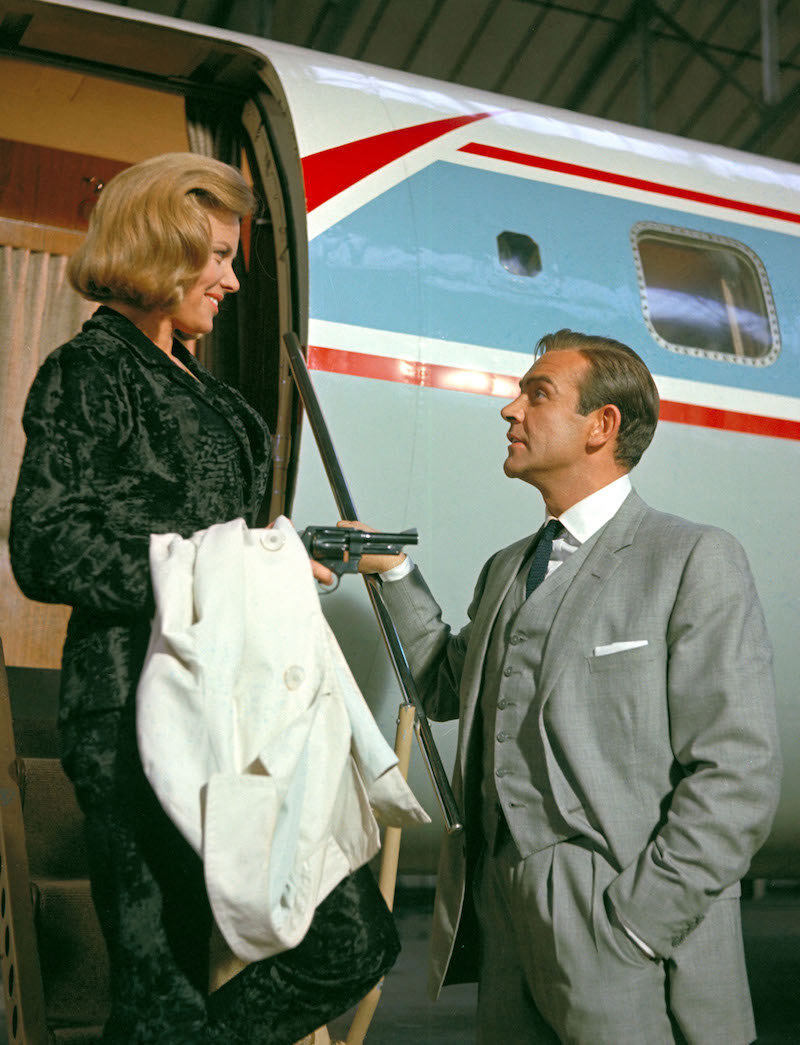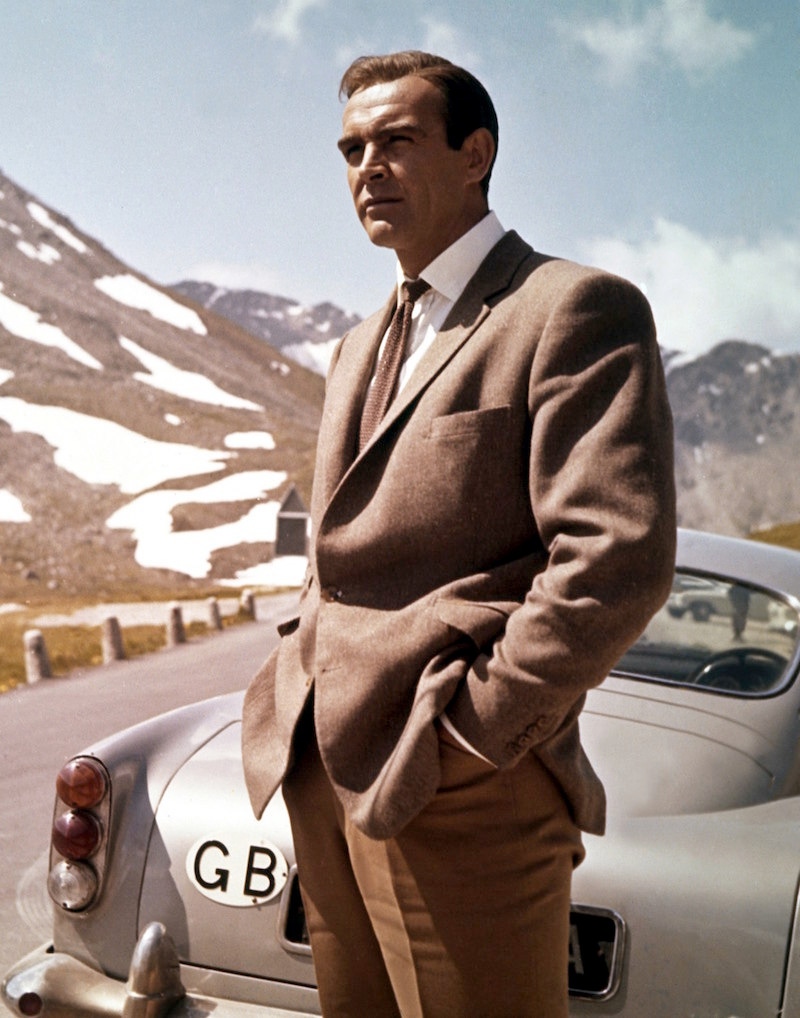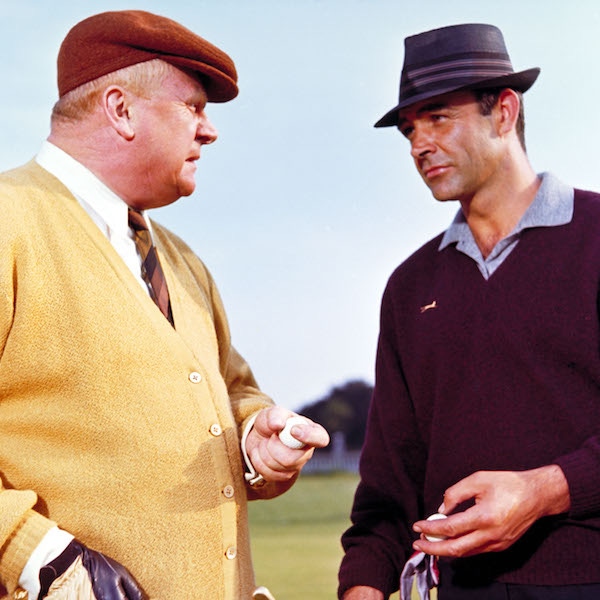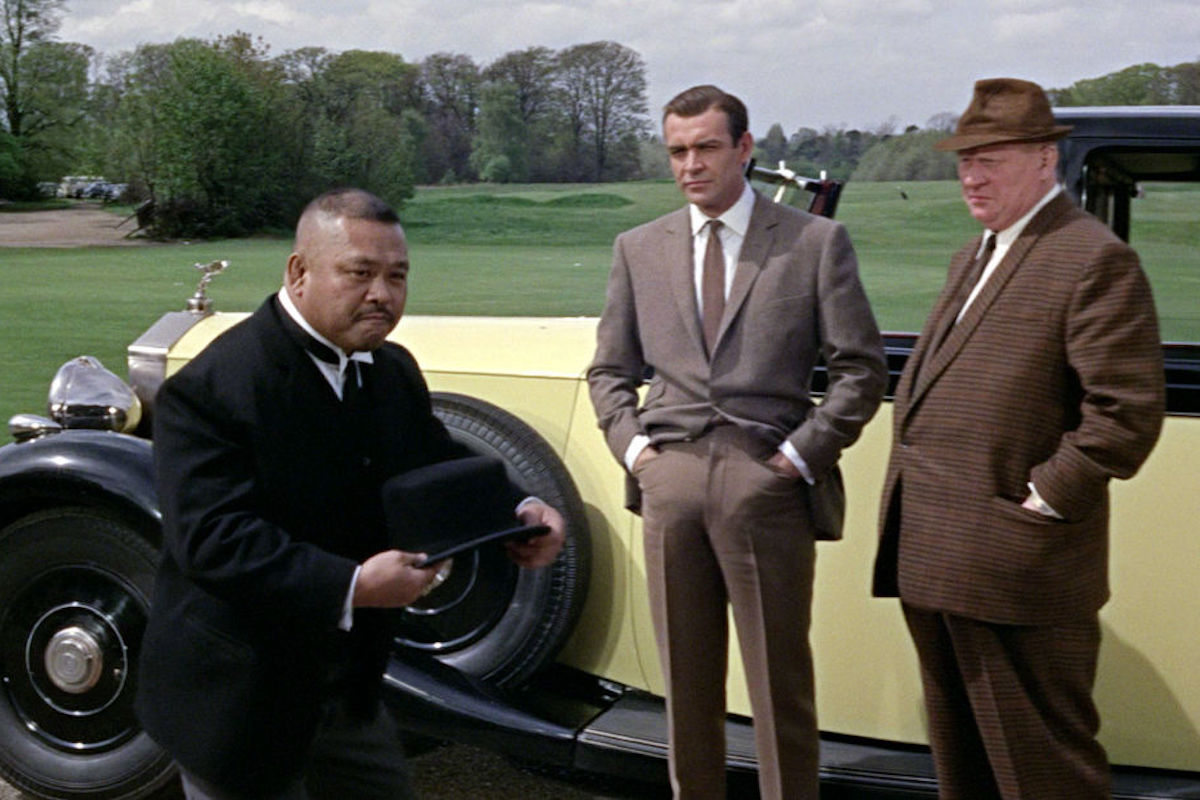 In Fleming's books, Bond's wardrobe is more modest than is depicted on film. In
Moonraker
and
Diamonds Are Forever
, he's described as wearing a "battered" and yellowing "black and white dog-tooth suit for the country and for golf". In the Goldfinger movie, while the villain's outfit is faithful to the literary description, 007 looks utterly at leisure in a maroon Slazenger V-neck sweater, grey marle polo shirt, charcoal trousers, a stingy-brimmed grey straw trilby, and dark brown kiltie golf shoes. No "assertive blatancy" whatsoever.
That ultimate Bond vehicle, the Aston Martin DB5 — which makes its debut in Goldfinger — equally keeps its assertiveness on the down-low. Its surreptitious Q Branch modifications include bulletproof windows, revolving number plates, a long-distance homing device, smoke screen, oil slick, rear bulletproof screen, left and right front wing machine guns, and a passenger ejector seat. (Thanks to its cinematic pedigree, a similar DB5 — lacking the lethal optional extras — will set you back a bare minimum of £500,000 today.)
Piloting this weapon on wheels around the Swiss Alps, Bond dresses for country pursuits in a brown-based ensemble. His coat is a brown barleycorn tweed, two-button single-breasted hacking jacket, with rural detailing including slanted, flapped hip pockets and a single rear vent. His off-white, subtle spread-collar shirt features French cuffs coupled with gold oval cufflinks, and is worn with a slim, brown silk knit tie. Below the waist, Bond sports light brown, flat-front trousers and dark brown suede Derby footwear. On his wrist is a Rolex Submariner 6538 on a striped RAF strap. (Originally believed to be black and grey, the famously undersized strap was revealed to in fact be navy blue, red and olive when watch geeks examined a restored DVD edition of the film.)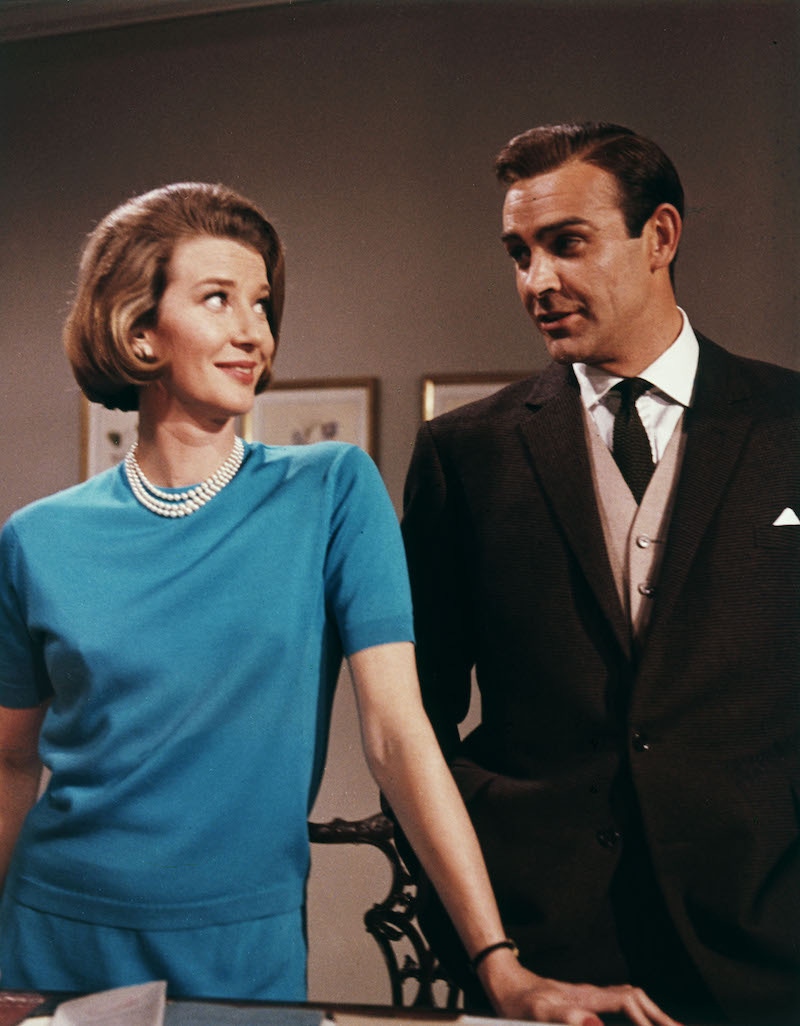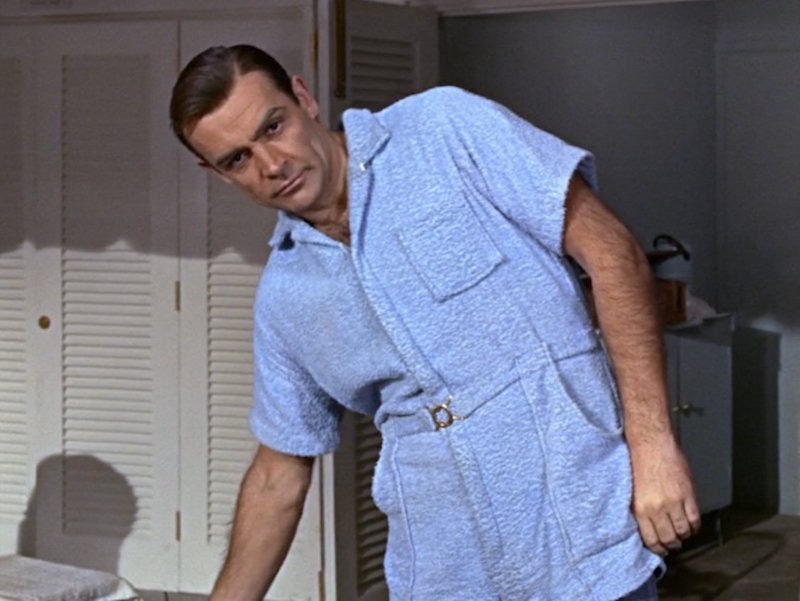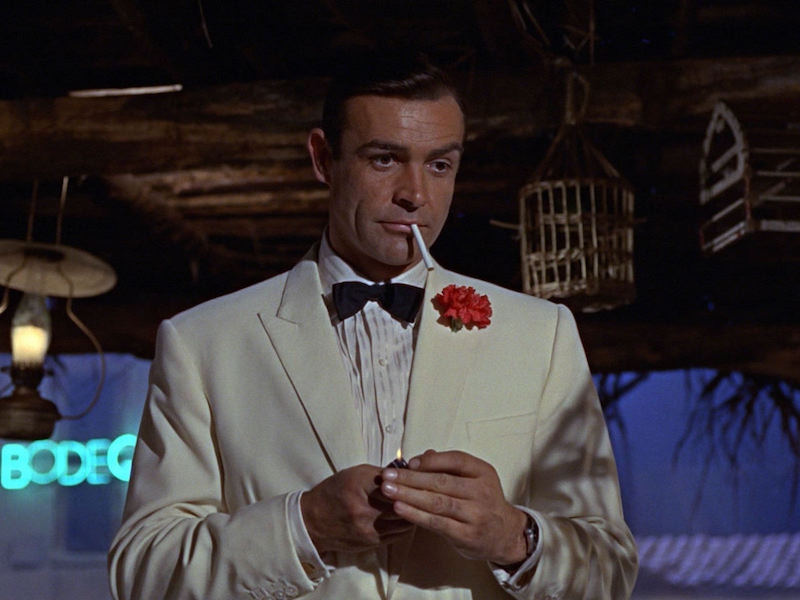 While uttering that much-quoted line, "No Mr Bond, I expect you to die," Auric Goldfinger wears a gaudy brown-gold shantung silk, shawl-lapel dinner jacket — as ugly as his demeanour. Bond's formalwear in the film, however, is the very picture of dapper discernment. Tailored, like all Connery's suits for the movie, by Anthony Sinclair, Bond's iconic ivory tropical wool, one-button dinner jacket features razor-sharp peaked lapels (self-faced, rather than stiff grosgrain or silk), jetted hip pockets and a ventless back. He eschews a fiddly cummerbund and kicks it in midnight blue pleated trousers with satin side detailing. The fancy plissé-front formal shirt 007 wears is cut from a shiny striped white cloth, its French cuffs are fastened with gold cufflinks, and its moderate spread collar sealed with a small, black satin batwing bow-tie. Many say you should never wear a wristwatch with formalwear. Bond says 'never say never again', and straps on his trusty Sub.
Bond wears several other sterling outfits during this classic 1964 film, but it's his three-piece at the movie's denouement that will go down in history as one of the greatest pieces of tailoring ever to grace the silver screen. Sippin' mint juleps at Goldfinger's stud farm in Kentucky and, subsequently, ending the life of his corpulent commie-colluding nemesis, the super spy is super cool in a lightweight micro-glen plaid, two-button suit with six-button waistcoat (with interesting mini lapels) and double forward-pleated trousers. This Anthony Sinclair 'Conduit Cut' masterpiece is coupled with a subtly patterned, spread collar, double-cuff white shirt, garrotte-tight four-in-hand knotted navy knit tie, white 'TV fold' pocket square and black two-eyelet Derbys (with a handy tracking device in the heel). "Sheminal shuiting," as Sean himself might put it. We do love Roger Moore. But Connery's mid-sixties Bond? You've got to admit: Nobody did it better.
Author's note: I found the scrupulous sartorial trainspotting of bamfstyle.com and bondsuits.com invaluable resources while researching this story. Hat tip, chaps.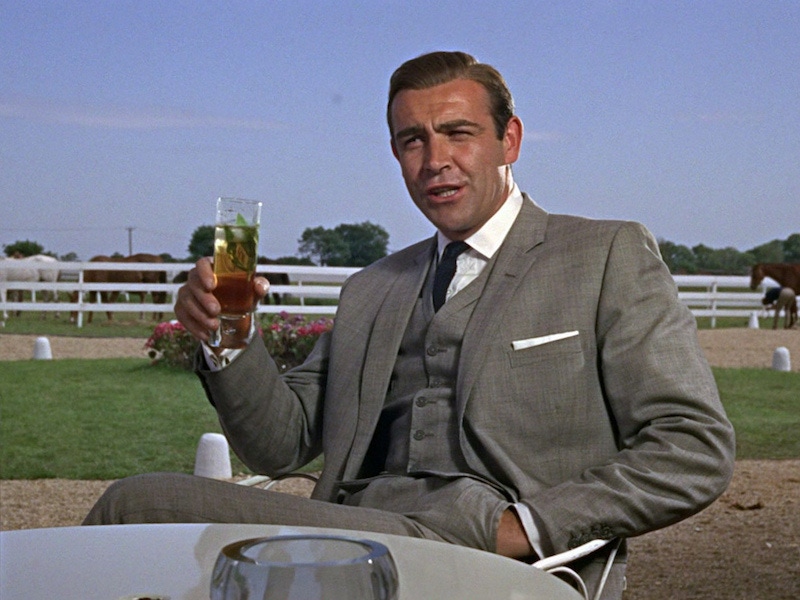 Sean Connery, enjoying a refreshing mint julep, wears a lightweight micro-glen plaid three-piece suit by Anthony Sinclair.