How Crockett & Jones Became a Shoemaking Giant
Forty years ago, Crockett & Jones was down at heel. Jonathan Jones, the Managing Director, discusses how his team have transformed the brand into a powerhouse of British shoemaking.
In the world of traditional British luxury, Crockett & Jones stands head and shoulders above its compatriots as a shoemaker of nigh-on titanic proportions. Founded in 1879 in Northampton, the company has remained family owned throughout its history, occupying an expansive factory with long-serving, loyal and talented staff. This was not always the case, though. When Mr. Jonathan Jones started at Crockett & Jones in 1977, he joined a highly respected manufacturer that was, to put it mildly, not in great shape. Indeed, it was losing ground to its competitors and very close to closure. Forty years later, Crockett & Jones is one of the largest producers of
high-quality Goodyear-welted shoes
in the world. How has this been achieved? Well, Jones was kind enough to talk
The Rake
through his time at the helm, the strategy that has helped build the Crockett & Jones of today, and what the future holds for this most impressive of traditional British manufacturers.
When I came into the business, the footwear industry was at a real crossroads
. Some companies were on their way out, and a lot of people thought that Goodyear-welted shoes didn't have a future. Even so, I had to look at the strengths of Crockett & Jones, and I could see certain other British Goodyear-welted producers were doing O.K. in their specialist sector. I thought, we have to be concentrating like them; we are a high-end Northampton shoemaker and we need to be concentrating on our superior Goodyear-welted shoes.
At the time, C&J wasn't in a strong position
 because we had retained our pre-war mentality and hadn't really seen the massive change coming in the sixties, when the fashions moved on. Fathers wore traditional English brogues and their sons went round in Gucci moccasins — everyone was prophesying that English shoes were going out. Even so, we decided to turn into a specialist Goodyear plant — there was no point in trying to chase business in other areas when we had such expertise. I took over responsibility of developing the product line because I thought, we need to get the whole thing right, and I started getting involved in sourcing skins and last making. I developed the first C&J own-brand line in parallel with making for Ralph Lauren. At the time, Ralph was building an English line so we developed a strong relationship with the house.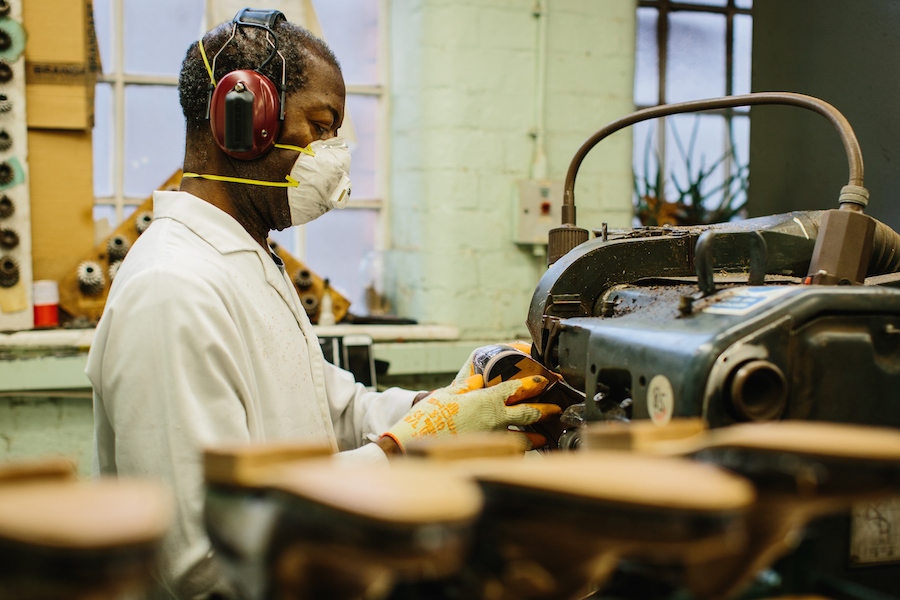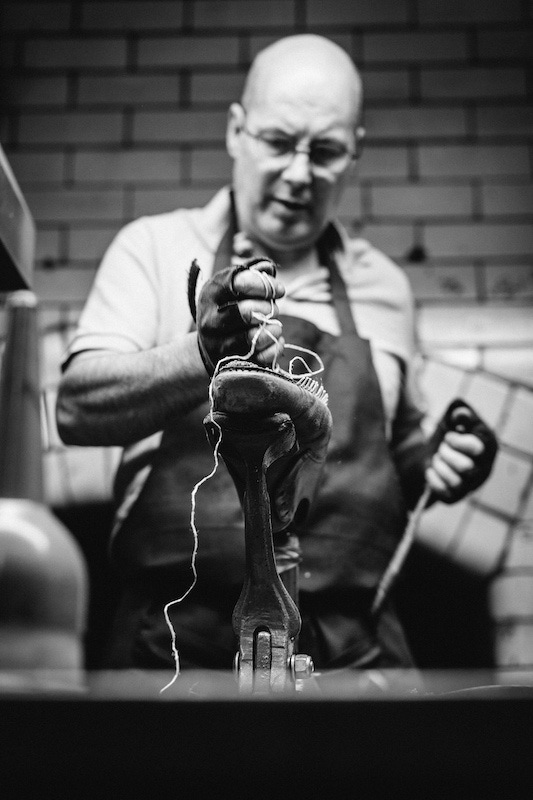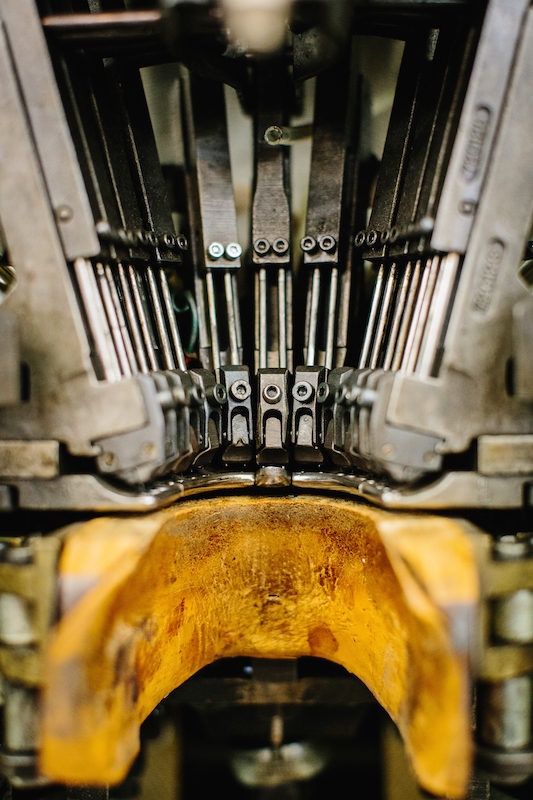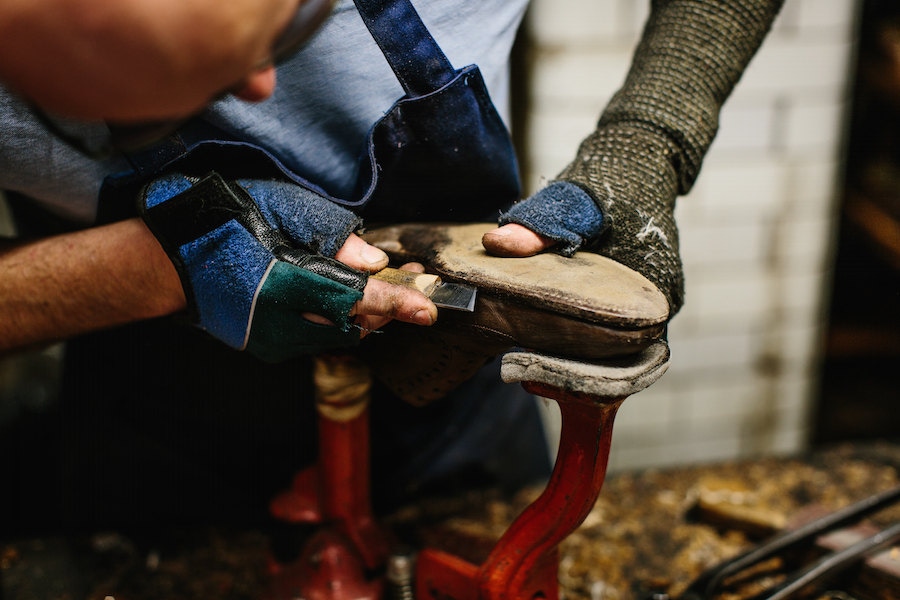 Customers understand that in Northampton we've got some highly skilled people who really know what they're doing, and there are an awful lot of processes to contend with. Our production is reliant on the hand-eye coordination of our craftspeople. Welt sewing is a challenge, as is sole stitching — having to stitch upside-down and quite fast — with no margin for error. Likewise, edge trimming is physically hard work: it's quite a weight getting through 400 or 600 pairs a day by hand against a trimming machine. Materials are another factor; the quality of uppers in our shoes and the whole leather-buying process is a big issue. I think we're lucky that being a family business has strengthened Crockett & Jones. It depends who is running it, of course, but if you're in the business then you'll have more of a long-term view of it, you're building it for future generations rather than short-term profit. This family has gone on for four or five generations — my great-grandfather started the business — so you're conscious of the effort they put in. You look at what they did in the 1920s and thirties, for example, and you think, what they achieved was fantastic; what can we do to emulate that? The heritage of the brand is very important because it allows you a sense of perspective; if you know where your roots are it gives you confidence going forward. What makes a good pair of shoes? It's three elements: the quality of materials used, the last, and the elements of shoemaking, the way you put a shoe together. We can't be totally unique in that because there's only one way to make a Goodyear-welted shoe, but we can be unique about our materials and styling — all those things come together. I like the fact with our shoes you can recognise a signature C&J model. It gives that individuality we need to project because we have to concentrate now on building our brand, and on developing a stronger and stronger representation in the big cities because there are huge challenges in terms of lifestyle changes related to men's footwear. Thank goodness we started the retail shops when we did, because we've got great loyalty from our customers in Japan, the U.S. and Europe. And we have to be on the ball because men's lifestyles are changing a great deal, and more money is going into designer casual footwear. What we're trying to do is have the best top-end English dress shoes you can wish for at a reasonable price, backed up by fine quality Goodyear-welted construction that lasts indefinitely, and then have a strong line in smart-casual footwear. English Goodyear shoes look great with tailoring, denim, flannels or separates, and that's the beauty of them. At the end of the day I always say to people that the other elements of the business, like accounting and communications, are peripheral: if the product isn't right then we're going to be out of business. Our quality and value for money has to come above everything else.