HOROLOGICAL EROS
Blancpain's Le Brassus Minute Repeater Carrousel with Erotic Automaton is a prime example of how erotic timepieces can not only be titillating, but also veritable works of high art.
Apparently there are 165 common euphemisms for the act of sexual intimacy in contemporary music and literature. Chief amongst these are 'knocking boots', popularised by both R&B group H-Town as well as country music star Shania Twain; 'the horizontal tango', as described by Usher; 'making whoopee', coined by jazz great Eddie Cantor and immortalised by Ella Fitzgerald; and lest we forget, 'making the beast with two backs', thanks to William Shakespeare, his own last name not exactly devoid of double entendre. While we're on the subject of the sexualisation of one's own name, recently, thanks to actors Jamie Fox and Channing Tatum, 'Channing all over your Tatum' has also grown in popular urban parlance for what we commonly call 'making sweet, sweet love'. But just as there have been innumerable attempts to euphemistically describe sex, intercourse has also been one of the most frequently recurring themes in fine art. A few years ago, the British Museum curated a seminal exhibition on Japanese shunga, loosely translated as 'pillow pictures', which was popularised between the 17th and 20th centuries. Shunga was intended to be both a form of sex education as well as an art form expressed through colourful paintings and woodprints, using lively pigments to show couples engaged in highly charged moments or connubial bliss. Images are forthright and almost comically graphic, embracing sex between different classes, ages and occupations, including images of princesses engaged in coitus with their warrior bodyguards or Buddhist priests with their new initiates. The message seems to be clear: while society may be divided into socioeconomic strata, it is sex that transcends all boundaries; it is pervasive and takes place everywhere, behind every rice- paper screen and shuttered window. Couplings become the stuff of epically wild fantasies, including a particularly vivid image of a beautiful young woman and an octopus. Timothy Clark, Head of the Japanese Section of the British Museum, explains that while sexual acts in European art had to be expressed metaphorically through mythological painting and sculpture — hence Nicolas Poussin's The Rape of the Sabine Women or Peter Paul Rubens's Leda and the Swan (see inset) — in Japan, it is expressed with a robust deliciousness that is freed from typical Judeo-Christian hang-ups. He emphatically states, "Cosmic sex formed Japan."
In the Indian state of Madhya Pradesh is a town called Khajuraho, famed for the staggeringly complex sculptural portrayal of sex that decorate the walls of medieval Jain and Hindu temples. These monuments, which depict sex elevated to the level of performance art in its richness and variety of contortions, has been listed by UNESCO as a World Heritage Site and considered one of the 'seven wonders of India'. Author James McConnachie, in his book on the history of the Kamasutra, describes these carvings as the "apogee of erotic art". One school of thought is that these carvings, expressed through fleshy, concupiscent wide-hipped bodies engaged in a myriad of sex acts, refer to a form of spiritual awakening through intercourse as prescribed in Tantra, a style of meditation and ritual that arose during the fifth century AD, and continues to be championed today by 62-year-old musician Sting and his wife, Trudie Styler.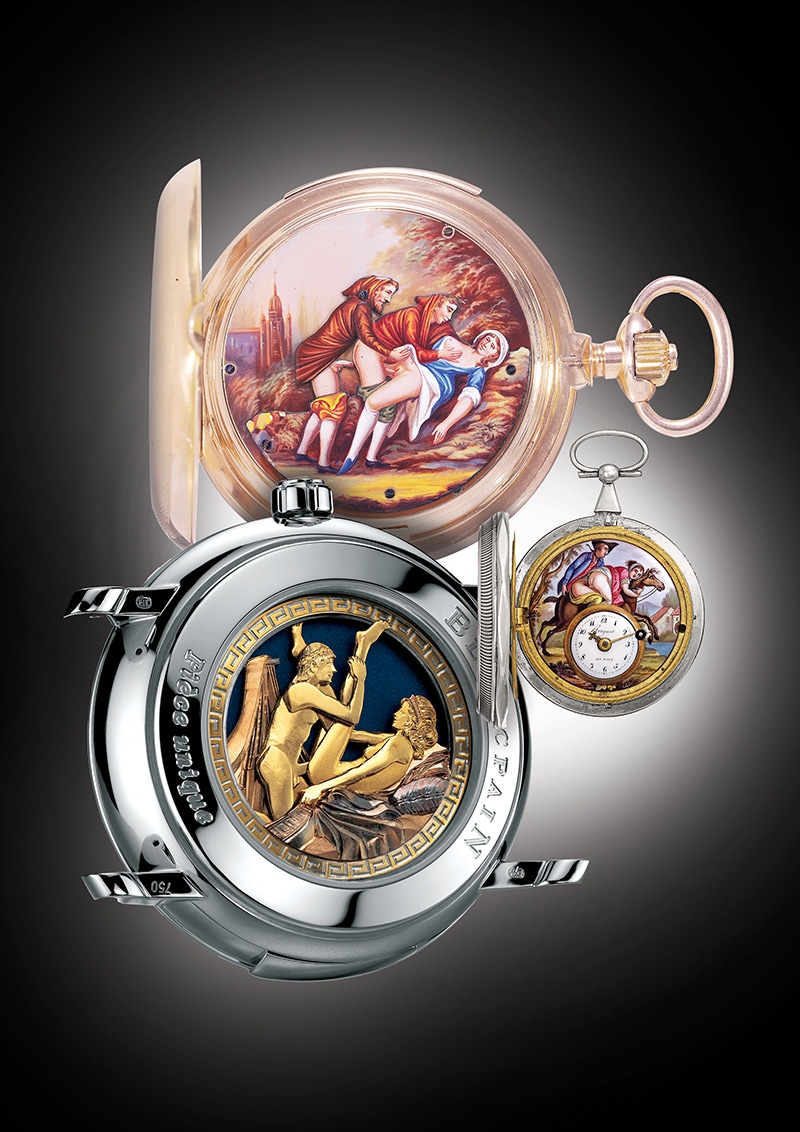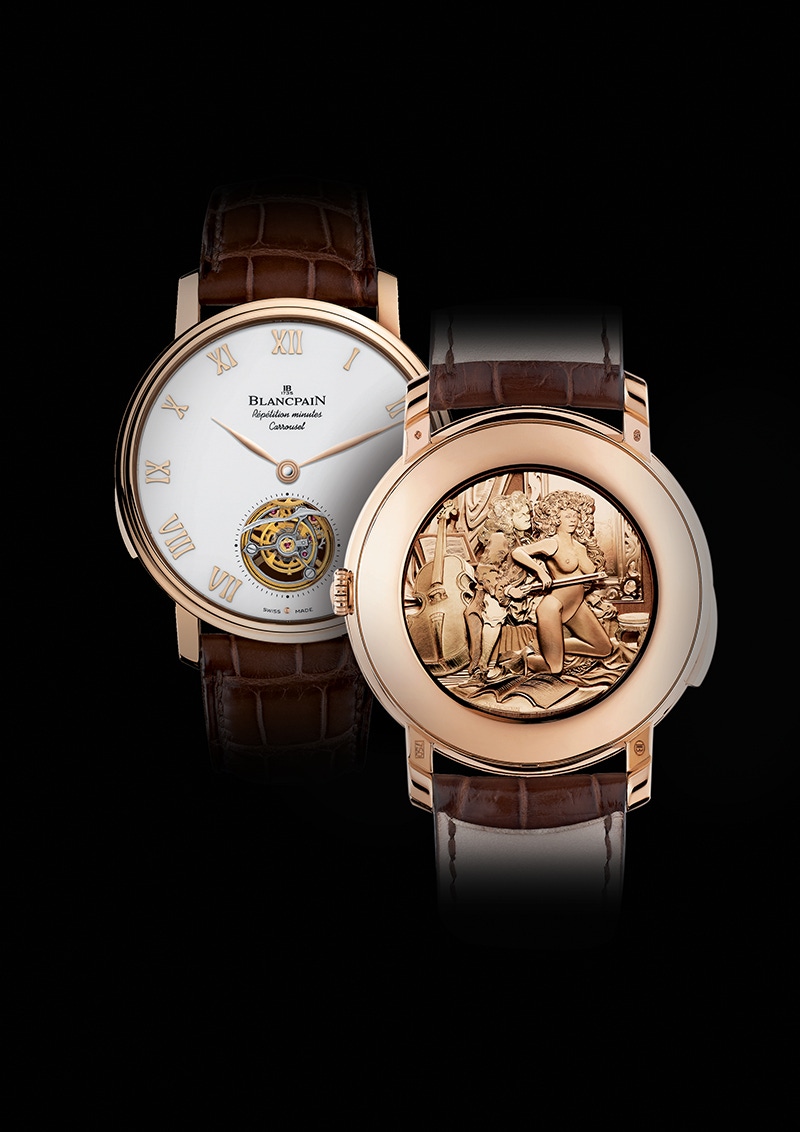 While Swiss watchmaking has always been perceived to be the product of a conservative Huguenot/Calvinist culture, there is a mystical, several-centuries- old tradition in fusing erotic artistry and the act of time-telling in what is known commonly as the 'erotic watch', such as the 'Calvacade' pocket watch by Breguet et Fils, which dates back to 1820. However, not all erotic watches are created equal, and at the house of Blancpain, situated in the austere Swiss Vallée de Joux, this genre of watches has been elevated to involve the highest level of technical and artistic achievements in horology.
Blancpain's iconic Le Brassus Minute Repeater Carrousel with Erotic Automaton is a work of dizzying technical complexity. The first complication here is a minute repeater, which allows time to be played back on demand — a function initially created for telling time in the dark. Activate the slide integrated into the side of the watchcase and a strike train will engage, causing a system of feelers to read time off cams that are hidden under the dial. These feelers then translate the time to a set of toothed racks that activate hammers to play the time on cylindrical gongs. The result is transcendent — the watch literally sings out the time with music. The gongs are tuned such that one is lower in pitch and the other higher. Time is played using a series of strikes. Lower- toned strikes tell the hours; higher-pitched strikes account for the minutes. Quarters of the hour are represented using a combination of low and high strikes. Watches play time by first striking the hours, then the quarters, and then the number of minutes past the quarter. At Blancpain, each minute repeater is assembled, tuned and decorated by a single watchmaker who may spends weeks simply removing infinitesimally small amounts of material from the gongs to subtly modify their sound.
While a minute repeater is already well known to be the most difficult of all horological complications, Blancpain adds another level of complexity to the watch by integrating an automaton, or 'jacquemart'. What are these, precisely? They are carved, engraved, or decorated figures that are able to move on the dial and are programmed to do so in tandem with the strike of a minute repeater. In horology, they can consist of animals in a jungle scene or warriors in battle, but also, and very commonly, human beings engaged in sex — like that seen on Blancpain's Minute Repeater Carrousel with Erotic Automaton.
In 2011, auction house Antiquorum hammered a collection of 32 erotic timepieces to spectacular results, a demonstration of the immense respect for the underlying craft represented by these timepieces, despite — or perhaps in addition to — their deliciously carnal theme. Amongst the horological finery were timepieces such as the provocatively named 'Outside the Abbey Walls', from circa 1910: a keyless chronograph minute-repeater pocket watch in a hunting case, featuring a miniature enamel scene that conceals an erotic automaton.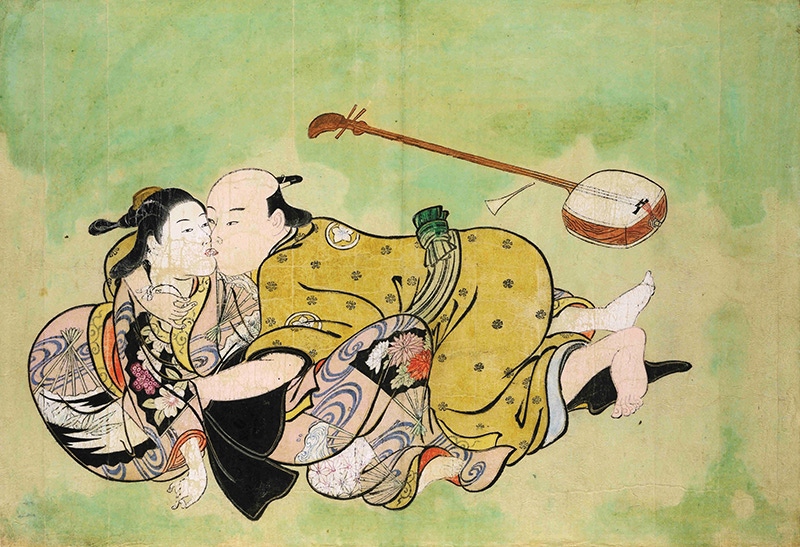 The subject of a Blancpain minute repeater with erotic automaton can be a bit divisive; which side of the fence you fall on would be based on the level of your puritanical leanings, yet you could make an argument that it is, in fact, the ultimate statement of discreet elegance in modern timekeeping. Why? Because, from the front, the watch appears to 99 percent of people as no more than a simple two-handed dress watch in the sublime, classically styled Blancpain Le Brassus case. Only one percent of the world will look at the caseband and register that you are wearing a minute repeater. And even then, no one will ever be able to tell that it is an erotic watch unless you take it off and show the extraordinary animation that unfolds in tantalising drama through the caseback. This brings to mind the famous story of the man who had a Blancpain erotic minute repeater stolen from his home during a burglary. The police recovered the watch but needed him to prove that it was, in fact, his property. The man asked the police to turn the watch over and pointed out that there, rendered in perfectly realistic detail, was a miniature engraved gold automaton of himself appreciating the oral artistry of a beautiful woman.
Another highly appealing thing about the Blancpain Minute Repeater Carrousel with Erotic Automaton is that each piece is bespoke: you select the precise ritual of pleasure you want displayed on the back of the watch by the automaton. Depending on the sexual act or even the position or number of participants, the way these figures are animated and synchronised with the repeater strike train can be of extraordinary complexity.
You are limited only by the wildest reaches of your imagination, because, here, your Freudian id — the wonderfully uncontrollable, instinctive side of your personality — is finally unshackled and given carte blanche to roam free in revelatory self-discovery. If you want an interpretation of Japanese shunga artist Hokusai's infamous The Dream of the Fisherman's Wife from 1814, or Nishikawa Sukenobu's Sexual Dalliance Betweem Man and Geisha (pictured above) from circa 1711, it can be realised. Or, say, you're particularly motivated by a passage from Gustave Flaubert's Madame Bovary, or one of Anaïs Nin's ethereal stories from Little Birds — not a problem. Or, say, you imagine a tripartite tryst between you, a young, barefoot Brigitte Bardot and a fully mature Monica Bellucci, as you all frolic in an oversized vat of Iranian malossol caviar — all things are possible. Clients often submit images of famous erotic paintings, photographs or even images of themselves in glorious flagrante delicto to be rendered with extraordinary skill by the engraver. 
Several stages of refinement is required to get the backdrop, faces and bodies of the automata and their sexual act perfect — and Blancpain is dedicated to achieving this perfection. While other watches may feature occasionally garish use of colour, the Blancpain erotic repeater is rendered with its automaton in pure, unadorned gold to match or contrast with the case material. Regardless of your motivation — whether to commemorate an anniversary in a wonderfully unconventional manner, or to plumb the depths of your imagination — the Blancpain Le Brassus Minute Repeater Carrousel with Erotic Automaton represents the loftiest merger between sexually themed art, extraordinary craftsmanship and, most of all, brilliant technical watchmaking