How To Wear Pleated Trousers
The Rake gets deep into the fold of pleated trousers and showcases the many ways in which they can be worn.
Voluminous and elegant pleated trousers have had a bit of a mini-renaissance in recent years. Pleats were popular in the 1940s and 1950s and became fashionable in the 1970s and 1980s but fell out of favour for the slim, circulation-cutting fit that came about the following decade. The Rake has always championed the style, so even though trends are cyclical, we're hoping this one will stay. So, allow us
 to venture deep into the fold and examine the difference between forward and reverse-facing pleats, their purpose and the many ways that one can wear pleated trousers.
Trousers cut with pleats became fashionable soon after World War I and were the norm amongst men from all walks of life. Many would argue that the 'Oxford bag', an exceptionally wide and full trouser that was a popular choice of students at Oxford University in the '20s, was the original pleated trouser but they've since evolved and have found their place in both formal and casual dress as well as vintage and modern styles. Favoured by tailoring and fashion houses due to the elegant lines and full silhouette that they create, no matter how wide or tapered, they're also a fine demonstration of technical know-how. Forward-facing pleats are associated with the English style, whereby the hollow of the fold faces towards the fly and as a result makes for a slimmer silhouette. This is because the extra cloth is taken from the inside of the leg and the shadow of the pleats draws the eye inwards. Reverse-facing pleats are favoured by the Italians and appear baggier, because the extra cloth is taken from the outside of the hips and legs and casts less of a shadow in comparison to forward-facing pleats. There can be up to as many as three pleats on each side, however one or two are sufficient. As Chris Modoo, Creative Director of Kit Blake, aptly puts it: "I would avoid any more than two per side unless you are a massive Kid Creole & The Coconuts fan."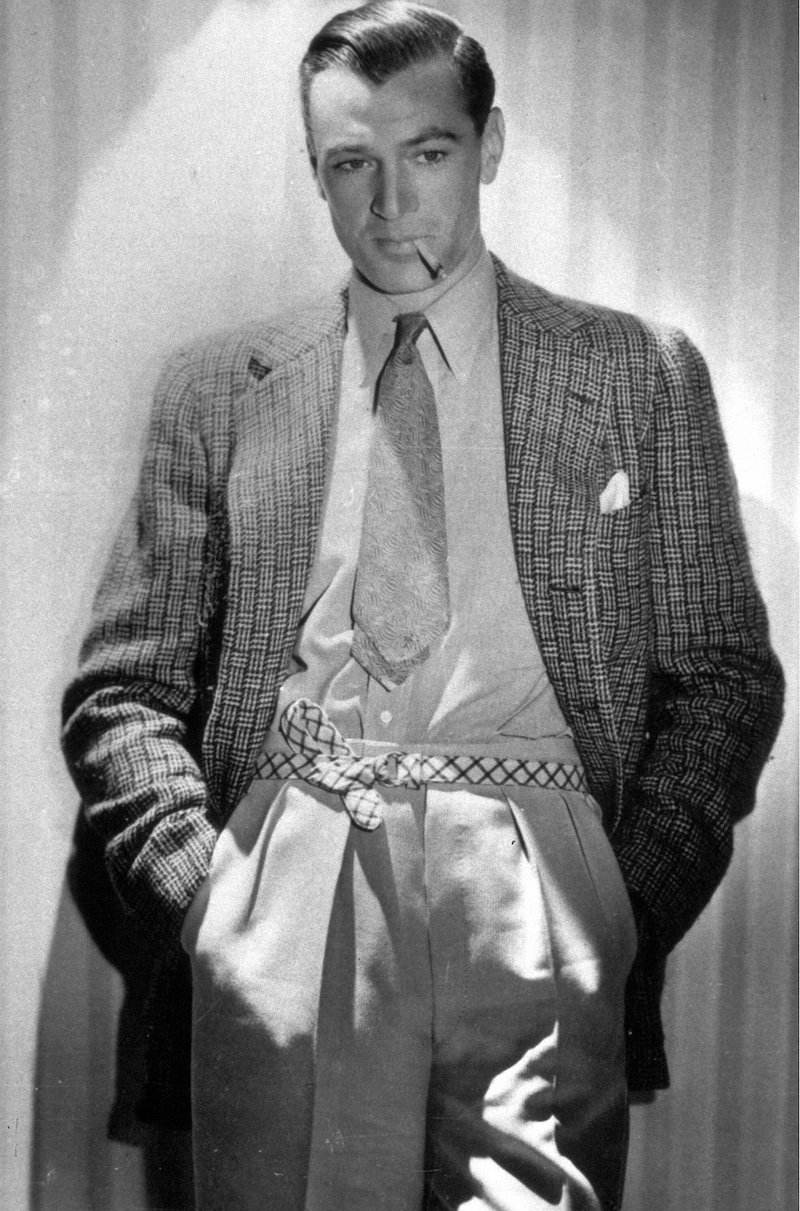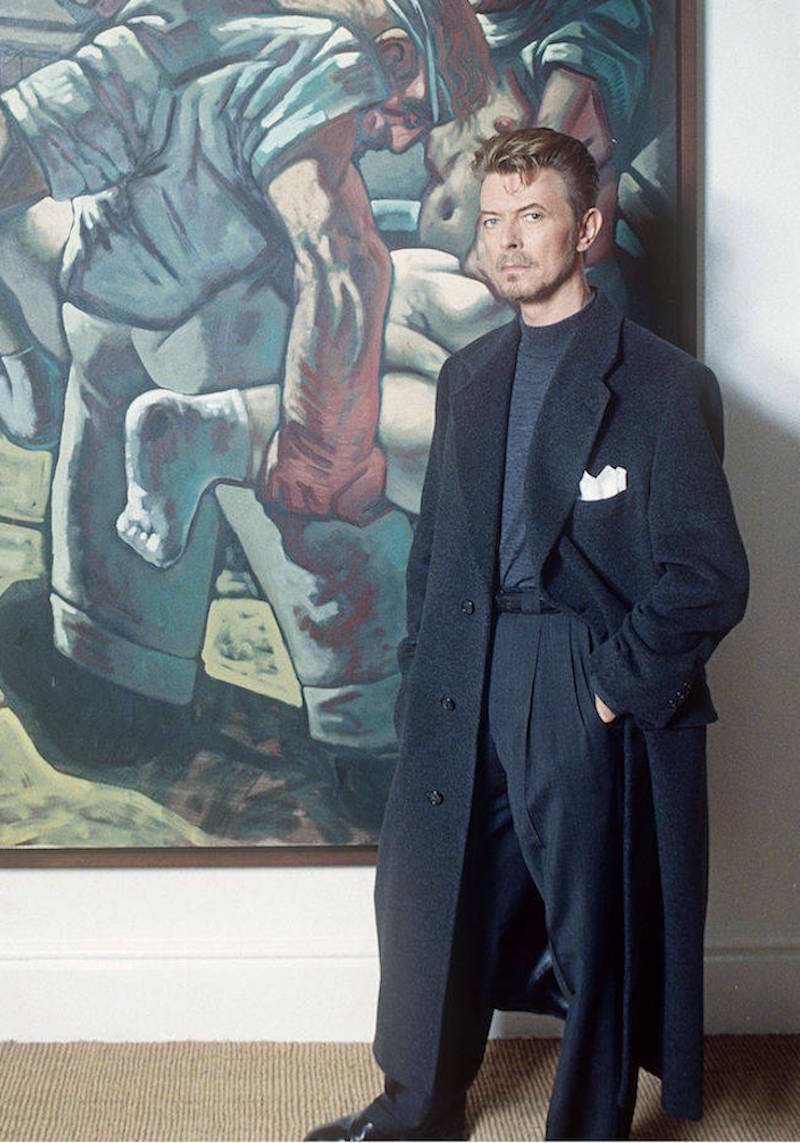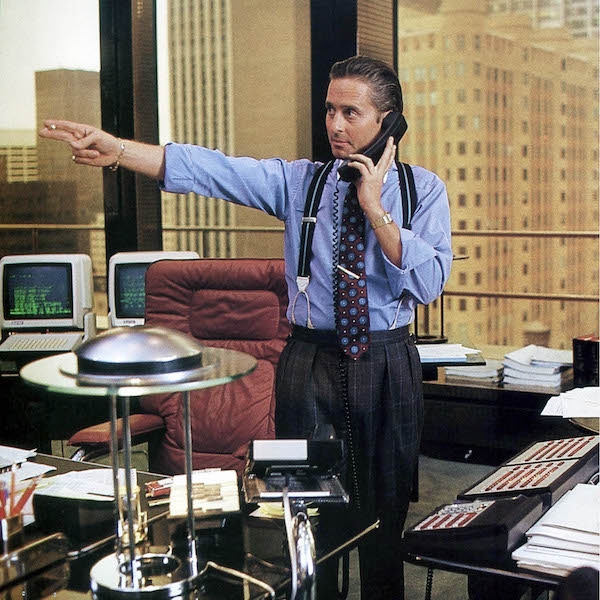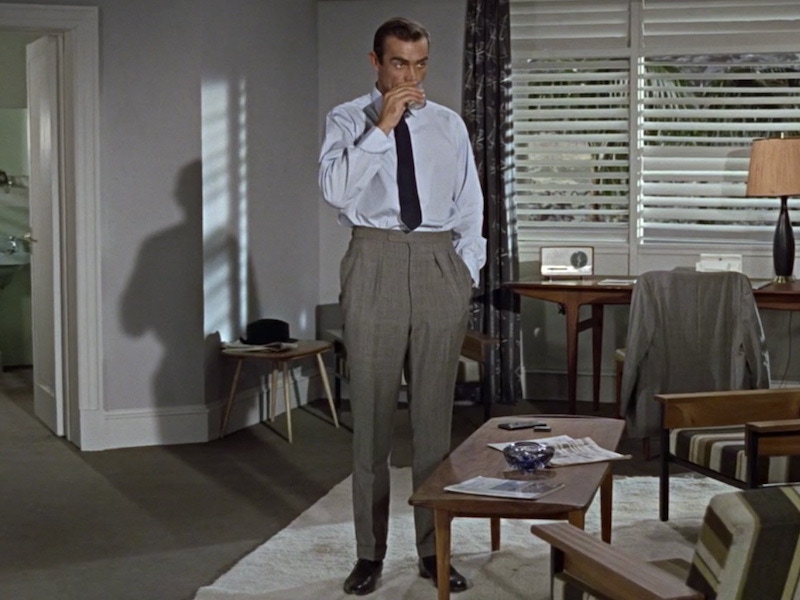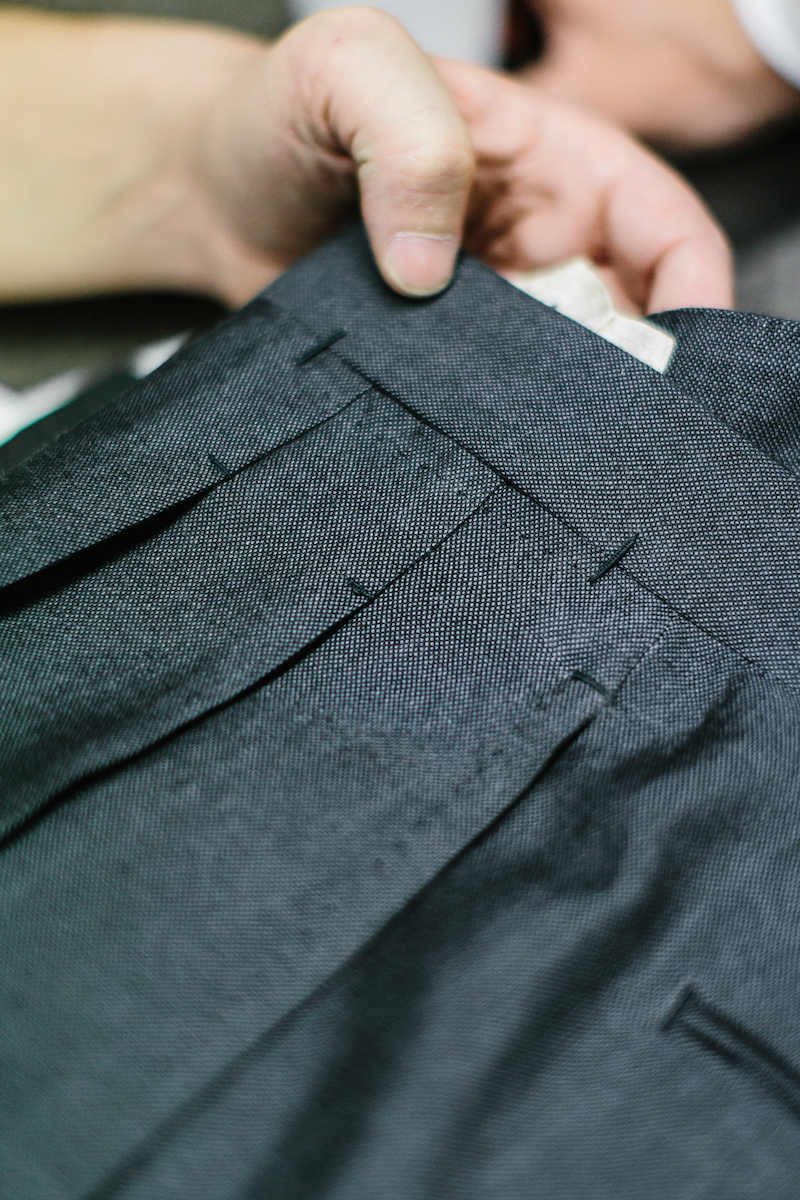 For the most part, pleated trousers are designed to be worn on the waist and are cut full with a high rise. "The main advantage of wearing pleated trousers is comfort," Campbell Carey, Head Cutter and Creative Director of Huntsman, tells
The Rake
. He adds, "They allow extra room from the front and back of the trouser because the pleats are generally one inch bigger per leg across the seat and thigh." The technical benefits of the extra inch depends on the number of pleats on each side, so double-pleated trousers will provide more room and also allow better use of side pockets. Forward-facing pleats are generally more traditional, and evoke scenes of British sartorial splendour of formal three-piece suits, however, "both directions are classic," according to Modoo. The main difference is that reverse pleats will appear flatter as they won't cast a shadow in the front, compared to a forward pleat.
At Edward Sexton, pleats are a common feature with the best example being their art-deco Hollywood Top trouser. Inspired by styles of the 1930s, it's an immensely comfortable trouser that sits high on the body with slightly fuller fit, complemented with deep double pleats and a drawn-in waist with dropped belt loops. Creative Director Dominic Sebag-Montefiore explains that "it's the softness of the construction and gentle drawing in of the waist that gives rise to the casual feel." This more than proves that pleated trousers aren't necessarily reserved for formal dress and, further underlined by the fact that that the ever-stylish Sebag-Montefiore wears them "like tracksuit bottoms" with a T-shirt around the house. However, they can also "work well for a more sartorial look with checks or pinstripes." In terms of fabrics, Carey adds that "pleated trousers work best in heavier cloths with a good drape or robust, high-twist ones that hold a crease". Whilst it's true that heavier cloths are complemented by pleats, in the summer pleated trousers are a fine choice as they allow "air to circulate around the legs," says Carey. So, lightweight woolen twills and linens in pastels and neutral tones work well and are worth consideration if you're currently thinking of bespeaking a pair.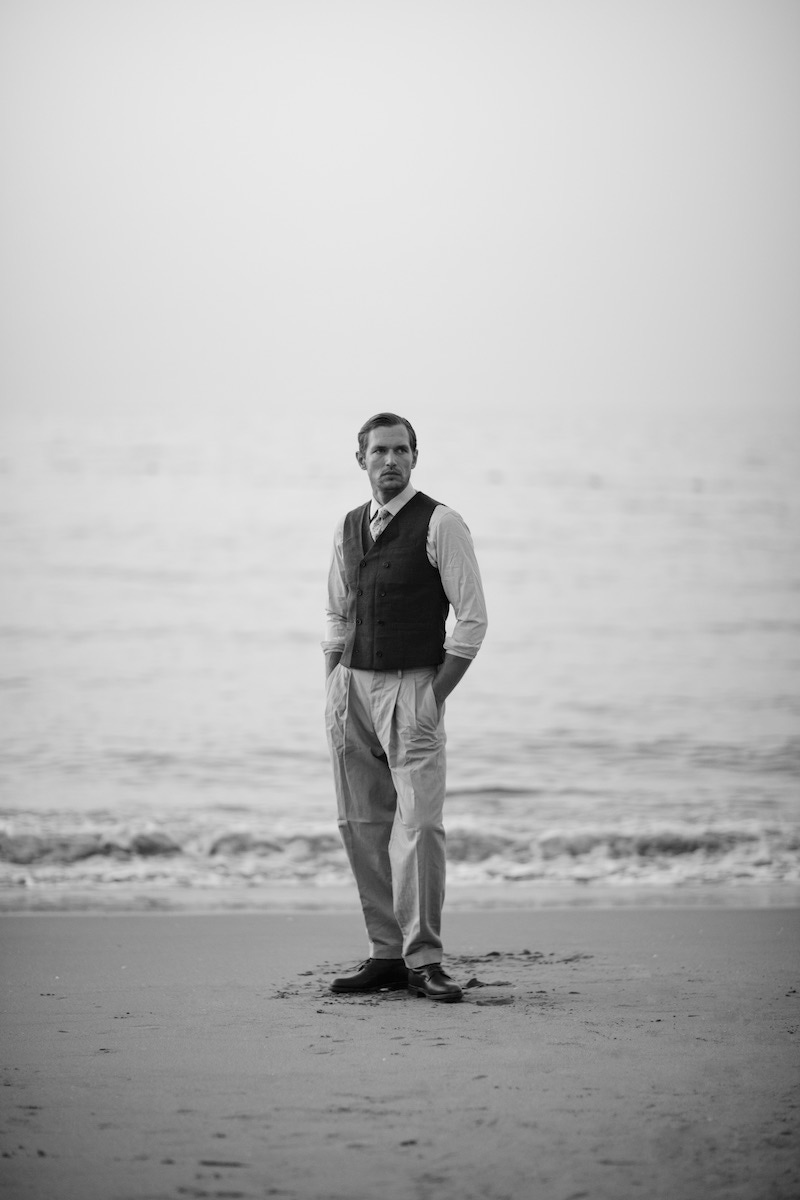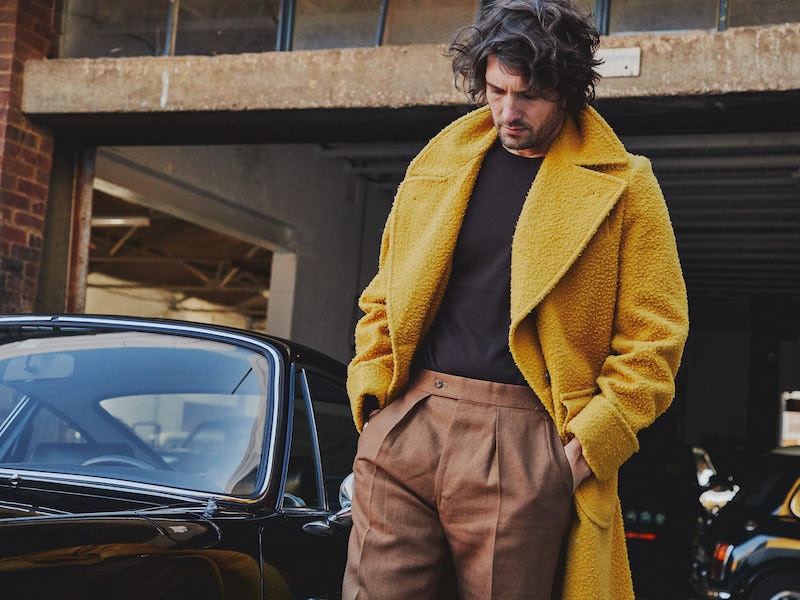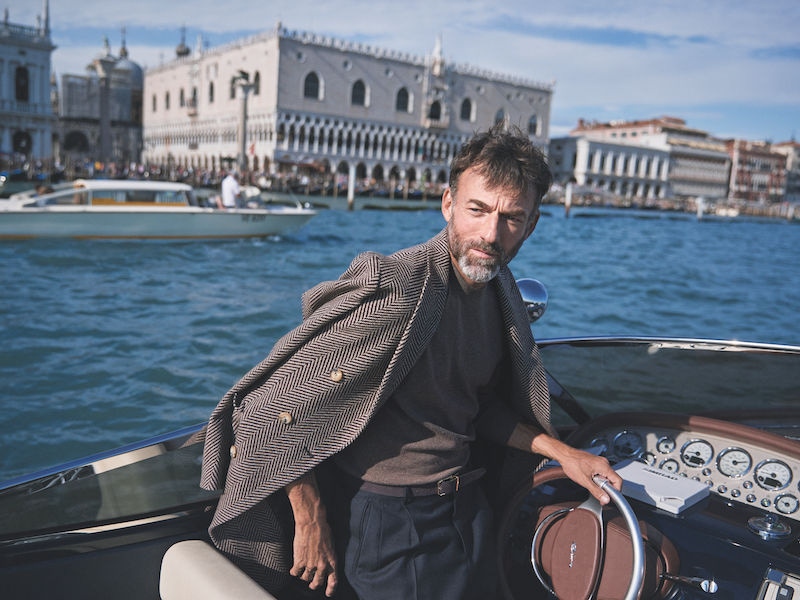 Rubinacci's Manny model is another great example of a trouser with pleats and they offer many expressions in heavy flannels and lightweight cottons. In comparison to the Hollywood Top that's inspired by decadent times, the Manny trouser bears from military traditions via the Ghurkas, an almost superhuman military cohort. The atypical double forward-facing pleats in this case are to aid function and movement and the design on the waist is particularly complex, but interesting and unique. Coming with a cummerbund-style waistband, the trouser is held to the body with two buckles on the hips that are fed through each side underneath the front section of the waistband. Due to its military connotations, the Ghurka trouser favours more casual garments, such as simple T-shirts, short sleeve silk shirts and single-breasted blazers.
Compared to the Hollywood Top and Manny trouser which are of a full fit, Salvatore Piccolo offer exceptional slim-fitting trousers accompanied with single reverse pleats. The deep pleat appears flatter, yet nonetheless elegant, and they feature a split waistband back with a four-button concealed front fastening. As a result, they favour more formal clothing and can be worn easily with a jacket, shirt and tie with an overcoat thrown on top for good measure. The Rake Atelier currently offers a pleated trouser in light denim, which is an interesting take on a cloth that has workwear roots.
Men can be put off by pleated trousers due to the folds throwing off balance their instinctual habit of getting dressed easily and without much thought. But as Carey puts it, "there aren't any hard or fast rules to wearing pleated trousers," so when in doubt keep it simple with a complementing cashmere crewneck, or a T-shirt. If there are brace buttons, use them and channel that inner Gordon Gekko and you'll look the business. Having said that, there is one simple rule that perhaps goes without saying: wear them in their correct place, on the waist.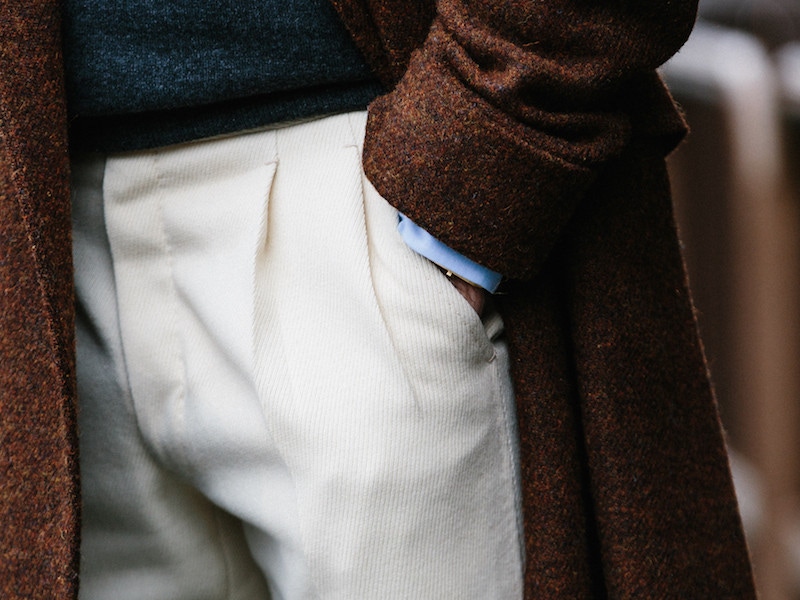 Simon Crompton wears reverse pleated trousers from Pommella Napoli in vintage Fox Brothers twill, a Harris Tweed coat from Liverano & Liverano and a simple cashmere rollneck by Drake's. Photo by Jamie Ferguson.