Huntsman: Fallen Heroes & Rising Stars
It's all change at Savile Row bespoke powerhouse H. Huntsman & Sons. With a newly refurbished store, a new ready-to-wear collection and a new Creative Director, The Rake explores just what is differentiating Huntsman from the rest of the Row.
Huntsman is a name which is quite frankly surrounded by the highest echelons of British sartorial history; a Savile Row heavyweight for almost 200 years, the house has been moving from strength to strength, boldly going where few British bespoke establishments have dared to go before. At no point has this been more true than during the past couple of years, as Huntsman has been making the transformation from a deeply traditional Savile Row house, to a more progressive bespoke establishment under the direction of the house's ingenious owner, Pierre Lagrange. Lagrange has been piloting the house's development for some two years now, and over that time has introduced a myriad of modern touches, from a boutique tailored ready-to-wear collection, to sponsoring and outfitting professional polo players and offering bespoke tours of Asia and the American West Coast for prospective clients. Now, Huntsman is about as vibrant and multi-faceted as a Savile Row house can be. The latest in this long line of innovations is the remarkable refurbishment of the Huntsman shop - following its recent meteoric rise to fame as the set of the Kingsman movie - the store has been completely redesigned; walk in and you might be mistaken for thinking that you've stepped straight into a particularly exalted gentleman's club. Front of house remains reassuringly auspicious, clad in mahogany and adorned with Huntsman's trademark pair of stags heads, and makes for the perfect space to display Huntsman ready-to-wear. Further into the store, where before there was a bureau for staff, there now stand two long banks of cutting tables in pride of place, as well as the very same bench where the legendary Colin Hammick (Huntsman's former Head-Cutter who was named 'best dressed' man by Tailor & Cutter magazine three times in the 1960s) used to ply his trade. The house's talented teams of cutters and coat makers now work on these benches in full view of clients - a clear reminder that for all its innovations, Huntsman's repute as a bespoke tailoring heavyweight remains at the very core of the house. Towards the rear of the store there now stands a rather snazzy snooker table and 'clubroom-esque' space for relaxation - the perfect spot for flicking through swatch books or contemplating the cut of one's next commission.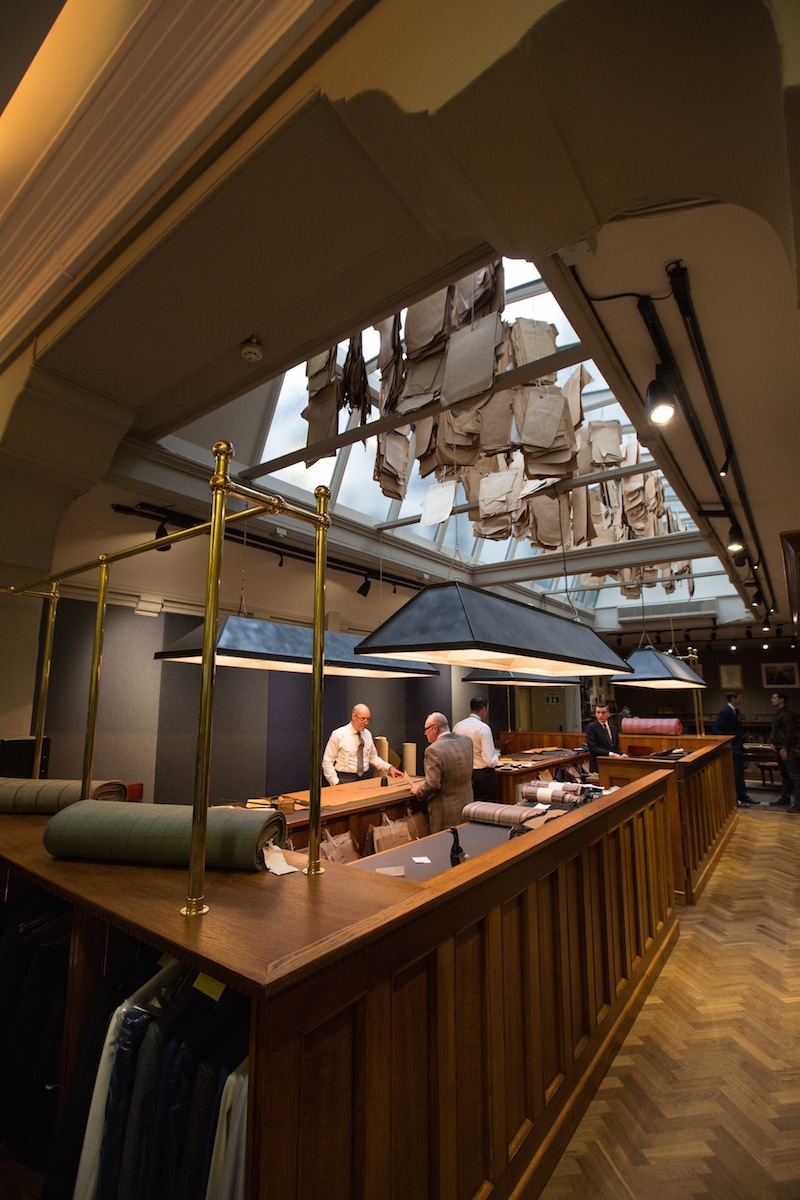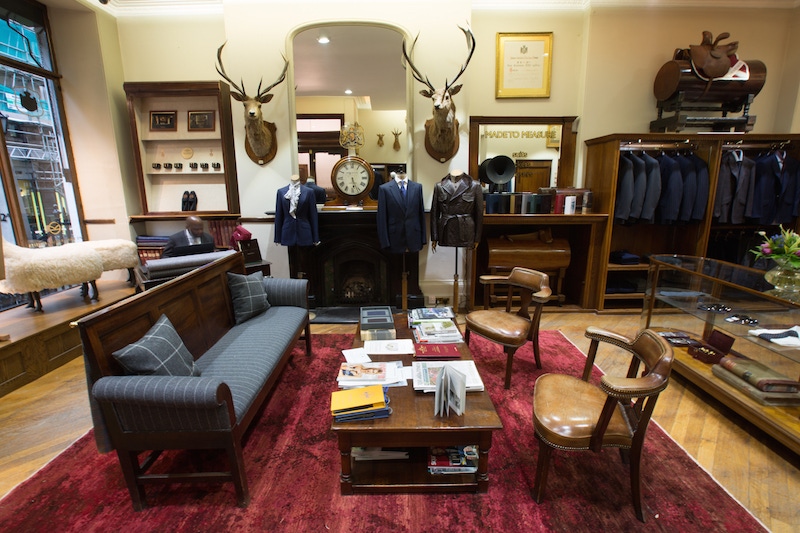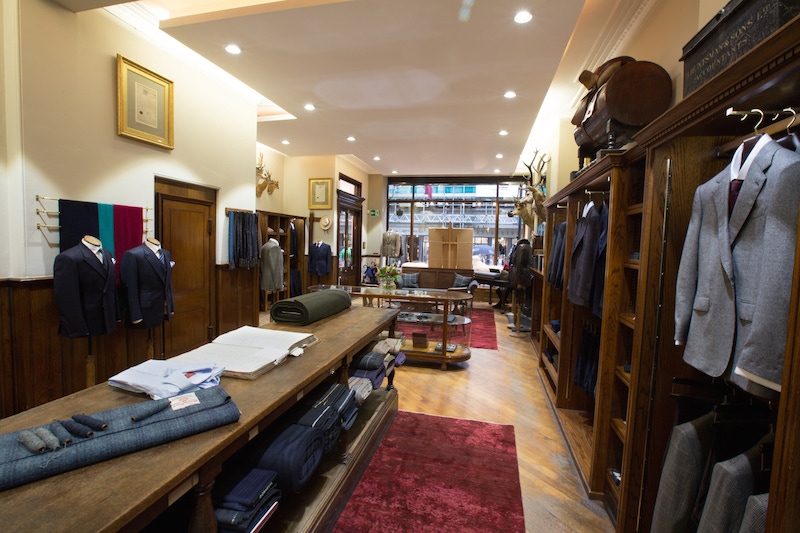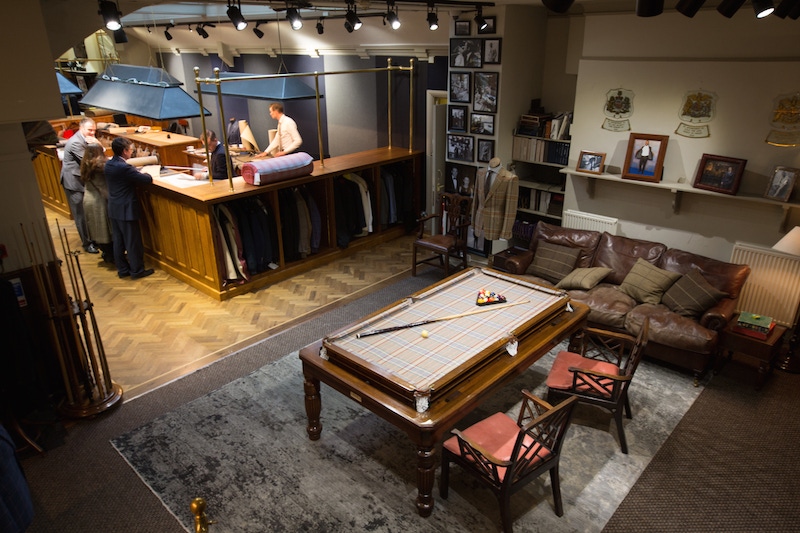 Equally impressive, is Huntsman's willingness to develop a ready-to-wear collection that is every bit as compelling as the house's bespoke offering. Now in its third season, the house's ready-to-wear designs are more elegant than ever before, with autumn/winter '15 offering a distinguished, contemporary vision for structured English suiting. In a wealth of subtle, clean-cut cloths and delicately textured mid-weight flannels, Huntsman's house style is faithfully realized with its chesty silhouette, one-button closure and broad, angular, ennobling lapels. A subtle black and white houndstooth lounge suit and a pair of super 120s worsted earthy guncheck sportscoats both with a deceptively soft handle are star pieces. The full compliment of elegant shirting and gentlemen's accoutrements are likewise sophisticated, subtle and playfully British in feel. New for AW15, the collection's shirting is made in collaboration with English shirt-making doyenne Emma Willis, and cashmere knitwear comes courtesy of a specialist producer in Wales. Ties are made on a refined pattern with a firmer interlining than those created for the house's SS15 collection, adding a little body and weight for a firmer autumnal knot. The success of Huntsman's ready-to-wear collection should be attributed in no small measure to the house's latest arrival, Creative Director and Co-Head Cutter Campbell Carey, who brings with him not only his skill as a bespoke cutter, but an acute understanding of the ready-to-wear menswear market. His appointment in a dual-role is a bold move - it's a first in Savile Row history for a house to have two Head Cutters and that might be perceived a risky strategy. The Rake however, is of the opinion that two talents are better than one, and joint responsibility for Huntsman's frankly marvellous house style and substantial bespoke department between Carey and the equally talented Dario Carnera, can only be a good thing. Indeed, many houses on the Row benefit from the joint-experience of senior cutters, each of whom can bring something slightly different to the table. Carey has a long and illustrious history on the Row and having worked initially with a number of woollen mills, he can truly be called a man of the cloth. Following this, he spent time training with Kilgour, progressing to the role of Head Cutter, experience that stands him in perfect stead for his new role with Huntsman.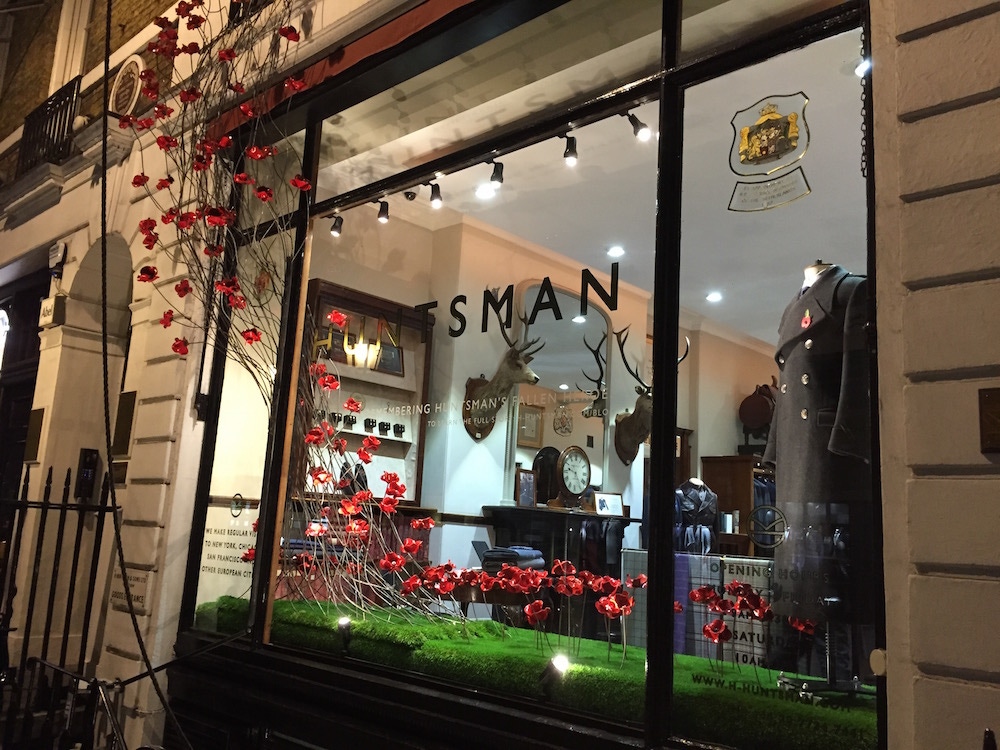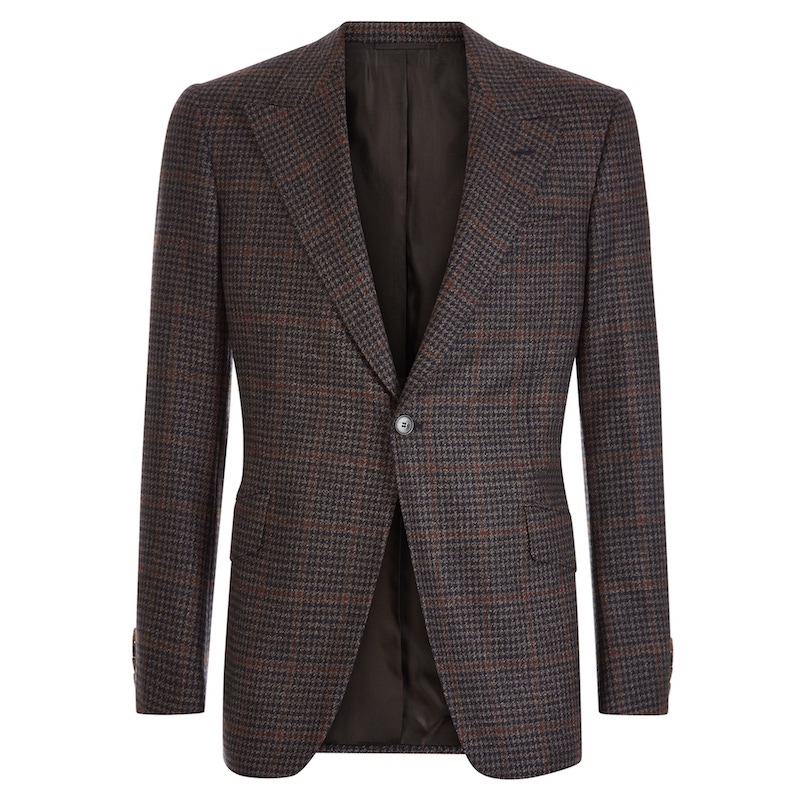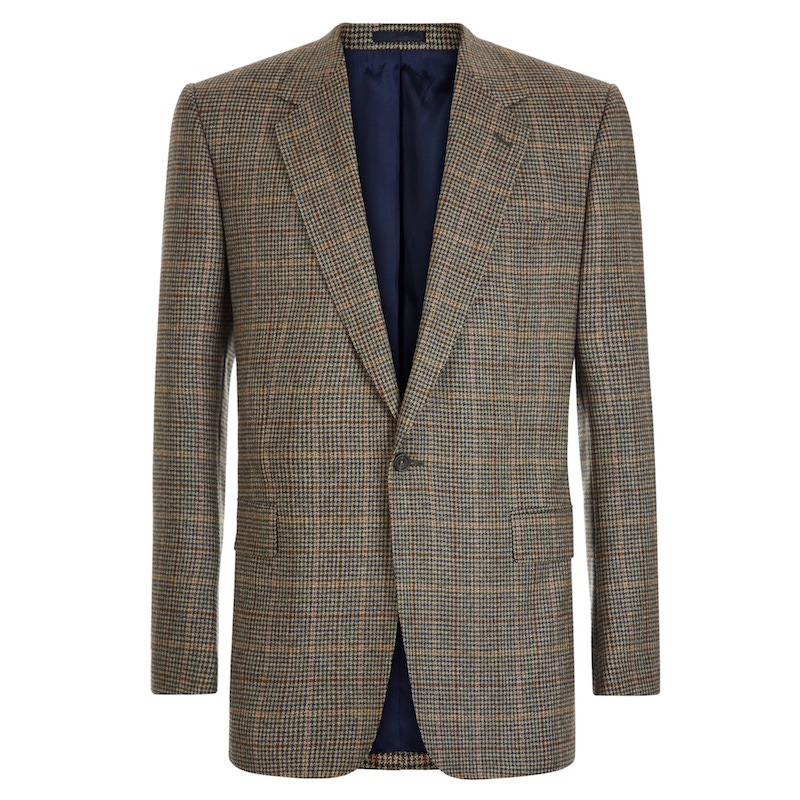 Huntsman's creativity does not only extend to its clothing however. Those fortunate enough to be able to walk past the shop on a regular basis might also have picked-up on the variety of beautiful window displays that sets the shop apart, the latest of which is particularly touching. To mark the Armistice, Huntsman's window now proudly displays a cascade of red poppies, each of which commemorates one of the 133 Huntsman customers who died in the line of duty, fighting in the First World War between 1914-1917. During WWI, Huntsman dressed more officers than almost any other tailor, making this a particularly thoughtful statement on the house's part. In many ways, this testimony to the house's fallen heroes represents everything that is good about the Huntsman of today - the firm remains acutely aware of its rich history, heritage and its core identity as a bespoke tailor, whilst simultaneously representing what a luxury British bespoke tailor can be at its most modern and liberated. At no point has Huntsman compromised its legitimacy as a Savile Row heavyweight, because the firm's modern innovations are always undertaken with a sympathetic eye to the core values of the house. Something as simple as a sculptural display of poppies, which is both inspired by Huntsman's rich history and the post-modern statement made by artist Paul Cummins at the Tower of London last year, illustrates this fine balance perfectly. The contemporary meets the traditional in perfect synergy and it is this synergy that makes Huntsman a special place to be on the Row right now.
www.h-huntsman.com