James Bond's Top 10 Most Rakish Style Moments
As famous for his witty one-liners as he is for his classic British tailoring, the on-screen James Bond has endured five decades of fashion, resulting in some of cinema's most rakish style moments.
David Niven, Casino Royale (1967)
The 1967 spy comedy, loosely based on the first novel in the series by Ian Fleming is not the greatest film ever made and, like
Never Say Never Again
, is not an official Bond film. But credit must be given to David Niven. Niven was the perfect English gentleman and a friend of Fleming, who originally favoured him over Connery to star in the franchise. His wardrobe in the spoof is nothing short of magnificent. The dark blue frock coat with silk velvet top-collar has a double-breasted fastening and cutaway fronts, and a deep wing collar displays a beautifully tied cravat. It is all perfectly tailored and Niven wears it with such ease. But it is costume of a previous era when England still had its Empire and was not reliant on The Marshall plan (the post-war economic recovery programme organised by the US government). A serious point in a shallow film.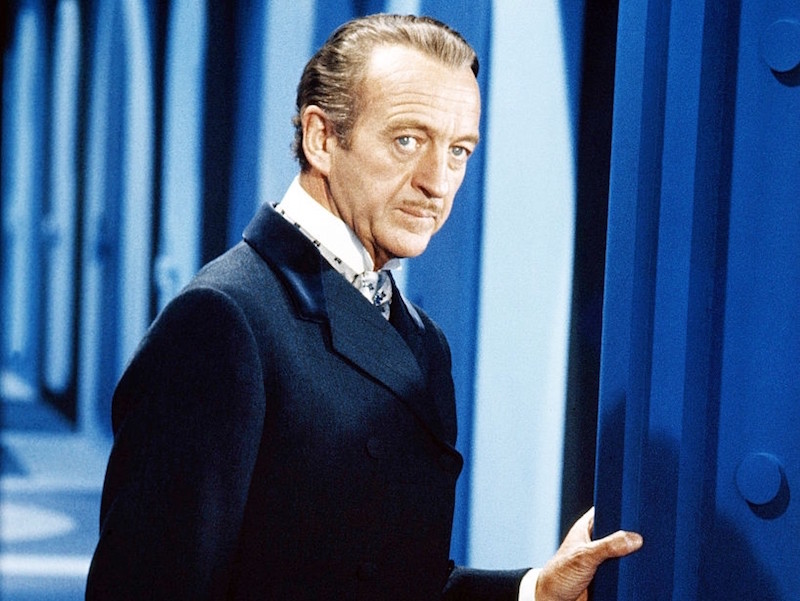 Sean Connery, Dr. No (1962)
The first time we see Connery as Bond, he is wearing evening dress. Midnight blue with a subtle sheen that hints at kid mohair, it has slim black silk satin lapels and matching turn-back cuffs. The matching bow is narrow and square and is worn with a soft, self-pleated shirt with turn-down collar. There is a simple folded white linen handkerchief in the chest pocket. Supremely elegant and comfortable, this scene cemented the character's association with black tie. I am not a fan of the rest of his tailored wardrobe and take issue with the short socks he wears in Jamaica. In fact, after Honey Ryder's swimsuit, the coolest thing in this movie is Jack Lord's sunglasses.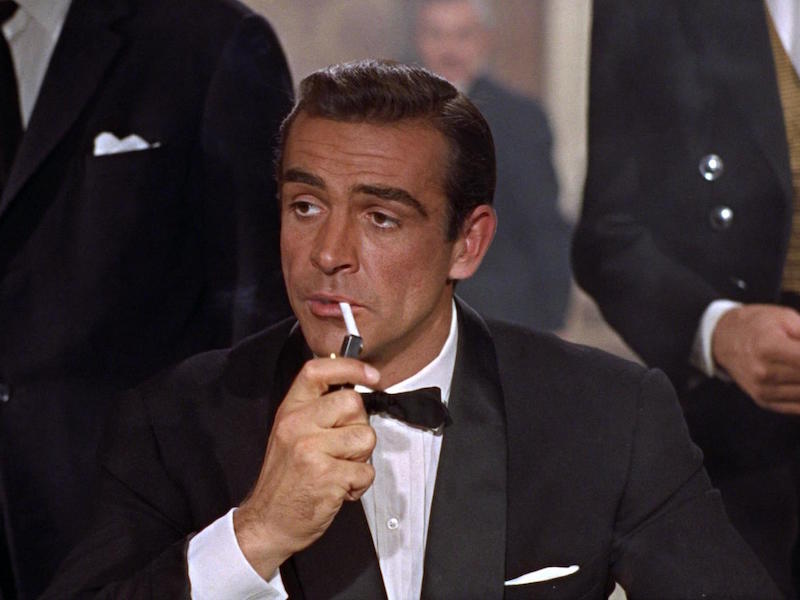 Sean Connery, Goldfinger (1964)
When I was a young salesman on Savile Row, the three-piece glen check that Connery wears to Fort Knox in Goldfinger was probably the most referenced suit by customers looking to emulate a little Bond style. Single-breasted with a two-button fastening and narrow notch lapels, the jacket has a ticket pocket and side vents. The waistcoat also has a slim lapel and six buttons. We always disagreed about the trousers; customers would insist they were flat-fronted and not pleated (they are double-pleated). But this is a popular mistake. In
Catch Me If You Can
, the main character played by Leonardo DiCaprio orders three suits in the "exact same style" that Connery wears in
Goldfinger
. And they are incorrectly flat-fronted. Connery's suits were tailored by Anthony Sinclair on Conduit Street and featured deep, double-pleated trousers that tapered to a narrow turn-up.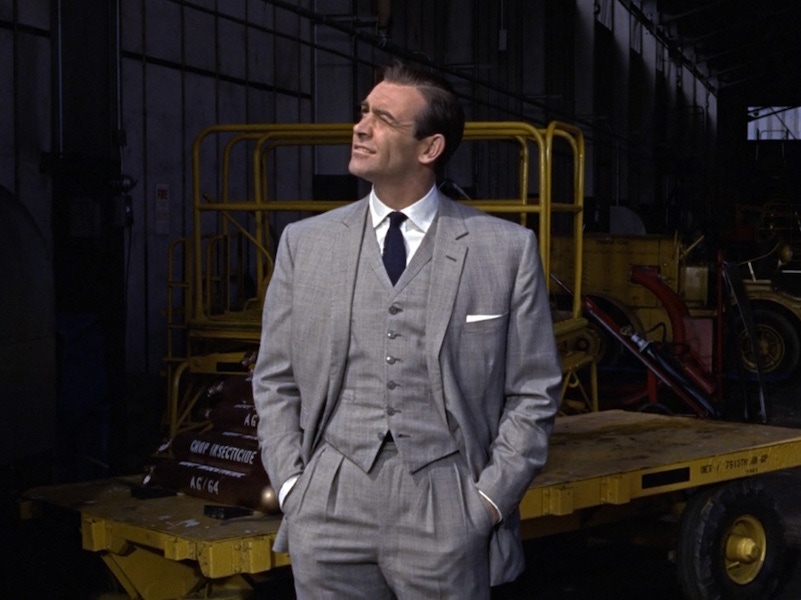 Sean Connery, From Russia with Love (1963)
To fans of the original Fleming novels, it is well-known that breakfast is Bond's favourite meal of the day (and Bourbon, not Martini, is his most popular drink). In
From Russia With Love
Bond confidently orders hotel room service of "Green figs, yoghurt, coffee...very black", for a gentlemanly 9am start whilst on a mission to Turkey. This sophisticated scene affords us the opportunity to admire Bond's shirt cuffs. Folded back, but without the aid of a cufflink, the 'cocktail cuff' was made by Jermyn Street shirtmaker Turnbull & Asser. Bond teaches us that in order to eat well abroad it is wise to go native, and that crawling around the hotel floor looking for your lost cufflink is not a valuable use of your time when you have a diabolical mastermind to foil.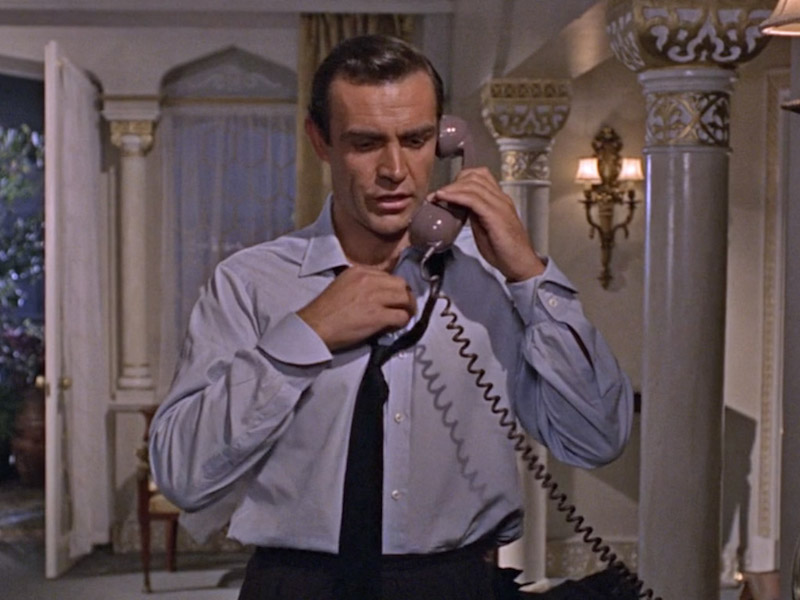 George Lazenby, On Her Majesty's Secret Service (1969)
The best-dressed Bond is George Lazenby and his two-piece Prince-of-Wales checked suit is his smartest suit. Compared to the
Goldfinger
version, the lapels are wider and the chest is cleaner but this is 1969 and the more extreme 1970s styles are yet to come. The glen check suit, tailored by Dimi Major, has a subtle blue overplaid that is complemented by an ice blue shirt with a moderately straight collar. The notch of the lapel is satisfyingly high and sweeps with a gentle belly to the two-button fastening. The side pockets are quite aggressively slanted with stylised curved flaps and an outside ticket pocket. The jacket length is a little shorter than Connery's and has deep side vents and moderately open quarters creating the perfect skirt. The flat-fronted trousers are slimmer in the thigh and cut straighter with a slight taper to the cuffless hem. Splendid.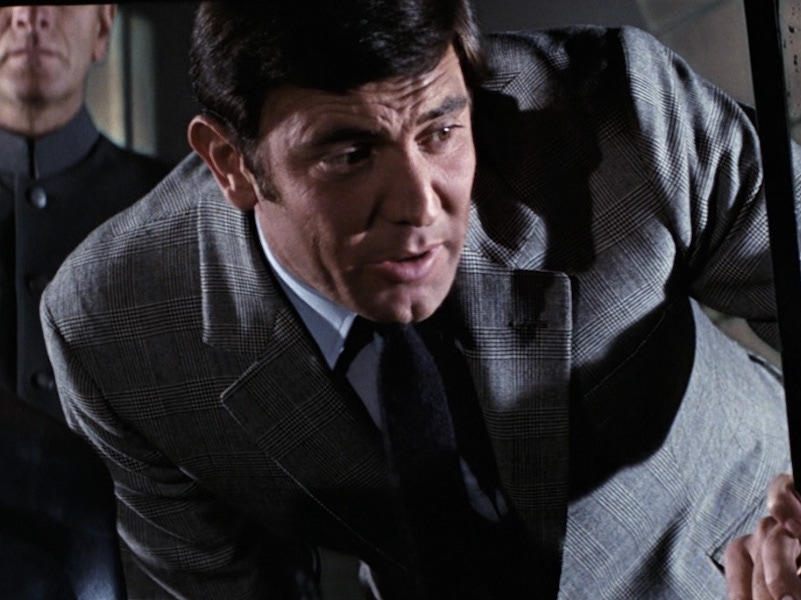 George Lazenby, On Her Majesty's Secret Service (1969)
Commander in the Royal Navy and would be comfortable in a double-breasted blazer that respected its maritime connection. Lazenby sports a six-button number cut in the 'button-three, show-three style' (or 'three on six' as it is known outside of Savile Row) with pink shirt and knitted tie. An elegant, timeless look. OHMSS is often criticised as being a weak link in the series but the film was a commercial success and, as well as having the best wardrobe, it has the best Bond girl in Diana Rigg, probably the best soundtrack from John Barry and definitely the best ending. We can only imagine what a great film Diamonds Are Forever would have been had Lazenby chosen to reprise his role.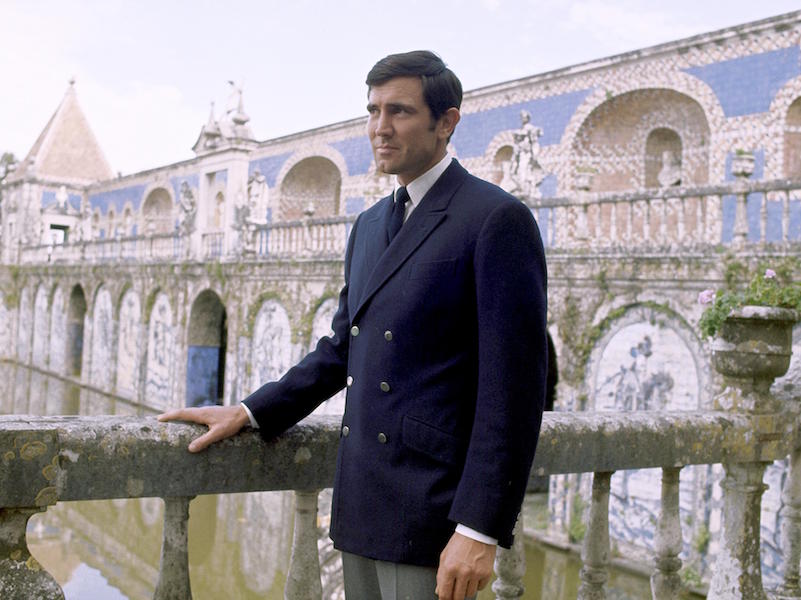 Roger Moore, The Man With The Golden Gun (1974)
Nobody does it better. Roger Moore brought a flair to the role – and he also brought his flares. But with the current appetite for a fuller trouser and wider lapel, his tailoring is looking as fresh as ever. His medium-grey flannel chalkstripe double-breasted does not look at all dated. Cut on the Savile Row 'button two, show three' model it has moderately wide peaked lapels and deep side vents. The side pockets are angled with flaps and the suit cuffs are cut 'flared' with a link button. This rakish detail deserves a revival. It was also favoured by Moore's friend, Patrick Macnee, whilst playing Steed from television's The Avengers and made a brief return in the 1990s with Paul Smith offering the style. Moore accessories his suit perfectly with a pink shirt and thick silk wine-red tie.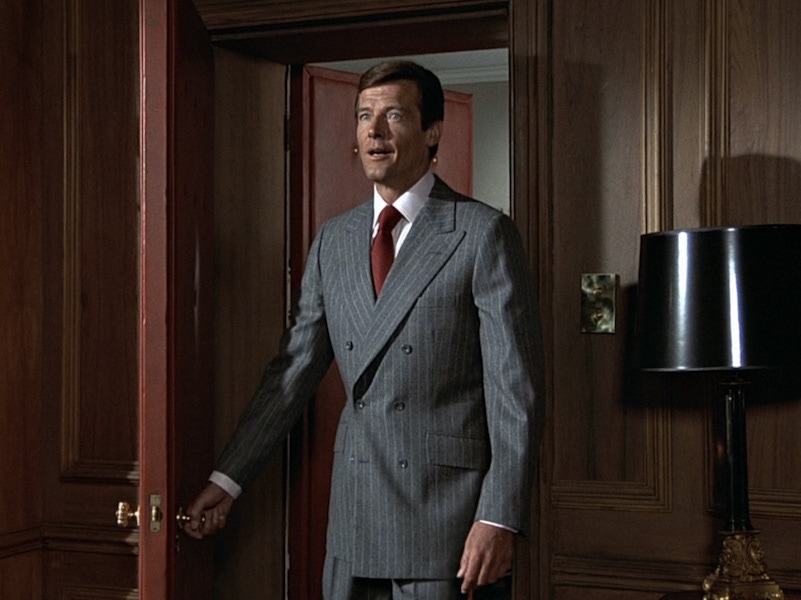 Roger Moore, Live and Let Die (1973)
With all the excess of Bond's fashions in the 1970s, it is worth admiring the elegant restraint in Roger Moore's double-breasted cashmere Chesterfield. Fastened with six polished-horn buttons, its dark navy shade is perfectly complemented by a silk velvet top collar. Cut by Cyril Castle of Conduit Street, the sleeves have turn-back cuffs and a single oversized button. When contrasted with some of the more extravagant fashions of Harlem that Bond encounters it is positively conservative.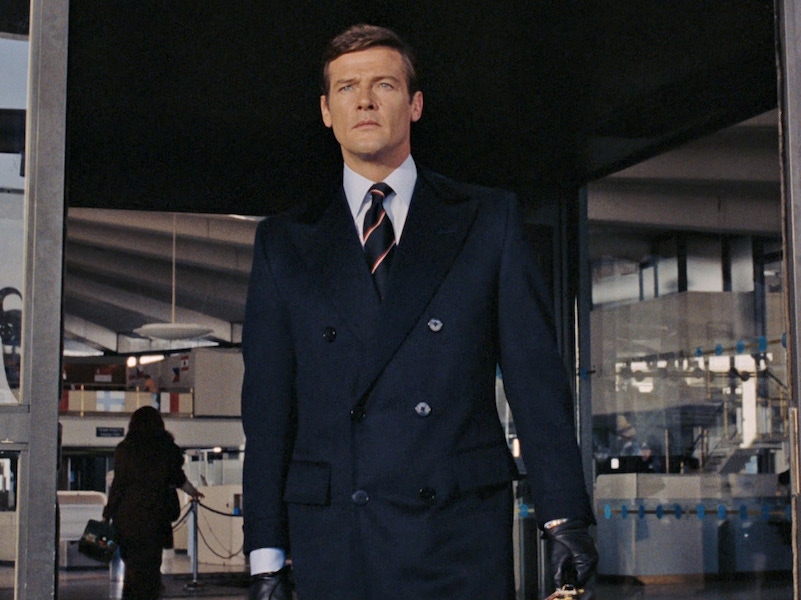 Pierce Brosnan, Die Another Day (2002)
After the sartorial wasteland that is the Dalton period in the franchise, Pierce Brosnan gave a fresh impetus to the movies. With tailoring by Roman house, Brioni, Brosnan brought back the glamour of our suited hero. Dressed in a more international style than previous incarnations, Bond still had a British sensibility. The scene in
Die Another Day
where he wanders confidently into the lobby of a five star hotel after escaping from his own side and swimming across Hong Kong harbour is priceless, and dressed in only his wet pyjamas, he transforms himself into 007 with a few requests to the hotel manager. Pure Bond fantasy.
Daniel Craig, Casino Royale (2006)
fter the 1967 spoof version, it was time to make the original novel into a proper thriller, with Daniel Craig being controversially cast as the new 007. He brought a harder edge to the role, and his first two kills – which were required to gain double-O status – are grittier than Bond fans were accustomed to. He delivers some excellent lines throughout Casino Royale, and fans of the original story were impressed with how the controversial "The bitch is dead" line was woven sympathetically into the dialogue. Craig is yet to wear an iconic suit to rival Brosnan, Moore, Lazenby or Connery. But he can do casual. The dark blue shawl-collared cardigan he wears on the yacht in Venice is both elegant and masculine. Worn simply over a V-neck T-shirt it has more than a nod to Steve McQueen's style.