Orlebar Brown for The Rake: The Resort Capsule Collection
The world of rakish resortwear will never be the same again, thanks to the launch of our Orlebar Brown & The Rake Riviera-inspired capsule collection, designed to effortlessly meet all the aesthete's sartorial requirements, whether he be on the Amalfi Coast or a Caribbean archipelago this summer.
Orlebar Brown was created by menswear designer Adam Brown to transpose the codes and details of fine British tailoring and values of timeless style into charmingly evocative resort- and swimwear. In so doing, the nine-year-old brand has carved out a unique niche for itself as the most innovative resort-wear creators in the contemporary sartorial scene. Says Brown, "One thing we've realised is that the comfort and adaptability of our uniquely tailored resort wear and romantic spirit of travel and play encoded into these garments have found its way even into street wear and work wear. How men were dressing for the weekend has come to inform how they dress during the week." This has motivated Brown to launch a new collection of hybrid-tailored sportswear with Savile Row legend Gieves & Hawkes that has connected inimitable pared-back elegance with highly appealing softness and adaptability. "It's very exciting," says Jason Basmajian, the former chief creative officer of Gieves & Hawkes, "you can see the codes of menswear evolving before our eyes, thanks to the creativity of brands like Orlebar Brown, who've brought their signature sense of fun normally associated with leisure wear into a more dressed-up sensibility with this collaboration."
It is the idea of ultimate adaptability and cheeky irreverence that inspired the very first Orlebar Brown for The Rake signature garment, a stunning shawl-collared blazer, rendered in the softest blue toweling fabric and injected with that soupçon of old-world élan through the addition of ivory lapel piping, reminiscent of vintage tennis or boating blazers. There are all of three ways to wear this panjandrum of a blazer. The first is unbuttoned and simply cinched with its detachable "robe-styled" belt over bare skin and swim shorts down to the pool or beach as the ultimate tailored bathrobe. Because the blazer is totally unlined, it can be slipped on immediately after emerging from the pool, and will dry your skin, perfect for lounging at the resort restaurant, enjoying a club sandwich and a cold beer, while engaged in some leisurely backgammon. The breast pocket is perfect for your sunglasses, while two more patch pockets are meant to be the ideal repositories for your afternoon's worth of Trinidad cigars, cutter, lighter, your keys and your sunscreen. But when the sun sets, simply remove the belt and slip the towelling blazer over a T-shirt, polo, towelling or linen open-necked shirt and be the sharpest man at the hotel bar. The blazer has been tailored to fit impeccably, utilising all Orlebar Brown and
The Rake
's mastery of proportion and fit. The lapel even comes with a functional button hole and a boutonnière loop to secure a spontaneously acquired flower, perfect for tucking behind a young lady's ear later that evening. And finally the blazer offers up a third way of wearing it and an amusing
clin d'oeil
to the occasionally intrusive rigors of restaurant formality. Many years ago,
The Rake
's friend watchmaker Franck Muller found himself at a resort in Mauritius and was barred entrance from the Michelin-starred restaurant for not having a necktie. To which his incredulous reply was, "This is Mauritius — why would I possibly bring a necktie?" The condescending maître d' retorted, "Monsieur, this is a Michelin-starred restaurant; we have certain standards to maintain." So Muller went back to his room, removed the belt from around his bathrobe, tied it around his collar and went back downstairs to dine, unperturbed. His insouciant reply, "This tie is the height of contemporary fashion."
"The blazer has been tailored to fit impeccably, utilising all Orlebar Brown and The Rake's mastery of proportion and fit."
In homage to Muller's sartorial derring-do and whip-smart problem solving, Orlebar Brown and
The Rake
have designed the detachable belt of our towelling blazer with pointed tips, so that when confronted with similar inanity you may simply whip the belt off, tie it around your neck, resplendent in sartorial correctness, despite you having just usurped that particular piece of dress-code gibberish and given it the middle finger. Rake Victor.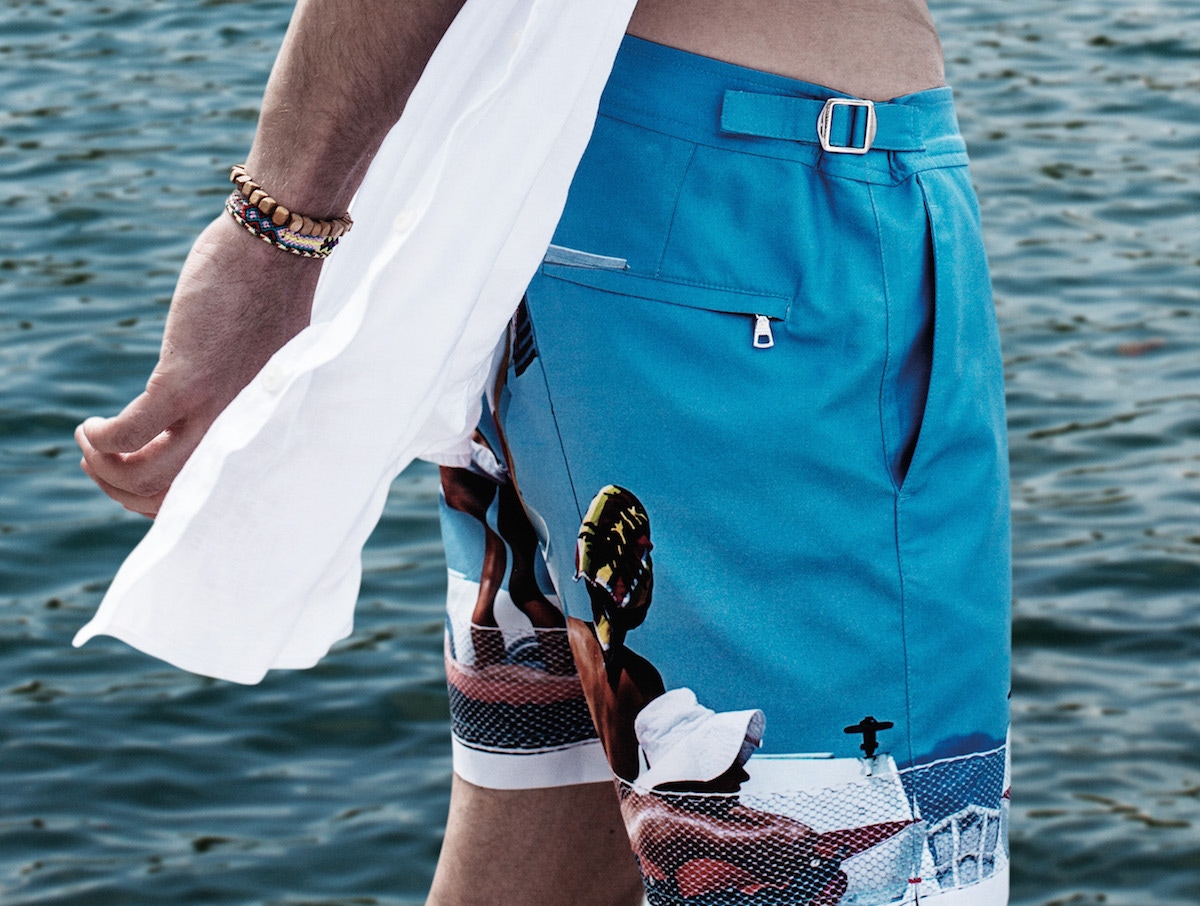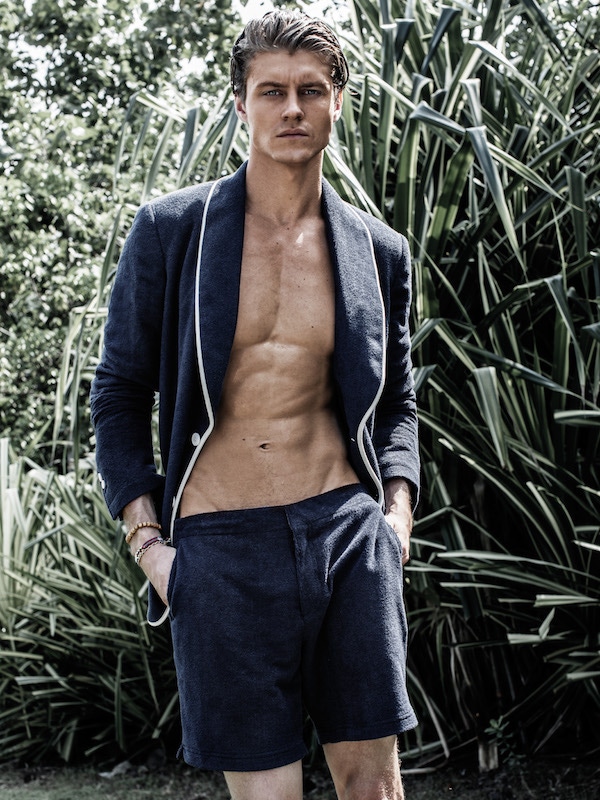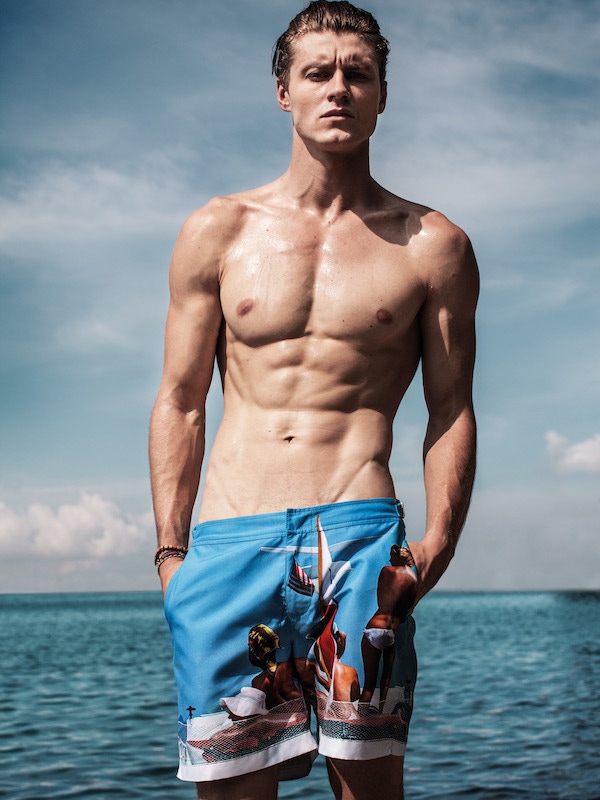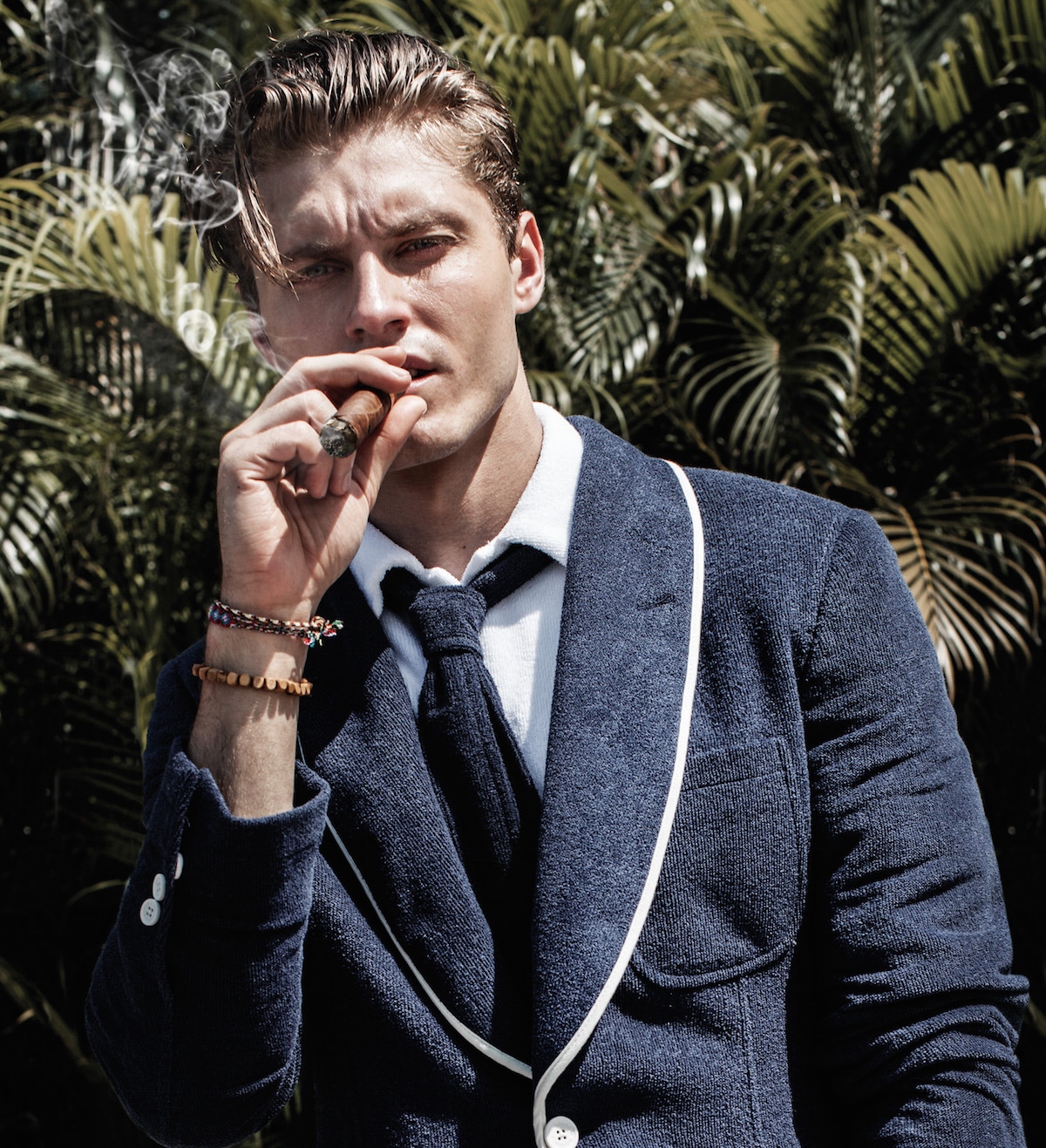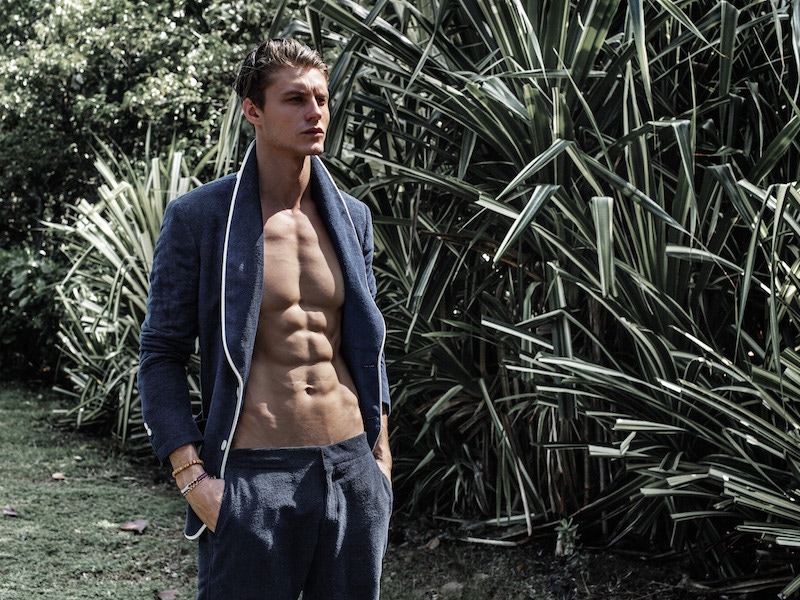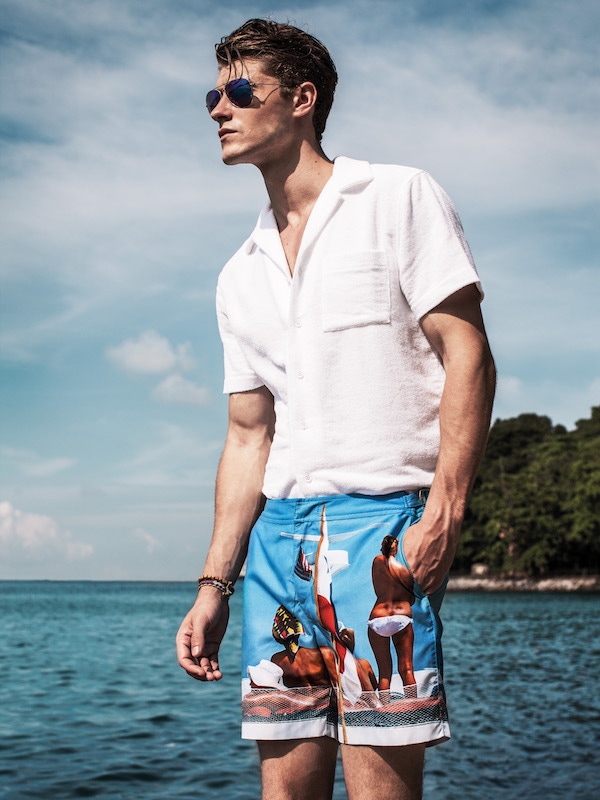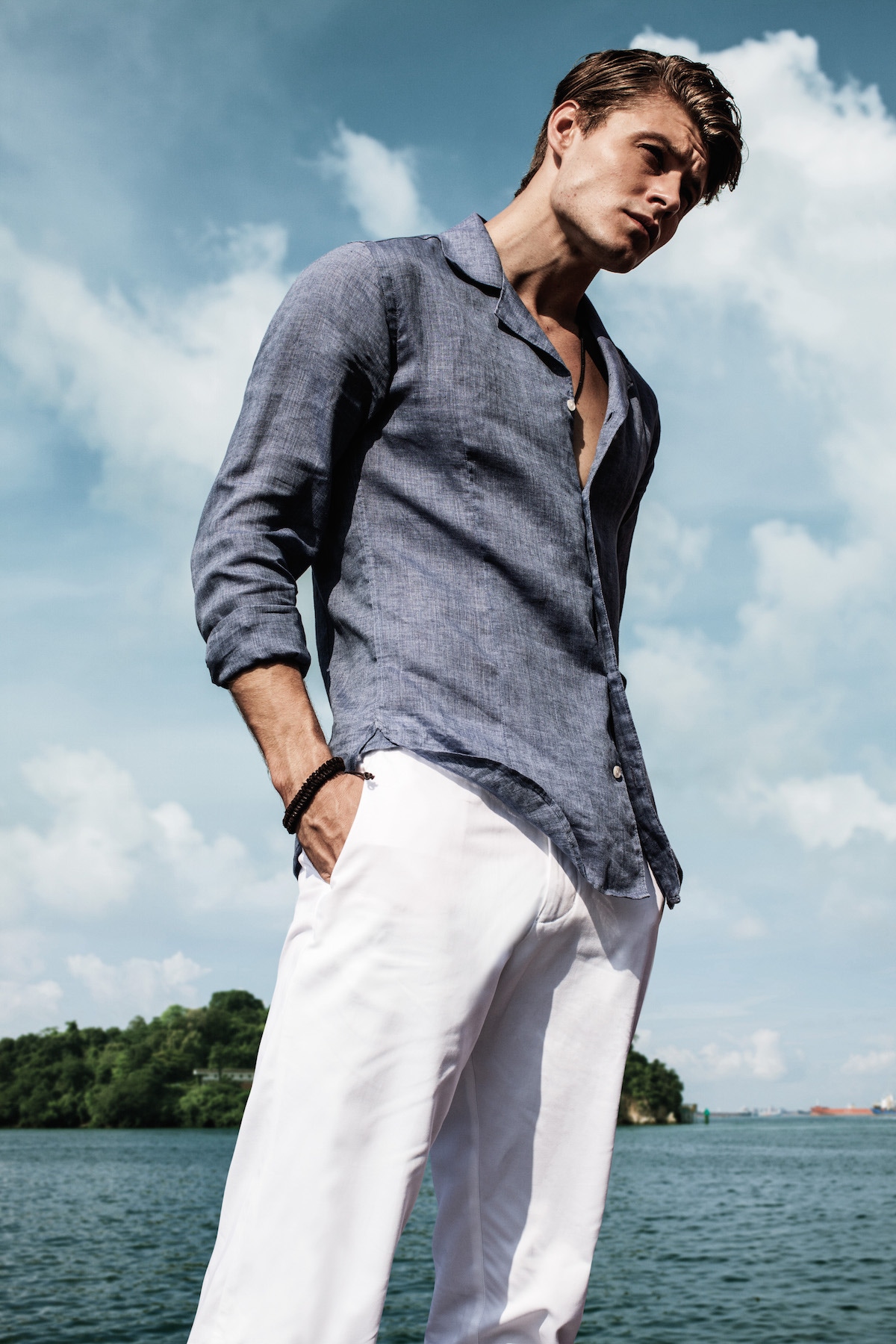 Take a look at any photographic panoply of beautifully dressed men in summer from style meccas such as Florence's Pitti Uomo where Dandies, Rakes and Flâneurs do battle under the Tuscan sun in a game of ultimate sartorial one-up-manship and you'll see that the sportscoat, paired with shorts, has become one of the staple modes of dress. Therefore, Orlebar Brown and
The Rake
would be remiss to not offer a matching towel-fabric tailored shorts to complete this irrepressive take on summer casual-formal. The shorts in question has been cut to end just above the knee so as to evade all comparisons to school uniforms, and subtly tapered to set any gentleman's leg off to best effect.
The Rake
recommends pairing this edifying ensemble with the sublime Pierre Corthay for the Rake patinaed blue suede tasselled moccasins whose chromatic palimpsest is inspired by a painting of Marc Chagall. Along with this extraordinarily adaptable, and Rakishly evocative blazer, we've created two open-necked, resort "pajama"-styled shirts: the first in white towelling and the second in a charming shade of blue linen. Both shirts have had their collars subtly enlarged for that extra bit of '70s-Mustique-meets-Cap-d'Antibes attitude and look, spectacular on their own, or flowing regally over the lapels of the aforementioned blazer. These shirts with their little touch of roguishness are perfect to wear from the beach to the pool, to the bar and into the restaurant. They'll set off your suntan and gleaming smile as you wind your way up through the steps of Positano, barefoot and tanned, a honey-tressed haut-monde demoiselle on your arm as you make your way to connubial nirvana. Similarly, the Orlebar Brown for the Rake white cotton tapered trousers is a symbol of the ultimate summer playboy adventurism. Take a page from Jude Law as Dickie Greenleaf in
The Talented Mr. Ripley
and wear them rolled up for that daytime dégagé chic look, or rolled down with your blazer to look impeccable in any smoky-hot jazzy boîte.
"This image was chosen because it conjures up romance, the romance of an era where people cared about style, the romance of travel, the romance of play, the romance of suntanned skin against a blue Mediterranean sky."
Finally there is the centerpiece of the Orlebar Brown for The Rake collection, the one unmissable and absolutely mandatory item for the summer of '16, the Orlebar Brown Riviera Printed Swim Short featuring an exclusive print of image taken by Slim Aarons of the Marbella Club yachting set. The full story of the extraordinary Marbella Club was featured in Issue 45 of The Rake. Orlebar Brown has been a pioneer in the super-accurate reproduction of iconic photographs on swim shorts. This particular pair of shorts features two women nude from the waist up and languishing in the dazzling and intoxicating light of Costa del Sol, evoking both Ingres's famous
Grande Odalisque
as well as Picasso's
Les Demoiselles d'Avignon
in their languid seductivity. This image, shot by the legendary Slim Aarons onboard a yacht, its flags flying in priapic salute to its à poil passengers, perfectly expresses the era of incomparable style that is the hallmark of Orlebar Brown. Says Adam Brown, "This image was chosen because it conjures up romance, the romance of an era where people cared about style, the romance of travel, the romance of play, the romance of suntanned skin against a blue Mediterranean sky." Wear these trunks to signal your subscription to the concept of summer romance and the limitless possibilities and boundless adventures that it promises.
Please note this collection is limited edition and is likely to sell out.